BBQ session once again~
woke up rather early in the morning.. left home at ard 11.45am and took a bus to hougang central, transit to 153 to queensway shopping centre… it's really a long journey but it didn' turn up that long as what i thought it would be.. reached there in abt an hour to 15 mins time… went to the mac donald's over there and look for da eric and pei lin for lunch while waiting for the rest to arrive… ….
The rest arrived ard 2pm and we headed to the printing shop to print our design for the club tees out on papers. Went to the t-shirt printing shop and placed our order… 120 pcs is what we're going to produce for the members and it cost us ard $7.50 per pcs.. and it's rather a good bargain..
After placing orders, we walked ard and i'm really surprised with what they have over there.. lots of clothes and shoes and many more ~! looks like i'm going to add it into one of my hunting list for new clothes etc..
left at ard 3.15pm while the rest of them wait for xizhou's arrival.. headed to the bus stop and took bus 14 to parkway parade.. half way through the journey, it started raining dammm heavily~ and while drving through the stretch of orchard road, i was thinking.. hmm not a good day for shopping.. everyone's running for shelter …
it took me almost an hour to reach mie's condo… today is one of the much more relax day for me as i do not have to do any marination of food.. lol~! (as i usually does that when we held a BBQ session).. this time round our marinator is YE YING!!! haha.. and he even fried a tray of bee hoon too! his very first attempt! i must say that it taste great, just that it's abit salty.. (lesser the saltiness and i think it'll be Marvellous!)
Mie, Row, Dia and Zw was playing mahjong when i arrived and Marc aka Ye Ying was watching tv.. As i've nothing to do, so i helped Dia in tying her hair.. LOL! quite interesting.. and this is what i got for her..
Haha.. so how isit? can be a hairstylist ? LOL!
Rachel and Jaq arrived ard 6pm and just before we went down to the BBQ pit to start the fire, Jamie's dad came back with lots of fishes that he caught~
Berlinda, pei wen and wai meng arrived shortly after we started the fire and the BBQ BEGINS!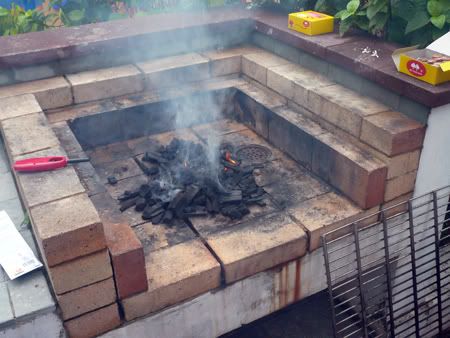 Part of the food we have…
Beverages~
The Been Hoon fried by Mr Marc!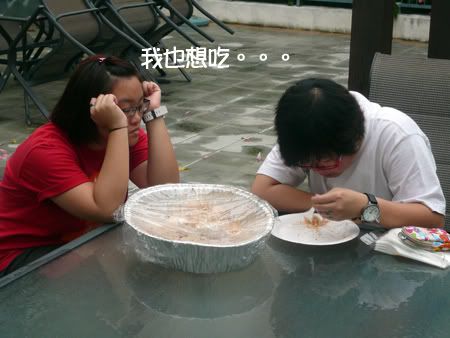 All kinds of "TOES".. potaTOES, sweet potaTOES, etc….
And now i shall teached you guyz on how to prepare Sambal BBQ Sotong..!
Step 1: The ingredients that you'll need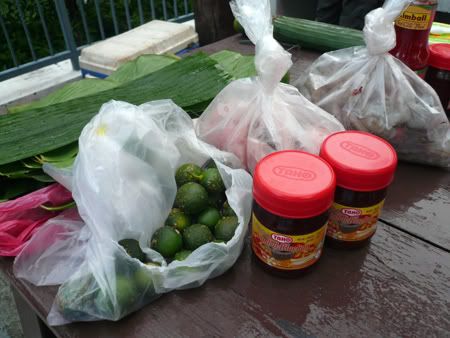 Step 2: Placed a aluminium foil on the table, followed by a piece of banana leaf. Brushed some butter on the leave and placed your sotong on top of it.. Mixed the sotong and the sambal chilli together. Lastly, squeezed the lime juice and garnished it with onions…
Step 3: Fold up everything with the aluminium foil and BBQ it for ard 20 mins or more, depending on the heat from the charcoal…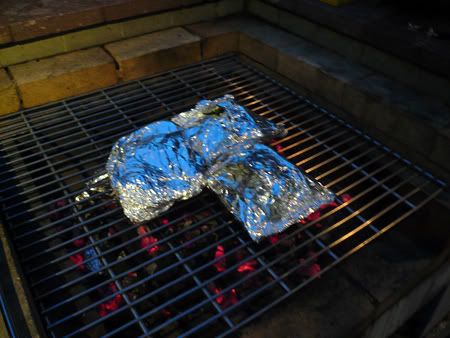 Step 4: Open up, Stired it well and there you have your Sambal BBQ Sotong!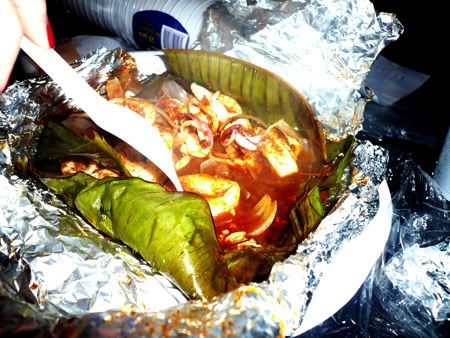 Other than sotong, you can use the same method for stingray as well.. or prawns if you wan but do add garlic for the prawns as it'll taste much better =D
Not forgetting the usual BBQ items ….
And the ladies enjoying their card games while we bbq the food for them =)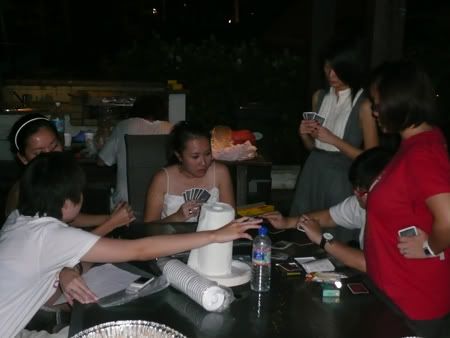 Look at this.. pipping hot sweet potato! yummy~!
Not forgetting a Group Photo is a MUST~! Zhi wei wasn't in the photo as he went to collect some stuff.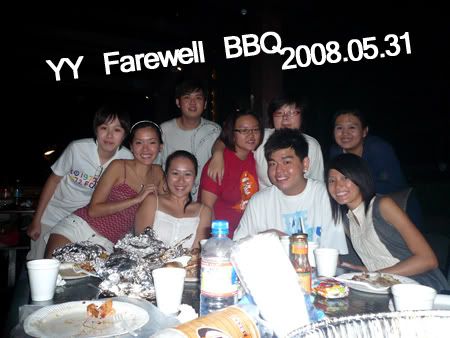 The whole BBQ session ended ard 11pm and we went up to mie's condo for abit of washing up before we head to Starbucks for coffee at East Coast.. But sad to say, when we reached there ard 1.30am, it's closed. So we changed our venue to Mac Donalds instead since its 24hrs operating.. But we didn't went for coffee at Mac Donalds, instead, we went to the pool centre above Mac Donalds for pool session.. we played card games there while some of them continue with their pool game.
Left ard 2.40am and i reached home at 3.10am… washed up and off to bed… zzzzz
Woke up early the next day as i'm going on the Singapore Flyer and celebrating my Aunt's birthday as well.. More to come on my next upcoming post on my Singapore Flyer trip.. so Stay tunned yeah! hahaha
Gotta go zzz as i still needa go back camp tomorrow..
Good Nightz all~!