Alright.. quite a few days never blog le.. sorry bout that..
was on mc yesterday as i'm having a fever.. should be due to the past few weeks of stressing work that i've been doing in camp.. and my body couldn't take it and decided to break down for a rest…
and therefore, i fulfilled my body's request and had a good rest at home yest..
today, i'm feeling sooo much better and more energetic…
was supposed to meet marlene and daisy at city hall at 11.20 for lunch but drag till 12.00 then i left home… reached there ard 12.30 and they're done with their lunch.. so we walked over to the meeting area and waited for shi hui to come.. she brought her brother as well..
as she hasn't taken her lunch yet, so we decided to pop by 7-11 to grab a bite.. in the end, we bought 10 bottles of drinks there for ourself and the rest of the comms.. walked over to polar and bought 4 curry puffs.. 2 for each of us..
renewal today wasn't as busy as last week.. maybe this week wasn't my district one ba..
ended the renewal at 4.30pm.. marlene and daisy went off first as they wanna catch a movie.. while me, shi hui, kenny, sau foo, yi wen, sheryl and xi zhou went for dinner at swensen.. we went to the swensen at marina square as aaron was working there..
ordered this spaghetti for myself.. was looking for the cheapest among all and was deciding if to have breaded chicken baked rice or spaghetti.. in the end i chose spaghetti instead..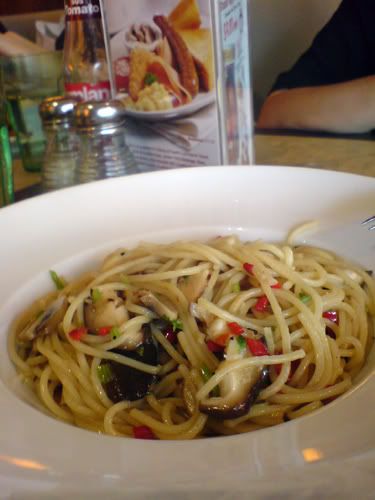 it's something healthy.. no meat at all.. only some vege, spices and mushrooms.. it smells great. was thinking if the portion was abit too little but overall, i felt full after finishing it.
aaron even gave us free ice cream. hahhaa.. extra scoops with toppings and whip cream..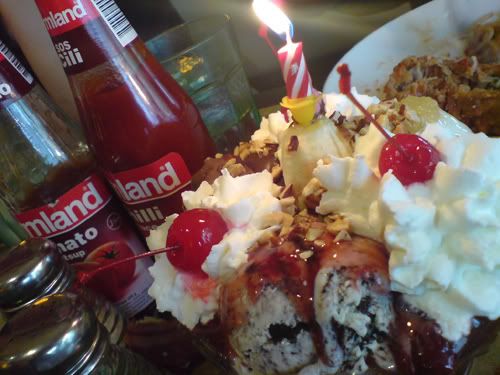 btw, Happy BELATED Birthday to Shi Hui~!!!
after dinner, we walked ard marina square thinking of where to go.. and we thought of going to k box.. and we'll like regretting going swensen as we could have spent it on the k buffet instead.. haha.. thinking of going partyworld but in the end we gave up on the singing session..
instead, we had a rather more unique and memorable singing session..
i brought them to the roof terence of esplanade.. ( the place where i filmed my musical love story for my FYP like 2 years ago)…
the place was great.. we sat down at a corner.. althought it's abit awkward for us as there's alot of couples around.. but WHO CARES! hahaha..
we'll chatting about music, and xz took his guitar out and we started singing songs.. they even tried to help me to play the chords for my songs that i wrote.. the feeling was great la.. and i just loved it..
at ard 10.30pm, we all left and headed back home.. i hope tat that we'll have more of such session again..
and i've come out with a quote for tonight's session…
and once again.. i had some new photos to show as well LOL~
alright shall end the night with this songs… goodnightz readers..
S.H.E-无可取代

今夜星光闪耀这次约会你先到
你把头发给剪短了更有味道
我们谈着聊着
每一次总又回到那些旧时光
你以前对我就很好
短暂分开的缘故回忆变得有温度
聪明的你是否也有了新的领悟
你常说单纯就是幸福
某个人是上帝给你的礼物
我们距离有多远相隔多久
一辈子要保护
can you feel love tonight?
我想漫步云海
你每一句话都是无可取代
还是未知数的集合结果有好有坏
但最后一分钟才解开
can you feel love tonight?
只管跨大步去爱
每一刻拥有都是无可取代
半夜三更爬上楼顶
我们看着天空从黑转白
快乐就在几公尺之外

只要狂风暴雨就有你在
只有真爱才能预言未知的将来
只等我们一起努力游过时间的海
让我们承诺今天要比昨天快乐
can you feel love tonight?
我们迎接未来
爱的每一秒都是无可取代
我们经过一些事情吹着回忆的风
然后明白
原来快乐从不曾离开
原来真心无可取代