Wooo`!!!!!!!!!! The Great Singapore Sales that everyone is looking forward is here! and it's calling me and my frenz to start our shopping spree now to catch all the discounts and great bargains during this economy crisis that we're all facing… But, looks like it's not going to affect us as the crowd in town was horrible~! but… i like it ! that's how it should be during this GSS period 😉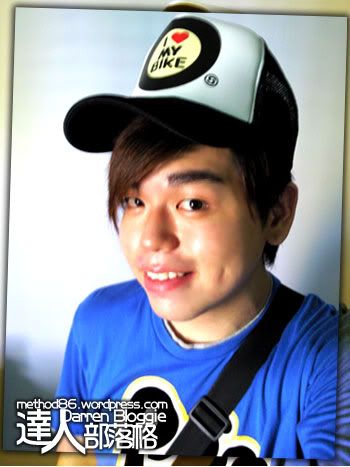 Tee-shirt, Shorts, Comfortable Shoes, A sling bag, A cap, Water, All sorts of cards, Cash, ok all checked and i'm ready to go !
Just in case if you're curious of why is there a need for the above-mentioned items, i shall give you a much detail descriptions of the reasons below :
Tee-Shirt : Wear comfortable and preferably cotton tees as the weather is hot and u're bound to sweat a lot.
Shorts : Wear shorts instead of jeans as, again, the weather is extremely hot and it's more convenient for you while trying out clothings.
Comforable Shoes : Wear comfortable shoes as you'll need to spend most of your time walking ard.
Sling Bag : Carry a small bag and preferably a sling bag so that you can move ard easily, no big big bag as you'll find urself having difficulties moving through the crowds, and also reduce risk of getting pick-pocket.
Cap : For me, it's to prevent my hair from getting messy after trying on clothings 🙂
Water : You'll definitely need this. sometimes it can cost quite alot if you were to buy a bottle of mineral water in town area.
Cards : Yup, get ready your credit card, debit card, privilege card, membership card, watever la. as it's rather useful as you might be getting extra more discounts with them 😉
Cash : For payment like food, drinks etc… and for items less than $10
Ok, if you've gotten the above-mentioned items, i supposed you're ready to start your shopping spree too~!
Meet up with dia and rac at Ngee Ann City, went shopping at taka as dia got herself a $30 voucher to spend on, but in the end we didn't use it. Rachel bought a shirt from GANT as its on a 30% discount and additional 20% when she uses her citibank card. See, i told u cards are impt, hahahaha 😉
Before we proceed over to Wisma, we stopped by at the food market for FOOD!!!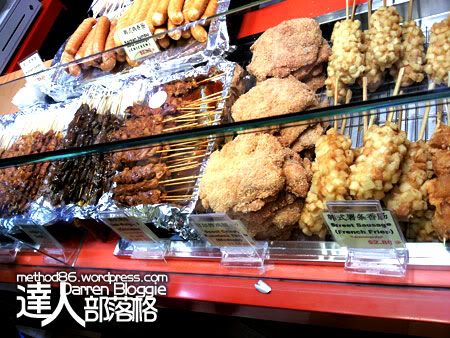 Yumm Yumm~!!!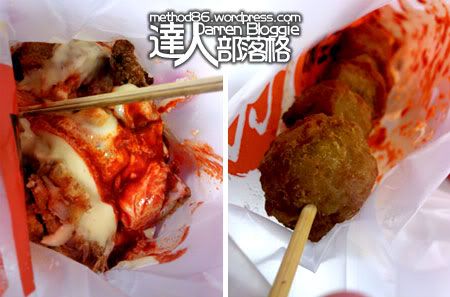 Fried chicken thigh meat (L) which is so much bigger in portion than the one from Shilin. Mixed with the special chili sauce and mayonnaise, woo.. HEAVENLICIOUS! Meat balls on the right is delicious as well !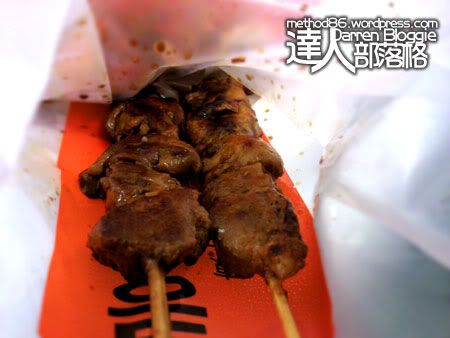 Grilled chicken meat.. NICE!
We're all happy with our FOOD!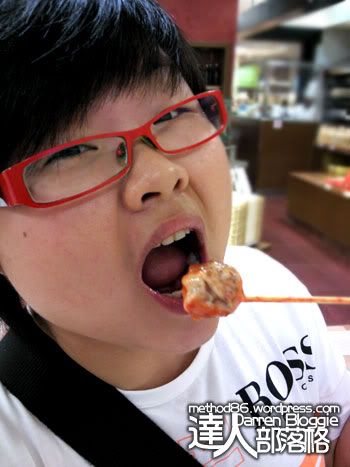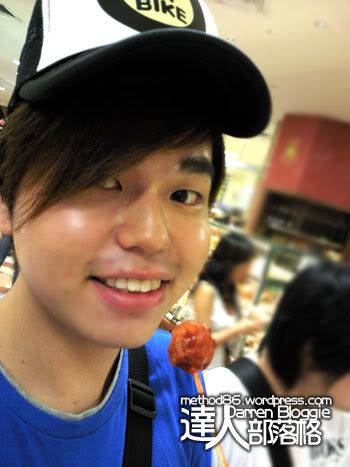 Just when we're about to leave, we saw the crepes on sales too`! haha, therefore, we ordered one to share 🙂
OK! enough of food.. continued with our shopping spree.. We went over to TOPSHOP at wisma and they're having sales as well! WOO~ bought a checkered shirt whereby u can actually wear it as either a shirt or a jacket, and the most impt thing is, the orginal price was $89, to $59 and now, $29 ONLY ! good buy huh?
After TOPSHOP, we went COTTON ON where i grab myself a pair of shorts at $25 and shoes for only $10! CHEAP!
Walked over to far east and meet zhi wei there and we went for dinner.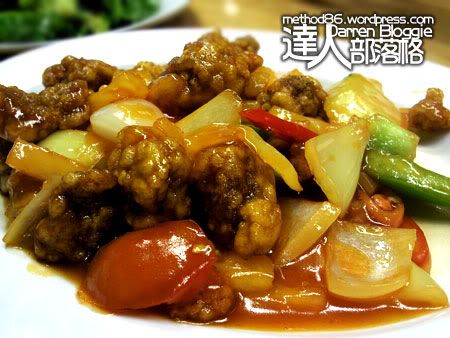 Sweet and Sour Chicken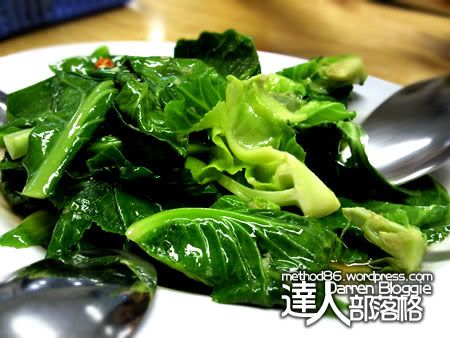 Fried Baby Kai Lan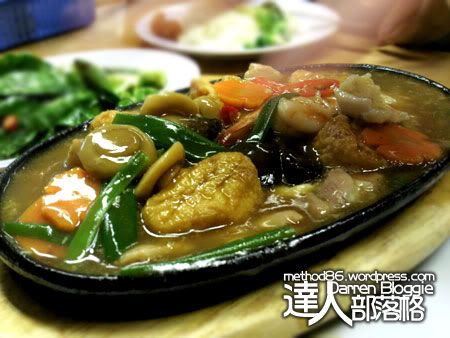 Hotplate Toufu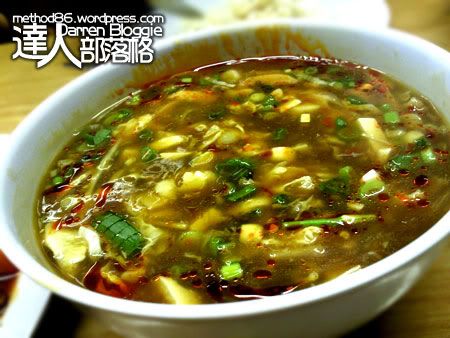 Sze Chuan Soup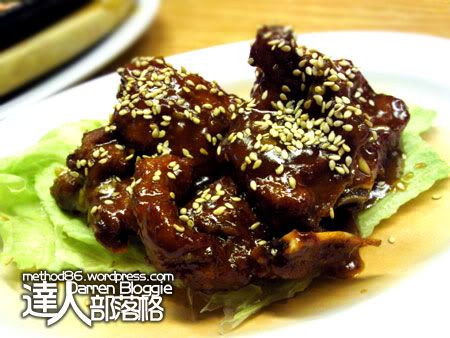 Pork Ribs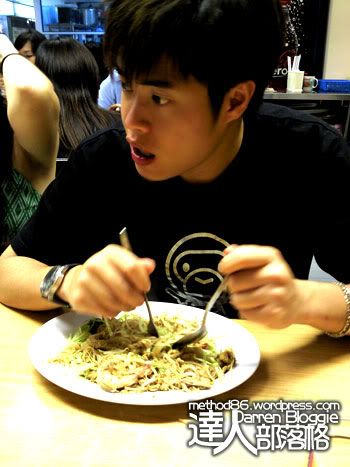 and Mr Zhi Wei is not satisfied with his food that he ordered an additional plate of fried beehoon! omg~!
After dinner, our last min shopping in far east. wanted to get a bag from revoltage but it's closed 🙁 so we went over to DUSTY! where we spend a total of $300+ of tees, shirts and shorts before discount. and guess how much we pay after discount? $100+! which consist of a pair of shorts, 6 tees and 1 shirt.. cheap huh?!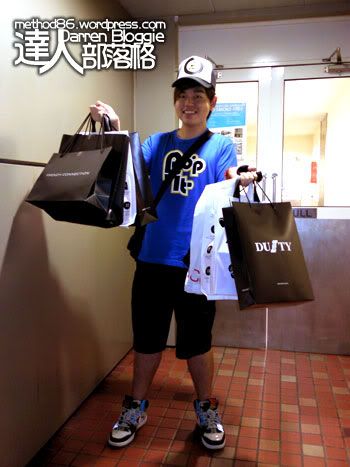 Mr Darren is happy with his shopping spree… just that he didn't manage to get his bag..
We intended to go for dao huey at selegie but its extremely crowded so we decided to head back home instead.
See what i've got for myself 🙂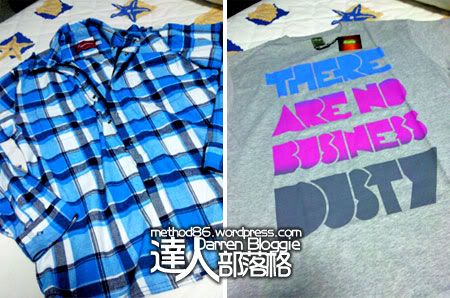 (L) Shirt from TOPSHOP @ $25 after discount. O.P: $89
(R) Tee from DUSTY @ $21 after discount. O.P: $53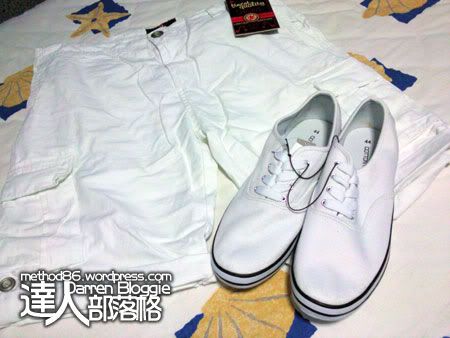 A pair of shorts from COTTON ON @$25 after discount. O.P : $35
A pair of shoes from COTTON ON @ $10 after discount. O.P : $19.90
So in total i spent $81 and i got myself a full set of clothings!!! hahaa.. ok when's our next shopping spree? guess i needa get a job first haha…
Anyway, The GREAT SINGAPORE SALES will be on from now till 26th July 2009
For more information in regards to the Great Singapore Sales 2009, visit their official website here.