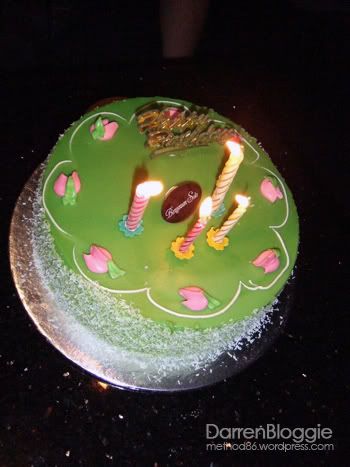 Happy Birthday to ME~!!!
Yes.. it's my birthday today~! (so heng la.. clashed with the lunar 7th month) lol~
Due to these, i've brought forward my celebration with my friends, relatives and army mates.
A total of 3 celebration so far.. haha..
1st Celebration, 26th July 08, Sat, Friends, AMK KBOX
1st celebration with my friends at amk kbox last sat. was actually looking forward to having a big grp of friends celebrating together. but due to some reasons, waimeng, peiwen, berlinda, rac and jac didn't turn up, and tina FAILED to turn up again. sadded.. But it's doesn't matter on how many people celebrate with you but is the friendship and bondding we've built up.. therefore, I'm still happy to have jamie, diana, zhi wei, ro and not forgetting jasmine aka ah mei haha.. a very last min confirmation from her and i'm really glad that she's coming cos we've not seen each other for quite some time le. haha..
went for dinner at "ah mei" cafe in amk hub before we head for kboxing session. We bargained the prices with the receptionist and we got ourselves a cheap and good pricing. haha.. I paid a total of $100 out of the bill while they split the remainings.
sang alot of song.. and i was like kinda high especially at night that makes me sing alot haha.. we sang from 9 to ard 3am.. woo~ and at ard 12am, the waiter brought in a cake and i was surprised.. haha.. thanks guyz for the surprise yea… its a panda cake from bengawan solo (yea, the one that S.H.E LOVED to eat, LOL!)
Celebration 2, 27th July 08, Sun, Relatives, AMK n Marina Sq
2nd celebration was with my aunty.. had a mini party at my grandma house.. woo yet another surprises i had again.. they decorated the mini room with banners, flowers and present. haha..
Yummy Durian cake from emi cakes.. wooo~! nice…
Present opening ceremony! haha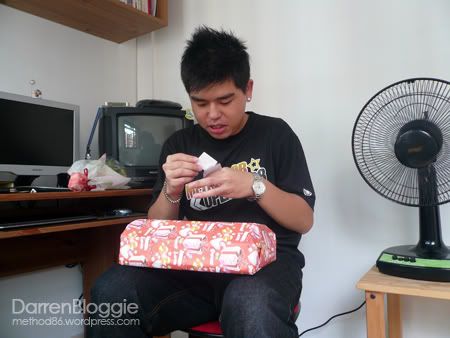 After the mini celebration, we went for hi-tea at PARIS International Restaurant at Marina Sq. I've always wanted to go in and enjoyed a meal there but the prices to me are just extremely high. But Hi-Tea is alot more cheaper.. (so, next time if we wan to go, we can go for the HI-TEA yea?!).. alot of choices to choose from.. woo!!! but too bad, the cake i ate previously makes me kinda of full, therefore i didn't eat much for the buffet.. But overall. i loved the food there and most importantly, the ambience there.. it's GREAT!
Celebration 3, 30th July 08, Camp Mates, Changi Airport T3
met edmund at bishan mrt station after work yesterday and we took a train to simei to visit our csm, whose hospitalised now after a operation on monday. reached simei, gathered with raymond, ck and shawn before we walked our way to the hospital. bought some biscuits and chicken escense before we went up.. by right, the visiting hours ends at 8pm and we actually reached there at 8.15pm lo.. luckily we manage to go up to the ward hahaha. went to the bed no that out csm gave us before he was admitted to the hospital, but we couldn't find him, so i went to look for his name instead, just to know that he was actually transfered to another bed.
after awhile, my dy and qm came as well. haha.. did some catching up with each other and we left the hospital at ard 9pm. raymond, shawn, ck and edmind decided to go for a celebration for my birthday and we've decided to go T3 as most restaurant are opened 24 hours there haha.. but when we reached tanah merah to transfer to another train to the airport, Ck did not alight with us.. he actualluy took the train back home. we're like huh? wth?! i mean if you can't go, at least say before hand ma… not very nice lidat lor..
went Tcc for some drinks and edmund orderd a sandwich.. they also orderd a dessert for me as well.. haha thanks~
Really wanna SAY THANK YOU to all of you… THANKS!!!!!!
btw, went for lunch at pizza hut today with my colleague as one of them ends his internship today. it's a great session =D
In the late afternoon, there's a mini celebration in the office… not very sure what is it abt, but if i'm not wrong, its about omy.sg having a great result.. haha.. then marc told them that tml is my birthday, so they asked me to cut on the cake as well LOL~.. not bad quite nice the cake.. hehe