At last.. i managed to do a mass updating here haha..
been sooo busy that i can't even spare some time for my bloggie..
alright i should do a brief sum up..
went for dinner with my oversea relatives from penang..
dinner buffet at Holiday Inn Atrium.. not bad la the food, but not alot of variety to choose from.. mostly on western cuisine like pasta and salad..
but one interesting thing is this.. they will go from table to table to ask u if you wan any bbq food. every round they came, they'll bring diff bbq food like steak, pork, chicken, fillet, sausages etc.. all taste great …
the most impt thing that u needa order is the SEAFOOD PLATTER.. which consist of only LOBSTER and CRAB..
there's a total of 8 of us and we're given 2 BIG BOWLS filled with lobster and crab~!!! very yummy~!!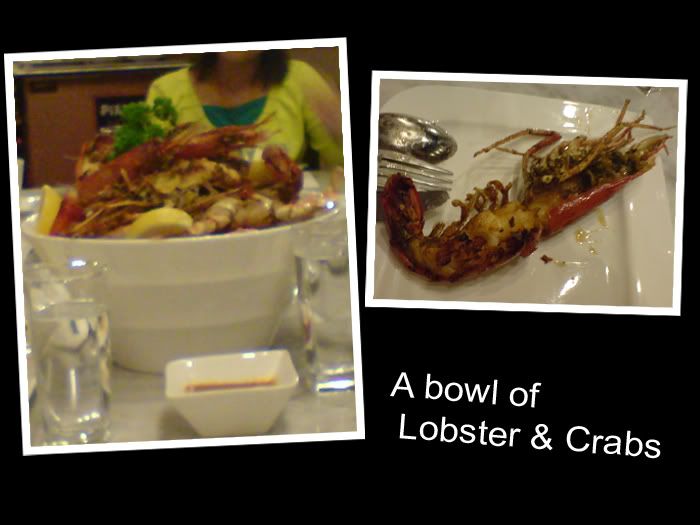 after dinner, they gave us christmas present.. haha.. din noe that they actually prepare xmas present for us.. my mum got a big, very nice and me, two packs of shortcakes cookies.. looks yummy too.. they got me this as they are not sure of what i would like to have.. haha..
on th 31st, went back camp for awhile to settle the video thingy stuff..
meet up with jamie, ro, dia, zw and yy to celebrate zw advanced birthday (actual date is 2nd jan).. haha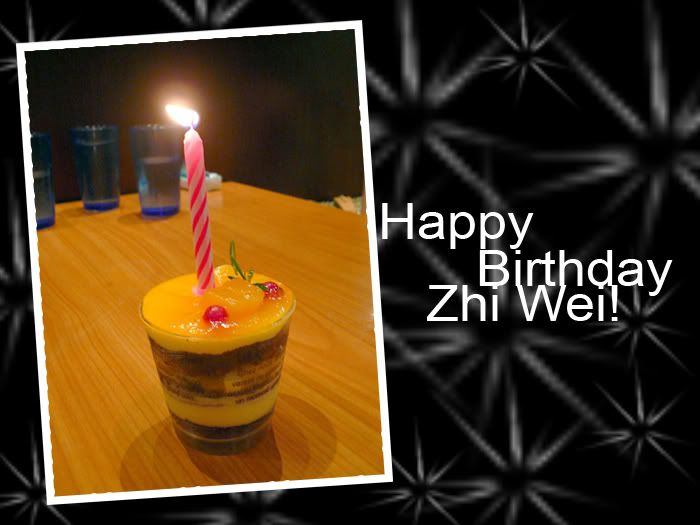 we went New York New York for dinner.. ordered alot food.. one burger, one pork ribs, one grilled half chicken and one whole chicken ,side dishes or fries, calamaries etc.. and drinks.. woooo!!!! very full… it total up to 130+ and zw foot the bill.. wooo.. thanks ah! haha.. and each of us gave him $30 for his present as that's what he requested hahhaa.. after dinner we went over to marina sq for a walk before heading to amk for countdown.. actaully going over to orchard but its seems sooo "quiet" there we decided to go amk as there's also firework.. (but a small one la..) haha.
after coutdown, we went S-11 with rac and her gf for supper.. wooo.. sinful ah… haha but i enjoy it.. after supper we went back home.. and it was like 2.30am when i reach home lol~
more of the countdown pics to come when i get it from dia.. hehe
and one more thing which is the big mission tat i've mentioned earlier on.. painting of my house.. haha.. it's done and i'm happy.. i started painting from wed till thursday from 8am to 10pm.. and on friday, my mum and 1 started painting from 8am till 6am sat morn.. wooo.. painting marathon huh? lol~! but when u see the new refurbished room u have, u have a sense of satisfatory la.. hahaa