woo.. Havin lots of fun yesterday…
met up with dia, zw, yy, rac and jac at downtown east in the evening and we had subway.. din manage to finish the bread cos the juicy kept dripping out and it looks abit yucky to me… but i finish off the teriyaki chicken and chocolate chips cookies hehe..
after awhile, cindy and her cousins came and pei wen and wai meng arrived too.. after filling up our stomach, we headed back to the chalet to put our stuff before heading to the ESCAPE theme park.. Jac didn't join us as she need to study for her exams.. so she stayed at the chalet…
we din pay much as we've got complementary tics and that's is one of the reason why i'm ok with it.. cos if u wan me to pay $16.50 for entrance fees to this so call "theme park" whereby most of the rides can be found at those fun fair, ( some rides at the fun fair are much better than this lol~), i would definitely see it as a waste of money…
so we went in and the first game we played was daytona go kart.. haha.. so fun .. and i think this is the only attraction that attracts me in this theme park.. after go kart, we headed for the haunted house and OBVIOUSLY, i'm not going to go in.. haha.. after the haunted house, we went for the yakult kite flyer.. cool, very breezy.. next was the inverter and OBVIOUSLY i'm not going up haha.. so while waiting , zw and i went to play those stall games at the pavilion.. haha.. won three small prizes.. soft toys la.. after the inverter, they proceed on to the wet and splash.. i actually wanted to play this but i din bring extra clothings and i gotta be damm wet, so i gave up on the ride. and true enough, they got real wet haha.. next was the family coaster as the alpha 8 indoor roller coaster was closed due to an accident which happen last year. i was thinking huh, a theme park with no roller coaster.. abit funny lei.. -_-" we ended up with the last ride, can't rmb wat it is. it just spin and spin haha.. but quite nice to see the scenery up there.. =D
went back to the chalet and prepare for the bbqing session.. surprise guest was jasmine ang and vanessa.. haha.. it's been so long since we last saw each other.. waiting for jasmine to send me the pics hehe..
this time round, i did alot of bbqing.. jac and i was the cook for the day haha.. and surprisingly, the satay i bbqed turned out to be real great and everyone looks for me for satay hahaha.. looks like i got myself another part time job huh lol~!
we finished the session ard 11+ and reached back home ard 12+.. so damm tired and i'm full of the bbq smell.. so i took bath, online for awhile and zzzZZZ….
this morning woke up ard 8+ as my mum was meeting her frenz out.. and i was using up my whole afternoon playing with this yahoo widget.. damm fun and i got myself a real cool desktop..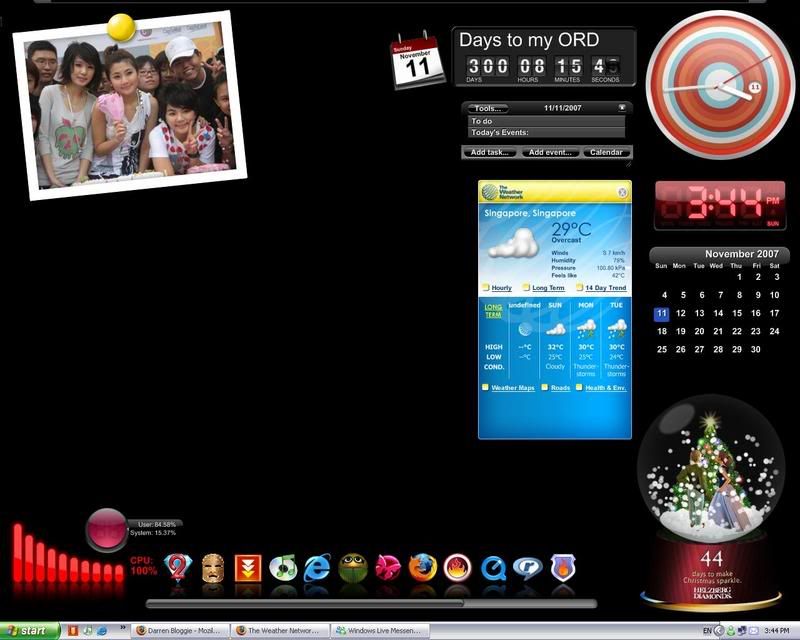 looks cool isn't it.. haha.. just love it ~!
tomolo going back camp le.. haha.. somemore on duty but luckily half day only and i have my DS lite with me hehe…