Continue from my previous post on the preparation phase…
After our quick Dunch ( dinner + lunch = Dunch 😛 ), we went back to our chalet and prepare ourselves for the party tonight! Retro Vintage was our theme for the night, so everyone needa dress up accordingly! though no penalty for not doing so, but come on' we are all very sporty one ok! like that then FUN ma~ 😀
and here's my look for the night! ( as u can see from the pics above and below… )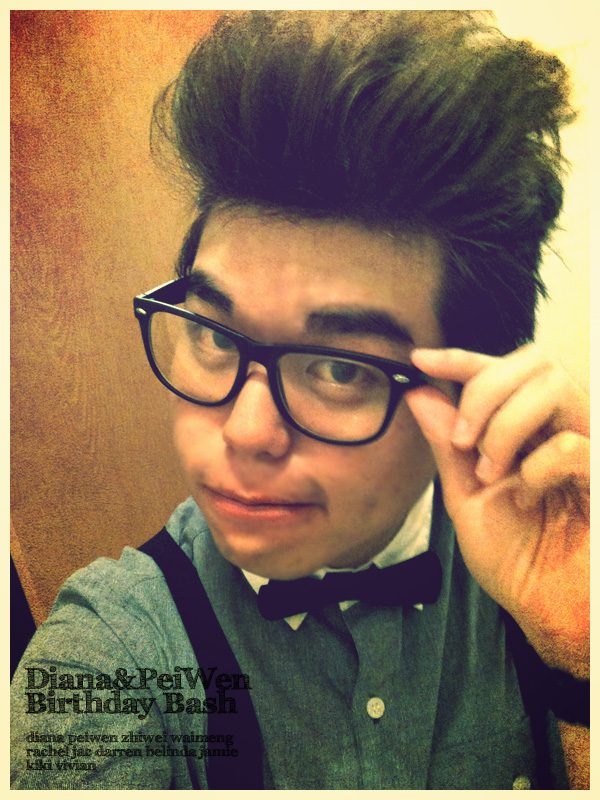 BOOMZ right?!!
haha it took me quite some time to BLOW my hair all the way up k~
Zhi Wei
Rachel
Belinda
Jac
Ready to set off~ WEE~~~
Reached novena square at ard 7pm after dropping by jac place to collect some stuff and diana actually called both jac and my phone when we're there ! haha. dun dare to pick up the call after liaising with jac on wat to say just to make sure that we dun give off this surprise 😀
Hunting around for another place to have our dinner as we think its kinda wrong for us to wear nice nice and go eat steamboat which is going to make ourselves sweat like hell.
That's one of our birthday gal,
DIANA!
and here's belinda with jamie
not forgetting Jac, Kiki and Vivian 🙂
Birthday gal with the RED BLING BLING ribbon that we've prepared for her.
In the end, we decided to have KOREAN cuisine for our birthday dinner!
ANYOO HASA YOOOO~~
CAMWHORE session while waiting for our food to be served! 🙂
and here comes our 2nd birthday gal,
Pei Wen!
Pei wen & Wai meng
Here comes the FOOD!!
Diana decided to exchange her Red Bling Bling ribbon to the GOLDEN KIM DANG DANG ribbon as it fits her outfit more and the red one fits pei wen better.
time for PEACH TART cutting session! 😀
the bfs gfs gang… 😛
mother and son 😀
Look at this small kid over here!!
wai meng in his school uniform ! OMG~!
happy family?
me and pei wen posing for the camera whenever we heard this two words…
时尚 aka FASHION
puppy love?
and here's where the actual fun begins! we blindfolded the 2 ladies in the car and drove them to the chalet! WOOHOO~!
WHAT A SURPRISE FOR THEM RIGHT?!
okok, you can watch the whole process from the video montage at the end of this entry 🙂
everyone waiting for the ladies to cut the cake.
and we have JAC cutting the cake for us 🙂
KiKi with her supermodel pose?
diana with her present from zhi wei ….
Party! Party! Party !!!
pei wen and her friends.
our FASHION pose once again 😀
wooo~~~
Vivian, Diana & KiKi
Jamie & Diana
and peiwen trying on the BIG BOOBS that we bought for her!~you should watch the videos later on. DAMM HILARIOUS~
THE compasrison between the real one and the fake one LOL!
even waimeng was interested in it, that he decide to give himself BOOBS~! 😀
ZHI WEI AS WELL!~~ OMG~!
this is how the BOOBS looks like~!
sings : darren hair is falling down~~ falling down ~~ falling down~~
and it collapsed! lol~
WE HAD SOO MUCH FUN AND LAUGHTER!
after we ended the party, we headed out for SUPPER! woolala~~~
and as promised, here's the videos montage!! MUST WATCH! damm hilarious ok~!
[youtube http://www.youtube.com/watch?v=pfYRsnD4VdA]
[youtube http://www.youtube.com/watch?v=AmHFtgFCx8k]
[youtube http://www.youtube.com/watch?v=Y6XSE_Wy7Ms]
…to be continued