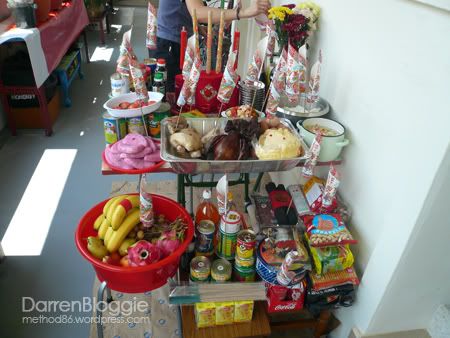 Woke up rather early on sat as my aunt are praying for the hungry ghost festival. Went over to kovan for the famous teochew kueh before heading to amk to help out with the preparation.
At ard 1.15pm, left for my ambience comms meeting at peilin's condo.. waited almost 30mins for the bus.. DAMMM pissed off.. and i reached there like 2.30pm which is at bishan.. imagine travelling from amk to bishan, it took me more than an hour..!!!
luckily, they've only just started… discuss on a few issue and our upcoming activities and recruiment. but we got to leave the function room at 5 as there's event at night. So, we went over to J8 to continue..
Went back to my aunt house to stay for the night and the next day morning, i went back home first as i'm meeting rachel and peeps in the afternoon. We went for lunch at Fish & Co.. it's been like a year since i last went there.. haha.. serving are big and food are great! but.. the price seems to went abit more expensive than the past… what to do? everything also rise nowadays. but salary don seems to increase lei lol!
After lunch, we went over to the Mind Cafe opp paradize centre. Oh.. it's a rather cosy place with sofa, drinks, snacks and i find it a great place to spend you day with your frenz… We took up a few packages that includes drinks, snacks, finger food and 2 hours of gaming.. the gaming here does not refer to computer gaming but board games.. and its really fun! enjoyed myself alot.. hahaha…
And here's what i got for my birthday present this year!
Thanks guyz.. and i loved it alot! hehe