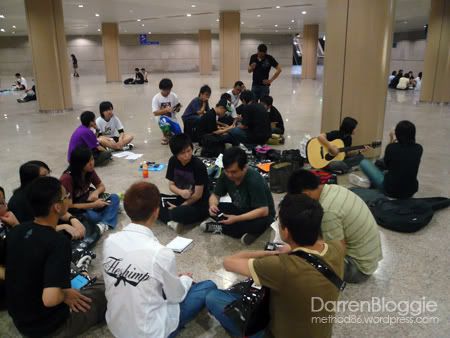 On friday, after work, i went over to my aunty house for dinner as it was the 15th on the hungry ghost festival and usually the chinese will offered their deceased favourite food and burn lots of incense paper for them, therefore, my aunt cooked alot of food for my grandma. Yummy hehe~  After dinner, me and my mum stayed overnight over there.
The next day morning, woke up at ard 8plus and my mum went to the market at blk 409 in amk, and she bought me my favourite wanton mee.. Yeah! it's really nice and it's been quite some time ago since i last ate it.. hehe. thanks mum! after breakfast, i went back home first while my mum stayed over at my grandma house.
Reached back home and it was like 11.30am.. did some ammendment for daisy tees design and when i'm ready to move off, it was like 12.30pm.. so i decided to call the printing shop and asked if they are able to print the tee for me today as they're closing at 2pm.. Unfortunately, they can't.. haiz.. wasted another sat..
So, i continued with my internet surfing before i left home at ard 1pm.. and sometime pissed me off.. just when i about to enter the gantry for train, i realised I've forgotten to bring my card.. WTH~ so, i walked back home and take my card, and back to the station again, causing me to be 30mins late… haiz.. pissed of myself..
By the time i reached the meeting place, it was like 2pm.. Me, victor and yiwen went to buy our lunch from QI JI at marina square.. we bought nasi lemak.. not bad.. quite nice.. Or.. i'm just hungry lol!
At ard 2.30pm, members arrive and we started to distribute out the tees and brief them on the latest info.. Ended everything at ard 5pm.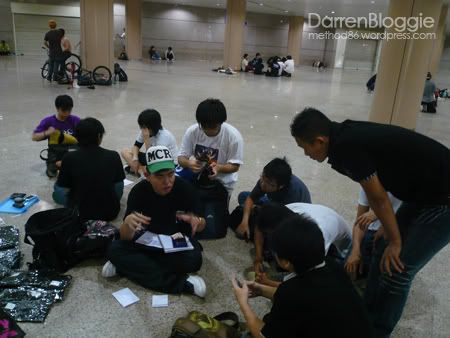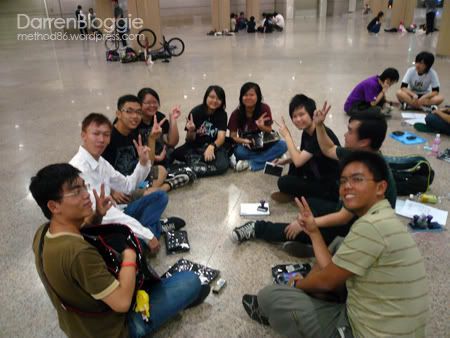 After the meeting, we went over to the GAIN CITY at marina square to purchase the "比较美好的世界"EP by the HIM artists as all proceedings from the EP will be donated to the world vision to help the kids that suffered from the Sichuan Earthquake.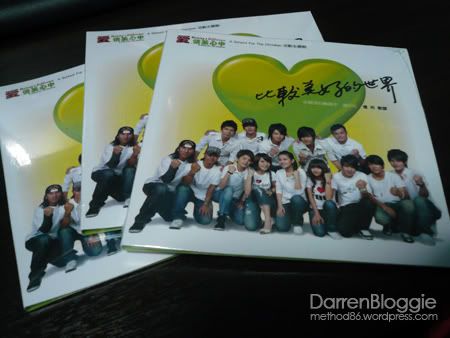 After that, we just got into the mood of shopping suddenly haha.. we went into this NIKE shop and saw lots of cools tees, accessories that's released for the Beijing Olympic 08.. and we saw this lanyard that's so nice that we decided all the committee to buy it and wear for event, instead of the string provided on our pass that's always twisting ard out neck again and again, strangling us.. haha..
It's $10.90 per lanyard and we went to the various stores to grab the amount we need which is ard 15 i think..
First we bought 5 from the Nike shop we're at, then to the Royal Sports House opps and we bought another 7, then to Suntec World Of Sports for another 3 more.. haha.. just like amazing race man.. and here's the lanyard that we've bought!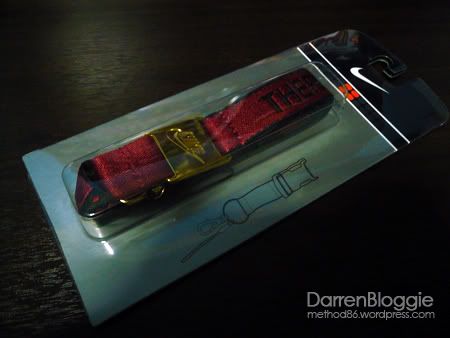 Finally, we managed to gather the amount we need.. phew.. can at last, go for our dinner at the food court.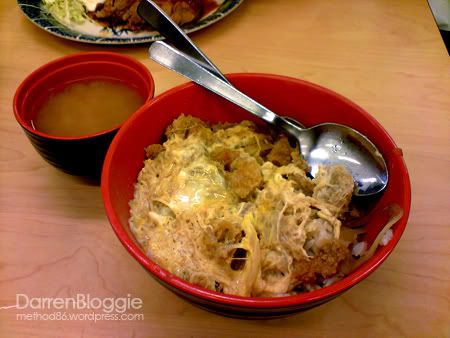 Ordered this Pork cutlet rice at this Japanese Stall.. the pics looks nice but i find it still ok as it's abit too soggy.. don't really like it.. but in the end, i still managed to finish it.. most probably i'm hungry haha..
After dinner, we went up to the sky garden for our song composing session. and guess who i saw at the restaurant over there.. OUR DYS4, Edmund Boey! haha.. he's celebrating his belated birthday with his frens and he offered me to join them with the cake.. but i just had my dinner, therefore i didn't join in.. hehe but hope you had a great time yea~
Left the place at ard 10.30pm and we've decided that each of us come out with one song… then we can have a variety to choose from which i totally agree with it.. hahaha
Got back home and i'm damm tired.. Took a bath a felt much better but still after checking my mails for awhile, i went to bed after that..