I felt so happy writing this entry as i was really glad that this trip was made possible! It's been SOOO long since we last travel together! the last trip we went together was last year april to bali. SO, we decided to make use of this 得來不易的 long weekend to go somewhere near, which is JB for a 2D1N eat and shop trip ! 😉
As it was a good friday that we are heading in to JB, we expected there to be heavy traffic. Therefore we decided to meet up early at causeway point early in the morning for breakfast before we head over to the singapore custom. we took a bus from woodlands bus interchange to the custom whereby we were requested to drop a distance away from the custom as the jam was really bad..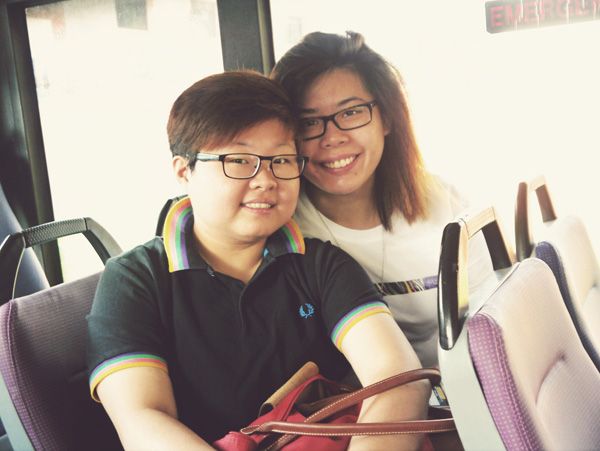 everyone is in a Happy MOOD! ;D wee~~~
we paid for the private bus to go across the causeway as it's faster and the queue for the sbs and trans bus are freaking LONG~ all you need to do is just pay $1 for the fare.
Luckily the jam across the causeway wasn't as bad as wat we expected. it was ard 30 to 45 mins when we reached the custom in JB.
After reaching JB, we took the KSL bus for the bus terminal to KSL, a newly open mall in JB which is directly opp holiday plaza…
very old school bus…
Arrived! ;D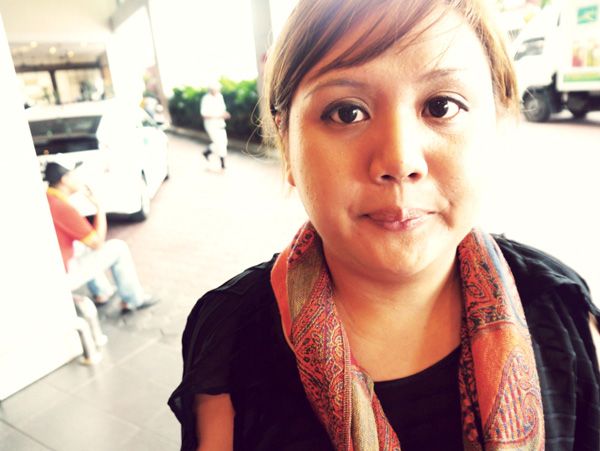 couldn't stop laughing in this picture below…
as the pic was taken this way… 😛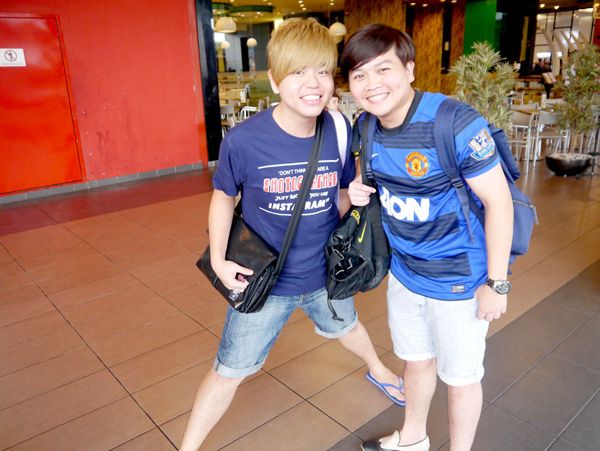 the ladies went for their mani and pedicure while the guys went walking around holiday plaza for iphone casing, and KFC for lunch! They do sell alot of iphone and ipad casing there and its quite cheap leh~ a full leather ipad case cost me ard $20 SGD whereby you needa pay more than $50 for one in singapore…
there's something different with the KFC over there. the chicken are more juicier, not that dry like those in singapore. Zhi wei ordered this special bowl which he initially thought that it was mashed potato topped with crispy chicken bites. guess what it is in there? it's actually RICE!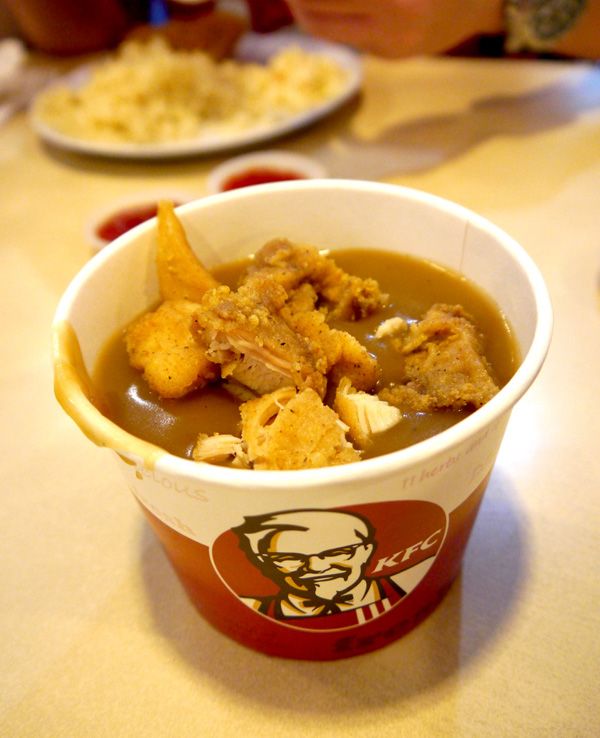 i ordered the 2 piece chicken meal and its like so freaking cheap la~ 9 plus rm which is ard $4 SGD for a complete meal like this!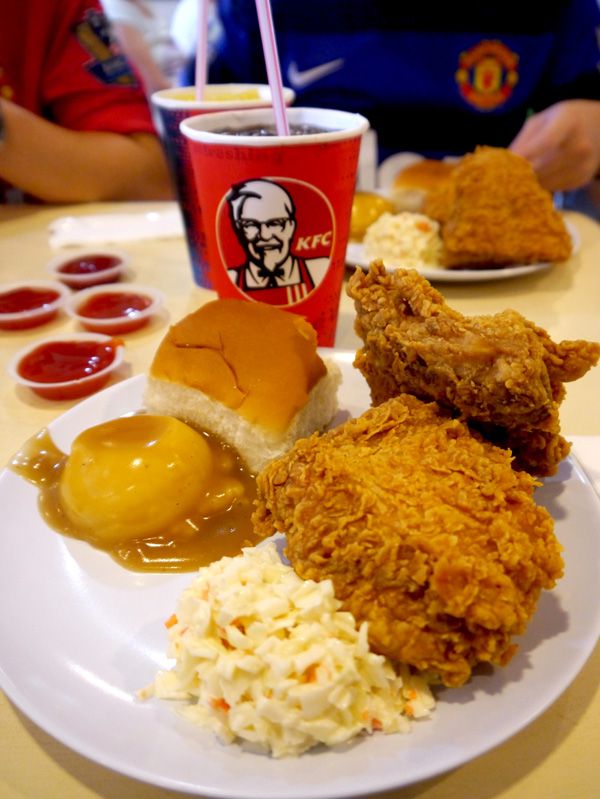 after the ladies are done with their pampering session, we took a cab to our hotel which is located a distance away from the popular holiday plaza and KSL.
It was quite a nice relaxing location whereby it wasn't really very crowded and it gives you a 度假 feeling to it. you will know what i meant from those pictures taken below..
Our hotel, J Hotel
Here's our hotel lobby. Very nice right?! it's a boutique hotel and it's very cheap only lo! $80 a room for a night.. not bad right?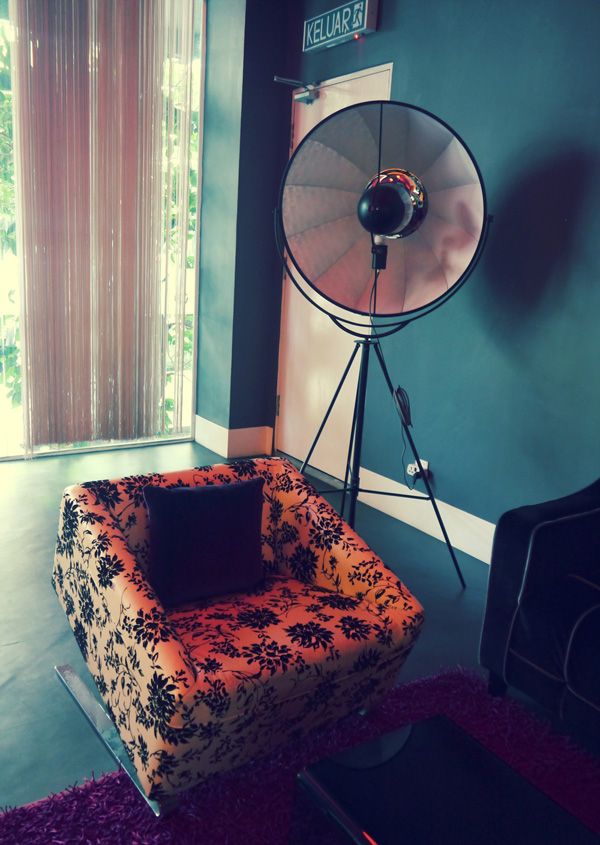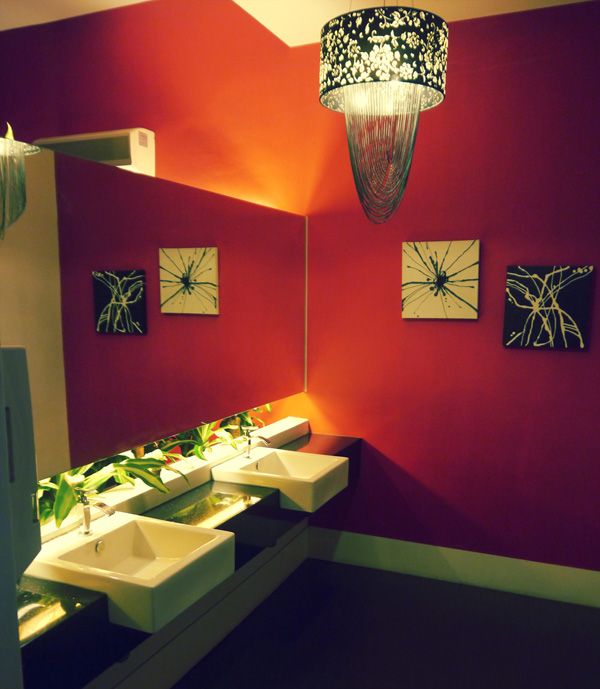 Rachel and joey booked a suite instead and it's quite spacious. open concept toilet with a daylight ceiling… this suite is only ard $100 sgd per night. that's like 10 times  cheaper than a suite in singapore..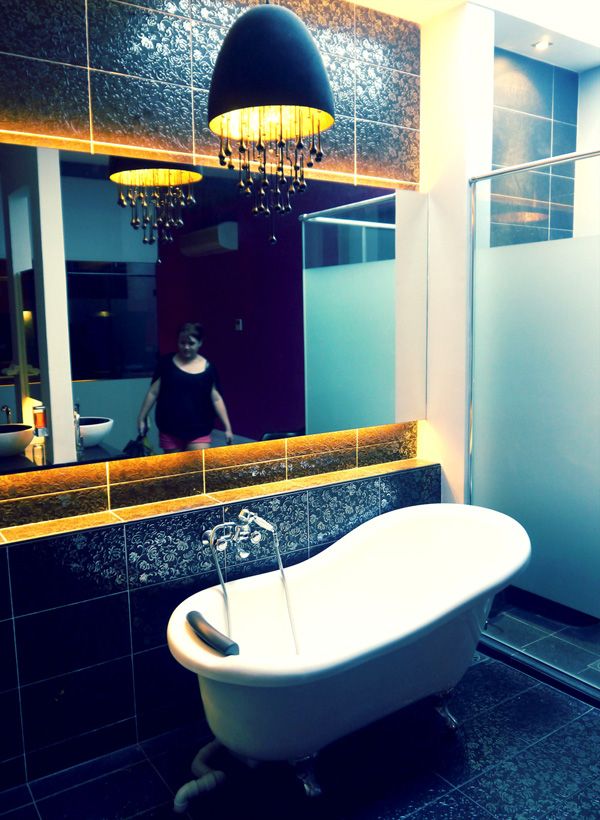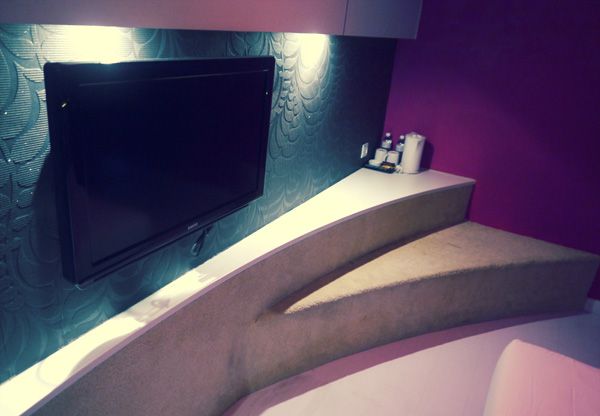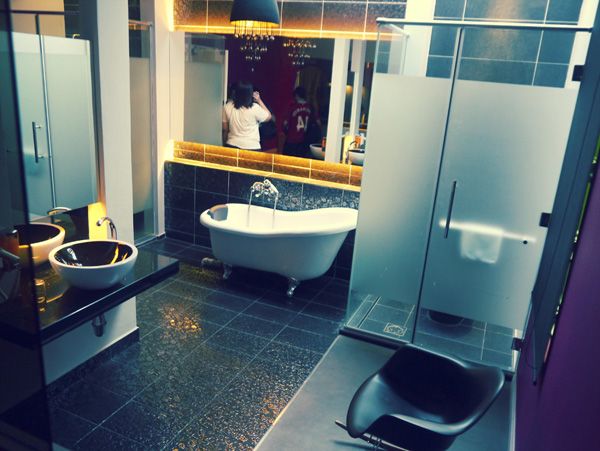 here's another room whereby they named it the corner room. bed was placed on the floor itself and the shape of the room was slanted, which explains why the corner room naming.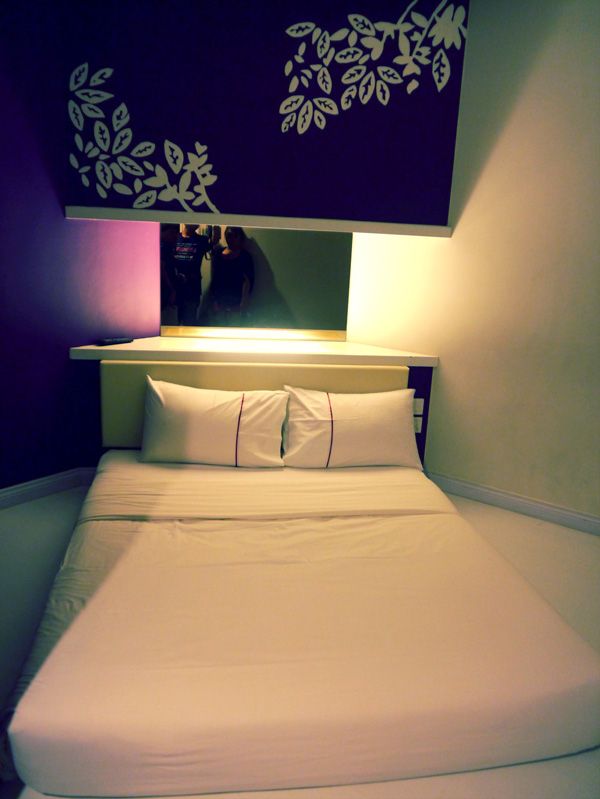 here's my room! its called the hanging bedroom as the bed was hanging onto the roof!
interesting design… 🙂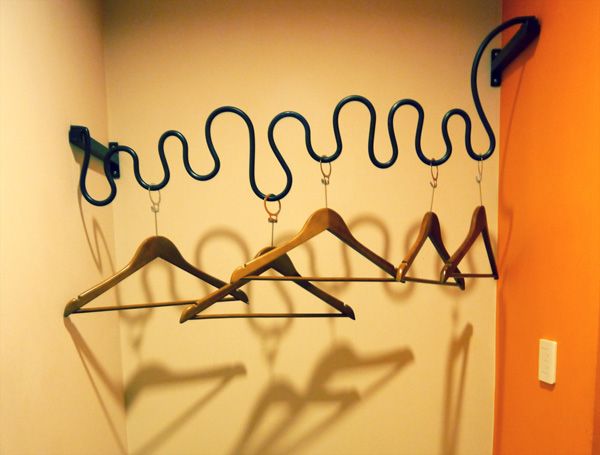 camwhoring before we went for a quick bath to freshen up before we head out for dinner at the nearby mall 😉
while waiting for the ladies, took a few pics at the lobby as it's too pretty not to snap pics there.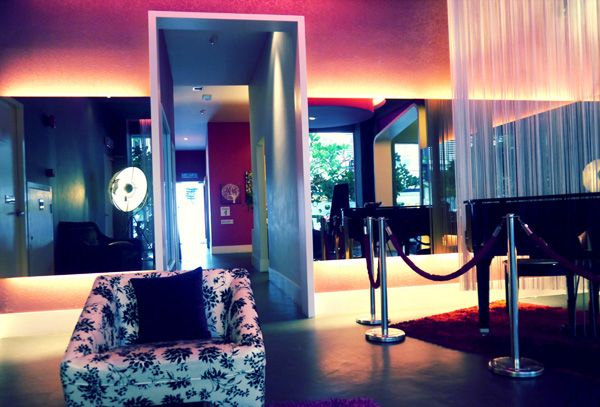 with such great lighting… how can i not have a few camwhore shots right?!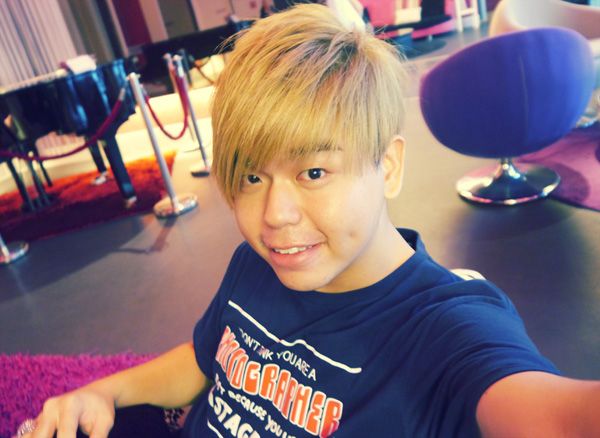 finally the ladies are down.. ;P
here's how the area is like.. mostly 2 to 3 level shophouses with interesting cafe, boutique shops, restaurants, hair salon… very nice place..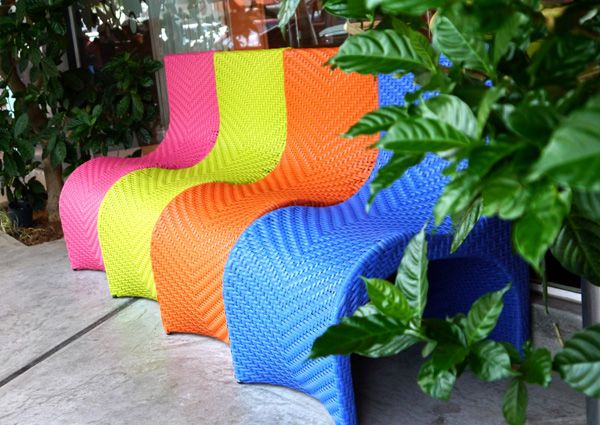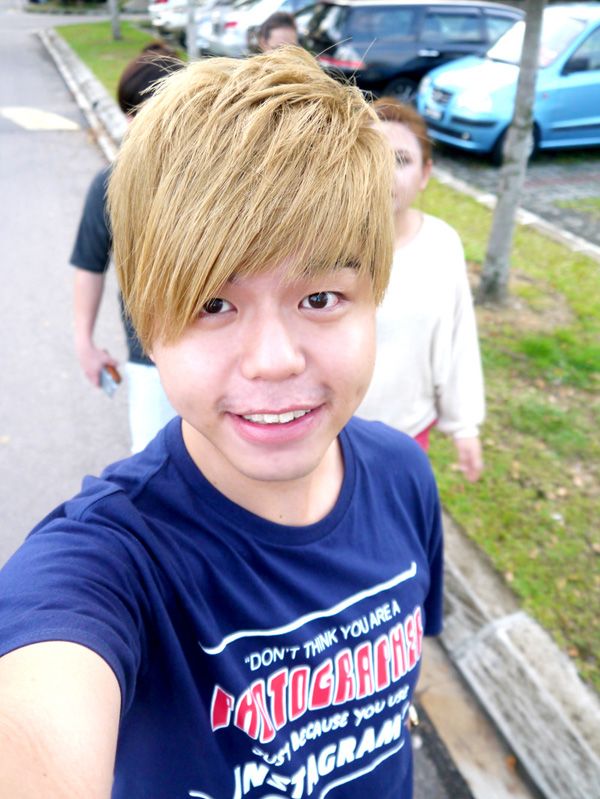 the mall nearby that we are heading to… sutera mall..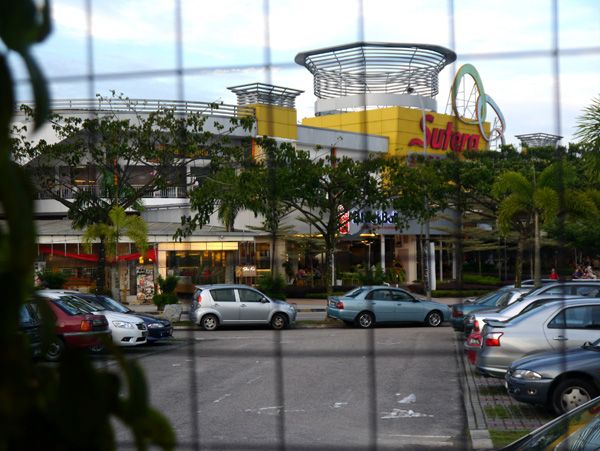 Spotted S.H.E at the watsons store…
Gigantic chocolate crepe!
The character illustration attracted me and we decided to order one to try 😉
not bad leh~ quite yummy.. they fried the potato and cut it into half, topped with slices of sausage and corn, broccoli and generous amount of cheese~~~
Dinner at a nearby chinese restaurant ard out hotel area whereby they served taiwan porridge 😉
here's what we have for dinner. the food was good, very home-cooked food..
after dinner, we went to this nice little cafe to chill..
there's a mini shop in it that sells really cool, vintage stuff from shoes, bags, accessories to clothings.. and most importantly, it's CHEAP!
very nicely decorated and cosy cafe..
but we are not there for coffee, or cakes.. but BEER!! muahaha~ 😛
zhi wei and waimeng started playing chinese chess~~~
while i camwhore alone by the side muahahaa~~
Breakfast the following day at their local coffee shop which provides a wide variety of food! i was having a hard time deciding on what to have as all of them looks good!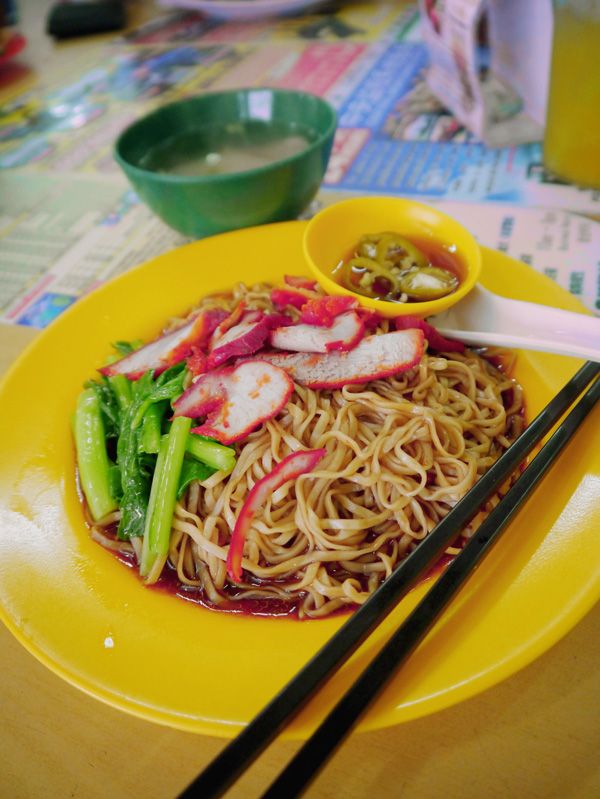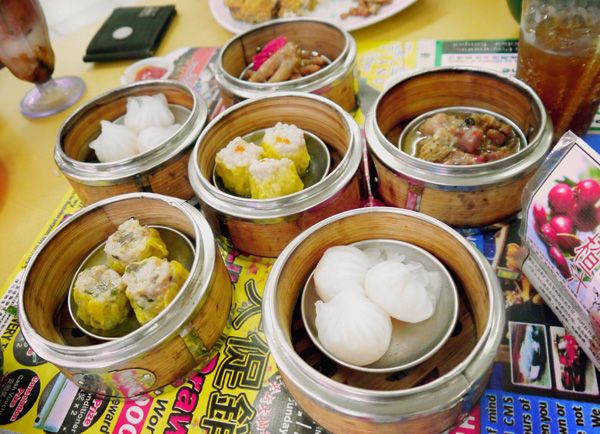 despite ordering that much of food, we reserved some space for cakes! this cafe attracted us to try it with the cakes on display. all look soo YUMMY!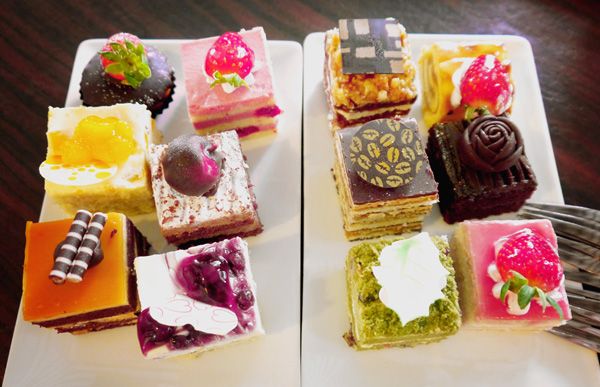 this is one unique cake.. pandan cheesecake. surprisingly it taste pretty good!
die die also must have a camwhore pic 😛 hahaha~
after a chill lax morning session with cakes and coffee, we headed back to our hotel to pack our stuff to prepare for checking out from the hotel.. We left our luggages at the concierge and continue to explore a few more stores nearby…
my camera is awesome as we can take awesome group pics with the swivel screen! ;P
loving the mirror from this shop… i looked so slim and TALL! ;D
we proceed over to KSL for KFC lunch as some of them didn't get to try it the first day. shop ard the place for awhile before we settle down for some desserts 😉 it's GOOD!!!~
we had our dinner at a alley near city square and it seems pretty well known there as its kinda crowded. Food was GOOD and Cheap! 😀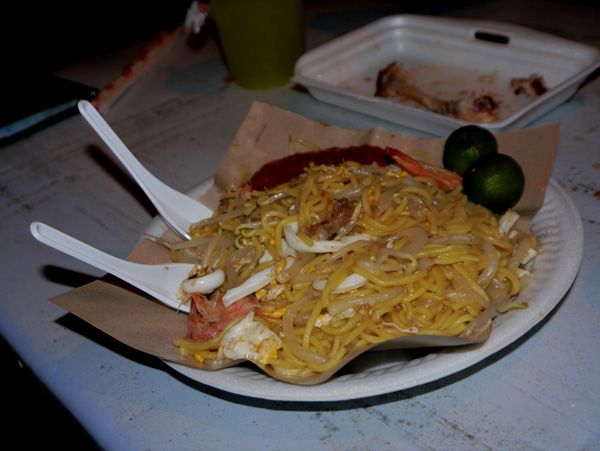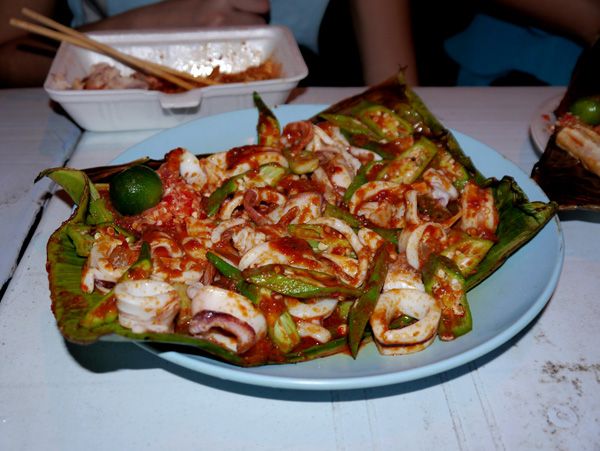 and we headed back to singapore after dinner. surprisingly there wasn't much jam along the causeway and we didn't have to queue for a cab at  the woodlands checkpoint! SHIOK LA~
Though it's just a 2D1N super short trip, i really enjoyed myself and i'm looking forward to our next trip! hopefully a longer one 😛