OK, this piece of news just drove my monday blue away! i'm extremely excited and glad to know that i'm actually one of the
Firstly i would like to thank all my friends whom rally for me during the nomination period and the judges for shortlisting me. 🙂
Now the real battle starts! What i need from you guys is very very simple, which is to cast your vote for me!!!
 Firstly, click on this link to the voting page.
Click on the login button to login. If you  do not have a account, you can click on the button beisde it to create a acc 🙂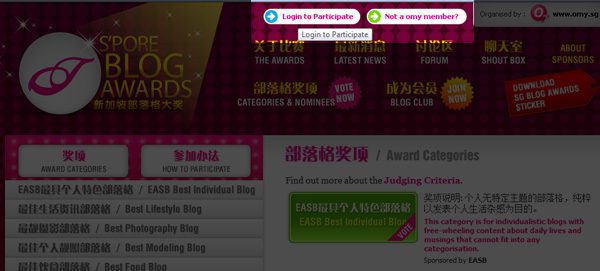 You will be redirected to the login page. Key in your username and password before clicking on the login button.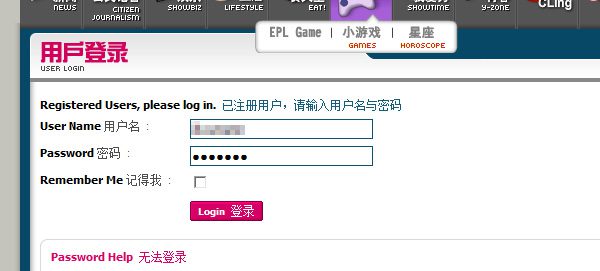 once you've login, you will see this page! click on the OK button.
now, this is where u start to vote!!! you can click on either one of the highlighted area as shown in the picture below.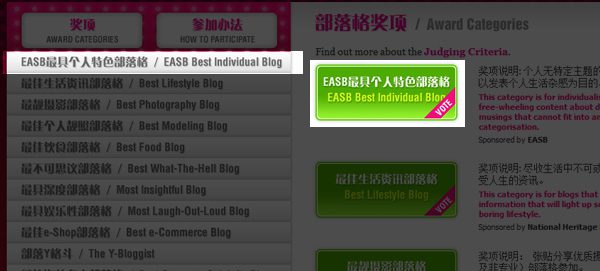 Now, can see my small little thumbnail as shown in the picture below? click on the vote button at the corner of the thumbnail…
and a window will pop up and prompt you if you are voting for darren86, which is me.. and obviously u click on CONFIRM right? the cancel button doesnt exist ok~~ hahaha 😀
and now, my little thumbnail appeared with a yellow voted button, which means you've successfully voted for me! THANKS!
oh and btw, if you think that it's just purely voting and thinking, why should i vote for you, what do i gain from? you're wrong!!!
By casting your vote, you get to win attractive BIG prizes! From smart phone to fabrix laptop cases and overseas trip! the list is too long for me to post here, so here's the direct link for the prizes~ ! http://sgblogawards.omy.sg/about/prize.html 
Do take note that each acc is only able to cast a vote per day. SO… do come back and vote for me everyday ok!
THANK you so much to all my friends and readers!
voting ends on the 30 June 2010
*btw, alot more exciting post coming up on my blog.. one of them would be the recent Show Luo 舞法舞天 3D Singapore concert, with lots of videos taken! let me see.. a total of 11 parts!~ *