Sponsored by Chan Brothers Travel & Korea Tourism Organisation
It time for Korea Trailblazer Episode 02~! 😀 have you watched my episode one? if not, please go watch over here yeah!!!
After checking in to our rooms and had a quick wash up, we are all ready to GO! ;D Our hotel is located just right above Bujeon subway and it's really convenient for us!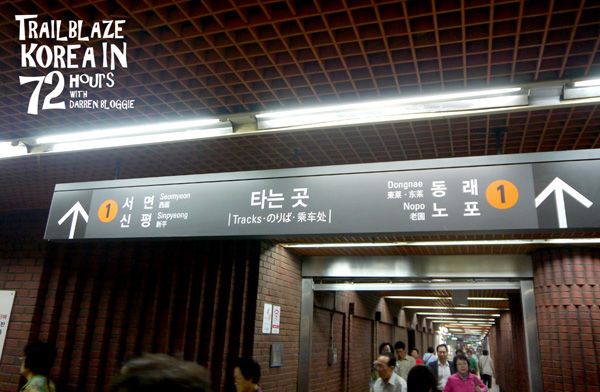 A picture with Pui Yen from KTO 😉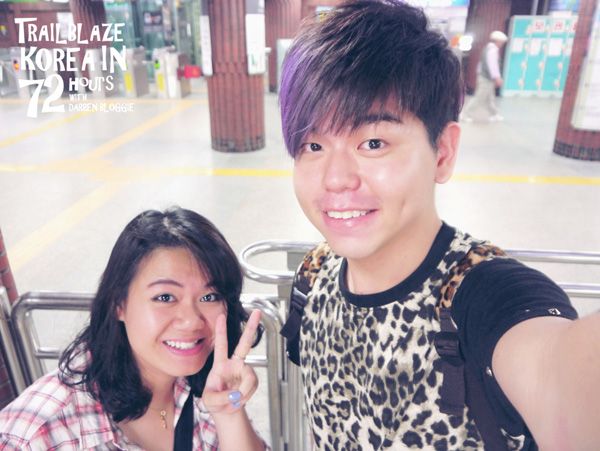 Taking a train is pretty easy over here in busan. It's similar to the train over here in singapore just that the seats are all cushioned instead of the plastic seats we have here. Whenever an elderly board the train, they will give up their seats to them which is good 😉
Interesting display whereby it will indicate the stop that the train is currently at.  😉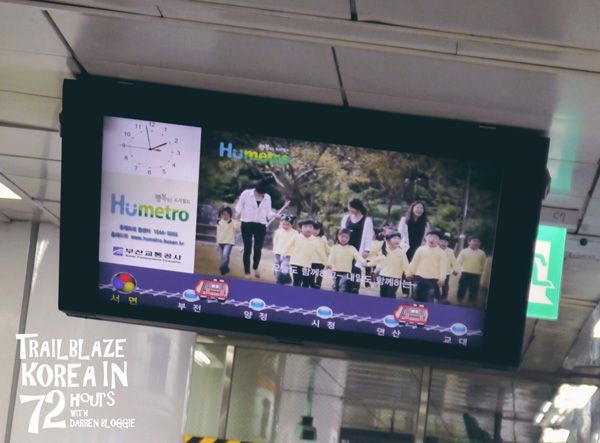 The interior of the train. Pretty packed on a weekday afternoon…
We alighted at Nampo station for our first destination : Yongdusan park!
Yongdusan Park , Busan Tower
Go out Exit 1 of Nampo-dong Station, walk 10 minutes.
Yongdusan park : Busan Tower : 8:30 am-10:00 pm(Apr-Sep)
Tickets : 4000won (SGD4.40)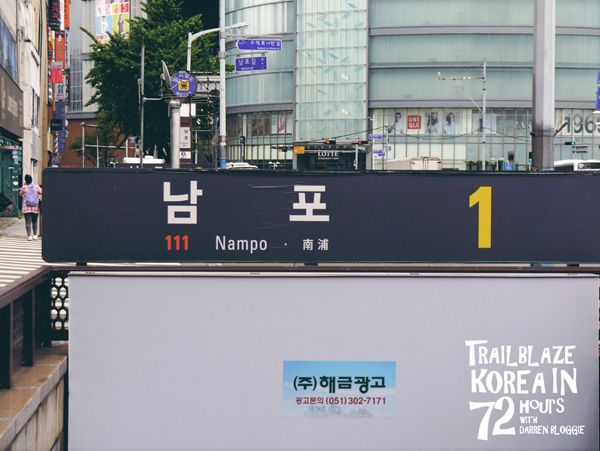 you know you are on the right path when you see this. That is the entrance up to Yongdusan Park.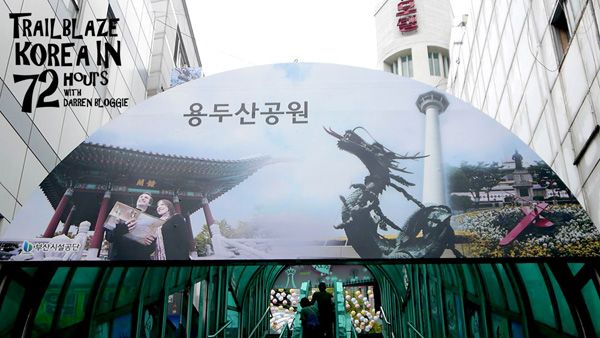 pretty lanterns along the way…
luckily there's escalator to bring u up the hill~~
and tada~ we've arrived!
and at the back, you will see Busan tower.. which is currently under construction 🙁
Camera ready.. action! time to start filming…
You will get to see some elderly playing chess or strolling along the park 😉
one of the significant icon in Yongdusan Park..
Though we didn't managed to go up the Busan Tower we still managed to catch a glimpse of the scenery 😉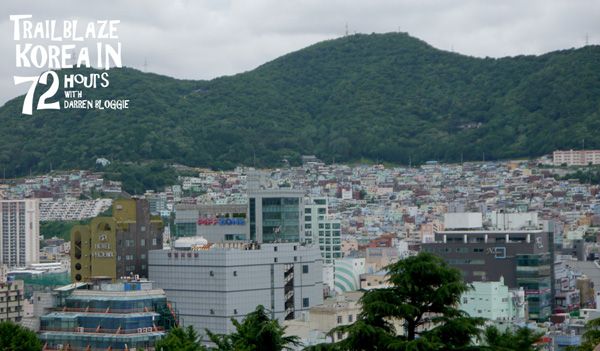 Just right below Yongdusan Park is the Gwangbok Dong Cultural and Fashion street!  whereby you can find lots of items from beauty to luxury goods, clothes, shoes, food and many more!!! 😀 Do remember to bargain as you can get stuff at a cheaper price! ;P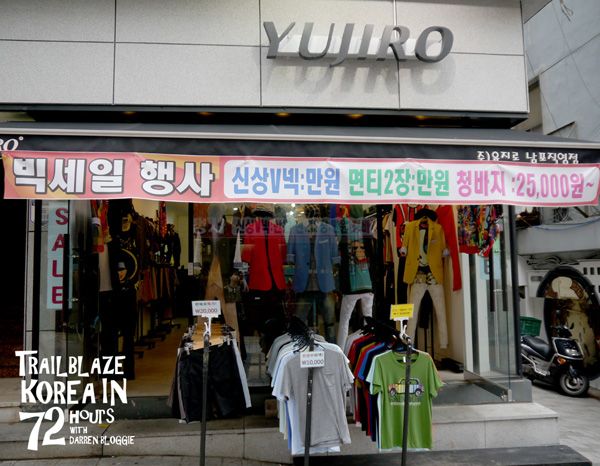 this shop simply just shout out to me : "COME IN!!! COME IN!!!" especially with all the SALE sign on the window display~~~ and true enough, i got my first loot in korea over here! 😀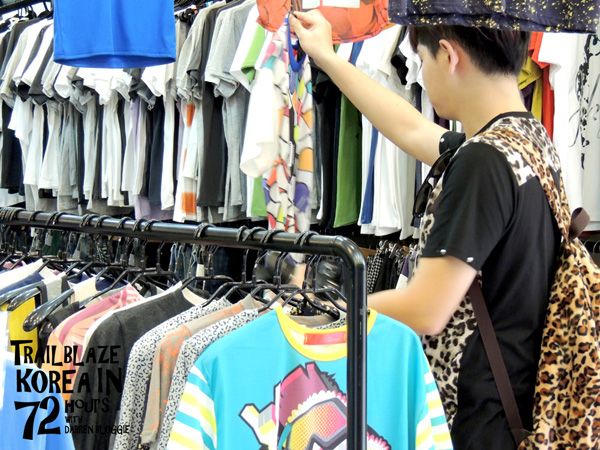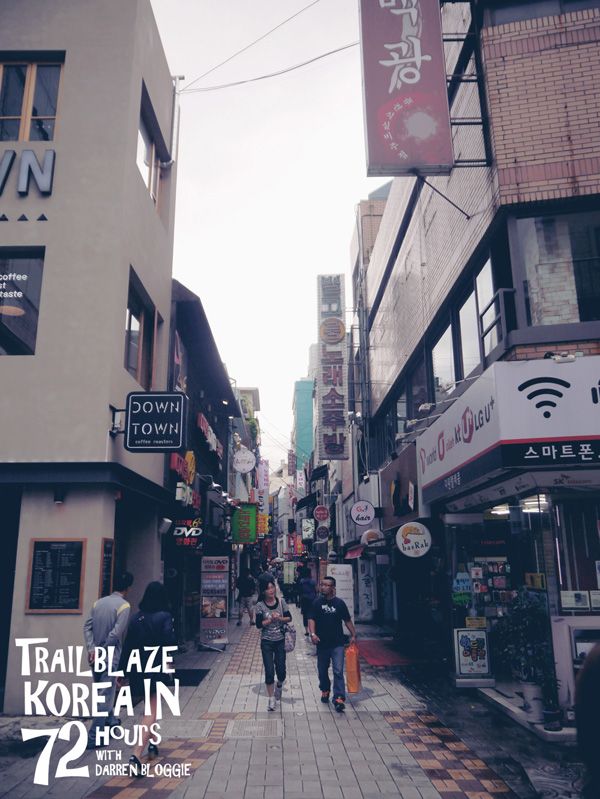 Time for some street food ;D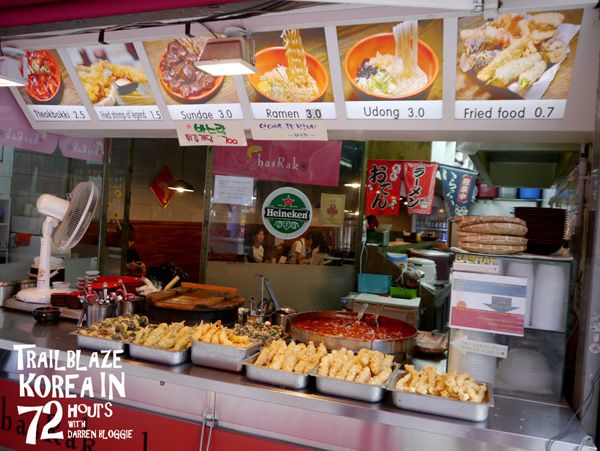 I loved tteokbokki over here in singapore, also known as the nian gao, so i decided to try the AUTHENTIC korean tteokbokki!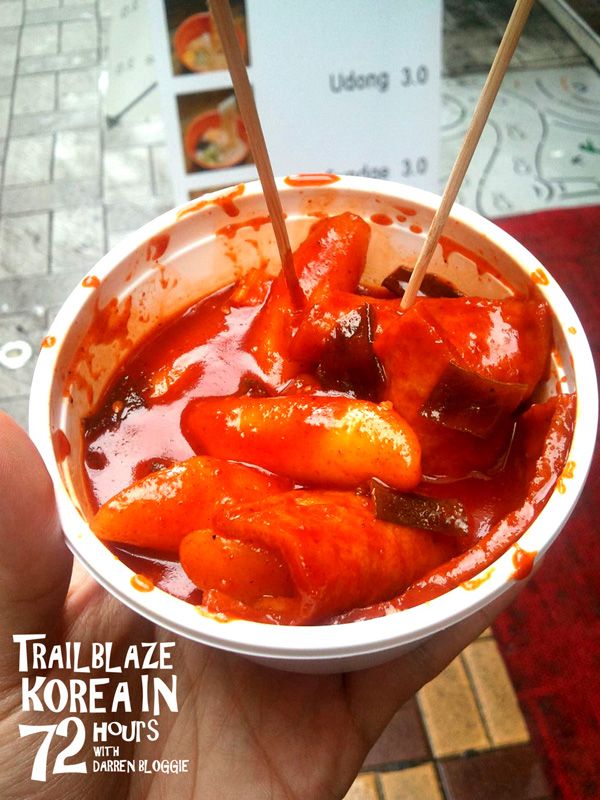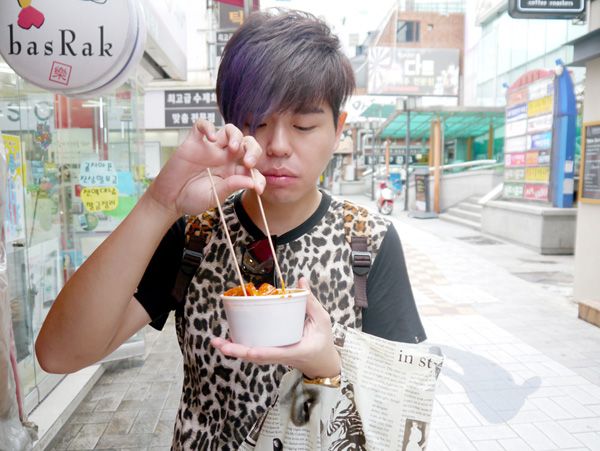 And it's SUPER SPICY!!! im one tat can take spicy food but this is like SUPER SPICY that i couldn't finish everything!! BUT it's super nice la~~~ 😀
Other than shops along the fashion street, there all pushcart style stalls in the middle of the road whereby they sell all sort of stuff over there!! these are the places that you should do some bargaining with ;P
the iconic sculpture at Gwangbok dong fashion street…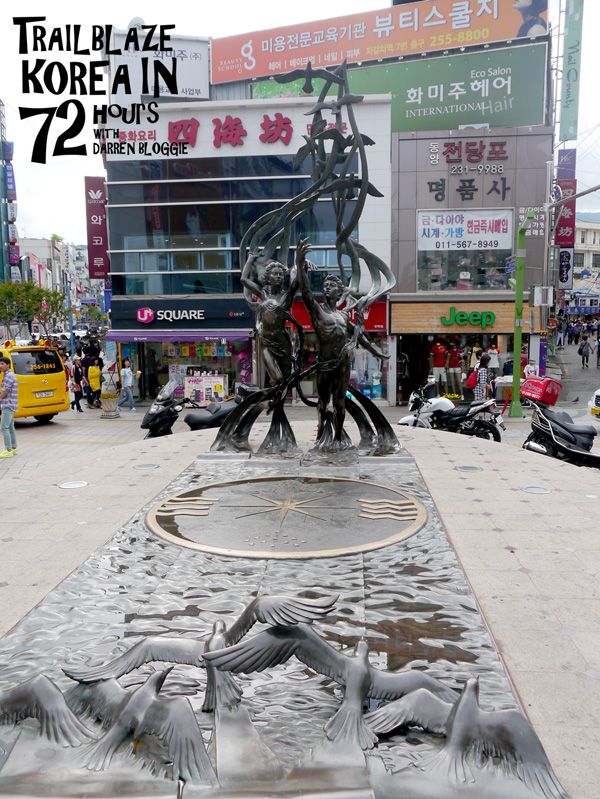 how about posing together? 😛
After we are done shopping, we went over to the jagalchi market just right opposite the fashion street.
Oh and one thing to take note of is that there's lots of stairs to climb when exiting from the subway station.. Maybe that explains why korean ladies have such nice legs~~~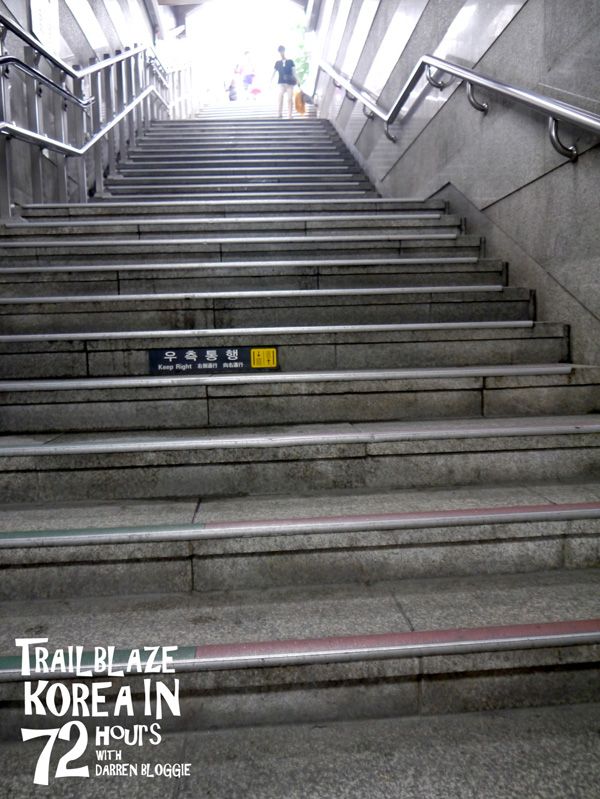 Jagalchi Market is separated into 2 different section. One section mainly focus on wholesale dried seafood like those you see below.. while the other section focus on LIVE and FRESH seafood! 😉 it's a must visit if you are in Busan as this is the largest fish market in korea! 😉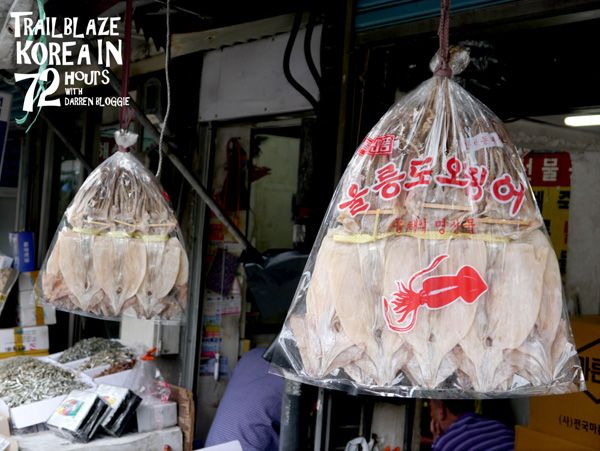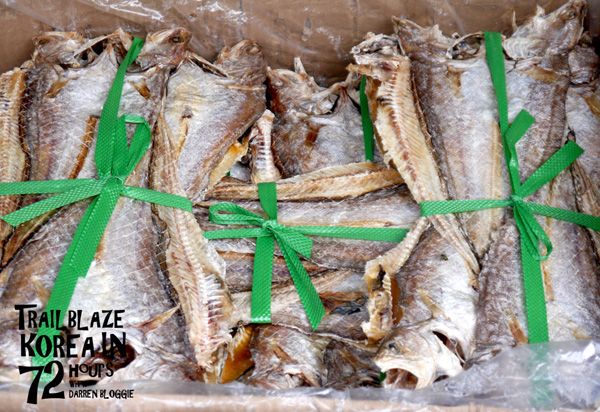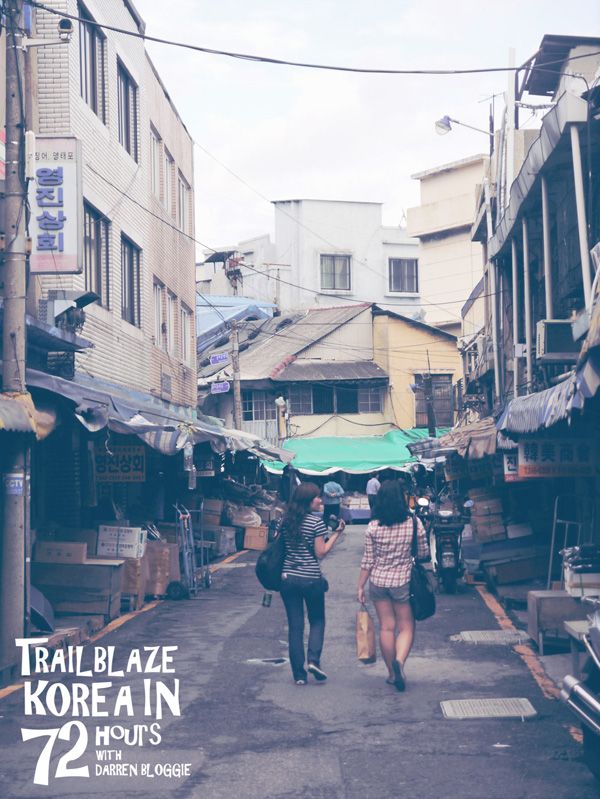 other than dried seafood, they do sell other dried food like peanuts, walnuts, cashew nuts etc too!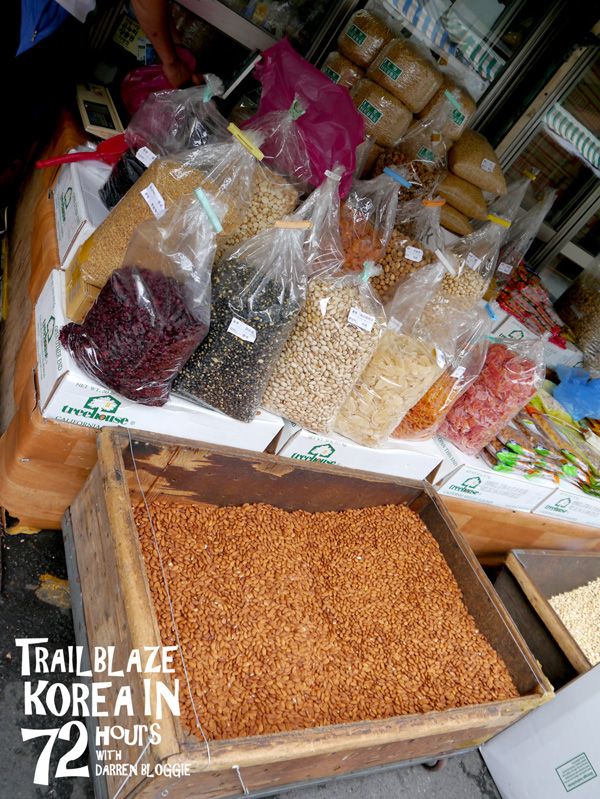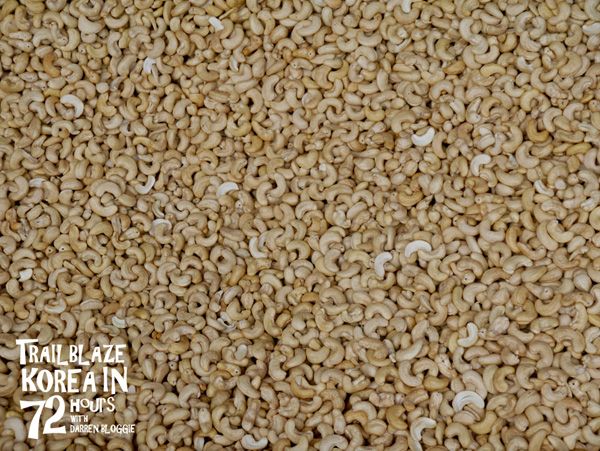 fishing net as well! 😉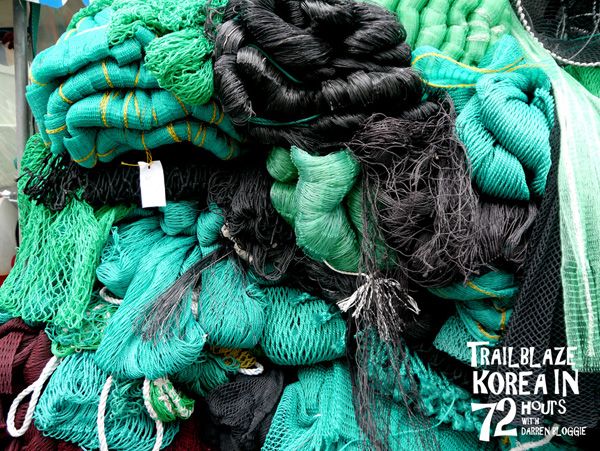 and GINSENG!!!! but didn't check on the price.. not sure if its cheap anot..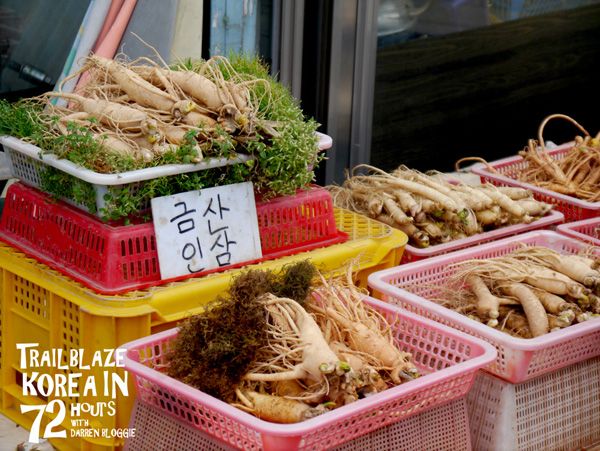 Its filming time again!!!
Seeking help from the locals with the pronunciation of the market's name.. they are really nice and they can speak fluent english too! 😀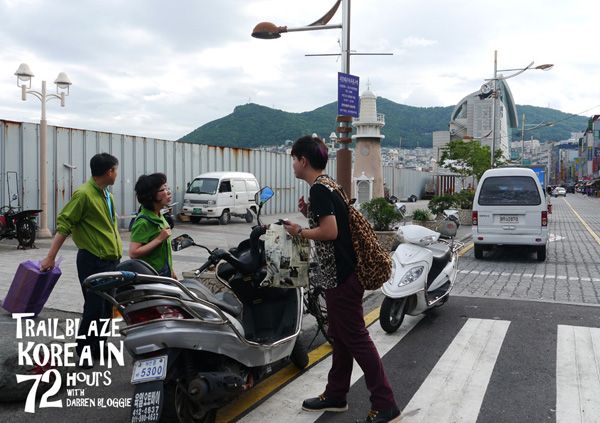 they made me feel like a star when they stand at the side watching me while filming in progress. LOLx~!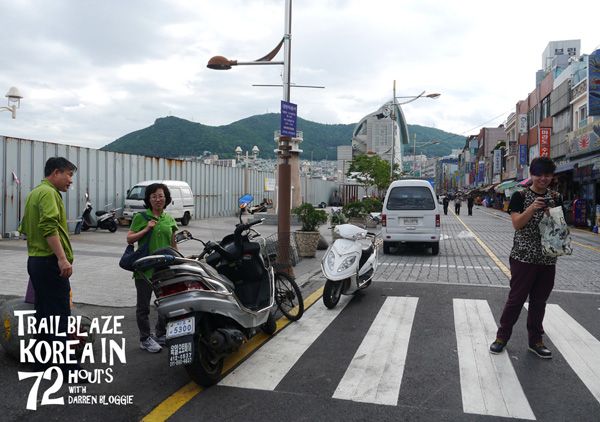 Check out my episode 2 videos at the end of this entry~ now.. continue to read on! 🙂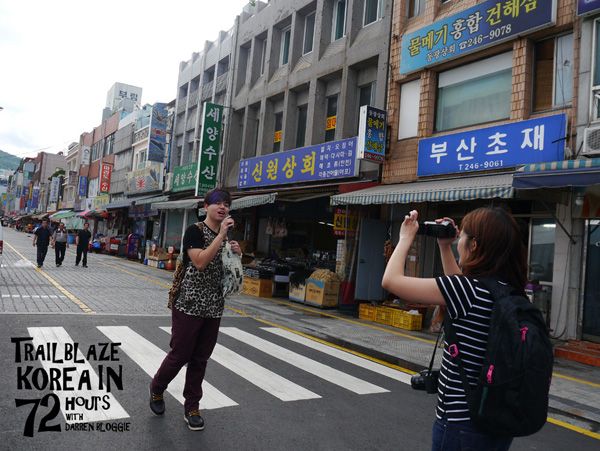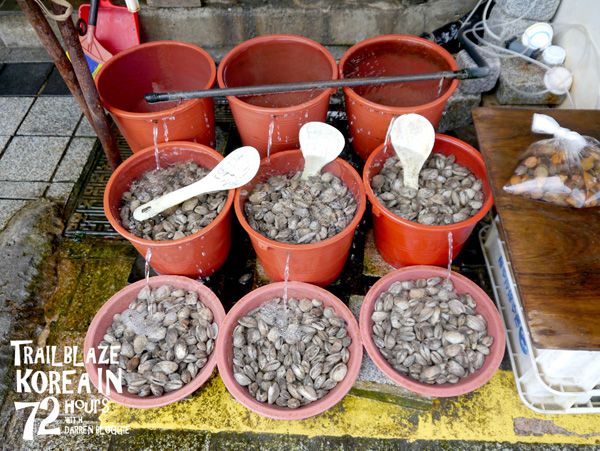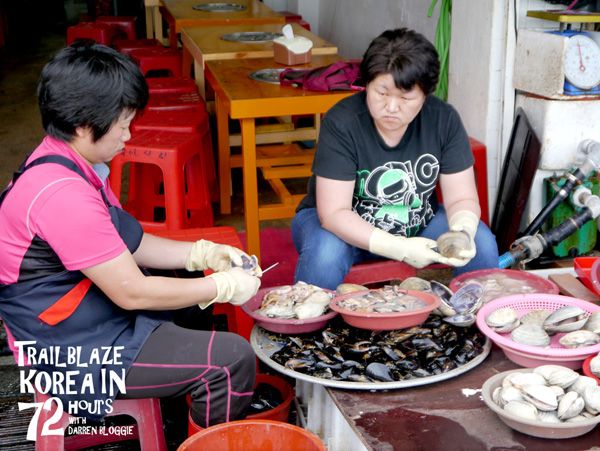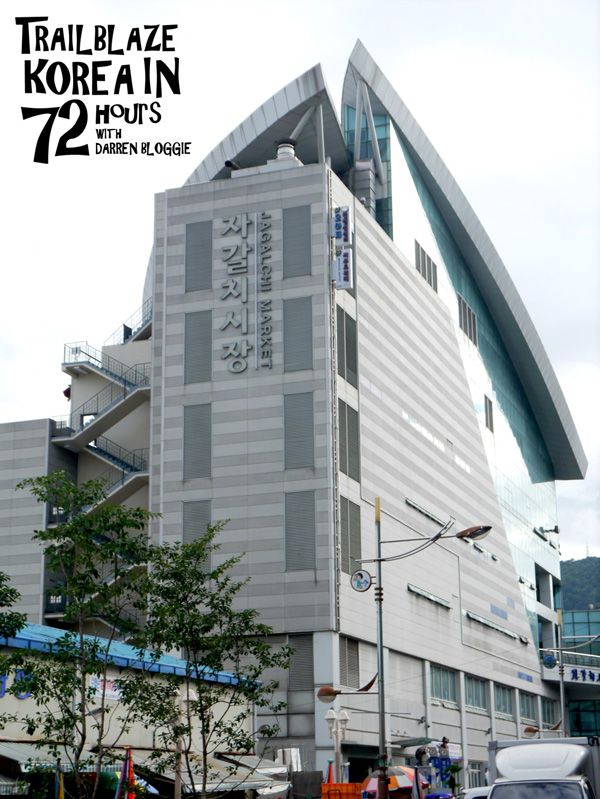 Jagalchi Seafood Market

Jagalchi Station (Busan subway line 1), Exit 10
Turn right onto Jagalchi 3(sam)-gil Street.
Walk for 5min, then turn left to arrive at Jagalchi Market.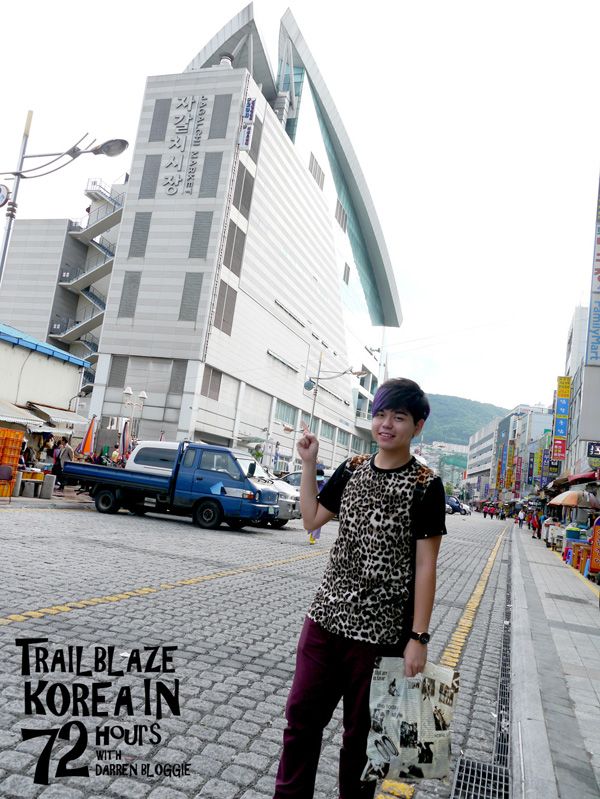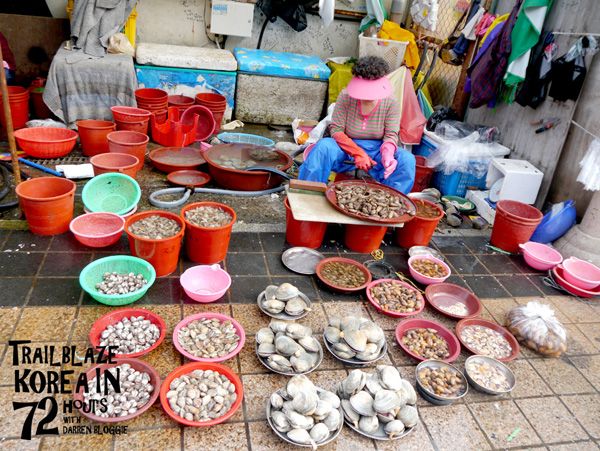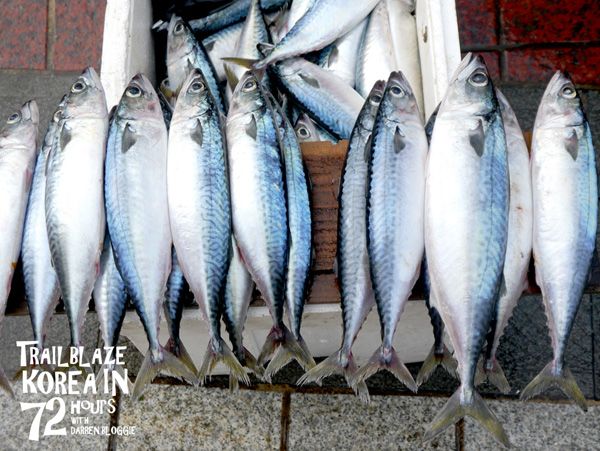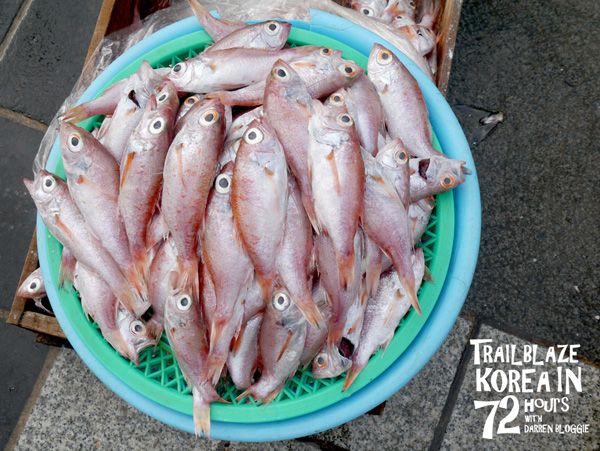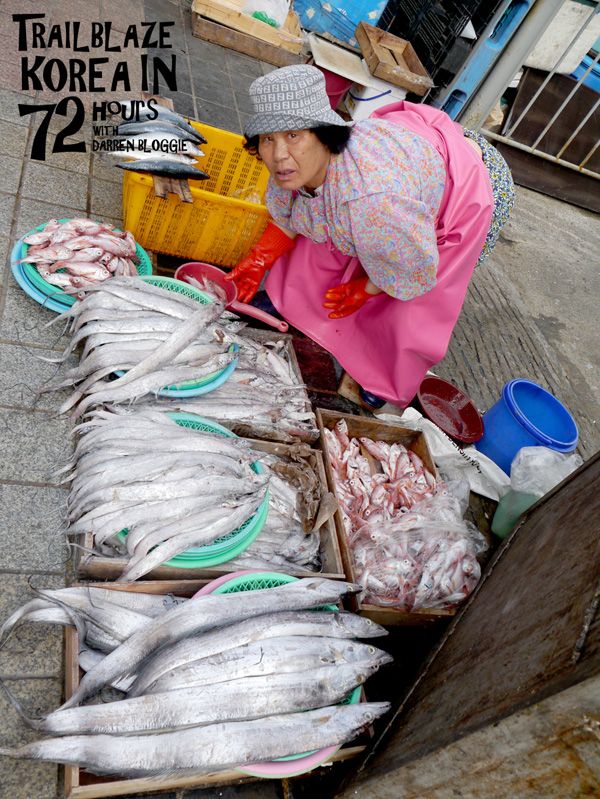 it's pretty huge inside the market and they sell all kinds of seafood. Some which i don't even see them before!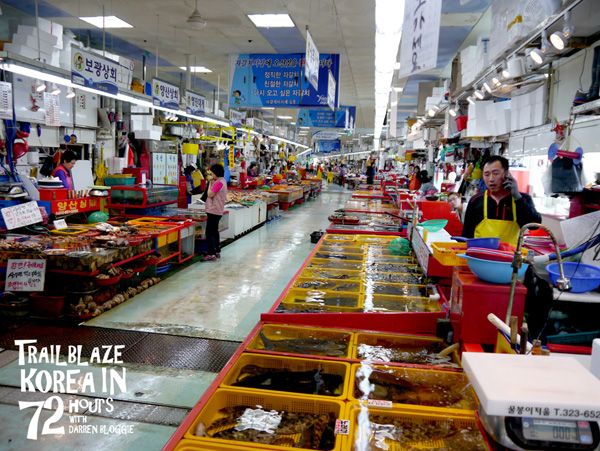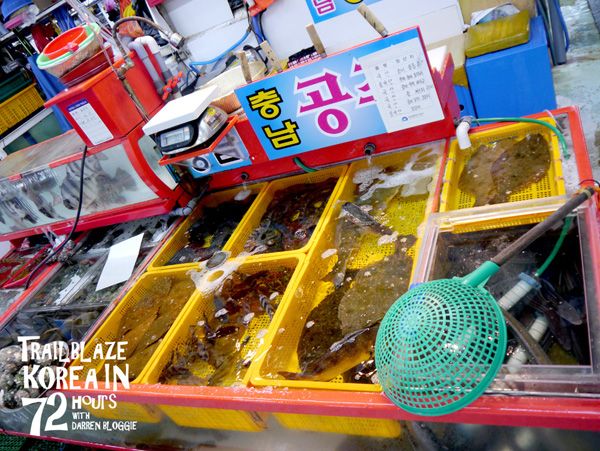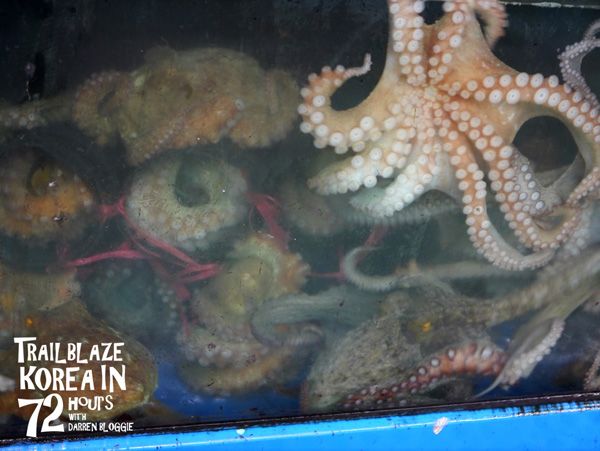 Before….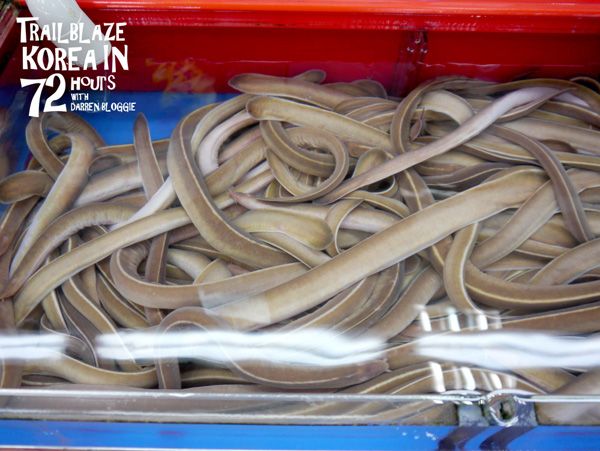 and after… :/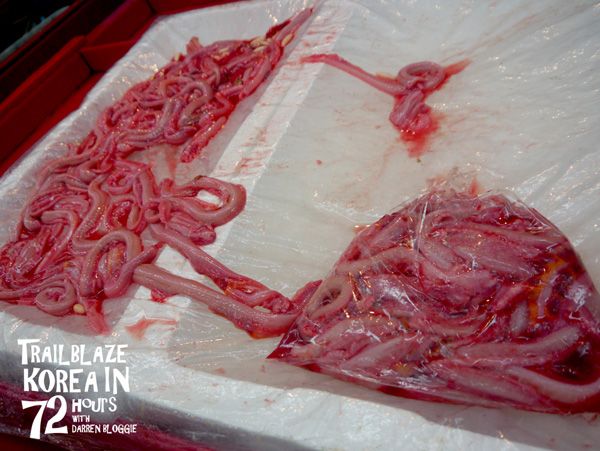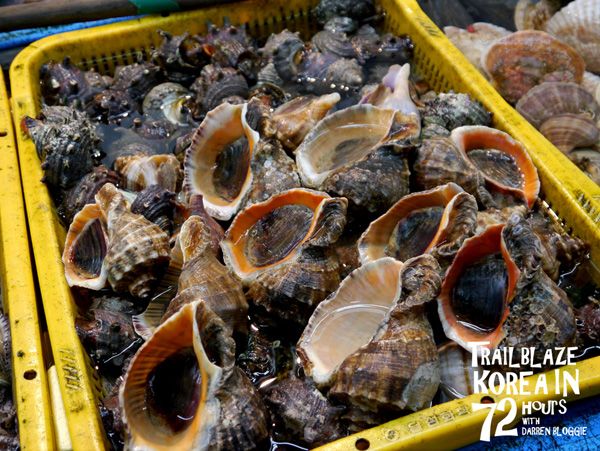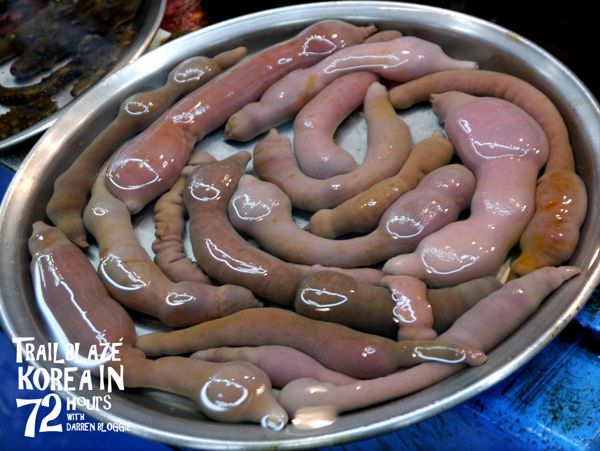 Fat cat hunting for some live fishes? :X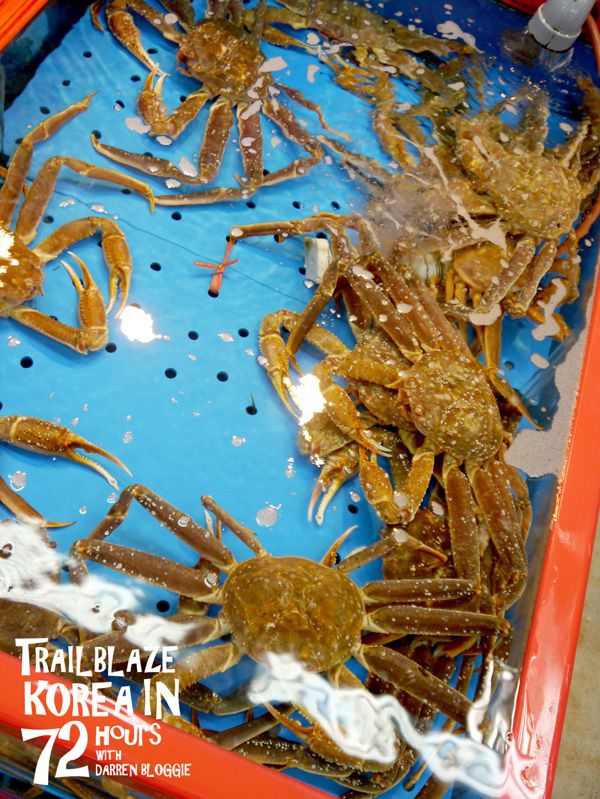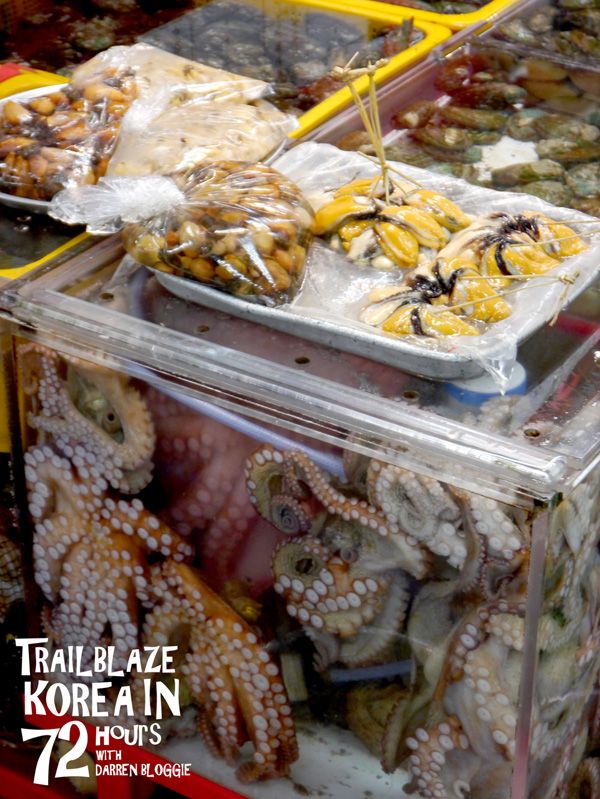 when we head out of the market, the view was stunning!!! 😀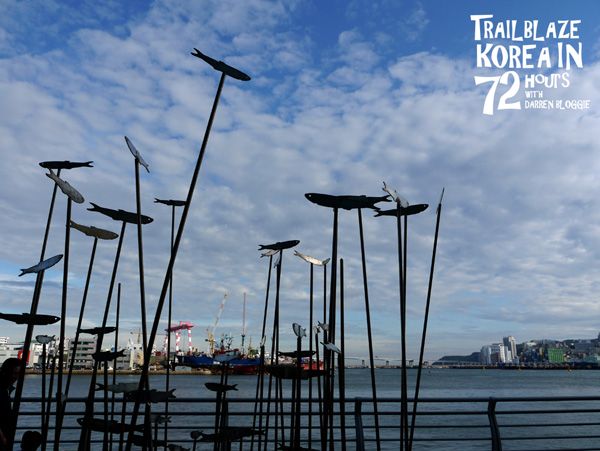 my first time seeing so many seagulls flying right in front of me !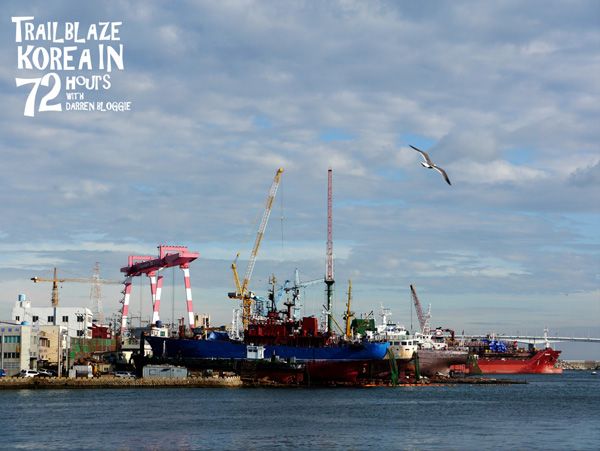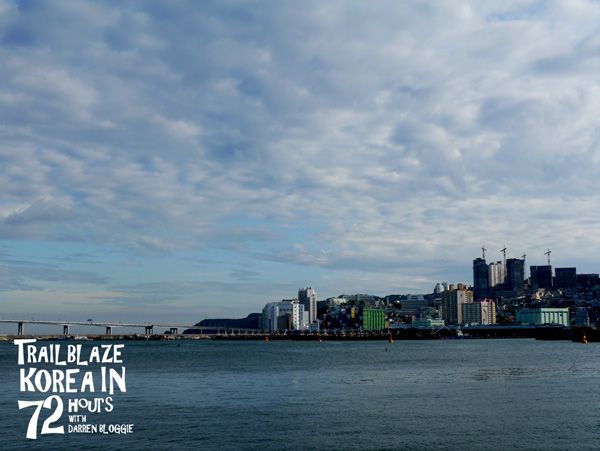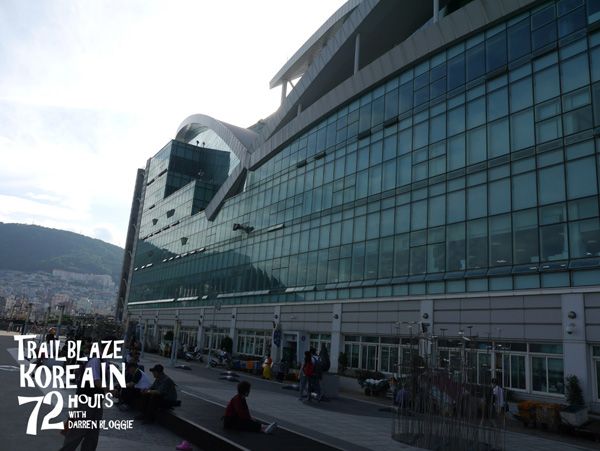 the sky are soo blue, filled with fluffy white clouds~ the sea breeze and the warming sun rays.. awesome! 😀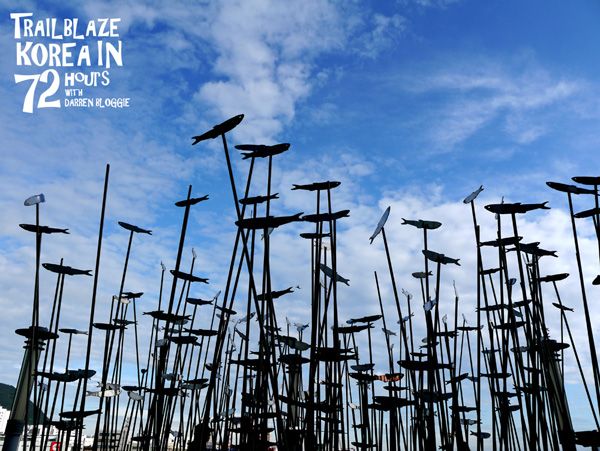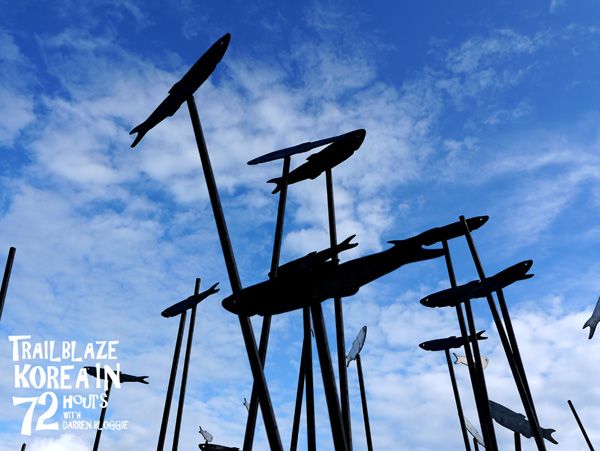 ahh~~~ so nice~~~~ 🙂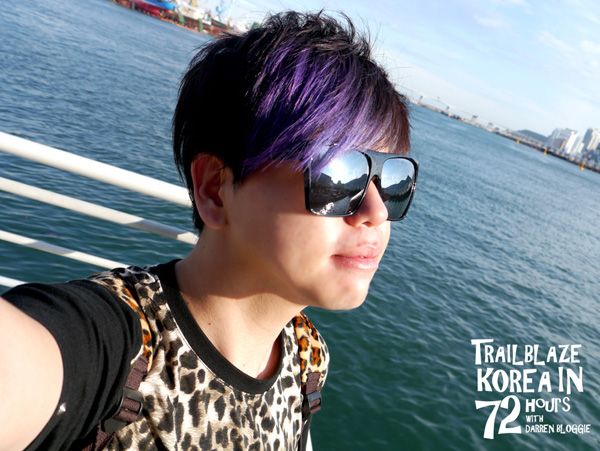 how to not camwhore with such natural lightings right?!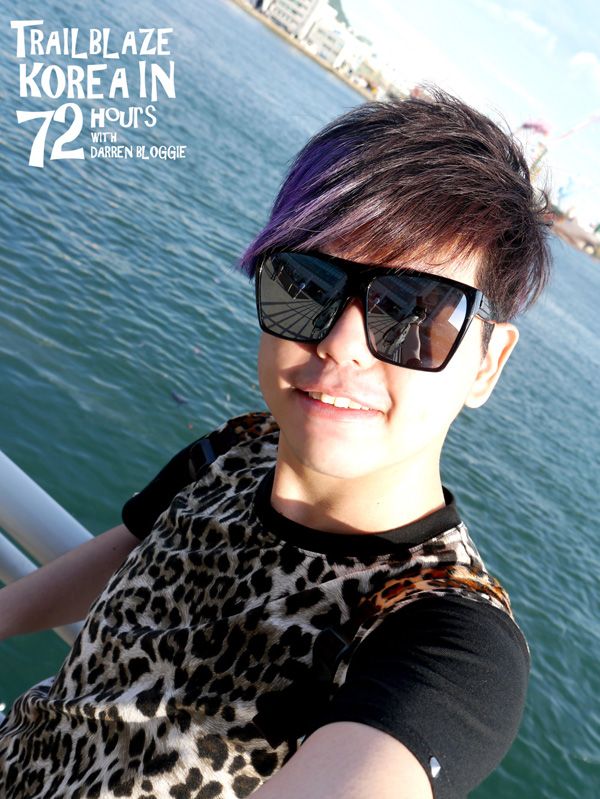 Next we proceed up to OASE Seafood buffet which is located just right above jagalchi market for dinner! ;D
OASE Seafood Buffet (Jagalchi Market Building).
Dinner timing (18:00-21:00)
Adults: 34,500 won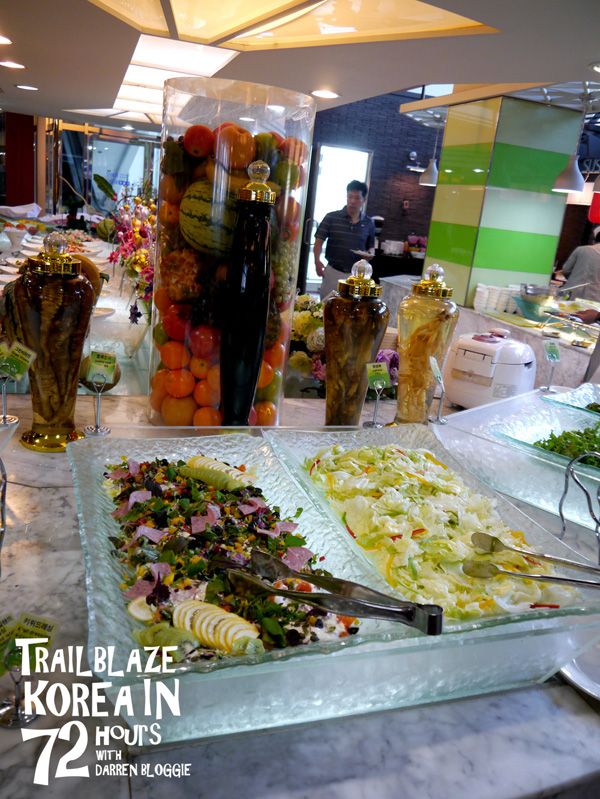 they served a WIDE variety of international food! From jap to chinese to western and not forgetting the seafood over there! 😀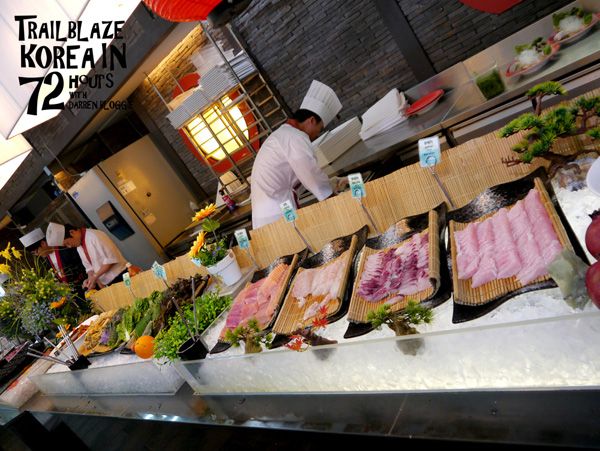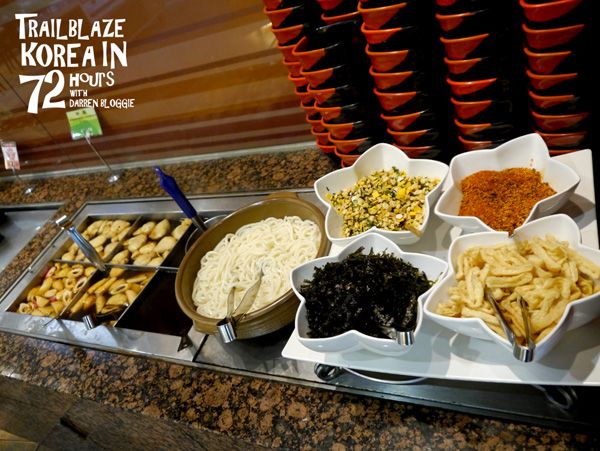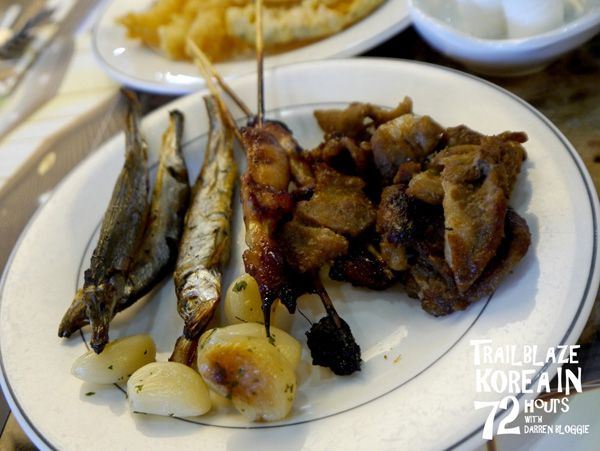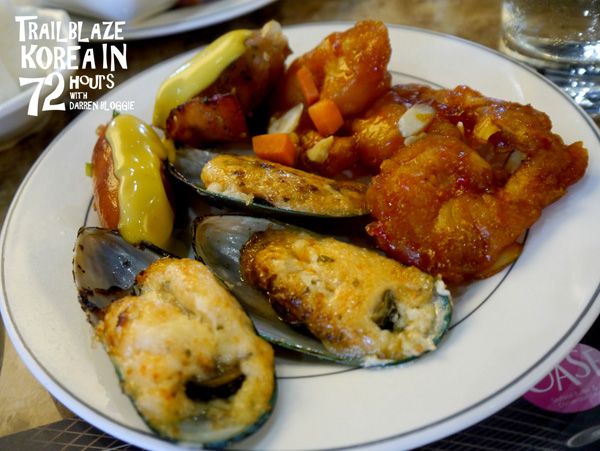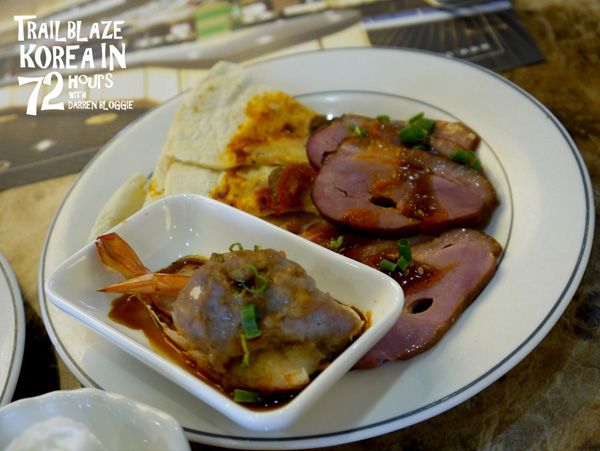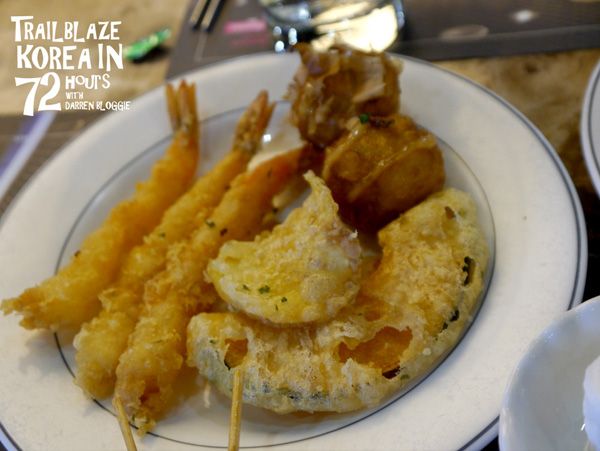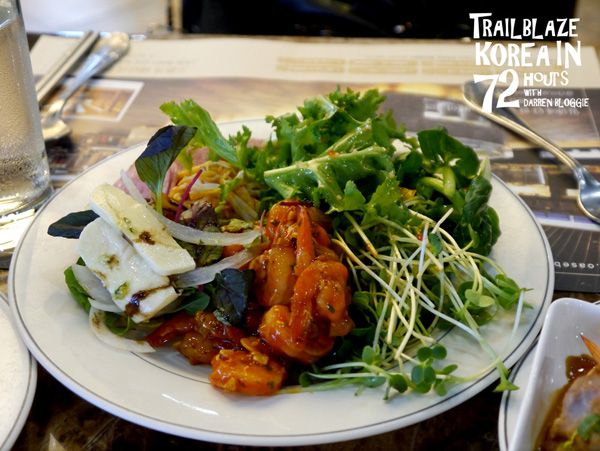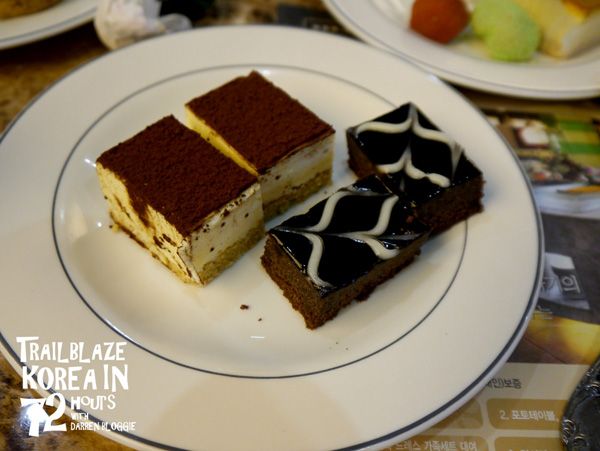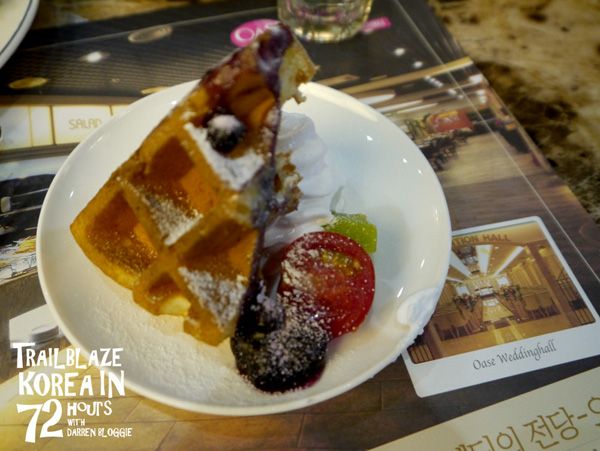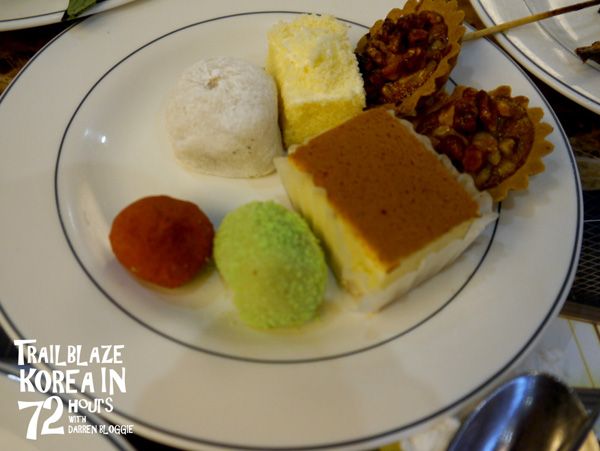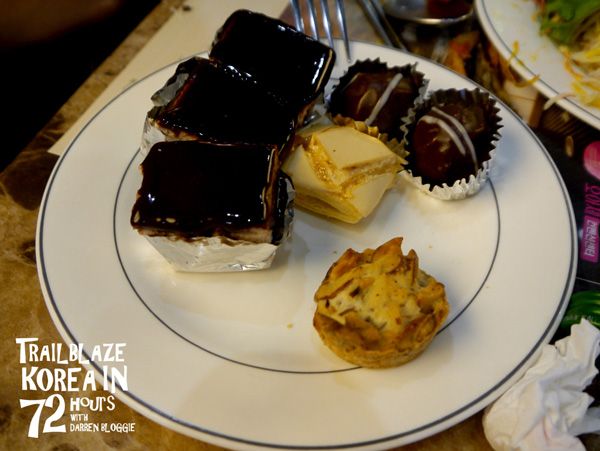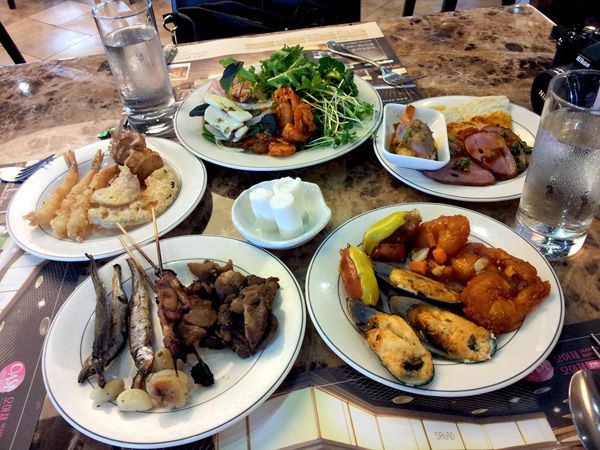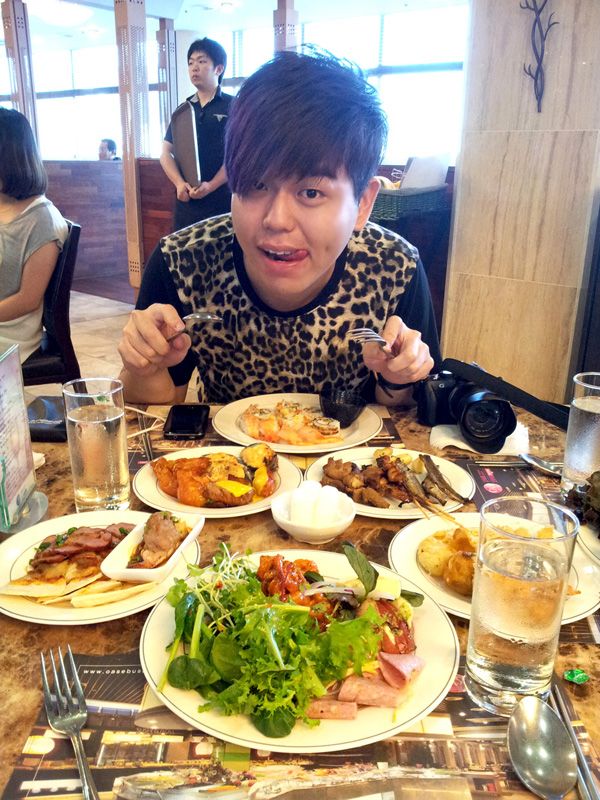 What a sumptuous buffet! 😀 we even order soju to go with the food!!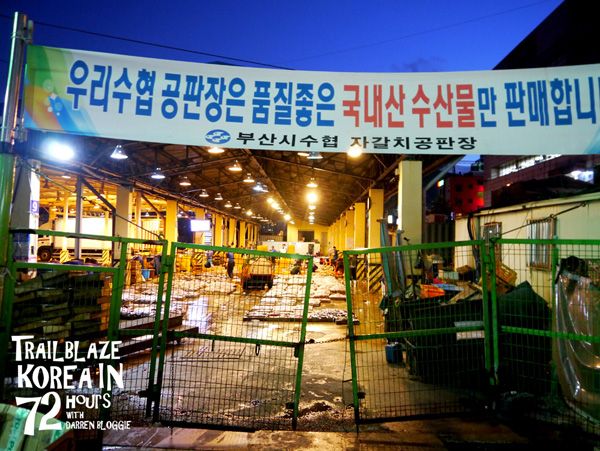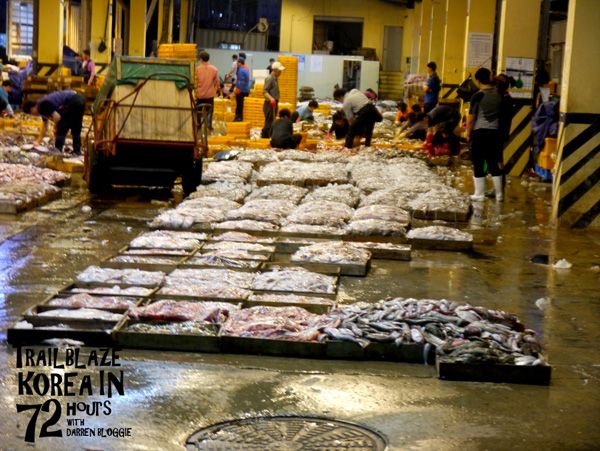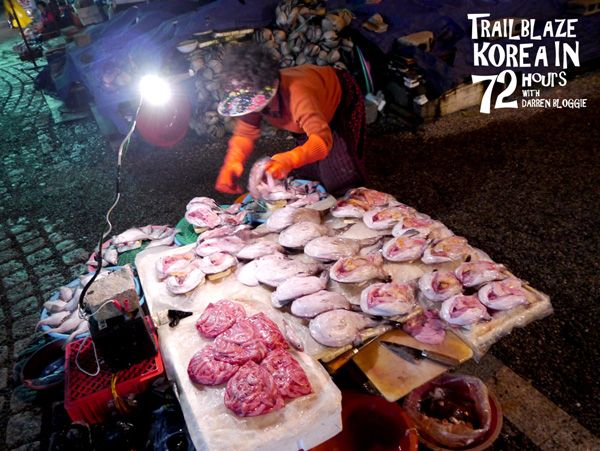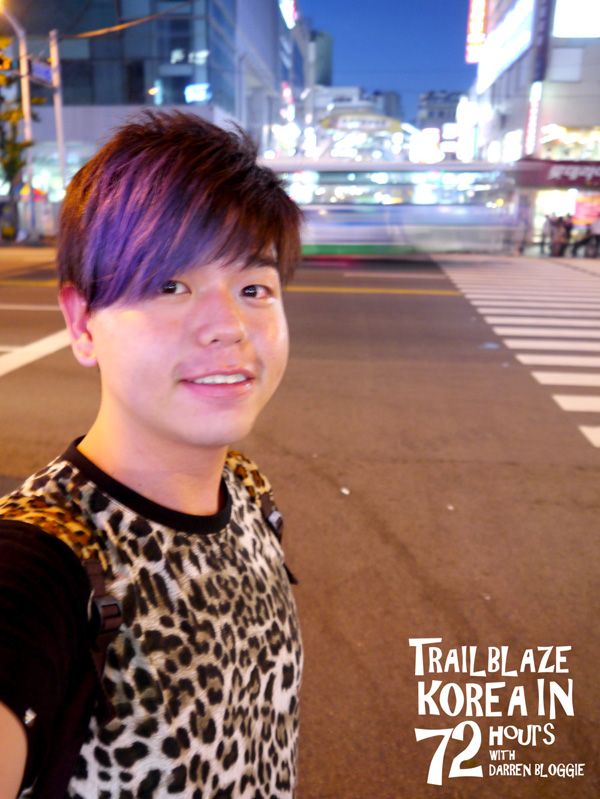 After dinner, we went over to the nearby BIFF Square (Busan International Film Festival Square), which is located just opposite Jagalchi market for more SHOPPING!!! 😀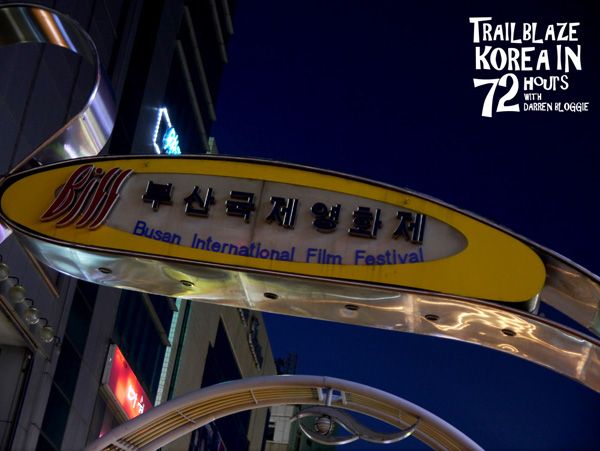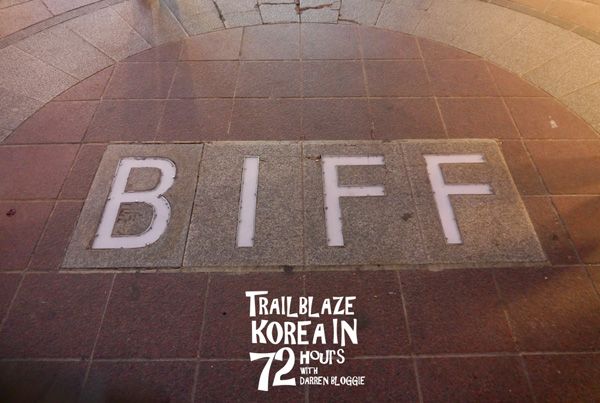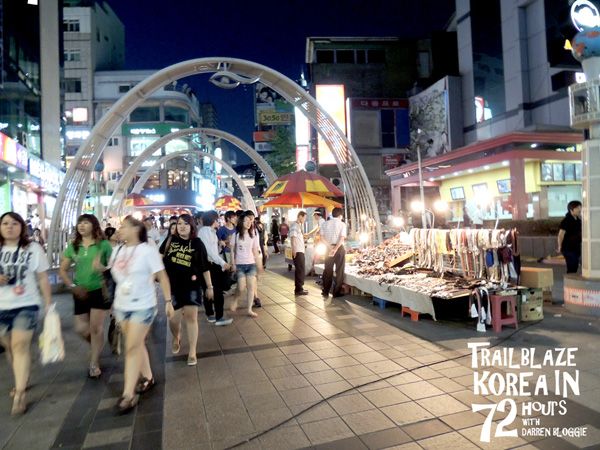 Actually BIFF square, Jagalchi market and Gwangbok dong Fashion street are all very near one another. You can actually walk you way from BIFF square back to Gwangbok dong Fashion street too!
how can i not visit the beauty store in korea and buy some mask to pamper myself at night in the hotel right! TOO many that im really spoilt for choices!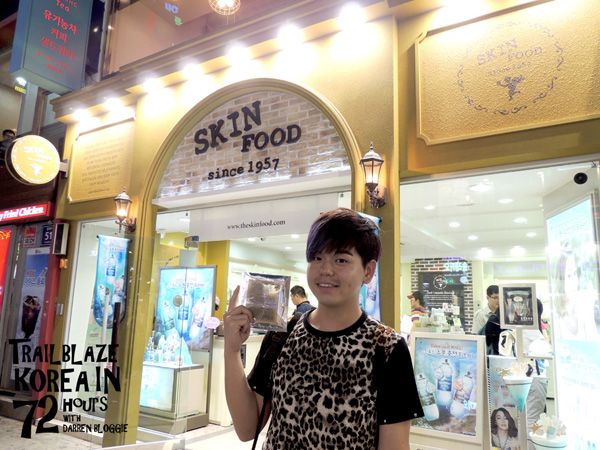 a victory picture with one of the sculpture at Gwangbok dong fashion street to mark the completion of my Day 1 itinerary! Seriously need to head back hotel for some pampering session and a good rest for a hectic day 2 whereby i'll be going island hopping! 😀
and presenting you Trailblaze Korea in 72 Hours with Darren Bloggie Episode 02! 😀
* * * * * * * * * * * * * * * * * * * * * * * * VOTING TIME * * * * * * * * * * * * * * * * * * * * * * * *
Do you enjoy reading and watching my Trailblaze Korea in 72 Hours with Darren Bloggie ? If you do, would appreciate it if you can cast a vote for me!
https://www.facebook.com/ChanBrothersTravelSG/app_20678178440
*Voting ends 25th August 2012!
Voters will get to win a special gift that i've brough back from Korea too! 😀
Gamsahamnida 감사합니다!
——————————————————————————————-
Do check out these entries as well! 😀