Uber Singapore launched uberPOOL on July 1, a smart new option that allows riders heading in the same direction to share a ride and split the cost of the trip. It was went received by the public and to thank the support and mention given, Uber Singapore is giving all a treat to enjoy uberPOOL rides anywhere in Singapore for just $5 between 7:00am to 10:00pm!
Some example fares you can take advantage of are:
• Jurong to Raffles Place: $5
• Kallang to Dempsey Hill: $5
• Bedok to Changi Business Park: $5
HOW IT WORKS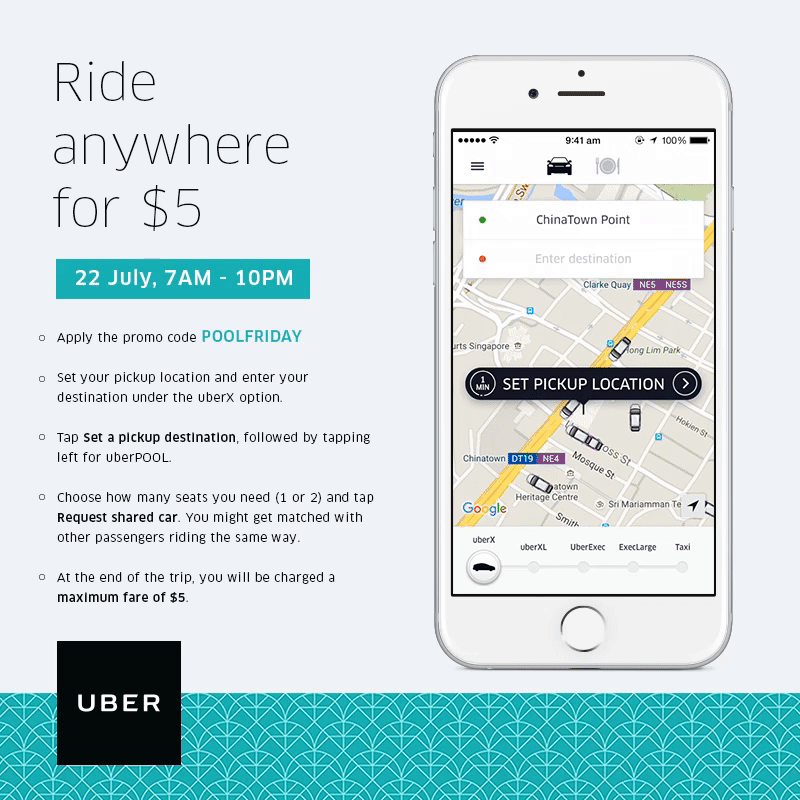 Apply the promo code POOLFRIDAY
• Set your pickup location and enter your destination under the uberX option
• Tap on Set a pickup destination, followed by tapping left for uberPOOL
• Choose how many seats you need (1 or 2) and tap Request shared car
• You might get matched with other passengers riding the same way
• At the end of the trip, you will be charged a maximum fare of $5.
• Promotion is valid on all uberPOOL rides in Singapore from Friday July 22, 7am – 10pm
• Each request can have a maximum of 2 riders per pick up. You will be matched with another requester, for up to 4 riders in total in the car
• Limited to 2 uberPOOL rides per rider.
Don't miss this chance to ride to work, your favourite restaurant or simply drive around the city for cheaper than ever. Buckle up! It's your time to #SpendLessDoMore with #uberPOOL.
Have more questions about POOL? Get your answers on the FAQ page