Advertorial
Tasmania is not only about the nature and if you are not really a nature lover, i'm sure you will still fall in love with tasmania as well! ;D Check these out!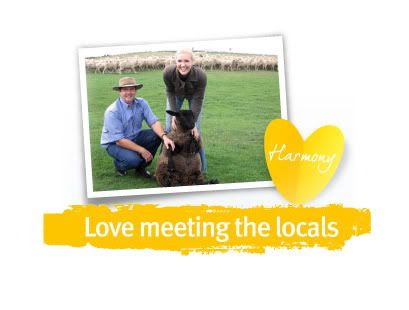 With a population of just under half a million, Tasmanians are renowned for their friendliness. Come and meet the farmers who grow our produce, have a yarn and sample their wares. Chat with berry farmers, boutique cheese producers, beekeepers selling their honeys, stay overnight on a farm such as Curringa Farm and Brickendon Farm and watch the farmers at work. Or have a cooking lesson at the Agrarian Kitchen and see how fresh produce is turned into a gourmet delights.
❤

Tasmania's clean waters fresh from the Southern Ocean are ideal growing conditions for seafood such as oysters, scallops, abalone, crayfish and fin fish. Our Atlantic salmon, abalone, scallops, octopus and rock lobster are served in the best eateries around the world. Cast a line for a plump trout, shuck oysters fresh from the sea and make sure you have some packed to take back home.
❤

Look out for chocolate truffles, Tasmanian specialty timbers such as Huon Pine, tasty leatherwood honey, hand-knitted woollen wear, art & craft, fine cheeses, superb wines, antiques and much more. Tasmanian wool is rated as amongst the finest in the world. Our berries, apples and stone fruits are juicy and still full of flavour; and our chocolates and beers world-winners. But don't miss the famous Salamanca Market in Hobart on Saturdays.
❤

Be enriched by the past and discover the convict stories that have built so much of Tasmania's sandstone heritage. Explore Port Arthur, its historic buildings and ruins, beautiful gardens and dockyard. Don't miss the Museum of Old and New Art – MONA which opened to world acclaim and houses some of the world's most infamous and thought-provoking contemporary art.
Tempted? How about winning a FREE trip to Tasmania?!

YES! Win A 8 Days 6 Nights Tasmania Self-Drive Holiday for 2 worth $10,000!
So what you need to do?
In 100 words or less, Express Your Love for what ever it is that you Love.
It could be in the form of a poem, a passage, a song, a picture* or video* – be as creative as you like. Of course if you include Tasmania you do get additional points!
Click on the link here and click on the APPLY button to submit your entry.
Fill in the form and click on the submit button to submit ur entry! Simple?
Entries will be loaded from 13 to 23 February 2012
After approval by Tourism Tasmania administrator the entry will be loaded onto Tourism Tasmania's DiscoverTasmania facebook page.
Get your friends and family to 'like' your entry from 14 to 27 February 2012.
Judging will be undertaken by the following criteria
30% Number of 'Likes' received
30% Creativeness of entry
40% Overall Presentation
On the 29th of February 2012, the winners will be announced! There will be a total of 4 sets of winners, each from Singapore, Malaysia, Hong Kong and China!
and you will be traveling to TASMANIA on an overnight flight from 13th to 20th March 2012 and enjoy 6 wonderful nights in Tasmania!
Other than the GRAND PRIZE of a Trip to Tasmania, there are other prizes to be won too!
Like :
Best Comment made in an Entry
Best Presented Entry
Most Creative Entry
whereby each winner will win a S$300 travel voucher!
Start expressing your LOVE! today and win yourself a trip for two to Tasmania! ;D
This entry is brought to you by Tourism Tasmania