One Faber Group is a new lifestyle brand that operates Singapore's only cable car network, the largest Merlion and the award‑winning multi-sensory night show set in the open sea. With the launch of the new brand, leisure products including Singapore Cable Car, Wings of Time, Sentosa Merlion, Faber Peak Singapore, Dusk Restaurant & Bar, Spuds & Aprons, Good Old Days, Show Bites, FUN Shop, Cable Car Gift Shops and local membership programme Faber Licence are now housed under One Faber Group.
By offering a one stop leisure brand featuring a seamless journey across two destinations, One Faber Group offerings remain as a must-do for all tourists.
ESCAPE WITH ONE FABER GROUP:
REDISCOVERING A GETAWAY RIGHT HERE IN SINGAPORE
Featuring a seamless experience from day to night, the journey starts from Faber Peak at 100 metres above sea level, where guests continue their journey across Harbourfront to Sentosa on board the Singapore Cable Car with spectacular views of the Harbourfront and Sentosa.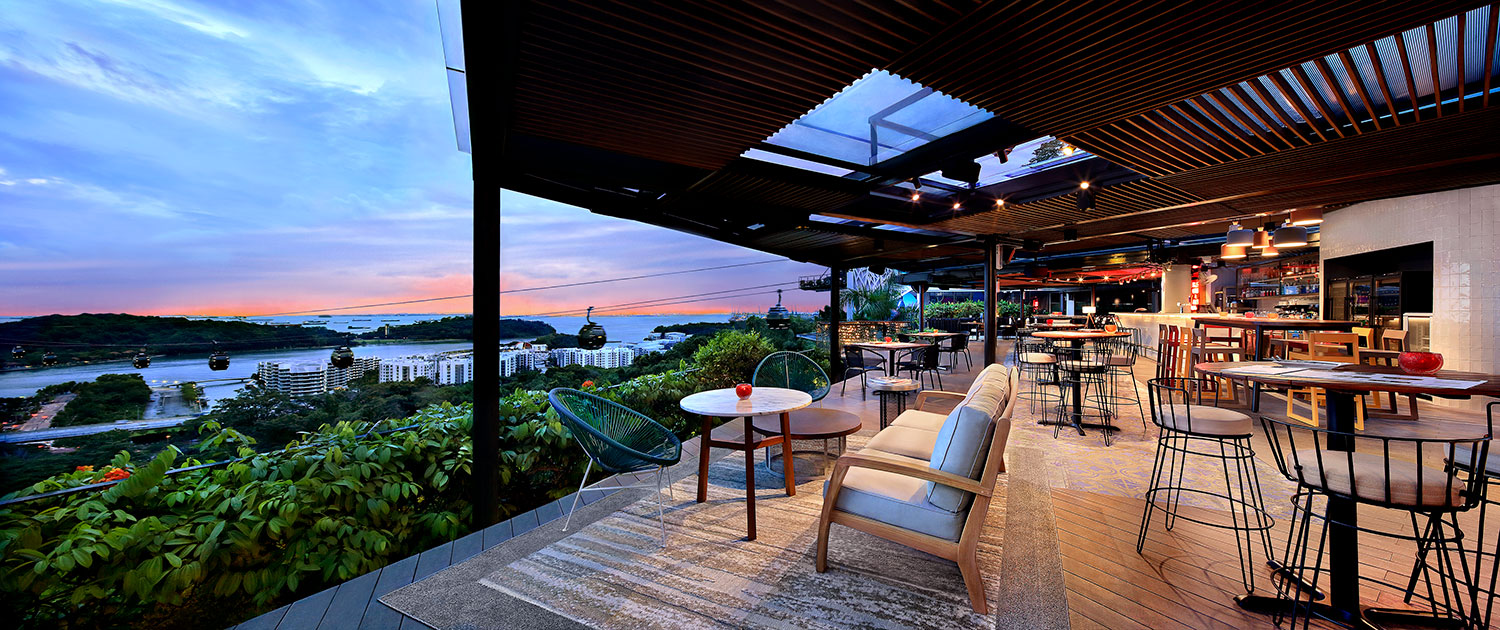 The newly opened Dusk Restaurant & Bar at Faber Peak is a unique hilltop restaurant in Singapore to experience the best sunset views, while patrons chill out over European Tapas, choice wines and Nitro-frosted cocktails.
Faber Peak Singapore, located 100-metre above sea level, offers spectacular hilltop views of the Harbourfront and Sentosa, and is home to Spuds & Aprons and Dusk Restaurant & Bar. For special events, venues such as The Ballroom, Private Dining Room and The Garden make this a top destination for bridal and corporate functions that require a scenic panorama.
Singapore Cable Car offers Asia's only cable car dining experience since 1998 and had since been a popular romantic setting for many marriage proposals. In 2018, the Sentosa Line will feature a new cable car dining experience featuring a bento set, targeted at corporate and travel groups.
One Faber Group's offerings are linked seamlessly by the Singapore Cable Car Sky Network of six stations on two main lines – the Mount Faber Line that connects mainland Singapore to the resort island of Sentosa, and the Sentosa Line that connects to the island's western end at the Siloso Point.
The Sentosa Merlion, which turns 22 in 2018, is Singapore's largest Merlion statue towering at 37-metres. It is the only sculpture that guests can step inside for an attraction experience, and ascend to the head gallery for a 360° view of Singapore's southern shores. The Sentosa Merlion will be unveiling a refreshed attraction experience that features information on all Merlions in Singapore. It will feature interactive elements using Virtual Reality technology to enhance guest experience. Guests can expect to experience the enhanced Sentosa Merlion in Q2 2018.
The award‑winning Wings of Time on Sentosa Island is a multi-sensory night show set in the open sea, which combines water, laser and pyrotechnics into a visual extravaganza.
REFRESHED FABER LICENCE MEMBERSHIP – Launching Q3 2018
The annual membership price of $39 for local residents remains the same for an individual. The refreshed Faber Licence will offer even more privileges across all One Faber Group products, on top of unlimited cable car rides all year round! To entice more families to sign up, a new two year family membership will be offered at an attractive price.
LOCAL PROMOTION
One Faber Group offers a year-long discount of 15% discount off ticket prices for locals to enjoy the Singapore Cable Car, Sentosa Merlion and Wings of Time. Throughout the year, One Faber Group also works with partners to extend tactical offers.
For more information, visit www.onefabergroup.com