Food Review
Chinese New Year is coming soon and have you decided on where to have your reunion dinner? Not sure about you, usually for me, we will go out for a simple reunion dinner nearby as we wanted to avoid the crowd and the long waiting time at the restaurant. Sometimes if we have enough time to spare, we will cook for reunion dinner and have it at home, but it can be quite tiring and causing alot of hassle, especially the cleaning up part -.-"
So what would be the best solution to this? If only i can enjoy awesome yummy food at the comfort of my home, without having to cook myself and make a mess in the kitchen? TAKEAWAY LOR!
YES! the best solution is to takeaway from the restaurant and eat it at home! and i guess the best item to takeaway will be the Treasure Pot, also known as Pen Cai (盆菜) !
Thanks to Crystal Jade for the invitation, i finally got to try my FIRST ever pen cai and i loved it soooo much!!! 😀 Here's a simple summary of how this dish came about. Pen Cai (盆菜) is designed to be communal and easily shared where it symbolizes the sharing of good fortune and abundance of wealth among family and friends. This helps making reunion dinners and gathering much more simple and fuss-free! At the same time, enjoy good food!
So what are the must have ingredients in a Pen Cai (盆菜)?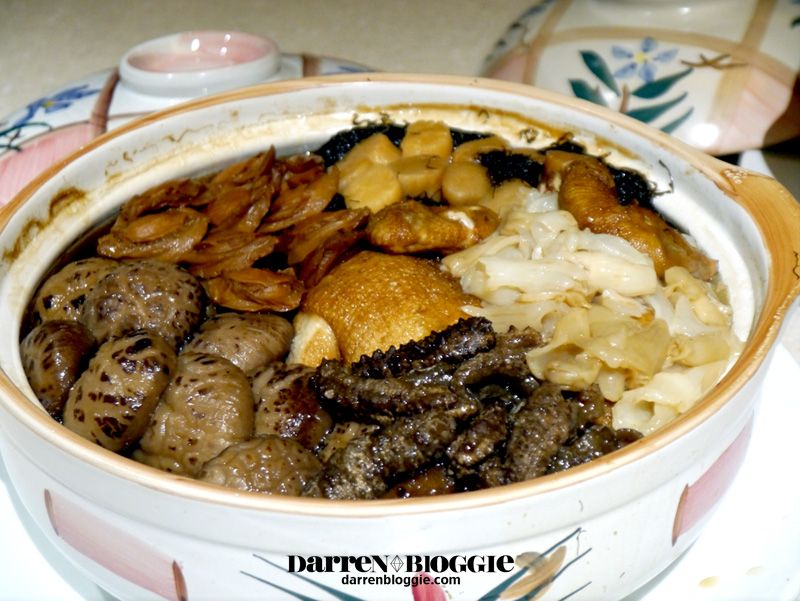 There's actually alot of meanings with the ingredients used in a Pen Cai (盆菜). Example like the Black Moss, ("Fatt Choy" in Cantonese) sounds like "striking it rich". Dried Oyster, ("Ho Xi" in Cantonese) which sounds like "fortunate incidents", represents good luck. Abalone, ("Bao Yu" in Cantonese) means "assurance of surplus". Pork Knuckle, ("Zhu Shou" in Mandarin), represents wealth or good opportunity. Fish, ("Yu" in Mandarin and Cantonese), symbolises "accumulation of wealth". As a festive dish, the name "Pen Cai" is symbolic of good fortune. 😀 seriously eat le sure huat huat one! 😛
Here's my first serving, which is usually placed on the top like mushrooms, scallops, abalone and chicken meat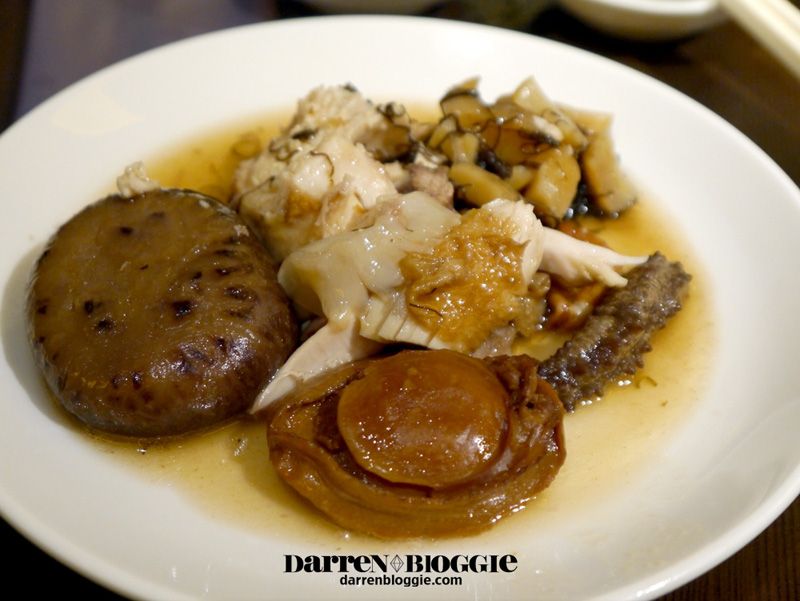 WOOO~~ yummy abalone which i couldn't resist but to put it into my mouth as a whole. 😛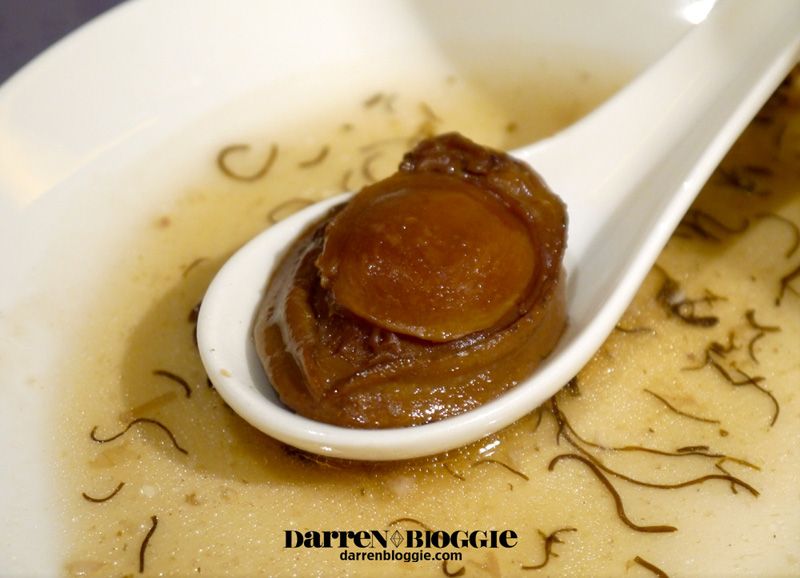 Moving on the the second layer, which usually consist of ingredients that absorb the essence of the soup which makes it taste sooo good! One good example gotta be the radish! SO IRRESISTIBLE!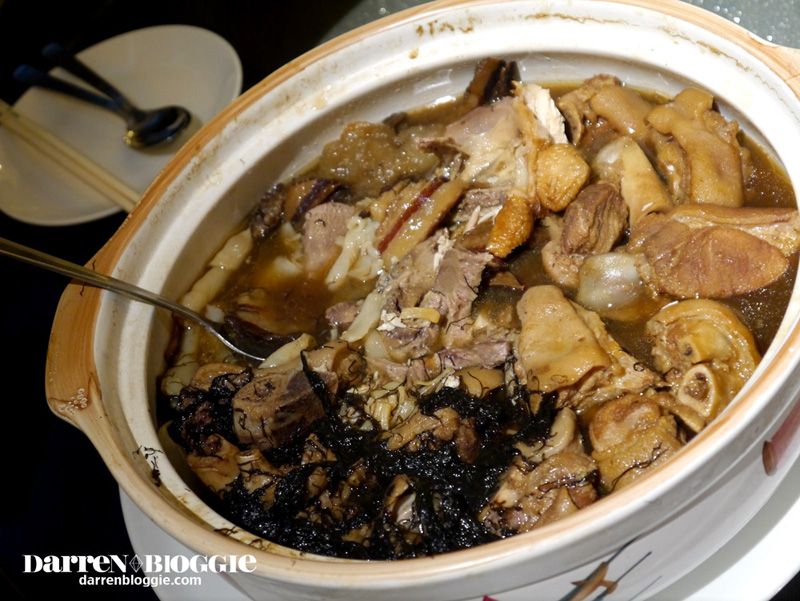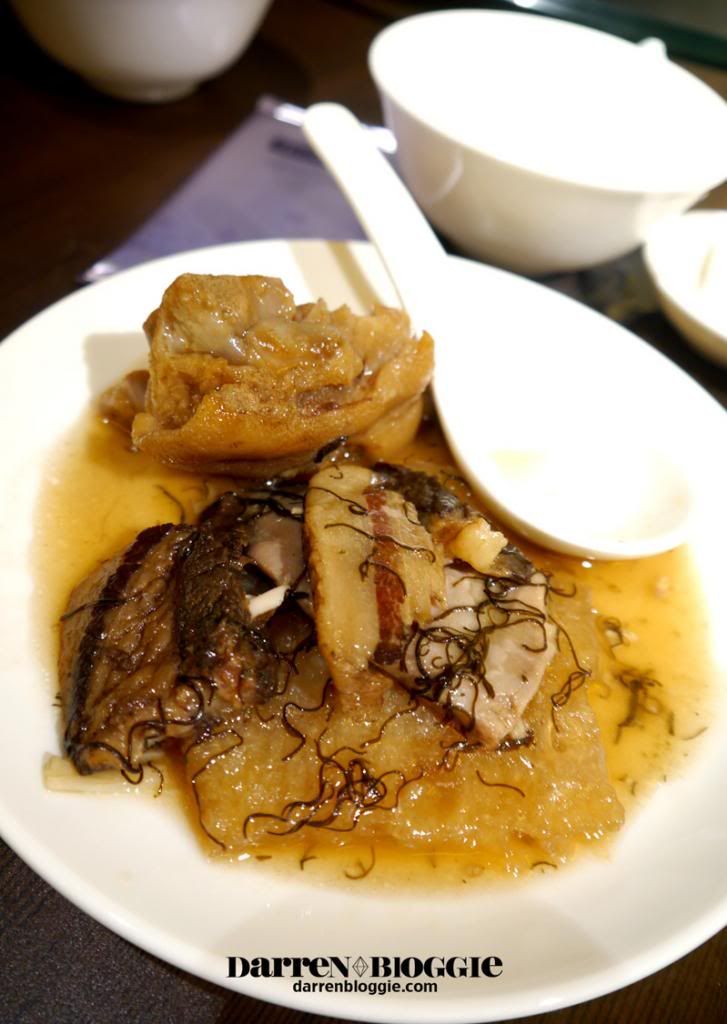 and do you know that you can actually keep it overnight if you can't finish it and re heat it up the next day by adding in more ingredients? I can't imagine how tasty the soup is gonna be!!! 😛
To spread prosperity and good luck all around this Lunar New Year, Crystal Jade offers several flavours of Pen Cai to cater to different tastes for either dining-in or takeaway at a selection of Crystal Jade restaurants: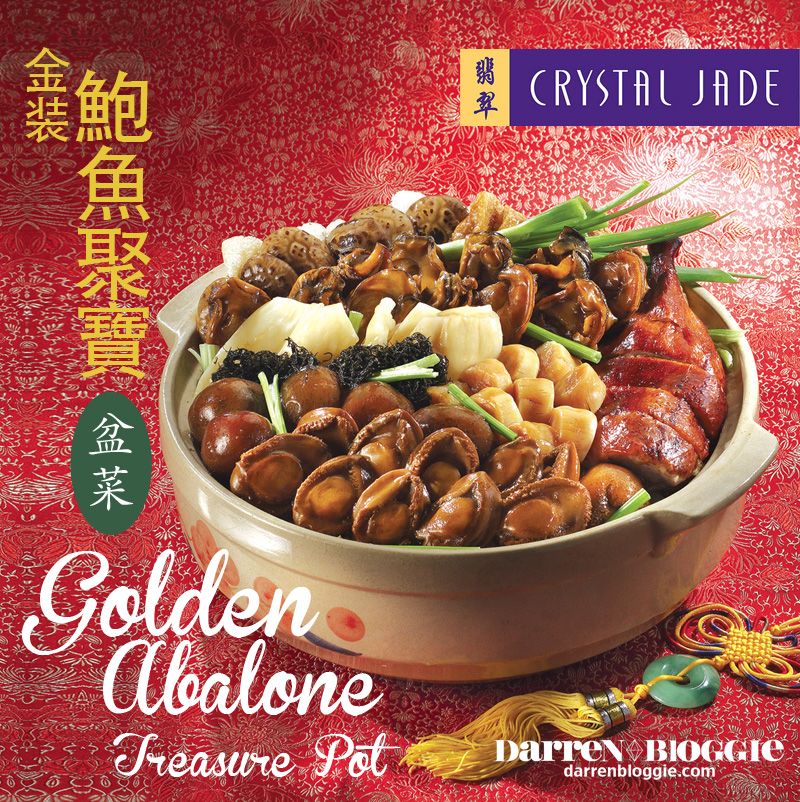 Fine Dining
• Golden Abalone Treasure Pot •
($448.80 for 10 pax; $268.80 for 6 pax. For collection on Chinese New Year's Eve: $468.80 for 10 pax; $288.80 for 6 pax) is a delectable serving of fine ingredients for the sophisticated diner. Apart from roasted duck, premium dried oyster and Japanese mushroom, this dish also includes traditional ingredients such as abalone, black moss, conpoy, Superior Sea Cucumber and Pork Knuckle. Available at Crystal Jade Palace, Crystal Jade Golden Palace, Crystal Jade Dining IN, Crystal Jade Premium and Crystal Jade Pristine.
*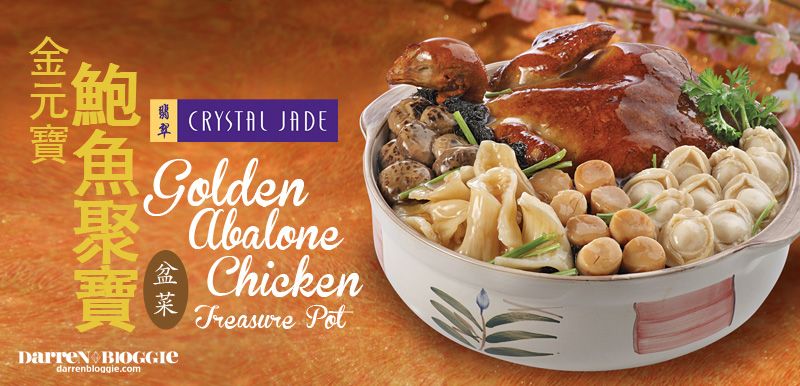 All Crystal Jade Kitchen outlets
• Golden Abalone Chicken Treasure Pot •
($368.80 for 10 pax; $228.80 for 6 pax. For collection on Chinese New Year's Eve: $378.80 for 10 pax; $238.80 for 6 pax) is meant for casual gatherings among friends or family. This Pen Cai is served with pig's tongue and whole or half chicken. Included in the pot are traditional ingredients such as abalone, black moss, Superior Sea Cucumber, conpoy, pork knuckle and preserved meat.
*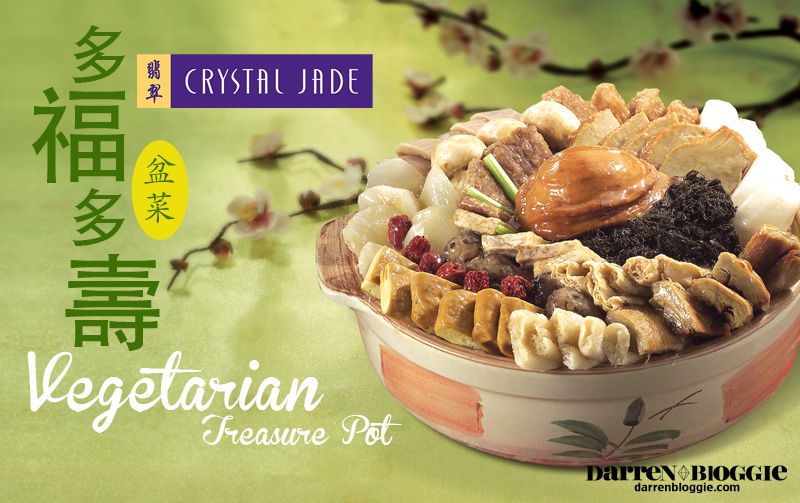 • Vegetarian Treasure Pot •
($198.80 for 10 pax; $148.80 for 6 pax) includes vegetarian versions of abalone, goose, chicken and fish ball as well as traditional vegetable ingredients such as radish, yam, lotus root and black moss.
*
Crystal Jade Shanghai Restaurant, Crystal Jade Jiang Nan and Crystal Jade La Mian Xiao Long Bao outlets
• Treasure Pot in Shanghai Style •
($378.80 for 10 pax; $218.80 for 6 pax. For collection on Chinese New Year's Eve: $398.80 for 10 pax; $228.80 for 6 pax) offers the unique flavours of Shanghainese Pen Cai. Made with steamed chicken, salted duck, fresh prawn and pig's trotters, the unique ingredients found in this Pen Cai include egg dumpling, grass carp belly and rice flour cake.
Crystal Jade's Pen Cai sets are available from January 21, 2013 to February 24, 2013. Download the full Leaflet PDF file here for more details.
Other than trying out their main highlight of the Chinese New Year 2013 meun, which is the Pen Cai, we got to try a few other dishes as well.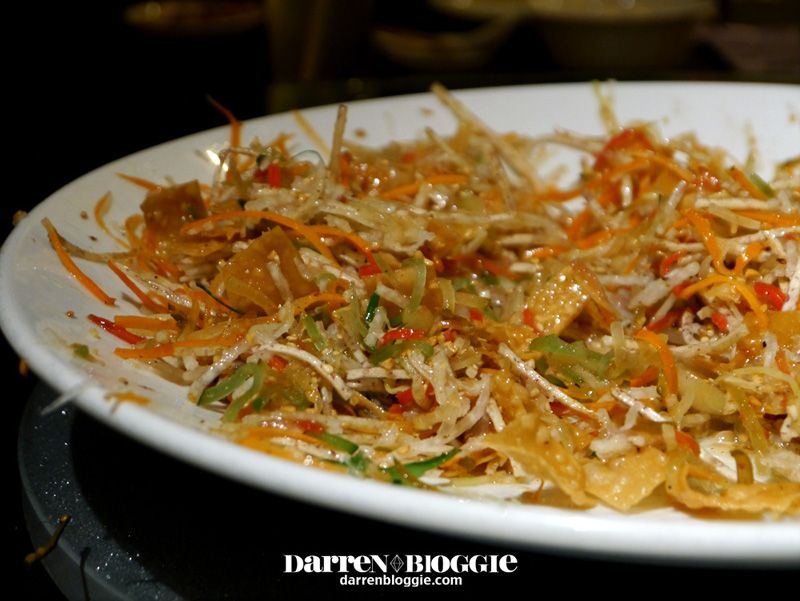 Reunion Yu Sheng 贺岁团圆鱼生 : $39.80(Small) / $69.80 (Big)
A must have for me every year as i enjoy the fun we had during the process of tossing and mixing the ingredients high up into the air! Sorry as i was late for the tasting, therefore the only pic i managed to take was after all the tossing and mixing… :X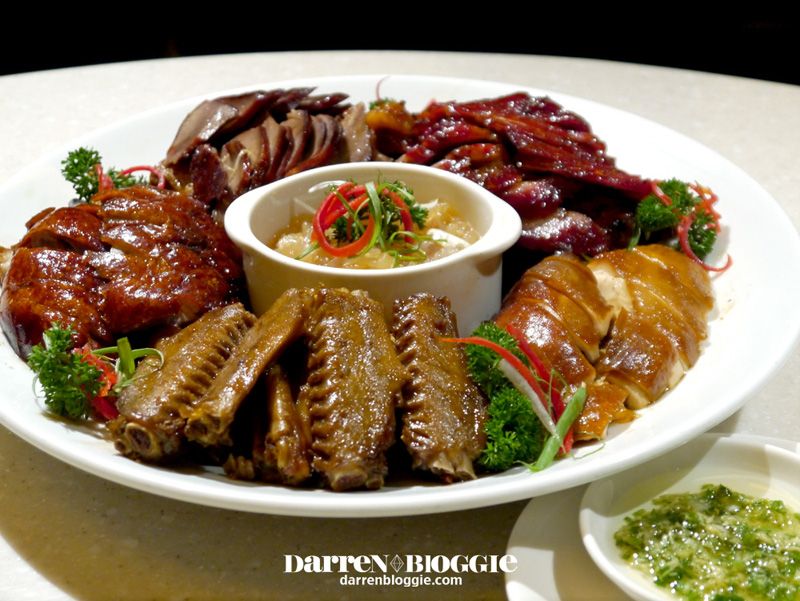 B.B.Q Meat Combination 六福拼盘 : $78.80 per serving
Their BBQ MEAT taste SOOO GOOD! every piece of meat roasted to perfection, making one can't help but to keep on popping them into the mouth. In this platter, you will get to taste the Roasted Duck, Soya Sauce Chicken, and B.B.Q Pork Rib with Honey Sauce, Jelly Fish, Marinated Duck Web & Wing, and Pig's tongue.
It looks too photogenic that i can't help not to snap abit more pics of it! lolx!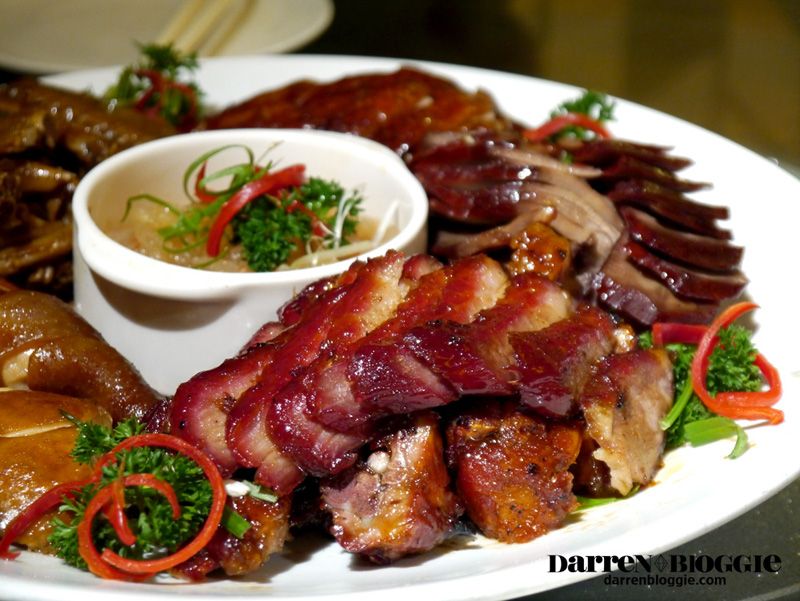 Our meal ended with three new flavours of Nian Gou introduced by Crystal Jade this year!
Glutinous Rice Cake with Green Tea, Red Bean & Raisin 绿茶红豆葡萄年糕 ($20.80)
*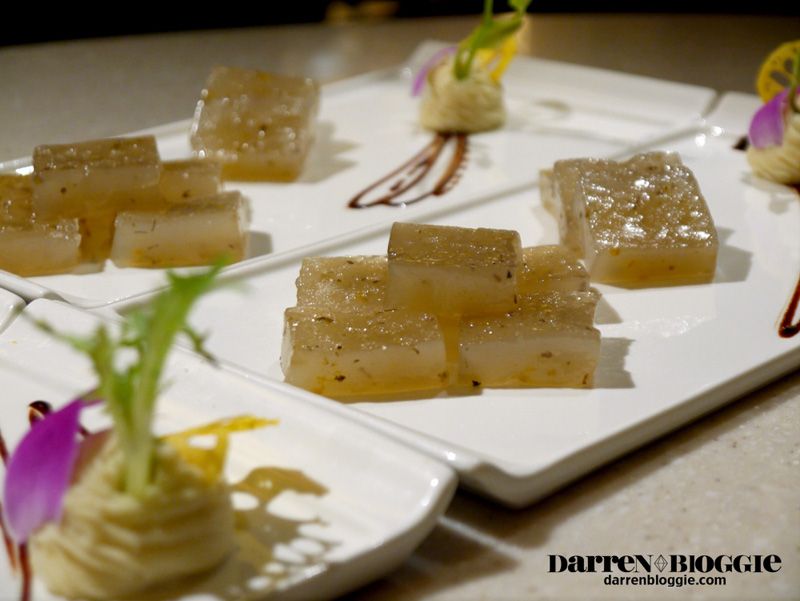 Glutinous Rice Cake with Osmanthus & Ginger 姜汁桂花年糕 ($20.80)
*
Marble Glutinous Rice Cake with Strawberry Jam 瑞气云彩年糕 ($22.80)
My favourite gotta be the strawberry Jam as it's pan fried with a coat of egg which is the tradtitional style my mum would prepare the nian gou. 🙂 It's a combination of sweet and salty taste which somehow balanced pretty well, giving it a not too sweet taste despite the use of strawberry jam in it. 😉
I'm sure this will be very well liked during the chinese new year season as it comes in a shape of the ingot 元寶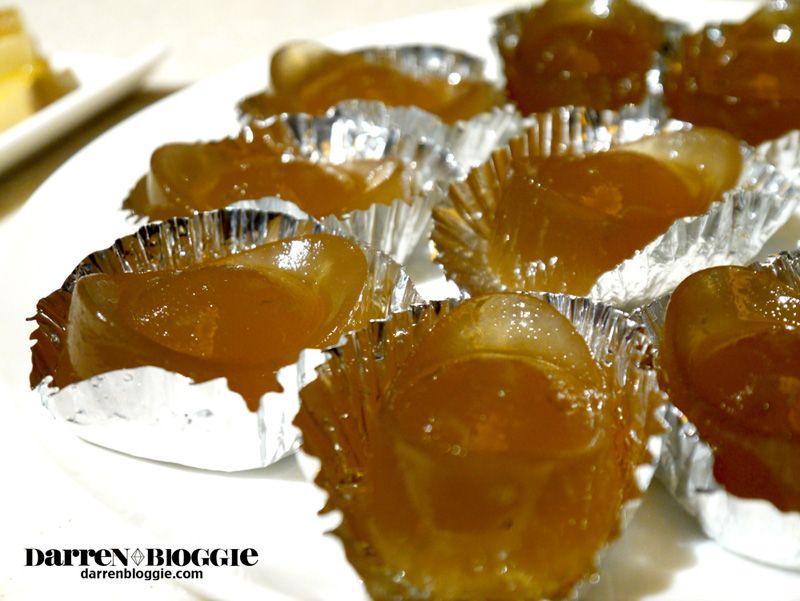 Chrysanthemum & Wolfberry Ingot Konnyaku Jelly 菊花枸杞元宝蒟蒻 : $8.80 for 6 pieces
There's also chinese new year goodies that you can purchase from crystal jade!
Crystal Jade My Bread Fortune Bo Lo Pineapple Tart ($17.80 for Double Happiness Pack and Classic Happiness Pack; $30.80 for Happiness Quartet Pack; $14.80 for Abundance Pack)
With so many choices to choose from , I'm sure you will be spoilt for choices for your upcoming reunion dinner!
Celebrate the Year of the Snake with Crystal Jade Symbolic Pen Cai Treasure Pot Pen Cai & New Nian Gau Flavours!
For more details on the various outlets, visit www.crystaljade.com !