woohoo.. back in singapore.. booked out on thursday cos the school having some event going on haha.. ZUAN DAO le haha.. booked out at 10.30 and reached pasir ris at ard 11.15.. den's dad drove us to tampinese mall for lunch.. had long john silver there with kenneth, desmond, dave, dennis, den, james and minggang. after a while jing yi came and join us .. after lunch all of us went home.. wanted to take a bus was rather lazy, therefore took a cab home instead haha.. $7.20 sia.. thought it would be ard $6+… when i reached home, wasn't feeling really well.. feels like vomiting but nothing seems to come out then.. its stuck there making me feeling terrible.. took a nap and watch the repeat of wan quan yu le.. haha it was selina promoting her new DIY beading book.. long time since i last watch yu le xin wen le.. miss it soo much … NS make me missed so much S.H.E stuff hahaa….
was supposed to meet kenneth @ 4+ at tampinese for gym but couldn't make it cos wasn't feelin well.. i supposed it's due to the long john i ate in the afternoon.. cos when i burp.. the smell of the food is there.. most prob is indigestion.. din take my dinner too… feelinf extremely terrible.
luckily feelin abit better this morning when i woke up.. later gonna go chinatown and buy the diamond bits and to far east for the white cap.. cos jamie wanted a cap for her birthday present.. haha.. she say she like my DIamond cap that i did.. LOL!… going out for dinner tonight with them too… hopefully tina can join us too cos its been quite some time since we meet up le.. hehe..
and Selina new book is now available in stores.. btw, Pinky had gave birth to 3 puppies.. so cut sia.. selina giving one to hebe and one to ella while she keep one for herself.. they named it as ella one is ah GUI.. Selina one is xiao BING and hebe one is gou GOU.. add them together is GUI BING GOU.. LOL~!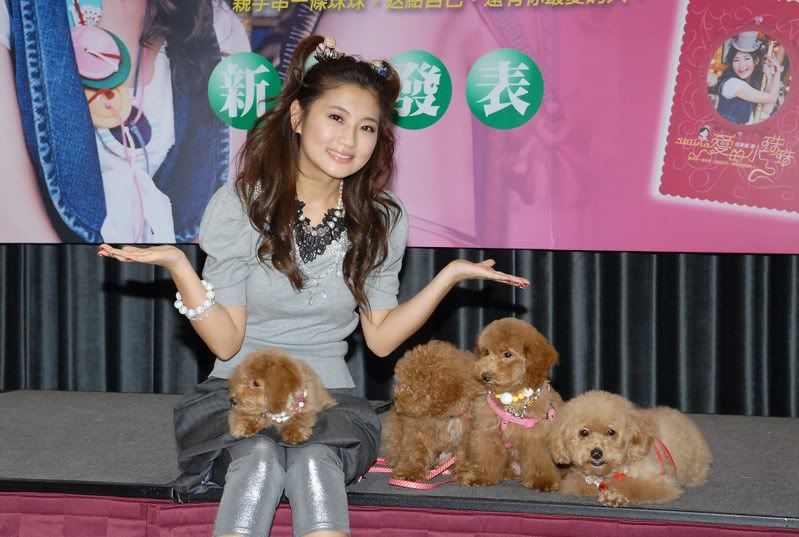 some interesting stuff i found on the net… EVIDENCE of I.N.G imitating S.H.E~!!!!!! similarity up to 90%~!!!!