Sponsored Trip by Deal.com.sg
Yea yea yea~ i'm back from bangkok and here i am sharing my 4D3N Bangkok Shopping Spree with you guys now! Fast anot?! haha. I'm gonna consolidate the full trip into one entry instead of splitting them up into different days.
Special thanks to DEAL.com.sg, which provide the best travel deals in singapore,  both Calvintimo and I got to go for a 4D3N Shopping Spree trip in Bangkok! Read this on how we got such awesome deals! 😀
At the airport checking in our luggage 😉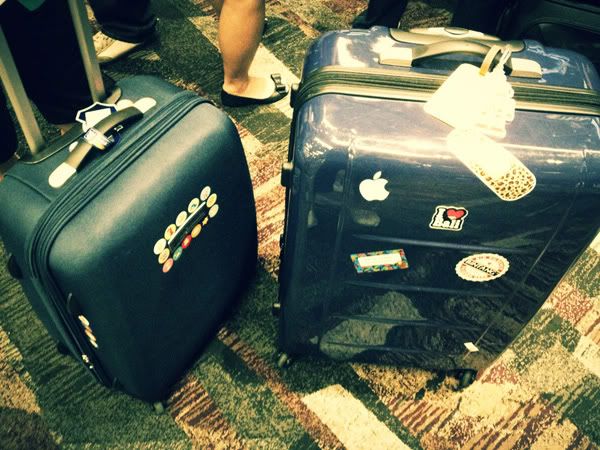 Now who says you can only fly budget with travel deals bough from those coupon site? We are flying thai airways okay!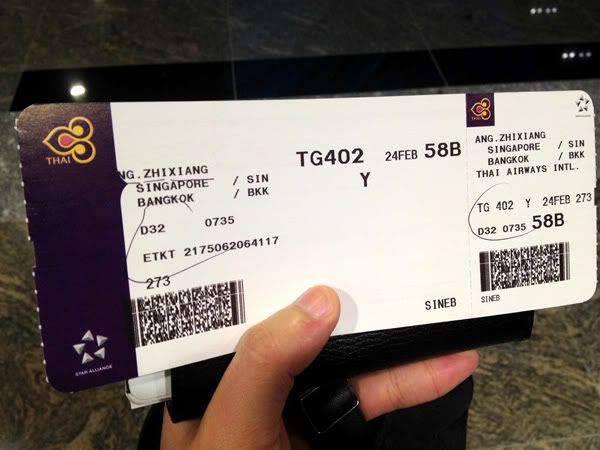 went for light breakfast before boarding…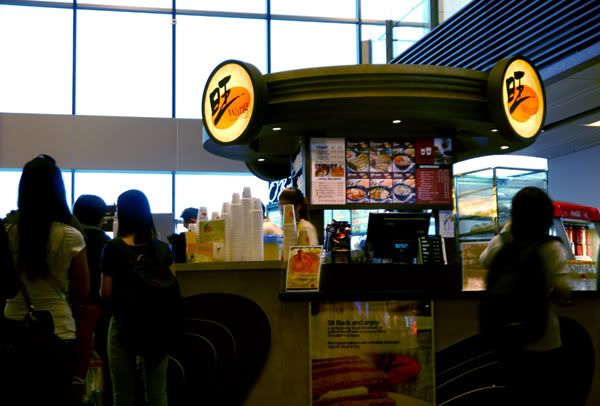 ready to board! 😀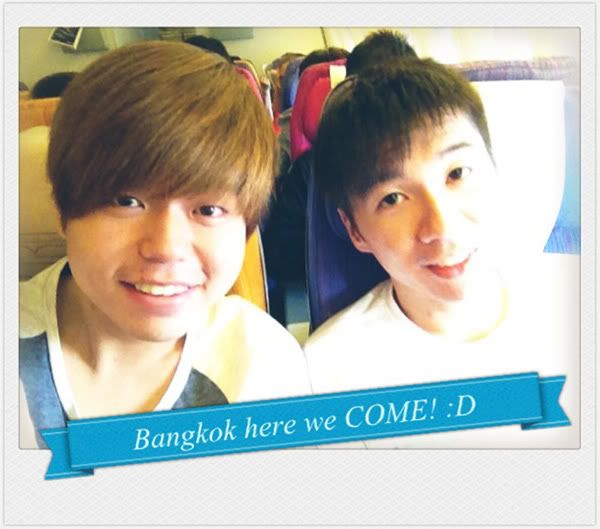 food on board was good… or is it because i'm hungry? mmm…. we ordered different sets so we can share 😉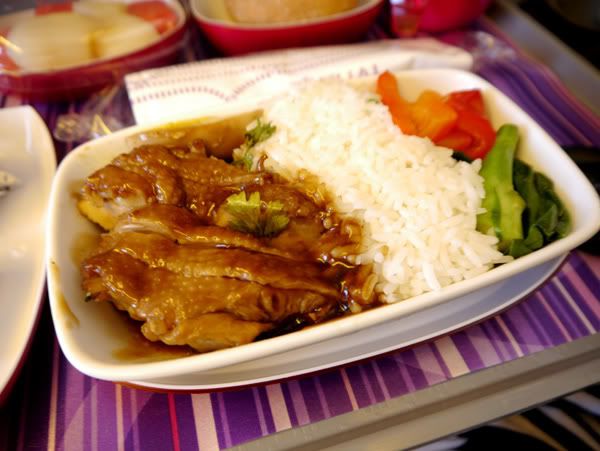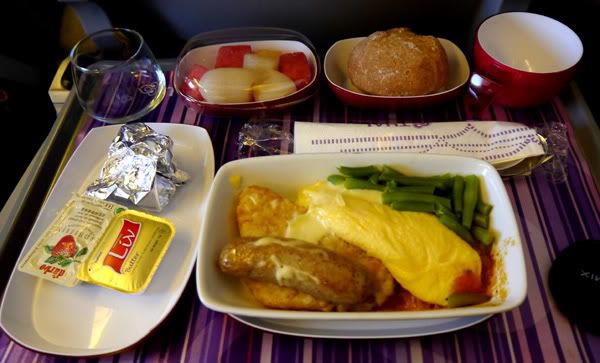 after a 2 hours flight, which is like super fast, we arrived in bangkok! ;D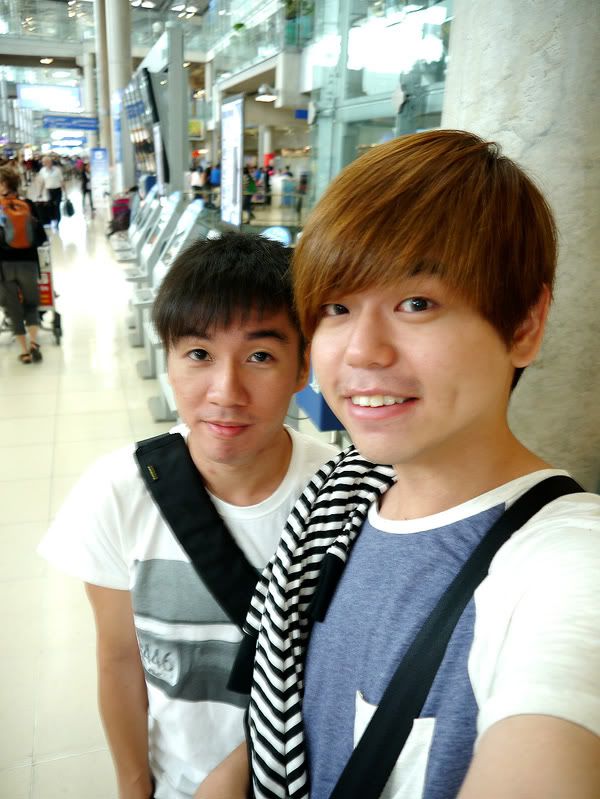 first to get our 3G card so that we can have internet access wherever we go to !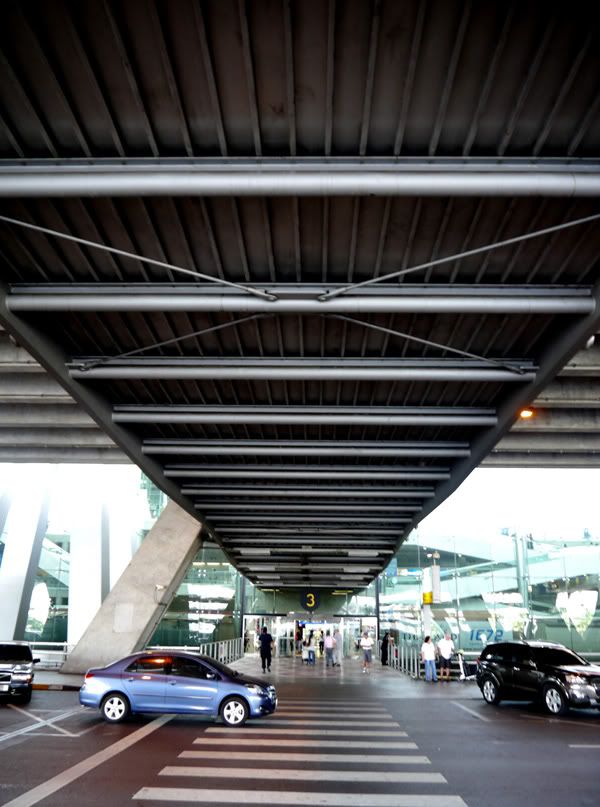 airport transfer was included in our deals and the staff was really friendly to greet us there 🙂 and as usual.. camwhore while waiting 😛
on our way to the hotel ~~~
Reached! here's where we will be staying for the trip, Bangkok City Inn! Location was really good as its like a road across central world and platinum fashion mall!
Now let's check out the room!
it's like a budget hotel so dun expect too much.. but we were surprised to see a bathtub in there ! haha~ and just to take note if u need hairdryer, do remember to bring one as they do not provide that.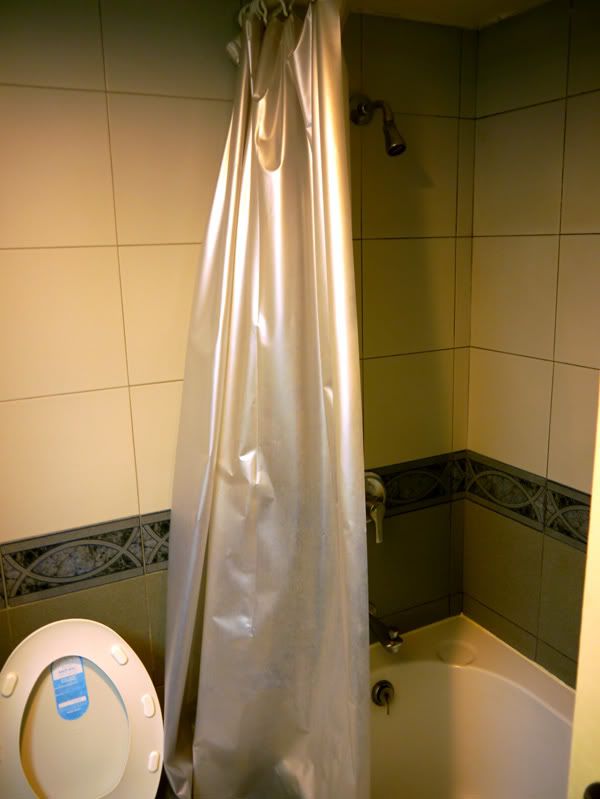 our beds~ can't wait to lie on it!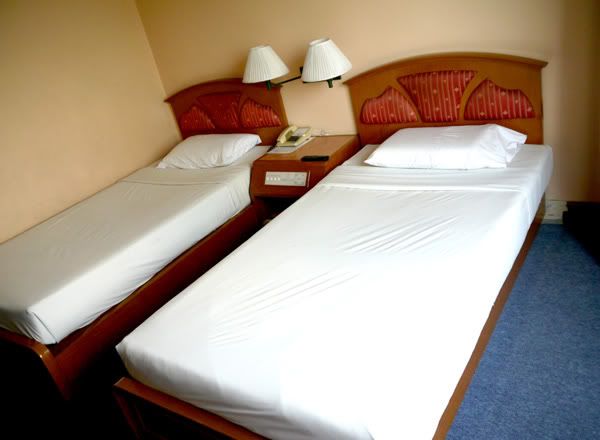 mini tv and fridge with drinks and tibits in it, chargeable though.
scenary wasn't that bad 🙂 the hotel is 8 storey high and we are located at the 7th storey.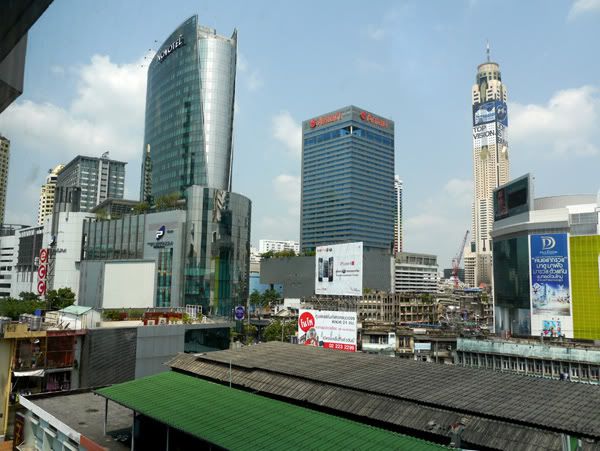 camwhore again while waiting for calvin to freshen up with a quick shower…
sunglasses on and we're ready to head out for lunch! 😀
boat ride along the river… another form of transportation for the locals there.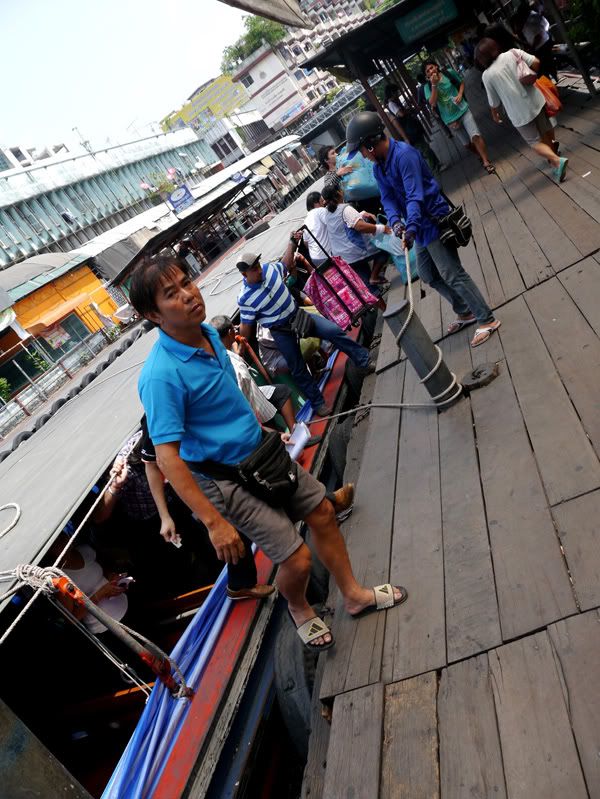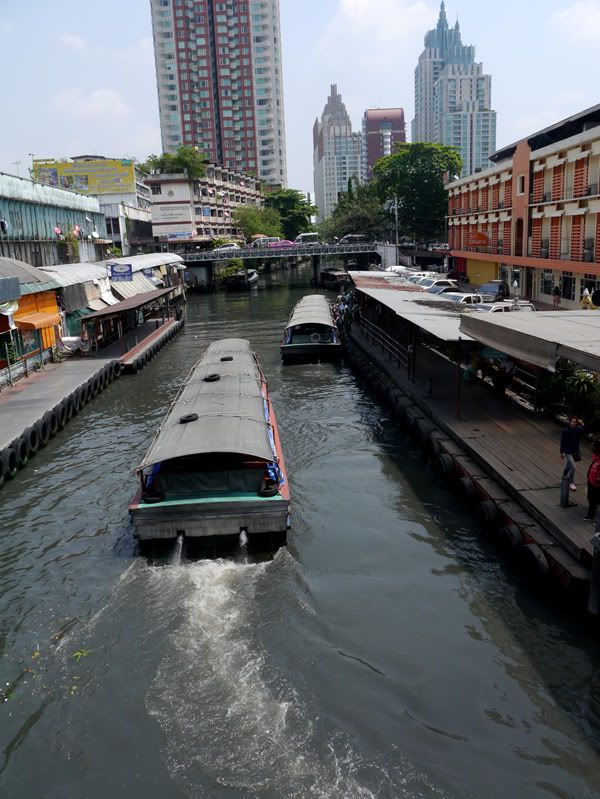 we're craving for some thai cuisine and the best way to try them got to be the food court at the platinum mall! wide variety to choose from!
So we started with a thai styled salad topped with crispy fish 😉 soo spicy and i loved it so much!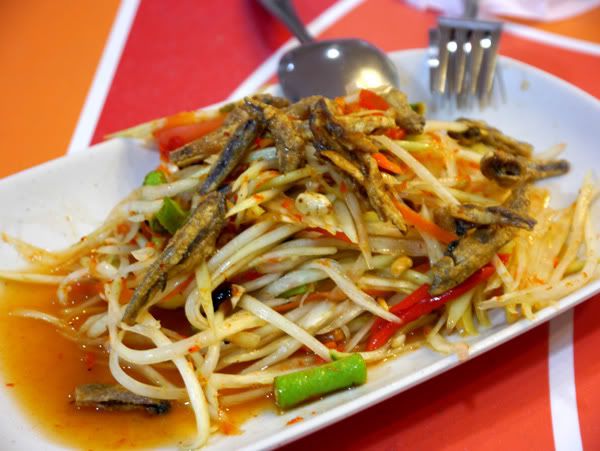 fried kuey teow with chicken was good too~ loved the peppery taste of it 😀
THAI ICED TEA! my favourite as well! woolala~~~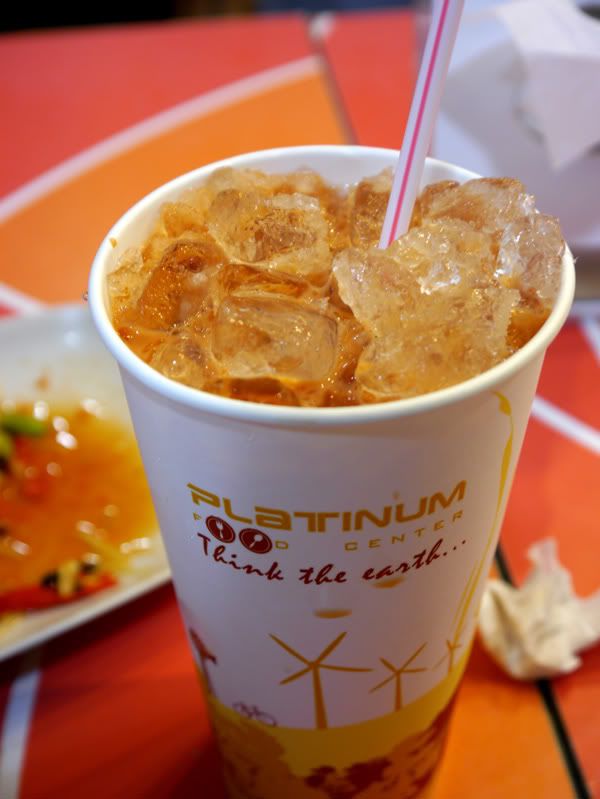 If i'm not wrong, Daniel recommended us to try this dish and it's quite nice.. just that it gets a little oily after some time.. :X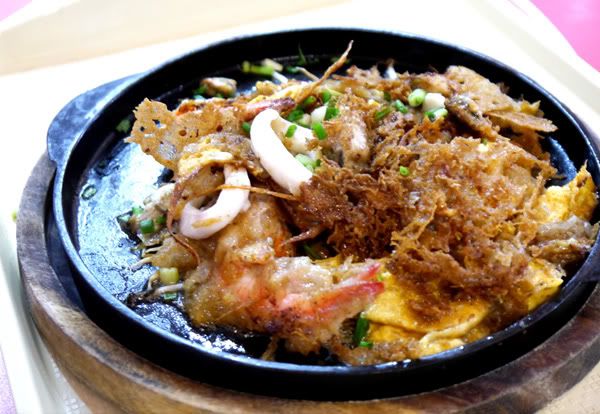 Alright we are done with our lunch and energy level is FULL now… TIME FOR SHOPPING! sorry no pics as we are busy sourcing for cheap deals and good stuff 😛
headed back to our hotel after spending some time at the platinum mall to unload our stuff before heading out for dinner!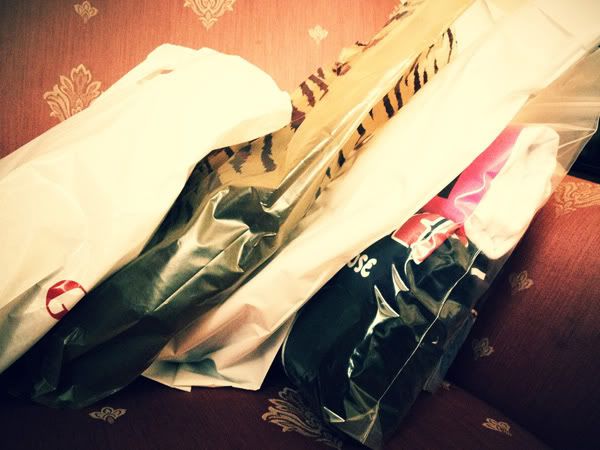 Dinner at this restaurant, The Terrace, that served thai fusion food. It looks promising to us from the menu and the interior of this restaurant, so we decided to give it a try! 🙂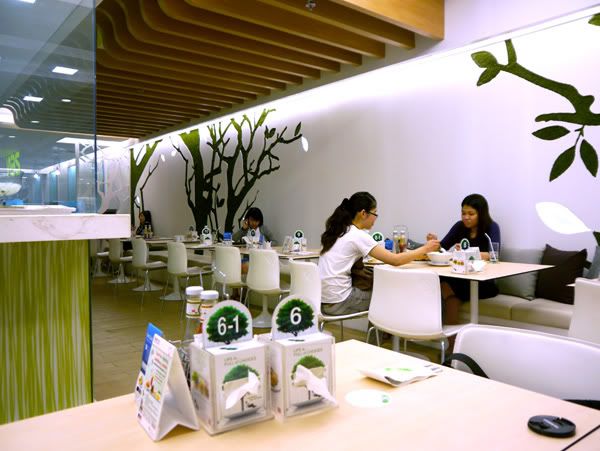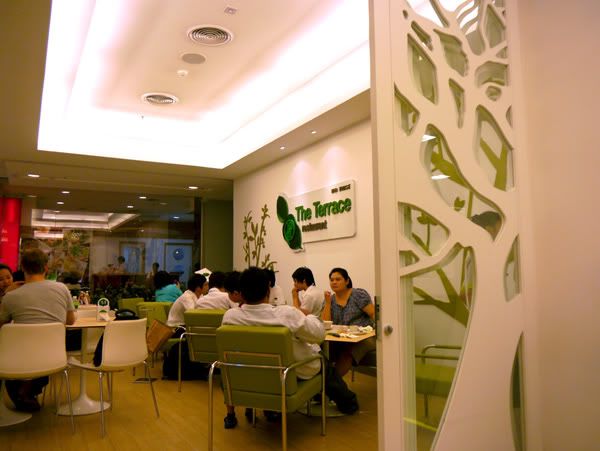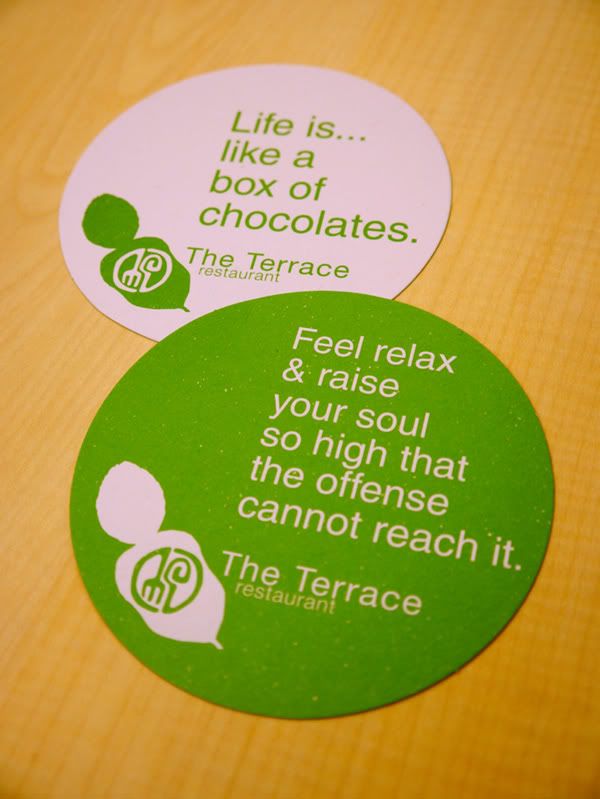 Calvin ordered this Shogun Orange Juice, 50THB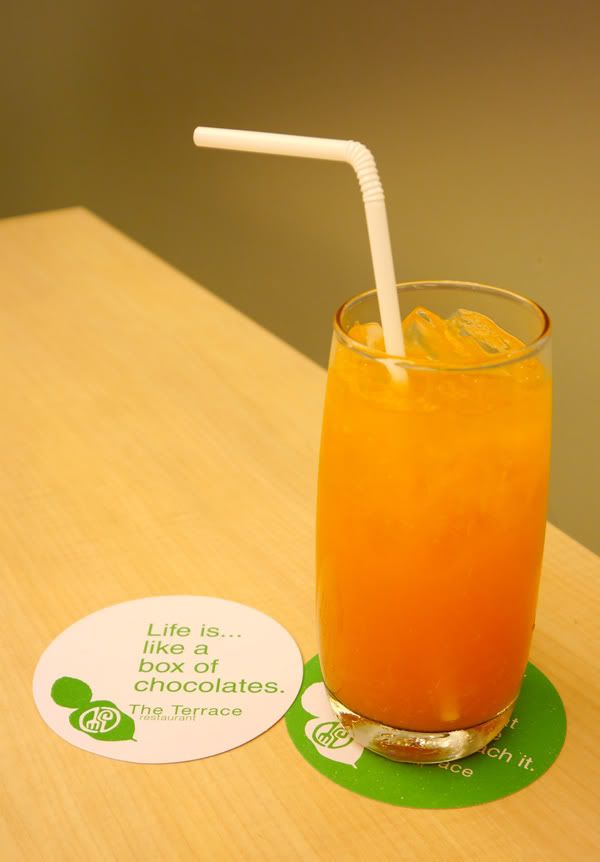 While i ordered the Iced Lime Tea, 50THB  😉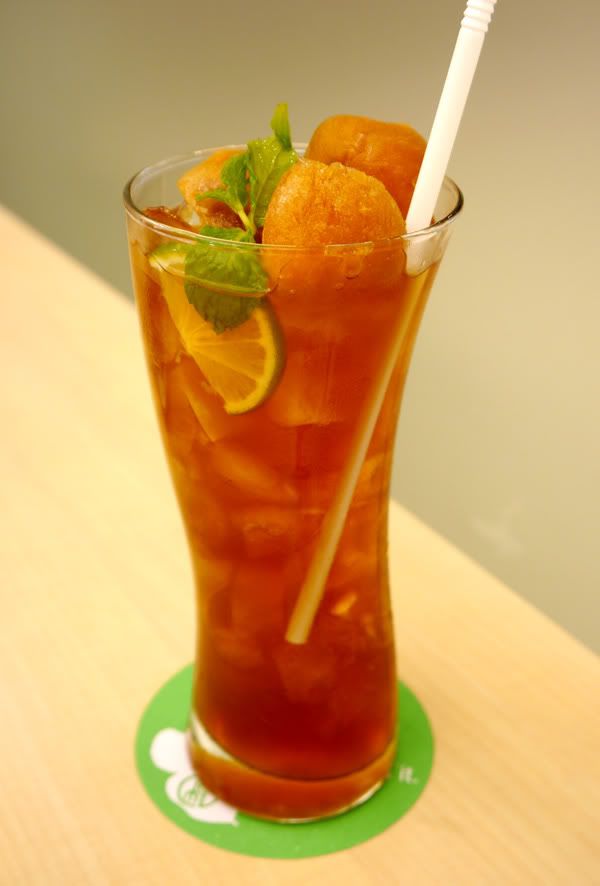 Fried Rice in Japanese Sauce with Omettle and Crispy Duck, 115THB
Green Curry Spaghetti with Grilled Salmon, 145THB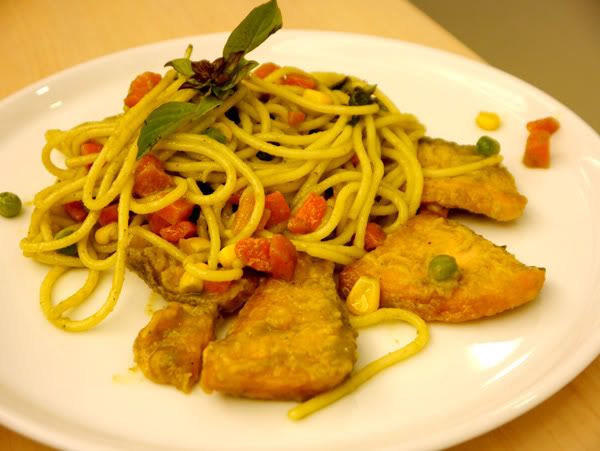 Tom Yum Soup with Shrimps, 130THB
Fluffy Catfish with Mango Salad, 120THB
Sago and Cantaloupe in Syrup with Crushed Ice, 50THB
Overall food was so so only. They looked nice but taste normal lor. Didn't really surprise us much and most of them are not served HOT! it's like they are all ready cooked beforehand le. 🙁 Calvin wasn't really happy with dinner but for me, ok lah~ at least got fill up my hungry stomach hahahaha~ 😛
After dinner, we went for grocery shopping at the supermarket and bought back some drinks and tibits for the night 😉
Tried this Korean BBQ cuttlefish flavour ships from calbee and it's SUPER SALTY that we didn't finish it…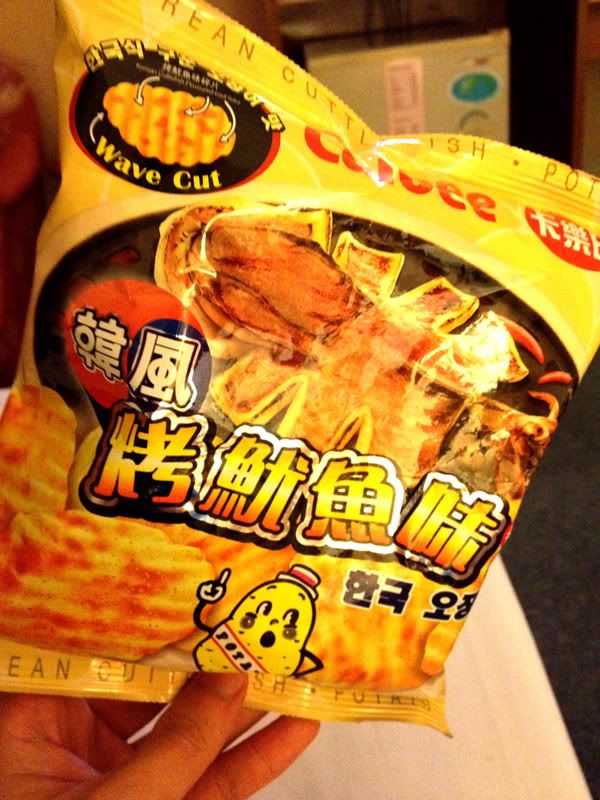 Chill in the room checking fb, twitter etc on my ipad as they provide FREE in-room WIFI services! 😀 not bad huh? budget hotel still provide free wifi.. THUMBS UP for that…
a pic before going to bed 😉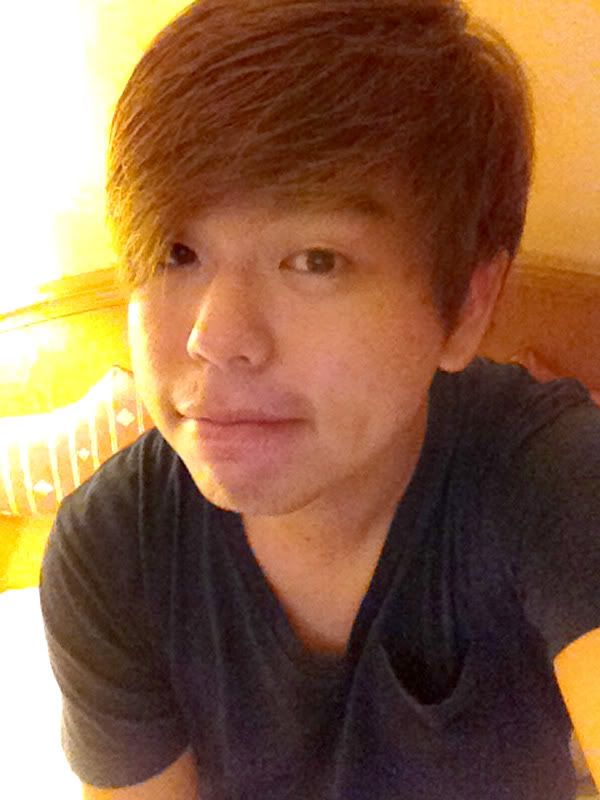 * * * * * * * * * * * * * * * * * * * * * * * * * * * * * * * * * * * * * * * * * * * * * * * * * * * * * * * * * *
Day 2 : Shopping at Chatuchak Weekend Market!
Rise and shine for breakfast at the hotel restaurant. Just a very simple and quick one…
GD MORING! Ready to go ! 😀
first time trying this as Calvin recommended that its good~~! he was so excited when he saw this lor~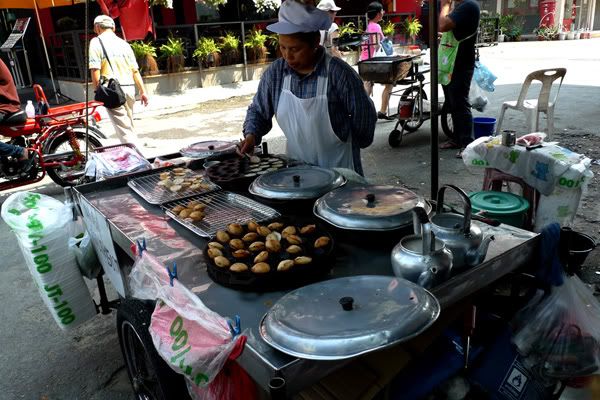 its crispy on the outside and soft on the inside. the coconut paste will just flow out when u bite on it…
Guess what transport we took to Chatuchak? TUK TUK!!! 😀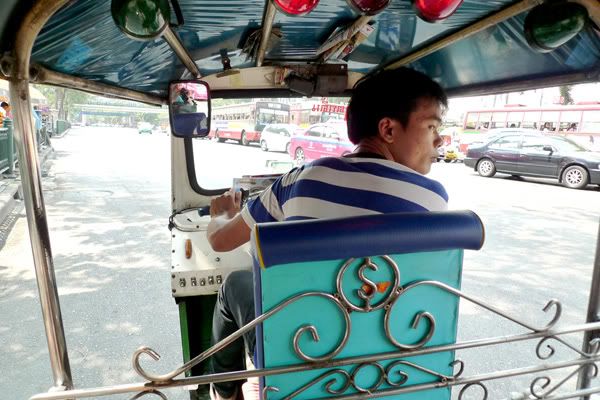 wa la la la la~~~ camwhoring again~~ 😛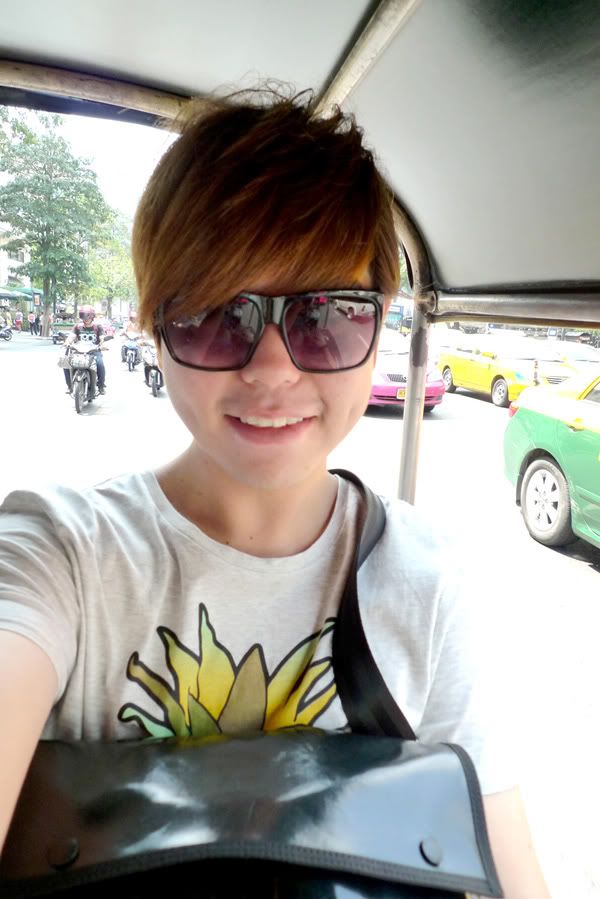 we went crazy shopping there so no pics lolx~ must make full use of our time there as it's SOO HUGE that i doubt we have enough time to cover the area lor~ (area as in the fashion clothings area)…
Lunch was at chatuchak market and we got to try this local dish i supposed. which is beehoon topped with different flavouring.
My spicy chicken bee hoon. noticed that the egg is similar to those who have in the japanese ramen! super love it!
Calvin's green curry bee hoon…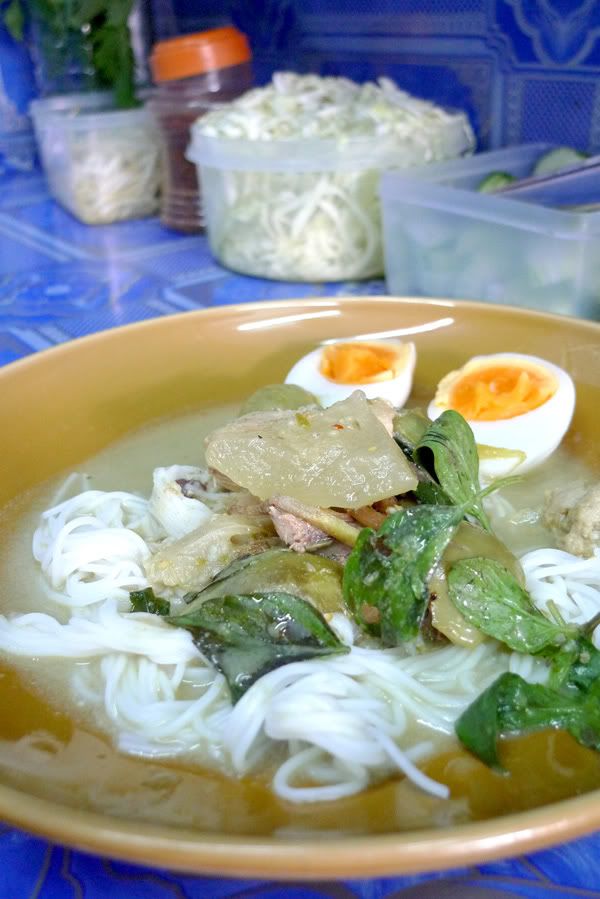 as you can see the portion wasn't alot, we bought something else along the street to eat. black peper chicken 😉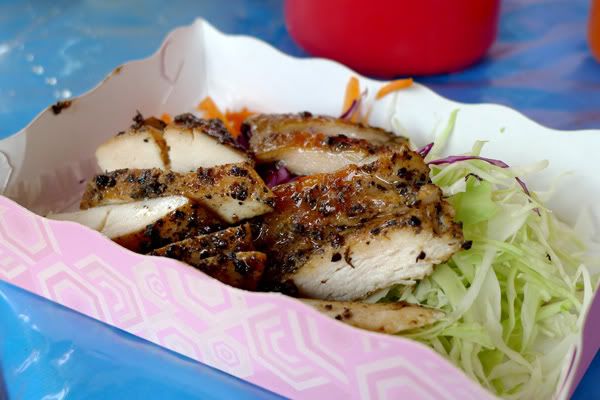 and my favourite PORK BALLS!!!!
camwhore abit before we continue with our shopping spree 😛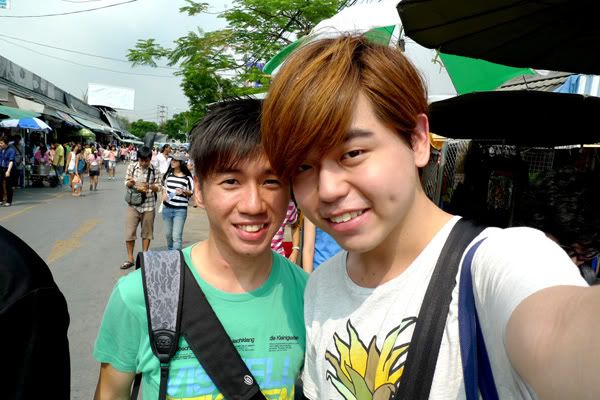 it was soo freaking hot, we couldn't resist from not having ice cream over there! the coconut and iced thai tea flavour was really nice~ initially we ordered only the coconut flavour but was tempting to try the iced tea flavour. So the vendor gave us a scoop of the iced tea flavour to try! SO NICE ONE!!! haha~
you can also choose 3 types of toppings for your ice cream!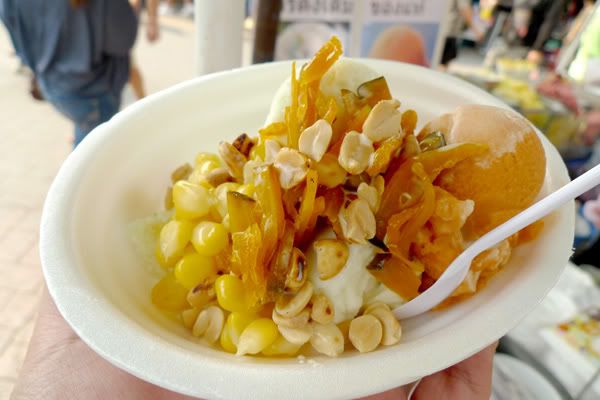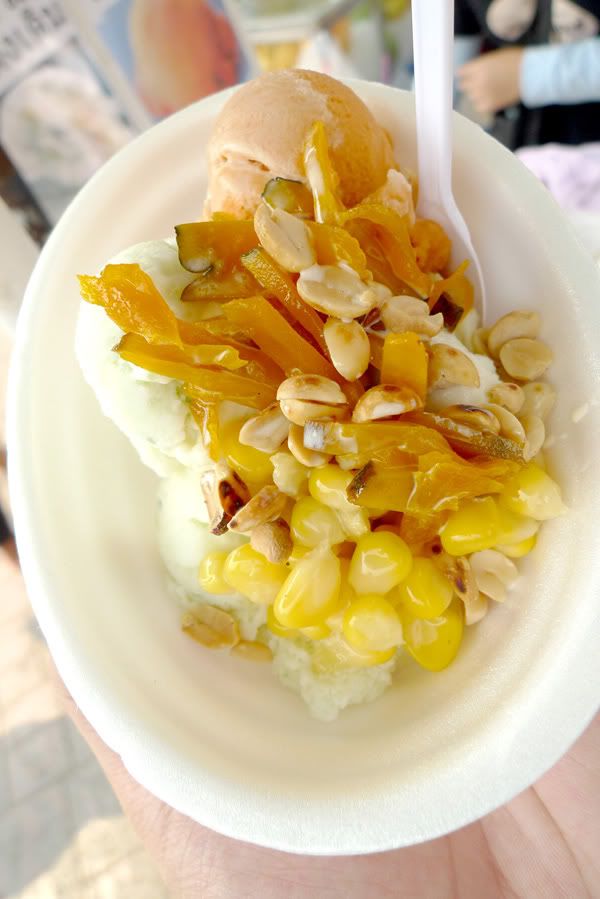 happy calvin and darren with their yummy ice cream 😛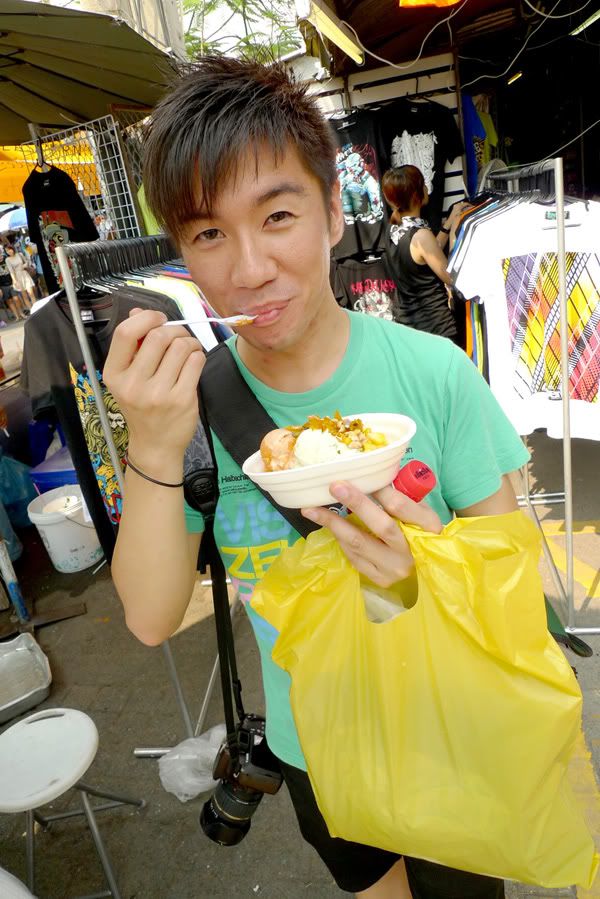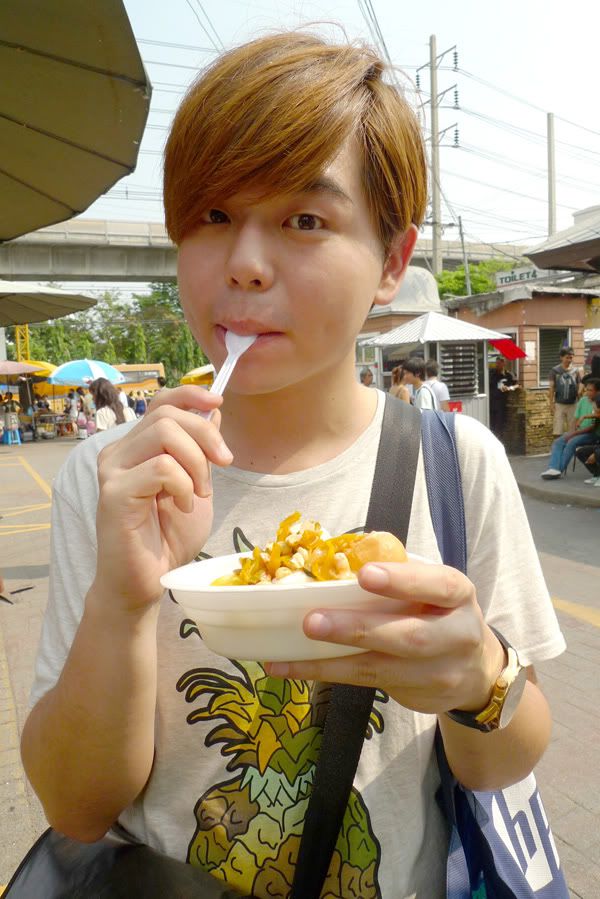 there's lots of street foods over there and they all look so damn good la~!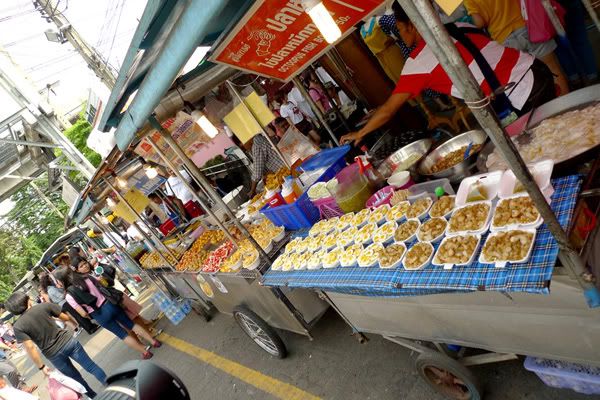 after our shopping spree, we came back to this store and bought the fishcakes back to the hotel. it's NICE~ we paid 20THB and we got not only 1 piece but many many pieces!!!
We had our dinner at the McDonald's and we ordered something different to try..
Spicy thai chicken with rice…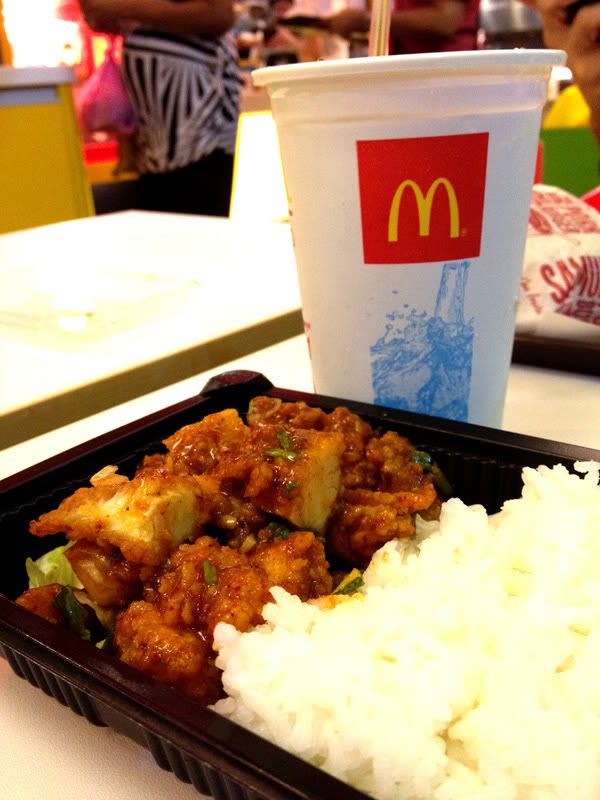 Samurai Pork Burger…
Spicy thai fried chicken!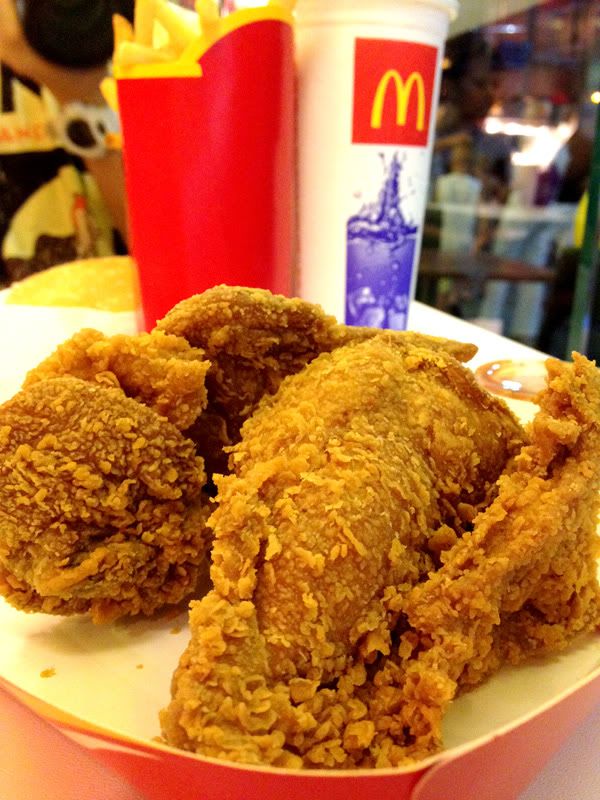 not bad leh~ quite nice lor! and the fried chicken taste surprisingly good!!! 😀
* * * * * * * * * * * * * * * * * * * * * * * * * * * * * * * * * * * * * * * * * * * * * * * * * * * * * * * * * *
Day 3 : More Shopping at Central World, MBK & Platinum Mall!
breakfast time ! spot anything different from day 2?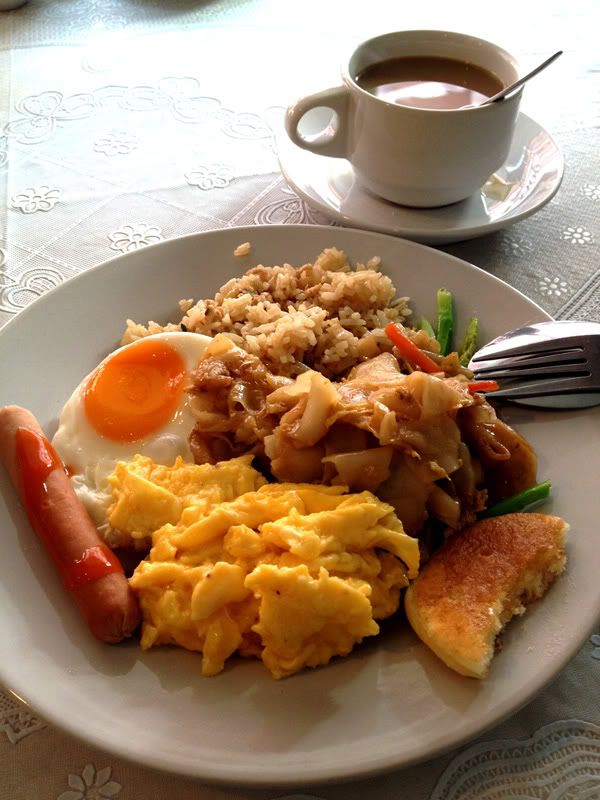 ready to go!
Instagraming along the way…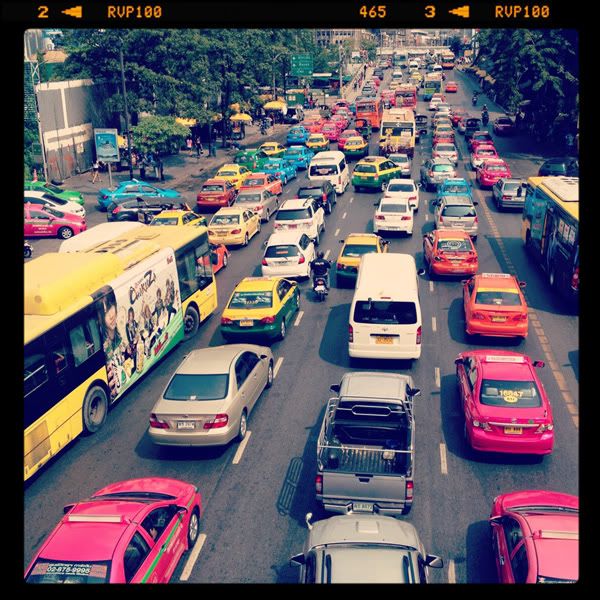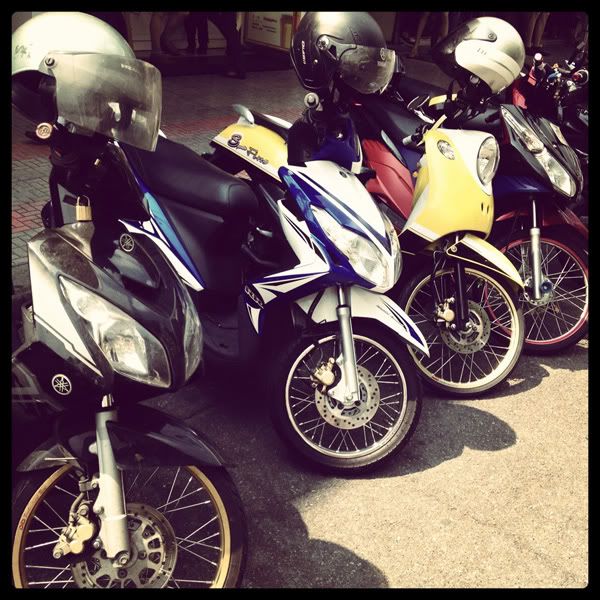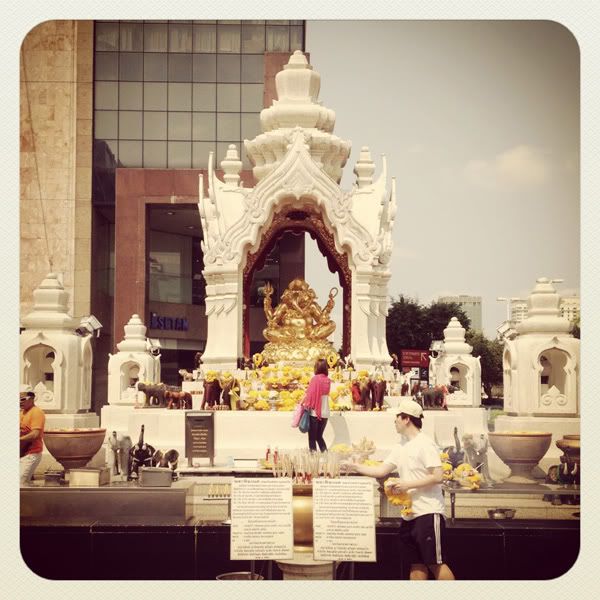 Must have orange juice in bangkok!!!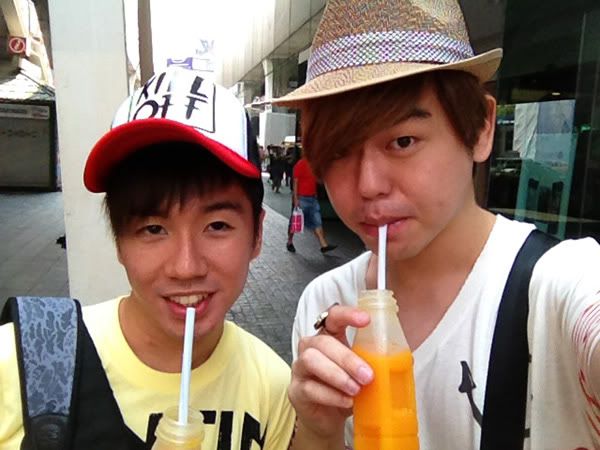 KPOP fans might go crazy here.. haha
Settled our lunch at the MBK food court which is very similar to the one at platinum fashion mall..
we ordered phad thai…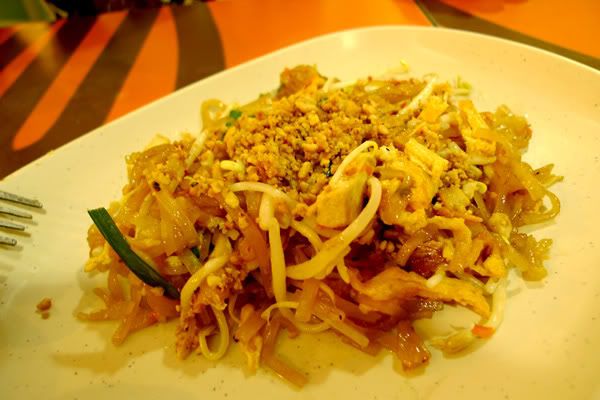 minced pork with basil leaves and rice …
seafood tom yum soup…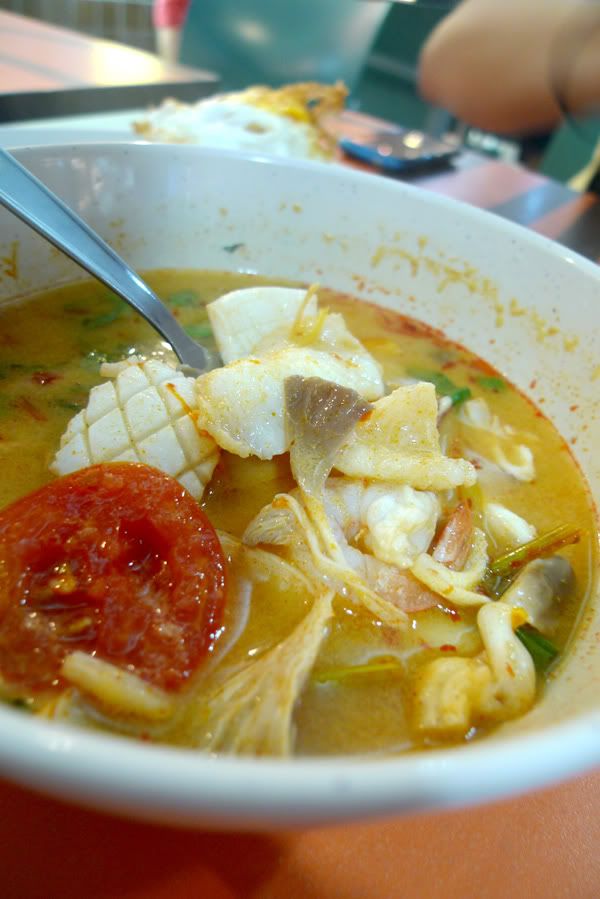 that's calvin arranging the dessert before i get to snap a pic of it…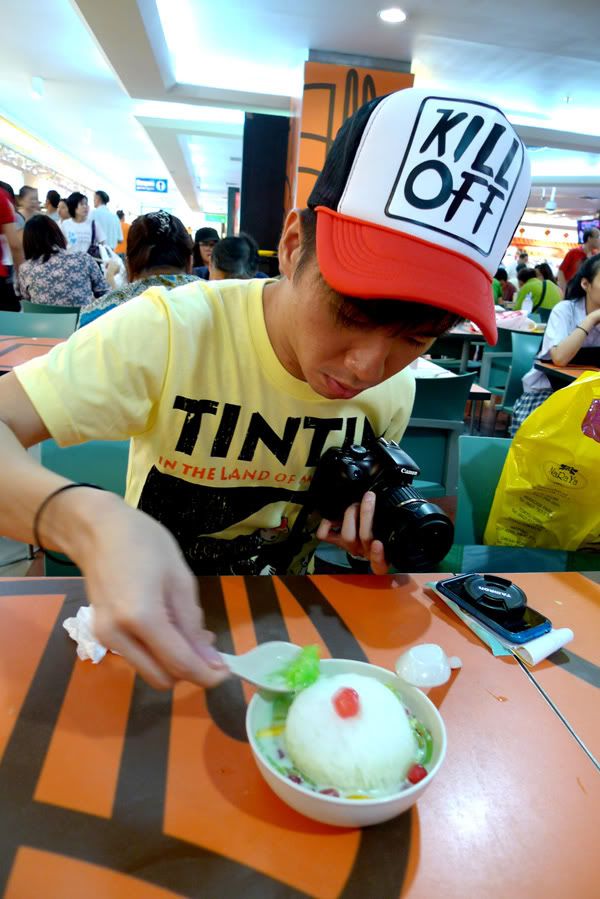 Jackfruit with red rubby for dessert.. not bad leh~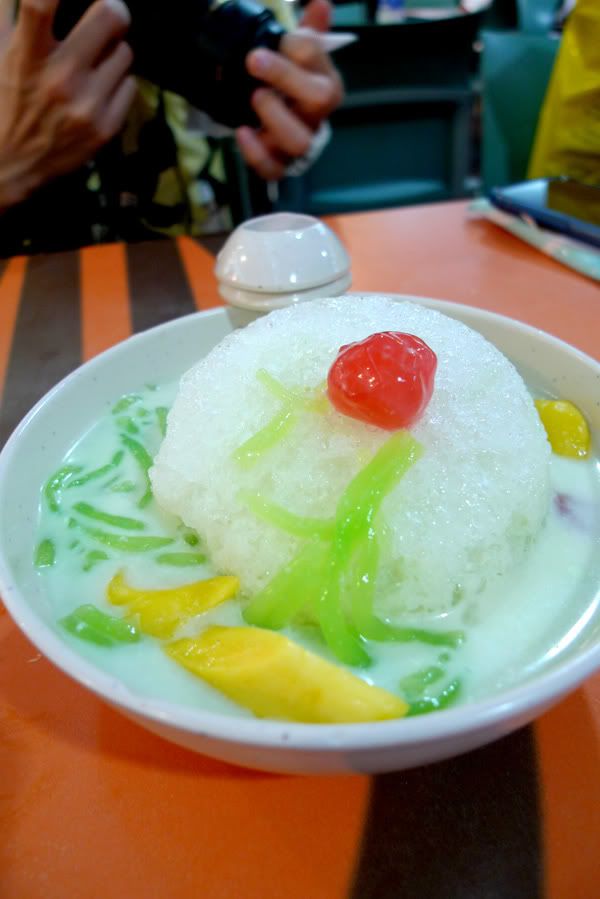 Lunch was satisfying and i finally get to eat what i was craving for the pass 2 days.. phad thai and minced pork with basil leaves! 😀
and we happily continue shopping from MBK all the way back to central world for dinner at this restaurant, Phan-Khom Contemporary Thai Cuisine which we really enjoyed our dinner there.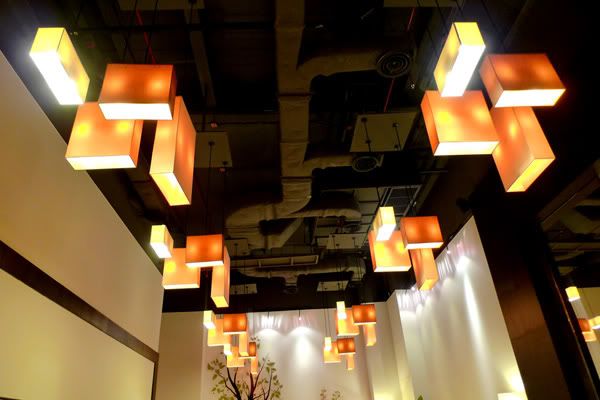 Calvin's lemongrass drink and my Iced thai tea~ 🙂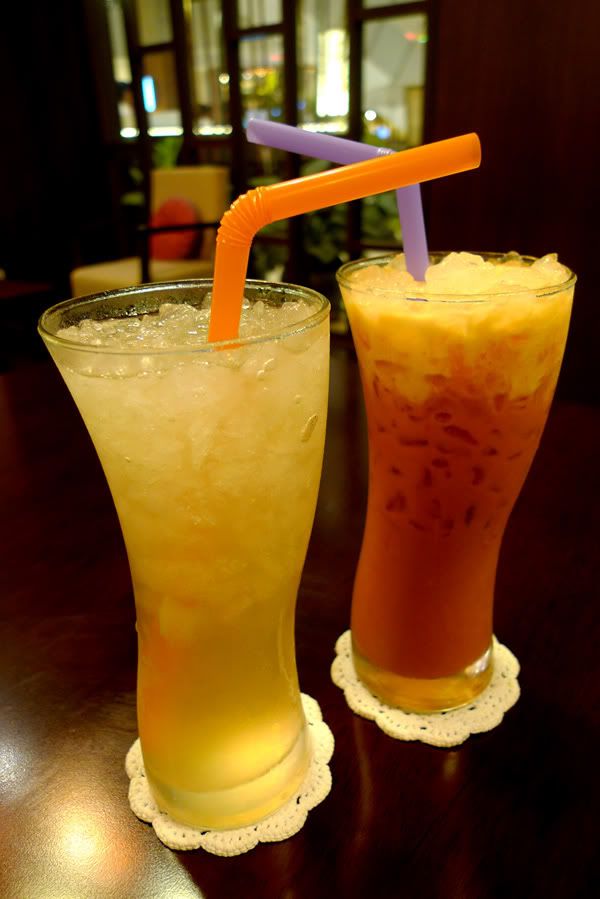 minced pork noodle which taste really GOOD~!
chee cheong fan wrapped with minced pork, dried shrimps etc. It taste like our soon kueh!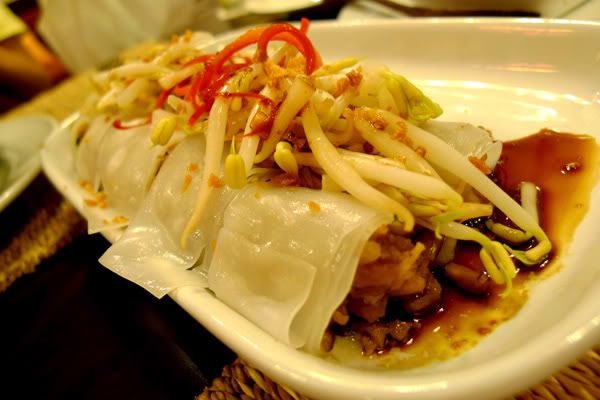 This dish was awarded as one of the best dish in the world. Some curry chicken which taste alittle sweet and spicy…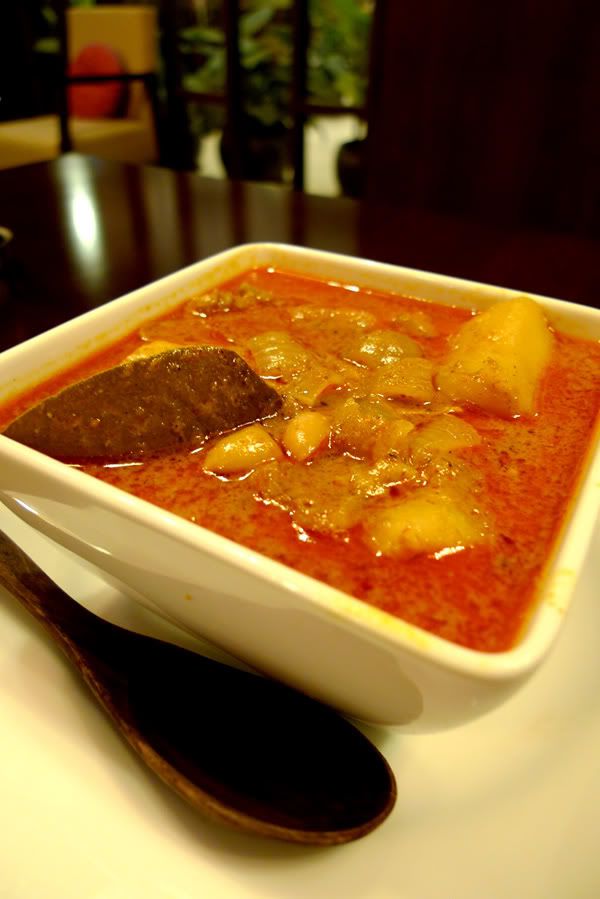 ending our dessert with mango sticky rice which calvin was craving for the past 2 days…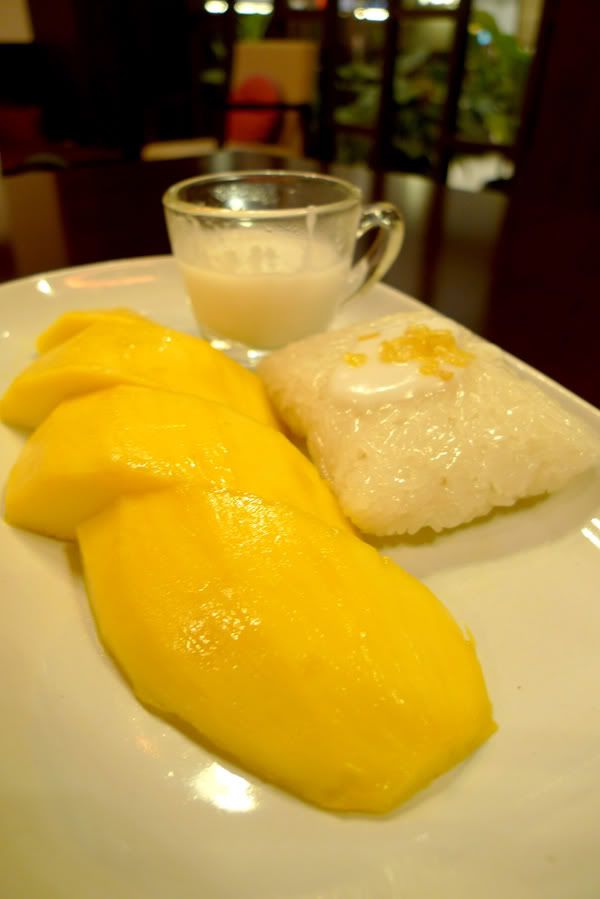 After dinner, we went for grocery shopping again at the supermarket before heading back to the hotel to pack our stuff!
SO… now i'm presenting you my SHOPPING LOOTS~!! woolala~~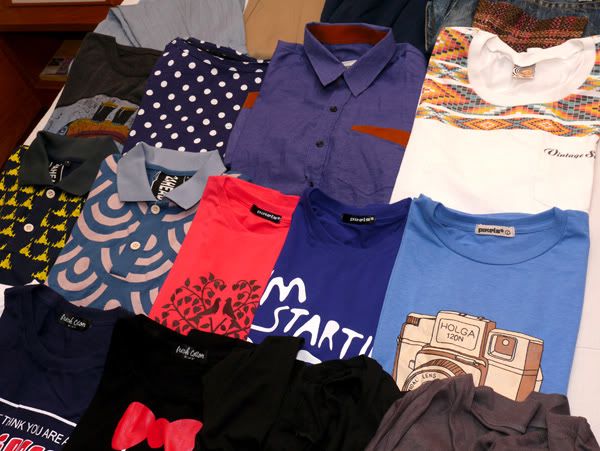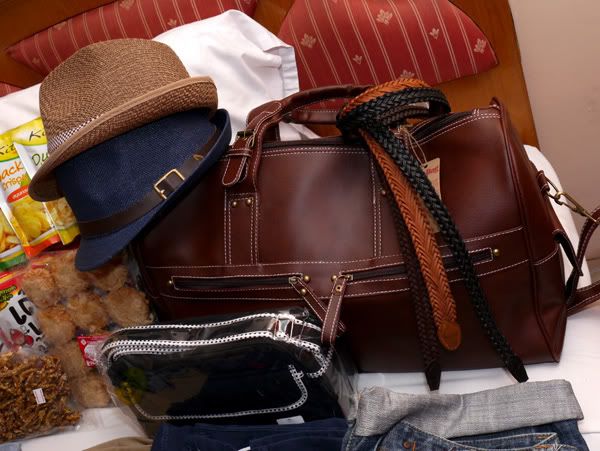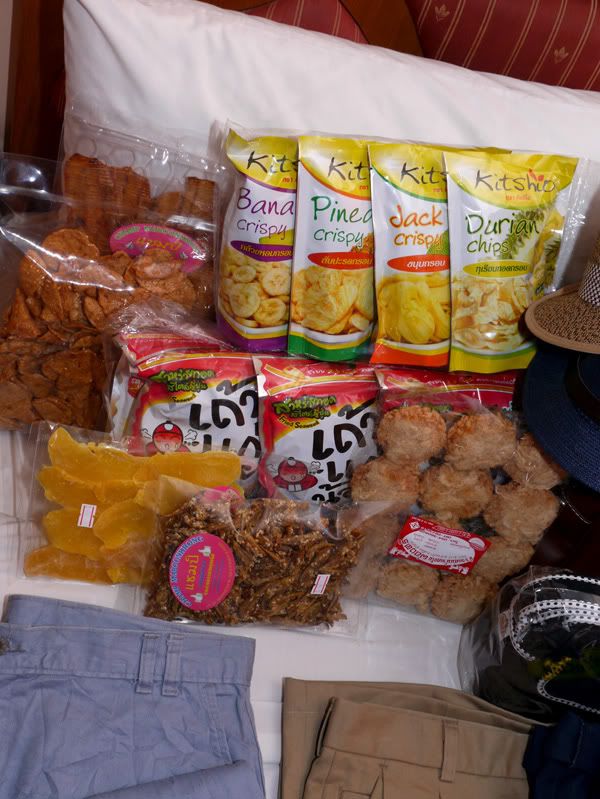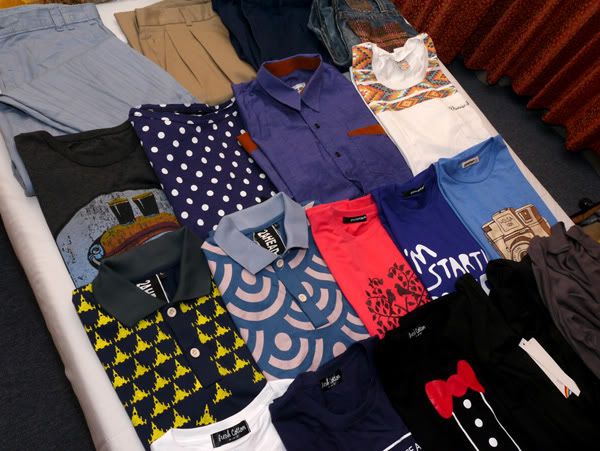 WOOLALA~ super happy! 😛
* * * * * * * * * * * * * * * * * * * * * * * * * * * * * * * * * * * * * * * * * * * * * * * * * * * * * * * * * *
Day 4 : Bidding Goodbye to Bangkok
Today is our last day in bangkok. woke up in the morning as usual for our last breakfast there…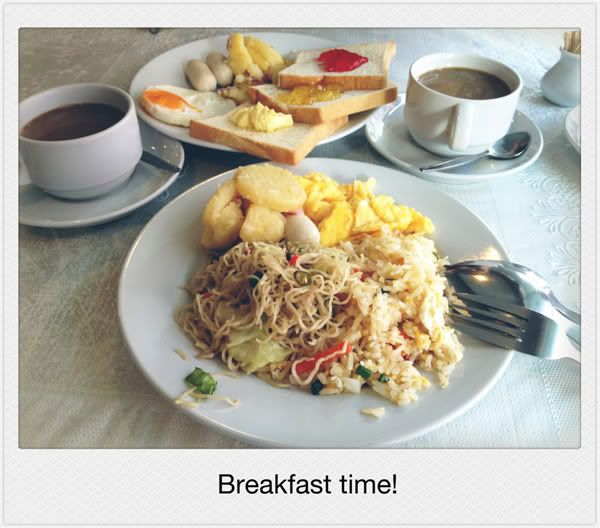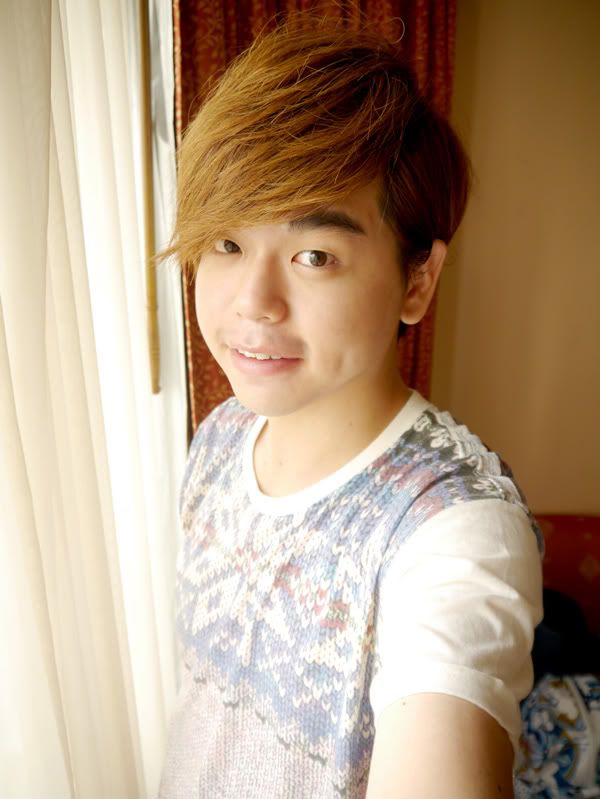 out for last min shopping ard our hotel and to snap some pictures as well 🙂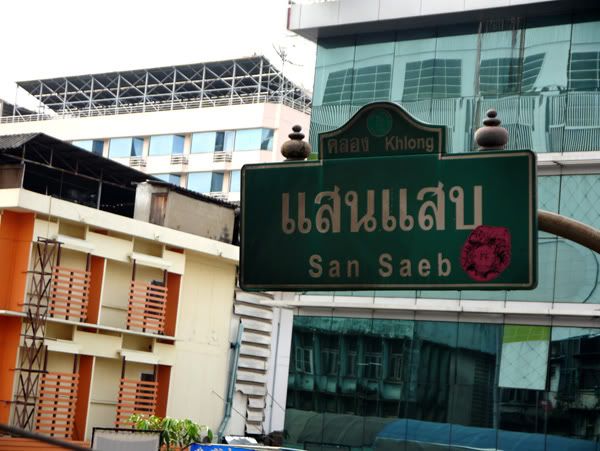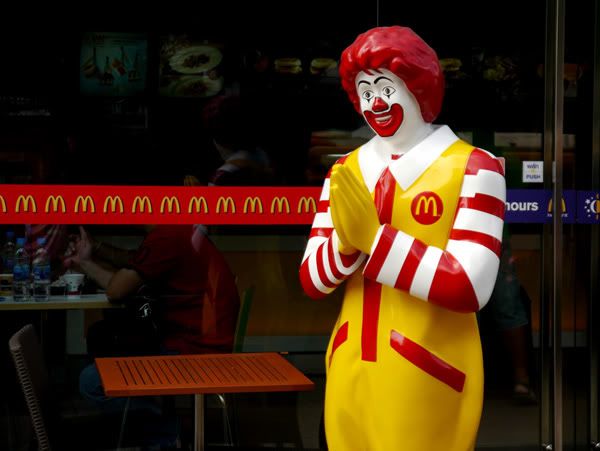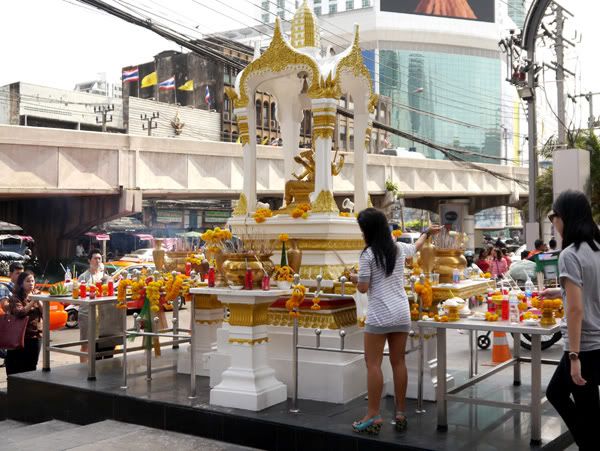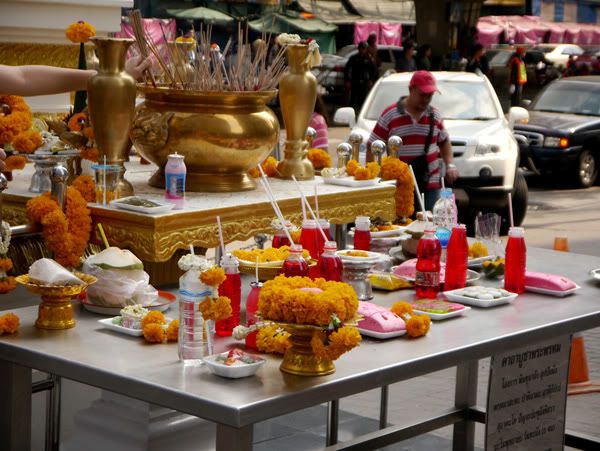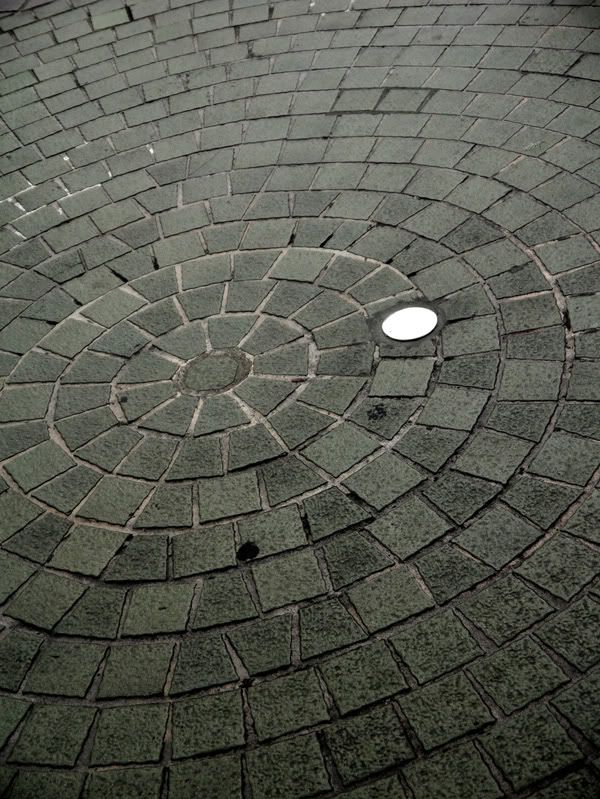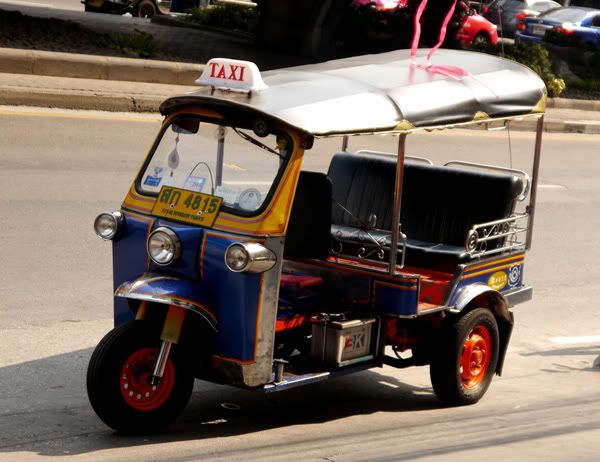 ready to leave…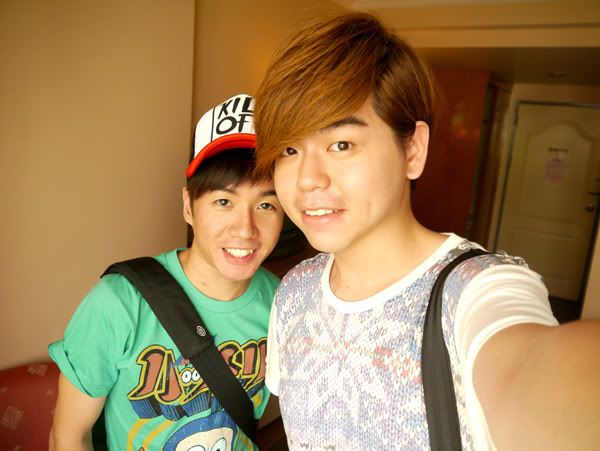 Had our lunch over at the airport after checking in…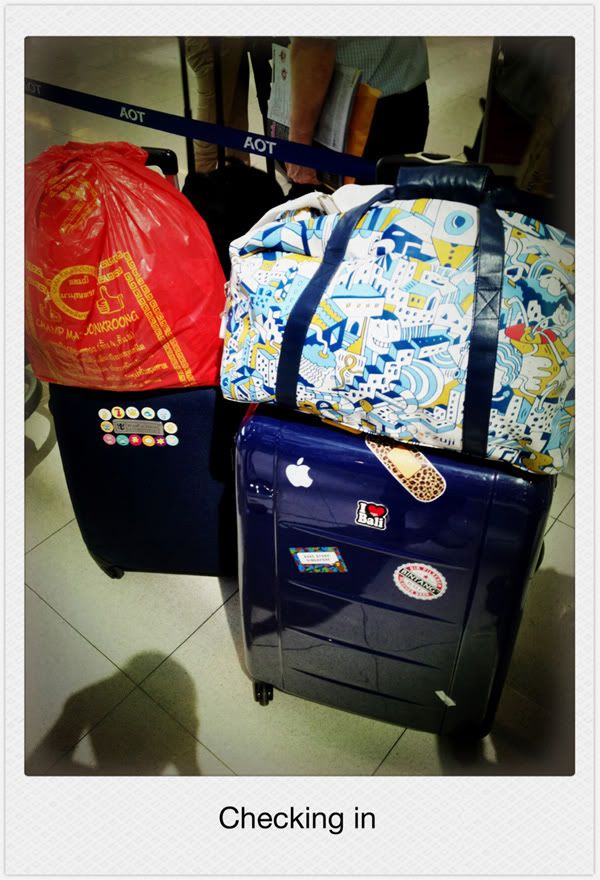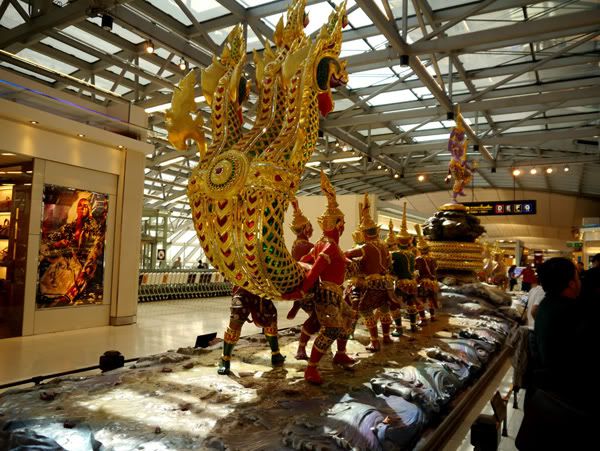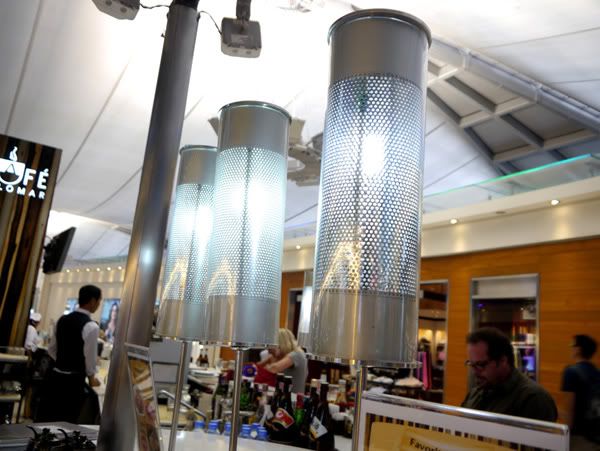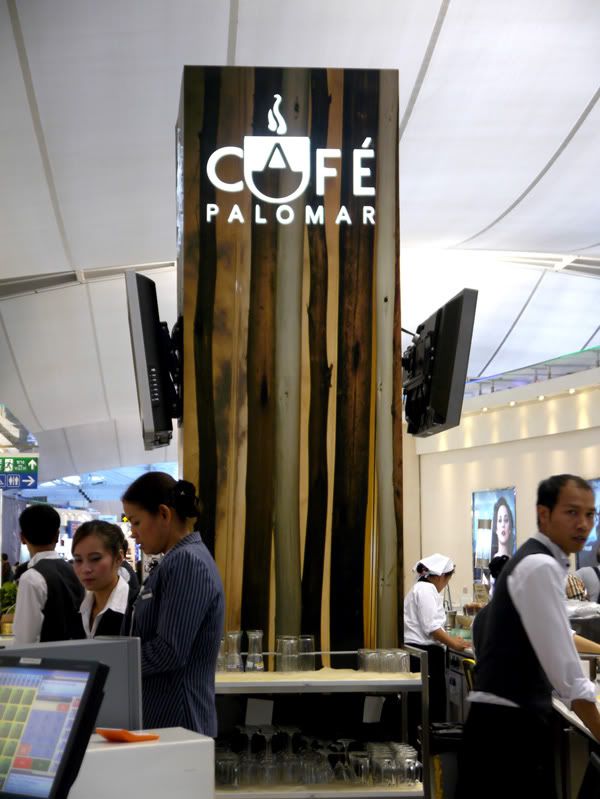 Calvin ordered a sandwich for himself…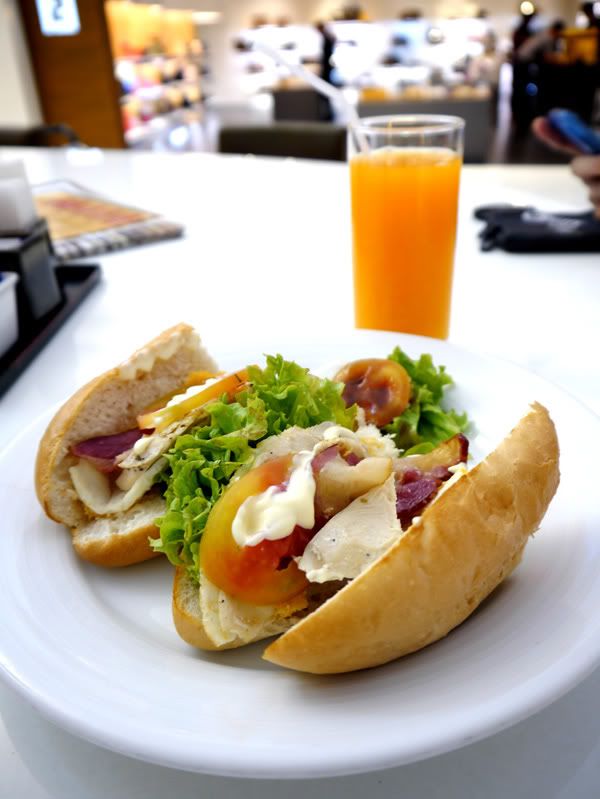 while i ordered phad thai.. it was sooo good~~~
we got a airport shuttle bus to bring us to our plane.. 🙂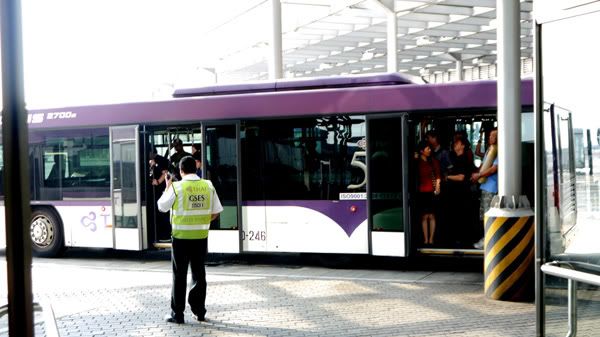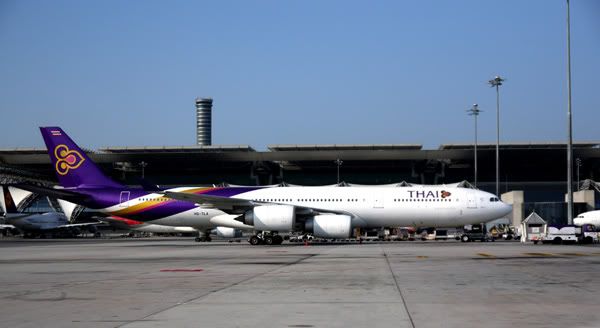 WIND SUPER STRONG.. cannot even open up our eyes hahaha~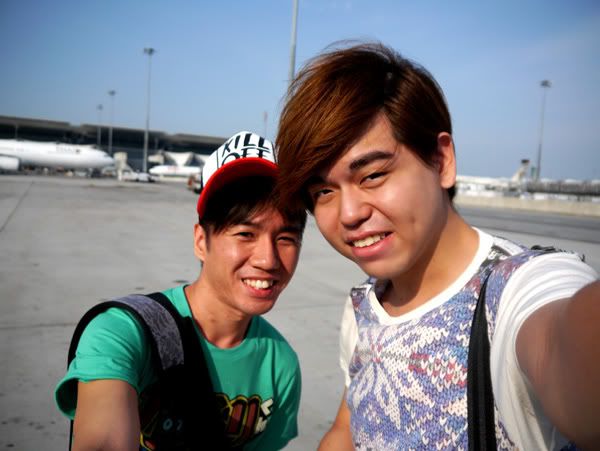 okay, this is much much better 🙂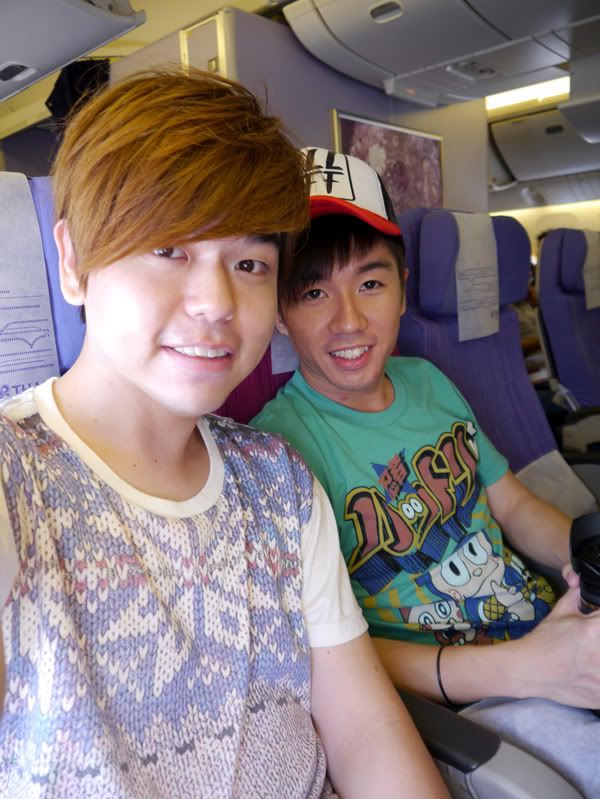 Sweet and Sour Fish with rice for our meal on board.. nice~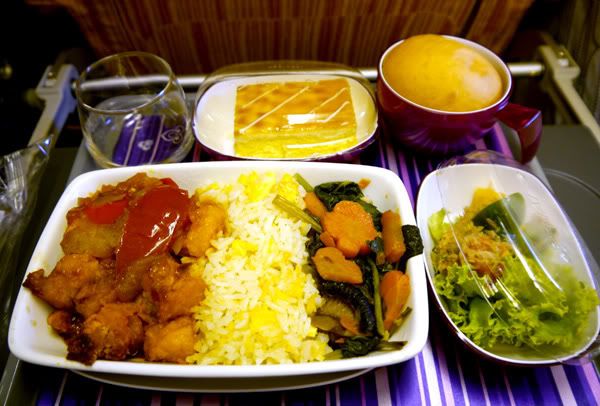 That marks the end of my 4D3N Shopping Spree with Calvin! 😀
Special thanks to DEAL.com.sg for sponsoring this trip and if you are looking for cheap and good travel deals in singapore, PLEASE head over to DEAL.com.sg today!
This entry is brought to you by DEAL.com.sg