Sponsored Trip By StarCruises
Went for a really short getaway with Calvintimo last week as we're invited by StarCruises to go onboard the SuperStar Virgo which recently went through a major makeover 😉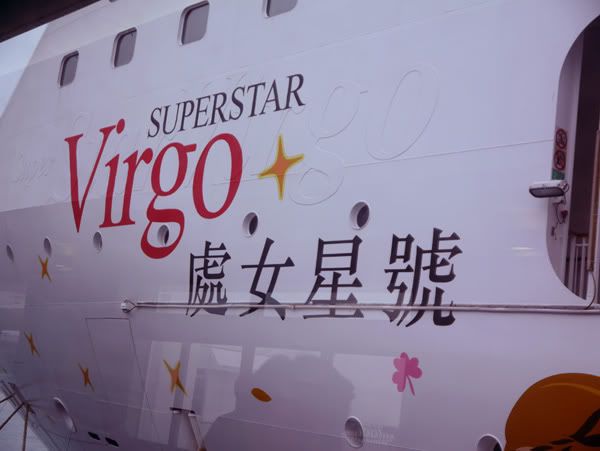 the characters from their latest new musical show "Somewhere in Time" was there to greet us as we make our way to board the cruise.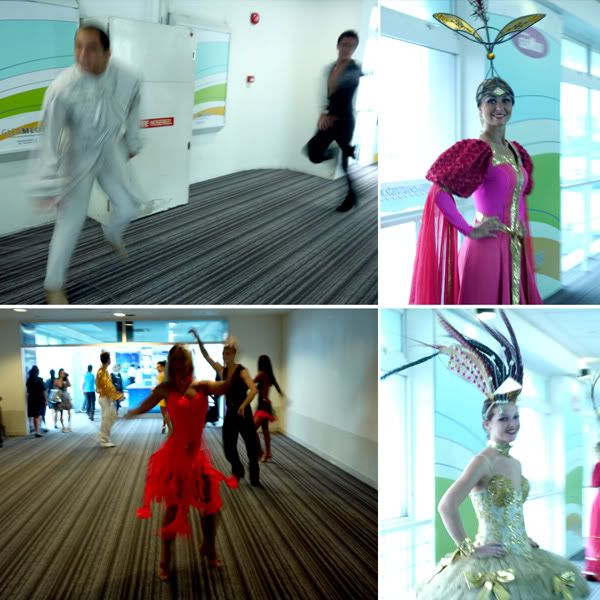 Drinks and tapas were served onboard…
the 3 golden horses are much more SHINIER now!
The Time Keeper from the musical "Somewhere In Time" was there to entertain the guests while waiting for the award ceremony to begin. He or "she" was really funny hahaha~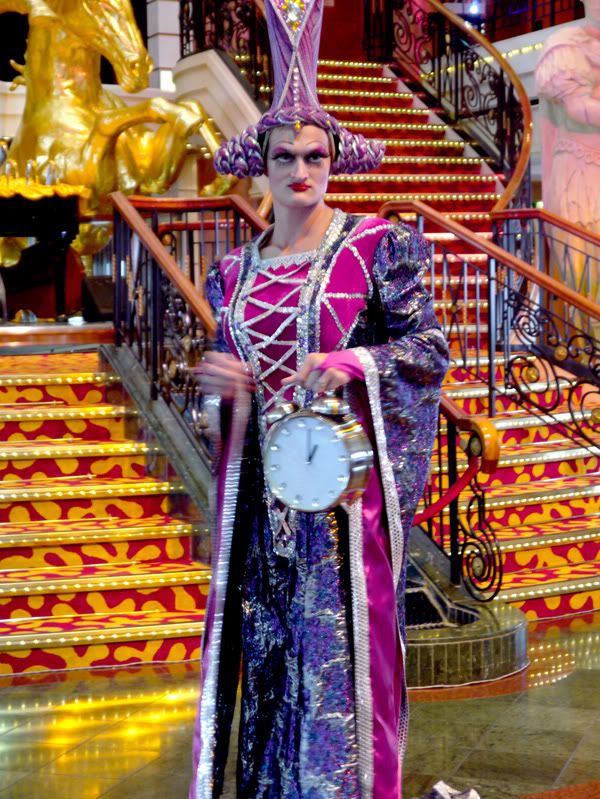 while snapping pics, he slowly approached us…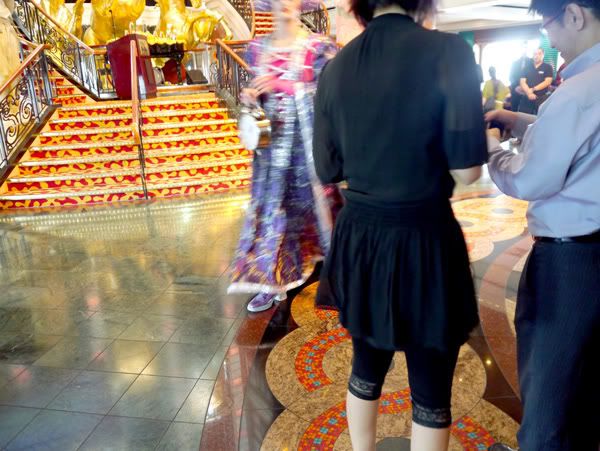 and passed me the clock he's holding onto.. lolx~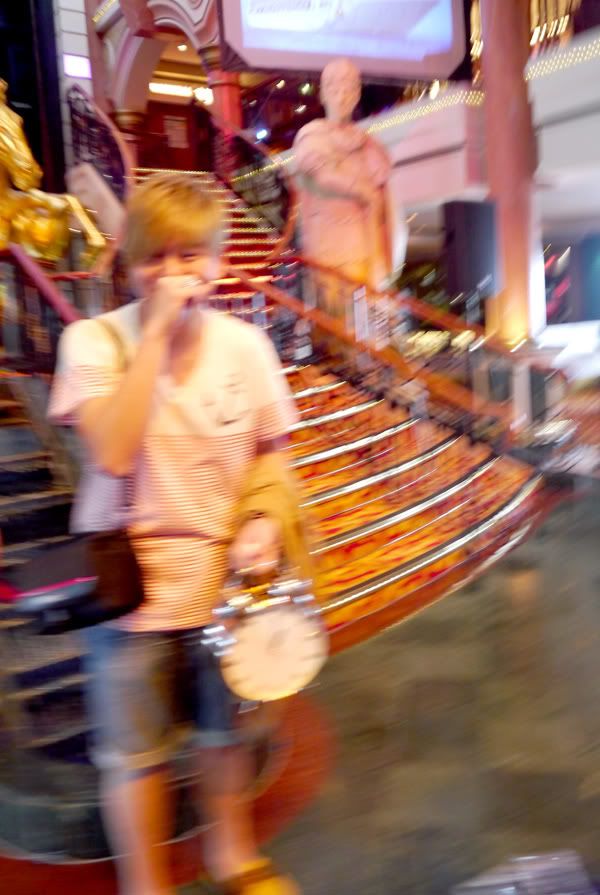 so now i'm the time keeper lol~ part time one…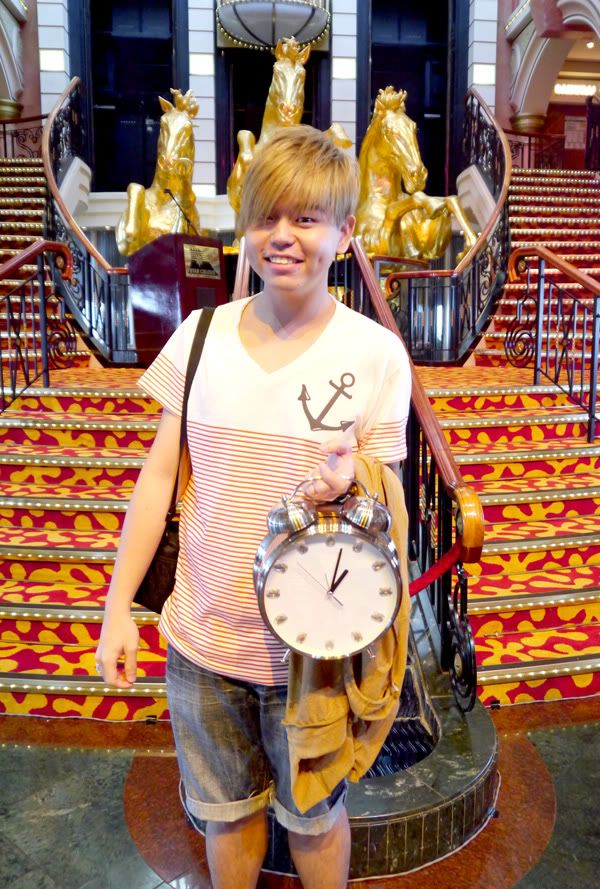 the part time and the full time Time Keeper 😛
it's time to celebrate! the award ceremony started off with a dance from the entertainers on board.
emcee for the day, chua enlai~ he's funny as usual 😀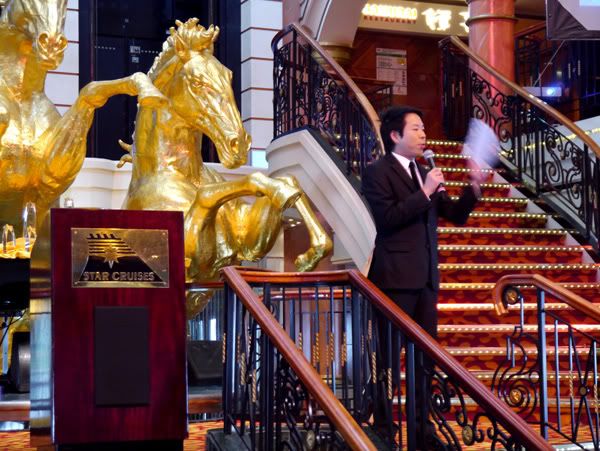 here we have Senior Vice President of Sales, Mr Michael Goh, making an opening speech before giving out the awards to Top travel agency and sales person in the travel industry. It's like their jin ma jiang also known as Golden Horse Awards as mentioned by chua en lai ;P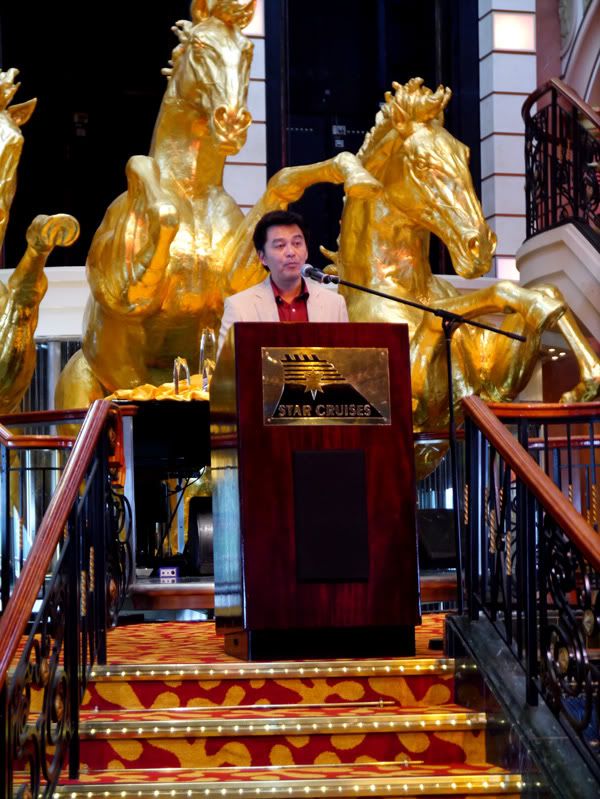 after the award was given out, we're all invited to the  Bella Vista Restaurant for a celebratory lunch whereby there's performance ongoing while we enjoy the food.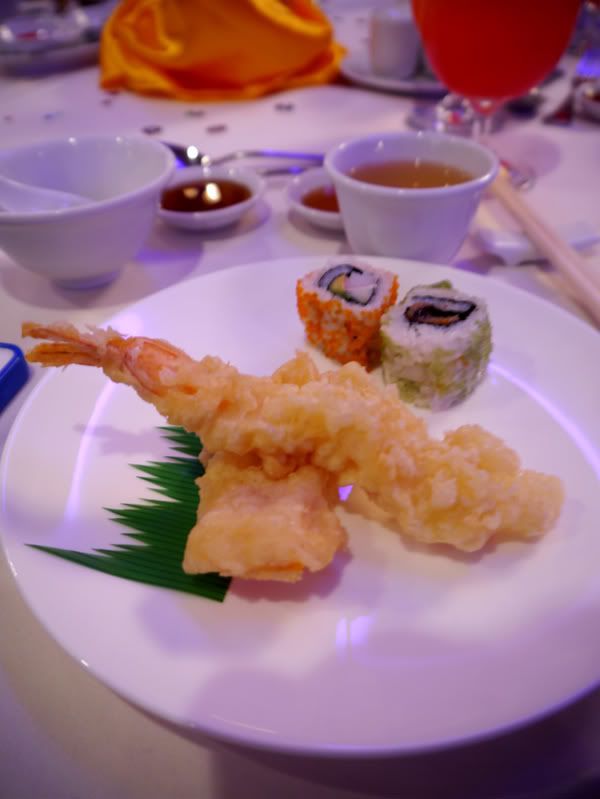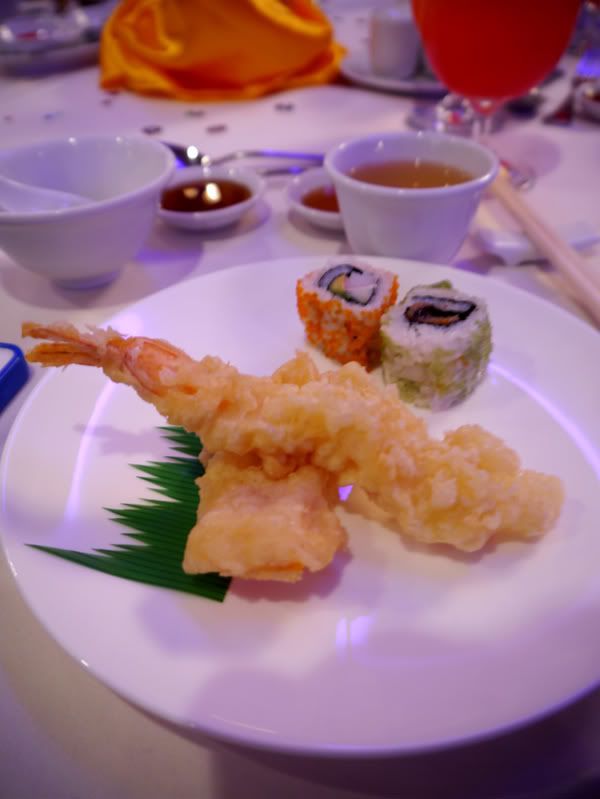 this is one of my favourite dishes..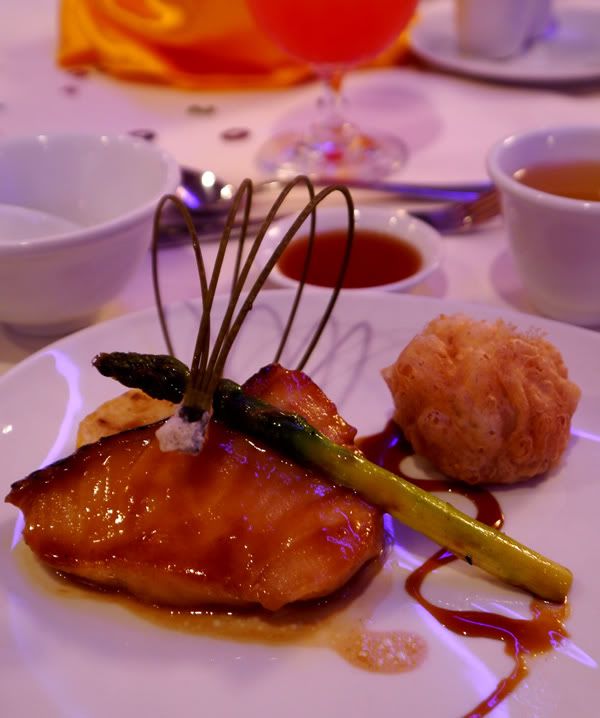 lobster with egg fried rice…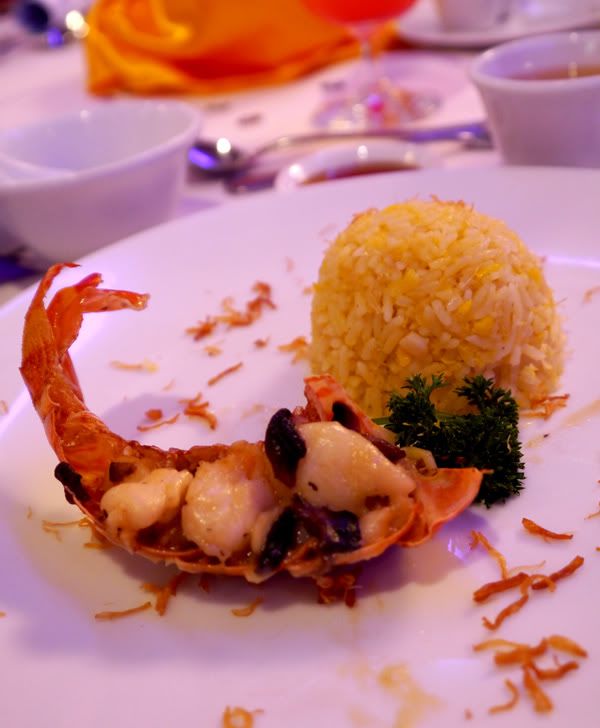 that's abalone..
desserts was good~~~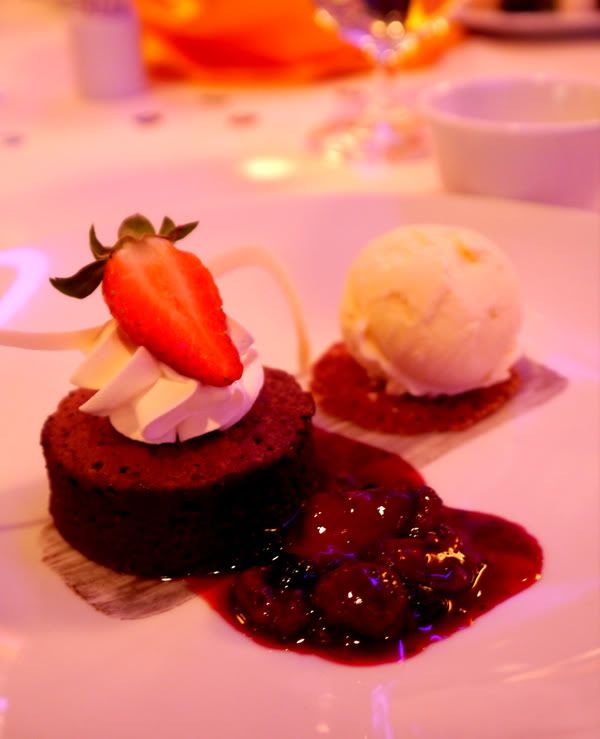 time to check out our room!
awesome room! there's a balcony for us!! woolala~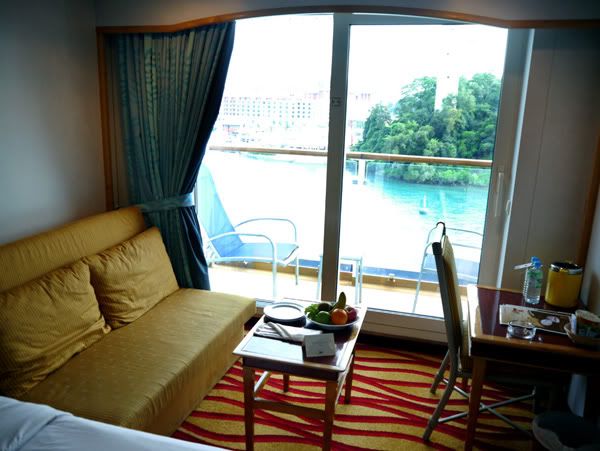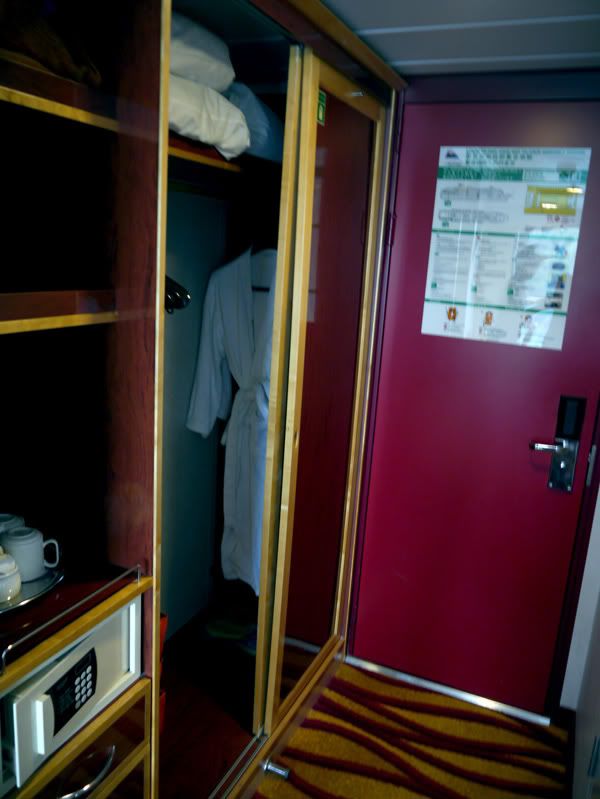 complimentary tea and coffee with electronic water boiler.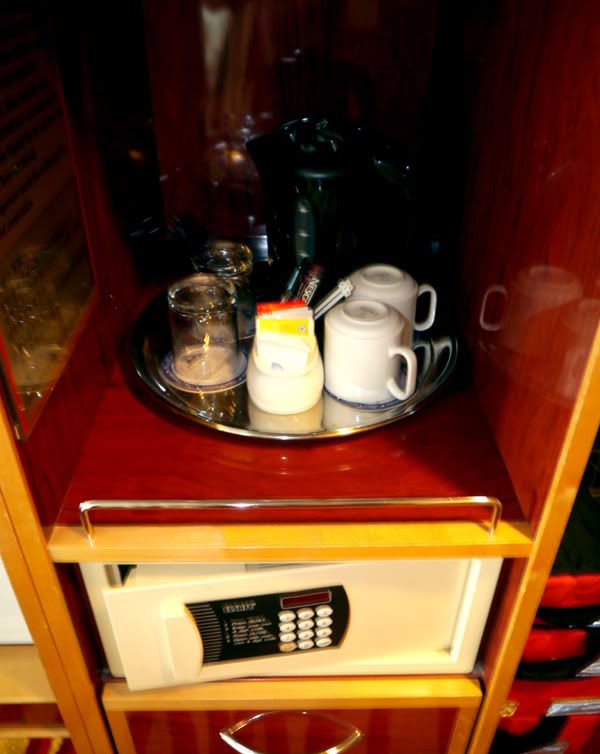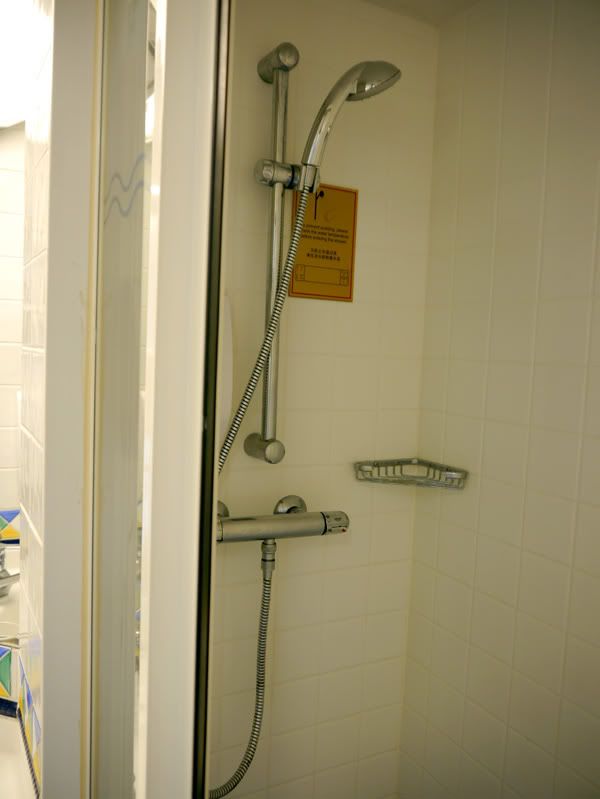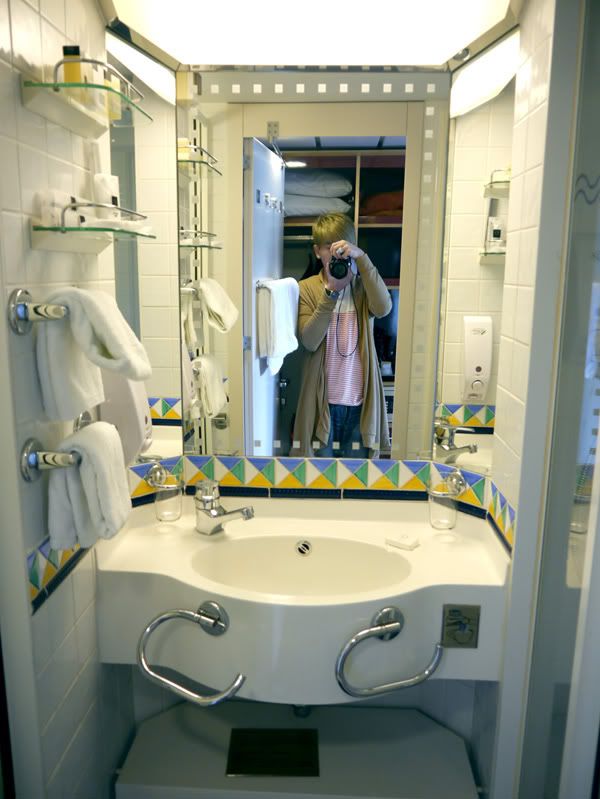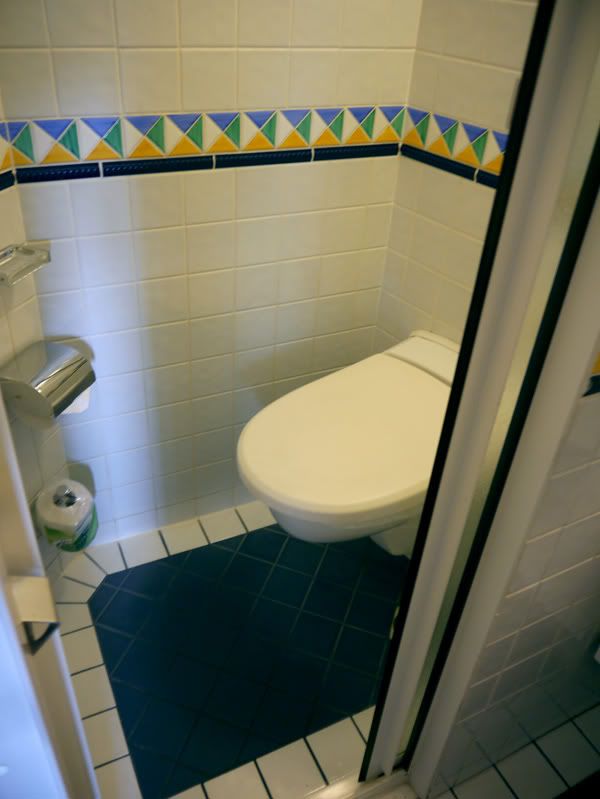 Queen sized bed with our media kit and goodie bag ontop of it..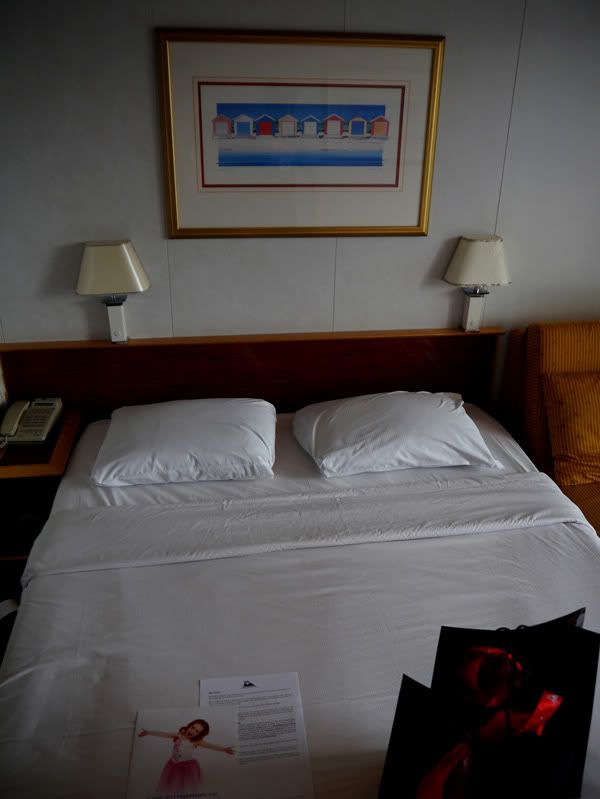 wonderful place to chill at 😀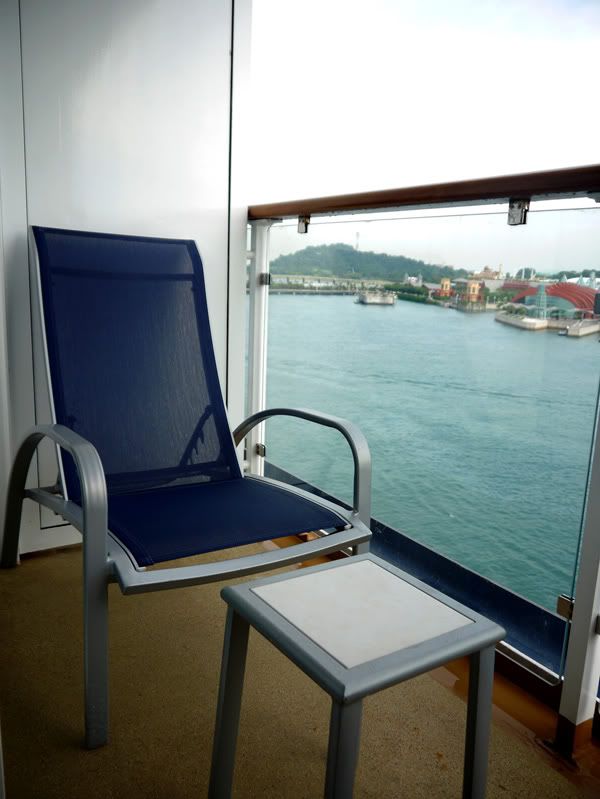 can't wait to set off into the open sea!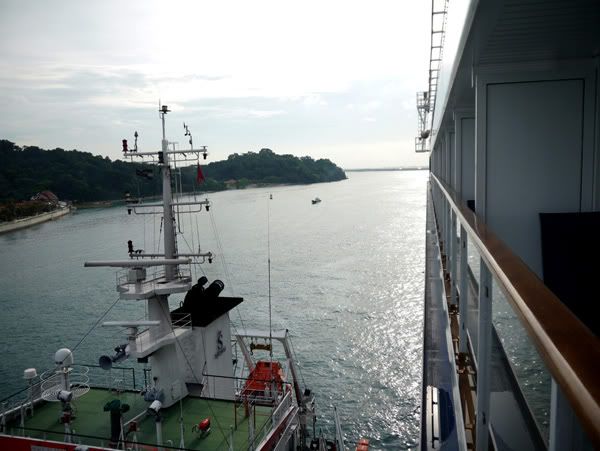 that's sentosa.. guess those are the villa from resort world sentosa…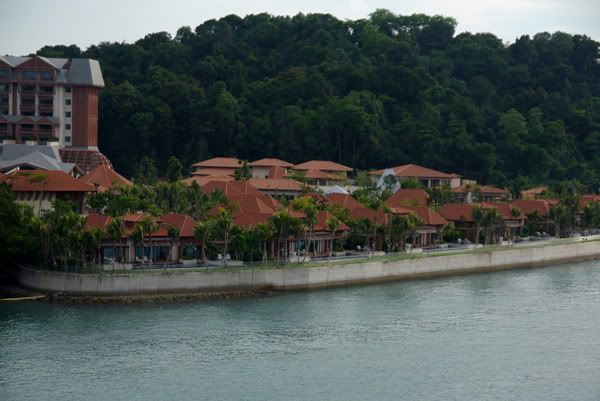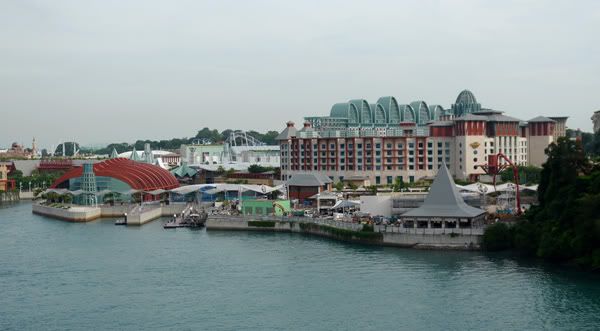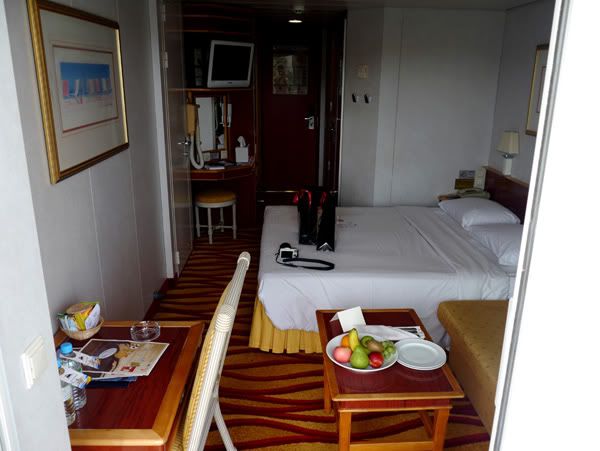 we manged to chill for awhile in the room before we went for the tour ard the cruise…
there's a wide variety of food onboard and im sure there's one that you will love for sure. There's chinese food like the peking duck? looks yummy right?! i know~!!!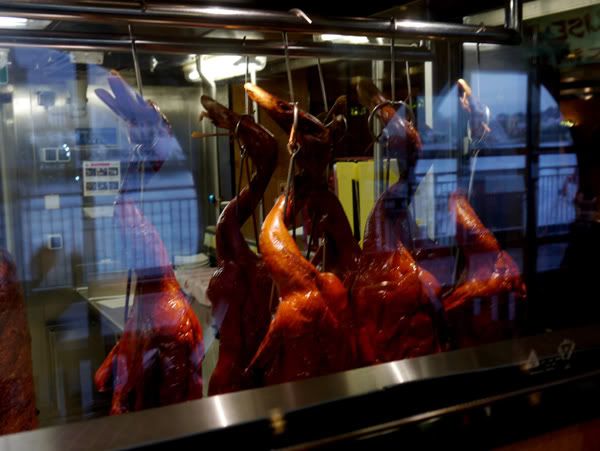 Indian Vegetarian food…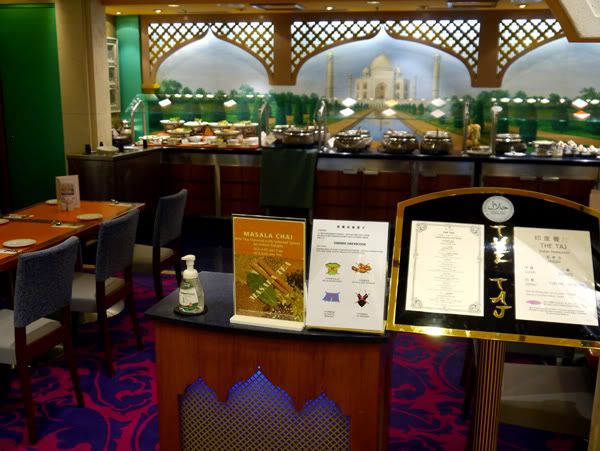 not forgetting those that loved eating sushi and sashimi~!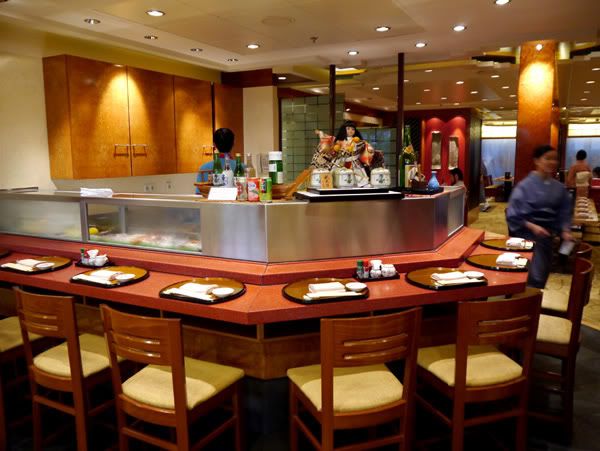 Other than food, there's LIDO, a theater whereby there's live performance like the muscial "Somewhere in Time" and movie screenings at night. For those whom wan something more exciting, there's late night adult shows as well! though we didn't get to watch it hahah~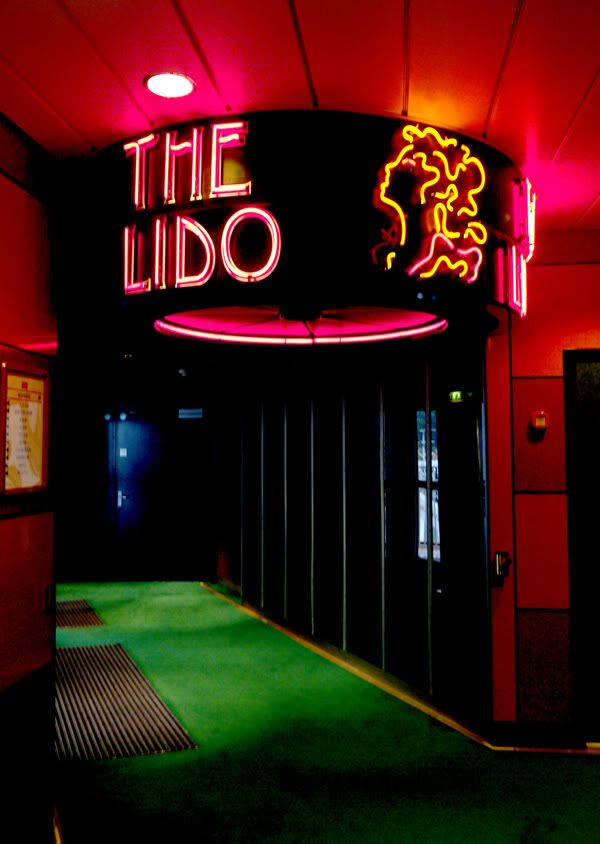 There are also shops ard whereby you can purchase the items with cash or through the points that you accumulate in your card from the casino…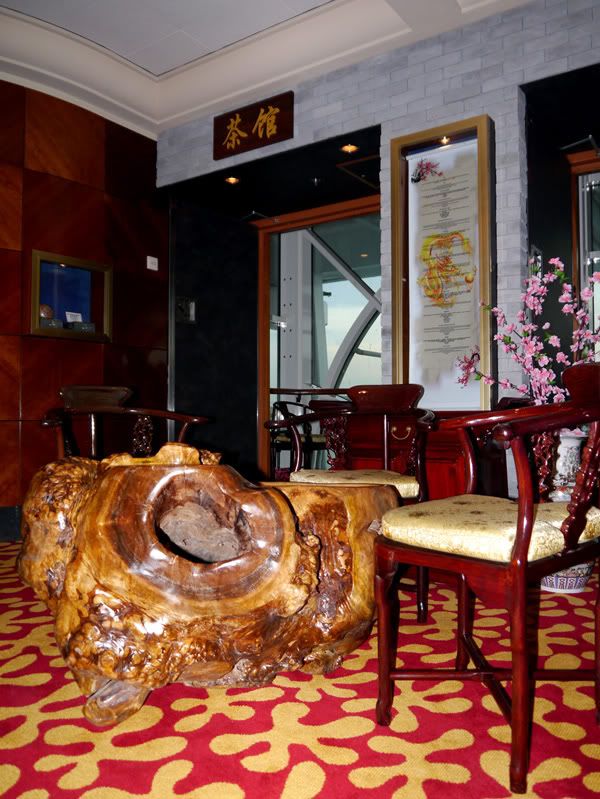 WOOO~ finally a self camwhore pic hahaha~!!!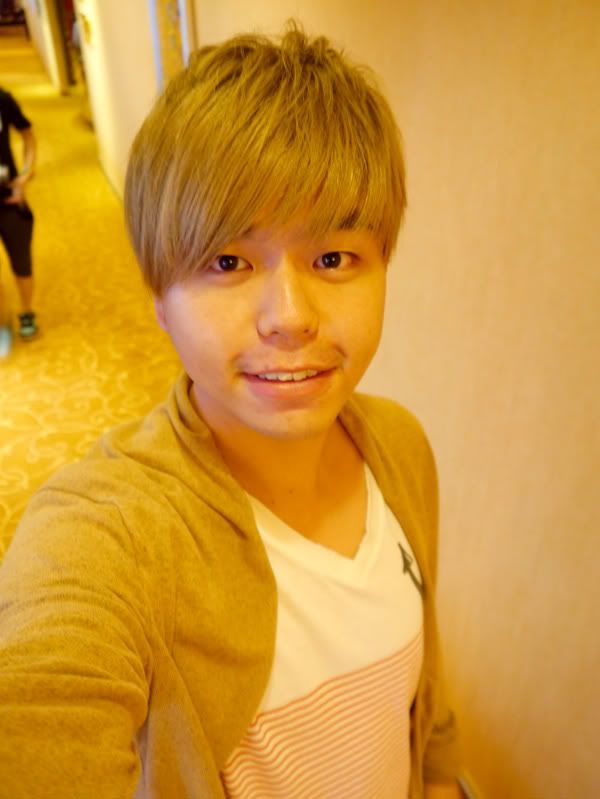 and with calvin 😉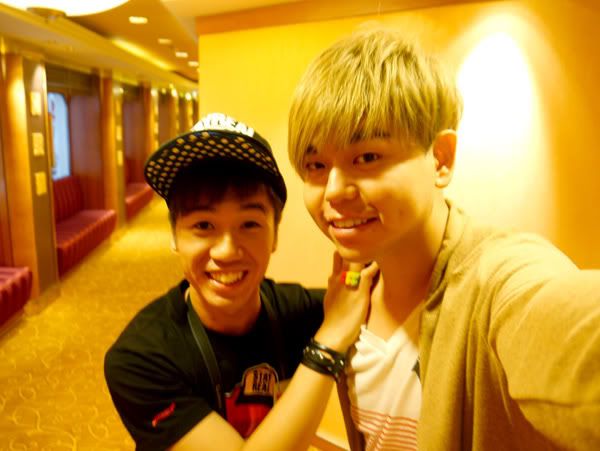 here's the newly furbished room with no balcony but there's a window and its so much alike to those hotel rooms!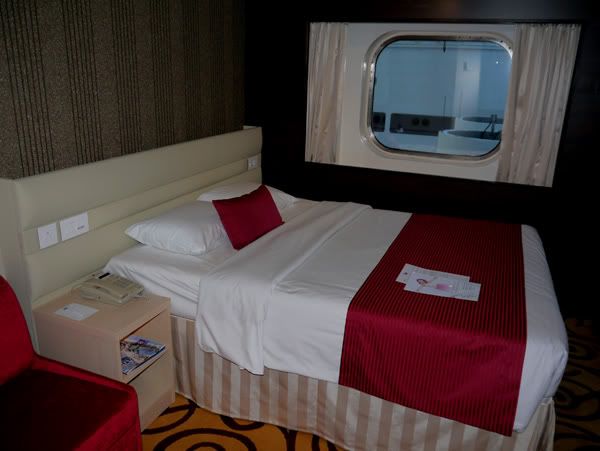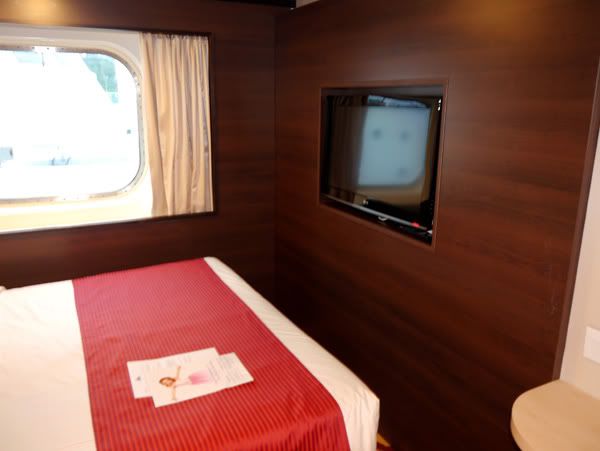 this room is ard the same as the previous one, just that there's no window..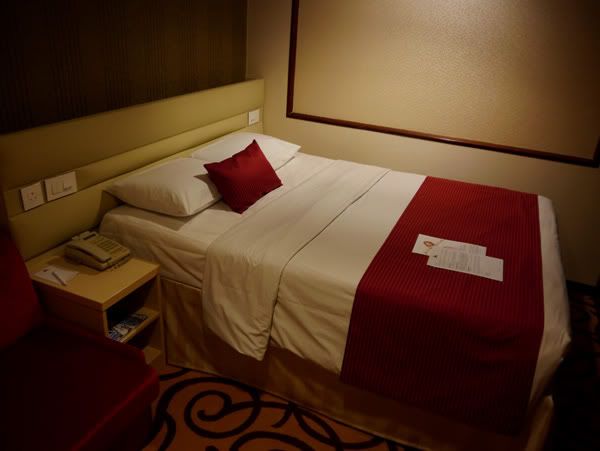 this is the cabin suite which is quite spacious~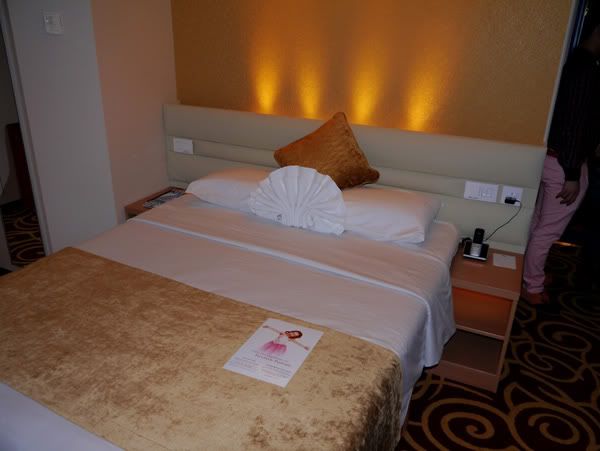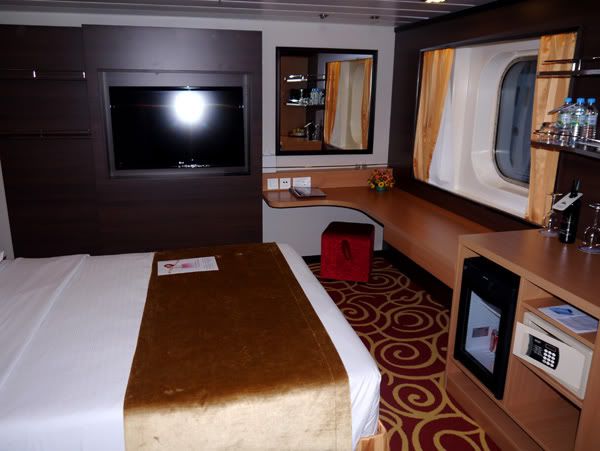 After the room tour, we were invited to the Celebrity, a Vodka club lounge that changes into a disco when its later at night for some drinks 😉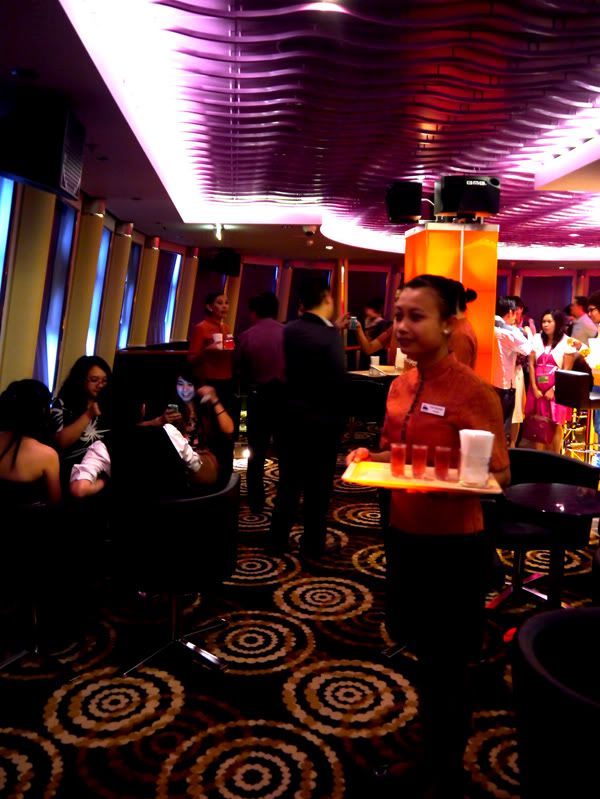 a total of 7 different vodka mixers for us to try out.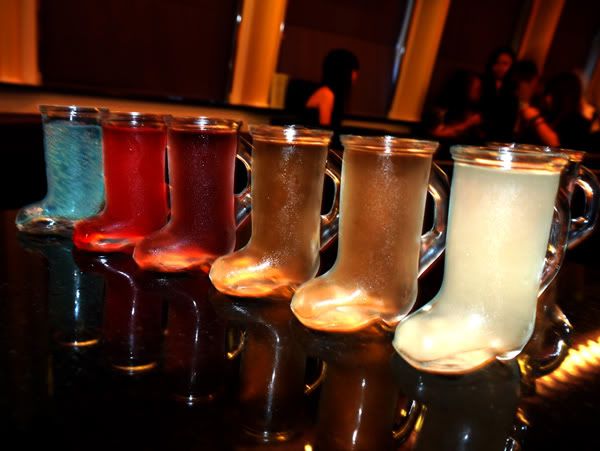 other than trying out the vodka mixer, i ordered a lychee cherry sparkling wine which makes me turned really really RED!!!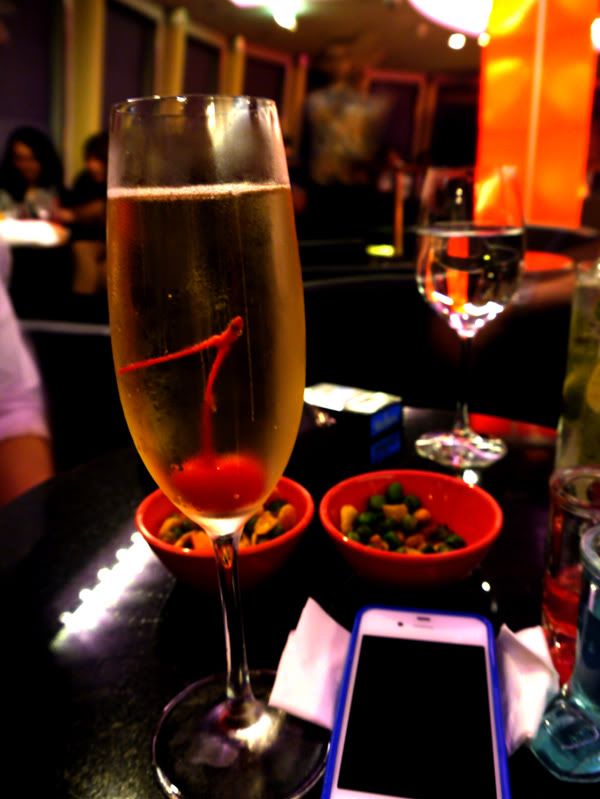 calvin orderd a vodka lime for himself.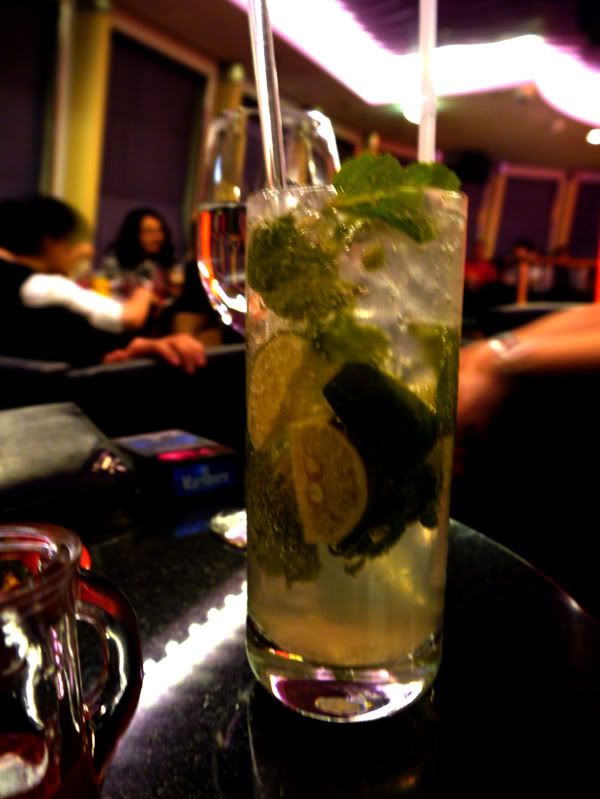 After the drinks, we went back to our room as i seriously needa freshen myself up so as to catch the musical "Somewhere in Time" at the Lido. Heard that it's a really great show and it won alot of praises from the audience!
Too bad no photography is allowed therefore i've nothing much to show you but we managed to take a pic together with the casts!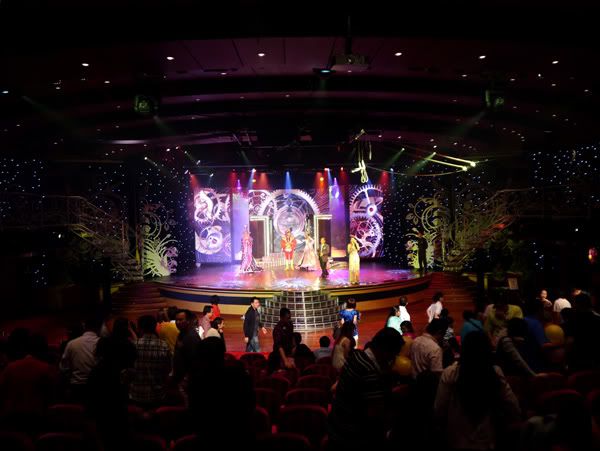 after the show, we went for "supper" at this chinese restaurant, Pavilion for some teochew porridge..
Next we went for massage!! yeah~!! finally i get to go for my massage session. Missed it at bangkok and bali during my trip.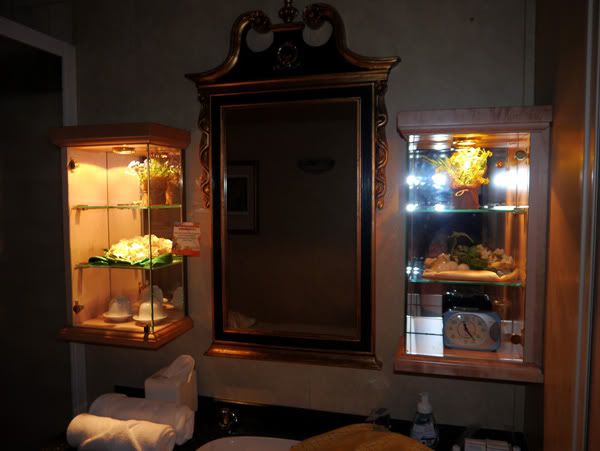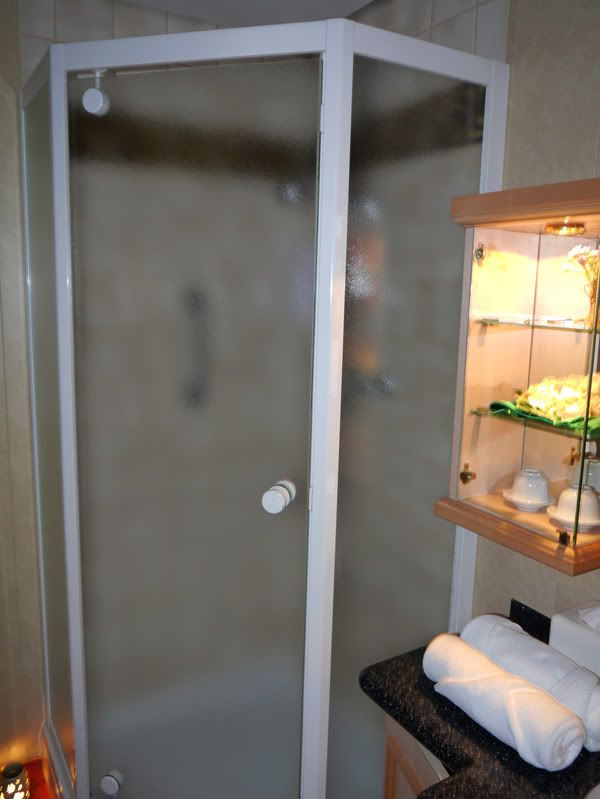 it was really good~~~! we had aroma oil massage and the thai lady was really friendly ;D after massage, we went for sauna before we continue to explore other parts of the cruise.
We visited the arcade whereby other than the usual arcade video games, there's wii and xbox 360 for you to play with!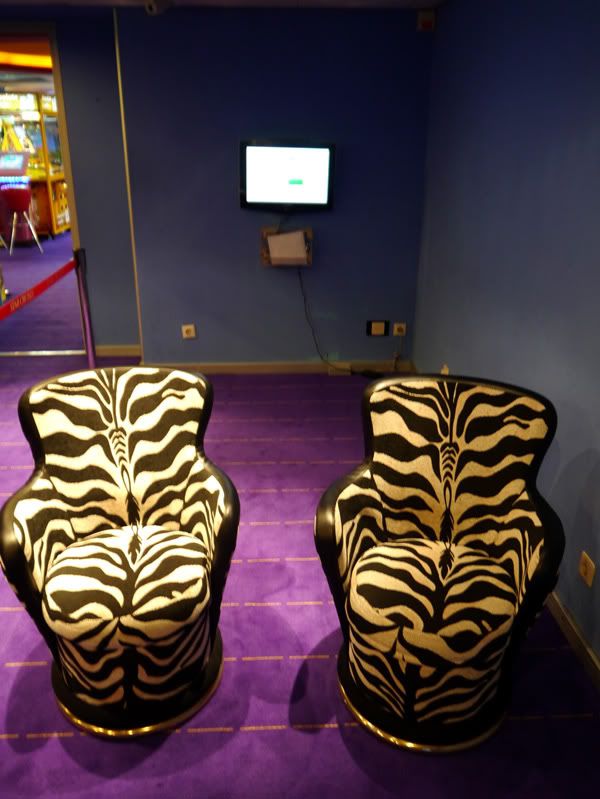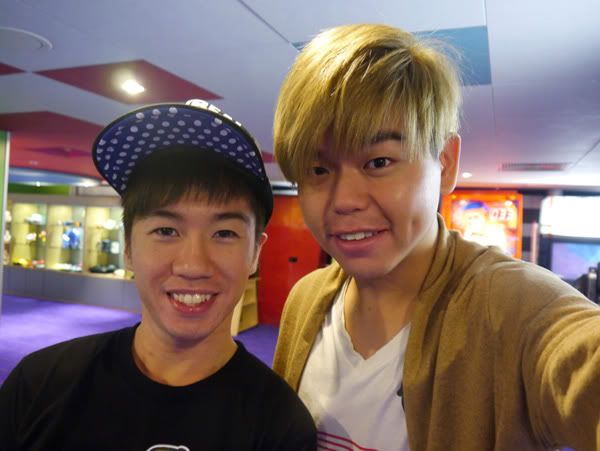 Live performance at Bellini, whereby you can chill over here with some drinks while enjoying the music…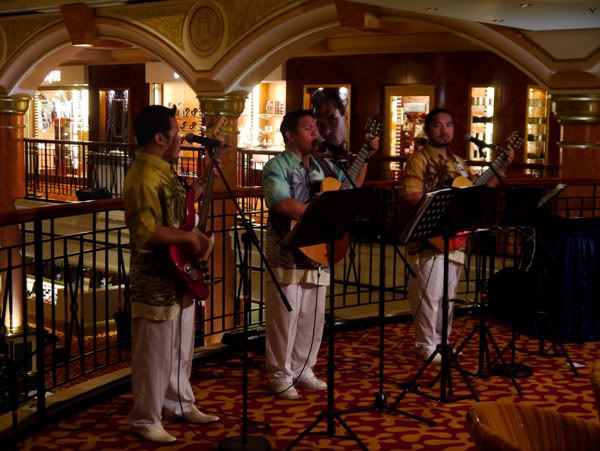 as the teochew porridge from the pavilion wasn't really satistfying for us, we went over to the Blue Lagoon Cafe which served lots of local delicacies 24 hours! and since we have a total of $50 credit, we shall grab some food to satisfy our stomach! 😀
Calvin wanted something sour and sweet at the same time, so the friendly waitress recommended us to have the mixed juice with mango, pear and pineapple in it. It's good!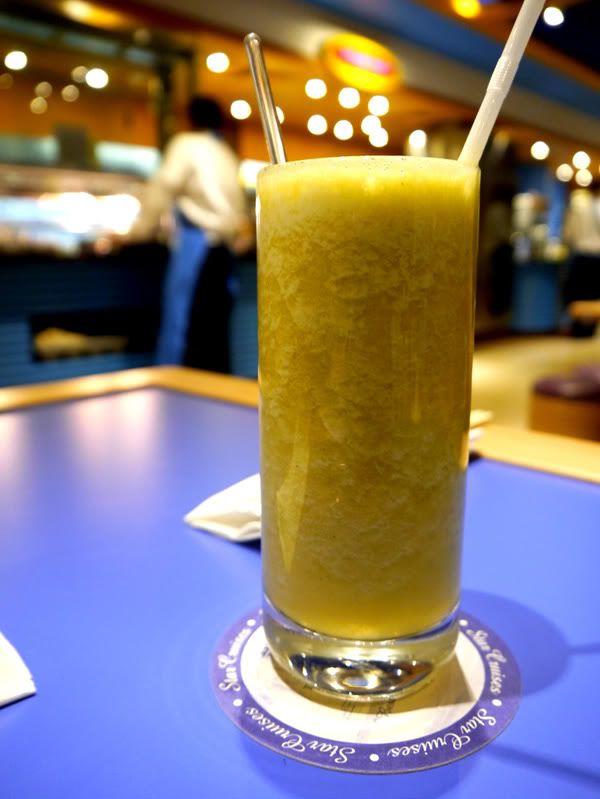 the prawn noodles was awesome la~ the soup was rich and spicy and i can say it's one of the best prawn noodle that i've ate so far!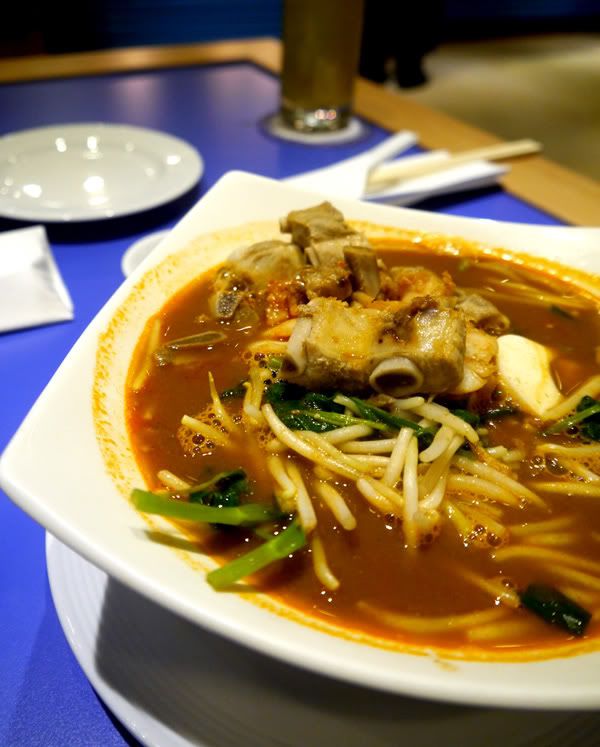 roasted char siew and duck.. WOO! marvelous! it's really damn good, especially when you dipped it with the sauce provided. we just couldn't stop sending it one by one into our mouth!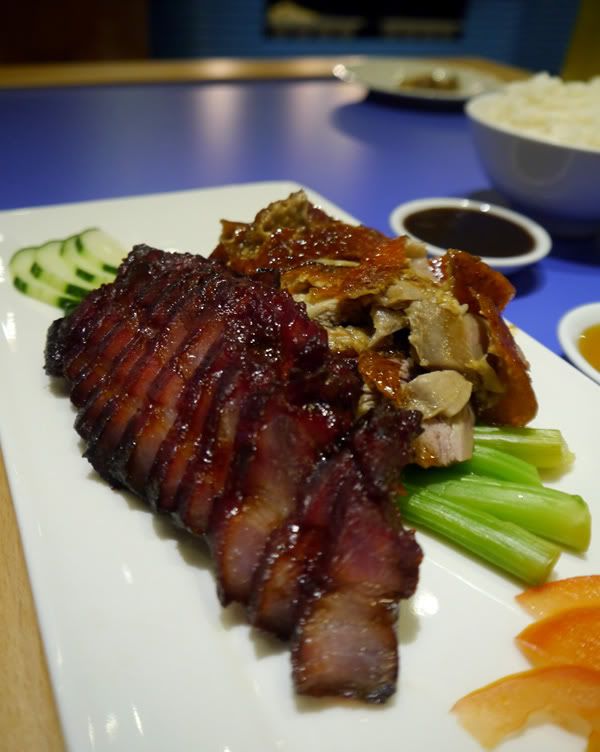 after our really late night supper, we headed back to our room as it was raining heavily out there and we decided to visit the upper outdoor deck the next day morning, at the same time to catch the sunrise!
sad to say, the sky was gloomy and it was still drizzling the next day morning when we woke up for breakfast… would be great if we have more time to enjoy the jacuzzi, the pool whereby there's a slide built to it lo! like super fun sia!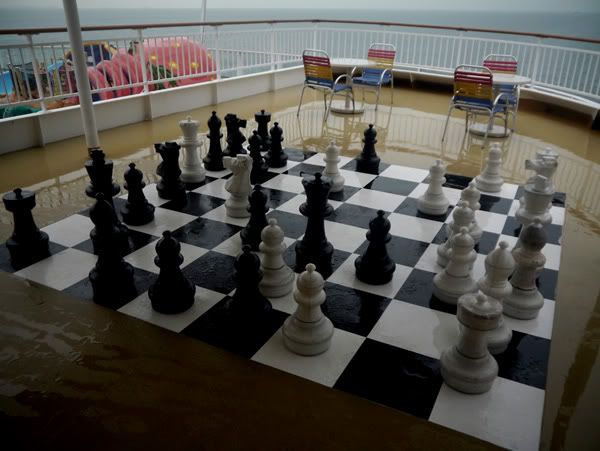 breakfast was at the same restaurant where we had our celebratory lunch the day before.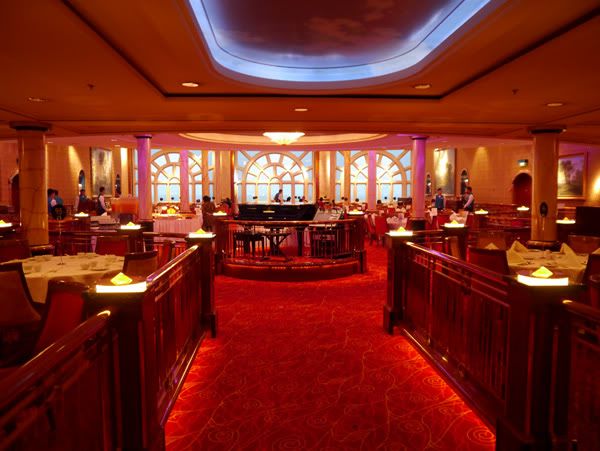 calvin ordered the english special, with egg, hash brown and bacon…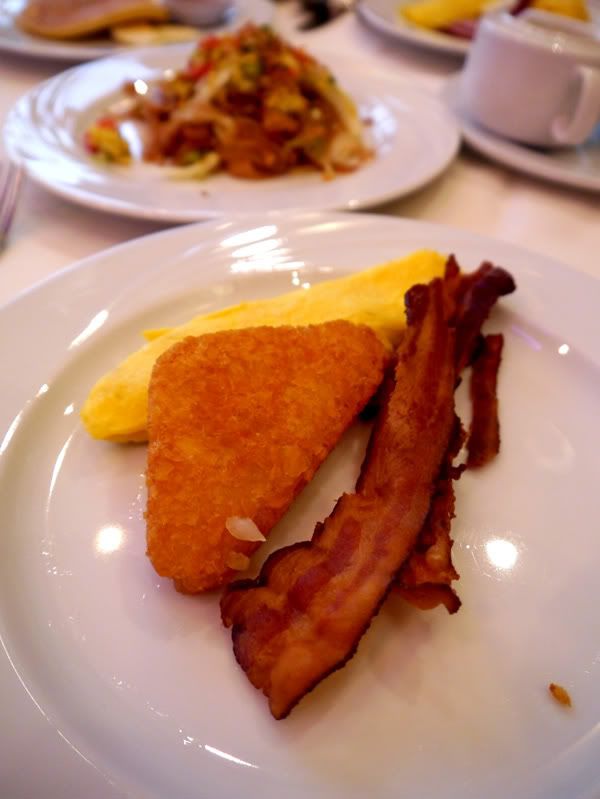 and pancake with banana…
i ordered the chinese special which is fried kuey teow…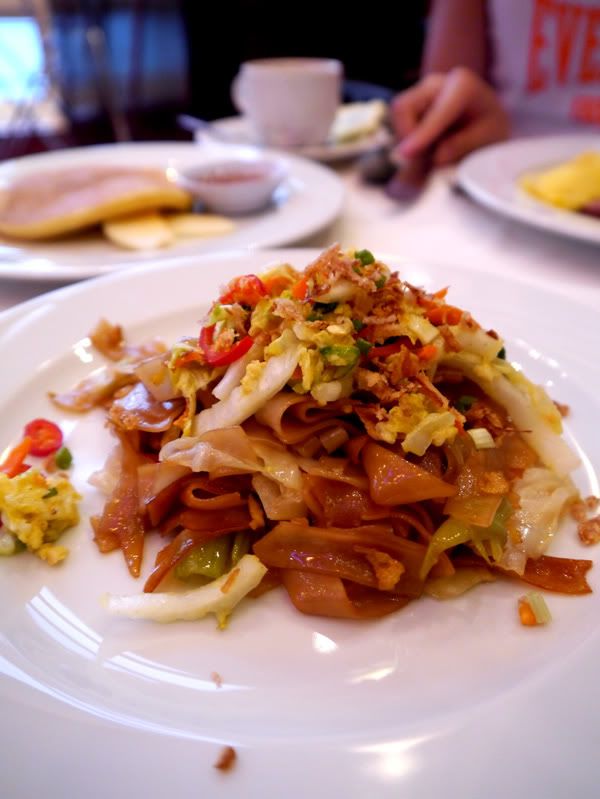 there's also free flow of cereals, fruits, yogurt…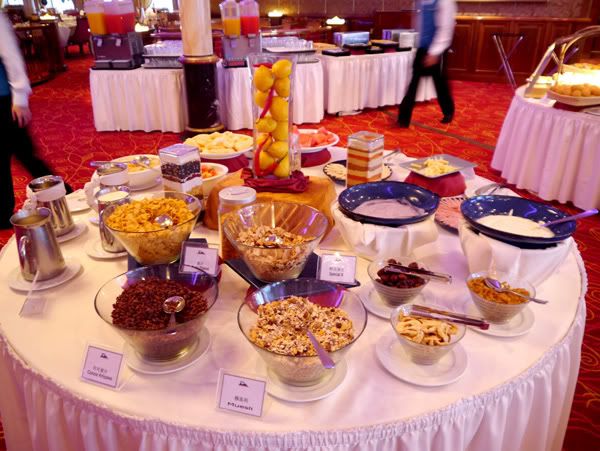 bread and pastries for you to complete your breakfast 😉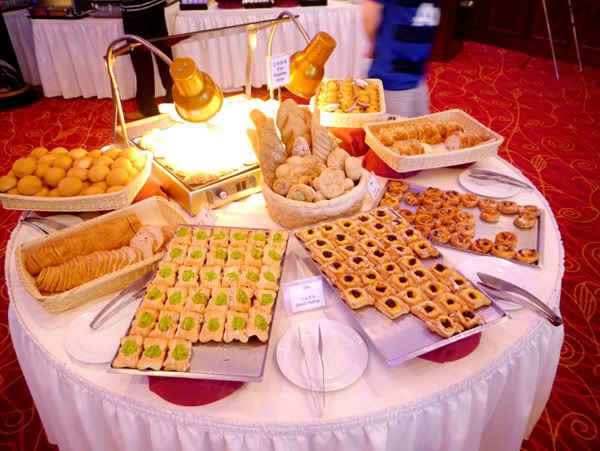 After breakfast, we went back to our room to sleep again before the cruise docked back at the singapore cruise centre.
It was overall a really great experience and both calvin and I hoped we have more time on board to enjoy all the facilities!!! So if you are looking for a holiday but you are those that are lazy to plan your itinerary, why not go on a cruise holiday? You do not have to do any planning.. just select the date, pay for it and off you go! you settle your food, your accommodation and your entertainment all at the same time! not bad right? But my personal suggestions, go for at least min 3 days or 4 days as you do not want to have the same feeling as the both of us that went for a 2D1N cruise and go "huh.. so short. if only we have one more night to enjoy…" 🙂
For the latest promotions , you can visit StarCruises and embark on a holiday with your family and friends!
Thank you once again to StarCruises for the invitation! 😀