Singapore – December is here and it has been raining almost daily. I have to admit that it has made us quite lazy to step out to get food. The cold weather is also a great time to just lazy in and have steamboat. If you haven't heard, YES you can order in steamboat now and it saves so much time to prepare everything from scratch from the buying to the prep work. After reading an article from BestinSingapore.Com  about 8 Best Steamboat Delivery in Singapore, we decided to try out Steamboat King.
We ordered for Bundle D which is good for 8-10 pax and here is what we thought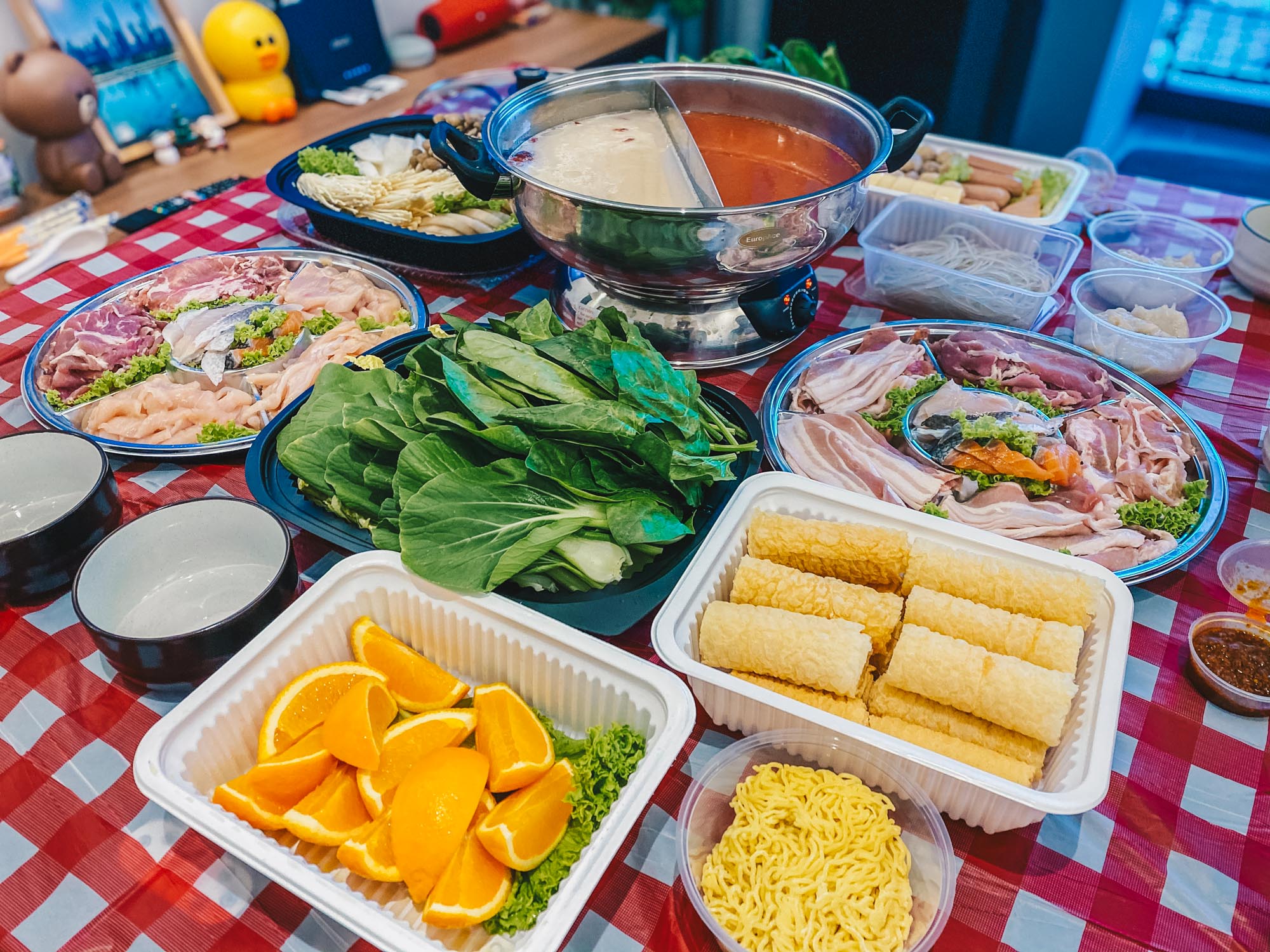 The Good
Ordering – was straight forward on the Steamboat Delivery website after making a selection, payment can be done via credit card to Liquid gateway. A payment service provider who provides a comprehensive range of centralized and secure in-store transaction management services.
Add on options and Freebies –  Many of the bundles comes with drinks and fruits so you are all covered.  The Signature sauce sets are also thrown in for good measure there and we liked the Japanese style dipping sauce called Goma Shoyu great for pork. For those who prefer a bit more spice, there was also Thai Chilli which was a mix of sour and spicy. You can also try the Homemade Sambal Chilli for a spicier kick. Even if you do not have a pot and stove, the Ala carte option is available so that you can add in a pot or two just for stay home steamboat sessions.
Delivery – If you have a sudden craving for hotpot at a whim, they do provide free 1-hour delivery islandwide(above $100). Packaging – We felt that the packaging for all the food items was great, everything was sealed properly including the soups and sauce and the plastic disposable containers served as a good backup in case you needed to dabao.
Pork Tonkotsu broth – Was the clear winner, thick umami and hearty soup that hits the spot on a cold day. We almost had not enough soup because everyone around the table was drinking quite a bit of it. The soup also made the vegetables sweeter after a good simmer. What's special about the soup broths is that they are simmered on low fire for a minimum of 8 hours daily to bring out their maximum flavours, while also retaining their natural ingredients. Options:
1) Premium Collagen Soup (+$5)
2) Sichuan Mala Soup
3) Tomato Soup
4) Pork Tonkotsu Soup
5) Kimchi Soup
The Meh
Food – Overall the food was alright, the tomato soup was sort of thin and tasted more like tomatoes ketchup mixed in water to me. The fish had a fishy smell and was mostly left untouched except for the salmon which was delicious and fatty. The meats are not top-notch quality but overall it was a pass.
The Ugly 
Our delivery – was prompt and on time, however, they forgot our soup base as well as the rice that was supposed to come in the bundle. Steamboat king quickly made up for it and we got our orders fulfilled within 20 mins.  Having said that, we found it weird that they didn't have a phone number to call and you could only email or Facebook message them if things went south.
In Closing 
If you are not fussy with food and just want to spend more time with friends and family, Steamboat king comes at a budget-friendly price and would be an alright choice as it cuts out all that time and effort to buy, prep and clean up after. The options are plenty and would cater to different dietary preferences, just don't compare this with Hai Di Lao or Beauty in a pot.
This post is brought to you by Liquid Gateway