With no expectations, we arrived for a late lunch at Jia Wei located within the Grand Mercure Singapore Roxy. Business was good with many of the tables filled with dinners, we curiously peeped at the dishes as they passed our table, the smell was making our stomachs growl, famished from our early breakfast.
Supporting local is not a new concept but it is good to see restaurants working with other business to bring farm to table dishes. Available now till 3 Jan, dinners can enjoy a curated 'Simply local' menu
We fell in love at first bite with the Crispy soft-shell crab on crystalline ice plant with tangy yuzu dressing(S$20++). The batter was light and evenly coated the tender soft-shell crab. Don't believe anyone that says anything deep-fried is good, it takes technique to ensure that the batter does not absorb too much oil and the technique was executed perfectly. The thoughtful pairing with a tangy yuzu dressing helped cut through the dish while the surprise came from the plum sauce socked tomatoes. The crystalline ice plant if you haven't tried feels like ice that has frozen on the plant very interesting texture.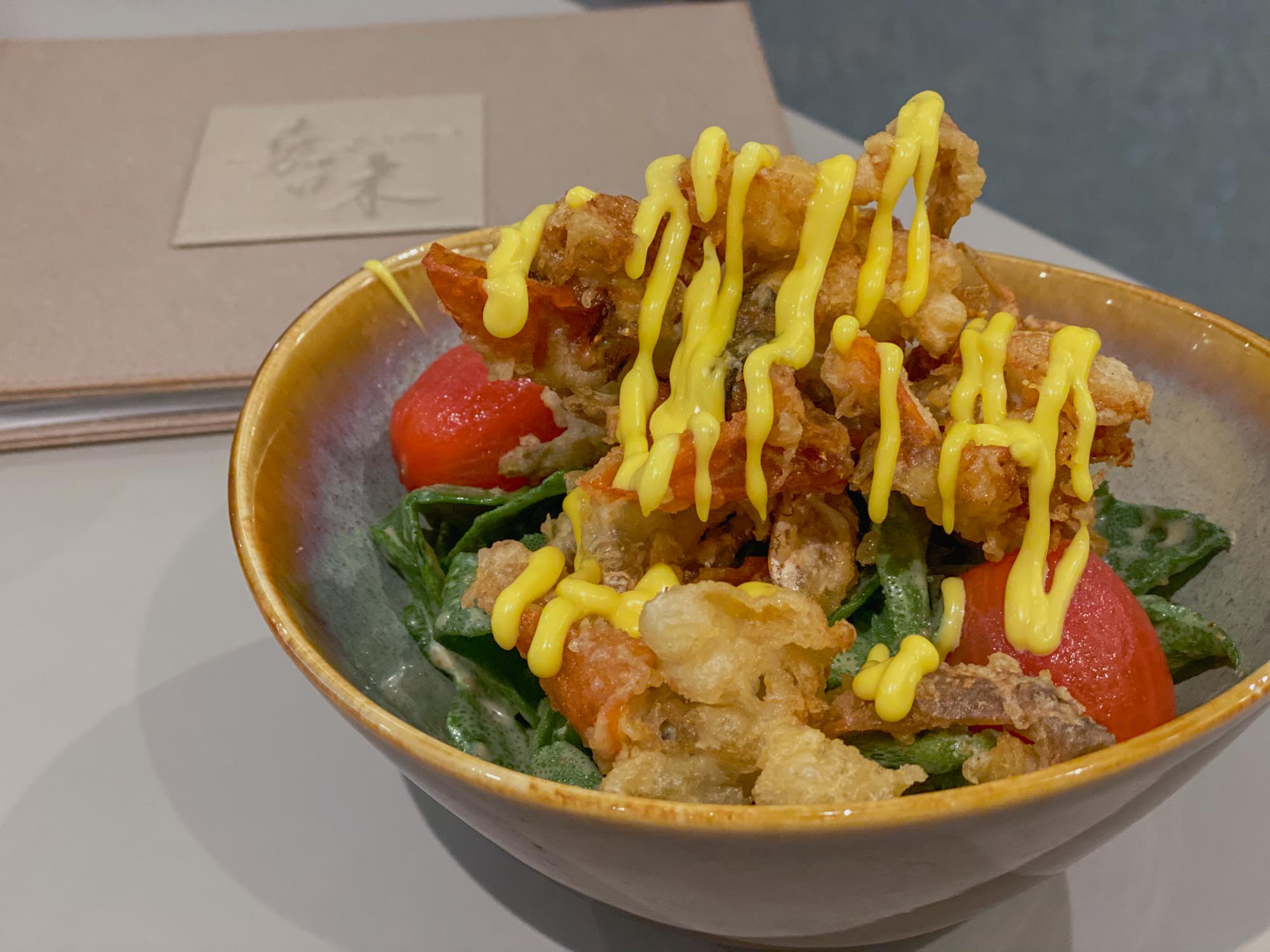 The Double-boil collagen soup with kuhlbarra barramundi fish maw, chicken, cranberry bean and wawa cabbage(S$20++ per serving) was a rich nourishing soup that opened up our appetite. The Fish maw had a good bite and the chicken still had good flavour, great for a cold day.
The Stewed Tai look noodles with farm-fresh river prawn and neck clams(S$32++) was a great dish for 2-3 pax to share, the prawns and neck clams were fresh and all the umami goodness was soaked up into the noodles which had good texture.
The Ah Ma prawn Hae-chor(S$20++) is a must-order if you are sharing a meal with friends. The batter again was an interesting mix of different powders that gave the Hae Chor great texture. The inner fillings are more prawn based compared to other places that use mostly minced meat. Each bite was spongy and flavourful.
Dessert is an over the top presentation of a Jia Wei coconut pudding with ice-cream(S$12++) that comes to the table in a swirl of smoke and drama. We marvel at the delicate texture of the pudding that is even lighter than 'Tao Hui' made fresh daily from coconut. The desert comes in limited quantities so be sure to lock in your orders early.
In Summary 
The crowd dissipates as lunch comes to a close, we feel like we have found a new favourite Chinese restaurant—a gem with a chef that combines the quality ingredients and dishes out innovations that are not tied to a particular Chinese style of cooking. We honestly cannot wait to come back here again, to try new creations the only deterrent might be the distance from our home to the far eastern part of Singapore.
50 East Coast Road, Roxy Square,
Level 2 Grand Mercure Singapore Roxy,
Singapore 428769
+65 63405678
http://grandmercureroxy.com.sg/dining/jia-wei-chinese-restaurant