After a S$30 million refurbishment, the former Paramount Hotel and Shopping Centre was rebranded Village Hotel Katong when Far East Hospitality took over operation in mid-February 2012. Was really excited and happy to go on a staycation there, somewhere out of the usual in a neighbourhood area.
The 229-room Village Hotel Katong reflects the strong Peranakan heritage of the surrounding Katong and Joo Chiat district in Singapore which i personally quite like it 😉 Was given a Club Room which is really spacious yet cosy enough.
Part of the Peranakan influence that guests will experience at Village Hotel Katong includes pieces of Peranakan-inspired artwork created in collaboration with heART Studio, a local private art studio that encourages and nurtures creativity in children through art. Paintings by children aged 5 to 12 have pride of place in the hotel's 55 Premier Peranakan and Club Rooms, while paintings by the studio's teachers are displayed at the hotel's lift lobbies from levels 5 to 12.
Usage of motif tiles that fits in perfectly fine with the overall theme of the hotel.
The bed was really comfy and we had a good night sleep.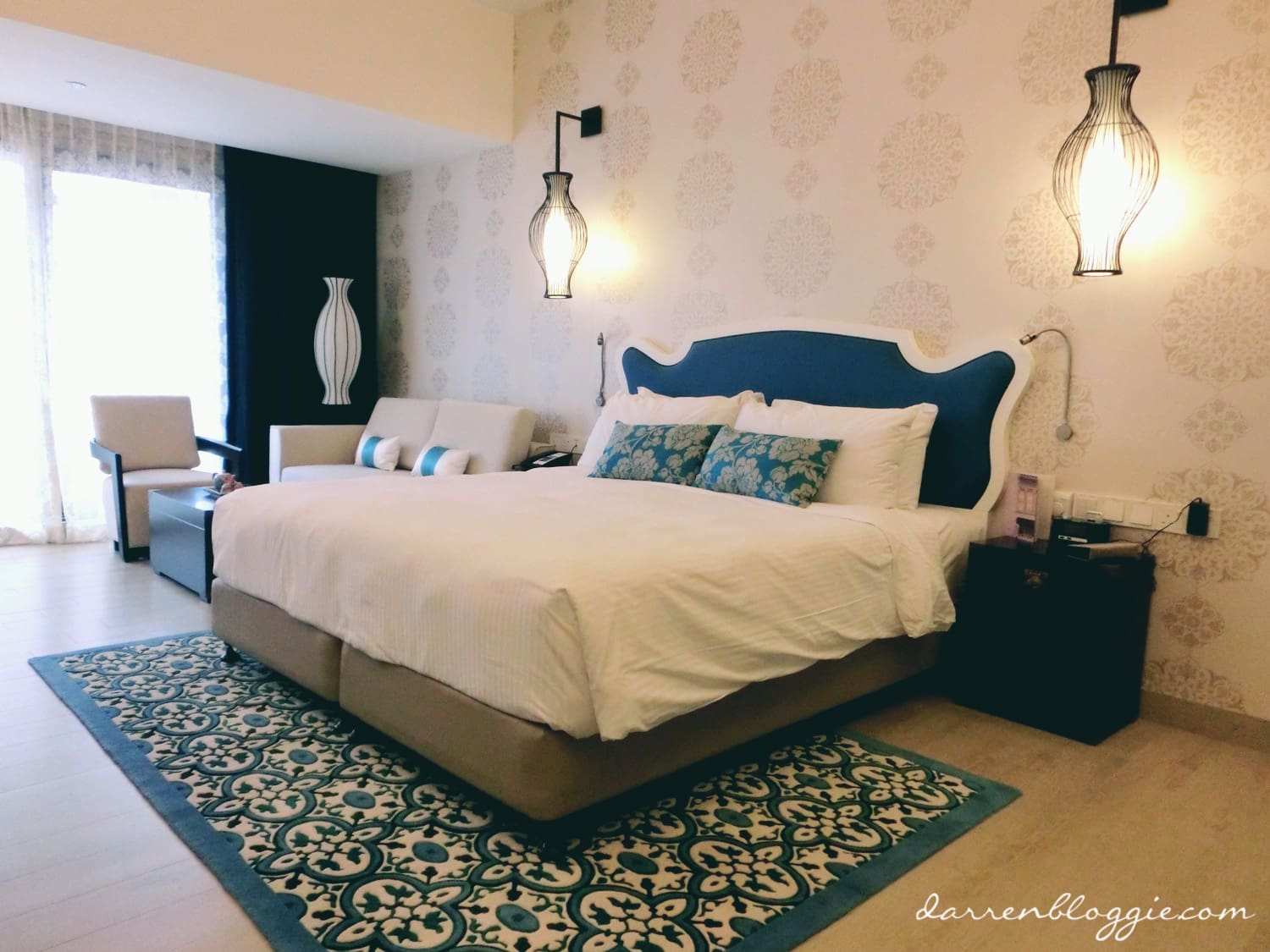 Even the carpet comes in the traditional motif design, in my favourite blue color too!
The club rooms comes with a small living area with sofa and coffee table in the form of a antique chest box.
and you can make tea the traditional way in these porcelain teapot and cups
Complimentary drinking water, coffee and tea, replenished daily.
Some snacks and drinks that you can find from the minbar.
Love the light surrounding the mirror in the washroom as it creates a ringlight effect which is perfect for camwhore shots! (but i didn't take any there! lol~)
Some toiletries that you can expect to have there, so no worries if you didn't bring ur toothbrush, toothpaste etc.
Standing shower and rainshower for me, though i hope i can get the room with the bathtub instead. Do try to request for the one with a bathtub to avoid disappointment 😉
A very small balcony which you can just stand around and get some fresh air in the morning if you need.
The hotel is located within walking distance to Parkway Parade.
Architecture shot of the exterior.
Aww~ the room is simply so NICE and the bed looks so inviting! 😀 anyone wanna join me?
All guests staying in the Club room gets privileged access to the Peranakan Lounge where they provide free flow of drinks, coffees, snacks and cocktails in the evening. You can have your breakfast here as well too.
Heading down to Level 4 where the restaurant, gym and swimming pool are located.
Guests can also look forward to Katong Kitchen, a new dining concept located within the hotel, which features modern Peranakan design and features an array of dishes reflective of the district, including fare from Nonya, Macanese, Asian, local Chinese to Western cuisine.
The pool comes in a round shape and it's more suitable for some dipping fun in the pool then a proper swim. 🙂
The gym which I think it's quite small but yet well equipped. Managed to have a 2 hour cardio and weight session since it was raining in the late afternoon and we can't go for a dip in the pool. Glad to bumped into RubbishEatRubbishGrow in the gym too~!
There's also a steam bath room where you can use after your gym too 😉
A nice place to chill at night, provided it's not raining 😉
The hotel is connected directly to Katong V, a new retail attraction which offers restaurants, cafes, beauty and wellness salons, education & enrichment services, a supermarket and other services. 😉 Since it's located in the heart of all the yummilicious food, you will be spoilt for choices with what to have there! We settled down at AlibabaR The Hawker Bar which sells bak chor mee in the day and convert into a bar selling beer and western food at night. Interesting concept!
Breakfast was a little disappointing as the selection wasn't really alot, probably because i'm having mine at the Pernankan Lounge instead of the Katong Kitchen. Perhaps they have a wider selection there 😉
Located in the eastern region of Singapore, the smoke-free 229-room hotel provides great value for both business and leisure travelers. It provides excellent connectivity to key business and leisure locations, such as a 10-minute drive to the Singapore Expo and 15-minute drive to the Changi International Airport, Central Business District and Orchard Road shopping belt.
Go on a Staycation this festive sesasons with the Opening Promotion of Room rates starting at S$178++. The promotion package includes complimentary breakfast for two at Katong Kitchen, lobster laksa for two, complimentary Wi-Fi access and one complimentary round of mini-bar refreshments. *Terms and conditions apply.
*Terms & Conditions :
The Village Hotel Katong Opening Promotion is valid for bookings from now until 9 February 2014; Full payment for the entire duration of the stay is required upon confirmation and is non-refundable upon any amendment or cancellation; Rooms are subject to availability at the time of confirmation; Rates are subject to 10% service charge and prevailing government tax; Weekday rates start at $178++ and weekend rates at $208++.
Thank you Far East Hospitality for the wonderful stay! 😉