Gather family and friends for feasting, fun, laughter and merry making during the most magical time of the year! Join in for a Christmas break of comfort or even some precious "me time". Seek out distinctive luxury gifts and experiences that will delight your loved ones or drop in for a meal with a decidedly festive feel. Whatever Christmas means to you, Conrad Centennial Singapore will make your celebrations unforgettable.
Logcakes and Handcrafted Takeaways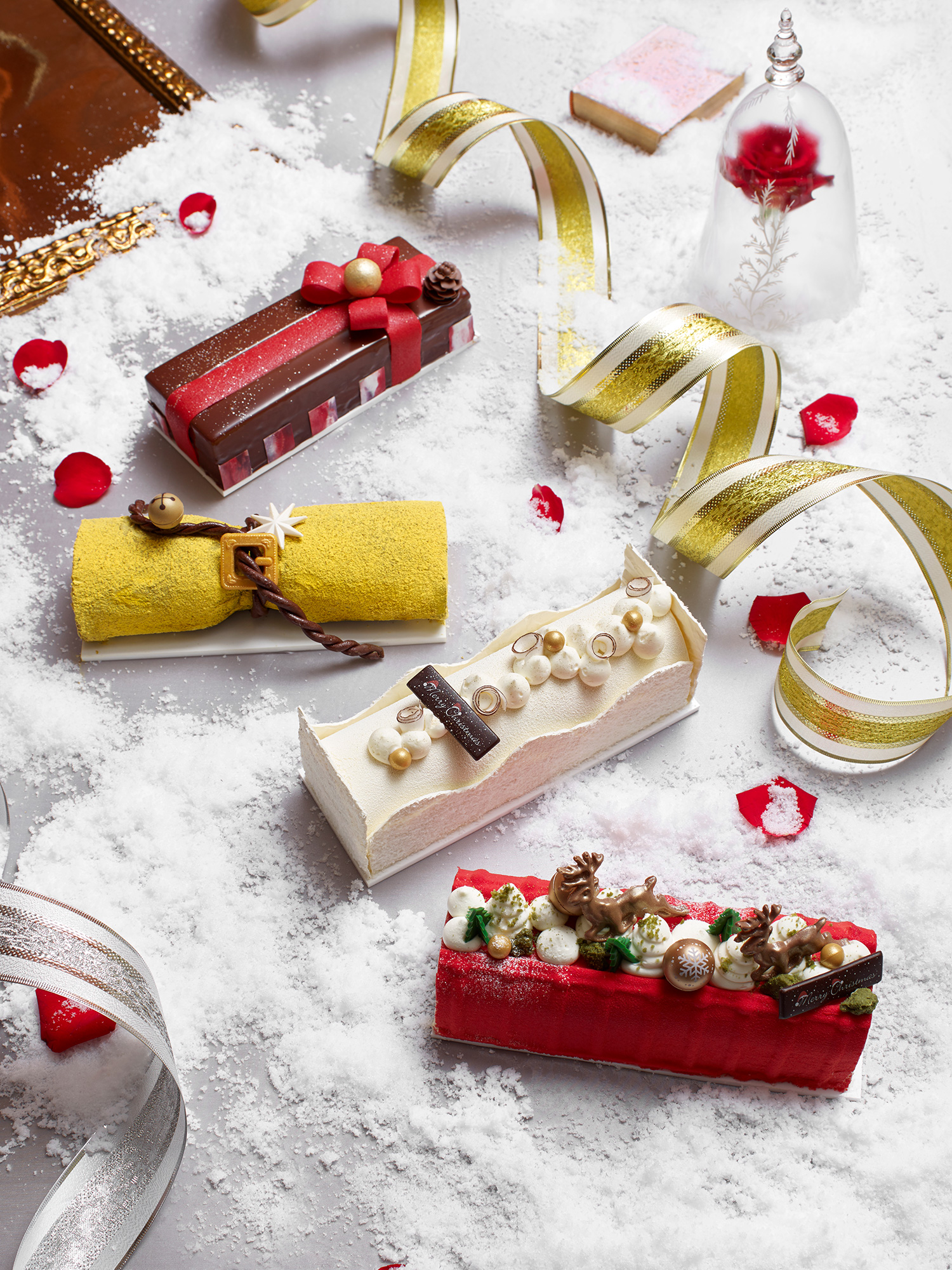 Have a Conrad Christmas at home or in the office with lavish handcrafted takeaways. Be spoilt for choice from the selection of luxurious Logcakes, from the signature Royale Hazelnut Crunch Log to the unique Earl Grey Strawberry Log filled with wild strawberry compote and orange lemon curd.
Gift your loved ones a heart-warming present that combines taste, elegance and thought. The luxury hampers are expertly curated and filled with a variety of homemade delights and artisan products that are just waiting to be savoured.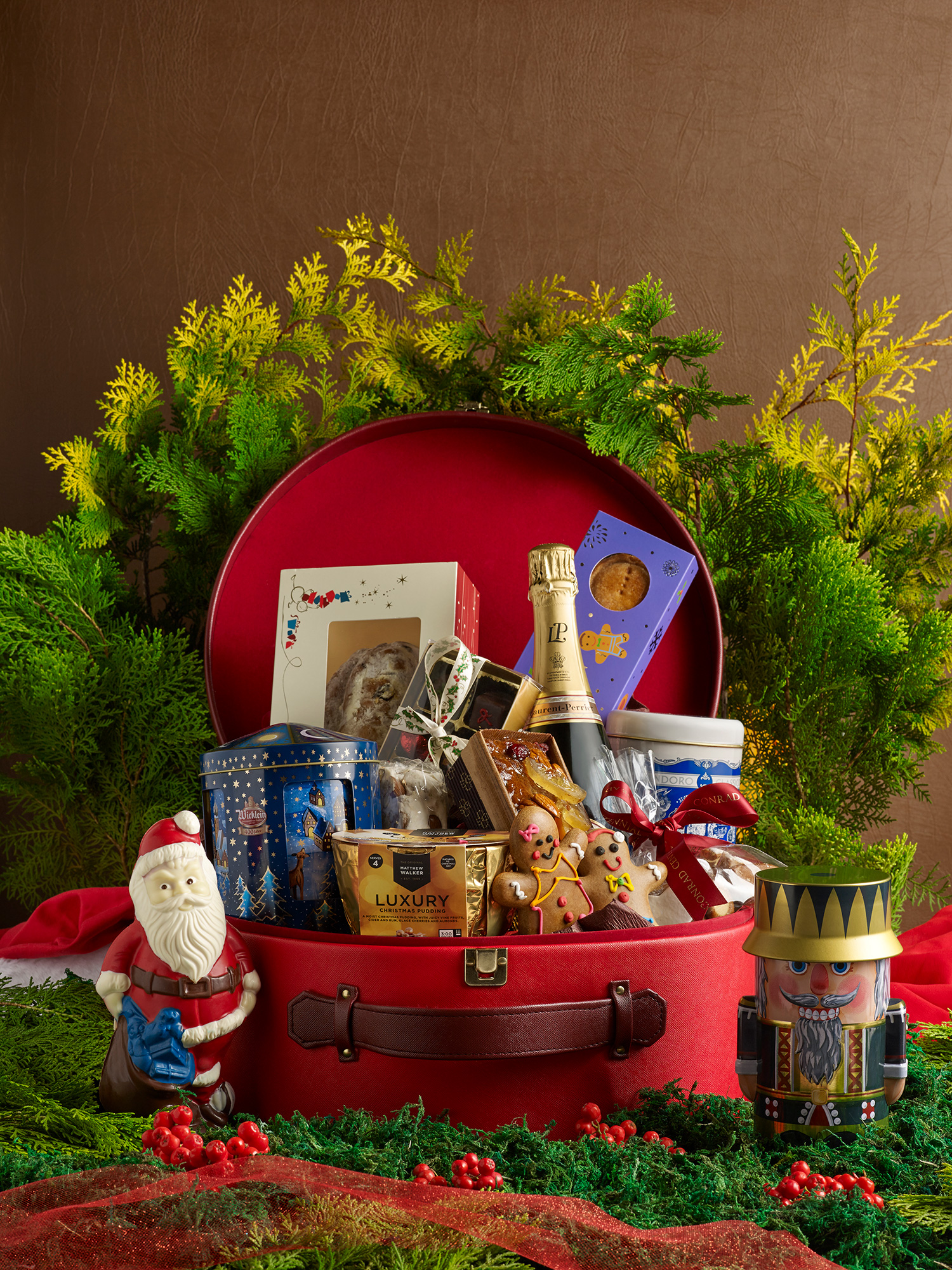 Enjoy yourself and have a stress free Christmas celebration. The luxurious takeaways include a selection of timeless festive favourites such as traditional roast turkey, juicy roasted Silver Hill Irish duck, tempting pineapple honey glazed smoked ham – all promising to impress everyone.
Perfect for a family of eight to ten persons, the Luxury Classic Christmas Dinner Set at S$380+, consists of a Whole Roast Turkey (6kg), Pineapple Honey Glazed Smoked Ham (2kg), Christmas Pudding, Traditional Marzipan Stollen,  Panettone Classico Mixed Fruit Cake, Choice of a luxurious Logcake and a voucher with 10% discount on Sunday Brunch for 2.
For more information, visit http://www.connoisseur.sg/christmas-takeaways
Festive Feasting at Oscar's
From 1 December 2018, Oscar's will be serving a host of delicious seasonal dishes to mark the Christmas Celebration. Kick it off with starters such as the King Crab Salad with Roasted Carrot Tartar and indulge in a wide assortment of cold sashimi cuts. For some meaty mains, turn to the Whole Roast Turkey served with all trimmings, Cajun Spiced Roast Pork Belly served with sweet potato hash and Oven Roasted US Prime Ribs. Seafood lovers can look forward to the much adored spicy Chili Crab served with crispy man tao as well as the local favourite – Indonesian Style Crab Rendang served with Baguette.
For brunch and dinner on 23 December, Christmas Eve and Christmas Day, the buffet is further enhanced at the carving station with Pineapple and Honey Glazed Christmas Ham and Roasted London Duck with Signature Plum Sauce. Catch chefs in action at the "live" station with freshly cooked Pan Fried Barramundi served with Acqua Pazza Sauce, Olive Oil and Flat Leaves Parsleys; as well as the "live" charcoal BBQ station serving hot-off-the-grill Black Angus Ribeye, New Zealand Lamb Chops and Green Bamboo Lobsters.
For more information, visit http://www.connoisseur.sg/oscars-christmas
Indulgent Holiday Afternoon Tea at Lobby Lounge
Enjoy the daily festive Afternoon Tea Set consisting of savoury petite sandwiches, mini onion roll with Roasted Turkey, Spicy Cranberry Sauce, and Cornichons, as well as sweet treats of Traditional Fruit Cake, Mini Snowman Dacquoise, Minced Fruit Pie, Cinnamon Star Cookies and Champagne Jelly Sabayon Mousse; with a cup of coffee or Ronnefeldt tea, or indulge in a glass or two of Laurent Perrier over a weekday catch-up.
For more information, visit http://www.connoisseur.sg/holiday-tea-time