SINGAPORE – Holiday Inn® Singapore Orchard City Centre is launching into the Christmas season with an unconventional Asian twist to its festive menu. This year, Executive Chef Chen Wei Chung and the culinary dream team have unlocked an extensive buffet spread. They have created East-meets-West ingenious star dishes from Korea, India, Japan, Southeast Asia, and Europe that will please even the most discerning palate.
Well known for its sumptuous buffet spread of fresh seafood and appetising Asian highlights, Window on the Park is a Halal-certified restaurant strategically located in the heart of Orchard Road. Exuding warm ambiance and delectable festive indulgence at affordable prices, it is perfect for gatherings with family and friends throughout the festive season. This year, the festive menu is available from 18 November 2022 until 2 January 2023.
Festive Buffet at Window on the Park (18 November 2022 – 2 January 2023)
The sumptuous merriment kicks off in Window on the Park with the Festive Buffet that includes Honey and Citrus Glazed 'Ham', Traditional Whole Baked Chicken, and Roasted Beef Tomahawk. Beautifully prepared with whole spices to bring out the essential oils, the Beef Tomahawk is then roasted to lock in the flavours while keeping the meat extra juicy. It is undoubtedly one of the most sought-after dishes during festivities and is only available on key festive days such as Christmas Eve and Christmas Day on 24 and 25 December 2022, as well as New Year's Eve and New Year's Day on 31 December 2022 and 1 January 2023.
Keeping the spirits alive, Chef Chen has also prepared more festive favourites such as Chicken and Chestnut Stuffing, Sautéed Buttered Carrot Cello, and Roasted Salmon Fillet with Crushed Baby Potato and Salmoriglio. The Asian-inspired Christmas delights continue with Grilled Chicken Thigh with Mustard Mongolian Sauce and the new star introduction of Whole Baked Chicken with Bulgogi Sauce. An interesting twist from the earlier Traditional Whole Baked Chicken, this Korean-inspired recipe is prepared with spiced honey sauce and Bulgogi sauce, the famous Korean fermented chilli paste. The chicken is also served with an assortment of lettuce and vegetable sides, an essential style in most Korean dining.
Culminate your festive meal with sweet decadence as you pamper yourself with the famous Opalys Mango Calamansi Log Cake for a refreshing combination of mango and vanilla. Your journey to dessert haven continues with Raspberry Pistachio Log Cake. It is a delectable art-piece of raspberry-infused sponge cake sandwiched between nutty cream, generously flavoured with pistachio. Complete your indulgence with our traditional signature, Chocolate Log Cake and the all-time Christmas favourite of the rich Christmas Fruit Cake.
Festive High Tea (18 November 2022 – 2 January 2023)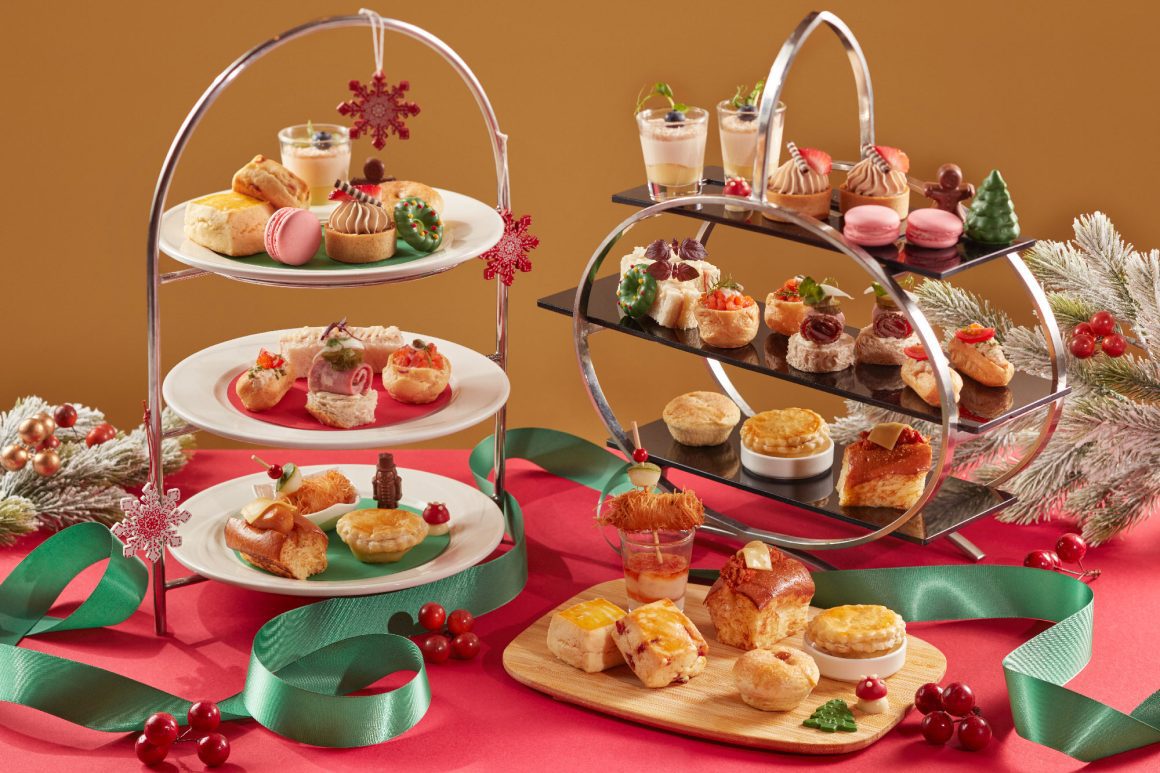 Take a break from the busy Christmas shopping on Orchard Road and savour the flavours of the joyful season with our Festive High Tea. Embrace Yuletide in each delicious bite with Citrus & Fresh Dill Norwegian Salmon Mayo in Choux Puff, Beef Pastrami with Pickles on Bread, and the festive Baked
Mince Fruit Pie.
An afternoon High Tea isn't complete without your sweet delectables like Coconut Citrus Mint, Orelys Coffee Tart, and the favourite Scones. Treat yourself to Traditional Scones and Cranberry Scones, both served with Clotted Cream and Strawberry Jam before hitting the streets again.
Pamper the children with their very own Kid's Festive High Tea selections. With an endearing menu like Baked Hot Dog Buns, Turkey Ham with Cheese Sandwiches, and sweet bites like Raspberry Macaroons and Chocolate Tart, the young stars will be happily satiated. And yes, they have both types of Traditional and Cranberry Scones as well!
Festive Deliveries & Takeaways (18 November 2022 – 2 January 2023)
Christmas is a time of togetherness with your loved ones. Enjoy delicious selections from Holiday Inn® Singapore Orchard City Centre's Christmas menu delivered right to your step. Back by popular demand, the Beef Wellington of wrapped tender filet mignon in buttery puff pastry, is a must-have at every decent party. Our popular Traditional Whole Baked Chicken and Whole Baked Chicken with Bulgugi Sauce, available on Festive Buffet in Window on the Park, are also available for deliveries and takeaways.
Immerse in the joy of festive spirit with an assortment of Christmas cookies, Gingerbread collections of Gingerbread House, Boy, Girl, and even the Gingerbread Tree. The childrens' joyful glee is worth every effort as they relish these seasonal treats.
Christmas meals aren't quite complete without the turkeys. While all items on the Festive Buffet in Window on the Park, Festive High Tea, and Festive Deliveries & Takeaways are Halal certified, the Turkeys are not Halal items. The Traditional Whole Baked Turkey and Whole Baked Turkey with Bulgogi Sauce (the Turkey version to the Chicken menu earlier) are prepared separately and available only for deliveries and takeaways.
---
Window on the Park
Holiday Inn® Singapore Orchard City Centre
11 Cavenagh Road,
Singapore 229616
Level 2
Lunch: 12pm to 2.30pm
Dinner: 6:00pm to 10pm
High Tea: 12pm to 5pm
Each High Tea session is capped at a maximum of 3 hours.
For reservations, orders and enquiries, please call +65 6730 0115 or email wop.hisinorchard@ihg.com