Setting the stage for the festive cheer on 24 and 25 December 2015, W Singapore – Sentosa Cove presents delectable festive set brunch and dinner menus featuring sensational mouth-watering creations at the kitchen table and SKIRT.
Christmas Eve, 24 December 2015
On Christmas Eve, let the kitchen table's LUXE REMIX DINNER BUFFET pleasure you gastronomically with a sumptuous spread of fresh succulent seafood, meat and local delights. Get to enjoy W Singapore's signature Whole Roasted Christmas Turkey, Roast Beef with Mustard Crust, Alaskan Crab Leg, Freshly Chucked Oysters with Shallots in Red Wine Vinegar and more that will be sure to charm your palate and make this season jolly.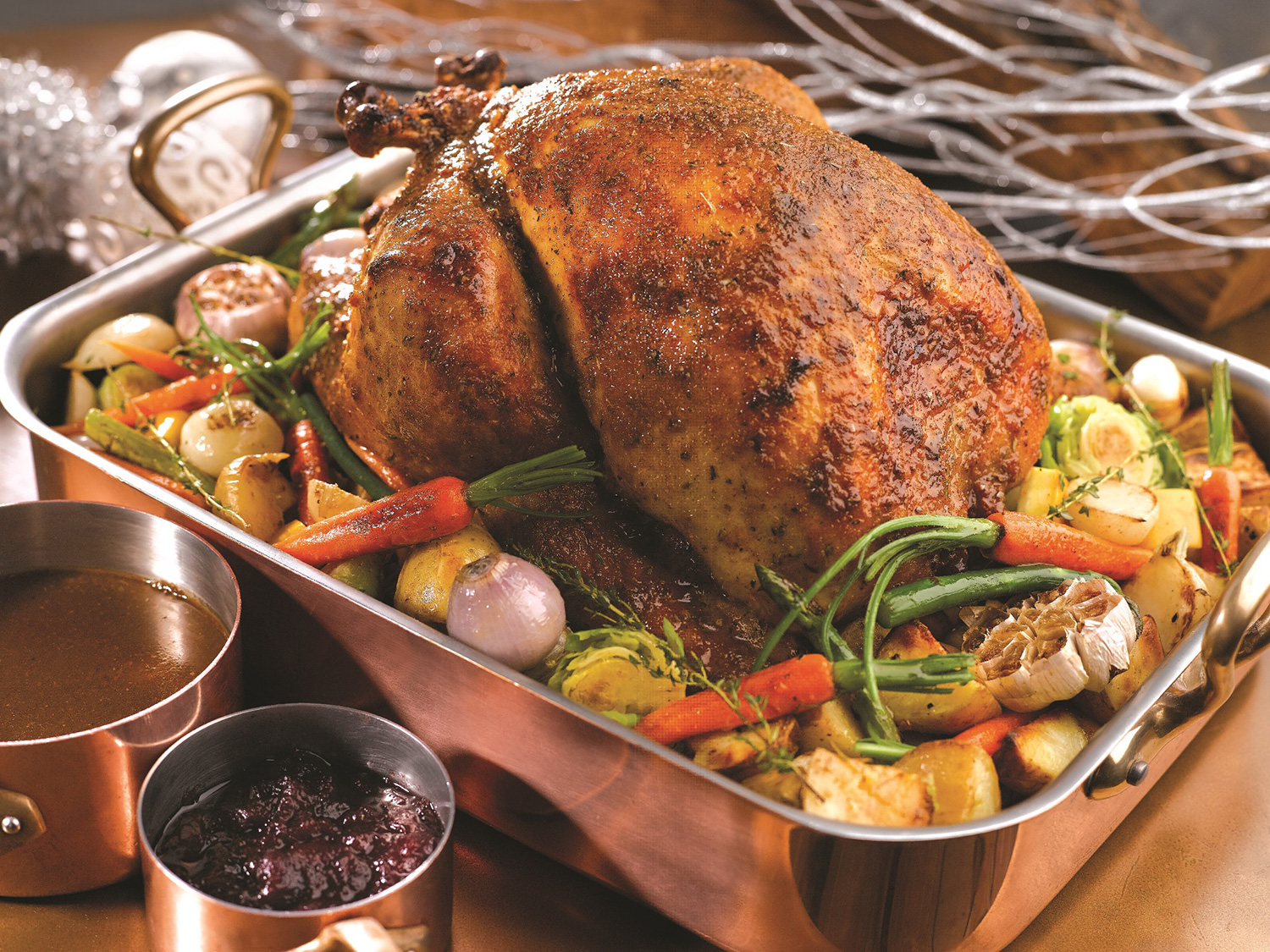 Guest could also add a gusto to their yuletide cheer with the 'ALA CARTE WITH A SPARKLE' offer at SKIRT. Be ready to create enchanting memories and tuck into a lavish ala carte spread that would whet your appetite and lift your festive spirits.
| | | |
| --- | --- | --- |
| OFFER: | LUXE REMIX DINNER BUFFET | ALA CARTE WITH A SPARKLE |
| VENUE: | thekitchentable | SKIRT |
| PRICE: | SGD85+ | Ala Carte Pricing |
| TIME: | 6:00pm-10:30pm | 6:00pm-8:00pm / 8:30pm-11:30pm |
Christmas, 25 December 2015
Gather your loved ones and rekindle the traditional holiday spirits on Christmas Day with the 'RHYTHM REMIX BRUNCH' available at distinct venues. For families and large groups, be awed by an extravagant gastronomic affair at the GREAT ROOM as you relish  in a full spectrum scenic view of the yacht marina setting.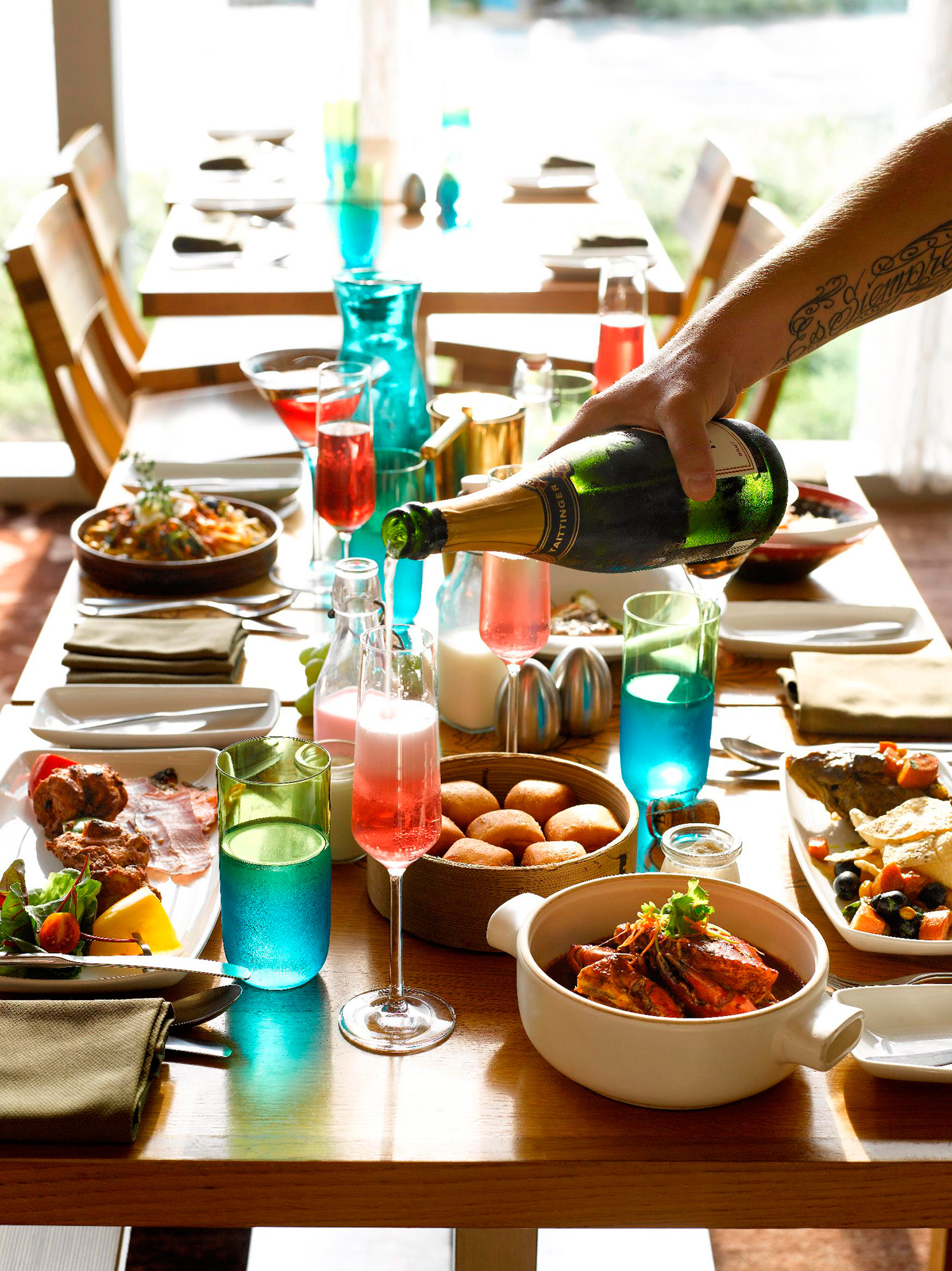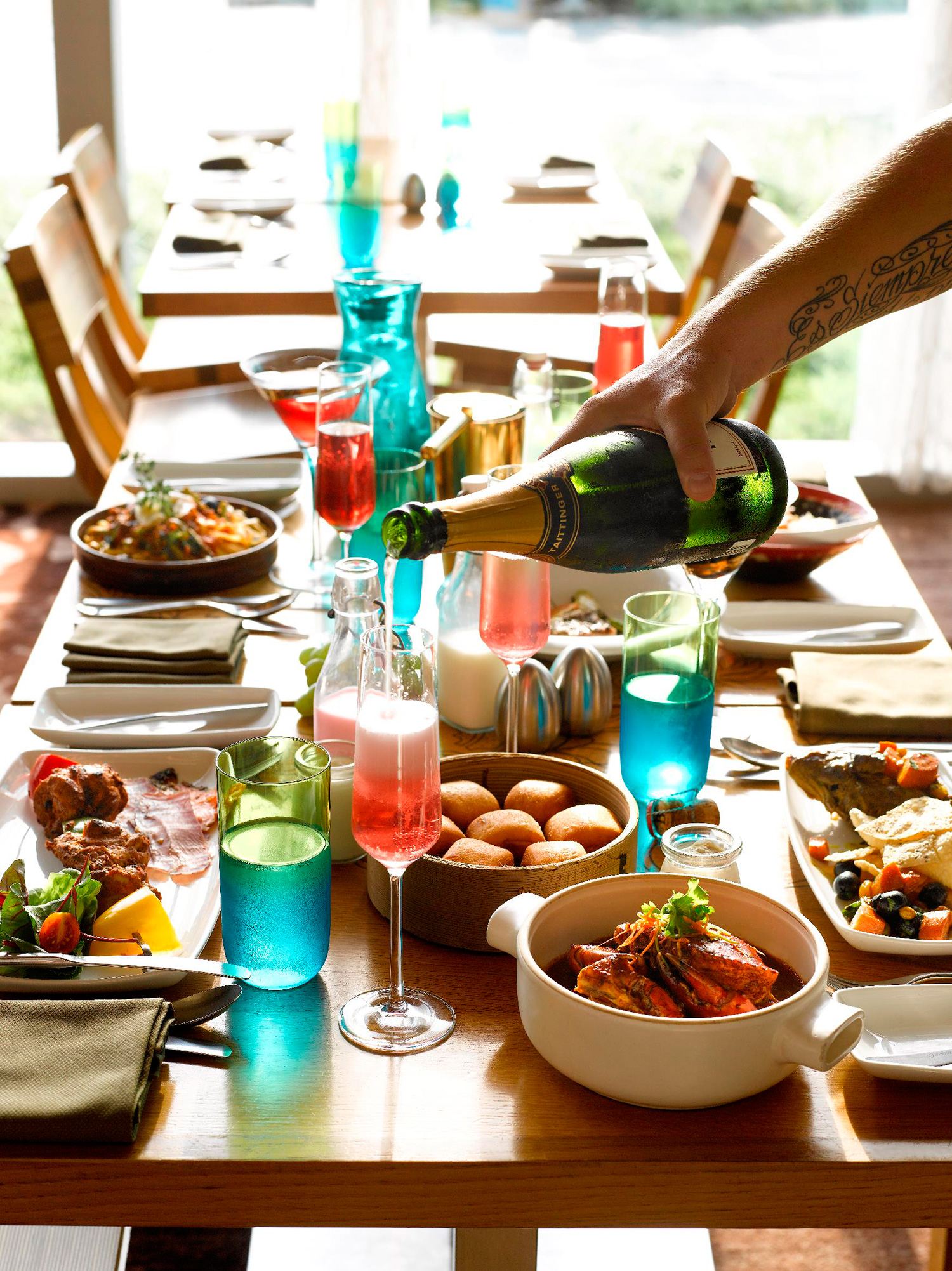 Conclude the first day of Christmas and reward your friends and family with a mouth-watering treat with a 'SEAFOOD FROM THE HEART' dinner, which offers an assortment of luscious seafood or be welcomed to luxuriate in highlights of the 'ALA CARTE WITH A SPARKLE' menu at SKIRT.
OFFER:
RHYTHM REMIX BRUNCH
RHYTHM REMIX BRUNCH
SEAFOOD FROM THE HEART>
VENUE:
GREAT ROOM
the kitchen table/SKIRT
the kitchen table
PRICE:
SGD188++ (Bubbly)
SGD148++ (Non-Alchoholic)
SGD188++ (Bubbly)
SGD148++ (Non-Alchoholic)
SGD85++
TIME:
11:00am-1:00pm / 1:30pm-3:30pm
12:30pm-2:30pm / 3:00pm-5:00pm
6:00pm-11:30pm
New Year's Eve, 31 December 2015

Paving the way to the New Year, guests could expect a kaleidoscope of festive indulge, party cheers and merrymaking. The 'GLITTER REMIX DINNER' at SKIRT features an array of indulgence ranging from Black Pepper Salt Crust, Tandoori Cod Fish Carving, South East Asian Black Pepper and Curry Leaf Crab coupled with a tinge of sweetness with the New Year's Almond Log Cake and more! For 'GLAM IT UP SET DINNER', it includes premium selections of the 1/2 Boston Lobster, Oxtail Consommé and Hokkaido Scallop Tartare, Wagyu Tenderloin 'Margaret River' and more.
All paying guests will of the 'GLITTER REMIX DINNER' or 'GLAM IT UP SET DINNER' enjoy complimentary admission to an all-exclusive W New Year's Eve 2016 Countdown Revelry. Expect a medley of festivity line-ups at WOOBAR or outdoor party hype at WET Pool.
OFFER:
GLITTER REMIX DINNER
GLAM IT UP SET DINNER
VENUE:
thekitchentable
SKIRT
PRICE:
SGD188++ (Bubbly)
SGD148++ (Non-Alchoholic)
SGD168++ (3 Course)
SGD148++ (4 Course)
TIME:
6:00pm-10:30pm
6:00pm-8:00pm / 8:30pm-11:00pm
New Year Day, 01 January 2016

Be ready to usher in the New Year on a good note with 'SPECIAL REMIX', a selection of mouth-watering treats. Relish in an enchanting brunch menu of exquisite offerings such as the Slipper Lobster, Hot Smoker Salmon with Apple Horseradish Sauce and more, joyfully paired with a free flow of bubbly.
OFFER:
SPECIAL REMIX BRUNCH
VENUE:
thekitchentable
PRICE:
SGD168++ (Bubbly)
SGD148++ (Non-Alchoholic)
TIME:
12:30pm-4:00pm
For more information, please visit www.wsingaporesentosacove.com/festive2015
Do remember to share your merry moments on Instagram @WSingapore or hashtag #StopTheClock2016 and #WSingapore