Singapore – Let's admit it we miss hanging out with friends over drinks and just having a heart to heart conversation about life, stress and everything else. We found a quaint little bar helmed by celebrated Master-Mixologist, Ricky Paiva. In the vision of nurturing and a community of professional and distinguished bartenders, we see innovative drinks curated while sitting at the bar counter whining about work.
I am talking about the newly minted Flow Bar situated above our previous lovely dining experience at JAG this newly launched cohabitational space means that guests can get bar-bites from culinary genius Chef Jeremy for pre or post dinner drinks such as include Artichoke Hummus with toasted brioche, Croque Monsieur, Façon Savoyard, Blue Crab – spiced Laksa & Thyme Citron Crumble, served with toast), Curry Chicken Pita with fennel chutney and fresh mint and Angus Striploin with pickled veg and polenta.
The cocktail menu consists of three-pillars – Living Room – complete relaxation as you would feel at a friend's home. Garden – reflective of Chef Jeremy omakase seasonal menu and Playground– Where Ricky pushes the boundaries of making some naughty drinks. We started our pre dinner drinks with the Strawberry (Strawberry Gin, Lemon Verbena, Seltzer), and Thyme (Smokey Monkey Shoulder, Lemon Thyme, fresh lime, Seltzer). The Strawberry was bright, slightly sweet, herbaceous flavor with a distinct hint of lemon mildly addictive as we found ourselves slipping half a glass quite quickly. The Thyme had a bolder flavour and an after smoky taste from the monkey shoulder.
COCKTAILS $24++
​​JAG – Aut La Balade du Végétal ($298++)
The multi-course experience begins delightfully with a series of three canapes
Canape 1: The crunchy and sourish Chayote(which belongs to the gourd family), Verveine herb, and Spinach opened up our appetite. The vial of vegetable and herb complimented the initial sour notes.
Canape 2: This delicate pastry made with Parsley Root, Frene (Herb), Fresh Parsley tasted initially like a matcha biscuit and fans of overpowering parsley can easily enjoy this as the pungent herb is nowhere to be found.
Canape 3: 'Vitelotte' potatoes have a dark blue, almost black, skin and dark violet-blue flesh and provided a characteristic nutty flavour and smell of chestnuts, Serpolet(herb), the radish was crunchy, overall a good complement between the raw and cooked elements
Bread and House-made butters
Normally we would skip the bread for fear of insulting the Chef but we would be happy having this simple crusty sourdough bread and soft and light herb/hazelnut butter for breakfast any day.
After the slightly sourish and umami backed amuse-bouche of Leeks, Hysope, Galangal, we dive into the thoughtfully plated first course which looks like a garden. The Kohlrabi(German turnip), Melisse took center stage. It's fresh, acidic and sweet all at once – and very delicious. The red prawn from the Argentina sea had a rich seafood sweetness and benefited from the sweet potato leaf puree and vinegar at the base.
The 2nd app of crunchy Jerusalem artichoke, artichoke cream Sariette, Caviar reminded us different elements of a creamy potate soup, the humble muruku and an strong umami after taste that left us wanting more.
The Pumpkin, Surreau, Foie Gras is a neatly assembled dish that first hits you with a strong orangy scent, the creaminess was complimented with good contrast from the pumpkin seeds that gave the dish a nutty finish.
Heard of Turnip tea? This amusing Turnip Tea, Rein de Pres reminded us of a dried squid broth with sweet seafood initial taste that followed with an umami kick as the endnotes.
The 4th dish of Yacon, Sage, Langoustine gave us an initial hit of "siew mai" with mid flavours of strong seafood from the Langoustine, the sauce resembled a lobster bisque plated on a crunchy base that gave subtle sweetness from the buckwheat yakon.
Mushroom, bouleau, Frog tasted nothing like what we expected of the original ingredients with a starting earthness from the truffle plus a pop of umami from the mushrooms and the tender fresh of the tempura style frog.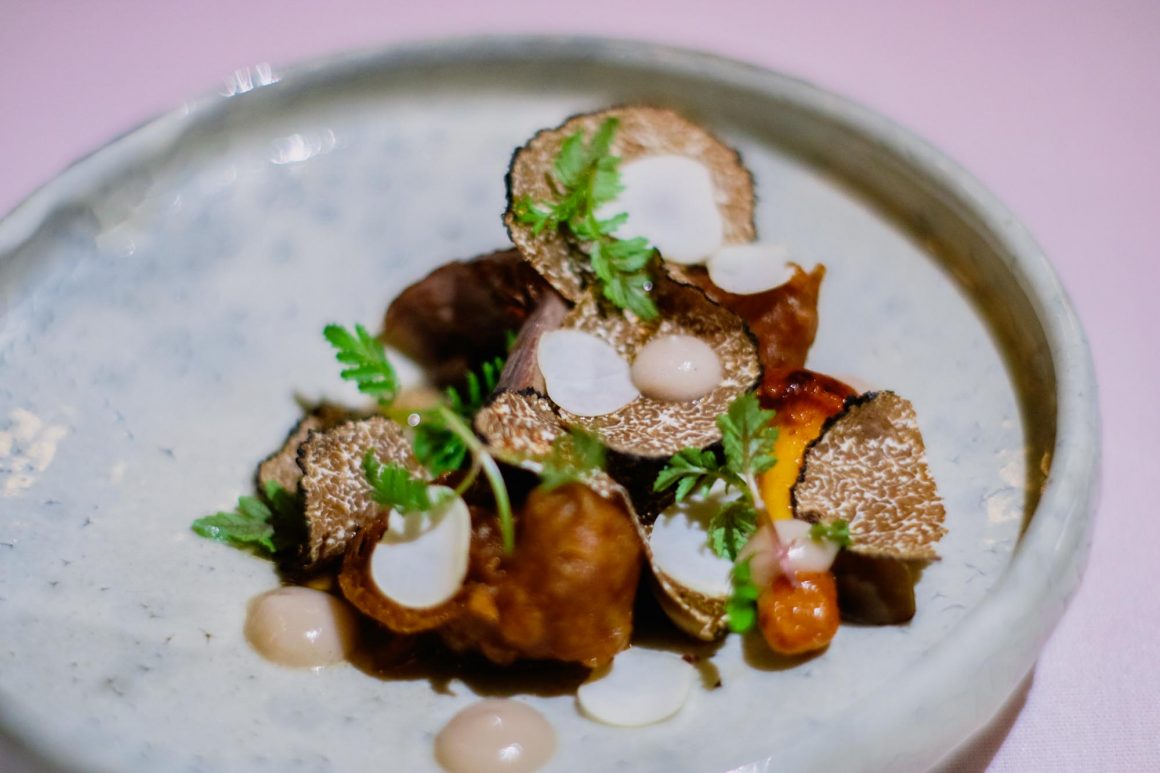 Savoy Cabbage, Berce , Salmon – The play on flavour oils gave different dimensions in each dish and was more pronounced with a cabbage leaf puree, the creamy seafood sauce tasted like buttery salted egg yolk dip. The crunch in the dish came from the cabbage chips(yes please bag and sell these) which contrasted with the poached cabbage. The fish itself was light, fresh and melts in the mouth with a lingering umanmi , delicious.
Palate Refresher: Pear, Gruyere , Capers had a salty chocolate taste and the white chocolate had a herbally power overall it tasted like sour plums in our mouth and a good palate refresher for the main course of pigeon. The Salsify, Aubepine, Pigeon was cooked somewhere to a medium rare and a slightly earthly taste with an iron touch. The polenta was creamy and the mild chai added an interesting dimension. The base was sweet and had a coconut-like taste in the puree
At the point of being overly full, our server wheels out the cheese trolley – on it sits a multitude of cheeses (choose 3 or 5) from Ireland, New Zealand and France, all sourced directly from individual cheesemakers and small family-owned farms. They are served with a home-roasted selection of nuts, organic seasonal jam, fresh grapes and crackers.
The Pre-Dessert: Apple, Sapin , Sorrel reminded us of hawthorn fruit with apple bits in a slightly bitter foam, we appreciated that the chef was creative in putting out a slightly bitter pre-dessert that played contrast to traditional takes on sweet deserts
The journey ends with the eighth course – a dessert featuring another unexpected combination of Quince known as the stone fruit(Pear family), Fennel Seed, Oxalis. The crunchy base was frangent with fruity bites of the quince.
In Summary
Dining at Jag brings you on an unpredictable roller coaster of flavours for the uninitiated. We were left marvelled at the creative minds of Chef Jeremy and his team and were often left tongue-tied at expressing words to describe the adventure that was happening in our mouths. We most certainly recommend this journey that would leave you slightly perplexed and wide-eyed at the different ingredients and complex flavours from another realm.
Restaurant JAG
76 Duxton Road Level 1, Singapore 089535
tel:+65 3138 8477
reservations@restaurantjag.com
This was an invited tasting, though all opinions expressed are our own.