WOOHOOO!!! Aug is coming soon and i'm so looking forward to it as first of all, the first day of AUG is my birthday, and i am going on 2 overseas trips!!! due to my annual ICT, i will be spending my birthday in camp instead, therefore i need to shift my birthday celebrations with my loved ones in advance.
Special thanks to PARK ROYAL ON PICKERING as the venue sponsor for my [RELAJARSE] (read from the pic above for the meaning) birthday party with my BBFs and also TAWIAN BEER for the wondering fruit beer which all of use loved it so much! 😀
SO.. are you ready to check out how much fun we had and the awesome rooms at parkroyal on pickering?!
As im working around that area, i managed to see the construction of this hotel from scratch to such wonderful architecture which i would name it as a piece of art, i told myself that i will definitely try out this hotel as it looks so tranquil and relaxing to stay at. AND im so glad that they eventually became the host of my birthday party!
The first impression that a hotel gives you is when you arrived at their lobby, and i must say that Park Royal on Pickering did really well on these. The very first impression that we had was this must be a extremely good and cosy hotel to stay in.
Lush of greenery can be spotted throughout the whole hotel as the concepts of the architecture came from the rice padi field!
Slow down your pace, enjoy a cocktail on these ratten chairs and watch the time goes by
Open air corridors? yes.. probably the first in singapore? or maybe the first that i've seen 🙂
and welcome to my junior suite ! awesome right?!
The Junior Suite is separated to two ares, the living room and the bedroom…
The sofa in the living room can be converted into a sofa bed so your guest can actually stay over for the night 😉
and let's move on to the bedroom! Super bouncy and comfortable king size bed with a wonderful unobstructed view of the city!
and the bathroom is HUGE~!!!
unique bathtub which i managed to soak in :p
Toilet which you can access from both the bathroom in the room and the living room.
and what we have in the wardrobe?
some panorama view taken with my iPhone 5 which i turn it looks quite impressive!
Check out the view from the window!
Quite surprised that they are not using digital but analog clock! 😀
All the lightings and curtain blinds are controlled with these mounted on the wall. You just need to touch on it to adjust to you likings 😉
Coffee anyone? 🙂
Or tea?
Made a Taiwan Beer tower while waiting for my bbfs to arrive 😛
and with such awesome NATURAL SUNLIGHT, how can i not camwhore right?!
Okay enough of all the selfie shots.. hope you are still alive now 😛 hahaha~
Other than taking lots of selfie shots, i also managed to do a room tour video for you guys too! 😀
After my bbfs arrived, we went to the gym before going for a dip in the pool! MUST visit the pool, you gotta love it!
With one of my bbfs, jamie in couple outfit 😛 she's just wearing my extra tops lah~
The ladies in the pool…
and a group pic in the pool~
ah~ kena photobombed!
Photobombed again by waimeng and peiwen.. grhhzzz
Wih zhi wei
Zhi Wei and Diana.. the husband and wife..
the iconic bird cage at the pool area..
Selfie in pool again! 😀
When we are done with the fun in pool, my bbfs brought me to AGLIO OLIO BISTRO located at china square, which is just directly opposite the hotel for my birthday dinner and i must say, they served really yummy pastas!
Yummy and satisfied dinner!!! 😀 we then when over to Chinatown Point, right behind the hotel to grab some tibits before heading back to the hotel. Here's a shot of us posing at DAISO in their portable stools 😛
and when we're back in the room, the blindfolded me and surprised me with a birthday cake!
and im so happy to have a special guest for the party… MR BROWN!!! okay not the popular sg blogger mr brown but BROWN from LINE!!! so happy that my bbfs bought that for me! 😀
birthday card filled with wishes which makes me felt soo loved lah~ 😀
Thanks BBFs for the presents!!! 😀
and let's get the party started with TAIWAN BEER!!! 😀
Enjoying~~ hmmm… AHHH~~~~ 😛
and you can tell how much my bbfs love it too!
and brown was caught red-handed with Taiwan Beer too!!
Brown : can i just have one? please~~~~
Me : Yes you can.. let's drink together! 😀
and we got a really nice group photo on BED!!! 😀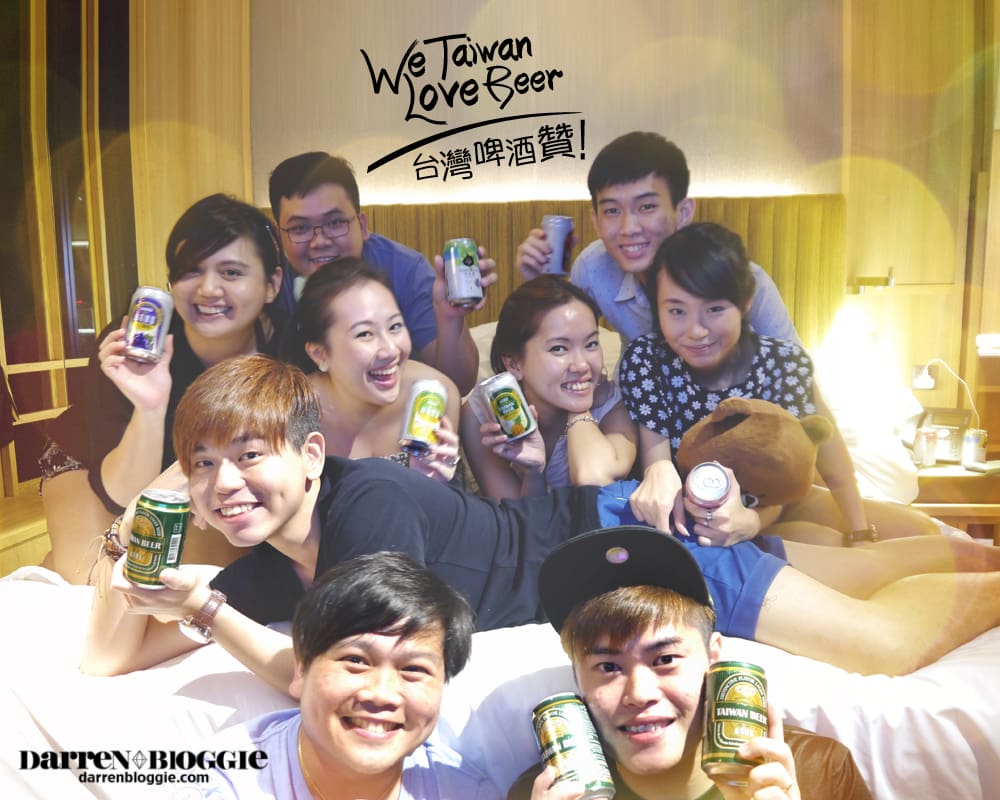 Thank you Taiwan Beer!
we party till late and only managed to sleep at ard 3am in the morning ! hahaha~ though the bed was really comfortable and i would want to sleep longer in it, i didn't want to miss the yummy buffet breakfast too!
here's the view that greeted me when i woke up in the morning 🙂
morning greetings together with brown 😀
let's see what we have for breakfast! actually i didn't take much as i can't wait to grab the plate and start my breakfast asap.. ahahahaha~
After breakfast, we went back room to chill and i want for a bubble bath in the bathtub with brown, err.. watching me 😛
Aaaa~~~~ SHIOK!
we managed to request for a late check out at 1pm and that marks the end of my wonderful staycation with Park Royal on Pickering! Thank you so much for hosting us and a memorable birthday celebration!
——————————————————————————————————————————————————
About PARKROYAL on Pickering,
PARKROYAL on Pickering, a PARKROYAL Collection hotel, redefines the metropolitan skyline with a unique hotel concept offering 15,000 square metres of lofty sky gardens, and an exclusive rooftop Orchid Club lounge that offers amazing 360 degree views of the Singapore city skyline for club room guests. Strategically located at the gateway to Singapore's dynamic Central Business District, opposite Hong Lim Park, the hotel offers an ideal base for work or exploring the city. Enjoy modern comfort in our rooms and suites, and a dedicated wellness floor with terrace pool, spa and a jogging track high above the street level.
Facebook Page : http://www.facebook.com/Parkroyal.Pickering
Website : http://www.parkroyalhotels.com/en/hotels/singapore/pickering_street/parkroyal/index.html
*
About Taiwan Beer
Taiwan Beer was only introduced to Singapore late last year, it has enjoyed 66 golden years in Taiwan. Launched in Taiwan in 1946, this amber lager stands out with its own signature flavour that comes from 'Ponlai Rice', also known as Formosa Rice. In 1998, Taiwan Beer clinched the status of Gold Medal beer in the Monde Selection and has upheld this title ever since. The liquid gold has a mild taste even the ladies would approve of.
Facebook Page : http://www.facebook.com/TaiwanBeerSG/info