Andaz Singapore Whimsical Mooncake Reunions 2023
Enjoy delightful mooncake gatherings with 5 ON 25 at Andaz Singapore, offering four handcrafted flavors. Experience new creations like Citrus Surprise and Gula Galore by Pastry Chef Francis Wong, along with cherished classics by Chinese Head Chef Lim Hong Lih. These mooncakes are packaged in a playful two-tier box adorned with a bespoke design from local brand Binary Style by twin architects Santhi and Sari Tunas.
A 25% regular offer is available for orders made between 16th July 2023 and 29th September 2023.
https://andazsg.whyqueue.shop/
Savor Peach Blossoms' genuine Mid-Autumn mooncakes curated by Chef Edward Chong. Presented in a dual-purpose "Celestial Chest" or a convertible "Moonlit Pavilion" lamp, reflecting upcycling spirit. Enjoy traditional flavors like Double Yolk, Assorted Nuts, and Charcoal Black Sesame Paste in this authentic assortment.
From now until 28 July 2023, enjoy the Super Early Bird discount of 30% and from 29 July until 28 August 2023, enjoy the Early Bird discount of 25%.
An Enchanting Celebration of Moonlit Reunions at the Pan Pacific Singapore
Celebrate Mid-Autumn Festival with a repertoire of timeless classics alongside novel creations from the award-winning Hai Tien Lo (海天楼), encased in an elegant red or gold box, adorned with its signature cloud-like motif. It is available for purchase here from 19 June to 29 September 2023. Collection can be made from 18 August through to 29 September 2023 from 10:00am to 8:00pm at the hotel's mooncake booth, which will be located on Level 2 of Pan Pacific Singapore (beside JTB Lounge).
http://panpacificsingapore.oddle.me/en_SG
Four Seasons Hotel Singapore Aglow with Mid-Autumn Joy
Experience the essence of Mid-Autumn traditions with the elegant Four Seasons Hotel Singapore collection of baked and snowskin mooncakes from award-winning Jiang-Nan Chun and Nobu Singapore. Delicately crafted, the collections feature perennial favourites and new limited edition flavours encased in exquisite boxes; a reflection of refinement and grace, and the perfect gift for the season.
Enjoy 20% off baked and snowskin mooncakes from now till August 27, 2023
http://www.fourseasonssingapore.com/MidAutumn
Embrace the upcoming Mid-Autumn Festival with Lime Restaurant at PARKROYAL COLLECTION Pickering's exquisite baked mooncakes. Indulge in four flavors, including enticing molten lava choices and classic options. Novel additions like Salted Egg Lava and Matcha Lava complement traditional delights like White Lotus Paste with Single Yolk and Lychee Bits. Opt for the Fantastic Four assortment in an eco-friendly bamboo box—a splendid gift option.
From now until 3 September 2023, UOB, DBS, Citi and Amex cardholders enjoy 25% savings on all mooncake purchases made via email to dining.prsps@parkroyalcollection.com,
by calling +65 3138 2251 or over the counter at Lime Restaurant.
www.panpacific.com/mid-autumn-splendour
Have a Har-moon-ious Mid Autumn Festival with Deliveroo x PS.Cafe
Delight in Deliveroo's collaborative Mid-Autumn Festival Set with PS.Cafe, featuring four exquisite yuè-mmy mooncake flavors. Pioneers of Singapore's cafe scene, PS.Cafe introduces its first mooncake edition, encapsulating beloved classic menu inspirations like White Truffle, Sticky Date, Superfood, and Verandah. A delectable, flaky, Cantonese-style baked skin envelops these unique flavors.
Don't miss out on getting your own decadent Mid-Autumn Festival Set ($98)*, but hurry as there are only 30 limited edition sets exclusively on Deliveroo from 21 August to 3 September till stocks last.
*Available for delivery orders only at selected PS.Cafe outlets including PS.Cafe Palais Renaissance, PS.Cafe Petit and PS.Cafe One Fullerton via Deliveroo.
Enjoy Traditions with a Floral Twist with Gardens by the Bay X The Capitol Kempinski Hotel Singapore Mooncake
Crafted in harmony with The Capitol Kempinski Hotel Singapore in an inaugural collaboration, the mooncakes celebrate tradition with a floral twist by infusing the delicate flavours of rose and chrysanthemum – two flowers that feature in Gardens by the Bay's floral displays. A purveyor of fine foods, The Capitol Kempinski Hotel Singapore has exclusively crafted two flavours for this collaboration, Rose Macadamia and Chrysanthemum Melon Seed, which aim to balance between natural florals and botanicals with its gastronomic pursuits.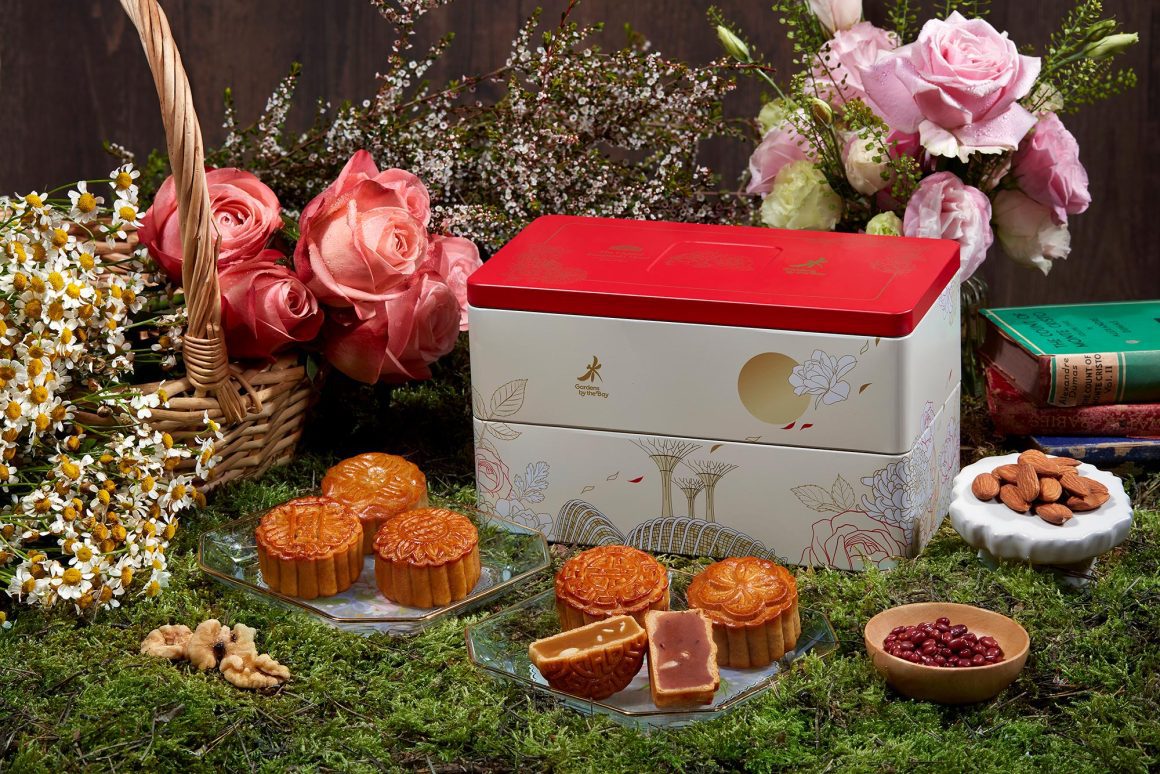 *Available at all gift shops located in the Gardens, and Gardens by the By eShop. Pre-order now to enjoy early bird discount.
https://www.gardensbythebay.com.sg/en/promotions/gardens-by-the-bay-x-the-capitol-kempinski-singapore-mooncakes.html
Tai Cheong Bakery Unveils Exquisite Mooncake Gift Box for the Upcoming Mooncake Festival
These mooncakes are filled with premium lotus paste and crafted with only the finest lotus seeds from Hunan, known as "The Premier Lotus Seed in China" for their high protein content, low fat, and exquisite flavour.
Experience the delightful taste and aroma of these high-quality mooncakes, produced with a fully automatic production line for consistent excellence. Airflown directly from Hong Kong to Singapore, these Mooncake Sets are a perfect choice for the upcoming festive season, providing a memorable taste experience.
In the spirit of celebration, Tai Cheong Bakery is delighted to announce a captivating Early Bird Discount of 20% on our exquisite Mooncake Sets. This enticing offer will be available from August 16th to August 31st, 2023.
*The Tai Cheong Bakery Mooncake Sets will be available for the public to purchase at all Tai Cheong outlets from 16 August 2023 with the exception of Changi Airport Terminal 3.
Delight in Delectable Bites and Lunar Classics with STARBUCKS® Mooncakes
Starbucks is thrilled to announce this year's Mid Autumn Mooncake Collection that is sure to satisfy everyone's tastebuds! Elevate family moments with our Mooncake Gift Box which features an assortment of traditional and contemporary flavors to celebrate this joyous festive occasion. Share love, create lasting memories, and savor the best of Starbucks' new creations together.
Mooncake Gift Box (An assortment of 8 baked mooncake flavors, $65.90)
Starbucks® Mid-Autumn Mooncakes are now available in stores, via our app for Mobile Order & Pay and Starbucks® Delivers, and on Starbucks® Online Store. Gift boxes and singles are also available via GrabFood. Singles are available on Foodpanda and Deliveroo.
Exclusively for Starbucks® Rewards Members: Get 120 bonus Stars* with every purchase of 2 regular-
priced boxes when you pay with your Starbucks Card.