Cornetto kicks off the search for Singapore's most fun-loving fans with the launch of the Cornetto Dance Revival Machine! From 4 June to 9 July 2016, the dance machine will be roving Singapore, daring fans to bust moves to redeem free Cornetto ice creams, while pursuing their dream of a once-in-a-lifetime opportunity to meet Selena Gomez at the Revival Tour on 27 July!
The Cornetto Dance Revival Machine was built to reward fans by encouraging self-expression through their love for music and dance. Choreographed to Selena's hit song, "Hands to Myself", fans who complete a series of dance moves shown on the screen for 60 seconds are rewarded with up to three Cornetto Royale Chocoluv ice cream cones – the more accurately and energetically you dance, the more cones you get!
Seven Golden Tickets for Lucky Fans
To bring fans closer to the music they love, Cornetto is shaking things up by introducing seven golden lids found only on the Cornetto ice creams dispensed from the dance machine. Starting this Saturday, 4 June 2016 at Orchard Cineleisure Level 1, seven lucky dancers stand to win one pair of Category 1 concert tickets and one Meet & Greet pass for Selena Gomez's Revival Tour over the next five weeks. All they have to do is dance in front of the Cornetto Dance Revival Machine and look out for the golden lids on the Cornetto ice creams redeemed after each dance!
Irresistible Cornetto
Earlier in April, Cornetto presented the exclusive Cornetto Royale Chocoluv – wrapped in Selena Gomez Revival tour packaging, the classic creamy chocolate ice cream is topped with exquisite chocolate chips and wrapped in Cornetto's famous crunchy biscuit cone.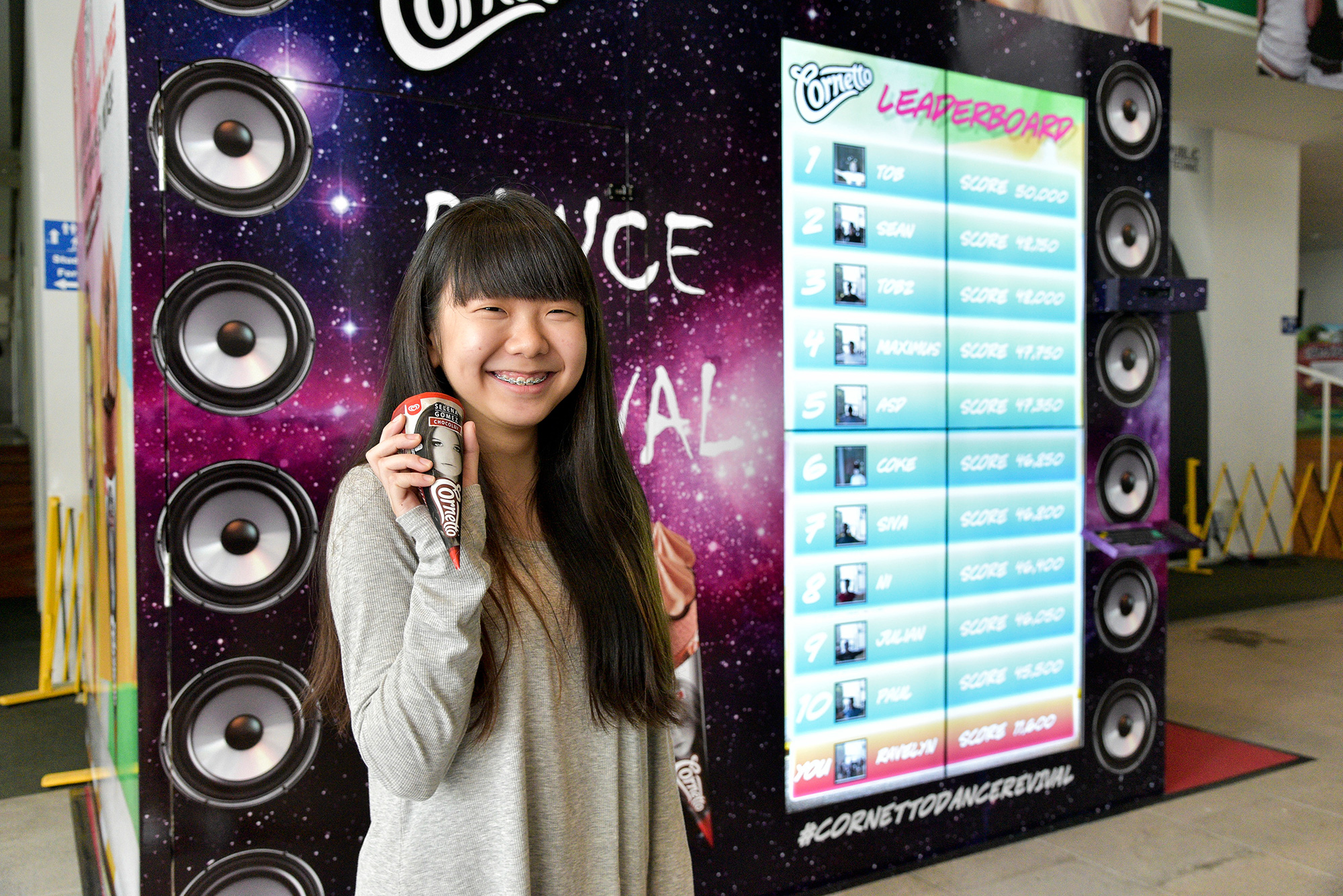 Cornetto also unveiled the limited edition Cornetto Royale Red Velvet, with a soft blend of white cheesecake rosettes and crunchy red cheesecake pieces sprinkled atop rich and creamy red cheesecake ice-cream, and combined with irresistible chocolate sauce and everyone's favourite chocolate tip.
Cornetto Lid Redemption
Giving fans even more reasons to win and celebrate, unique codes found on all Cornetto lids, Minis and Multi-packs with Selena Gomez packaging, can be entered on www.cornetto.com.sg, for a chance to win exclusive Cornetto-Selena Gomez merchandise, Meet & Greet passes, Category 1 concert tickets and more! Cornetto will also be hosting a series of roadshows over the next five weeks with lid lucky draws and games for fans to win attractive prizes.
For more information and updates on the Cornetto Dance Revival Machine, lid redemptions, event details and winners, please visit www.cornetto.com.sg or follow us at www.facebook.com/CornettoSG.