Following it's well-received debut last year, Cadbury Glow return this year as it continues to inspire consumers to put a personal touch on their chocolate gifts with customised messages and videos.
Create Your 'Glow Moment'
Admidst the hustle and bustle of our typically busy lives, Cadbury Glow aims to bring back the simple joy of giving and receiving a thoughtful gift.
Consumers can visit the digital gift hub at www.cadburyglow.com to create special message and private exprience for their near and dear ones. You can pen a customized Glow note; or re-create precious shared moments in a personally curated video that highlights the best moments in the relationship.
Unwrap Your 'Glow Moment'
Designed to elevate the experience of unwrapping a precious gift, the Cadbury Glow box is a rich gold and purple treasure chest, lined with a bright golden hue this is symbolic of that special 'Glow Moment'. Whether you're looking for a sweet gift or your best friend, loving present for your wife, or a grateful token of appreciation for your parents; Cadbury Glow is the perfect expression of love and warmth for the most important people in your inner circle.
Share Your 'Glow Moment'
The Cadbury Glow chocolate gift sets is available at major supermarkets and convenience stores now, ranging from $9.90 (16 pcs) to $14.90 (24 pcs)
Send a message to your loved ones through the digital gift hub and stand to WIN a box of 24pcs Cadbury Glow Chocolates! 5 winners to be selected 🙂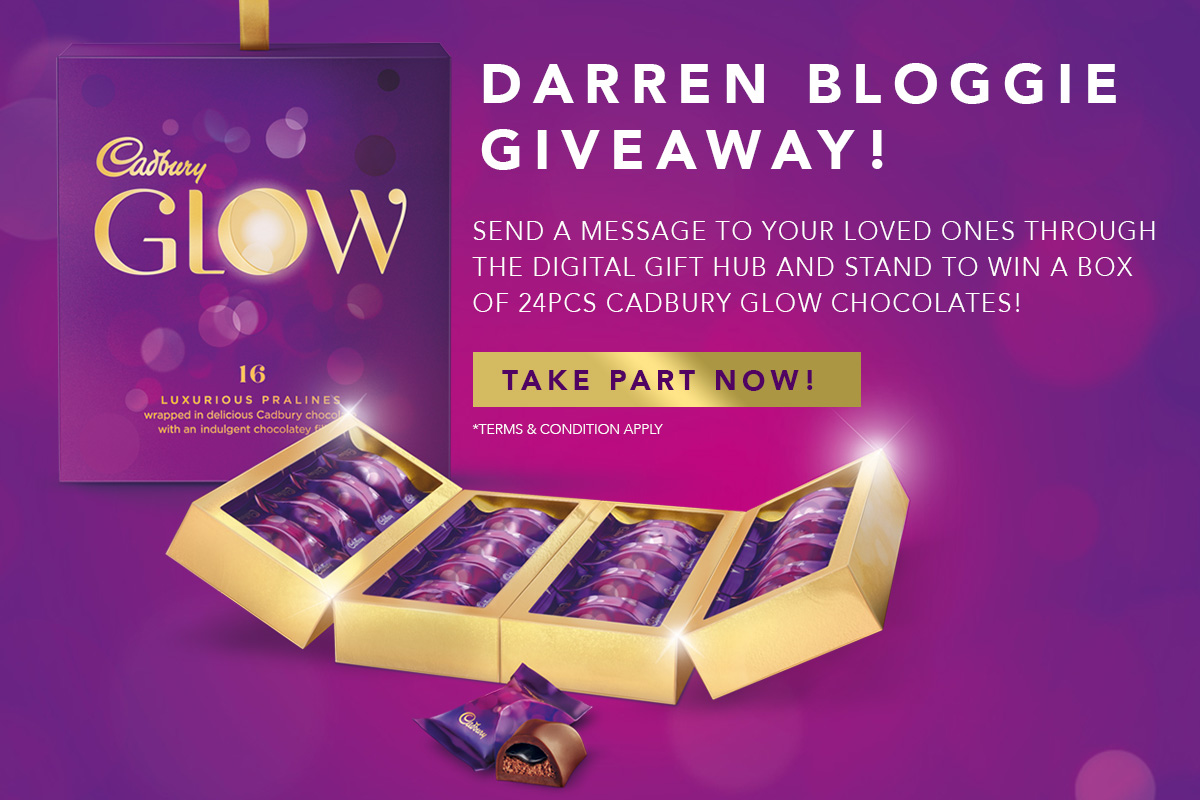 Here's how to win:
STEP 1: Choose to do a Glow video or note
http://www.cadburyglow.com/sg/personalise
STEP 2: Take a screen shot of your video/message
STEP 3: Share it in the comments below or email it to darren862@gmail.com with your name, contact, email address as well as a screenshot of your message and I will randomly pick 5 lucky winners to win a box of Cadbury Glow Chocolates!
Terms & Conditions :
Contest starts from 23 Nov 2015 and ends on 29 Nov 2015 at 2359hrs.
Winners will be contacted through email.
You will need to reside in Singapore in order to collect the prize.