Seek out the distinctive luxurious hampers and log cakes that will delight your loved ones, or drop in for dinner with a decidedly festive feel. Whatever Christmas means to you, at Conrad Centennial Singapore it will undoubtedly be a memorable occasion.
Take Me Away for Tea this Christmas
Raise your teacups to the festive season and kick things off with a Christmas Par-Tea. The impeccable festive edition afternoon tea feature the likes of Scottish Smoked Salmon Rillette with Tobiko Tartlet and Beetroot Brioche Asian Crabmeat Rillette, which matches perfectly with the Ronnefeldt teas. Sweeter delights include the signature Royal Hazelnut Crunch Cake in the shape of Santa's sleigh, with the much-missed Stollen.
Venue: The Terrace
Available: 25th November – 31st December 2020
Price: S$85.60 Nett for 2 persons
Eat Drink and Be Merry
Whether it's a gathering for a festive feast with the family, an annual ritual with friends, seasonal celebration with colleagues or even a date with a loved one – the fact that it is December is the best excuse to go for a leisurely lunch or an indulgent dinner. A good meal at Oscar's tick all the boxes and cuts out the stress of preparation and cleaning up.
Venue: Oscar's
Available: 1st – 24th, 26th – 31th December 2020,
Monday to Saturday
Price: Festive Lunch – 12pm to 2.30pm
S$59++ per person (Monday to Friday)
S$79++ per person (Saturday)
Available: 1st – 23rd, 26th – 30th December 2020,
Monday to Sunday
Price: Festive Dinner – 6pm to 10.30pm
S$69++ per person (Monday – Thursday)
S$79++ per person (Friday – Sunday)
Let's Have Cake
There is absolutely no excuse not to feel completely and utterly festive as you have a slice of our Christmas Yule Log
Snowman Panettone Yule Log (contains alcohol)
Capturing the flavours of Christmas, this yule log consist of a Panettone Almond Sponge, Chestnut Cream, Vanilla Mousse and a luxurious Ganache.
Strawberry Santa Claus Yule Log
Since summer is all year round in Singapore and summer is synonymous with strawberries, it is only befitting to create a log cake that celebrates this delicious berry. This stylised yule log consist of light Cheese Mousse, Strawberry Compôte and complete with a Vanila Crumble.
Chocolate Santa Sleigh Yule Log
Inspired by our all-time signature cake, this yule log consist of Sacher Sponge, Chocolate Ganache, Praline mousse and a secret ingredient to give it that special crunch.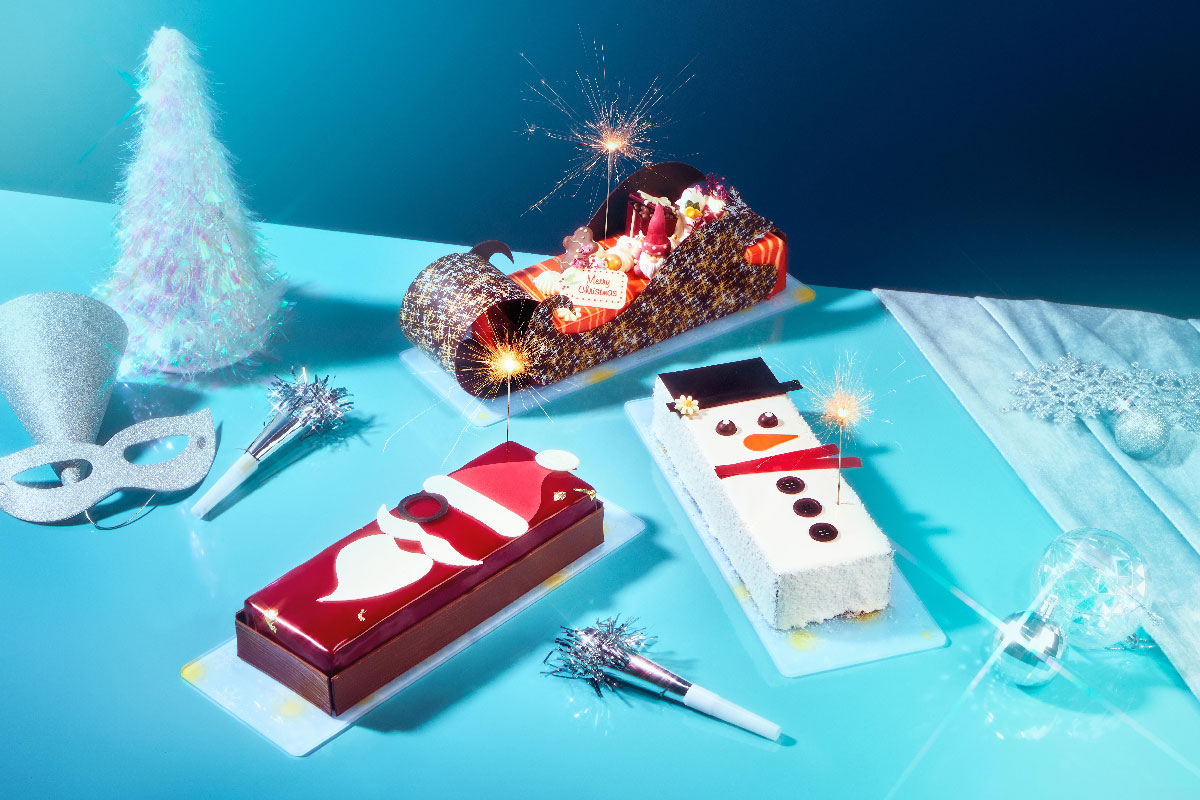 'Tis the Season for Hampers and Gifts
Pick up gifts that people will remember for years to come for all the right reasons. With the well-loved Christmas Pudding packed full of fruits and steeped in brandy to buttery biscuits that would make an indulgent post-dinner treat, Conrad's hampers are nothing less than outstanding and will look perfect at home under any Christmas Tree.
Venue: The Terrace
Available: 25th November – 31st December 2020
Price: Assortment of Christmas goodies starting from S$3.80 Nett
Christmas Eve and Christmas are Claus for Celebration
Let the chefs cook up a meal fit for a king while you work up an appetite. So sit back, relax and prepare to tuck into a grand feast! During these times, festive fare is plentiful and built around the Roast Turkey, Charcoal Grilled Lobsters, Truffle Honey Ham, Lamb Chops and Roast Striploin. Local favourites such as Laksa with Lobster, Chili Crab and Stuffed Crab Shell are also bountiful. To finish? Mini Chestnut Yule Logs, Traditional Stolen, Caramel Maple Pecan Tart, and Fruity Panettone, of course.
Venue: Oscar's
Available: 24th – 25th December 2020
Christmas Eve Dinner, Christmas Day Brunch and Dinner
Price:
S$178++ per person inclusive of Unlimited Soft Drinks, Chilled Juices and Iced Tea
S$208++ per person inclusive of Sparkling Rosé, House Wines, G&T, Beers and Unlimited Soft Drinks
S$228++ per person inclusive of Champagne, House Wines, G&T, Beers, Sparkling Rosé and Unlimited Soft Drinks
Cheers to a New Year
End the year on a foodie high and sail into 2021 with the stupendous a la carte buffet menu. The food comes with an international accent, Seafood platters laden with Oysters and Snow Crabs, Slow Cooked Butter Clams, Grilled Lobster, Charred Baby Squid with a tangy Tangerine Honey Mustard and Prosciutto Ham. Be certain to flock to try our fiendishly good Dry Turkey Bak Kut Teh , Pumpkin Rice served with Braised Pork Belly and Chestnuts or Mac and Cheese with Lobster; all classics with a difference. Desserts are equally inviting with our dessert trolley piled to the brim with refreshing Lemon Pie, Jasmine Cream Puree, Festive Pralines and Pavlova; just to name a few.
Venue: Oscar's
Available: New Year's Eve
Price:
S$178++ per person inclusive of Unlimited Soft Drinks, Chilled Juices and Iced Tea
S$208++ per person inclusive of Sparkling Rosé, House Wines, G&T, Beers, and Unlimited Soft Drinks
S$228++ per person inclusive of Champagne, House Wines, G&T, Beers, Sparkling Rosé and Unlimited Soft Drinks
New Year's Day Brunch
Venue: Oscar's
Available: 1st January 2021, 12pm to 3pm
Price:
S$98++ per person (Inclusive of Coffee and Teas)
S$118++ per person (Inclusive of Unlimited Sparkling Rosé, G&T, Wines, Beers and Soft Drinks)
S$158++ per person (Inclusive of Unlimited Champagne, Sparkling Rosé, G&T, Wines, Beers and
Soft Drinks)
For more information or to make a reservation for any of the offers above, please call +65 6432 7486/9 or email sinci.festive@conradhotels.com. Alternatively, visit the website www.connoisseur.sg