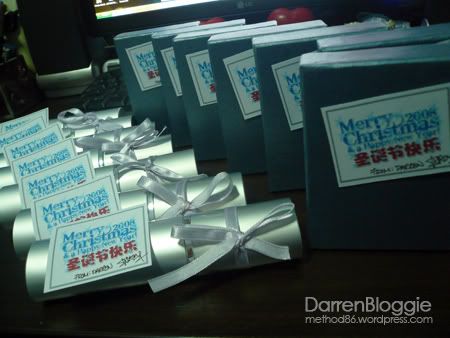 Presents for my colleague
On xmas eve, it was raining cats and dogs in the morning, therefore i've decided to take a cab to work. Left home at ard 9am and waited for more than an hour for a cab! tried booking for one but there's no cabs at all ard my area.. wth! damm pissed… so, i ended up taking a bus to work instead and reached my office at 10.40am!!! omg.. the first time i reached office that late..
was happy as my table was filled with little gifts and presents hahaha.. the 1st time i experience this.. =) thank you all for the presents =D~ as it was engshan last day in omy, we went for lunch at ajisen and obviously, without and consideration on wat to have, PORK CURRY is still the top choice and a must have for me whenever i visit ajisen hahaha… and guess who we saw over there? feng tian wei !! hahaha… and my colleague even requested for a pic with her …
after lunch, went back office and complete all the usual stuff and we had a mini xmas celebration at the video editing room. woo.. lots of yummy food…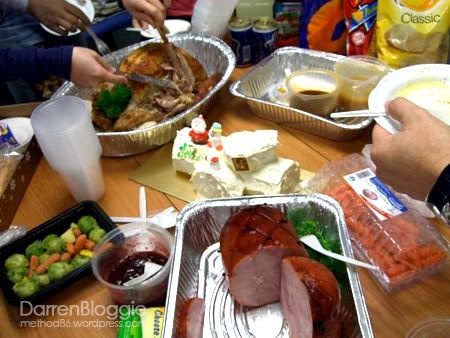 and huicheng is forever busy with the turkey~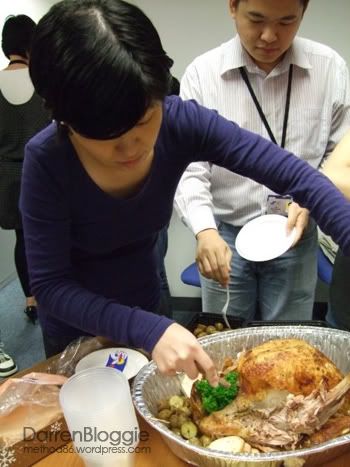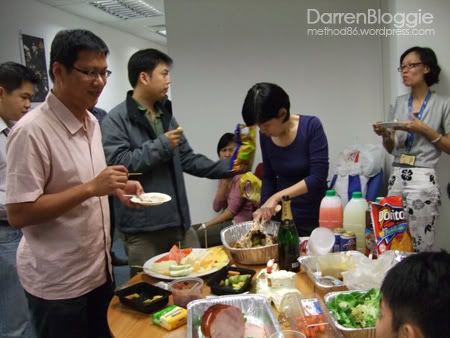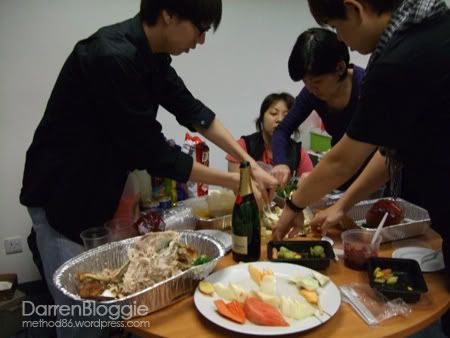 the damm hard durian log cake..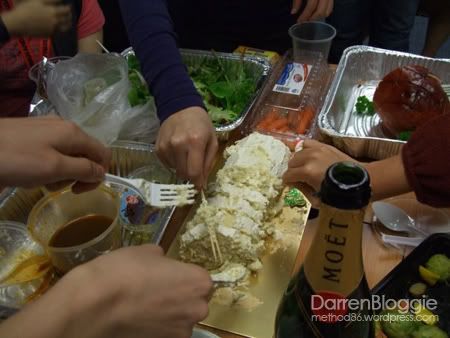 my boss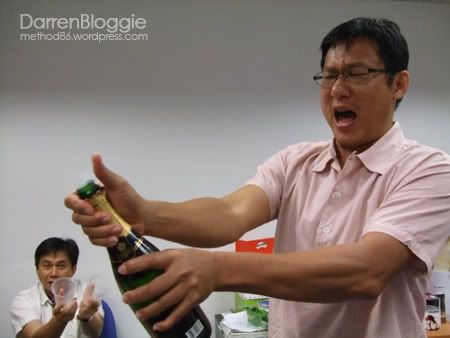 woo.. biscuits..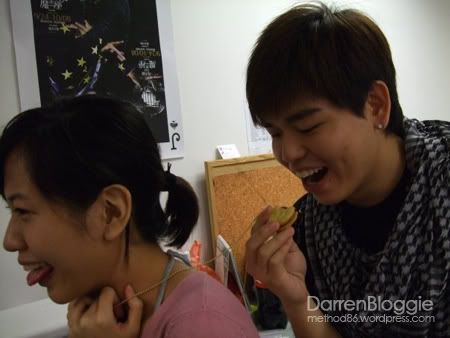 Me and Hanjoo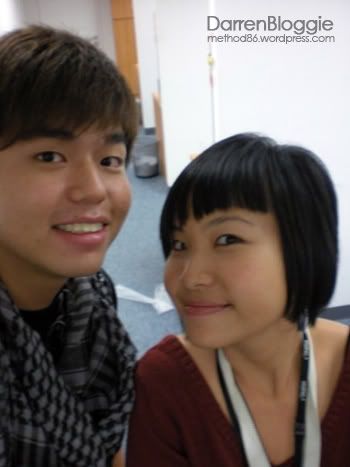 Me and powei

There's lucky draw as well, and the most expensive present is a Tiffany & Co. pen.. but i never manage to get that haha. i got myself a cushion and a bottle of red wine.. =)
3 bags of present i brought back from office…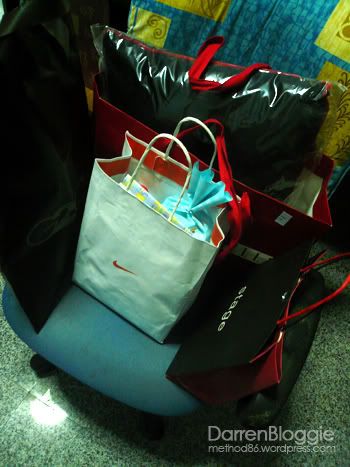 A G2000 shirt i bought for myself as a xmas present. Original Price was $69.90, Discount price : $29.90 and i paid using my debit card, additional discount : $26!!!!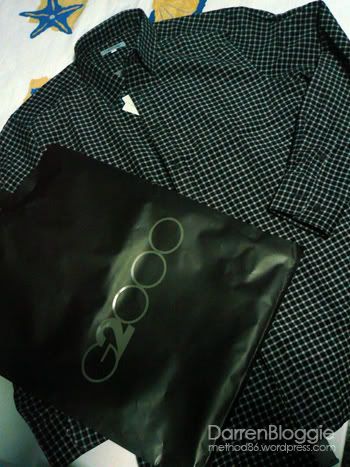 A Cap from Wanli, Siewkian and Connie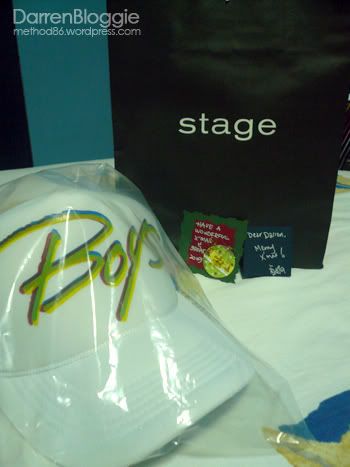 My lucky draw present, cushion and red wine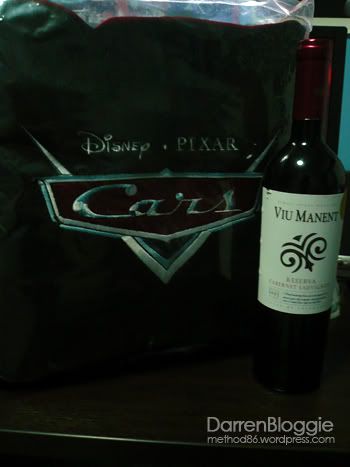 Free chicken rice meal for 2 at Chatterbox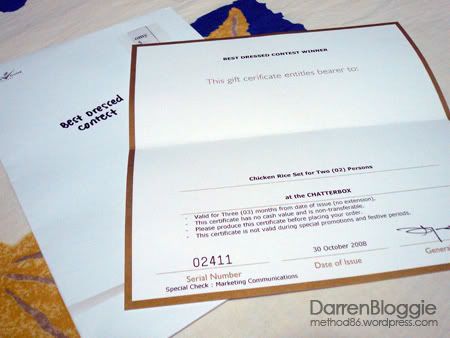 Judy Zhou Ding Wei singles, Xu Ren Jie singles and one dunno wat cd.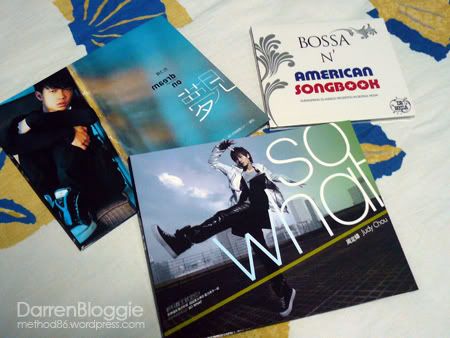 Chocolate with coffee bean from Kuan Fung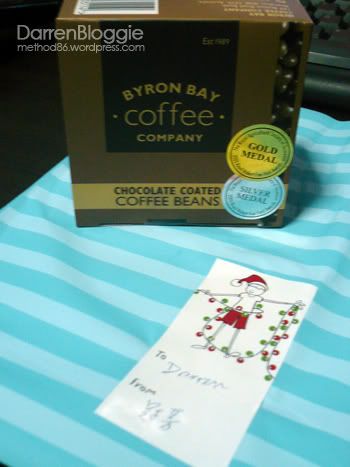 M&M chocolate from Powei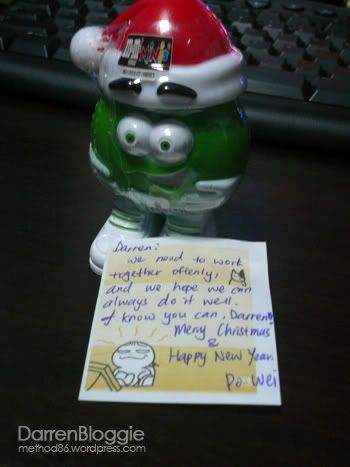 Tibits snacks from Huicheng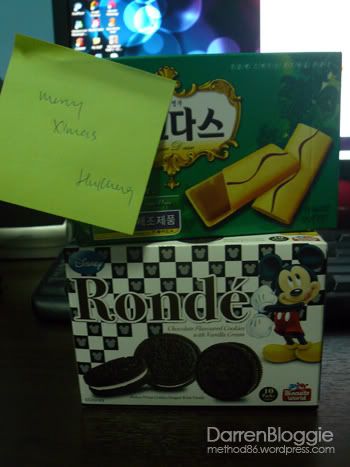 Mr Goodbar Chocolate from Alvin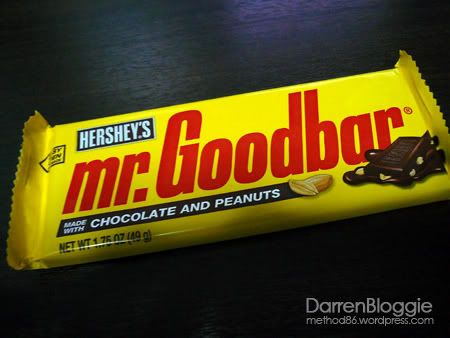 Candies from Neng Duan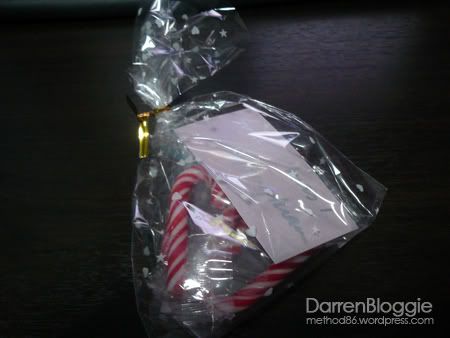 Chocolate, Card and tee from Engshan and Hanjoo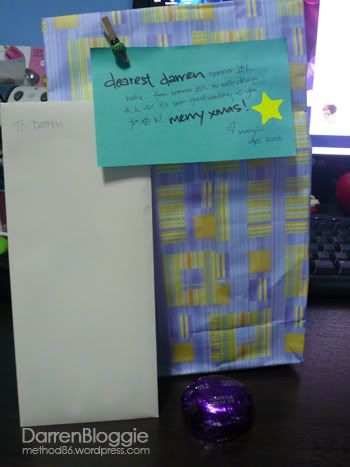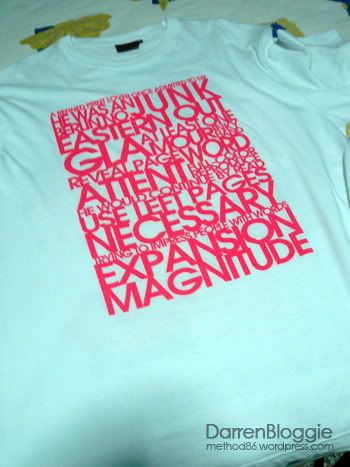 Thank you so much guyz !!!!
Brought my mum for xmas eve dinner at swensen… been ages since she last went and it's time for me to bring her out to have a good meal =) queued for ard 20mins as its packed. expected… ordered a spaghetti, breaded chicken and fish and chips hehe.. =)
She's happy =D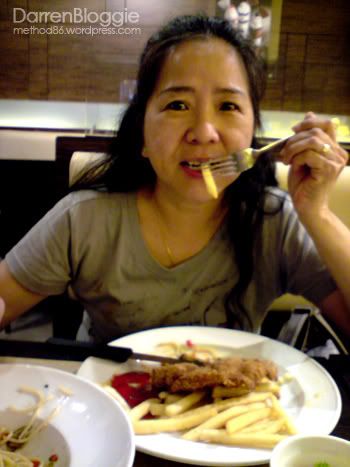 and not forgetting this mini star butter biscuits from huicheng before xmas eve =)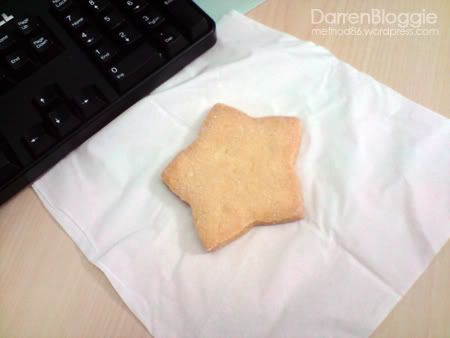 more to come for xmas celebration ~!c