Covid-19 has certainly changed our way of life however Chinese New Year is still an important event that is worth celebrating with safety measures in place. Usher in the Year of the Ox at Famous Kitchen focused on Nanyang creations and if you are feeling opulent, elevate your dining experience with the whisky pairing menu.
We tried the Jade Set B(SGD498++ for 6Pax) and found some treasures among the many dishes. We started dinner the traditional way with a Prosperity Salmon Yu Sheng. No loud cheers of well wishes however the dish is pretty nice with the sweetness from the plum sauce and the salmon was fresh.
The Braised Shark's Fin with Crabmeat and Dried Scallop Soup was savoury and hits all the right umami notes fro the dried scallop. A touch of white pepper and vinegar brought the soup to life. 
Hong Kong Style Steamed 'Live' marble Goby with Superior Soya Sauce was fresh and steamed to perfection with the Ginger and Soy sauce accompanying the firm flesh of the meat, you can be assured that there is no fishy smell.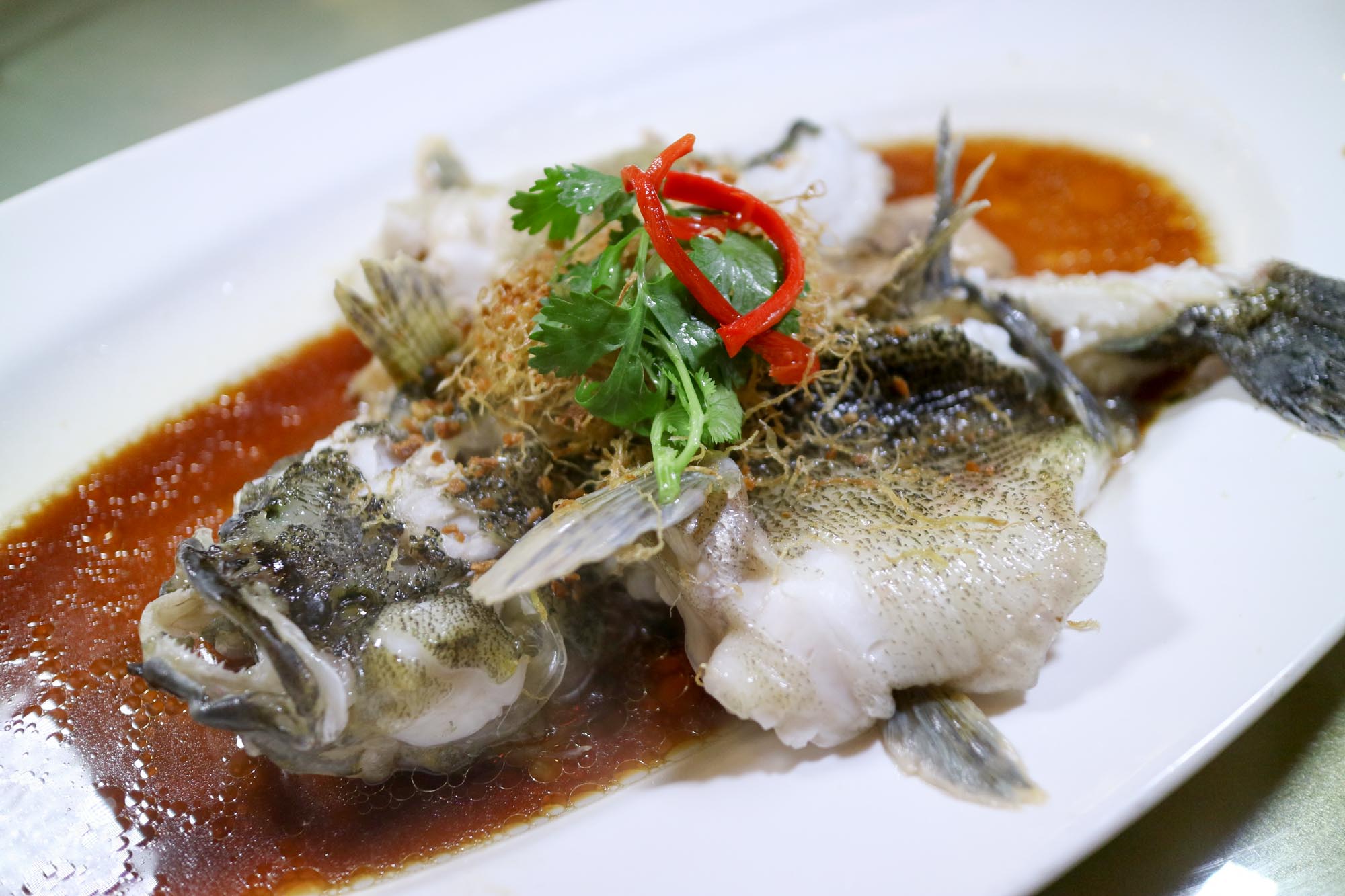 We liked the tender Braised Sea Cucumber with Fish Maw & Mushrooms, the springy sea cucumber takes many hours of prep work to ensure that it is clean. The same springy texture is also found with the fish Maw and Mushrooms with the thick braised umami sauce bringing everything together.
The Double Boiled Herbs 'Kampung' Chicken was surprisingly tender! we were expecting the chicken to be dry and tough since we read 'Double-boiled' however the Kampung chicken known for lesser fat was tender and juicy. The herbal flavour was not overpowering and provided a herbal sweetness.
Wok-Fried Tiger Prawns with Tea-leaf was a little disappointing in our view, as the Tea flavour was very inviting; however, it did not impart any flavour into the prawns. The prawns by itself were fresh and fairly large.
Stir-Fried E-Fu Noodles with Straw mushroom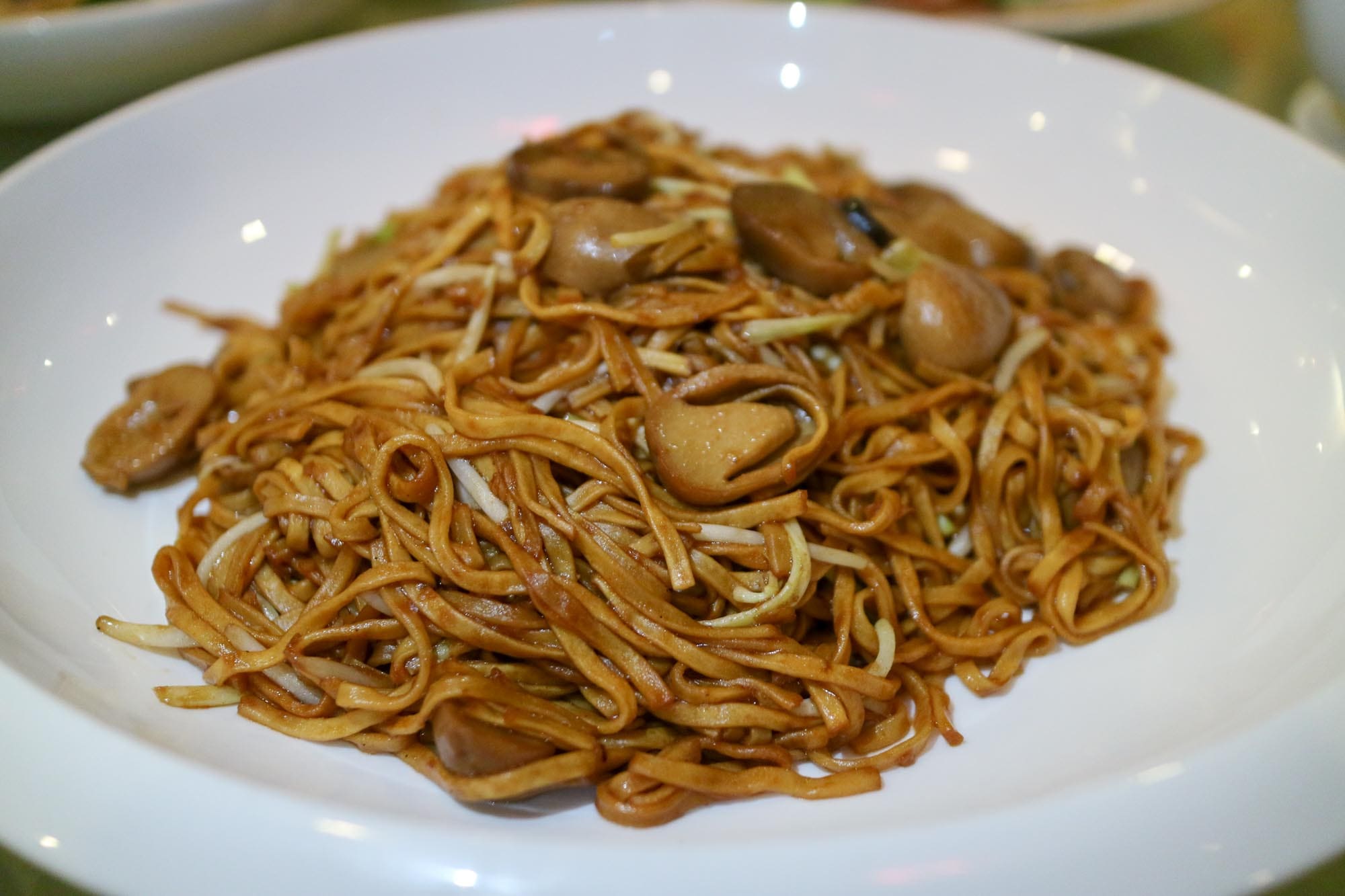 We ended our night with the Water Chestnut with Snow Fungus & Egg White, the traditional dessert warmed our stomach and we loved that it was not overly sweet. A nice end to a great meal.
Famous kitchen offers other set meals with different choices depending on your budget and number of Pax do check out the menu online for more choices
Prosperous Set Menus -27 Jan to 26 Feb 2021
11 Feb (除夕) 12:00pm, 5:00pm, 7:30pm
12 Feb (初一) 13 Feb (初二) 11:30am – 2:30pm, 5:30pm – 10:30pm
https://famouskitchen.com.sg/events/
Famous Kitchen
54 Sembawang Road, Hong Heng Mansions, #01-01 Singapore 779085
For reservations and takeaway, please call 8128 7900 / 6636 8333/ 6257 1843, or email fkreservation@singnet.com.sg
For dine-in, prices are subject to 10% service charge and prevailing government tax. For takeaway, prices are subject to prevailing government tax.
Opening Hours:
Monday to Sunday Lunch: 11.30am – 2.30pm Dinner: 5.30pm – 10.30pm