The buzz word these days when it comes to selecting dining places seems to be restaurants that have been awarded Michelin stars. If you are looking for a two-star restaurant you are in luck, Shisen Hanten at the Mandarin Orchard Singapore is the chain's debut outside of Japan, setting the stage for third-generation Chen Kentaro to continue his family legacy and introduce Japan's best-loved Szechwan restaurant to audiences in Singapore.
Shisen Hanten has a very grand yet comfortable setting, the multiple hanging chandeliers provide are an interesting conversation piece but if you would like a view make sure to book a table near the windows.
We started the meal with Szechwan hot and sour soup with seafood(14SGD) the thick and flavourful soup warmed our stomachs and awakened our palate. A balance of spiciness with the sour without being overpowering with touches of sweetness from the crab meat provided a pleasant opening to the meal.
We continued with Stir-fried Hokkaido scallop with XO sauce(38SGD) as our appetizer, the sliced scallops were juicy, soft and the XO sauce was fragrant with bites of bell peppers and mushroom to provide a little bite.
The sauteed seasonal vegetables with duo mushroom and truffle oil(26SGD) was well executed with the signature Chinese style "wok-fire" embedded into the dish. The mushrooms were very flavorful and just the right amount of saltiness. The truffle oil was fragrant however it was not very evident in the taste. Depending on your love/hate of truffle oil this might be a deal breaker or new love.
I am usually not a fan of eating roasted duck for two reasons, the duck is usually dry and the battle to extract meat from the bones and fat is an uphill task in a fine dining setting. In any case, we ordered half a London roast duck(42SGD) the duck was succulent and the fat had a lot of flavor with a slightly chewy skin, a very well executed dish.
Chen's Mapo Doufu(26SGD) Stir-fried tofu with Szechwan was the perfect dish to go with rice, each tofu was evenly coated with the spicy Mapo sauce and the bites of meat in the dish was spicy and flavourful.
Chen's original spicy dry noodle(14SGD) was one of our favorite dishes. The perfectly cooked soft noodles absorbed the spicy meat sauce. Each mouthful had a zing from the Szechuan numbing peppers and a spicy fragrance. It was an addictive flavor that made you crave for more. If only there was a hawker stall with a similar dish.(we can dream right?)
Overall Shisen Hanten by Chen Kentaro provides well-executed dishes that delight the palate. The level of spiciness in each dish is finely curated to bring the Szechwan dishes to an evaluated level for spice lovers. Prices are steep so expect to shell out good money for the meal however you may save 10% by using vouchers from chope. You should also make bookings to avoid queuing up.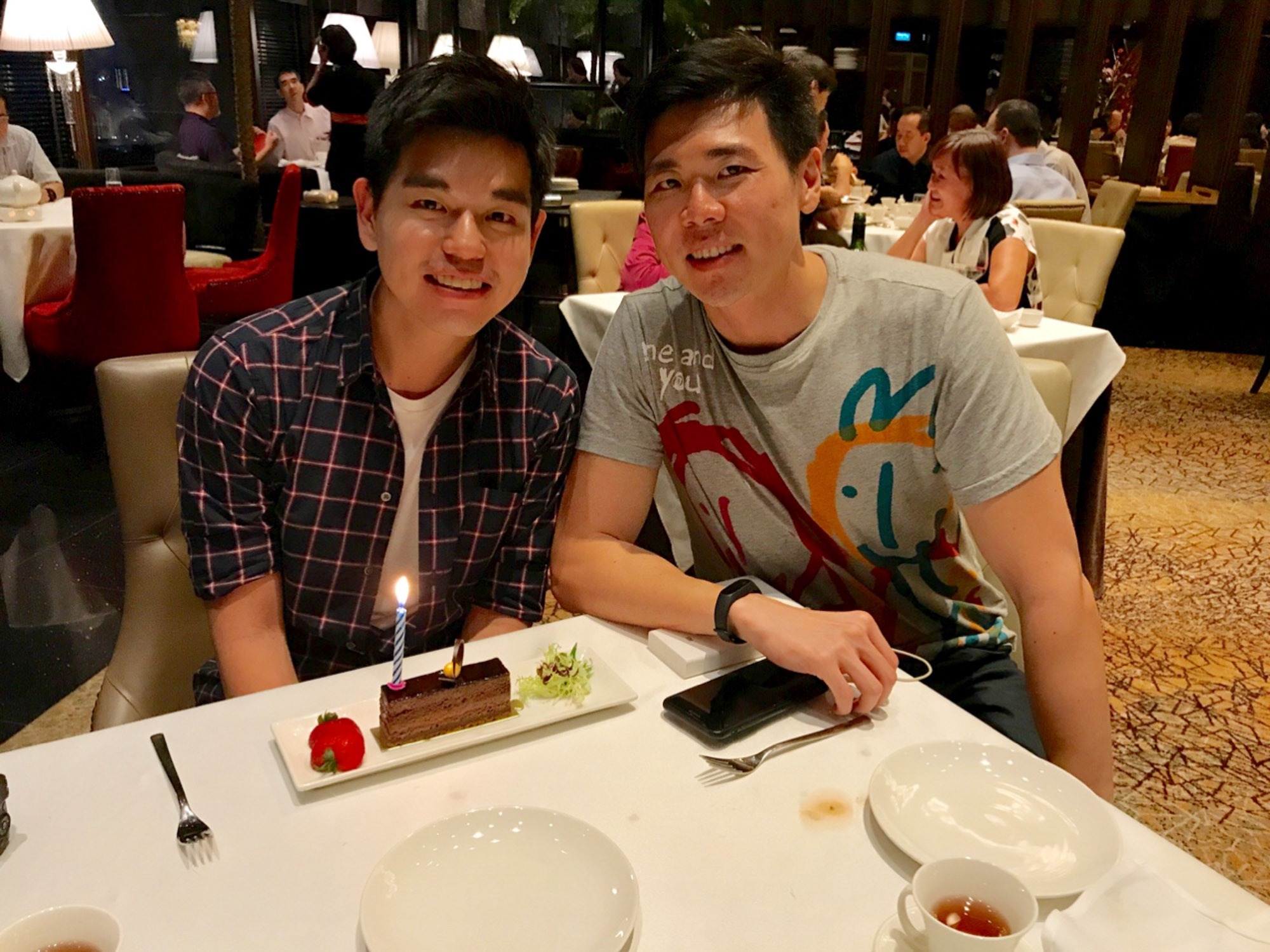 As we were celebrating Darren's birthday there, I was extremely disappointed with the service level provided by the two Michelin star restaurant. I had specifically arranged for a cake to be delivered as a surprise after dinner and also reminded the staff during dinner service of this arrangement. After our mains, the staff asked if we wanted to have dessert and I had to remind them of the cake arrangement at the table. After the reminder, they brought serving plates to our table drowning any hopes of a surprise. My definition of a "surprise" is clearly different from the staff at Shisen Hanten.
Shisen Hanten by Chen Kentaro
333 Orchard Road Level 35,
Mandarin Orchard Hotel Singapore
Singapore (238867)