Fans of the sweet and savoury McGriddles® come rejoice with us! From 4 March, you can enjoy your favourite McGriddles® anytime of the day when your cravings call for it. What's more, you could also stack up your satisfaction and turn things up with the flavour-oozing Chocolate Pie and irresistible KITKAT® McFlurry®.
All Day. All Access. All Yours.
Treat yourself to the one and only McGriddles® – sweet, maple-flavoured griddle cakes layered with a savoury, tender chicken sausage patty in the middle. Choose to add a sunny-side up egg for even more goodness with our Sausage McGriddles® with Egg, perfect for both breakfast or dinner.
Better still, indulge in a lil' extra with the McGriddles® Stack, packed with maple-flavoured griddle cakes, two chicken sausage patties, melted cheese, a sunny-side up egg – AND crisp chicken bacon.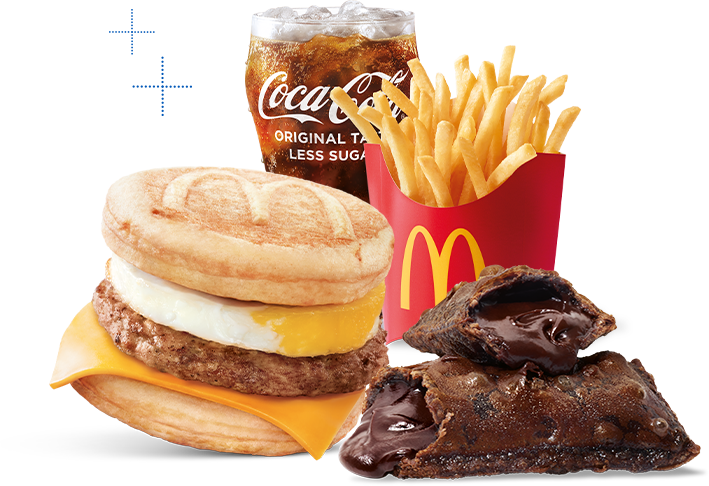 Enjoy sweet, savoury and chocolatey – all at once with the McGriddles® Feast that includes the Sausage McGriddles® with Egg, Chocolate Pie, French-Fries (M) and Coke® Original Taste Less Sugar (M) from $7.50. The McGriddles® Feast is available from 4 March at all restaurants, via McDelivery®, GrabFood and FoodPanda, while stocks last.
Show off your love for McGriddles® 24/7 with exclusive McGriddles® Stickers that come with every purchase of the McGriddles® Feast. The best part? They are re-stickable so you can show off your love over and over again!
ALL-DAY TREATS: Satisfy Those Sweet Cravings!
There's always room for dessert! End your meal with these delightful pleasures such as the Chocolate pie $1.50, filled with molten chocolate in a crisp crust, or the KITKAT® McFlurry® from $3.00 for that irresistible crunch!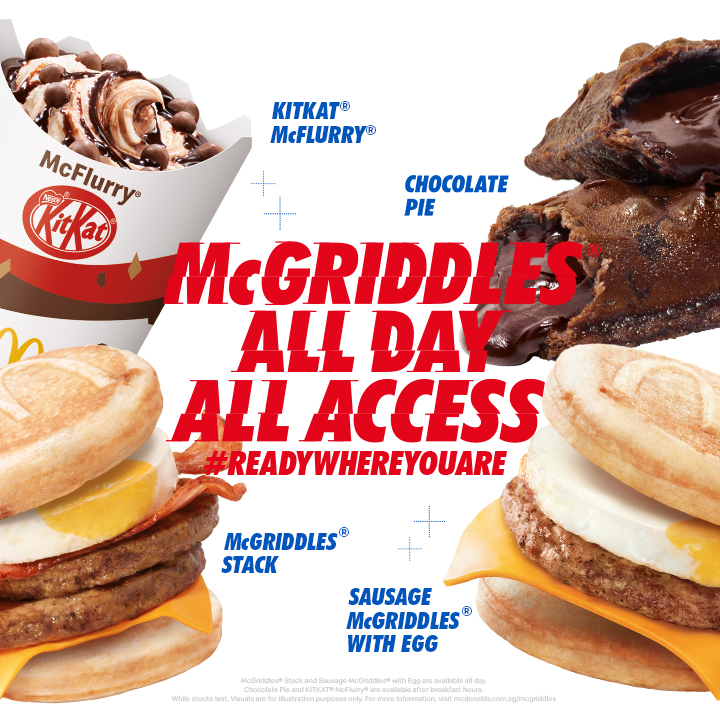 MY MCDONALD'S APP DEALS: All Access Deals All Month Long!
The March excitement keeps going – enjoy exclusive deals this month on My McDonald's App, including an All Day $3 McGriddles® with Egg deal on 8 March and 1-for-1 deals on your favourite breakfast items like the Sausage McMuffin® with Egg, Breakfast Wrap Chicken Sausage and many more! All deals are available while stocks last.