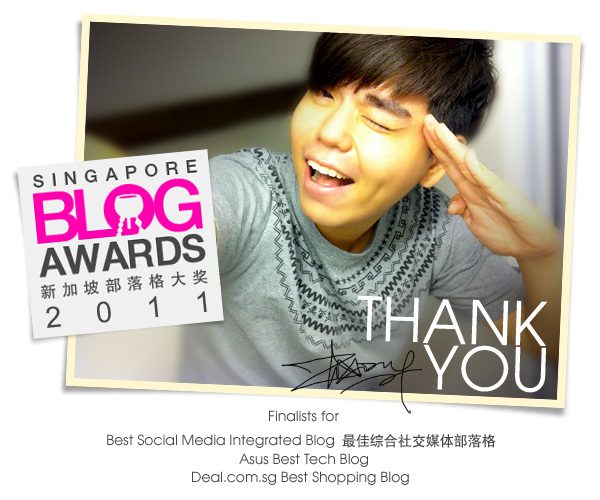 I'm really excited and happy this afternoon as i'm one of the finalist for not one but THREE categories for this year Singapore Blog Awards! 😀 Really have to thank all of my friends and readers out there (though i don't really know who you are in real life) , i'm still grateful to have you for all the support!
You can go the extra miles to show your support for me by voting for me in these 3 categories!
First, you will need to have a omy.sg account. If you do not have one, you can register here.
After login, just click on the 3 links i've provide above, look for my thumbnail and click on the vote button. Click on YES to confirm your vote and you're done! ;D
Each account is only allowed to cast one vote per day per category. SO… go get all your friends, your relatives, your family members to register account and cast your vote (persuade them instead of FORCING them ah~ cos i dun want to have alot of haters out there LOLx~)
Maybe you can use this to persuade them as by casting a vote, you stand to win these AWESOME PRIZES!!!
3 x Asus-Lamborghini wireless mouse
Sponsored by ASUS
*
3 x ADONIS facial treatment vouchers worth $150.
Sponsored by ADONIS
*
3 sets of $50 Night Safari exclusive merchandise
Sponsored by NIGHT SAFARI
*
3 x Fabrix Slim Messenger 13″
Sponsored by FABRIX
*
3 x GET SINGAPORE Hamper with the following products:
1. Action City's LittleRubberDots – CreativeDotBook
2. theKube – 2GB nano-size cube MP3 player
3. TravelPAC –iPhone 4G Case (Kickstand Series)
Sponsored by GET SINGAPORE
Go vote now~ go~!!! make it a daily routine yeah! haha!
For more details and information, you can visit http://sgblogawards.omy.sg
Thanks everybody~ Thanks!!! 😀