Wee~ It's the festive seasons and i had a few awesome Christmas parties for the past 2 weekends with all my loved ones! 😀 Kicking off with the first celebration, we went on a staycation at Capri by Fraser, located just right beside Changi City Point!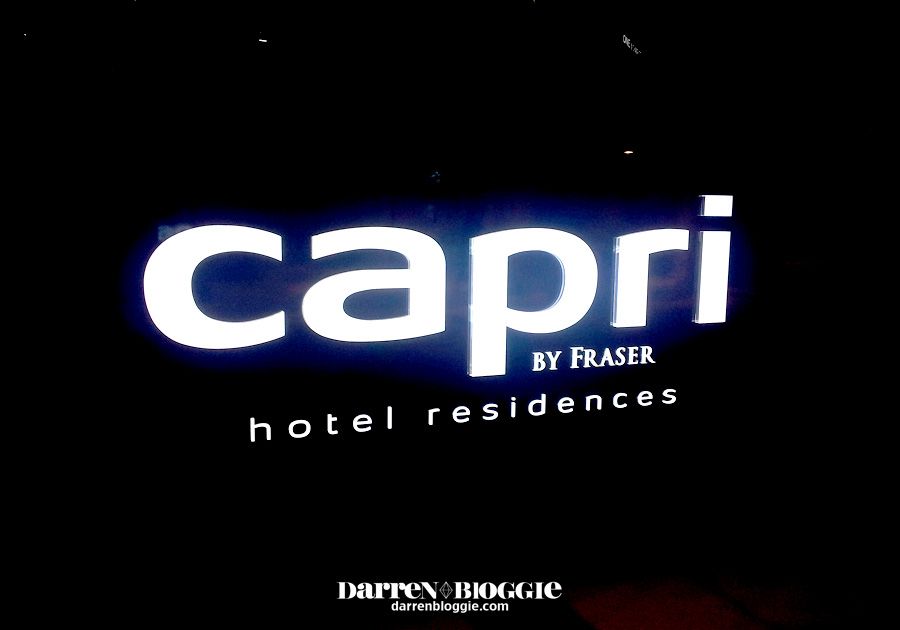 loved the ambience of the hotel. everything looks simple, clean, modern and the moment you stepped into the hotel, the tint of flower scent makes you feel really relaxed. Exactly what i'm looking for.. a relaxing staycation. By the way, for your info, this isn't a sponsored staycation hor~ so what i wrote are really what i felt about this hotel. 🙂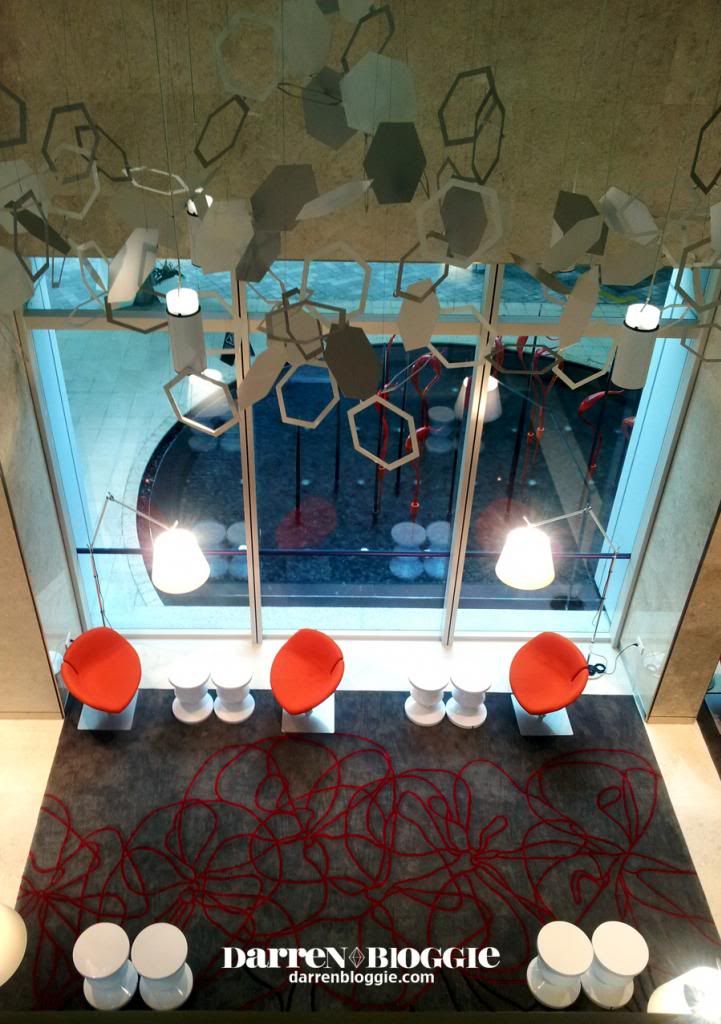 We're given the rooms at the top level! 😀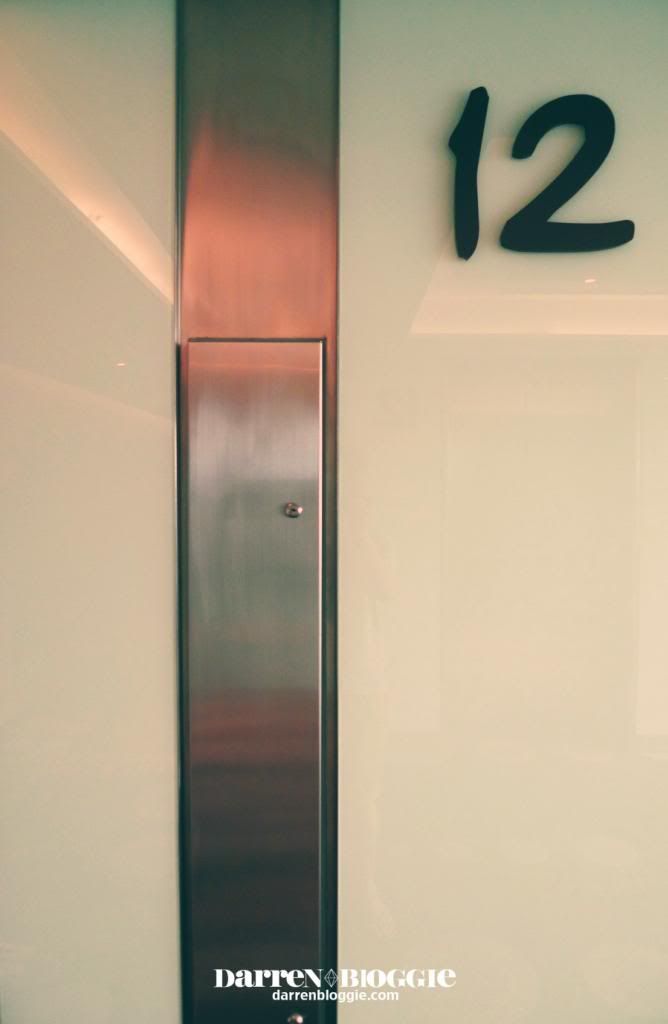 and check out the awesome room we have!! 😀 comfy king-sized bed, whereby we can roll two rounds across, spacious bathroom and complete sets of pots and cutlery for us to whip up a xmas feast in the kitchenette! 😀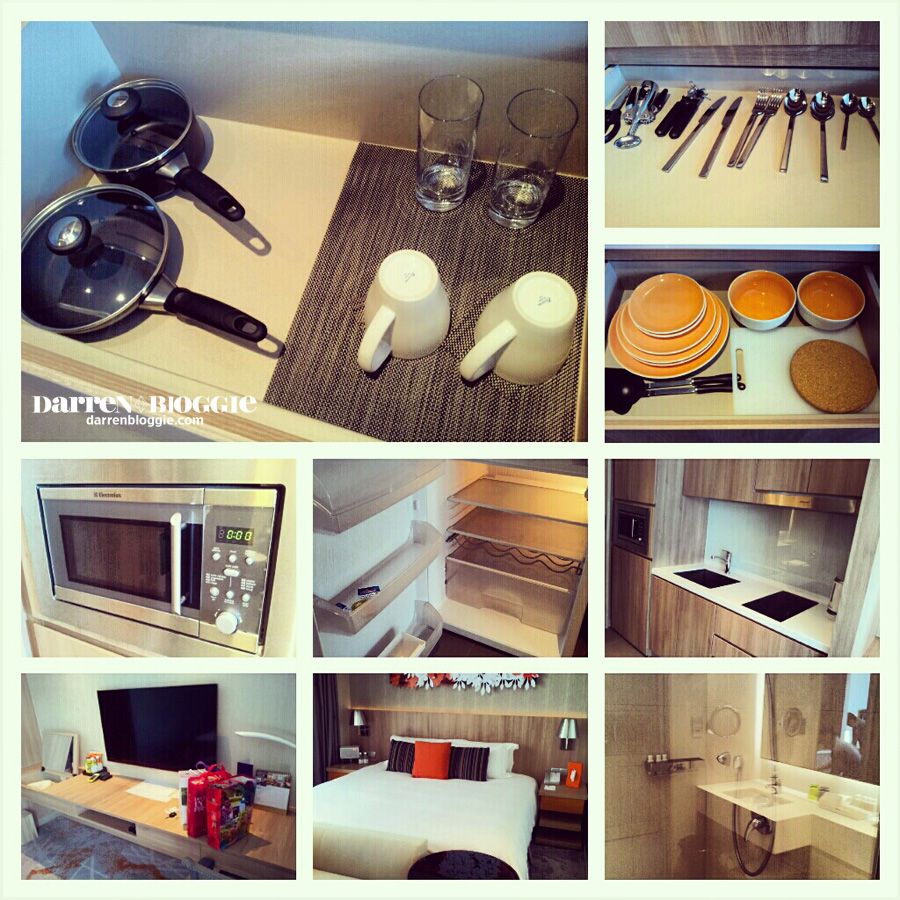 and check out the view from our room! The clouds was really fluffy and the weather was really good that day!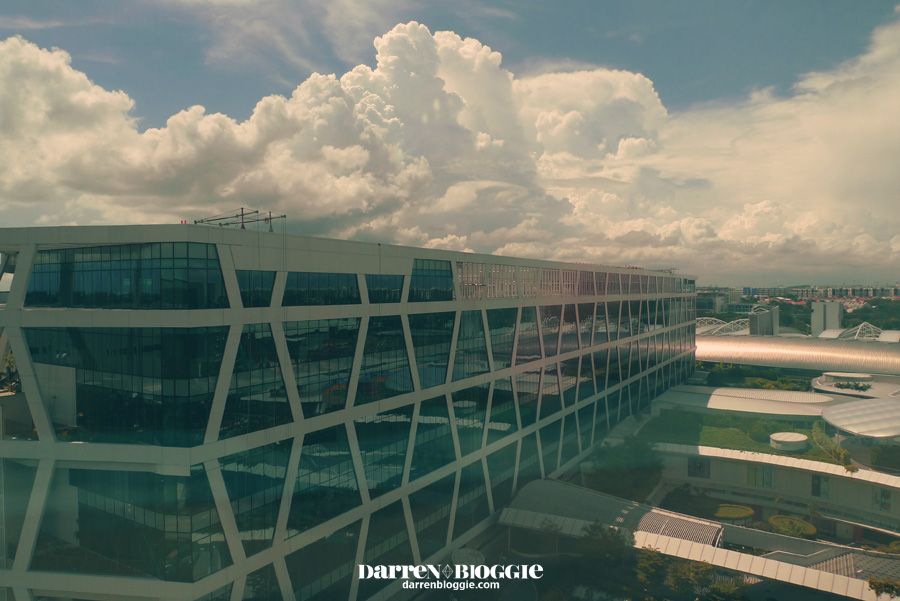 and how not to camwhore with the perfect natural lighting right?!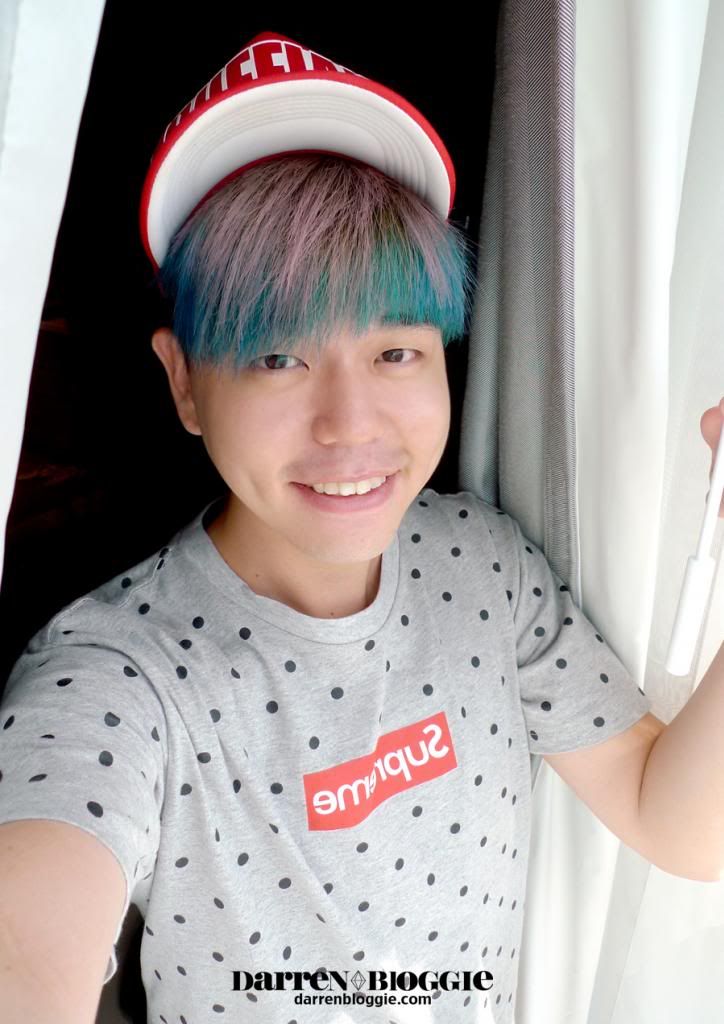 We laze ard on the bed before visiting the Spin & Play rooms whereby they provide different entertainment from TRX, Kinect, iPad etc at different levels.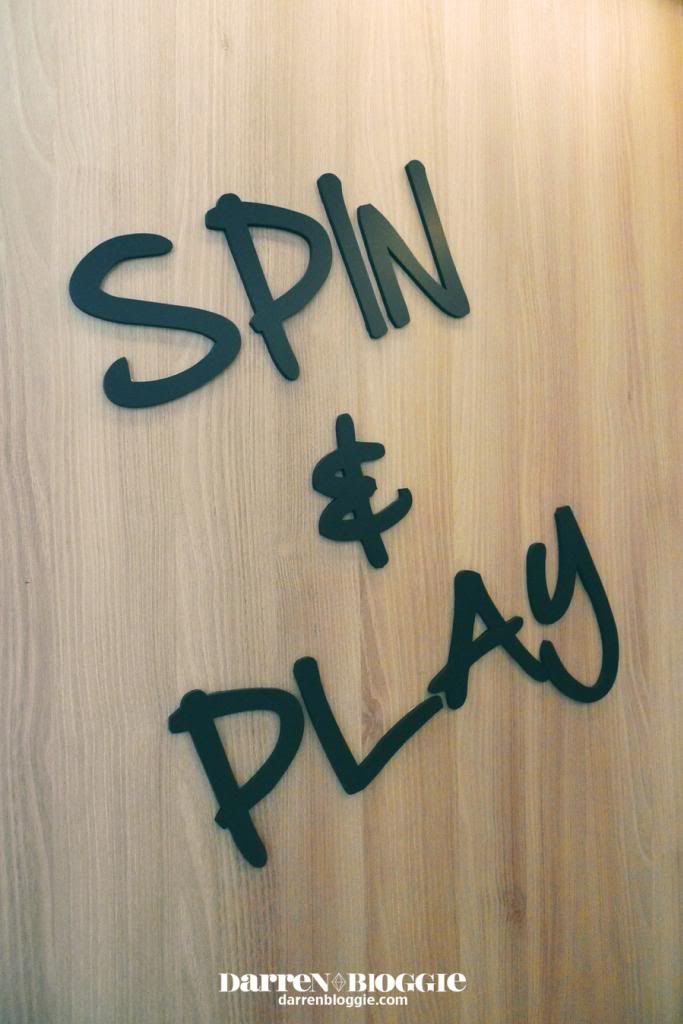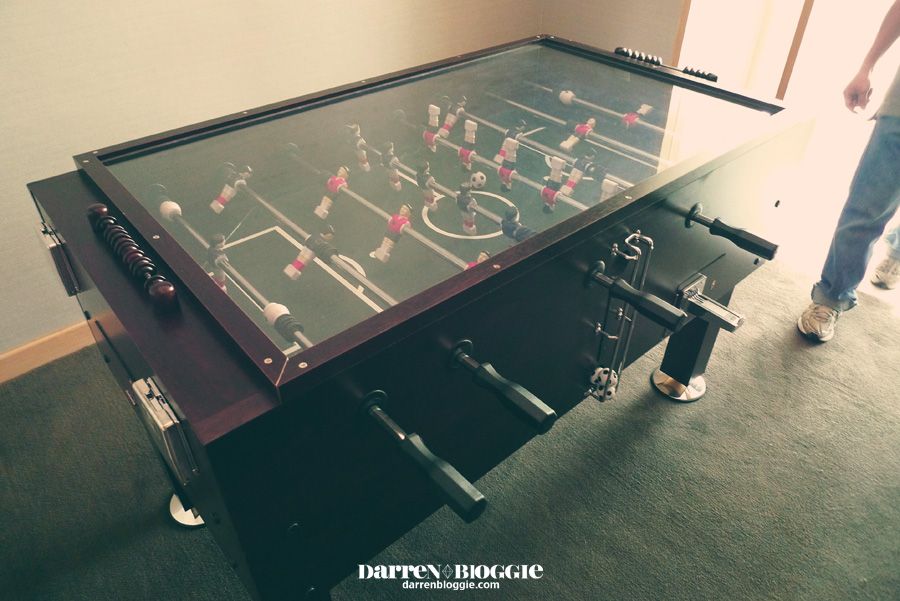 Done exploring the rooms, we went for a gym & swim session with the super shiok jacuzzi in the pool and ended with a sauna session which feels damn good la! 😀 Sorry! i only have pics of the gym hahaha~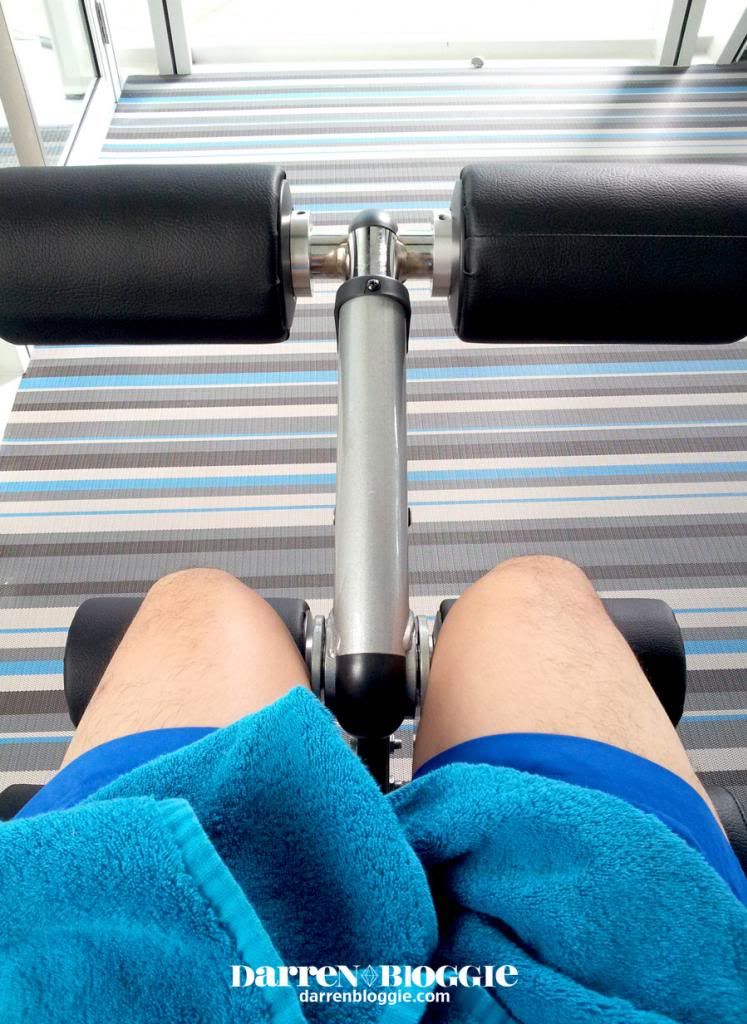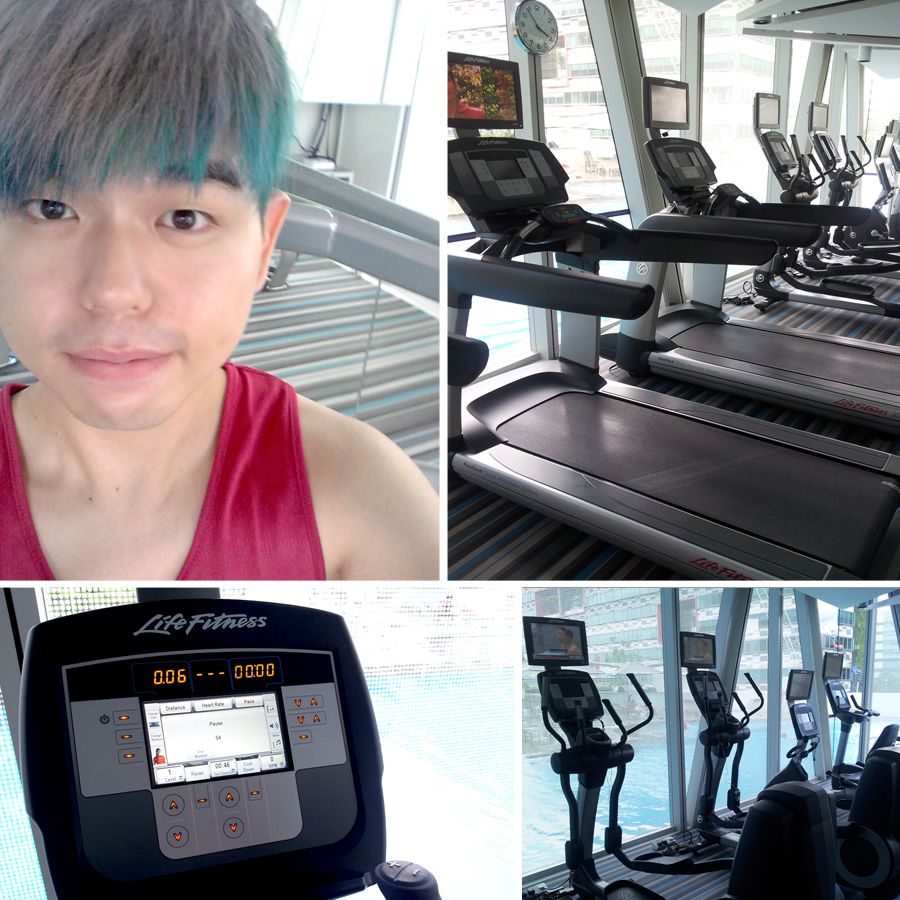 Done making full use of the facilities, we headed back to our room to prepare for our xmas feast for the night! Initially was kinda worried like what can we do with that small kitchenette in the room but was surprise we actually managed to prepare a proper meal! 😀
We begin with the dessert first. Oreo Apple Tart. Ingredients needed are :
Oreo Cookies!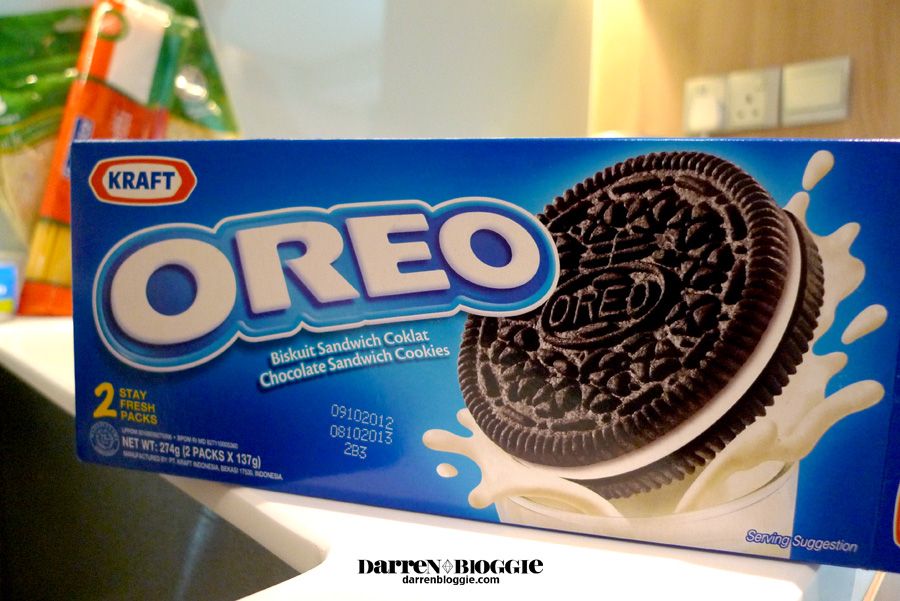 Put all the oreo cookies into a plastic bag and crushed them into bits…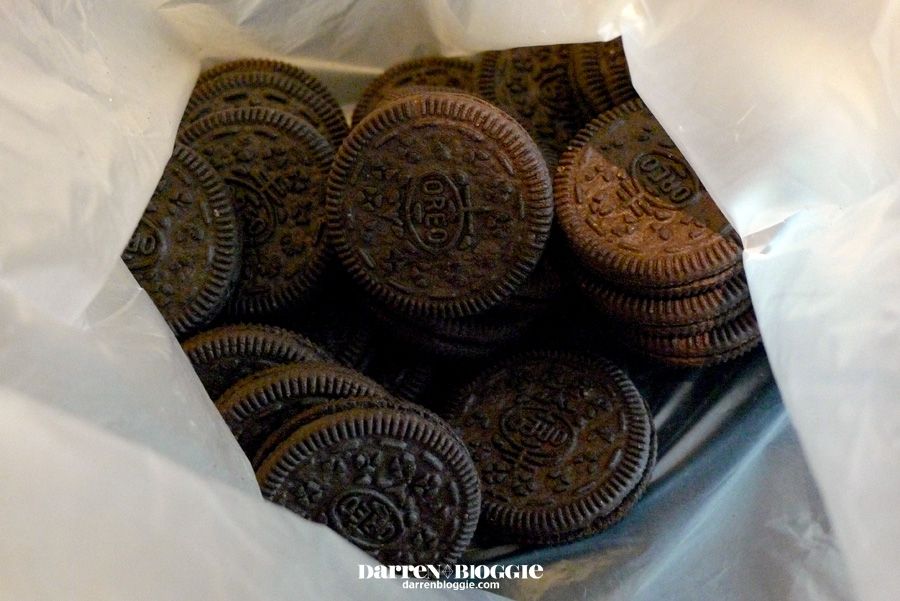 After crushing the oreo cookies into smaller bits, add in olive butter or any other normal butter. We got olive butter as we need to use olive oil for our aglio olio later on and getting olive oil is abit bo hua since we are only cooking once, so we got Olive butter instead! 🙂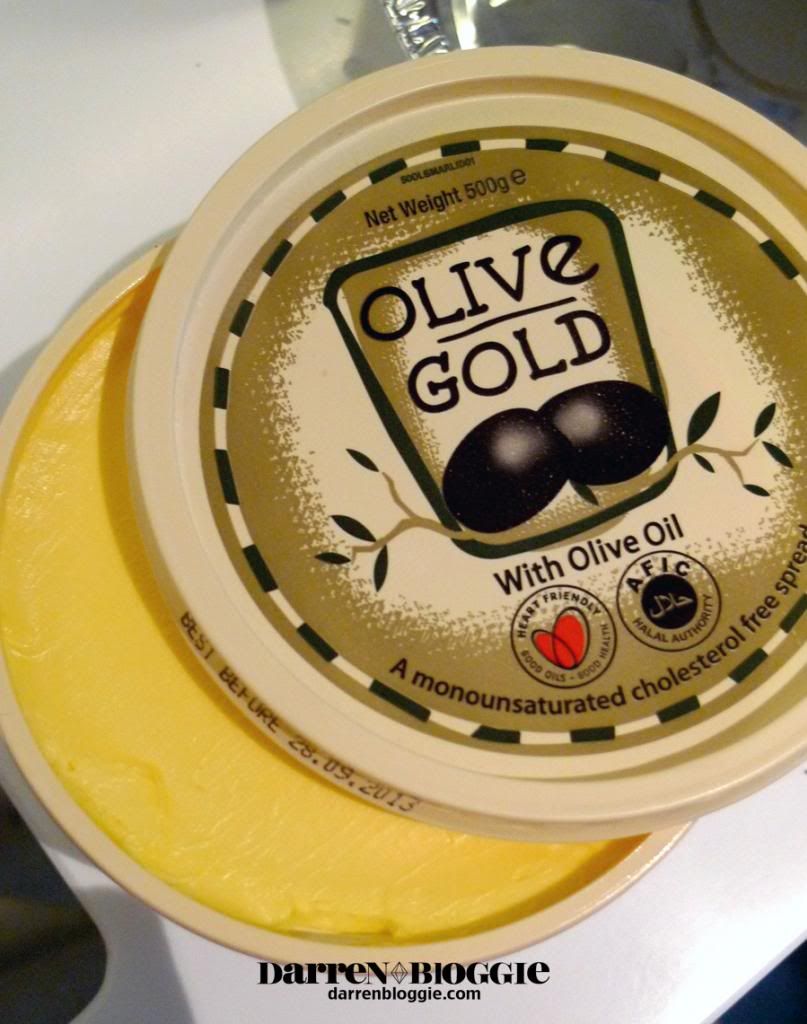 mixed them on a aluminum tray and spread them out as the crust of our tart 🙂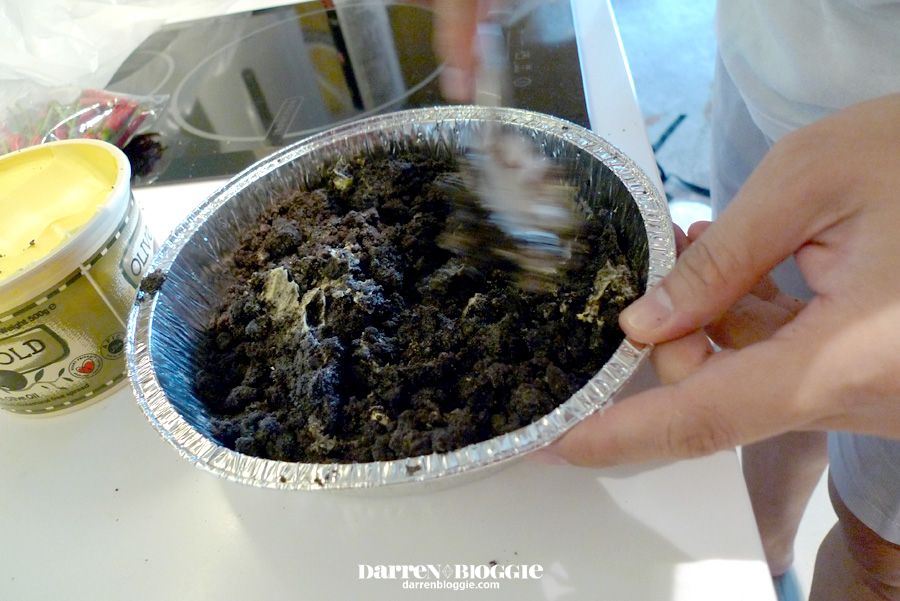 while someone does the work, i camwhore abit muahahaha~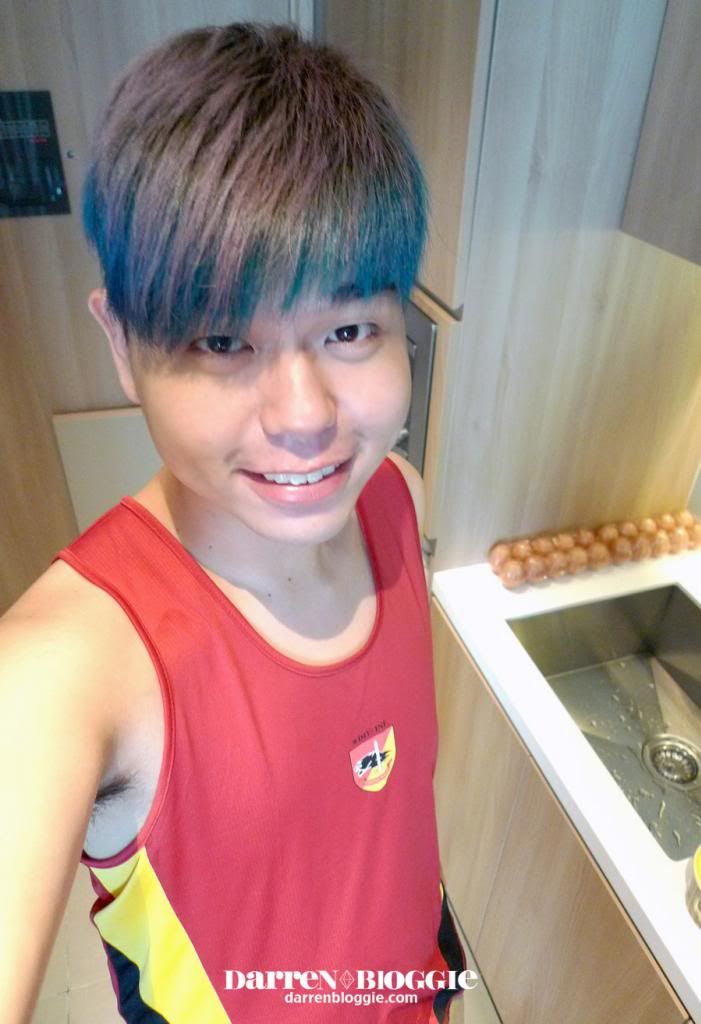 After you are done spreading the oreo mixture onto the tray, put it into the microwave for a quick heat up so that the crust will harden as the oreo starts to melt alittle together with the butter 😉
While waiting, prepare the apples! 😀
peel the skin off and cut the apples into small little cubes before putting them into a small pot of water and boil it till it softens and turned a little translucent.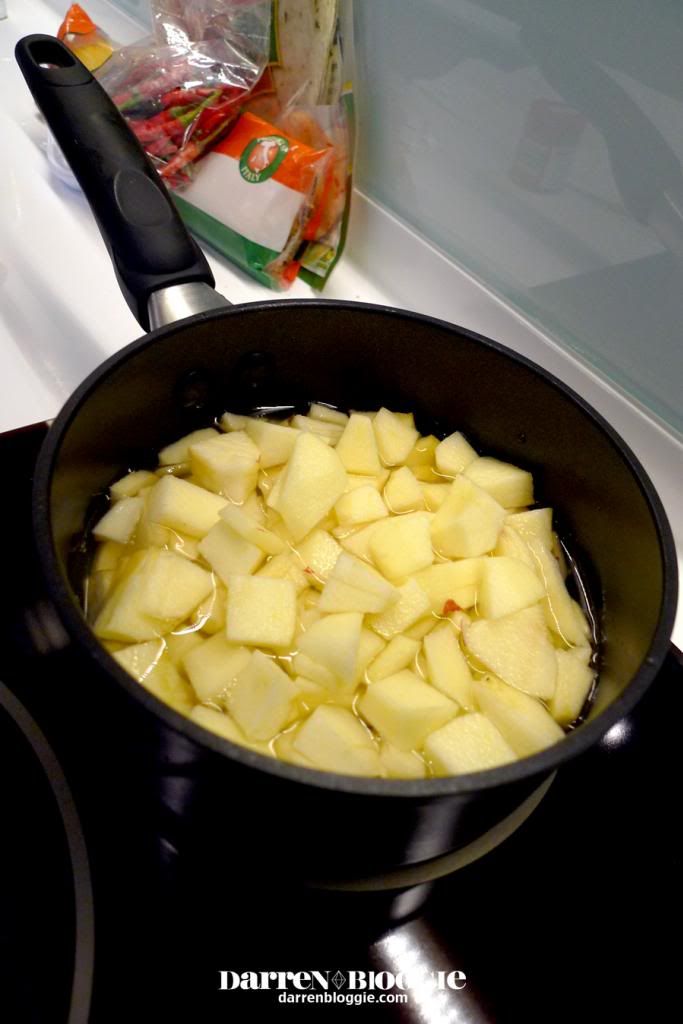 By now, your crust should be ready! 🙂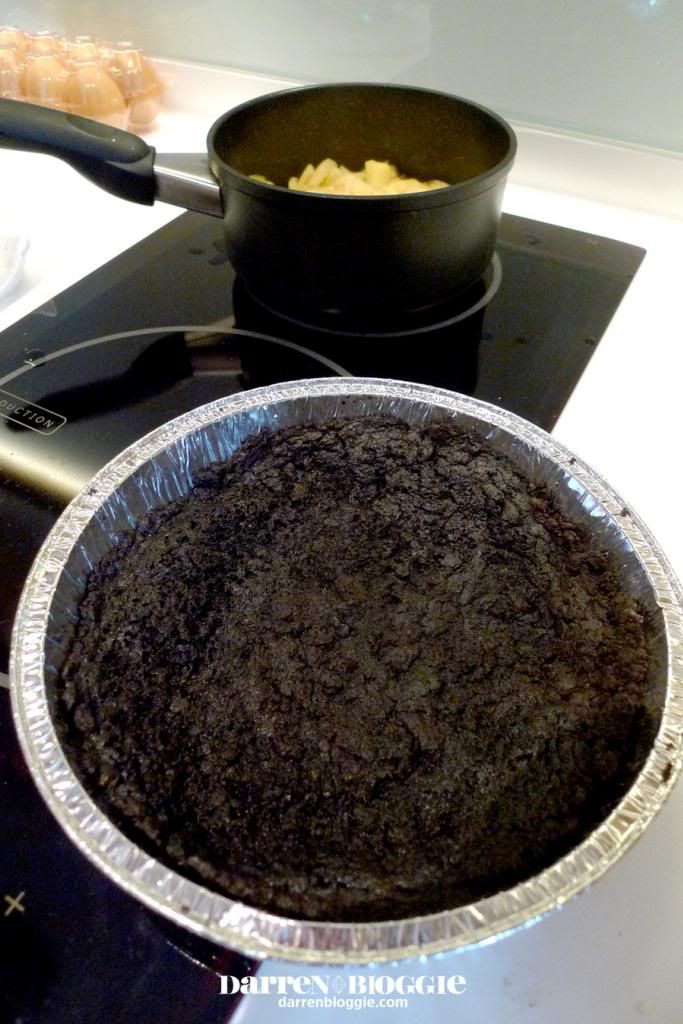 let the pot of apples to cool down before topping them onto the oreo crust 😉 Lastly, topped with whipped cream and cinamon powder just before serving 😉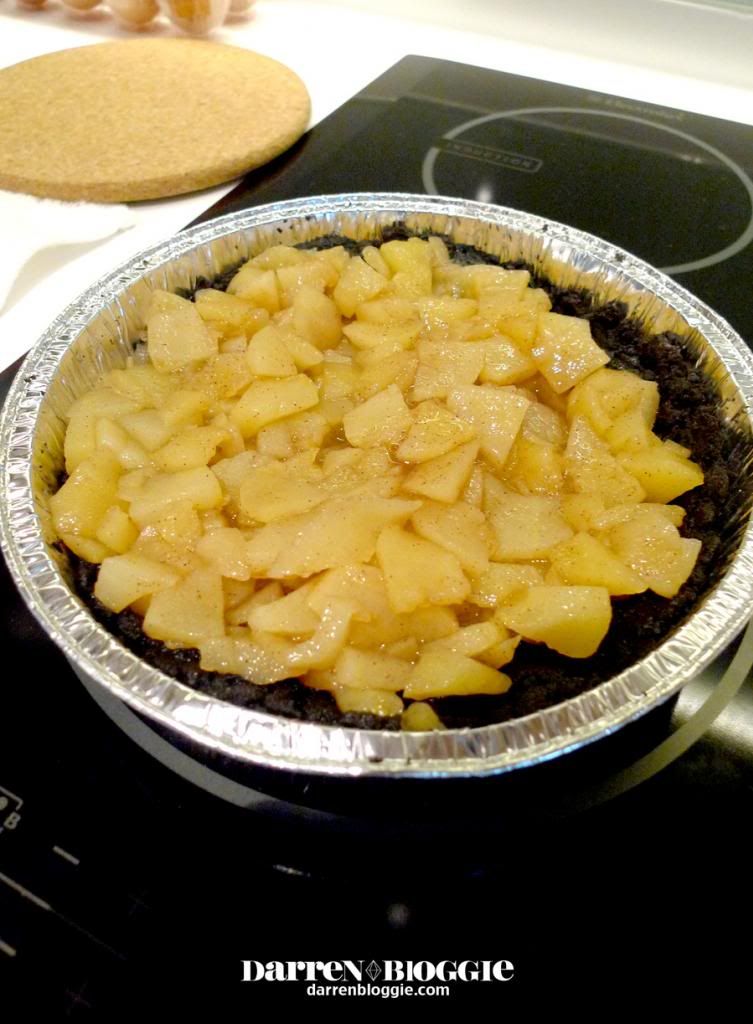 Next we boiled a pot of hard boiled eggs to make some egg mayo for our appetizer! Wrap with Egg Mayo & Tuna Corn Mayo. Drain away the water from the canned tuna, canned corns, add in some mayo and mixed it well. The same applies to the egg mayo 🙂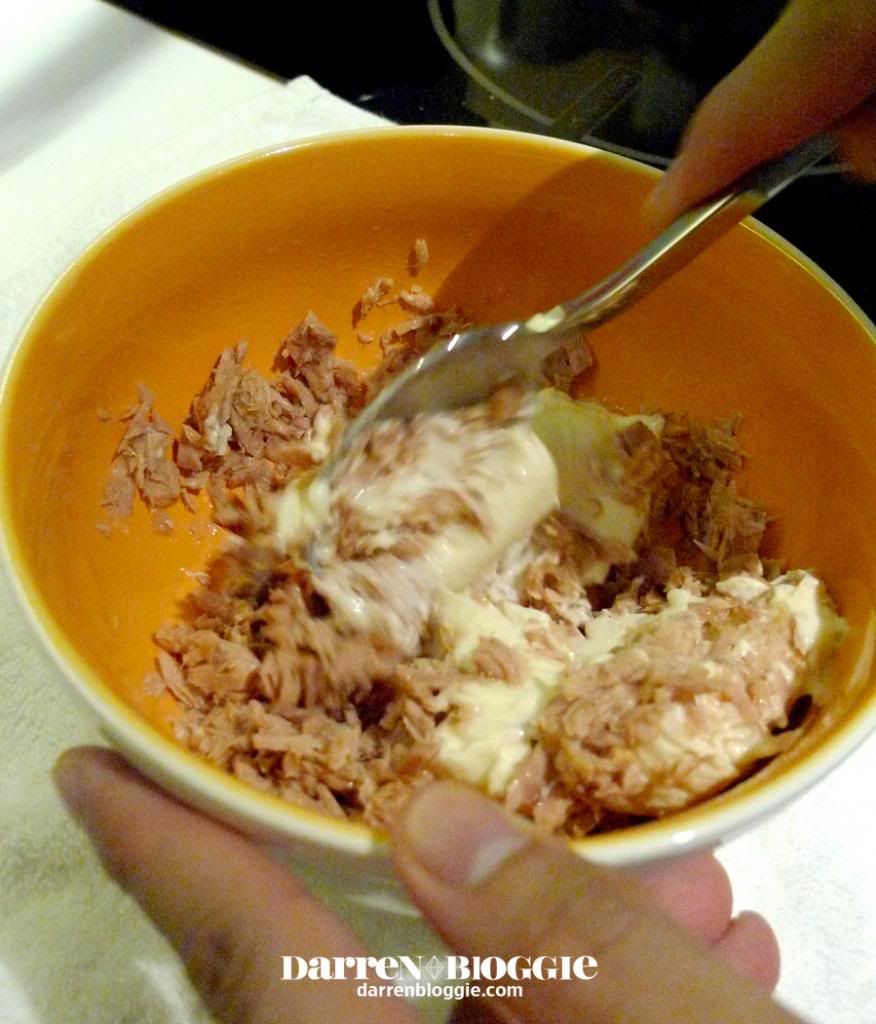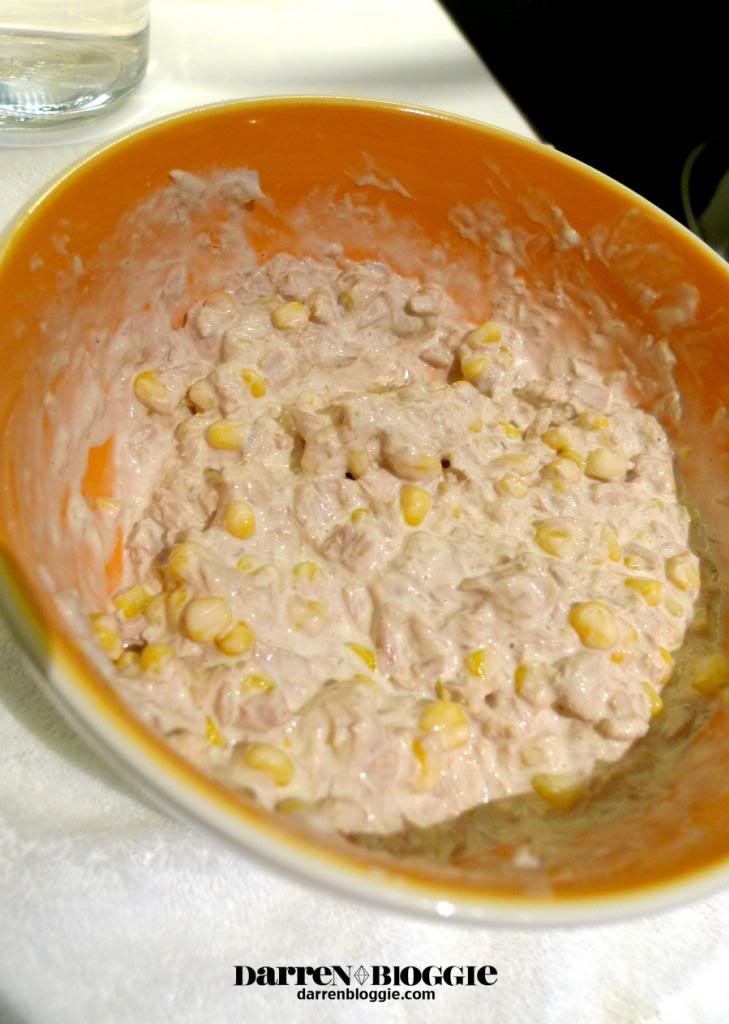 Next, heat up the wraps and spread some egg mayo or tuna mayo on it and wrapped it up !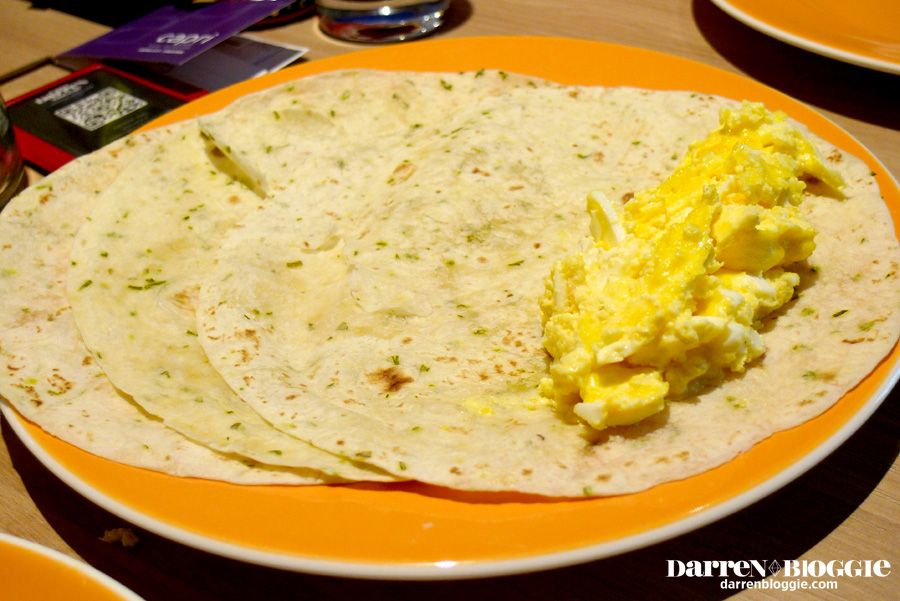 Tada~ done! you can cut them into smaller pieces so that it's easier to eat.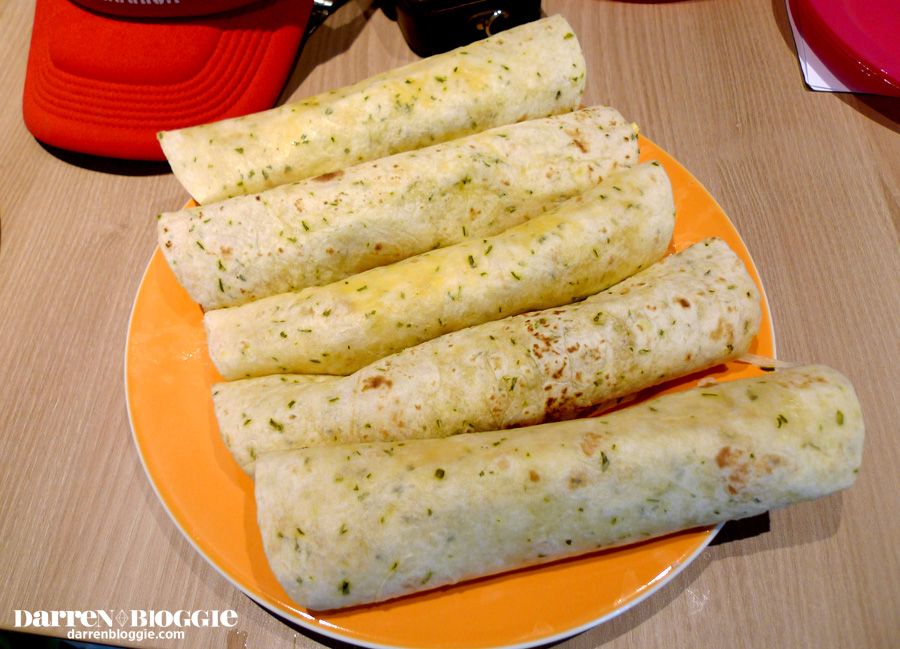 Lastly the main dish for the night!!! which im incharge of! Bacon Mushrooms Aglio Olio! Ingredients needed :
Chili padi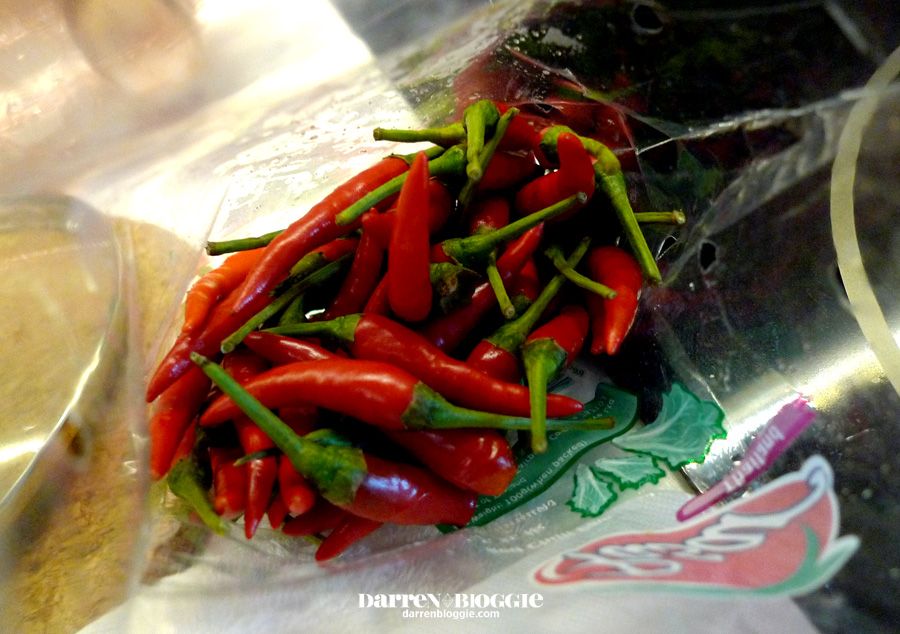 Garlic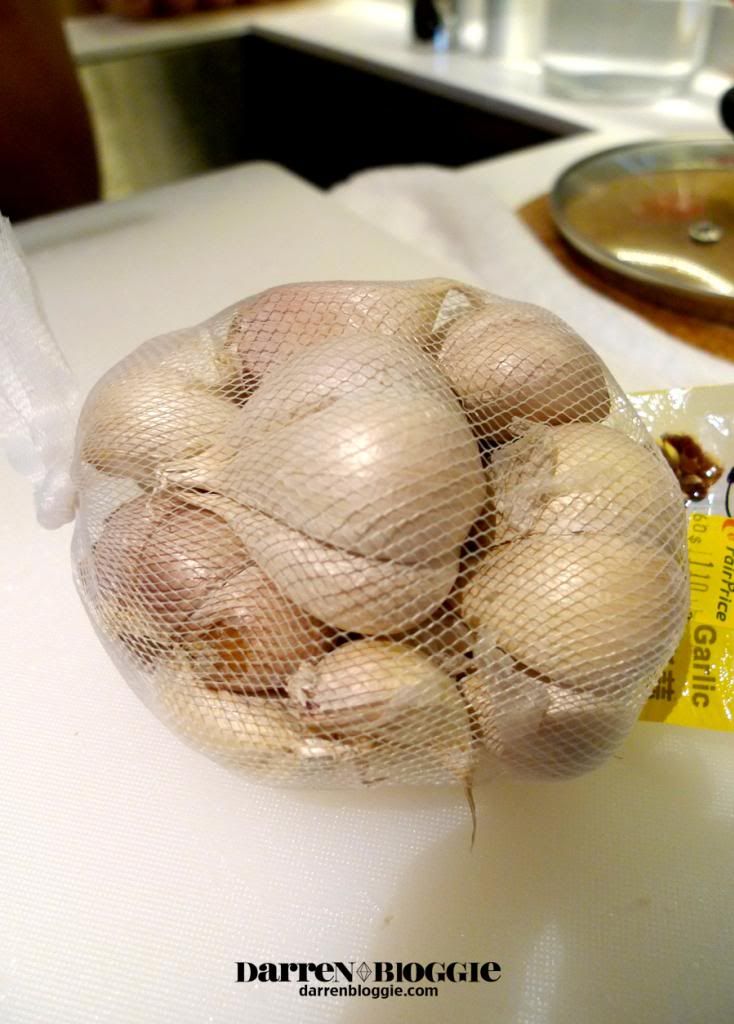 Mushrooms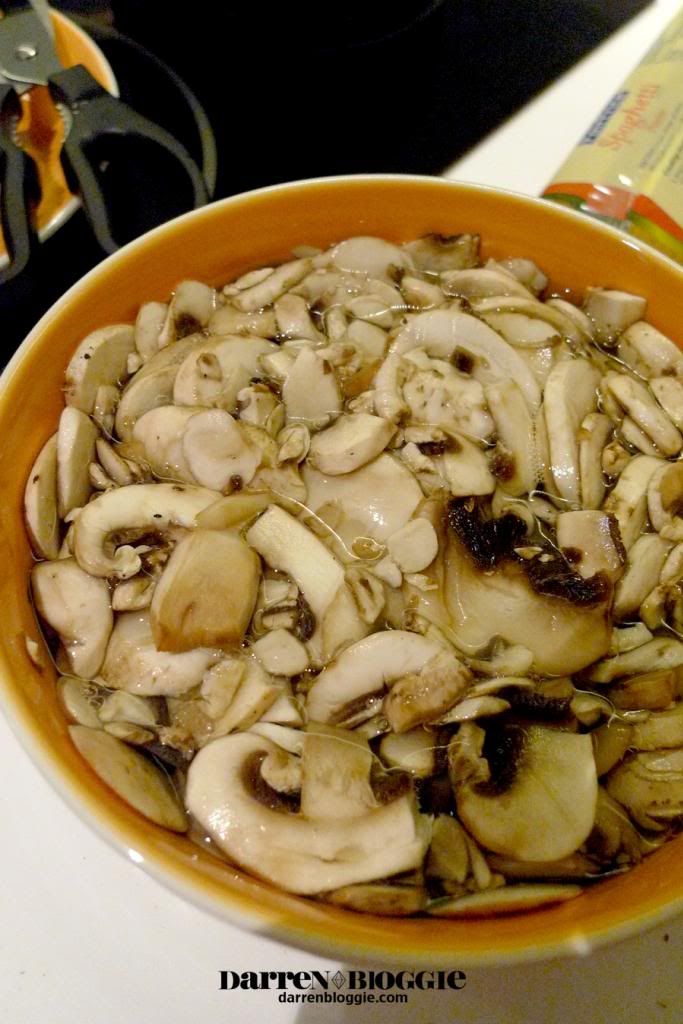 Bacon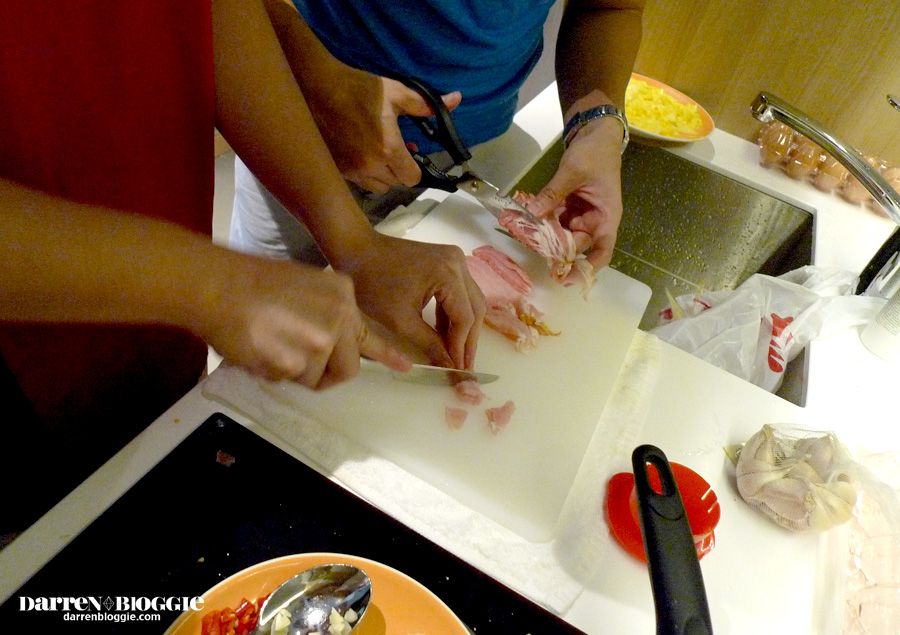 so all you need to do is to cut the bacon into bits, remove the seeds from the chili padi, chopped the garlic and soaked the mushrooms in water.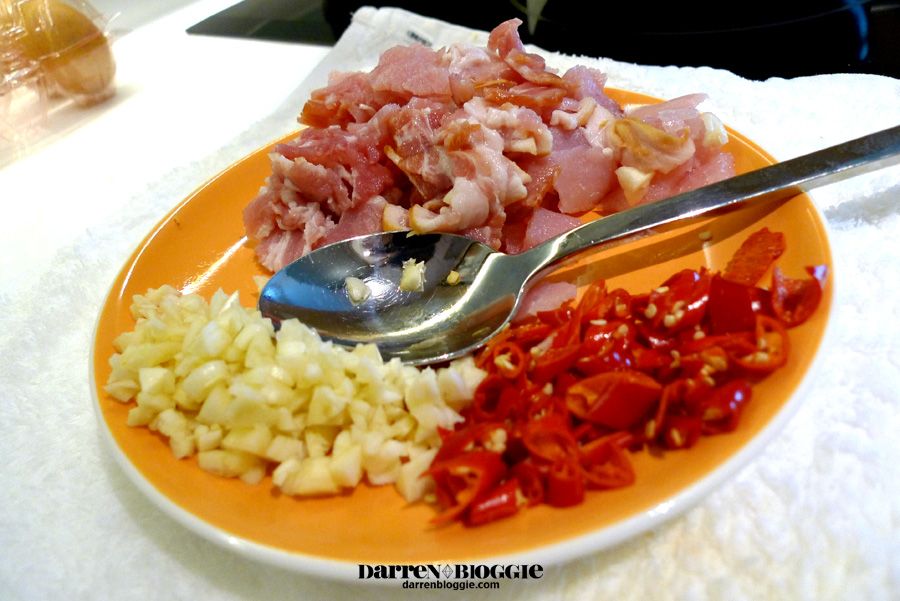 First, prepared a pot of boiling water and leave the spaghetti to be cooked while stir frying the other ingredients. Now fry the bacon bits into golden brown.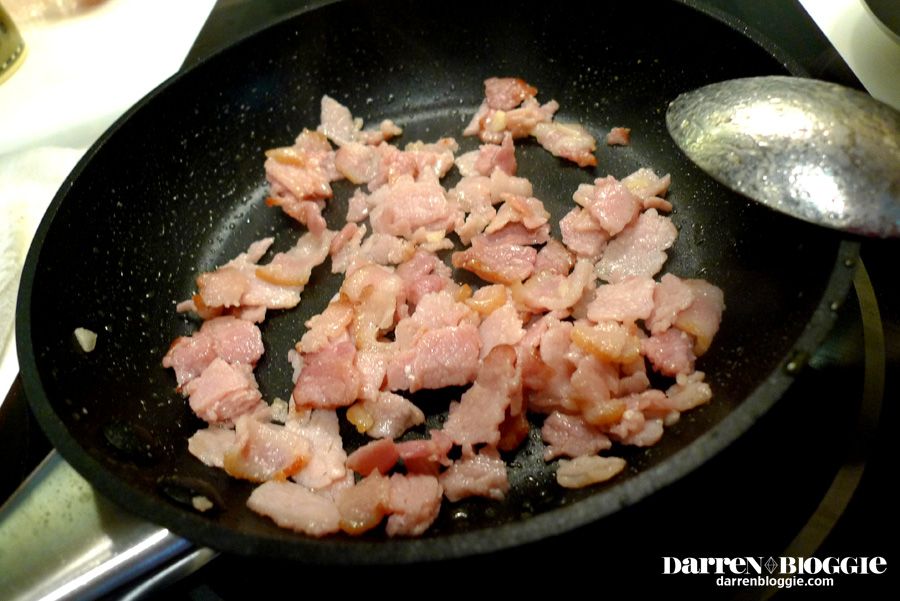 then stir fry the mushrooms with some olive butter…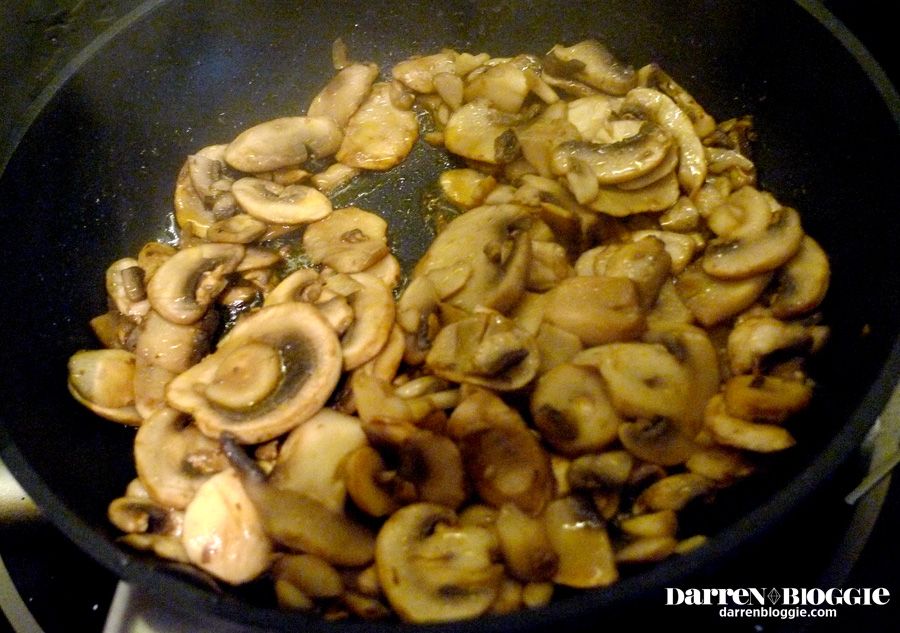 Next fry the garlic and chili padi together…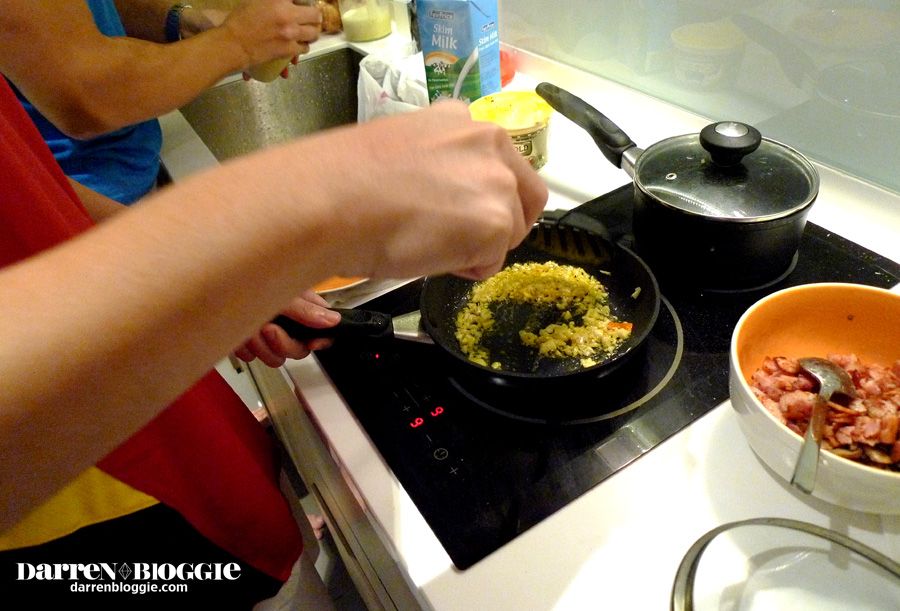 and lastly, add in everything together and stir fry it again 🙂 was supposed to add the spaghetti in and mixed together but the pan was too small so we can only topped it on the spaghetti and mixed it on our own…
Not forgetting to have a picture while cooking 😛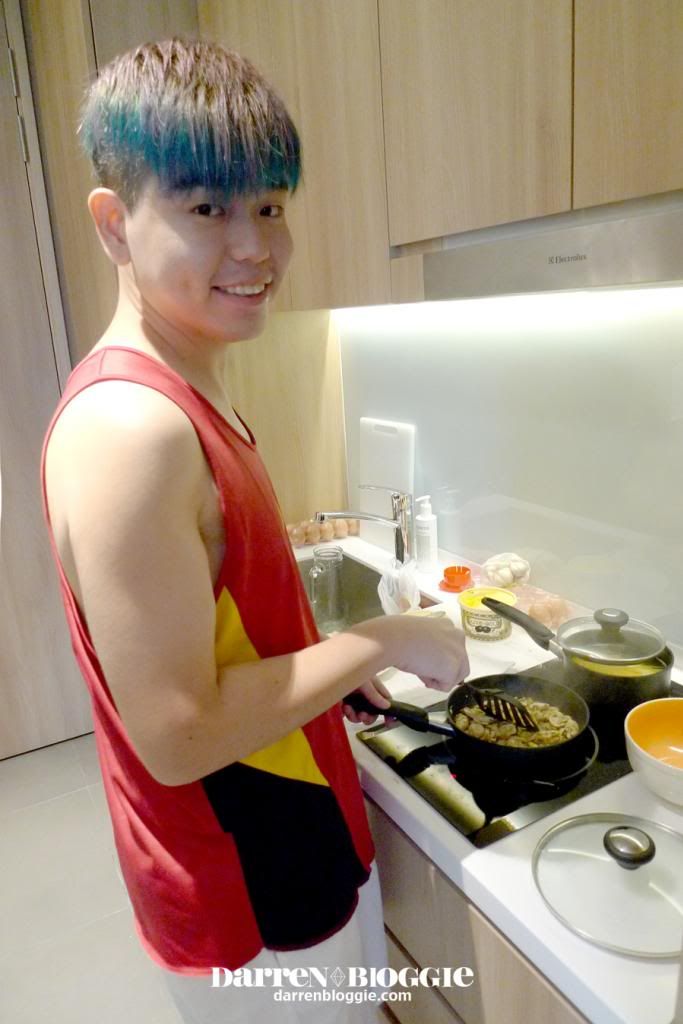 We've got our appetizer, mains and desserts ready. We should have a drink to go with it! We made Egg noir and it's my first time drinking this lor.. It's a mixture of vanilla ice cream, khaula, baileys, milk and egg yolk. You will need to shake it well and it taste like milkshake! NICE~!!!! 😀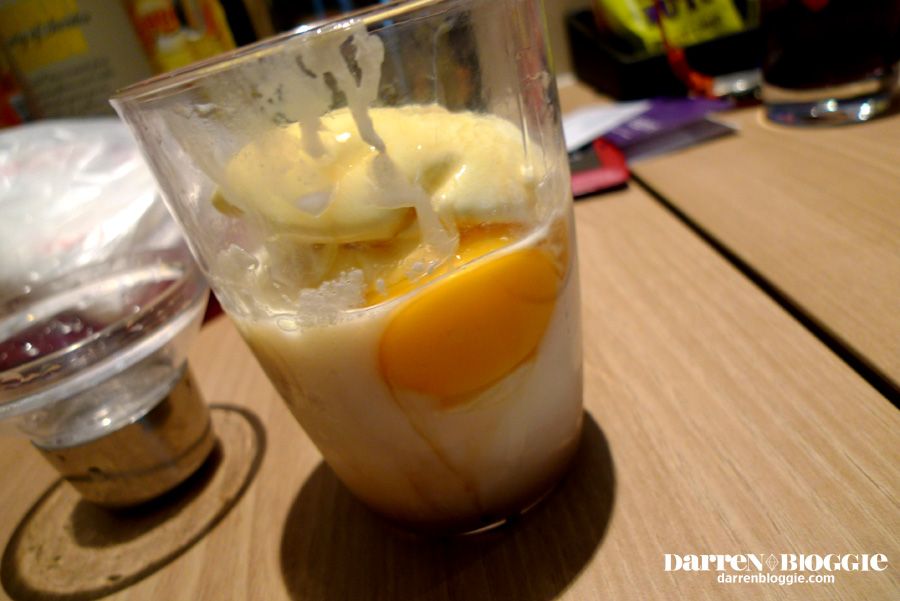 We're now ready to begin our christmas feast! 😀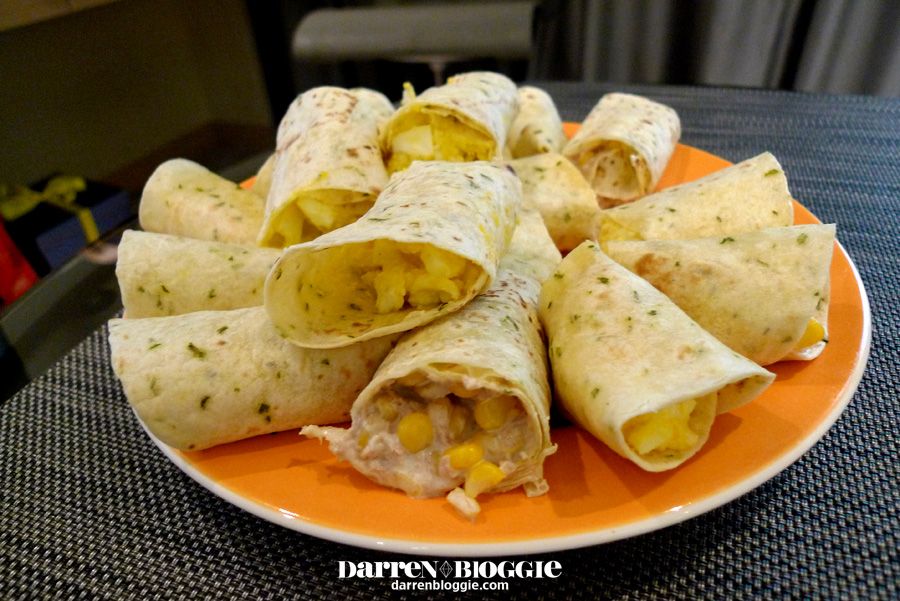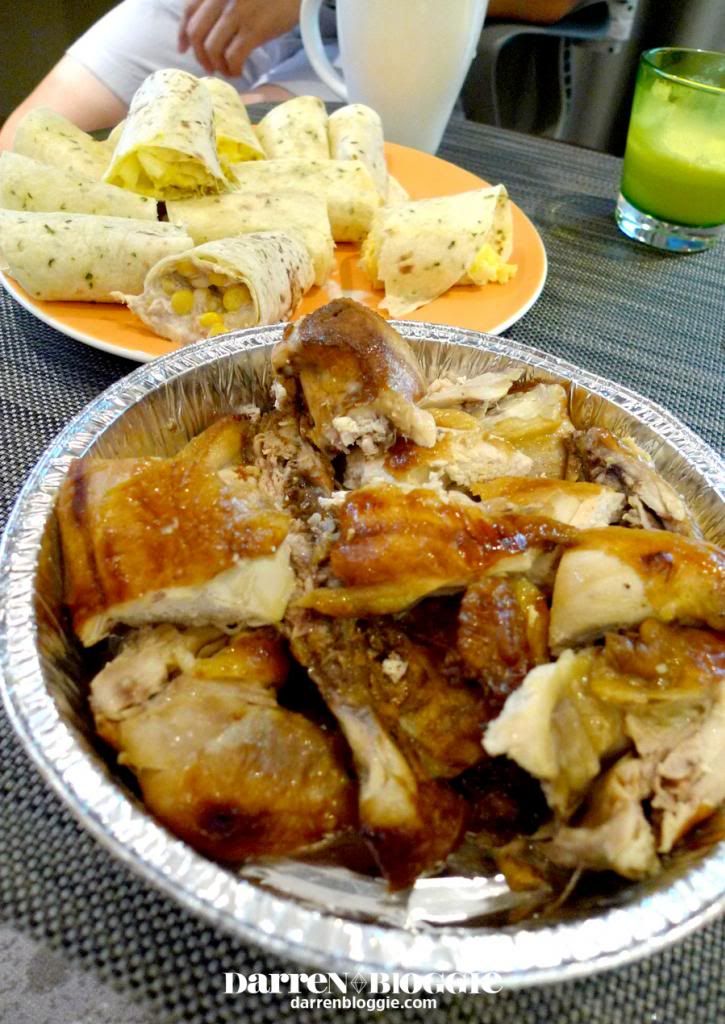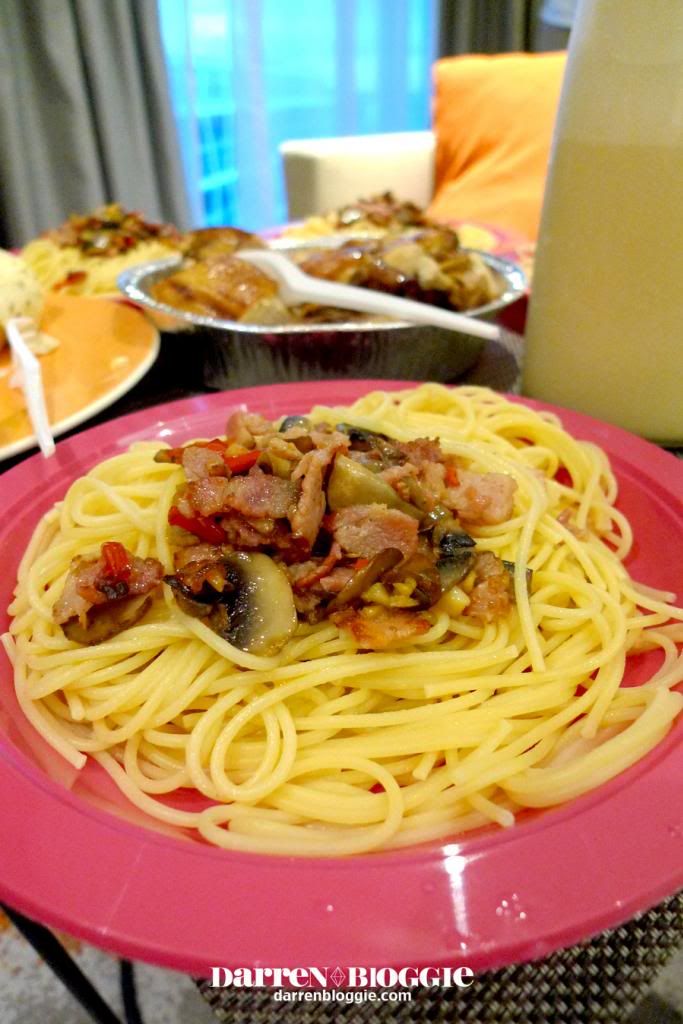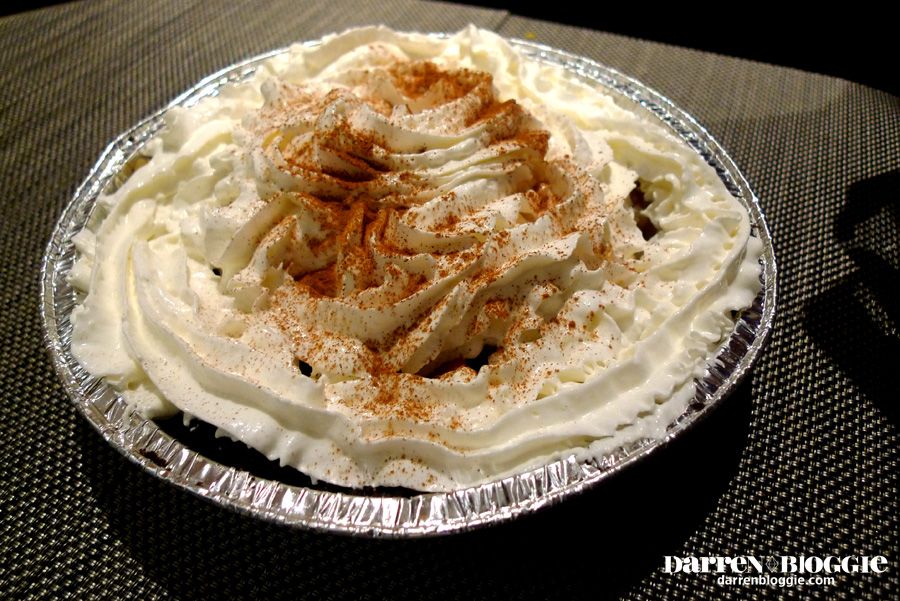 Sumptous meal prepared with my loved ones 🙂 awesome!! We had a great time munching on food, playing some games, drinking and exchanging presents! 😀
Next day morning we even prepared egg toast with the left over egg we had from making the egg mayo for breakfast 😉 *ps : by the way, that's mr shy bear… 😛 my new companion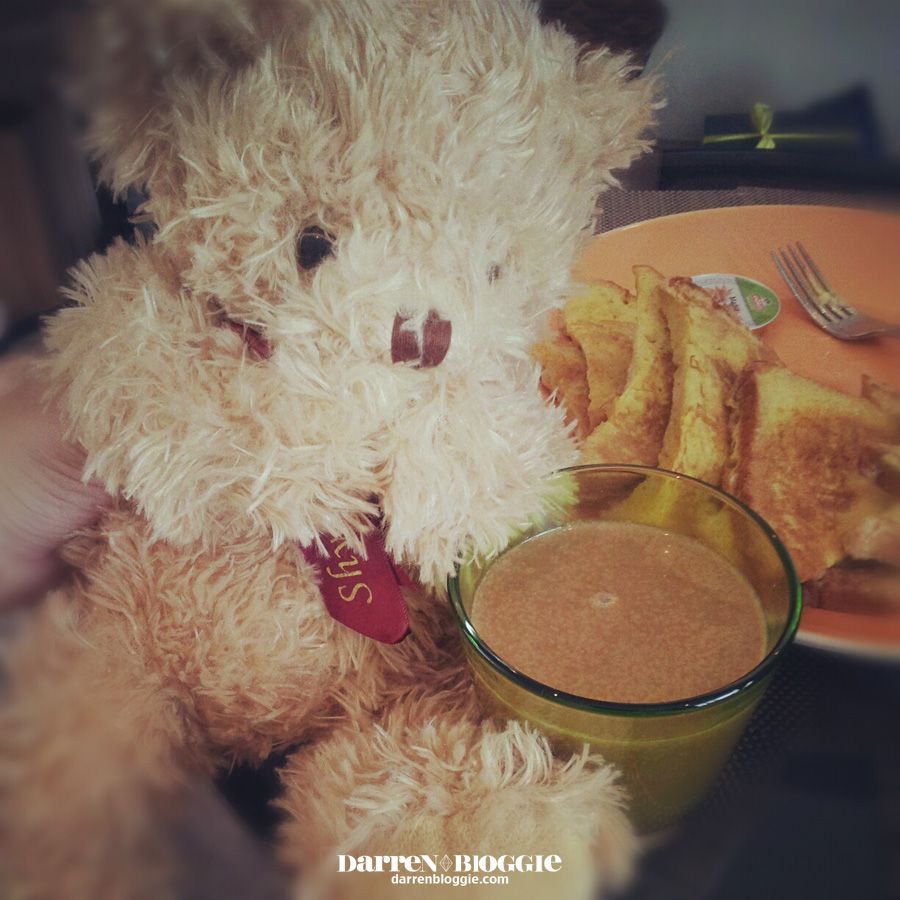 right after the staycation party, i headed back home and prepare for the next xmas party that night with my ambloves! 😀 everyone of us is supposed to bring food for the party and i brought Fishballs!! muahaha~ no time to prepare so that's the most convenient party food to bring! 😛
presents and swensens logcake!!! DAMN NICE!!!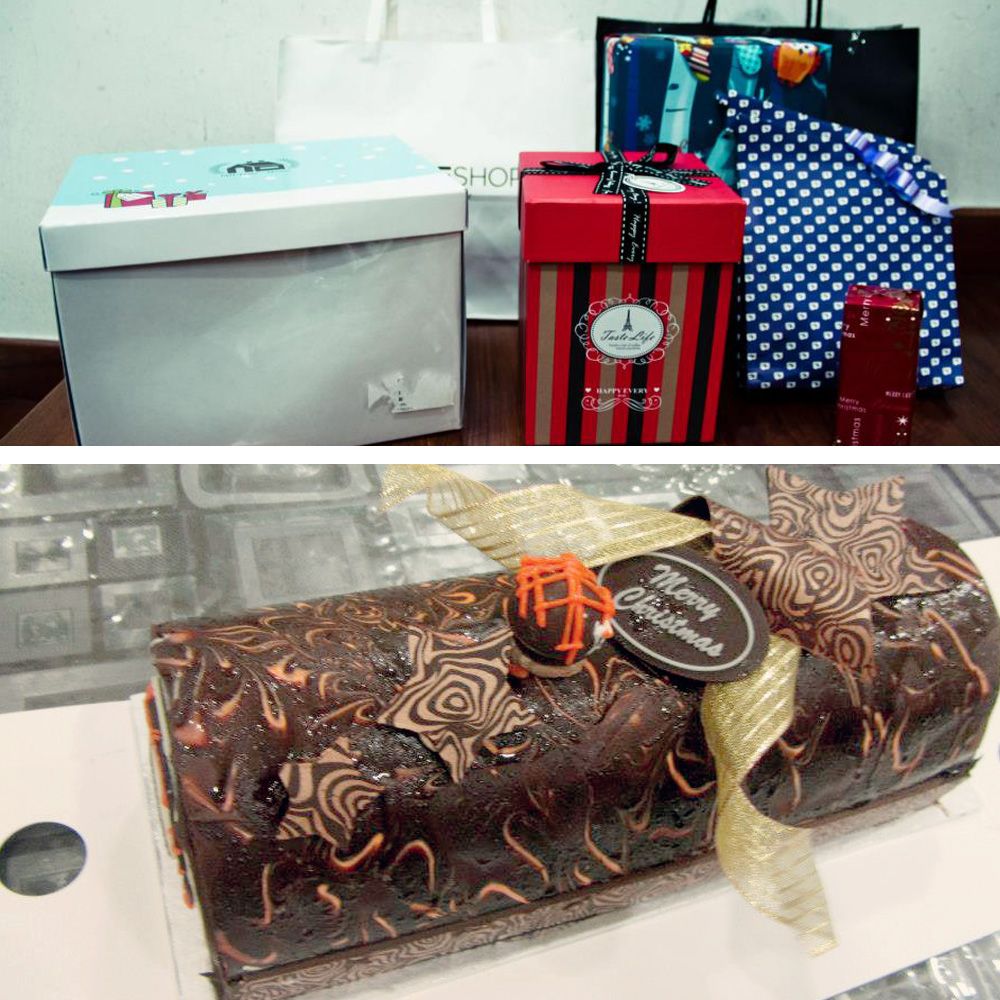 Gift exchange time! 😀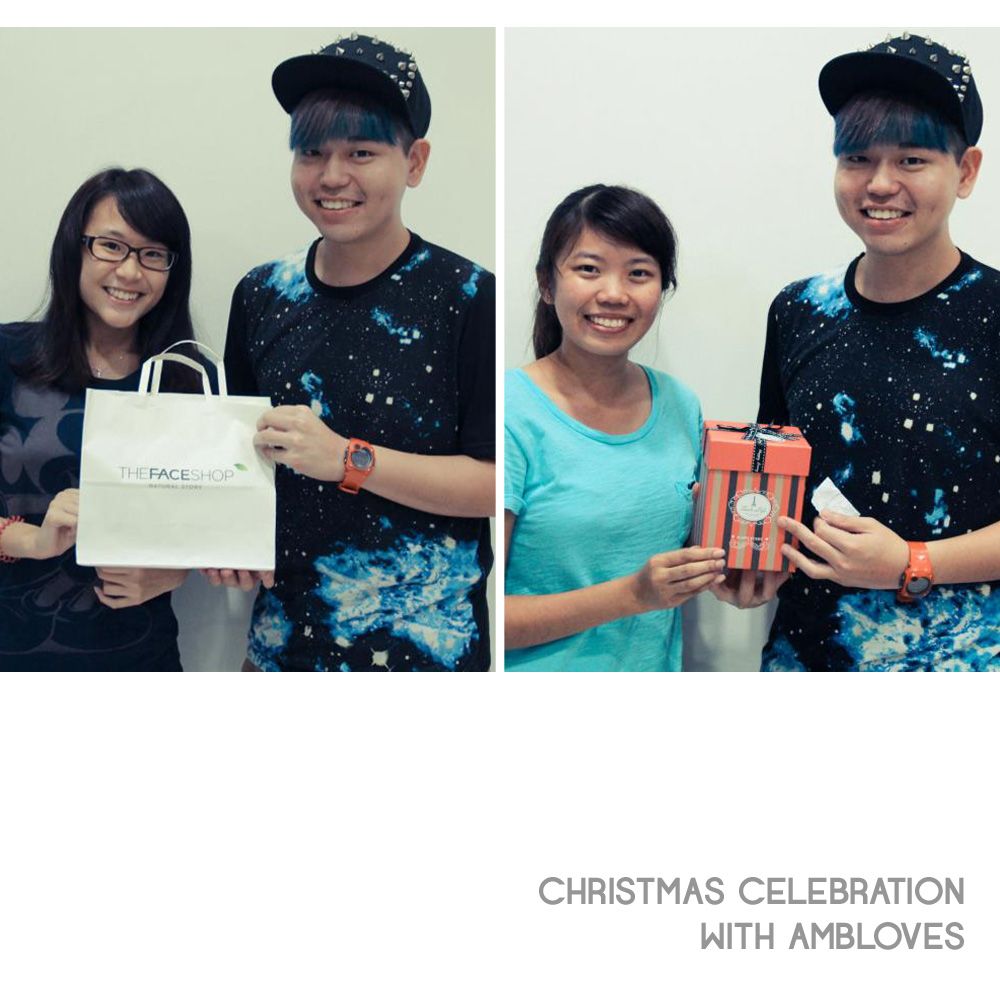 group photo before ending our party~~~
That marks the end of my first weekend of christmas parties! The following weekend, i spent it with my relatives and my BBFS!!! 😀 As usual, out yearly christmas party with relatives was held at my aunty place and we were all assigned to bring food for the party. My mum was assigned fishballs (fishballs are really well like for parties hor~) and i'm supposed to get a logcake 😉 Since there's only 5 of us, i bought a small one from the icing room and it taste not bad leh!
Though we are not christian, but my aunty always decorate the place with christmas tree every year!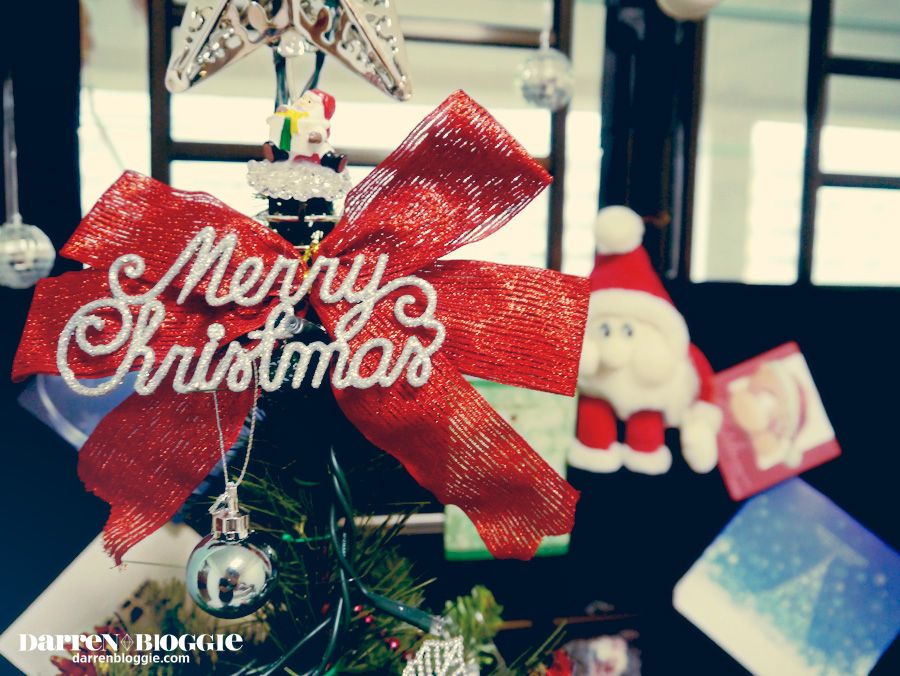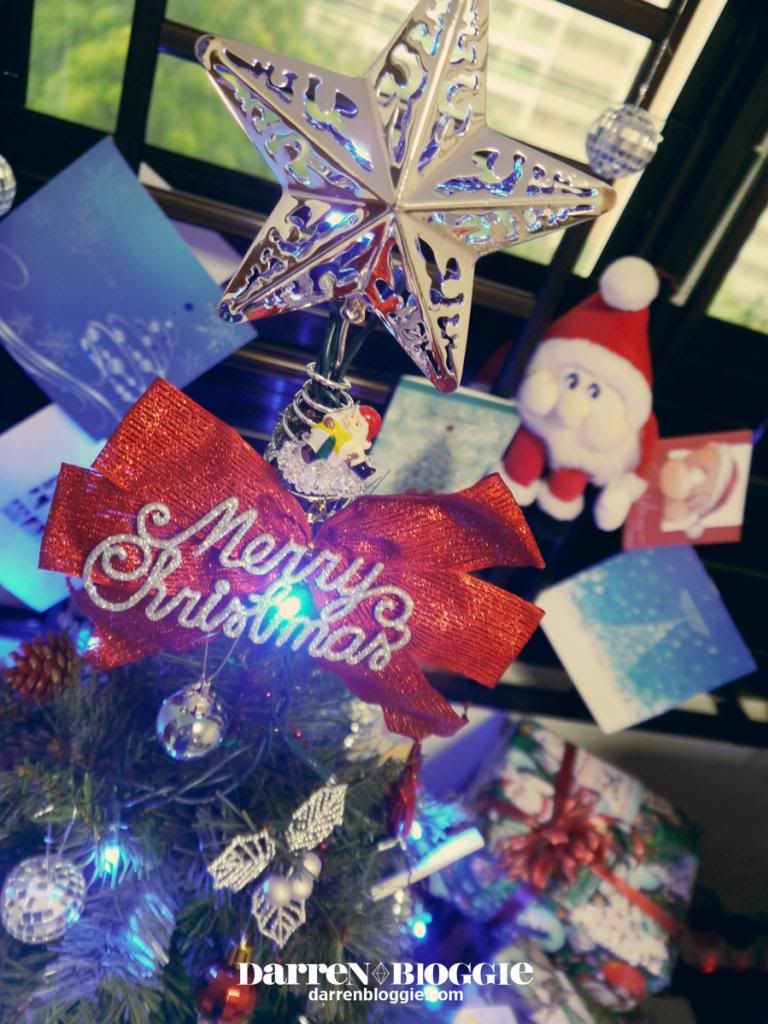 Lots and Lots of presents~~~~~~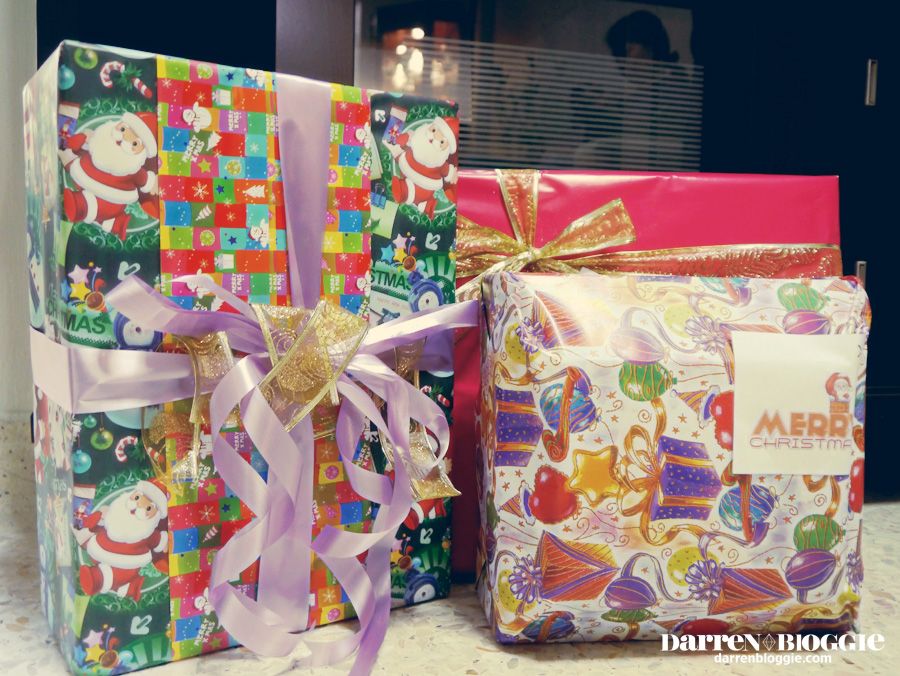 Food!!!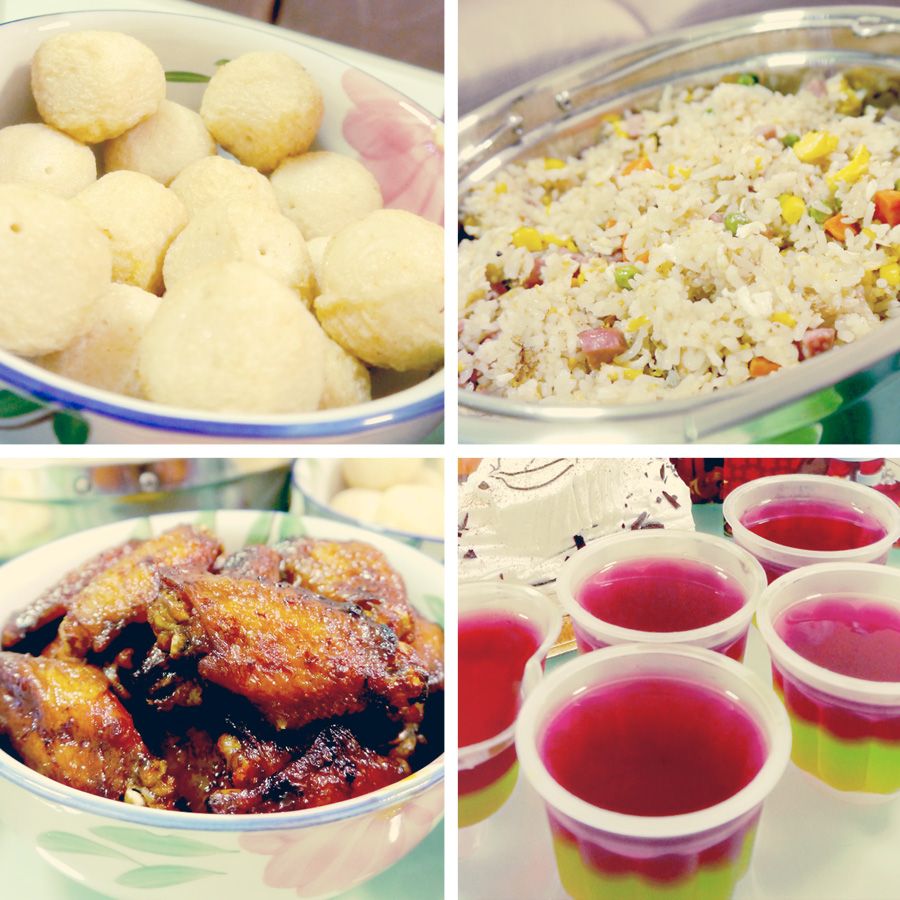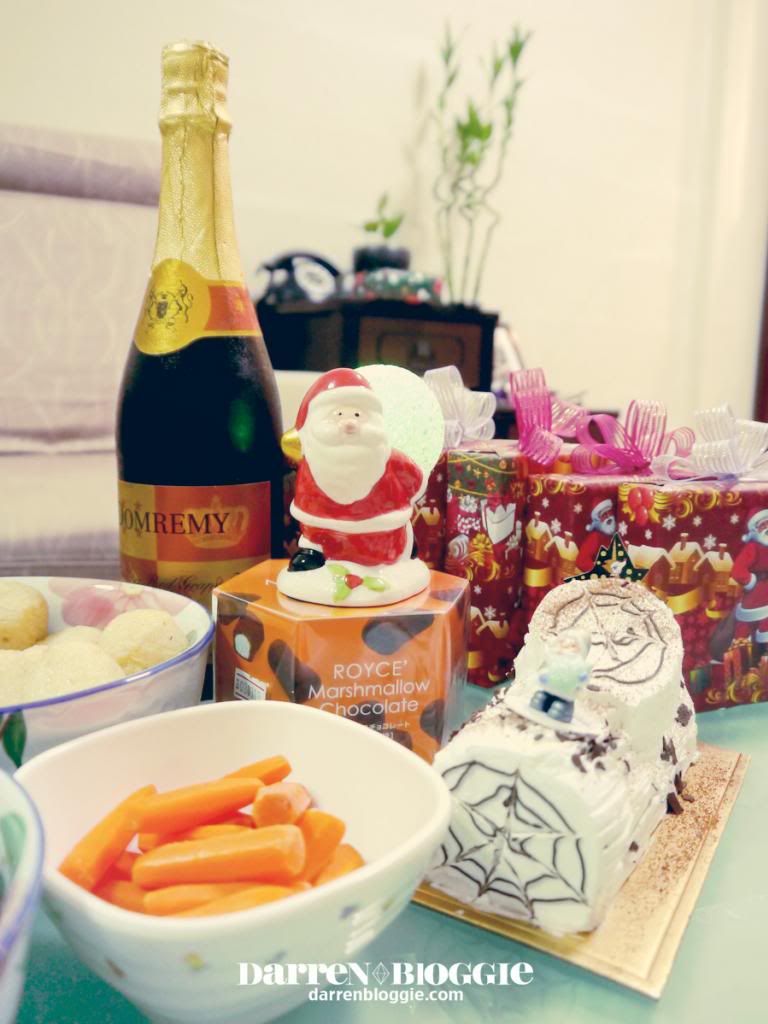 Group photo with my cute aunties and my mum 😉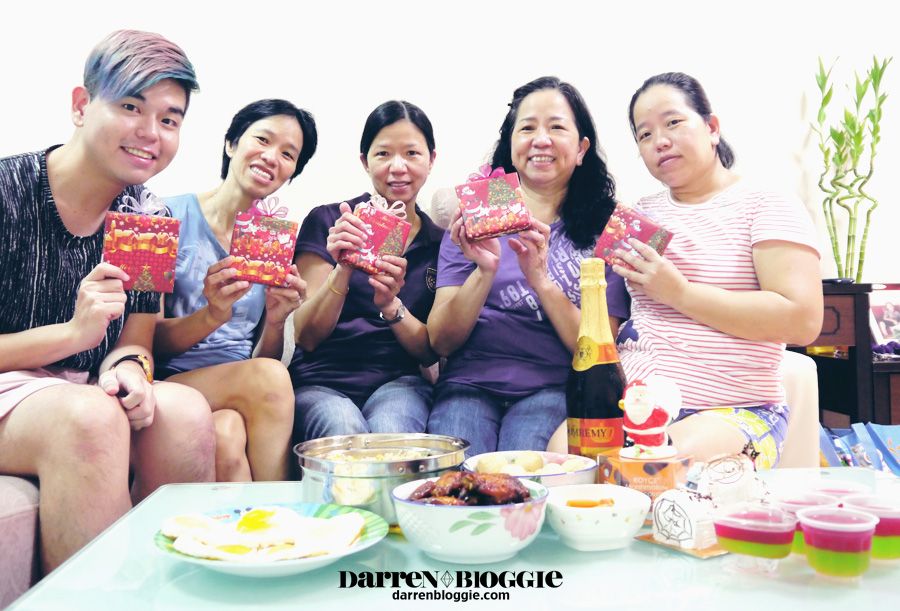 and the presents i received from the party!!! 😀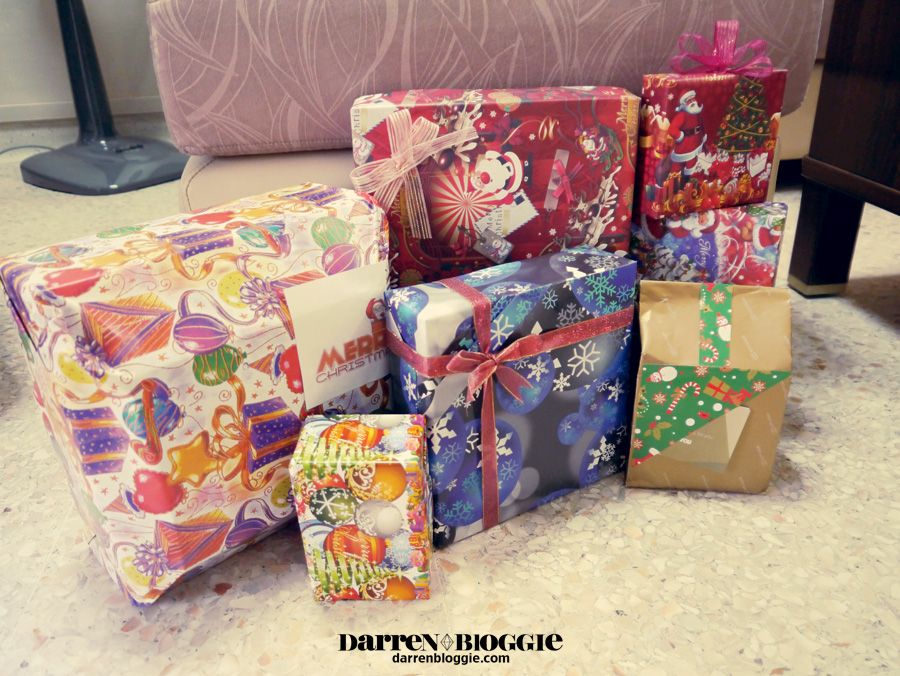 My last christmas celebration was spent with my BBFs!!! how can i miss them out right?! we had a simple BBQ session over at jamie's condo 🙂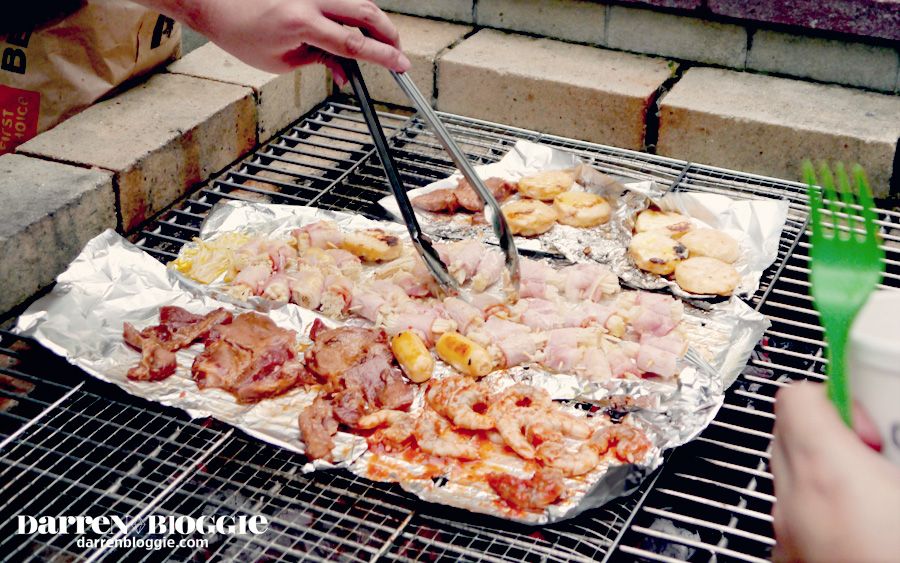 yummlicious food we have over here!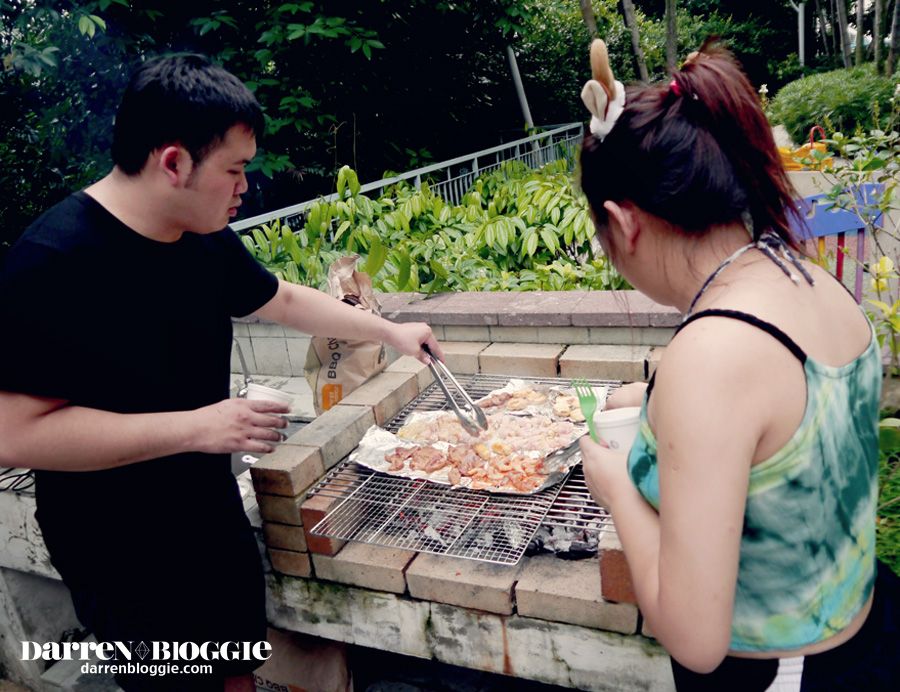 The newly-wed husband and wife… i just realized that i've not blog about it yet!!! hahaha~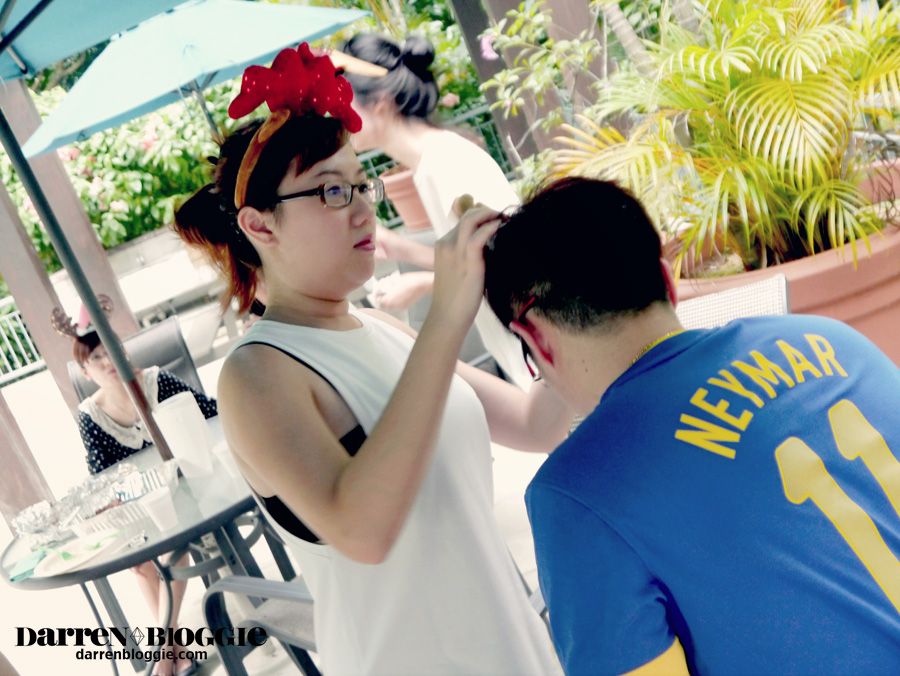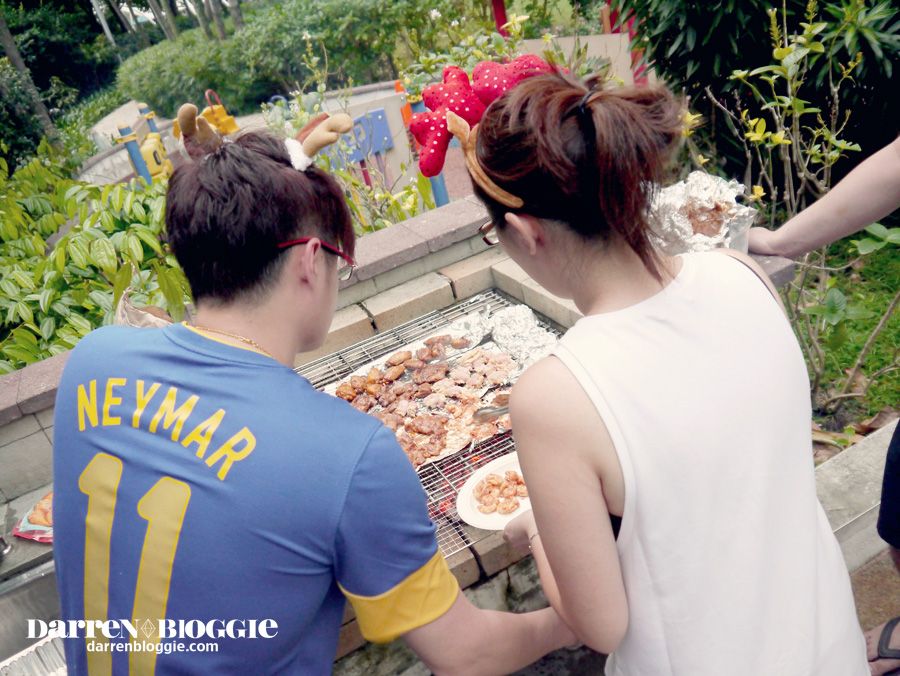 Food~~~ MORE Food~~~!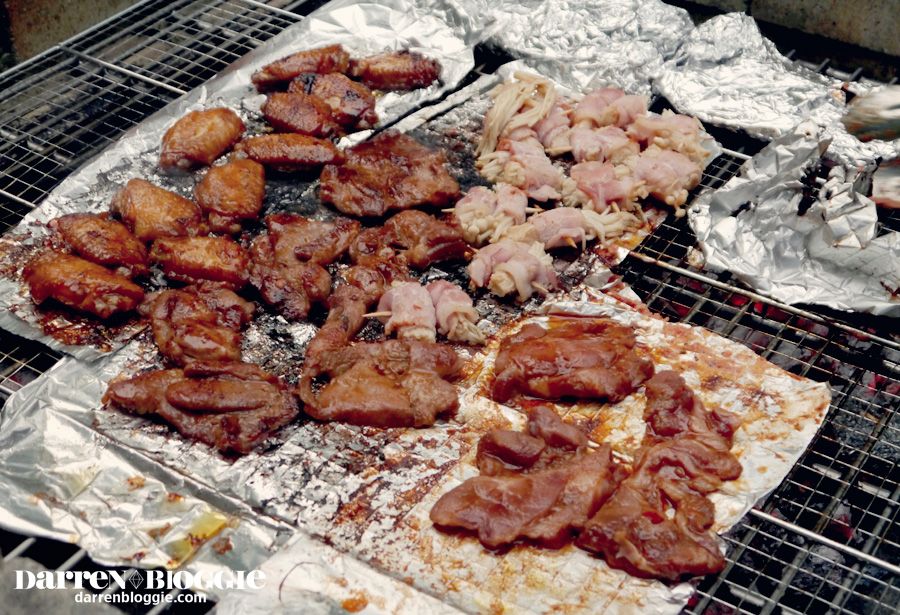 Camwhoring while waiting for the food to be cooked 😛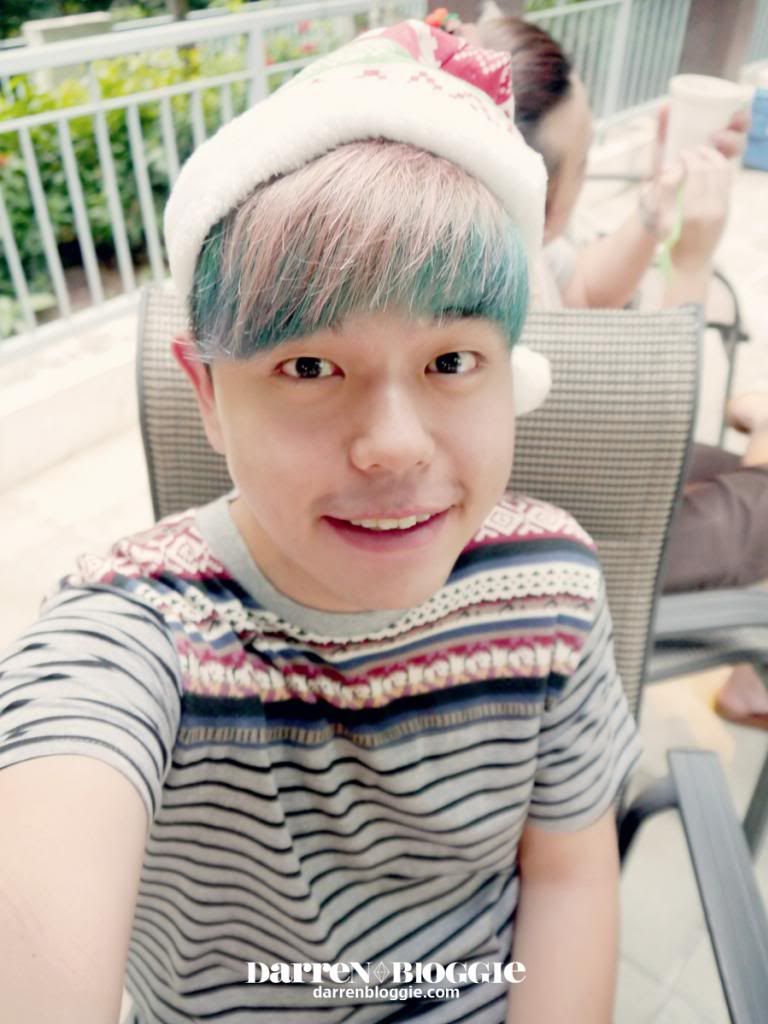 here we have KIKI!! first time joining us for xmas!! 😀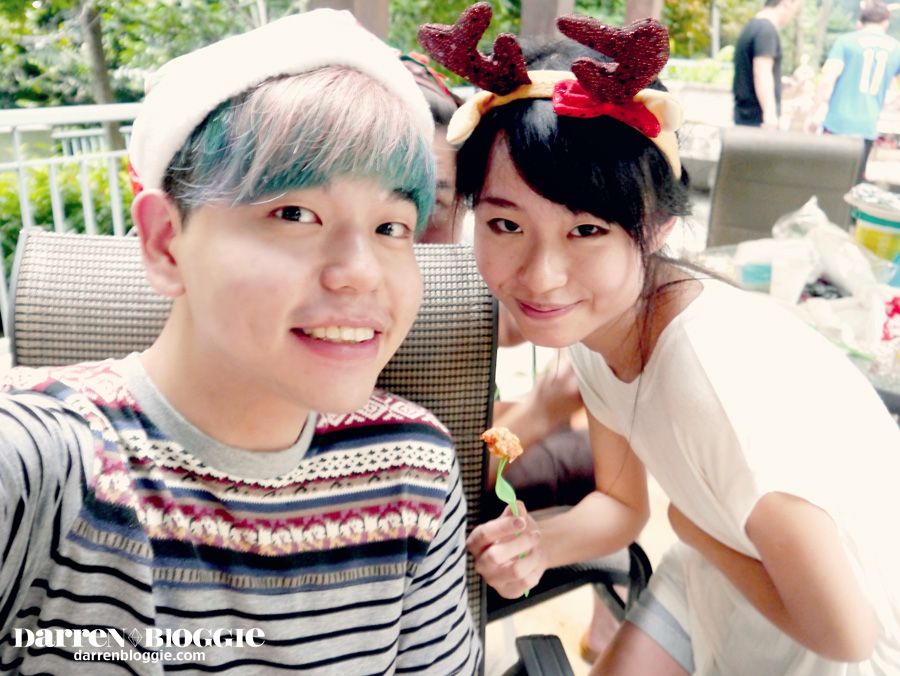 Jamie & Diana…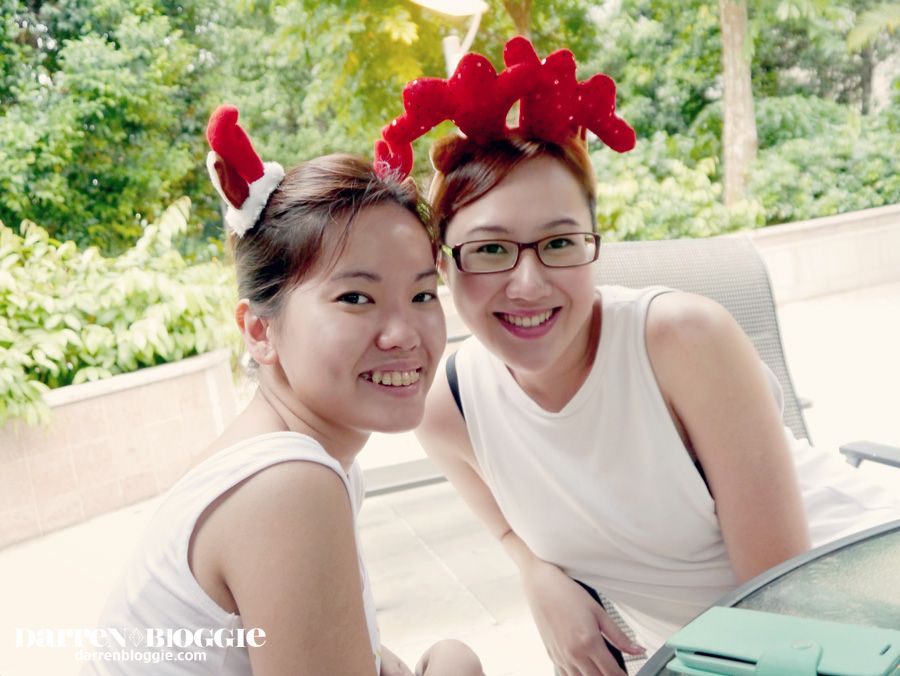 The ladies~~~
So we eat, drink, chit chat till the sky turns dark before we head up for the gift exchange! Soo excited !!! 😀
When they try to act cute in front of the camera.. 😛 hahahahaha~~~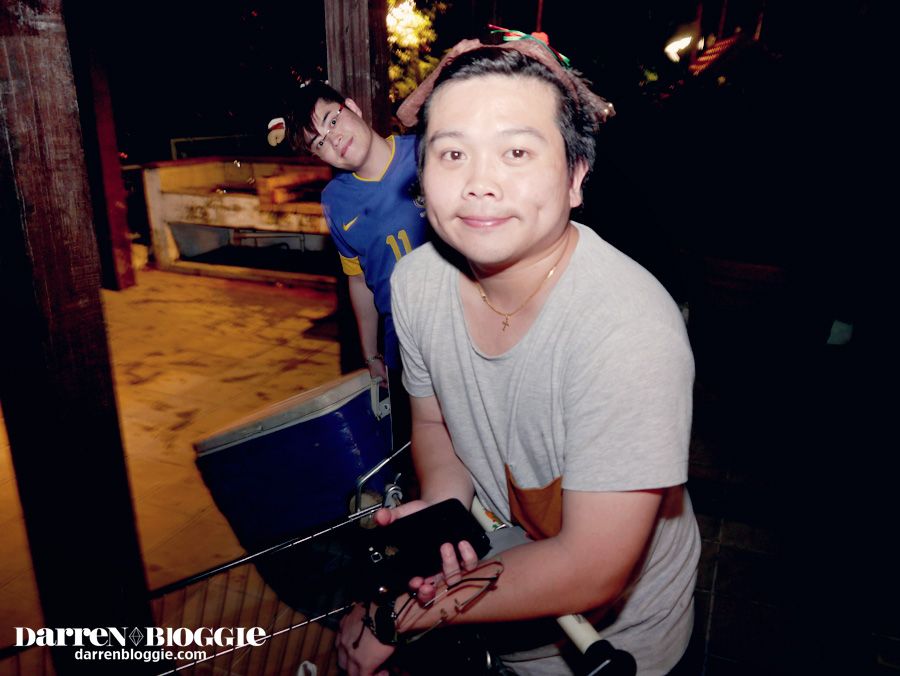 The santa and the reindeer 😛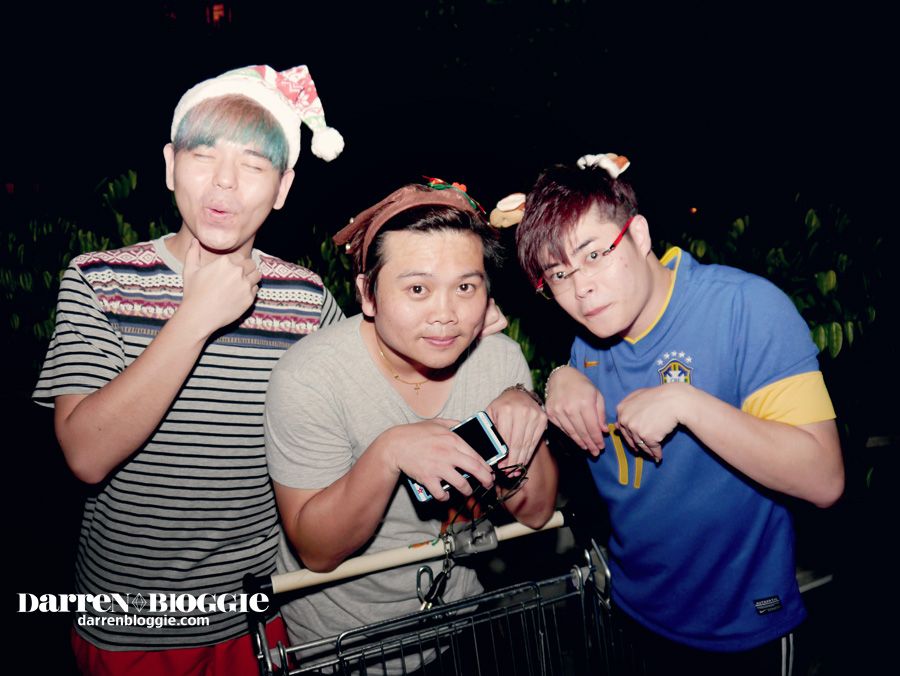 another pics of the ladies.. Noticed that im the only santa that night hahahaha!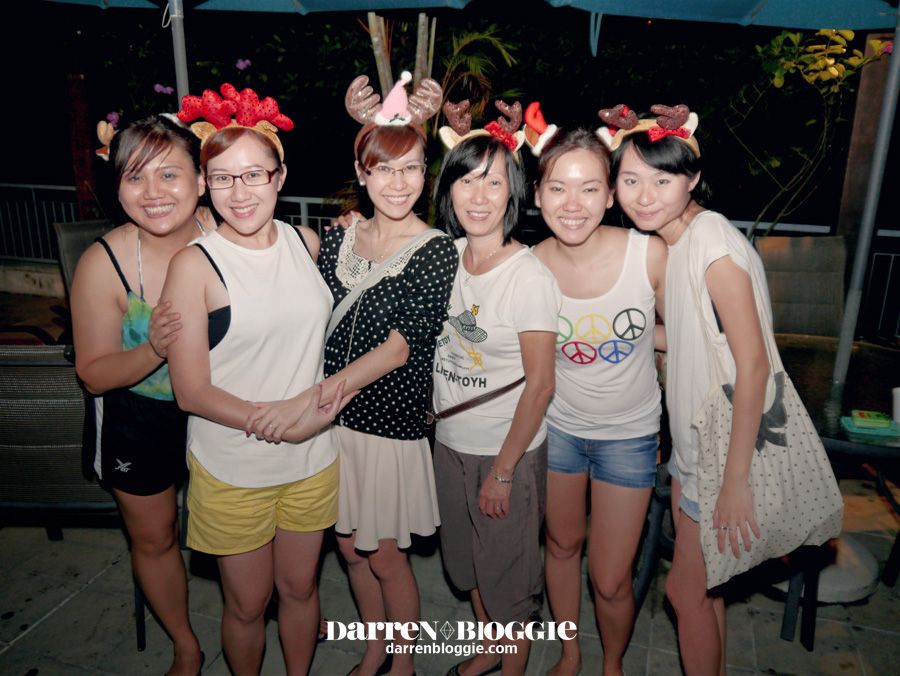 and it's time for gift exchange!!! it's the first time that we've soooo many presents and everyone wrapped their presents up SOOO nicely!!! da jia shi you yong xin de lor!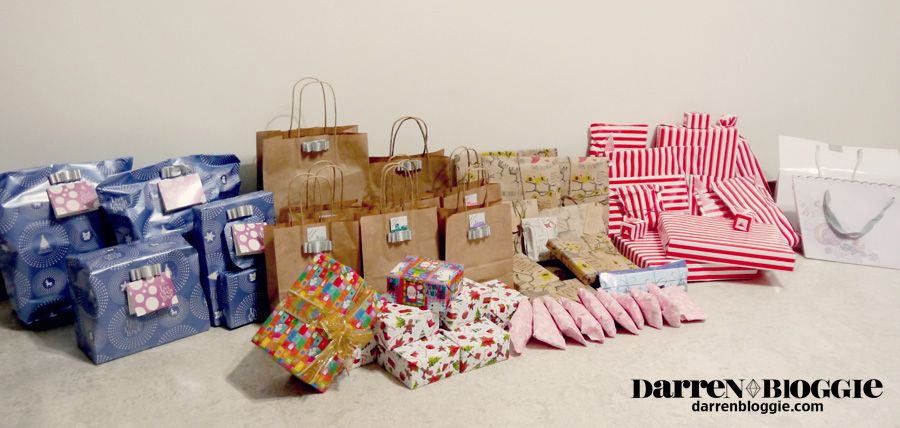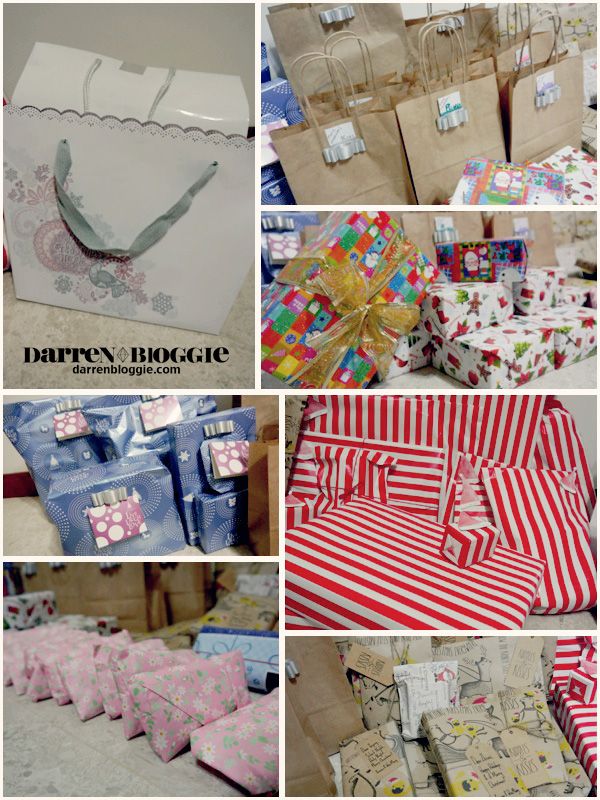 Camwhoring while waiting for everyone to settle down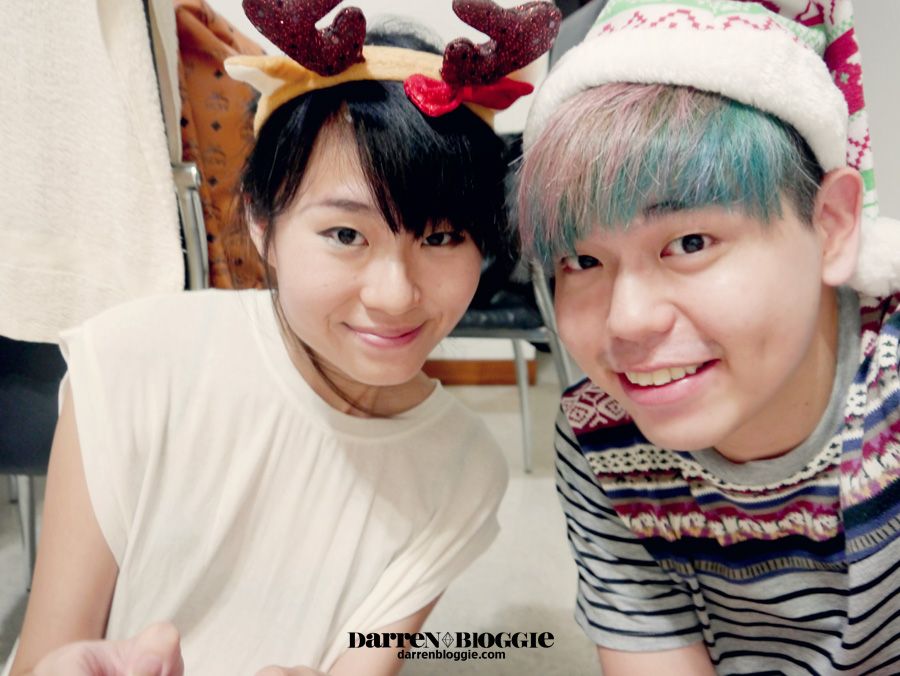 With Jasmine (also another new addition to our xmas party this year! 😀 ), kiki and peiwen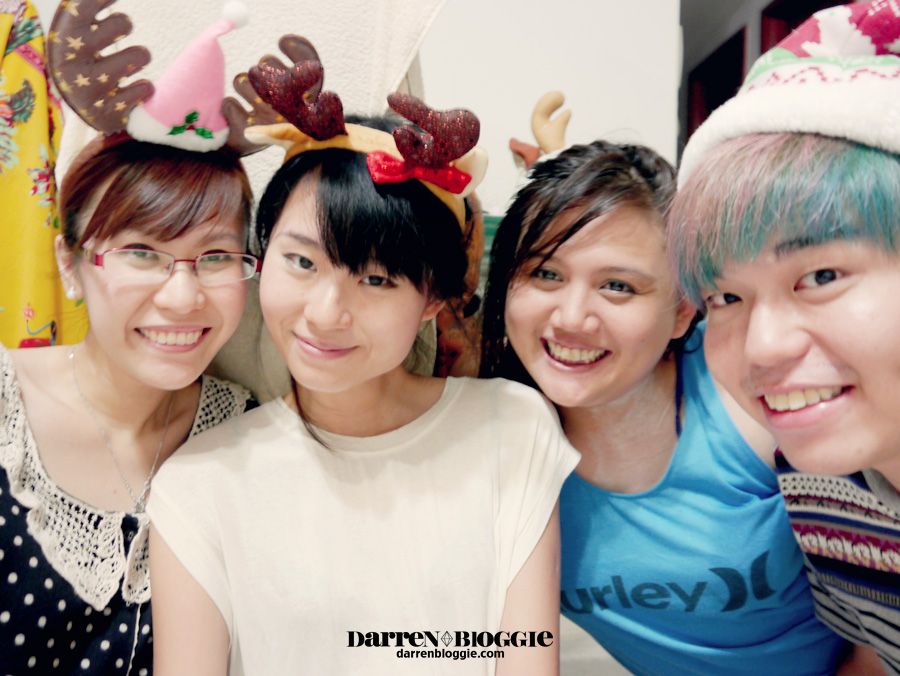 and the gift exchange begins! okay, i'm lazy to elaborate who exchange with who etc so i will just "PUMP" the pics here. you go figure them out if you are interested yeah… lolx!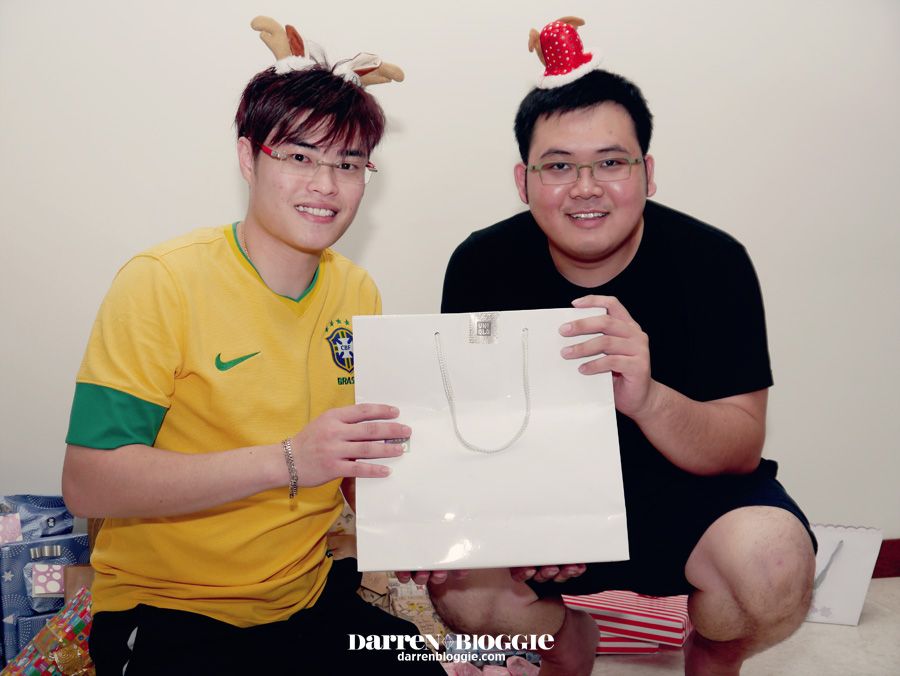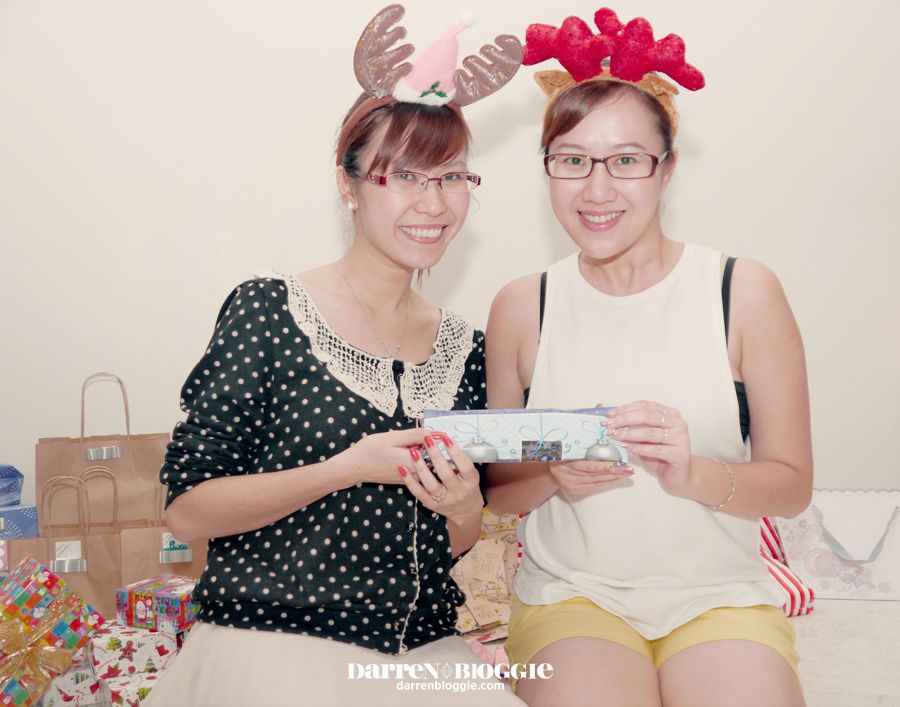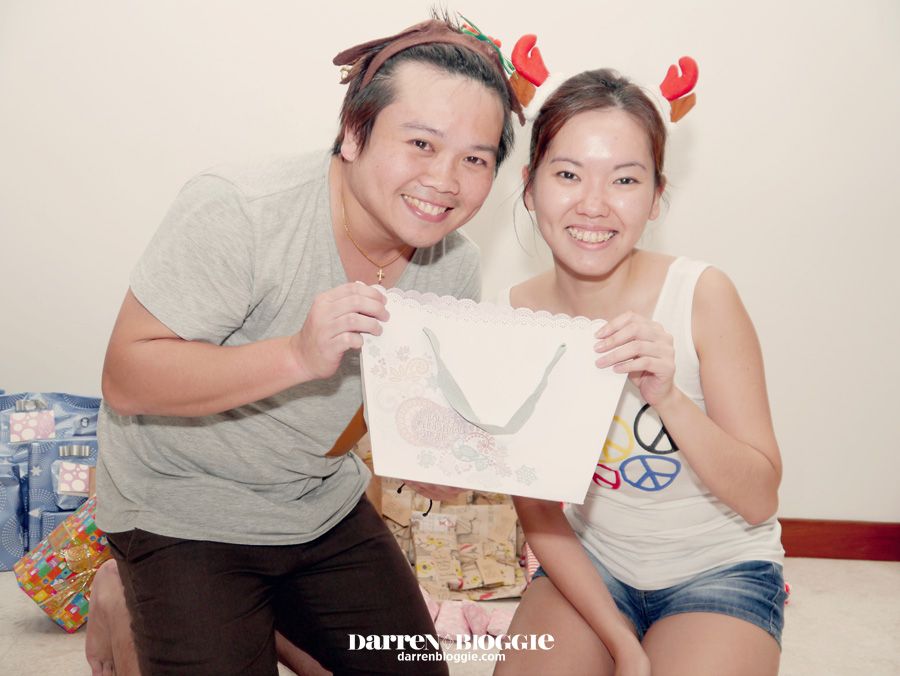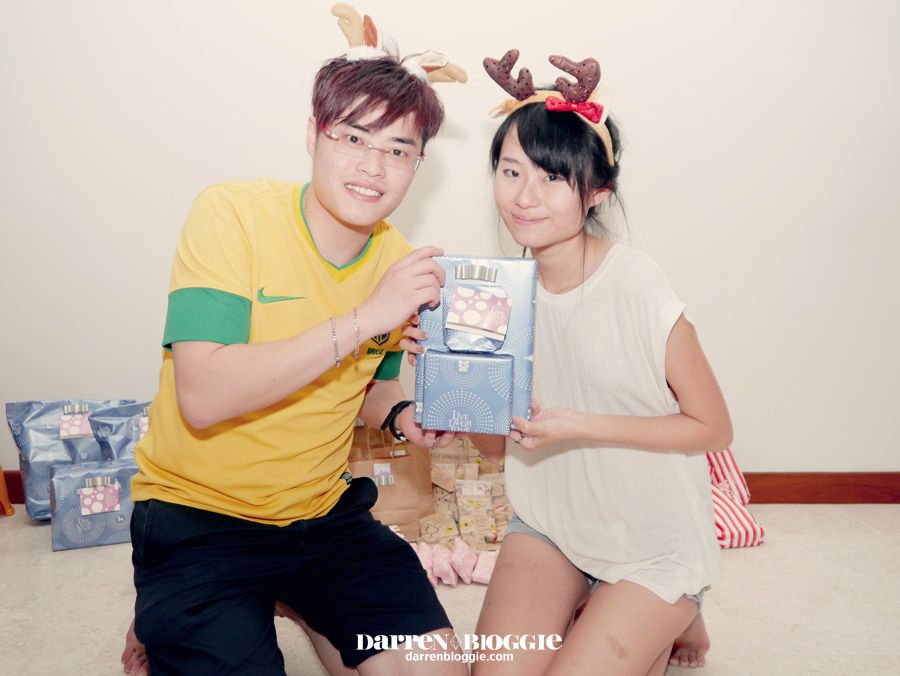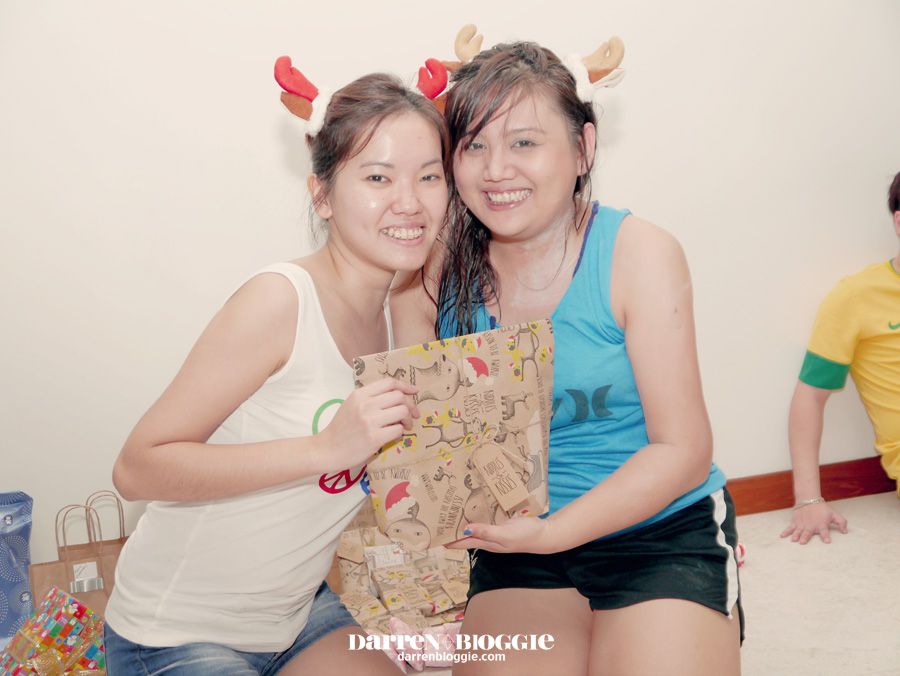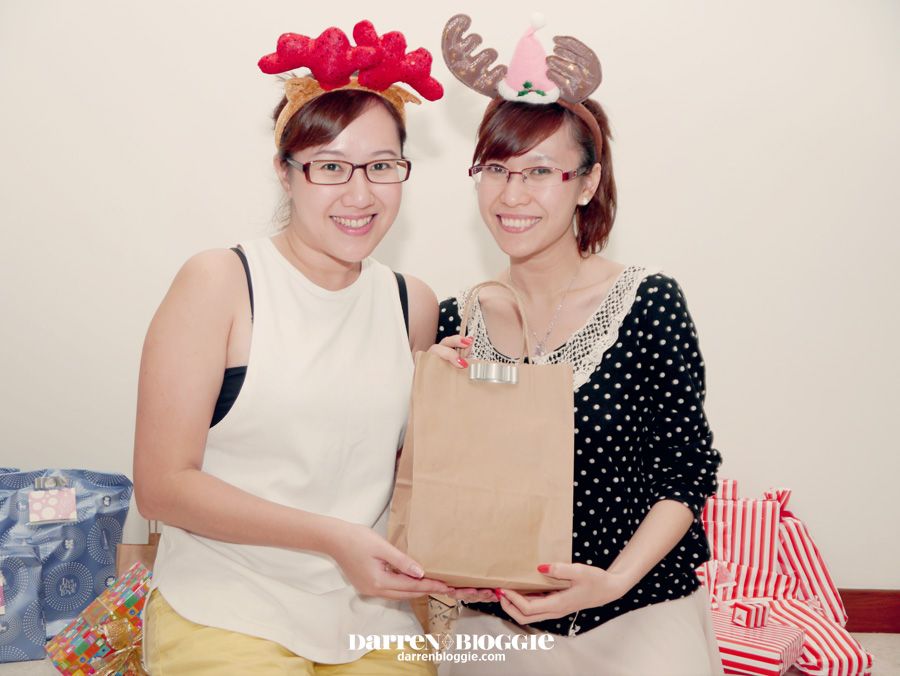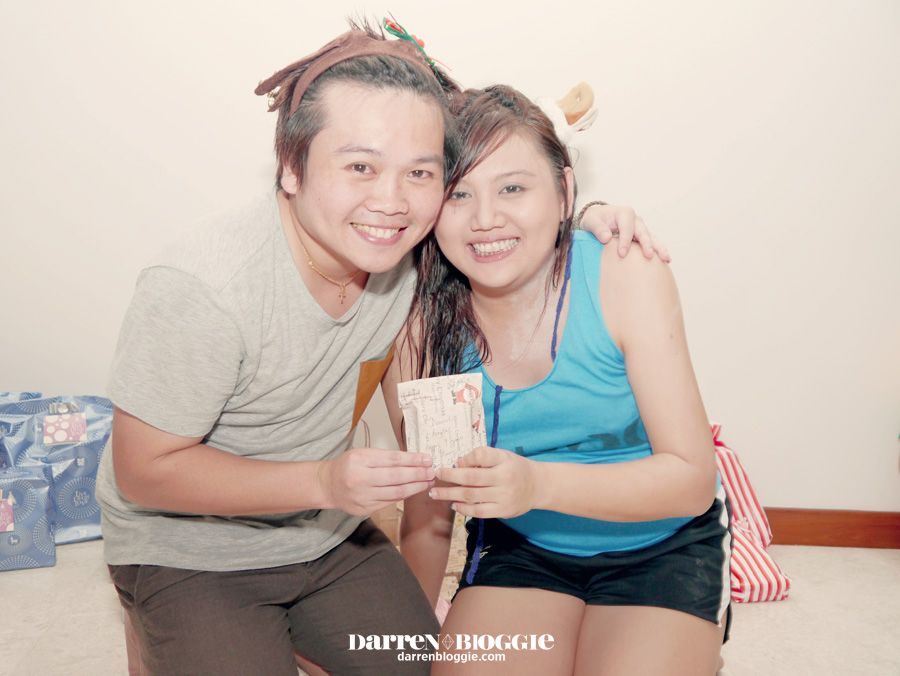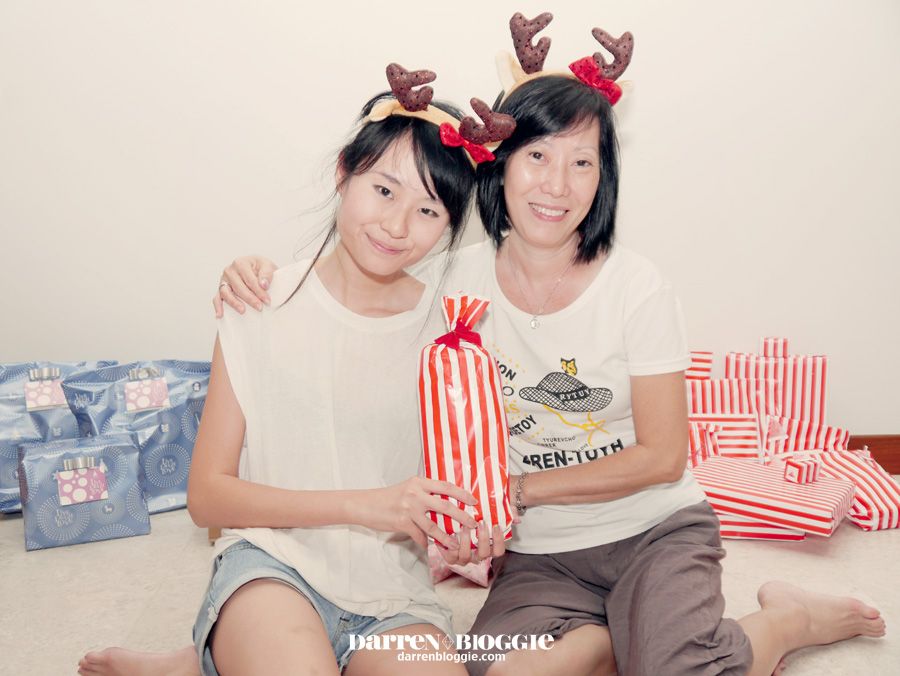 Everyone was so happy and excited giving out and receiving gifts from each other.. felt really wen xin! 🙂 after we're done with the exchange, we had cupcakes which i bought from the icing rooms and 2 bottles of moscato from my wine shop (*ps : they are having promo now. one bottle selling at $19.80 only!!)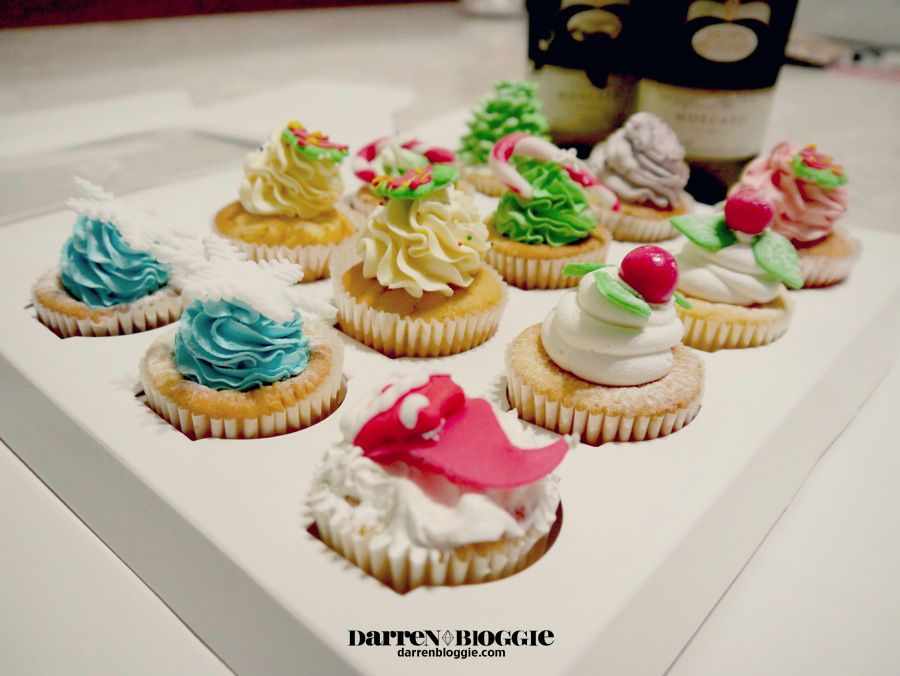 it was really a great night spent together with them 🙂 im sure and i hope there will be many many more years to come and i'm also thankful to have known every single one of you… and i really had a great time celebrating christmas with all my loved ones… Thanks to my amblove, my mum, my aunties, my bbfs and… you know who you are 😉 MUACKS!