Located at the 22 floor of the Courtyard by Marriott Singapore Novena is the beautifully designed Sky22. By day you will get an unobstructed view of the tranquil Novena district and by night a romantic setting that would surely impress your date.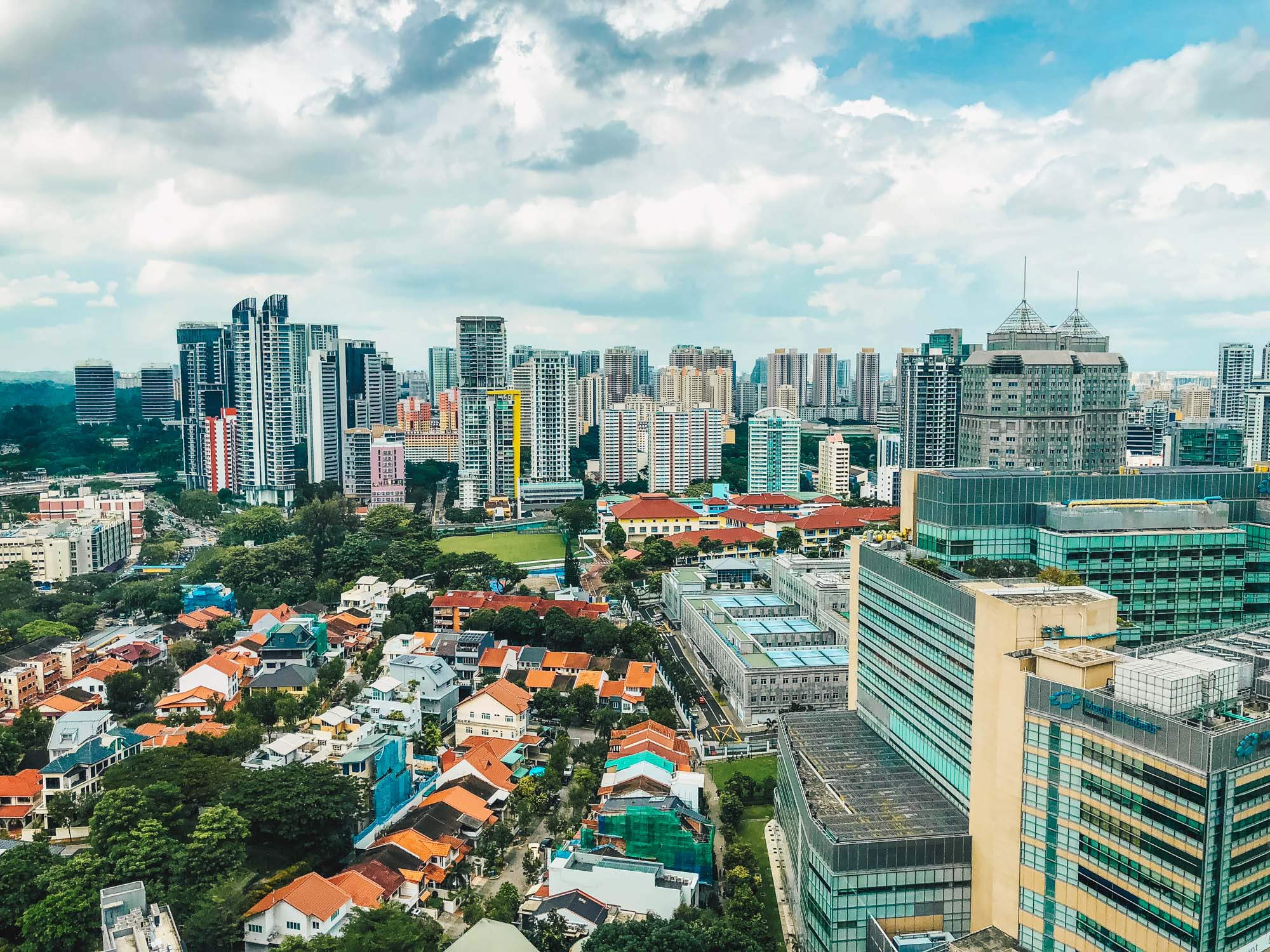 Views alone will not fill an empty stomach, we tried out a few signature dishes that are stars on the menu.
Appetizers
We started lunch with Nasi Ulam wild rice salad (22SGD) with charred octopus, long beans, fire-roasted sweet potato, organic betel leaf, ginger flower, crushed peanut, toasted coconut with an option to replace charred octopus with fresh salmon if you do not fancy octopus. This very unique dish presents a very textual feel to each mouthful filled with powerful hits from the varies spices. This is a hit or miss depending on your love of adventure in food and flavours. Personally the combination was too overpowering for me but was okay for Darren.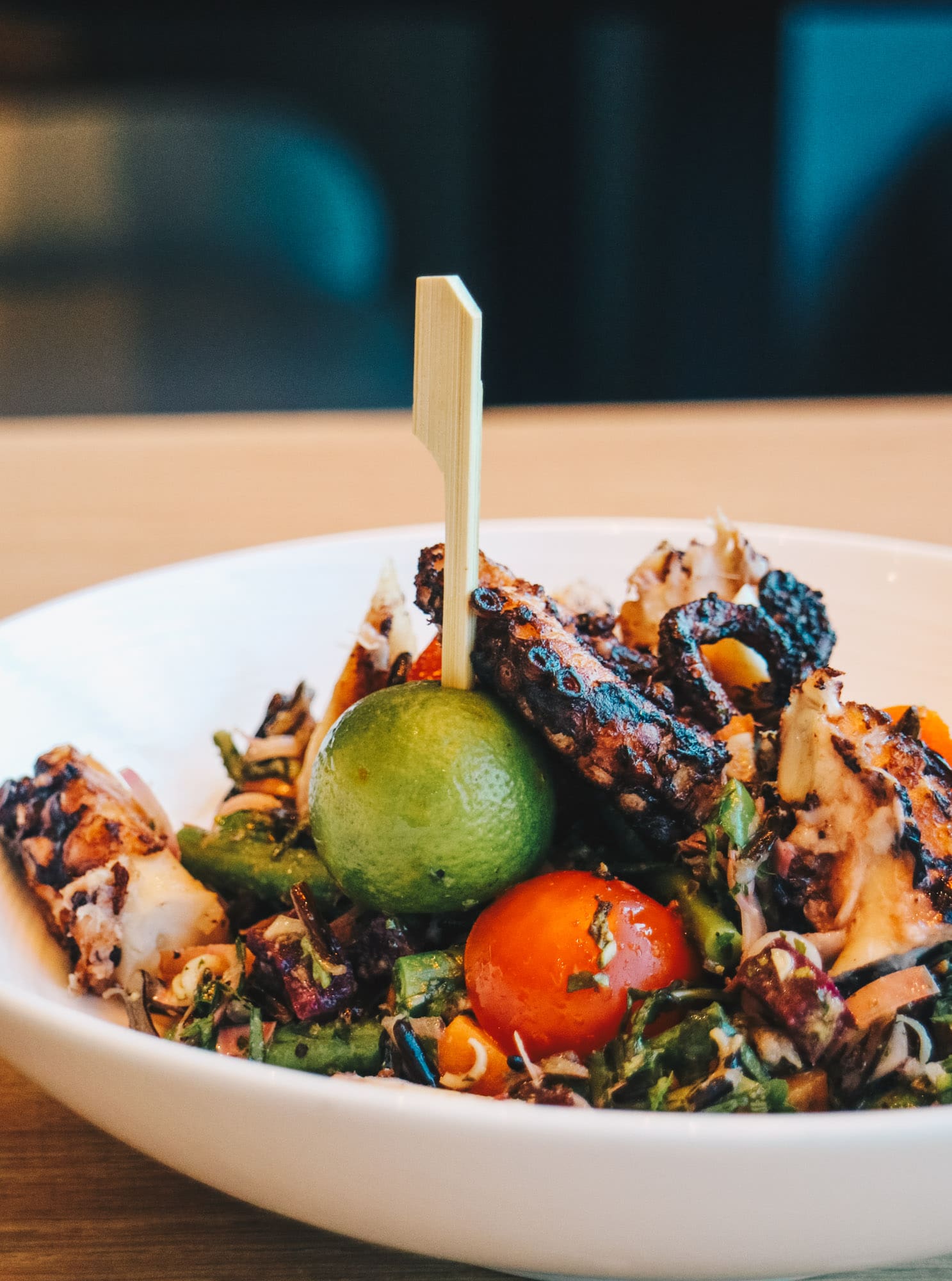 We continued with the Oven-baked Camembert Cheese (18SGD) Rosemary-balsamic Portobello  mushroom, arugula walnut pesto, grilled sourdough. This unassuming appetizer was quite a surprise in terms of combination of taste. The over baked camembert was creamy and well balanced by the slightly earthy flavours of the Portobello. The rosemary and balsamic cut through the thickness and the walnut pesto brought a binding element to the dish. Simple and delicious.
Prosciutto & Belgian Endive Salad (22SGD) Fire-roasted Japanese pumpkin, caramelised fig, savory granola, pomegranate dressing is light and healthy salad that boost plenty of health foods like pomegranate (high in Vit C) and figs(high in fiber and essential minerals). The dish was tasty and had varies crunchy touches from the granola.
For something more sinful, go for the Singapore Chilli Crab Pizza (26SGD) with pickled Spanish onions, red chilli and scallions. The pizza had an authentic chill crab flavour and portions great for sharing. We really liked that it was thin crust and cooked in a wood fire oven. I was glad that the chef decided not to drown the pizza in crab sauce, preserving the crisp bite of the thin crust.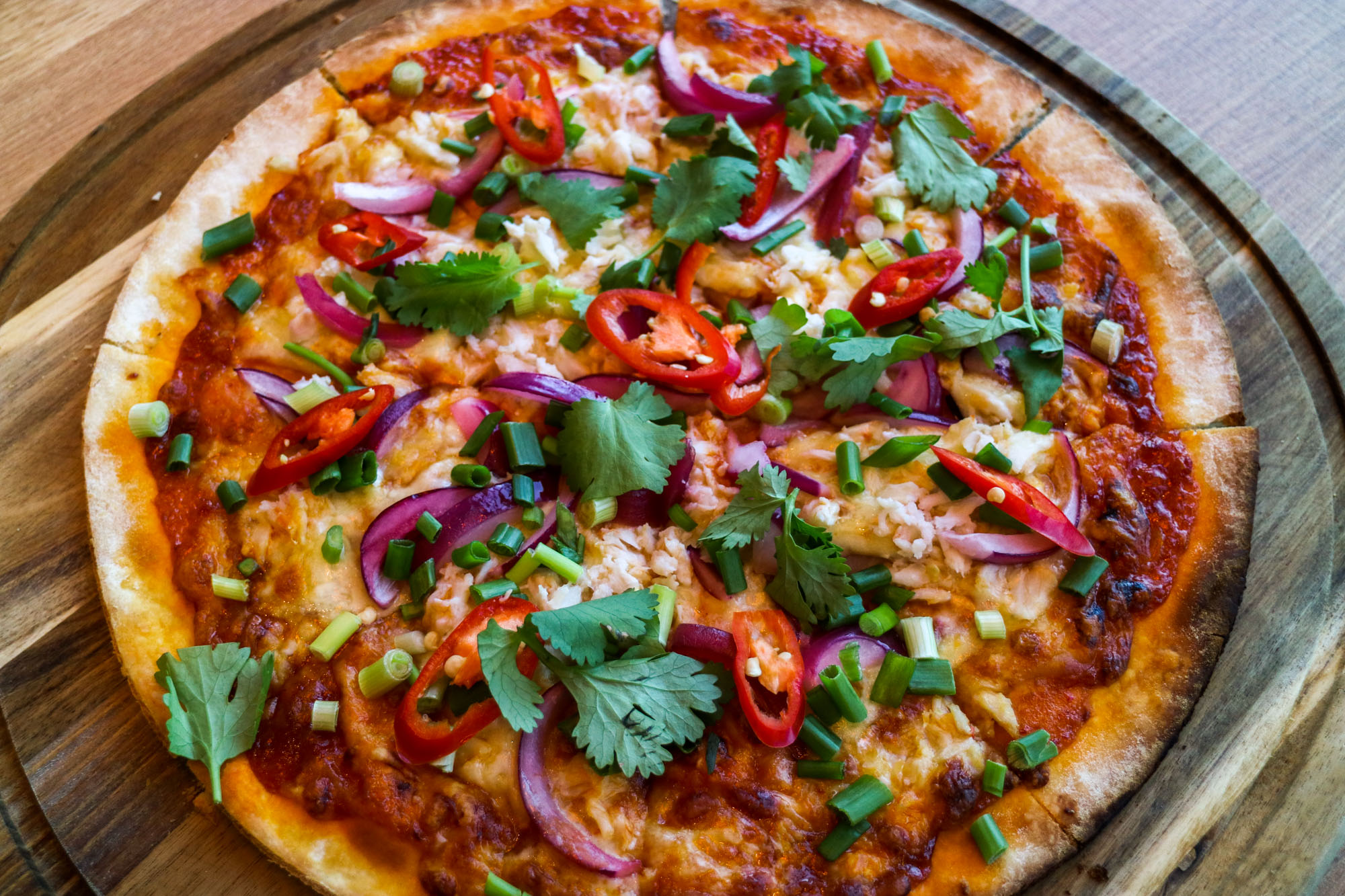 Mains
We also got to try the Sky22 Tiger prawn Laksa Lemak (24SGD) as the name suggests it is truly very Lemak! The thick gravy laksa was flavourful and very much different from the watery versions at hawker centers. The juicy grilled tiger prawns were fresh and the added smoky flavour from the grill gave a different dimension from the usual boiled prawns. We would highly recommend to try Sky22's version.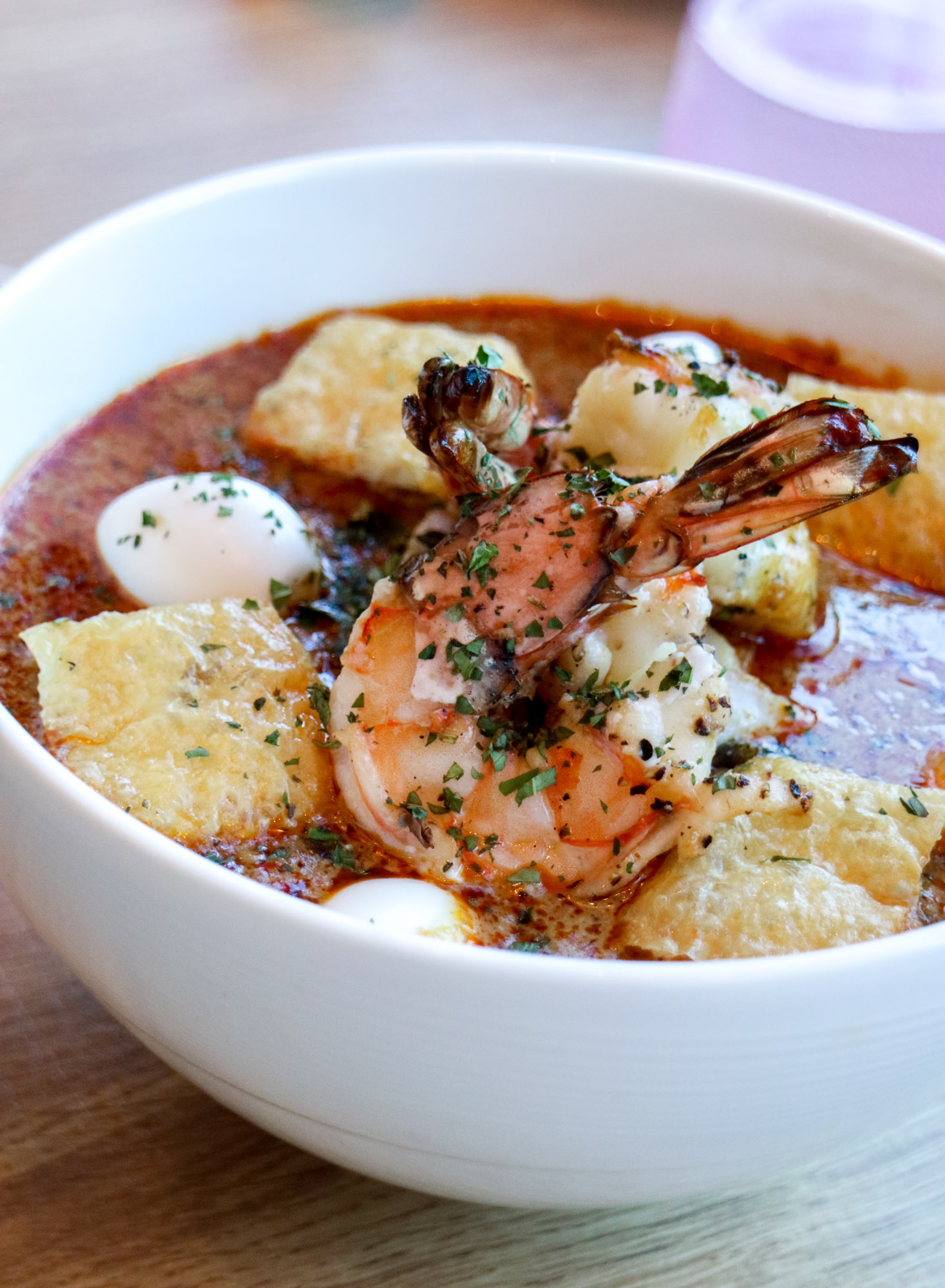 Pan Seared Red-Spotted Grouper (28SGD) with red cherry shrimps, sambal oelek, okra, pearly barley, turmeric coconut cream, Vietnam mint. The cooked to perfection fish had crispy skin that was well seasoned. The surprise on the dish came from the Okra cooked with pearly barley. A unique pairing that was tasty and a good starch to  accompany fish.
The Iberico Pork (36SGD) with Chinese spinach and over-baked baby radish came with hummus as a dip. We could not really taste the yellow soy beans but overall the pork was well cooked and the hummus dip added an interesting flavour profile that worked well.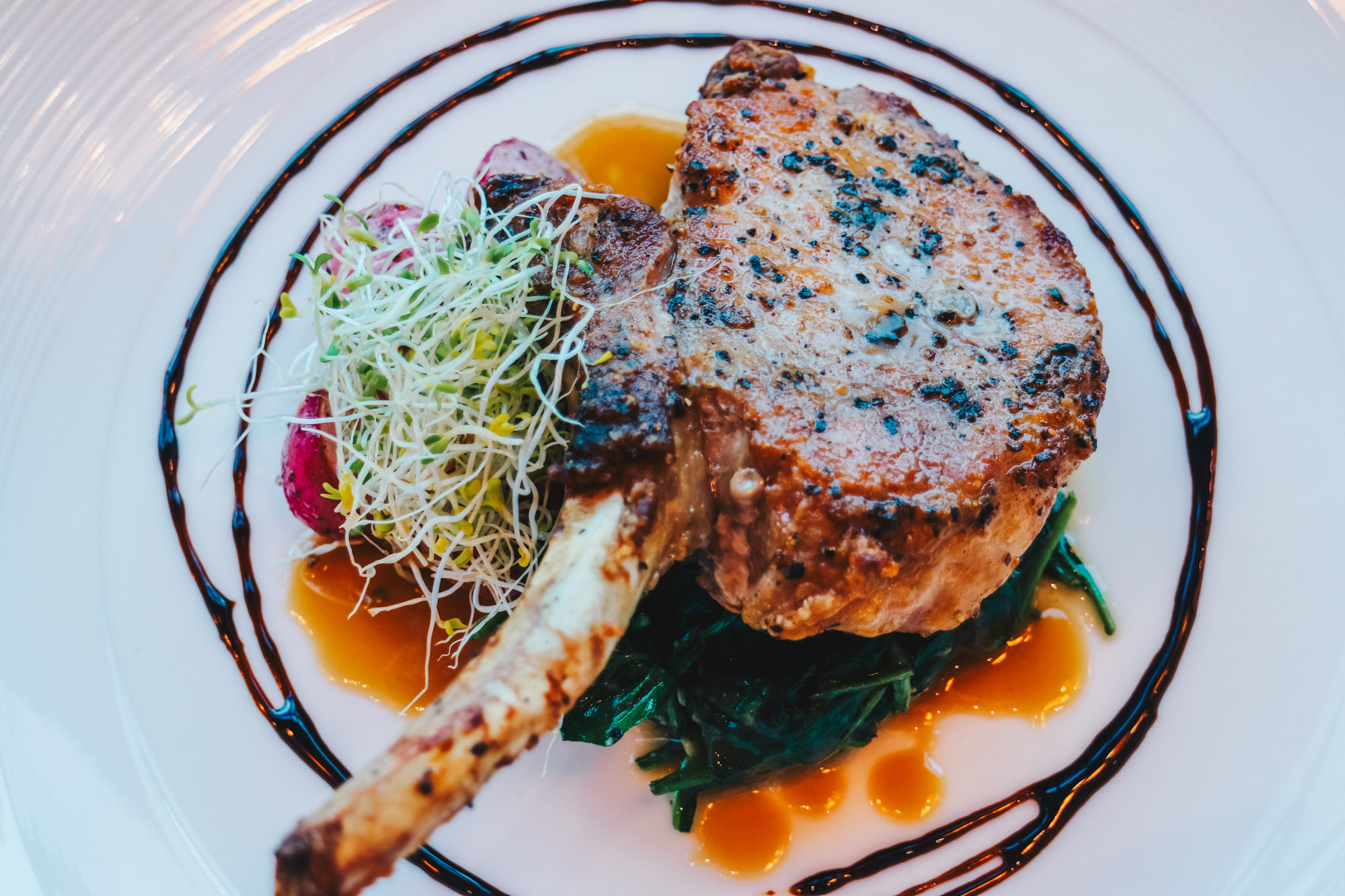 Desert
We ended the meal with the SKY 22 Bubur Cha-cha Cup (12SGD) the dish came with a medley of sweet potato, yam, sago, banana, pandan jelly and coconut ice-cream. The dish is yummy and not overly sweet however we felt that it did not really embodied the original expected flavours of bubur cha-cha.
In Closing
Overall Sky22 provides good food on a lazy afternoon accompanied with tranquil views or a romantic evening with potential date. If conversations run dry the interesting food elements and calming views might just help fill in that gap. Innovations from Chef John Chye offers familiar international dishes that are paired with essence of Asian flavours.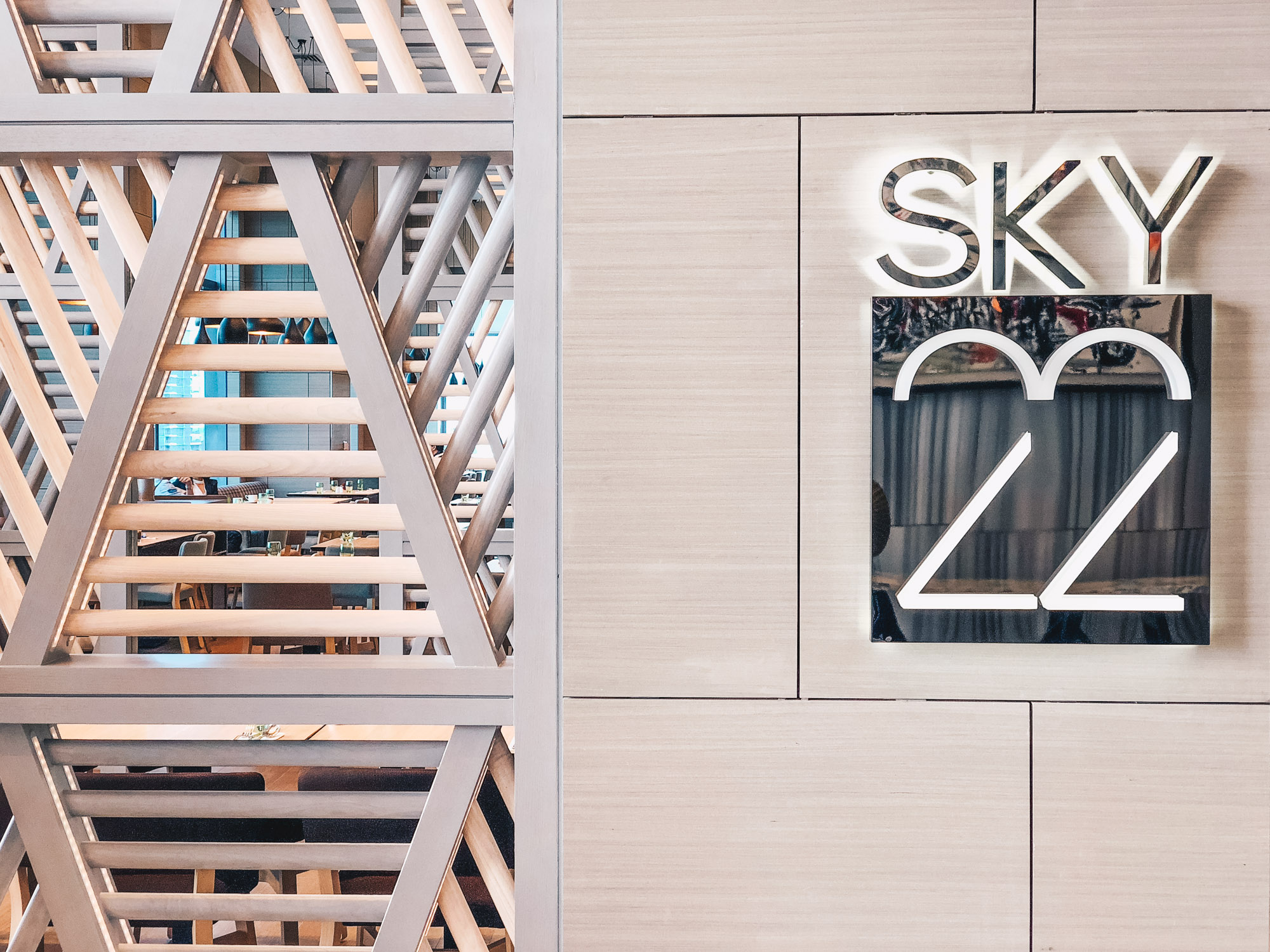 Sky22
Courtyard Singapore Novena
99 Irrawaddy Road, Novena,
Singapore 329568
http://www.marriott.com/hotels/hotel-information/restaurant/sincy-courtyard-singapore-novena/

This was an invited tasting, though all opinions expressed are our own.