As age is catching up on me and most of my friends are getting married lately, i'm sure most of my readers who are growing together with me are in the stage of getting married as well right? haha~ Therefore i've an interesting topic here to blog about this time round! Special thanks to Wedding Acts for inviting and Alila Uluwatu for hosting, I managed to go behind the scenes with Jonathan, the wedding director of Wedding Acts, on a trip to Bali for setting up a romantic wedding by the cliff at Alila Uluwatu 😉
Before i proceed, let me tell you more about Wedding Acts. Wedding is a joyous occasion but the planning stage can be a nightmare to some. Since it's a once in a lifetime BIG occasion of yours, you will definitely want to have the best and a memorable wedding right? Why not save the hassle and get a wedding planner to solve this for you? All you need to do is to make decision and get yourself ready for your big day.
That's what Wedding Acts is all about! They are constantly seeking to make each wedding a unique one by giving you recommendations for the perfect venue based on your desired destination and begin planning a wedding that truely belongs to you! 🙂 Be it a destination wedding, which is extremely popular nowadays, or a local Singapore Wedding, Wedding Acts is here to help set the stage for you.
OK~ enough said.. shall we begin the journey to setting the stage in Bali? Here we go~
11 Sep 2014 | 5:00PM
Singapore Changi International Airport
Ready to set off! 🙂
Had a good dinner upon reaching Bali, checked into our villas and chill the night off before starting work proper the next day morning 🙂
12 Sep 2014 | 11:00 AM
The Library @ Alila Uluwatu
As a wedding planner, there's alot of things that you need to co-ordinate with and the key important people that the planner need to meet got to be the representative from the hotel as well as the venue set-up vendors, including the florist etc.
So a meeting was arranged at 11:00am at The Library in Alila Uluwatu, where it's good for holding small discussion, or to do some leisure reading or work. There's also MAC station available in there too for your usage.
Meeting in progress… Do Not Disturb 😛
Here's Ari, the representative from Alila Uluwatu. Which will be taking charge of the F&B and other logistics needed from the resort.
That's Nefi and her son Ryan from Nefi Decor which will be taking charge of the set-up as well as the floral arrangement 🙂
Pretty Wedding Invitation & Stationary  from The Card Room 🙂
while they are busy with their discussion, let me camwhore abit 😛
12 Sep 2014 | 1:00 pM
One bed-room Villa @ Alila Uluwatu
After we are done with the meeting, we went for lunch before heading back to our room to prepare for the rehearsal with the couple later in the afternoon.
going through the rundown…
we are both serious at work LOL 😛
12 Sep 2014 | 3:00 pM
Three bed-rooms Villa @ Alila Uluwatu
Time to meet up with the brothers, sisters as well as the parents and wedding couples for a proper rehearsal before their big day. Jon is really someone which take very good care of everything. He make sure everyone know what to do and what's their role. He even have to do LIVE demonstration on how to walk your way down the aisle, where to place your hand at etc. Most importantly, he managed to make the rehearsal into some fun and not so serious as you can hear lots of laughter throughout hahaha~
The rehearsal didn't take very long. After we are done, the rest of them continue with their activities while Jon continue with his work. We met Nefi and Ari again to discuss on the set-up for the wedding dinner, which will be held in the 3 bed-room villa itself. Yes! at Alila Uluwatu, you can bring your wedding dinner or events into the villa itself, giving it more exclusivity and privacy 😉
Watch this space below and see how it's going to be transformed! 🙂
13 Sep 2014 | 11:00 pM
Three bed-rooms Villa @ Alila Uluwatu
Rise and Shine! It's one day before the wedding day and it all the items needed had arrived. It's time to start work now!
and here's how it looks like before we went for lunch 🙂
13 Sep 2014 | 2:00 pM
Three bed-rooms Villa @ Alila Uluwatu
Progressing really fast! 😀
13 Sep 2014 | 7:00 pM
Sundara @ Four Seasons Jimbaran
The couple hosted the guests for a Pre-Wedding Welcome dinner at Sundara @ Four Seasons Jimbaran. Perfect venue for the beautiful sunset in Bali!
Reserved this space for your event here at Sundara @ Four Seasons Jimbaran with a min spend of 7000USD and you will get delicious buffet dinner and alcoholic drinks accompanied with beautiful sunset 😉
13 Sep 2014 | 9:30 pM
Three bed-rooms Villa @ Alila Uluwatu
Back to the villa and checking on the progress of the set-up. Testing out the lighting before the couple and guests returned back from their dinner. Looking good so far right?!
14 Sep 2014 | 8:30 AM
Three bed-rooms Villa @ Alila Uluwatu
Today is the DAY! Everyone is busy preparing and getting themselves ready for the wedding ceremony in the morning. Let's check out how the make up artist from Lona Make Up Bali dolled the ladies up! 🙂
Hmmm… let's see what the bridesmaid prepared for the groom and brother's breakfast 😛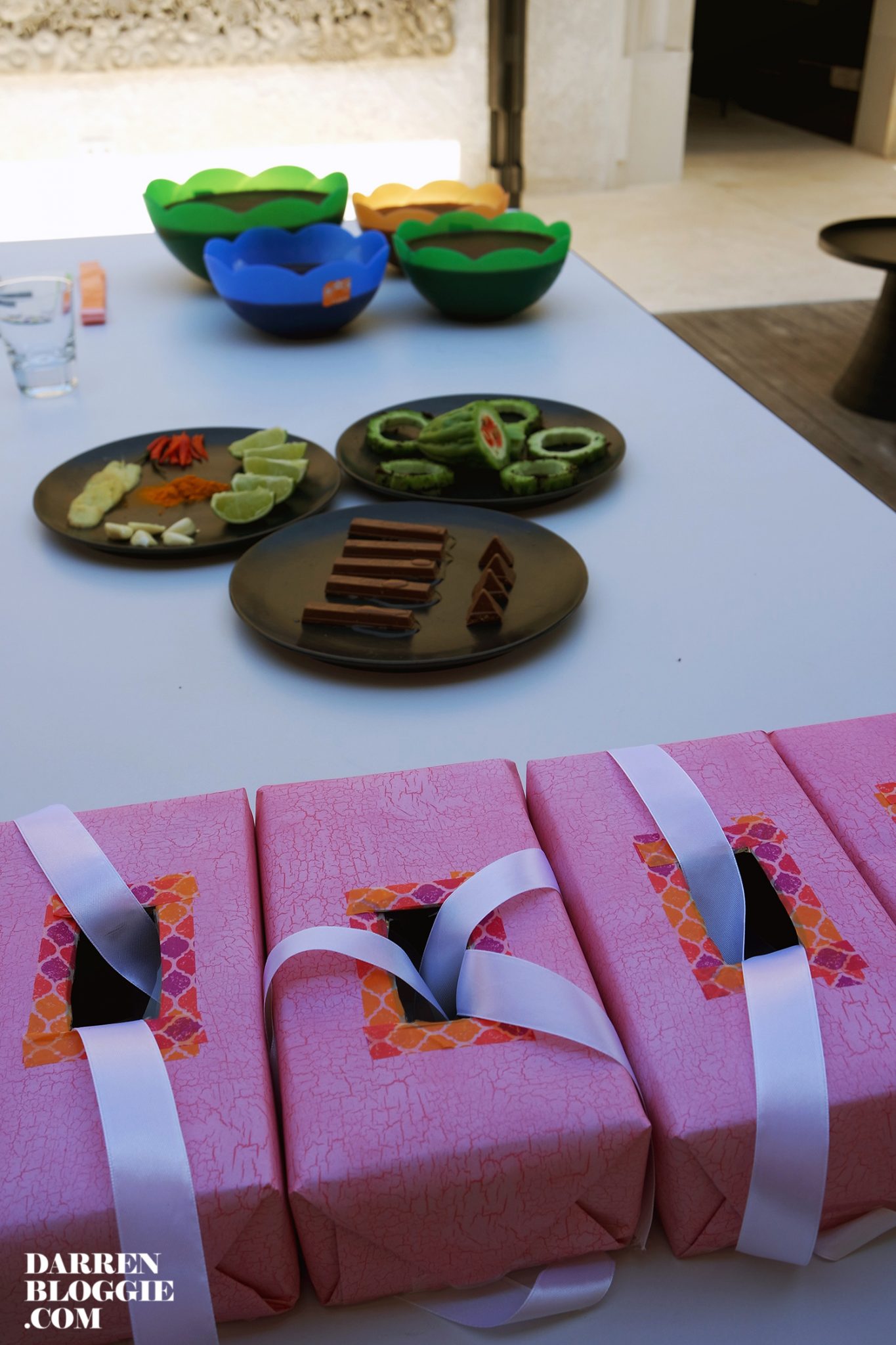 All ready, waiting for the brothers and groom to arrive… and here they are!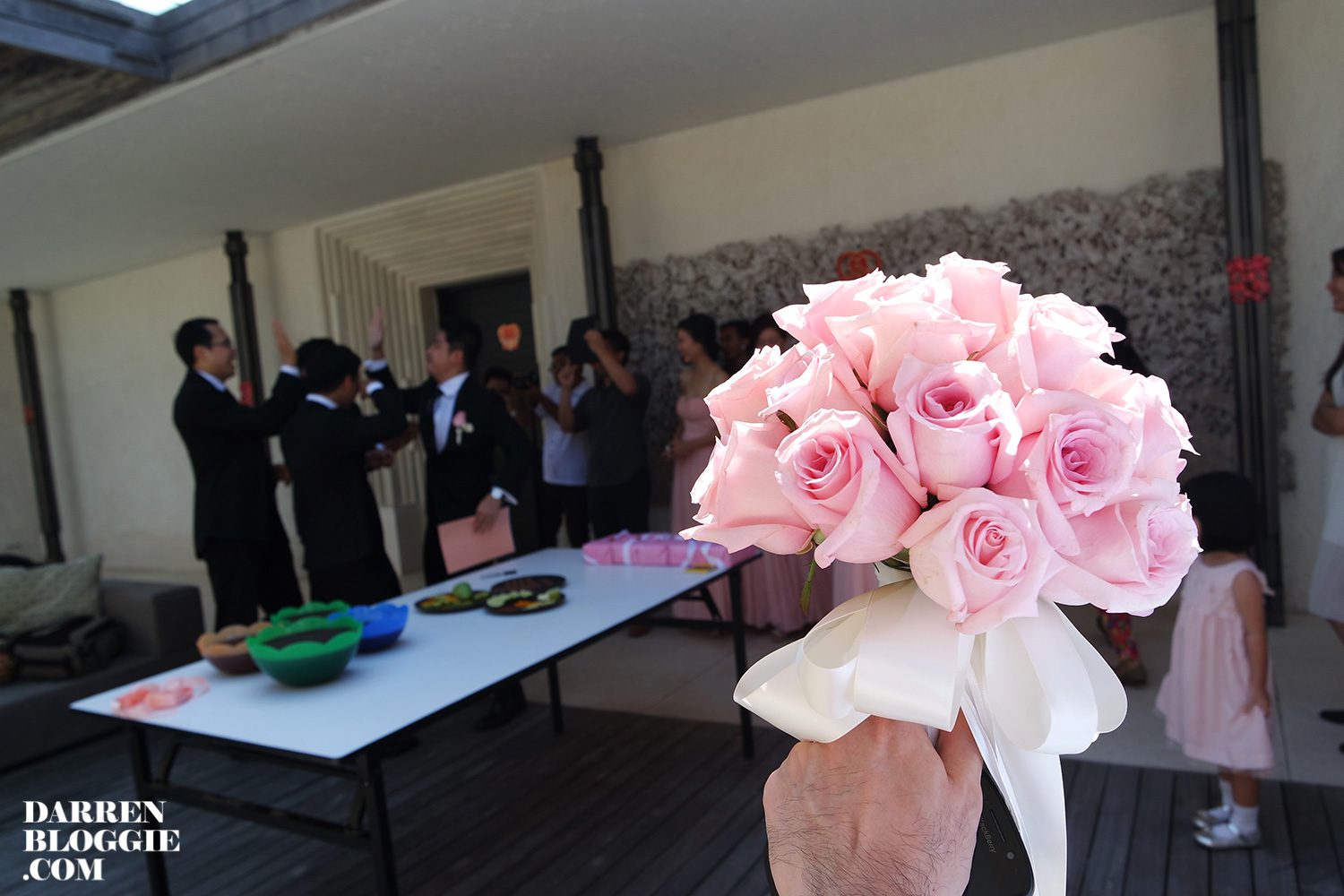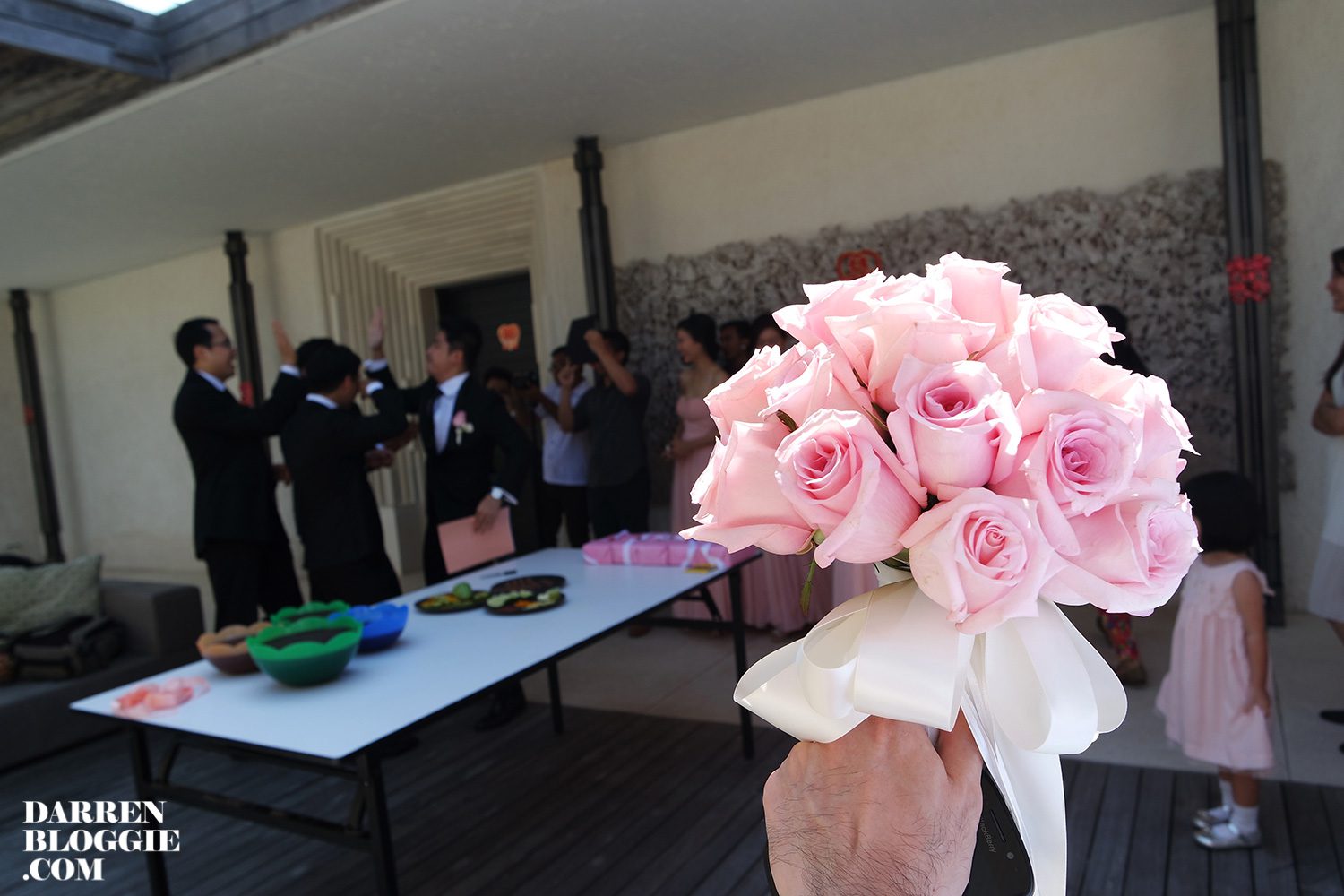 and after the tea-ceremony and photo taking by Photo Factory, we're done with the morning ceremony. While the groom and bride went off for more photo taking, Jon headed back to check on the progress of the set-up for the dinner tonight.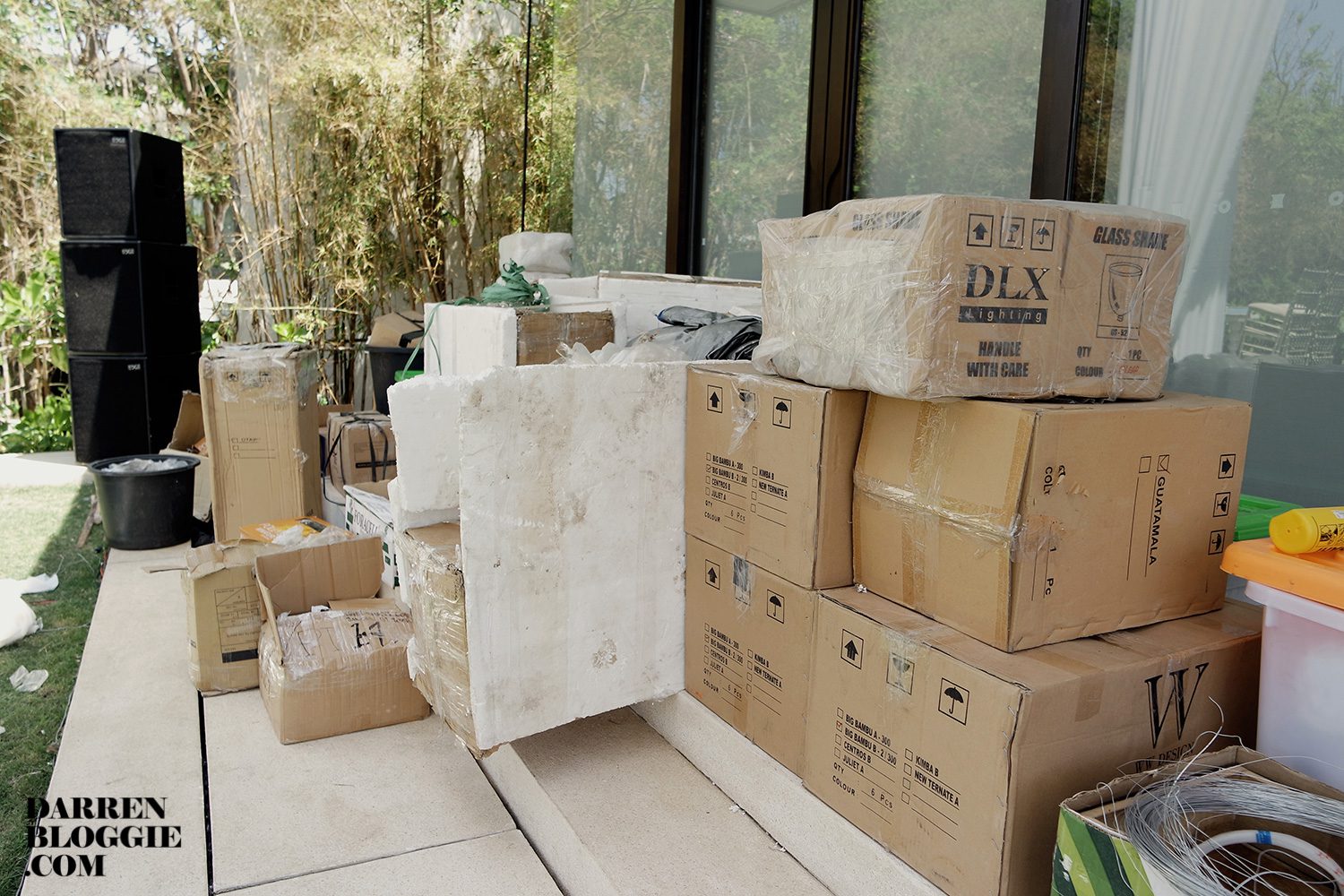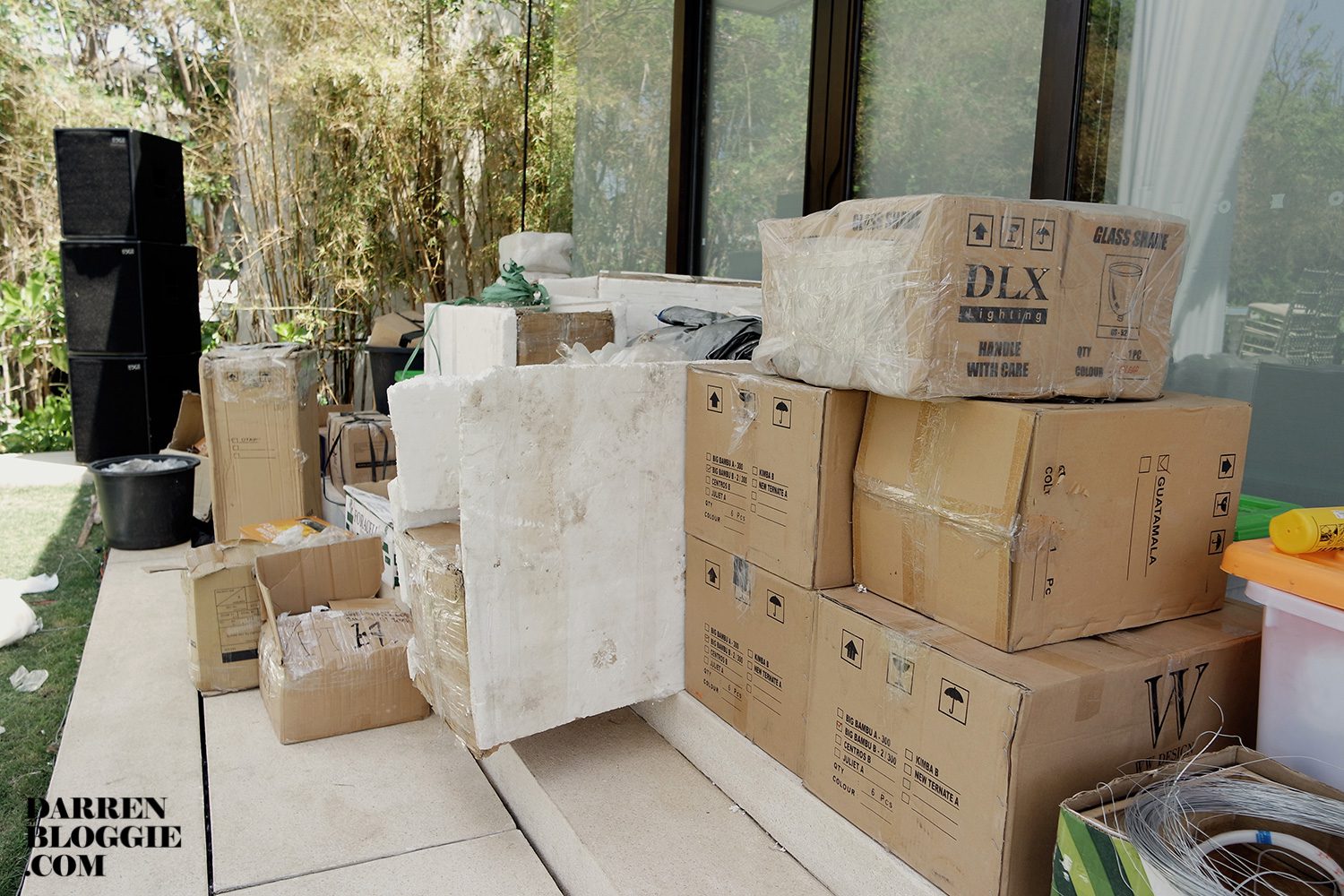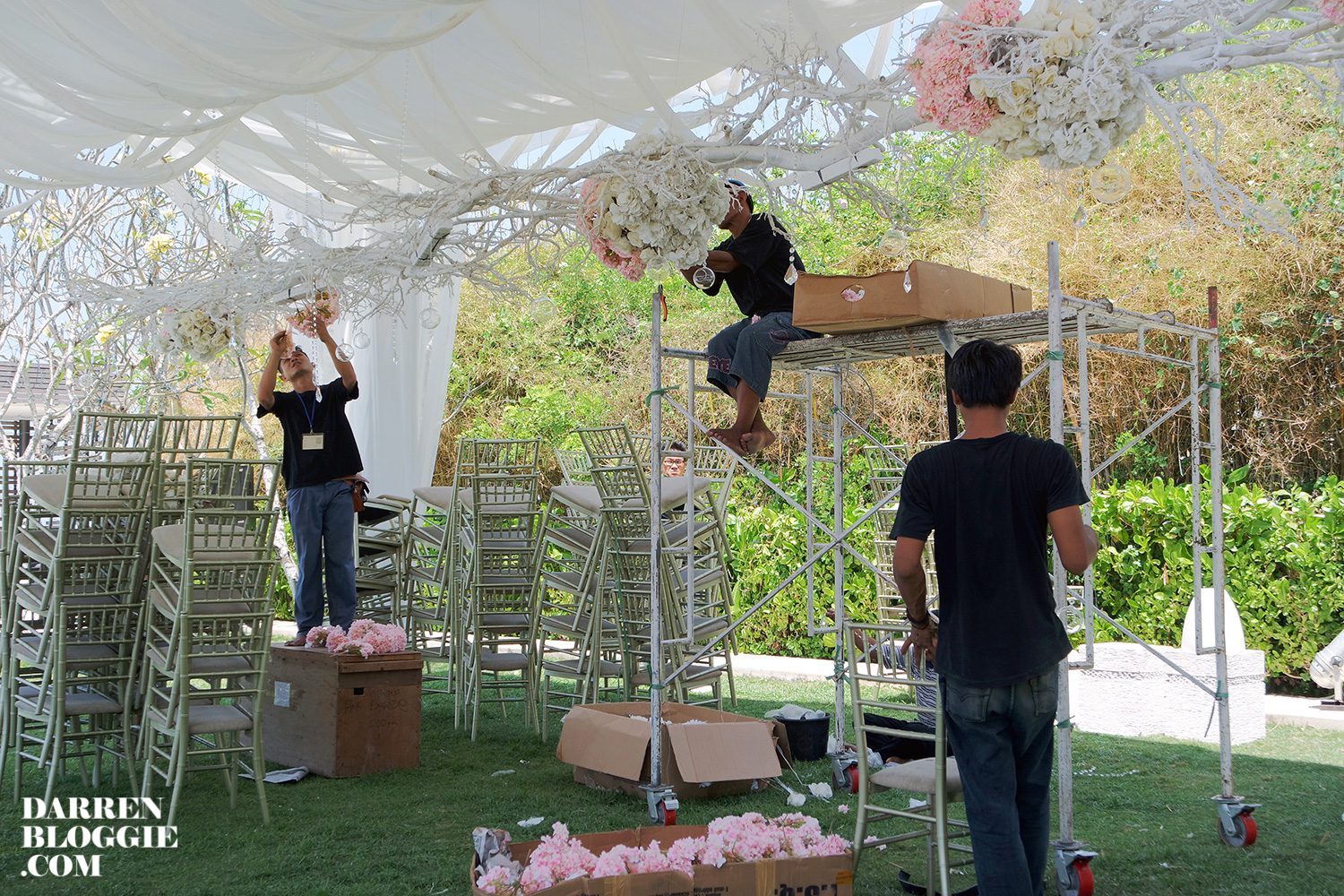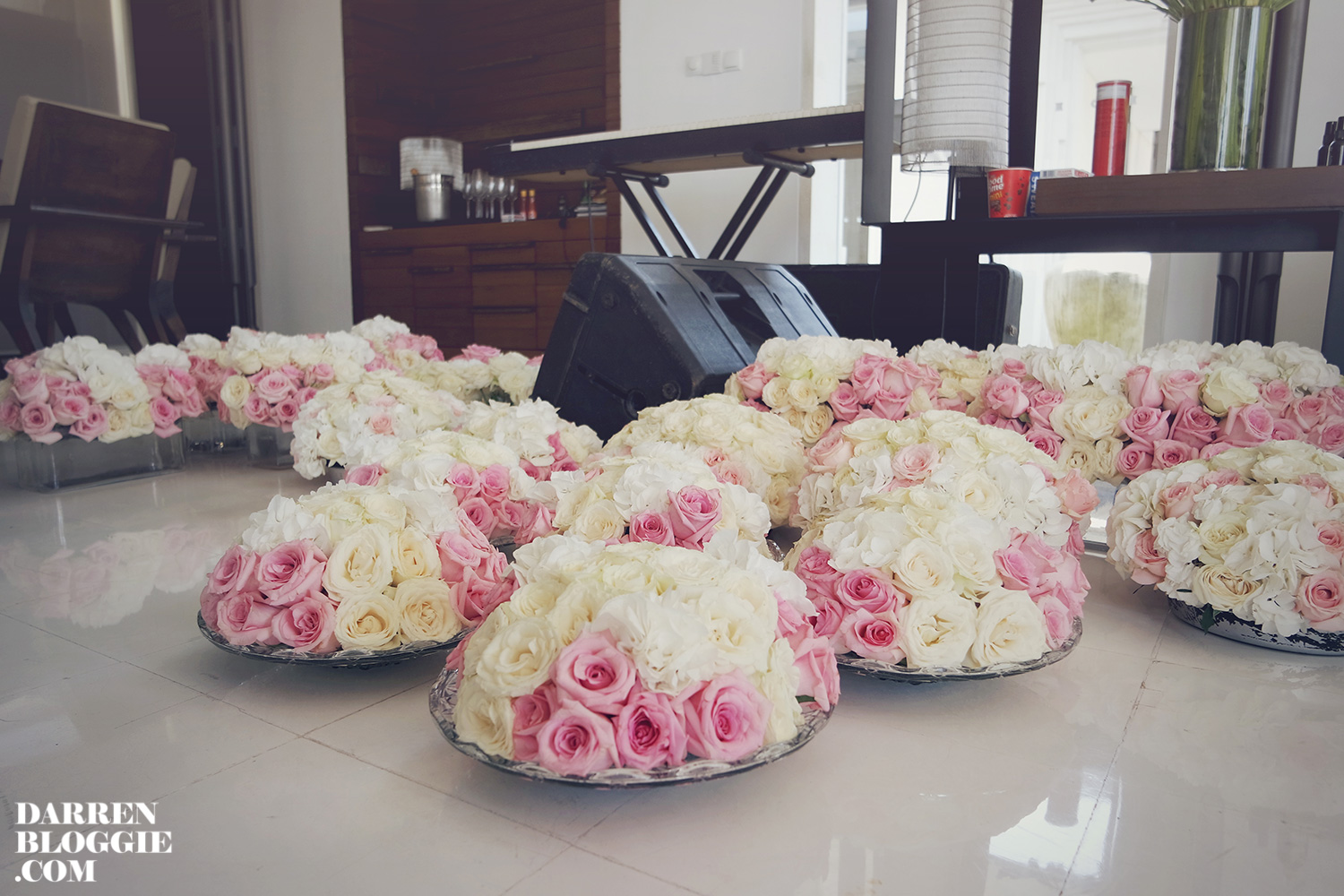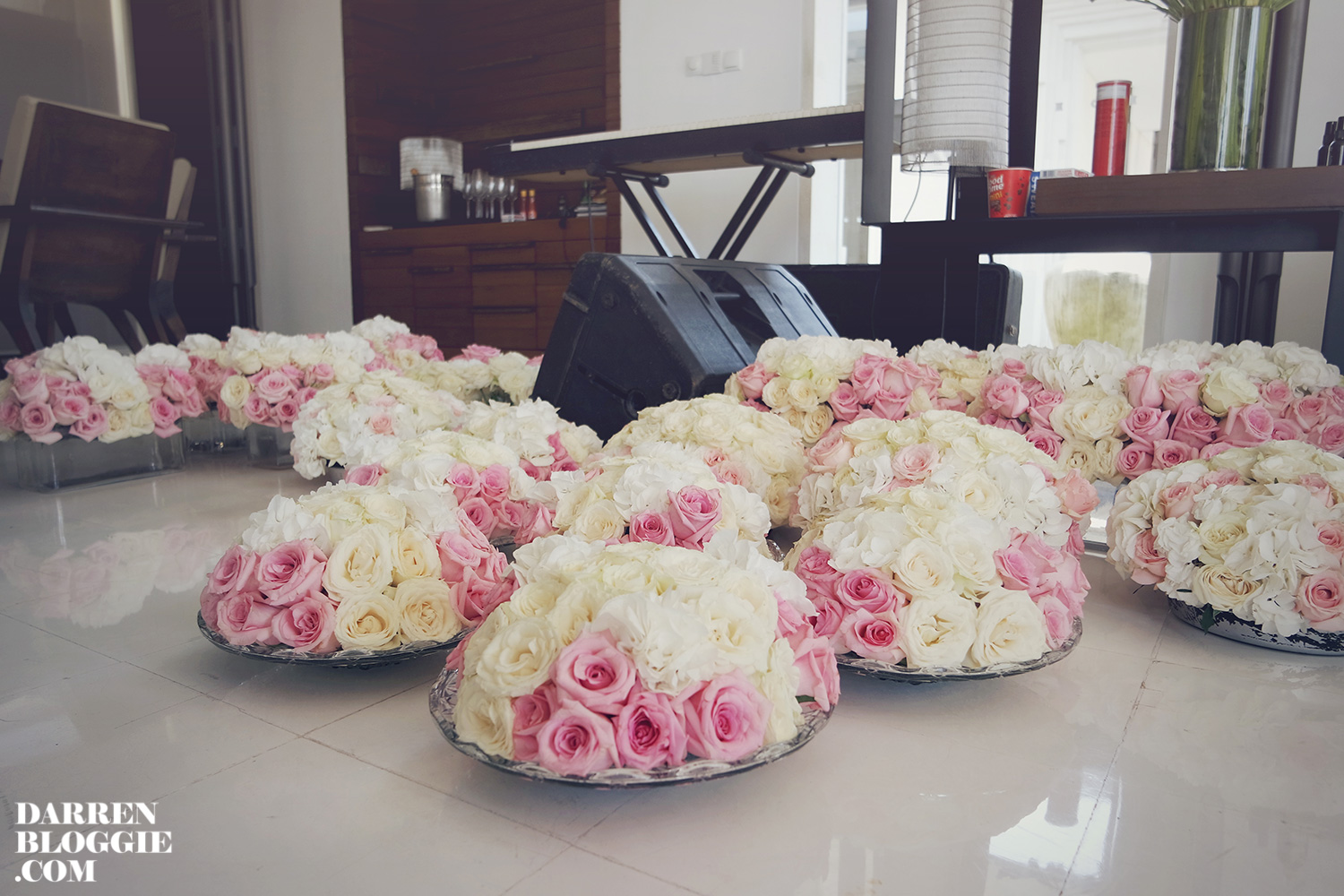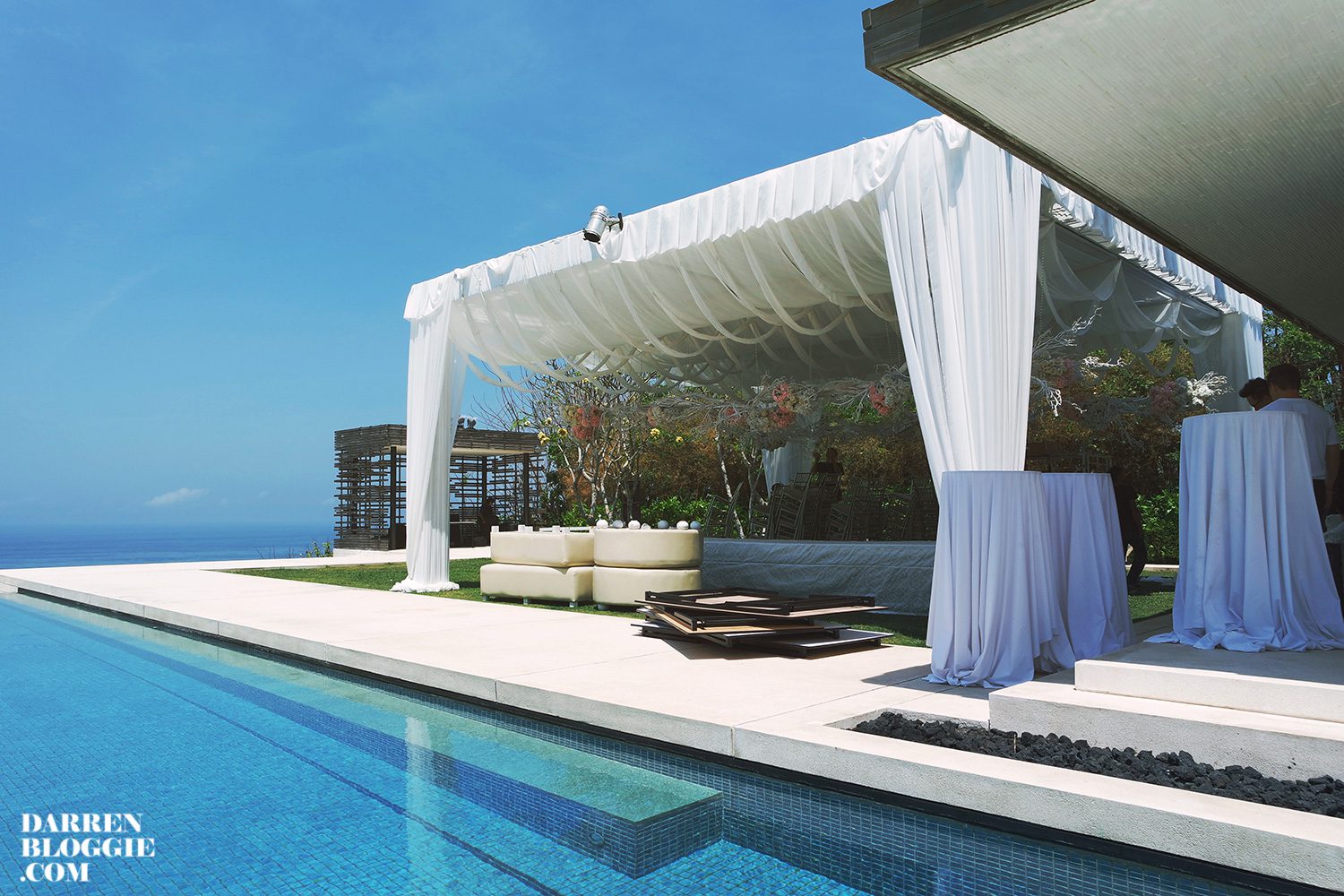 Went back to our villa to rest awhile before the solemnisation ceremony at 5;30PM.
14 Sep 2014 | 5:00 pM
The Cabana @ Alila Uluwatu
All ready for the solemnisation to begin. Very nicely decorated right?!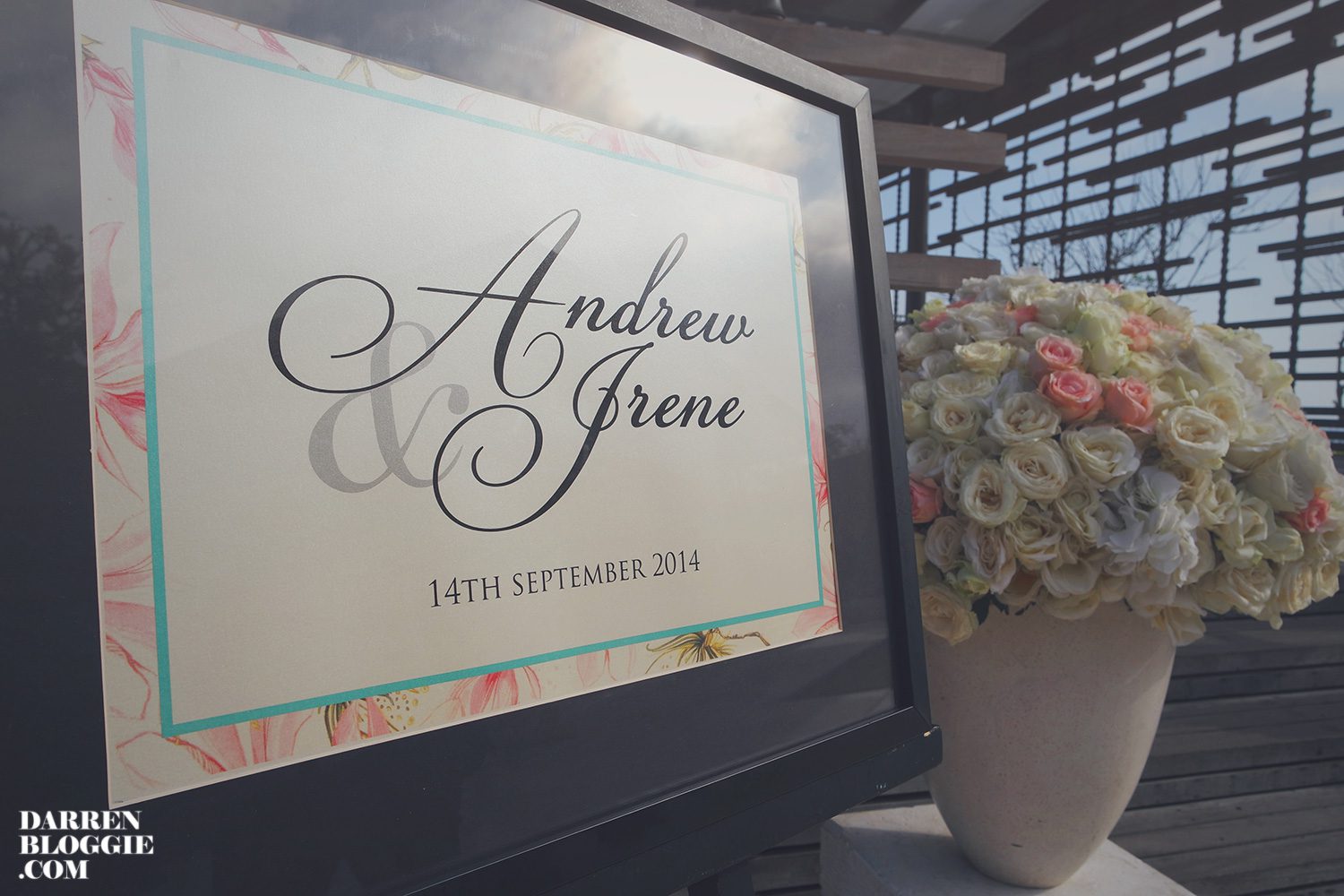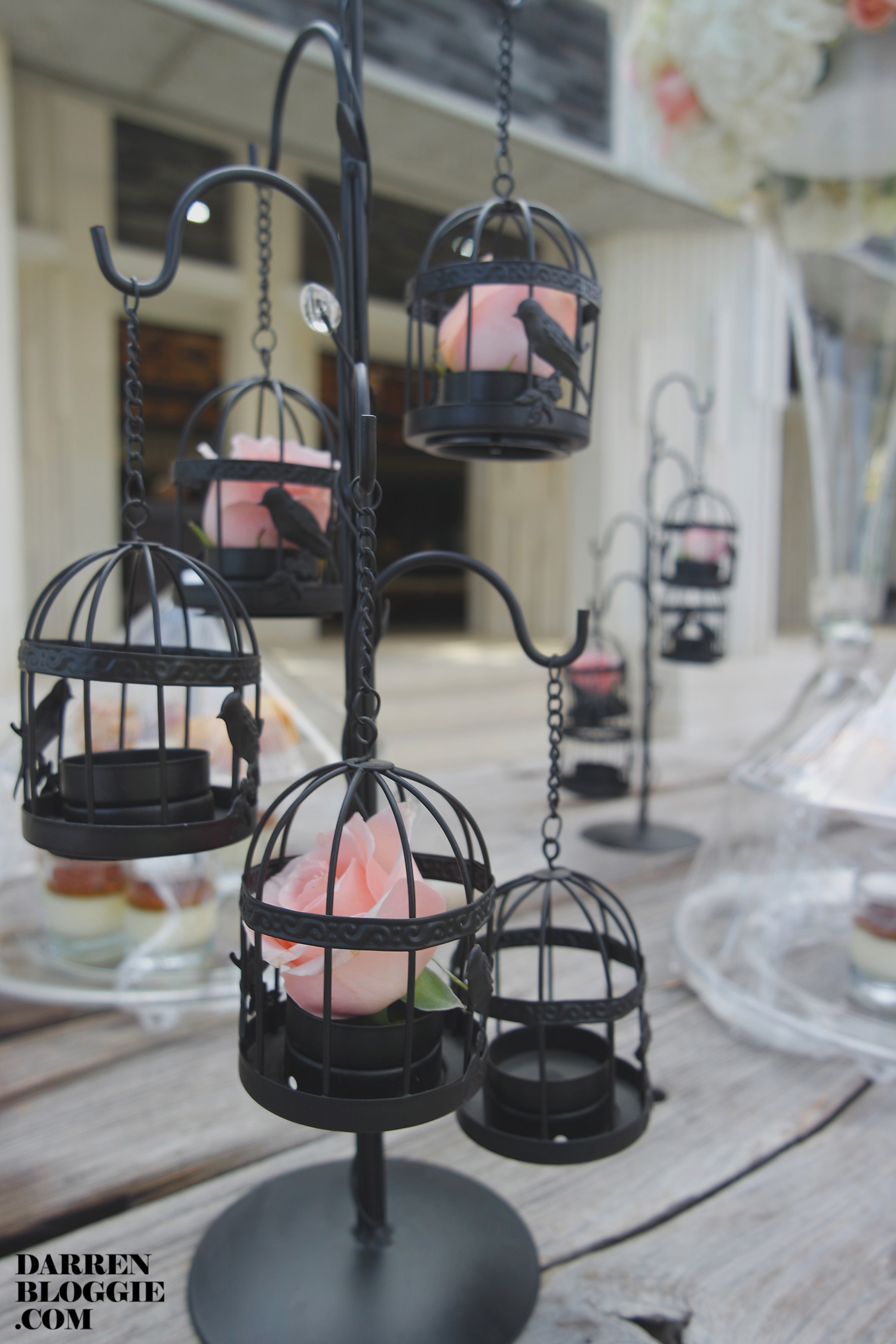 and the cabana where the solemnisation will be held. A gradient rose petal walkway instead of the normal carpet. Nice right?!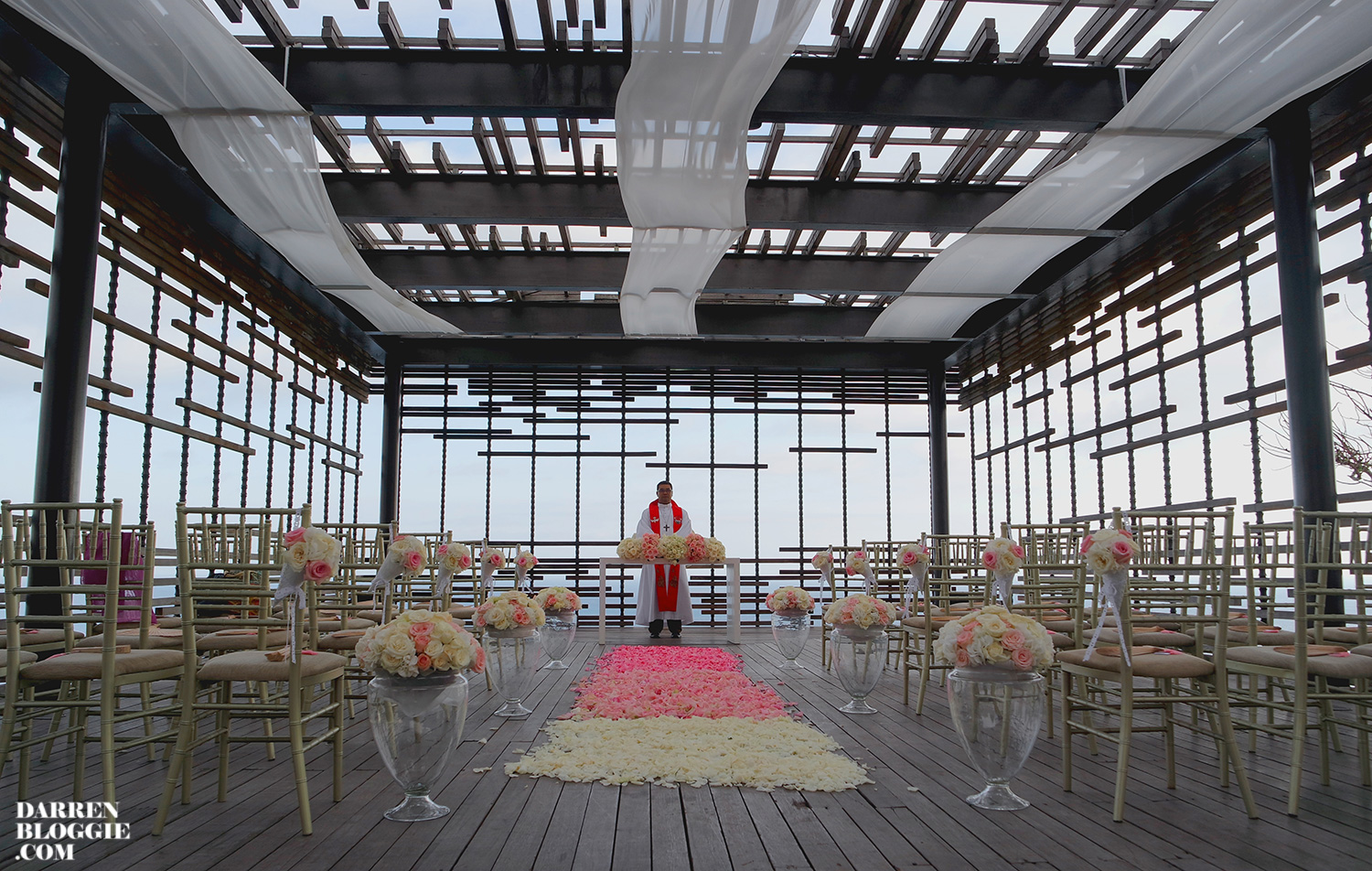 The cabana stretches out to the cliff where you get to see this magnificient view from top.
Complimentary wedding favour from the Wedding Acts. 🙂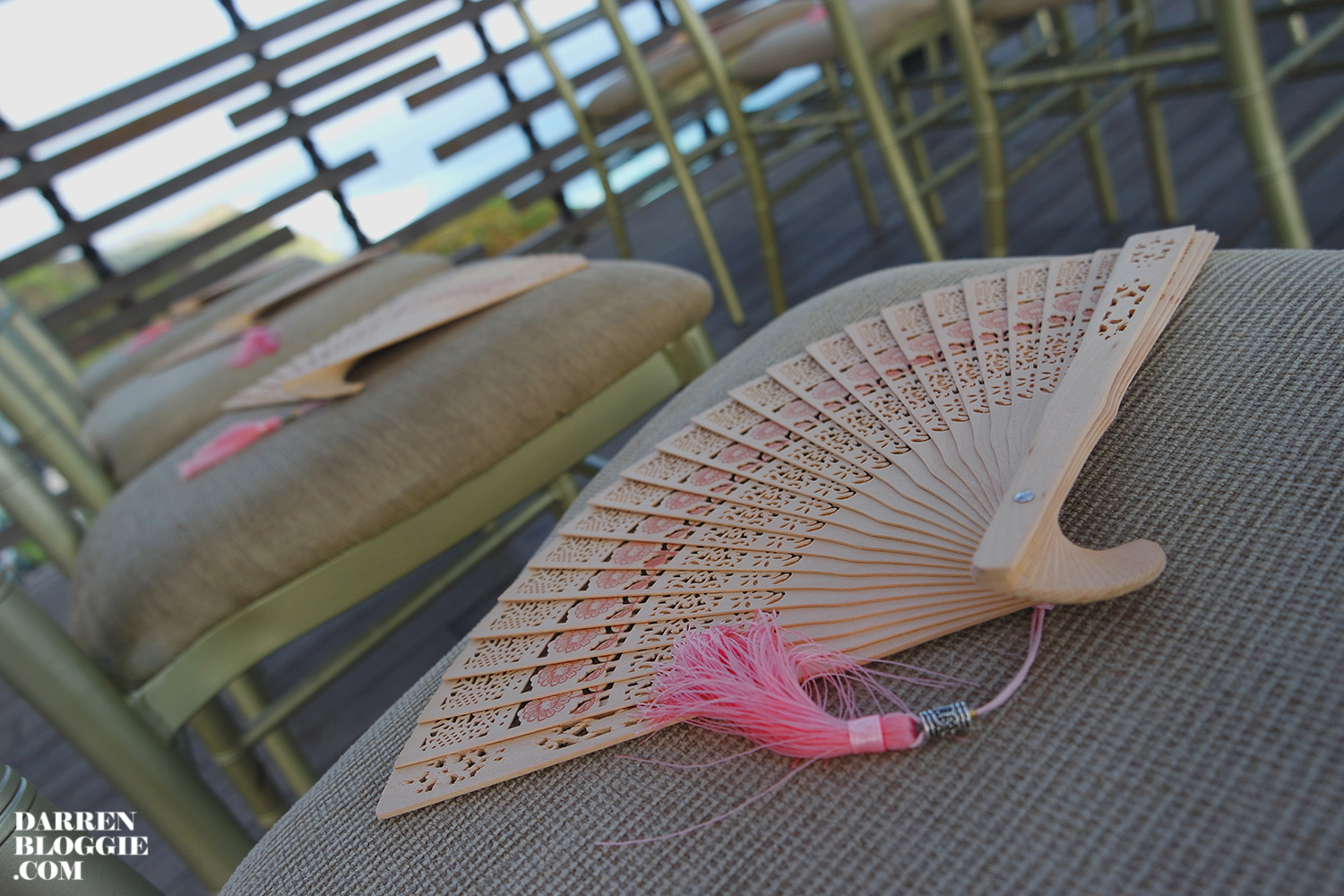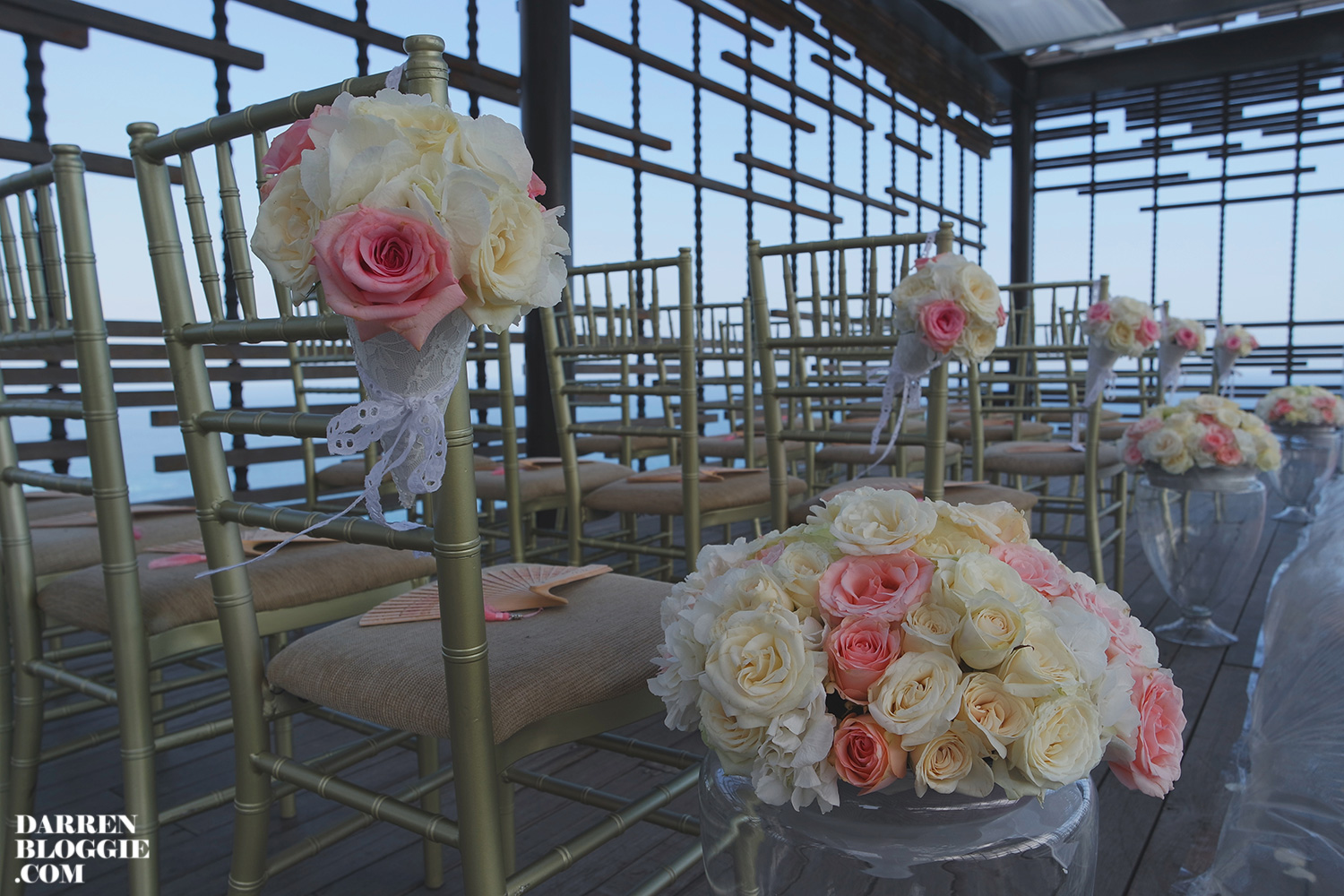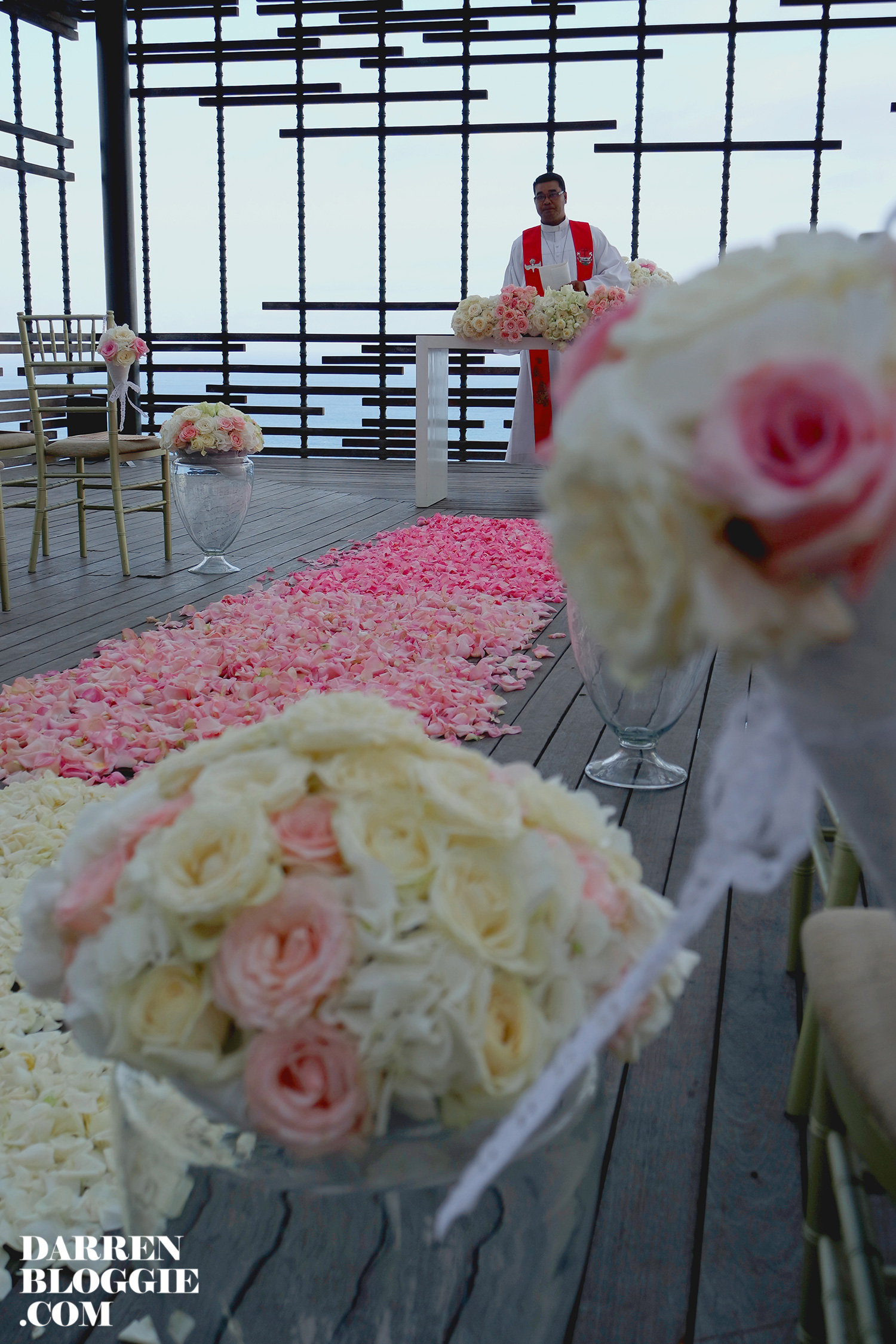 Welcome drink for all guest with the pink paper straw which Jon got to fit into the theme 😉 I'm sure from the colours of flowers used, you are able to tell that the theme revolves around pink and white right? 🙂 very sweet colours.
A selfie while waiting 😛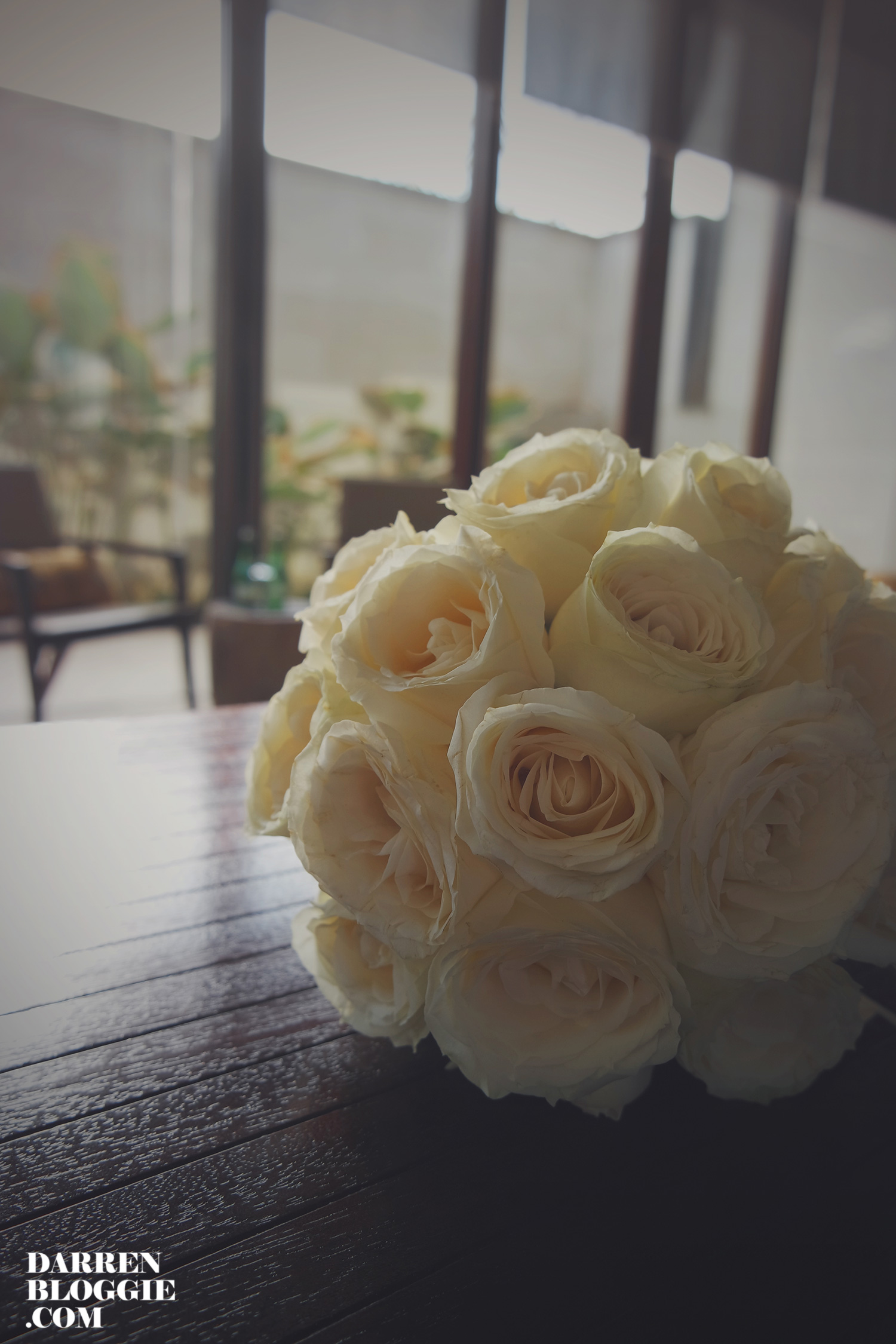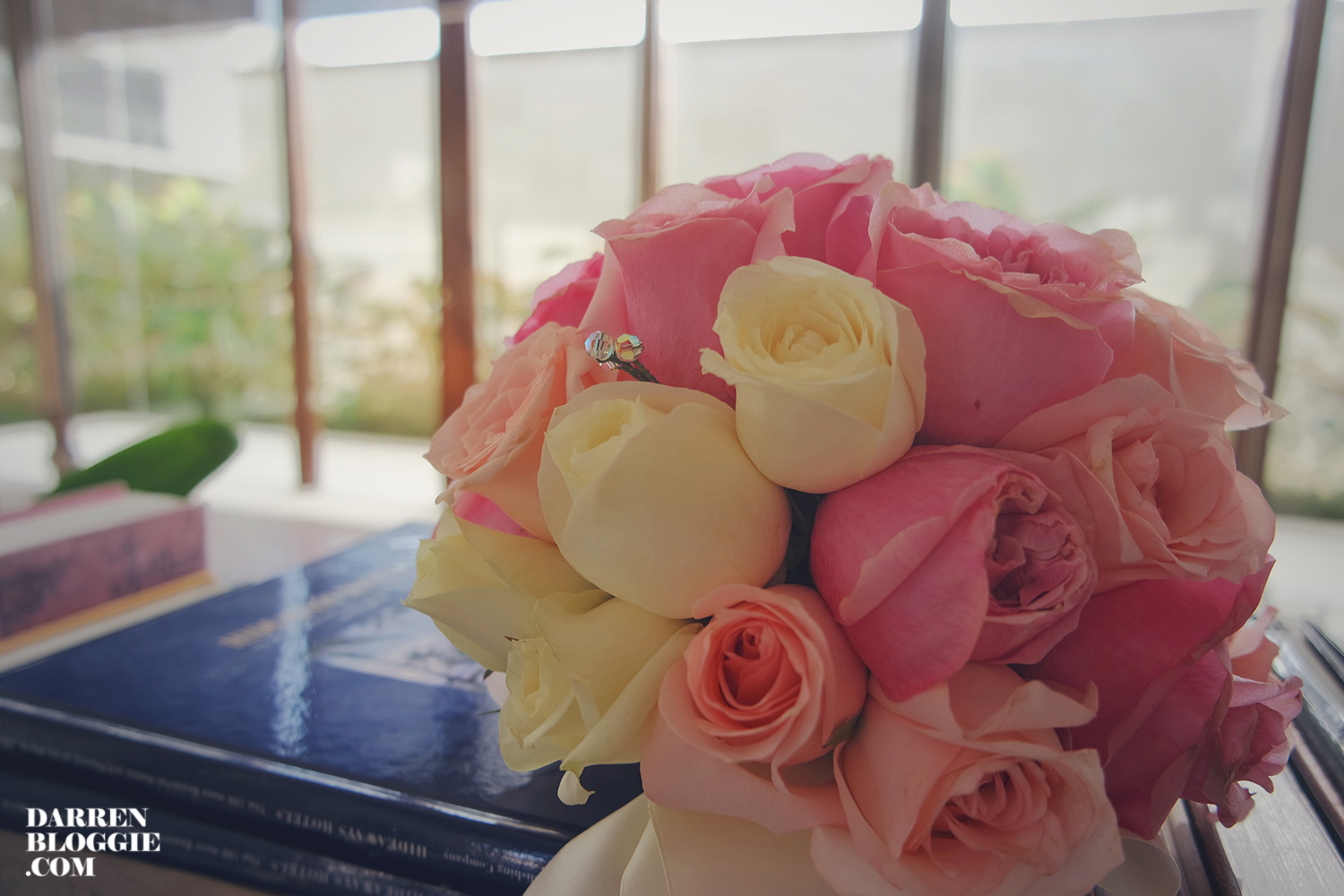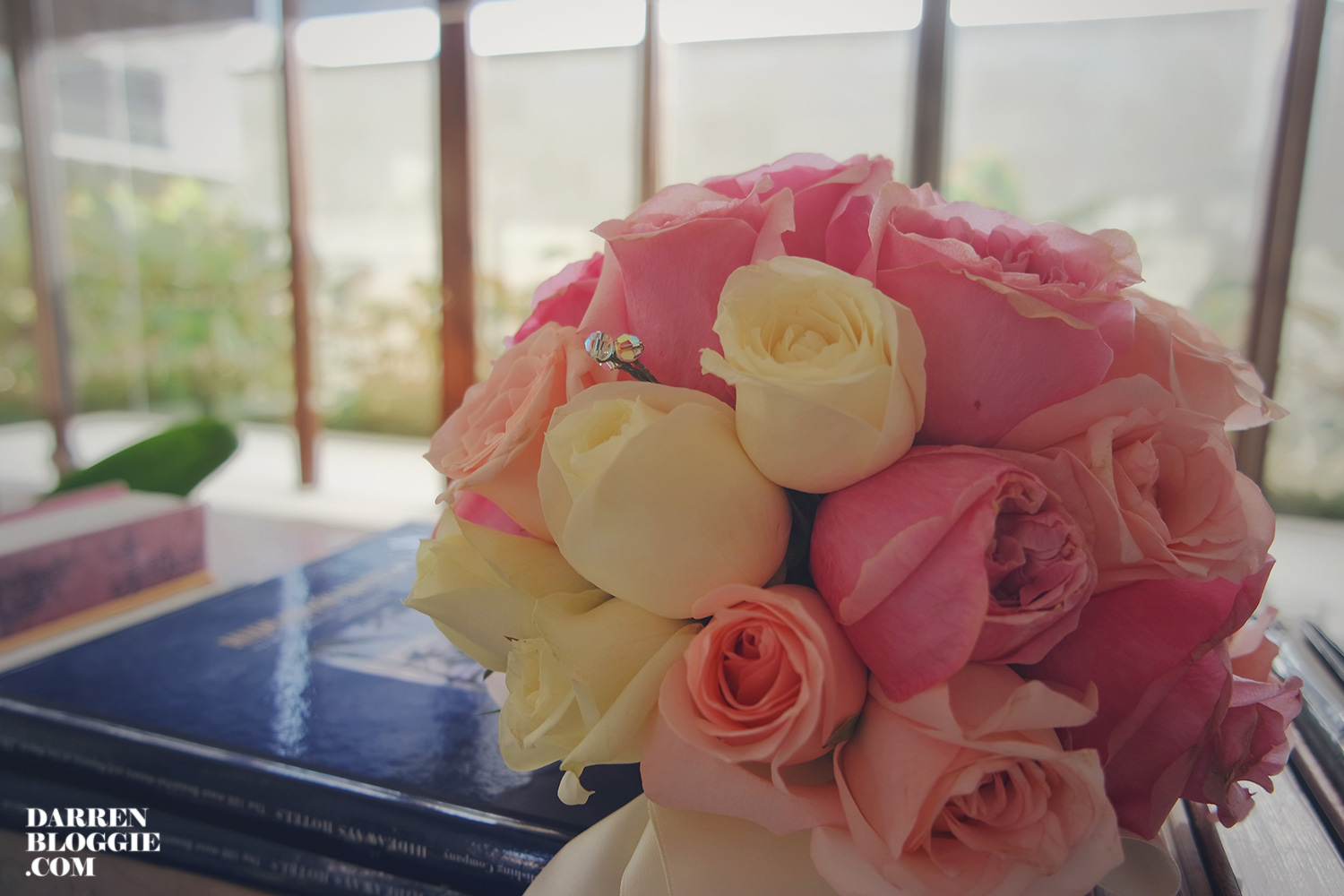 Getting the bridesmaid ready for the march in…
Grabbing a drink at the cocktail reception area after the ceremony before checking out on the final set up in the villa for the dinner.
14 Sep 2014 | 6:30 pM
Three Bed-rooms Villa @ Alila Uluwatu
OMG! look at this! don't you think it looks really good? Thumbs up to Jonathan from Wedding Acts and Nefi from Nefi Decor!
From the empty entrance to a nicely decorated reception table
and if you able to notice it, these were are displayed at the cabana previous for the solemnization ceremony and within a short period of time, they shifted everything over to the villa. 🙂
and let's take a look at the interior of the villa!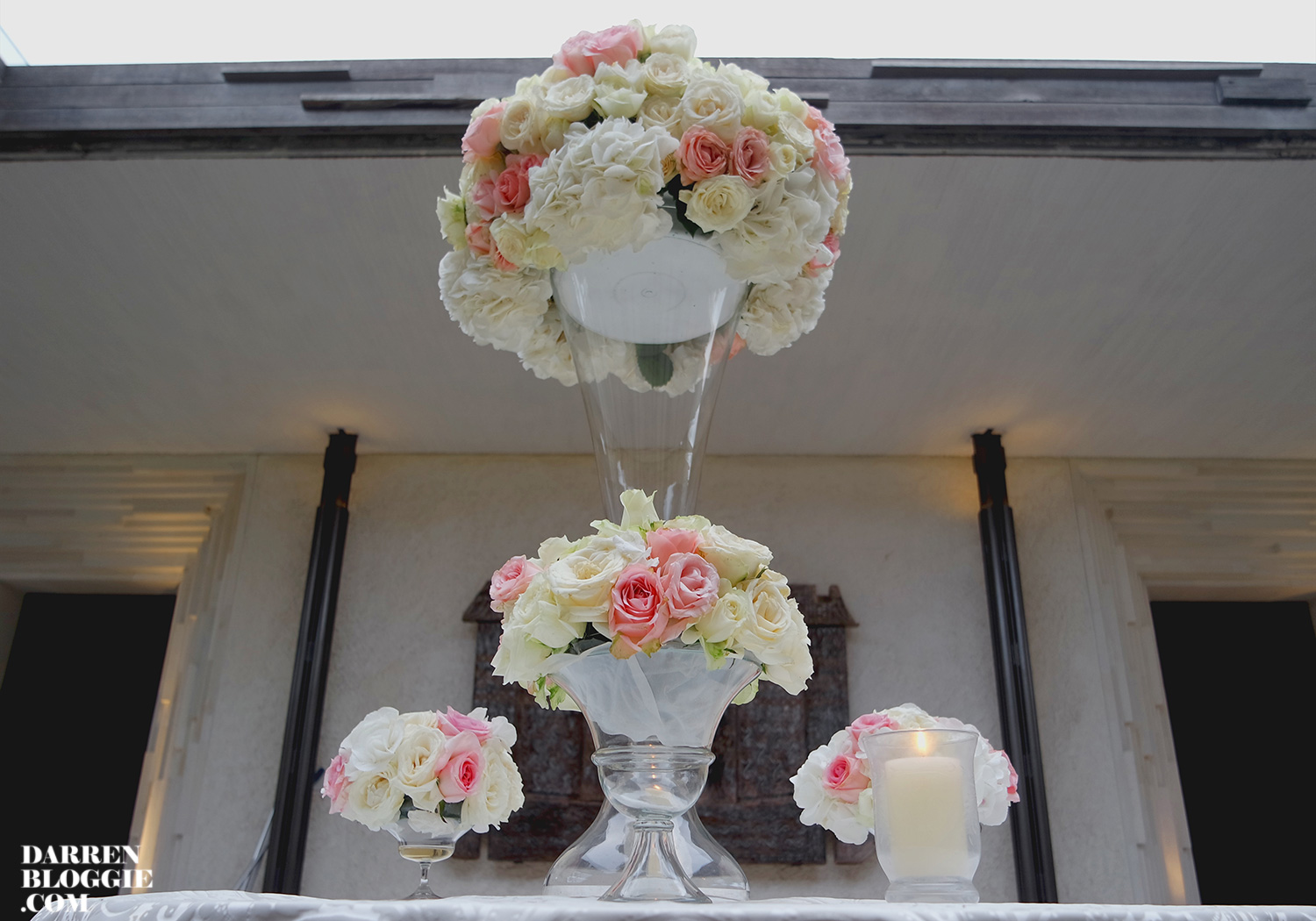 Cocktail reception area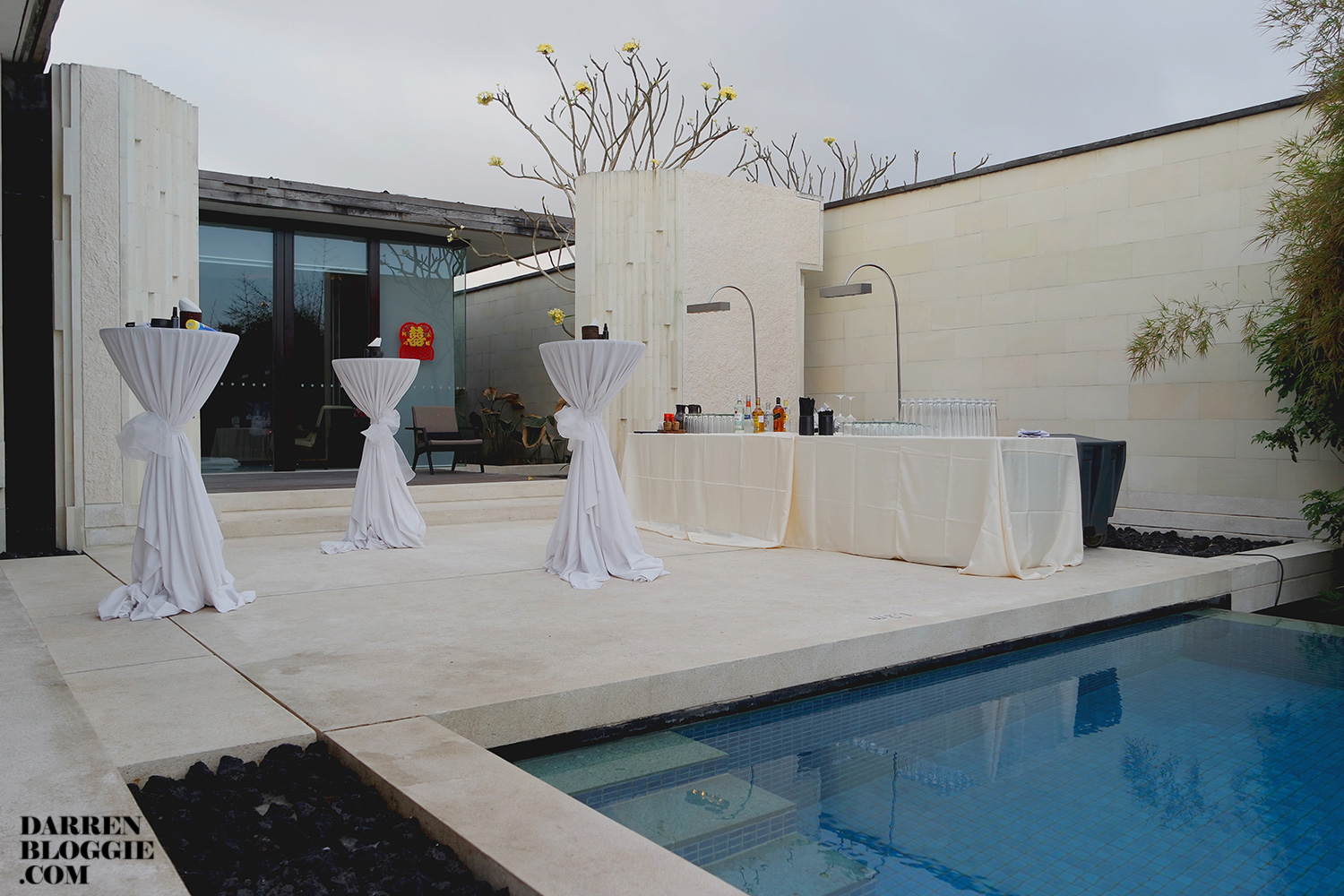 and now… the wedding dinner setup!
From this…
to this!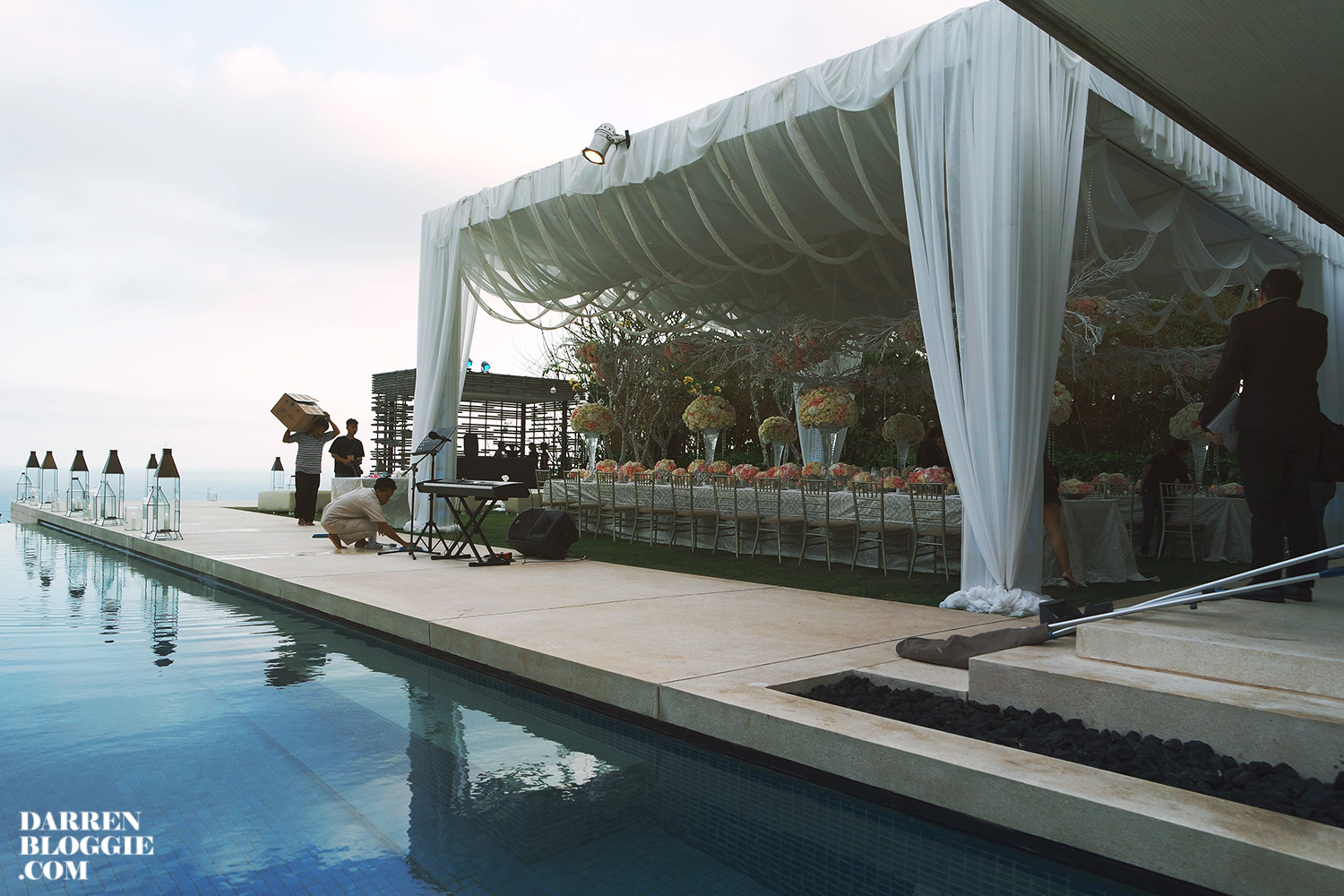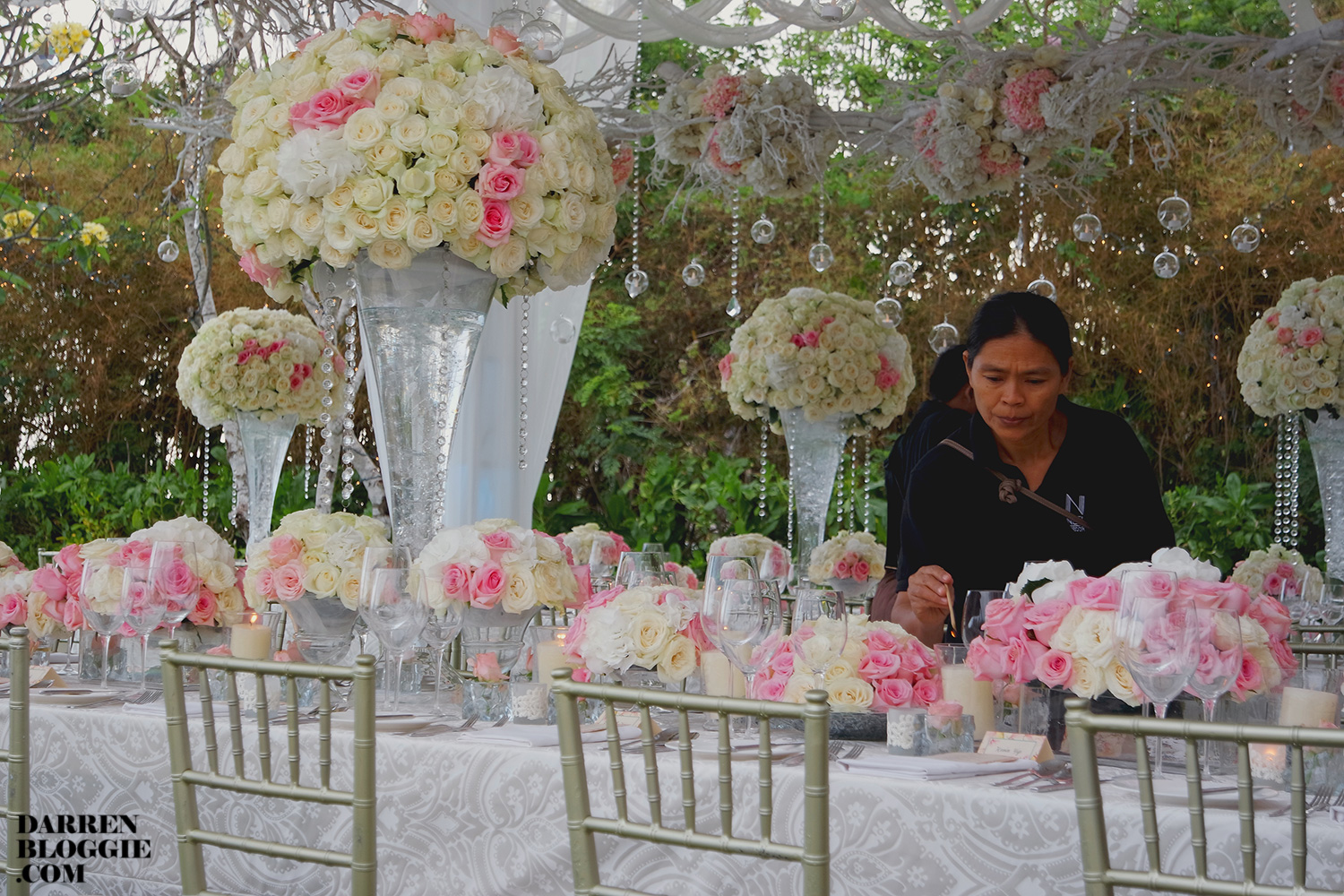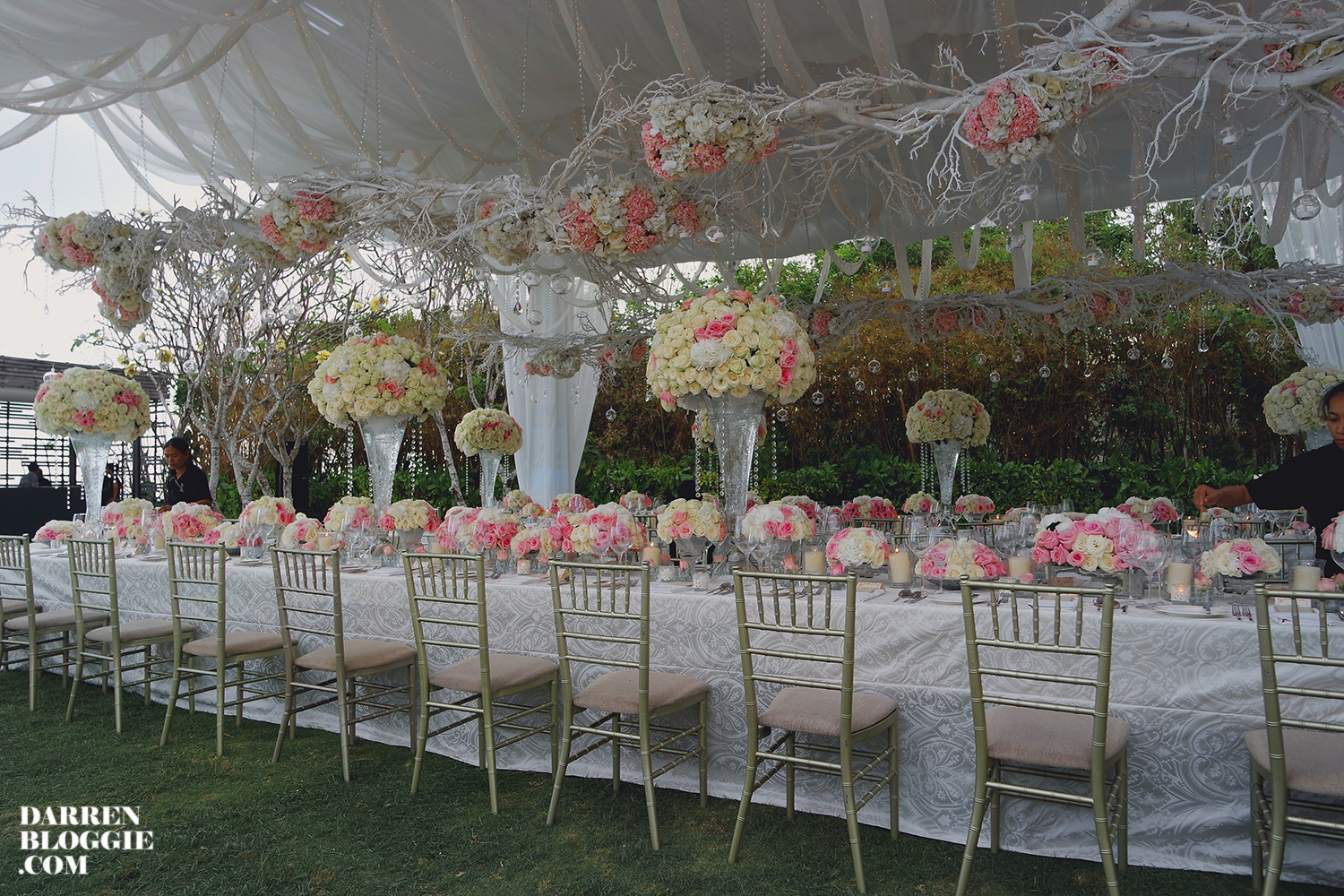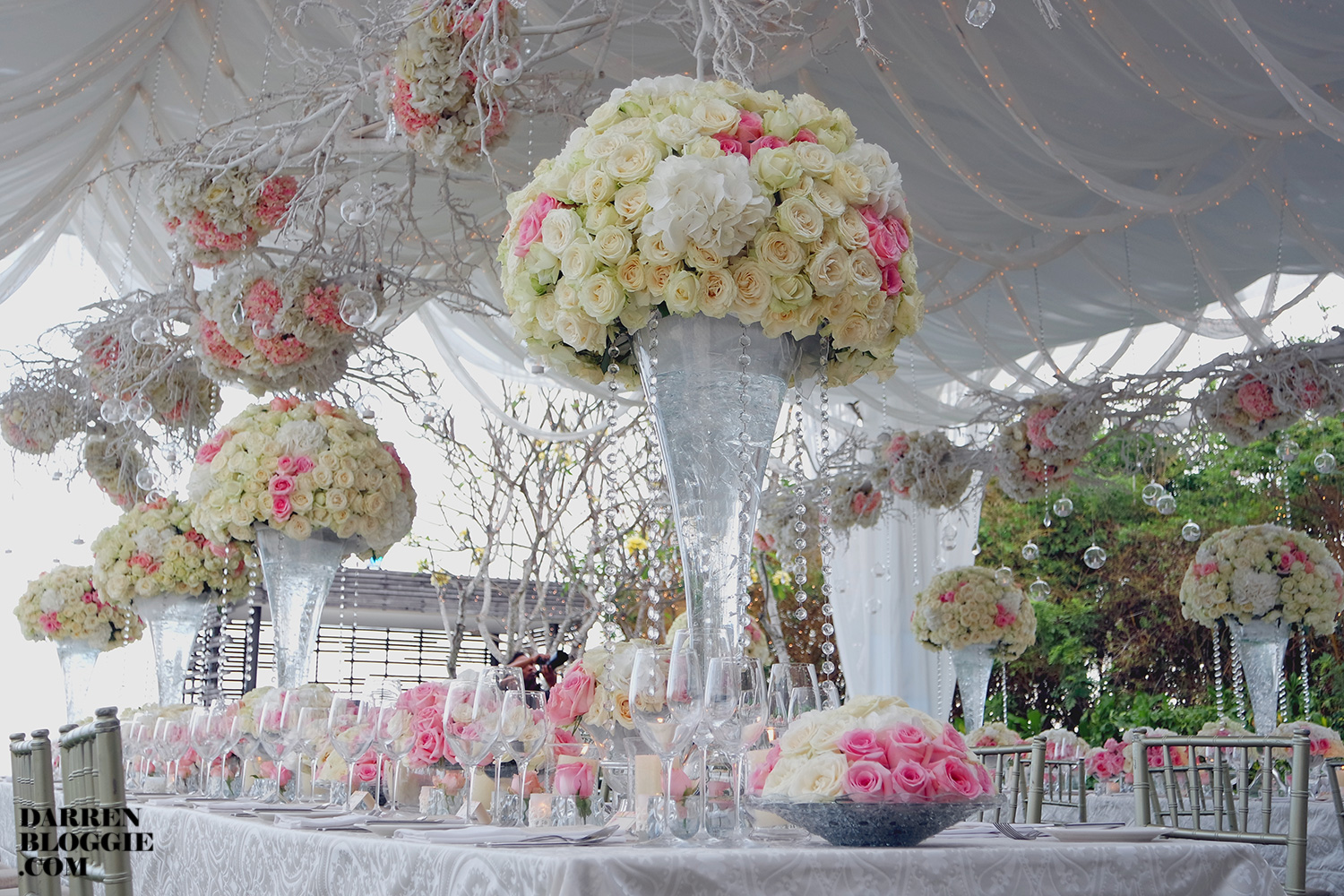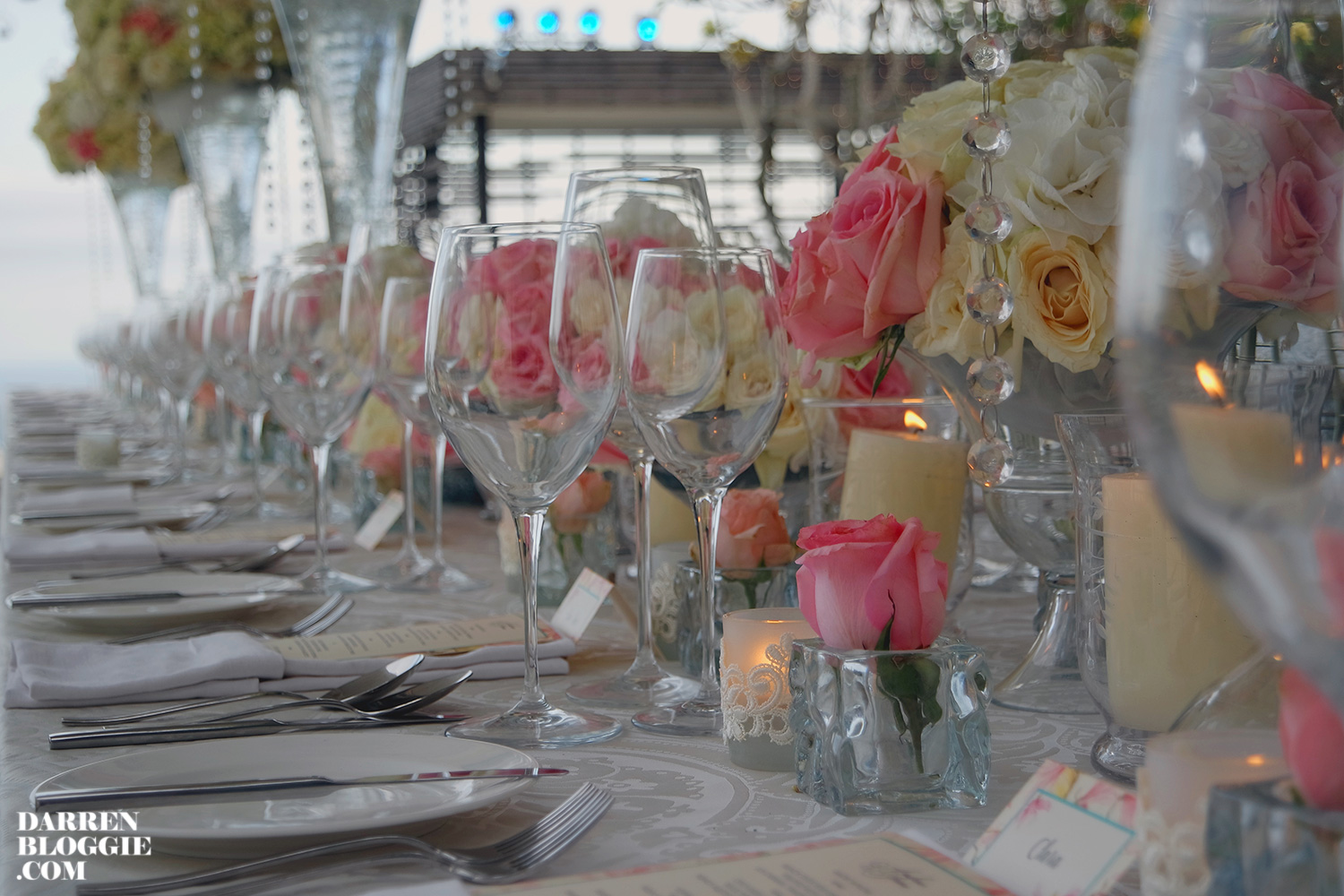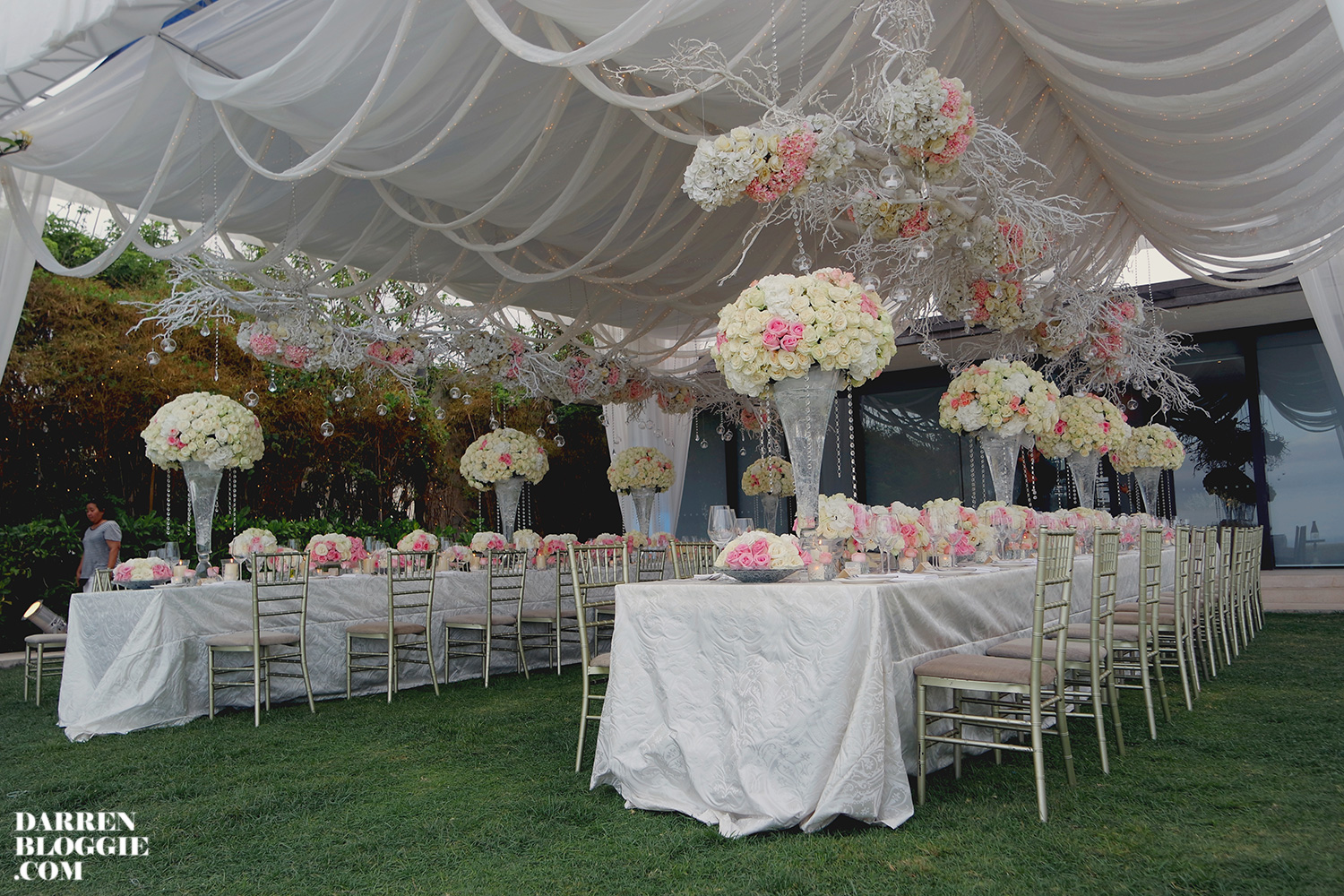 and as the sun sets, the lights on, it's so magical~
with the perfect Audio, Visual, & Lightings from Virturso Productions and great mix of music from DJ Rob from Wedding DJ In Bali, the couple had a romantic dance under the moonlight and it ended off with FIREWORKS!!!! All thanks to Alila Uluwatu 😉
After spending 4 days with Jonathon, following him around with the wedding preparation, I really have to say that i'm impressed with what he can come up with. There's simply so much things to take care of, from the setting-up, the choice of music, the rundown, the types of flowers and colors to use and many many more minor details which may not seem to be important but can give you a totally WOW effect when you are there.
So are you planning for a destination wedding as well? Probably its time for you to drop them an email today to enquire! 🙂
Coming up Next : Setting the Stage with Wedding Acts in Malacca!
*
This post is brought to you by Darren Bloggie with Special Thanks to Wedding Acts & Alila Uluwatu.
Venue for Wedding Ceremony and Reception: Alila Uluwatu
Representative – Ari
*
Venue for Pre-Wedding Welcome Dinner: Sundara @ Four Seasons Jimbaran
Representative – Gladdy
*
Photographer : Photo Factory – www.photofactorybali.com (Bali, Indonesia)
Representative – Windee
*
Photographer : TJ (for photos without darrenbloggie watermark)
*
Videographer : Benjo Hilario Films – www.benjohilario.com (Philippines)
Representative – Benjo
*
Florist: Nefi Decor –  www.nefidecor.com (Jakarta, Indonesia)
Representative – Ery, Ryan & Nefi
*
Audio, Visual, & Lightings: Virturso Productions – www.virtuosobali.com (Bali, Indonesia)
*
Wedding DJ – Wedding DJ In Bali – www.weddingdjinbali.com
Representative: DJ Rob
*
Wedding Invitation & Stationary – The Card Room – www.thecardroom.com.sg
Representative: Esther
*
The Make Up Artist – Lona Make Up Bali – https://www.facebook.com/balimakeupartist
*
Transport in Bali – Nahdia Wisata Tours
*
Wedding Concept & Design is by Wedding Acts and Nefi Decor