Reached the airport ard 10.30am and gathered with the rest of the comms for a briefing before we went for a light breakfast. We're all kinda shocked as what we know is that they will not be providing barricades this time round as terminal 1 is undergoing some renovation whereby the passageway was kinda packed.
So while waiting, we went for our light breakfast. Mashed potato, my all time favourite from popeye.. 😀 Went we went back again, they've set up the barricades already.. Phew~~ luckily. if not i really dun know wat to do with the overwhelming crowd sia..  i think they've somehow underestimated the no. of fans that would appear here on that day..
After knowing that they've landed, which is approx 12pm, we get into our individual position. Both me and aaron was assigned to the position out of the arrival hall , at the door of the van where s.h.e would be boarding.
and here's the clips of the arrival.
[youtube http://www.youtube.com/watch?v=WagCCtQ6uY4]
[youtube http://www.youtube.com/watch?v=jnyH1sUvptM]
When Hebe approaches our direction i passed her the food we bough for them.
me : 这是你们的
Hebe :  为什么会有这个 ( 杜杜,我的包包~~)
and she took the food and boarded the van.
guess what we've prepared?
YA KUN Kaya toast and Pandan Cake! their all-time favourite and a must to have whenever they visit singapore.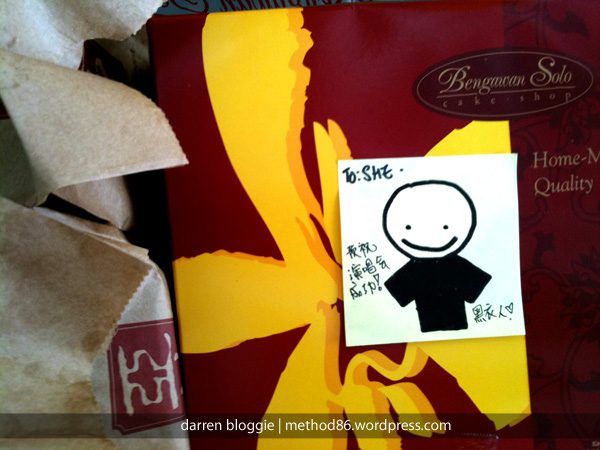 After they've left, we went for lunch and to collect our light sticks and items we need for the next day concert before heading over to the indoor stadium for their rehearsal. super high listening to them rehearsing and all of us just can't wait for the next day concert to come!!
When they're about to leave after their rehearsal, we kept on waving to them, which was seated inside the van and to our surprise, HEBE actually replied us and she did a hand sign to us hahaha.. so cute ~! but we dunno what it really meant so we keep on guessing what she's trying to tell us.. haha.. and in the end we managed to get the answer at the autograph session after asking them what it meant. DAMM HIGH LA~!
for chinese write up , visit our fanclub blog at 《S.H.E is the One SHERO 新加坡之旅》娱乐跟屁虫:接机篇
to be continue….