Singapore – Shangri-La Singapore ushers in a blooming Chinese New Year with an abundance of divine reunion feasts, delicious festive goodies, and meaningful kids' activities in January and February 2022. Celebratory offerings are available at Shang Palace, The Line, The Lobby Lounge, and The Rose Veranda, together with lavish takeaway sets and gourmet delicacies to make entertaining at home equally indulgent.
Rich Traditions of The New Year at Shang Palace
Welcome the Chinese New Year ensconced in the refined elegance of Shang Palace, a MICHELIN star restaurant. Choose from a selection of seven- and eight-course menus, or quintessential à la carte new year dishes that will delight your palate and satisfy your senses.
From 17 January to 15 February 2022, Shang Palace is offering five elegant, eight-course set menus— Happiness, Prosperity, Harmonious, Opulence, and Abundance—ranging in price from $168++ to $298++. Culinary highlights include Fortune Yu Sheng with
Norwegian Smoked Salmon and Poached Lobster, Sautéed Scallops and Pacific Clams, Crispy Suckling Pig, Braised Bird's Nest Soup, Steamed Star Garoupa, and Sautéed Boston Lobster.
For those who prefer a sophisticated vegetarian option, the seven-course Joyous set menu is available for $108++ per person. Dishes featured include Braised Bird's Nest Soup, Deep-fried Bean Curd Puff, Braised Bamboo Fungus and Asparagus, and Five Grain Fried Rice.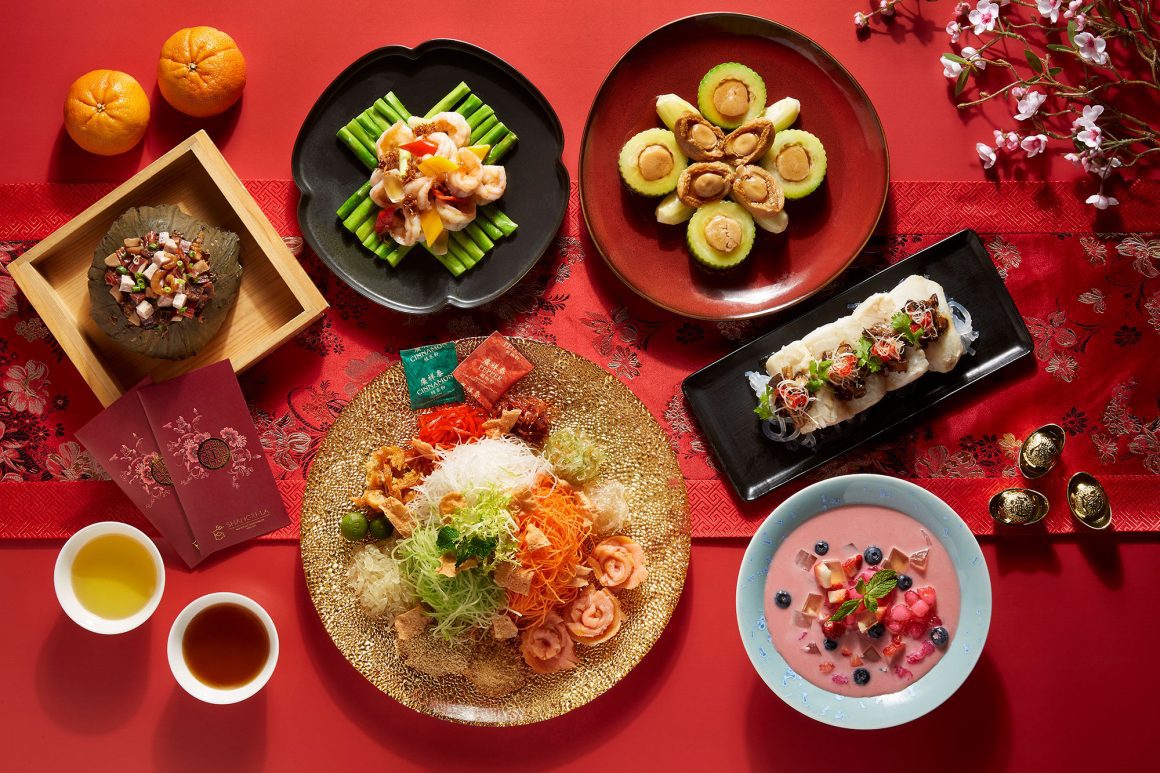 Beginning 17 January and running through 15 February 2022, Shang Palace is also offering a festive à la carte menu of thoughtfully considered Signature Recommendations including Fortune Yu Sheng, Roasted Peking Duck, Sautéed Lobster, Braised Abalone, and Kagoshima Wagyu Beef. For lunch, Shang Palace's Dim Sum Delights menu is available from 24 January to 15 February 2022 and features Baked Abalone Pie, Steamed Chicken Claws, Porridge with Dried Oyster and Salted Spareribs, and Steamed Jade Siew Mai with Black Truffle.
À La Carte Buffet at The Line
Celebrate your reunion with a decadent buffet at The Line. From 31 January to 6 February 2022, The Line will be offering lunch and dinner buffets with festive highlights created for the new year including Longevity Ee-Fu Noodles & Crab Meat, Steamed Seabass with Superior Soya Sauce, Salted Egg Crab, and an impressive selection of Chinese roasted meats, and much more. A dedicated assortment of perennial favourites and international dishes for children ensures the entire family will enjoy this special occasion together.
Peranakan Delights and Afternoon Tea at The Lobby Lounge
Seated in the celebratory atmosphere of the hotel's lobby, guests will enjoy a sumptuous Peranakan Chinese New Year set menu, perfect for four. From DIY Popiah and Tau Eu Bak to Chap Chye and Cheng Teng, this celebratory meal hits all the high notes and is available for lunch from 31 January to 6 February 2022 for $200++.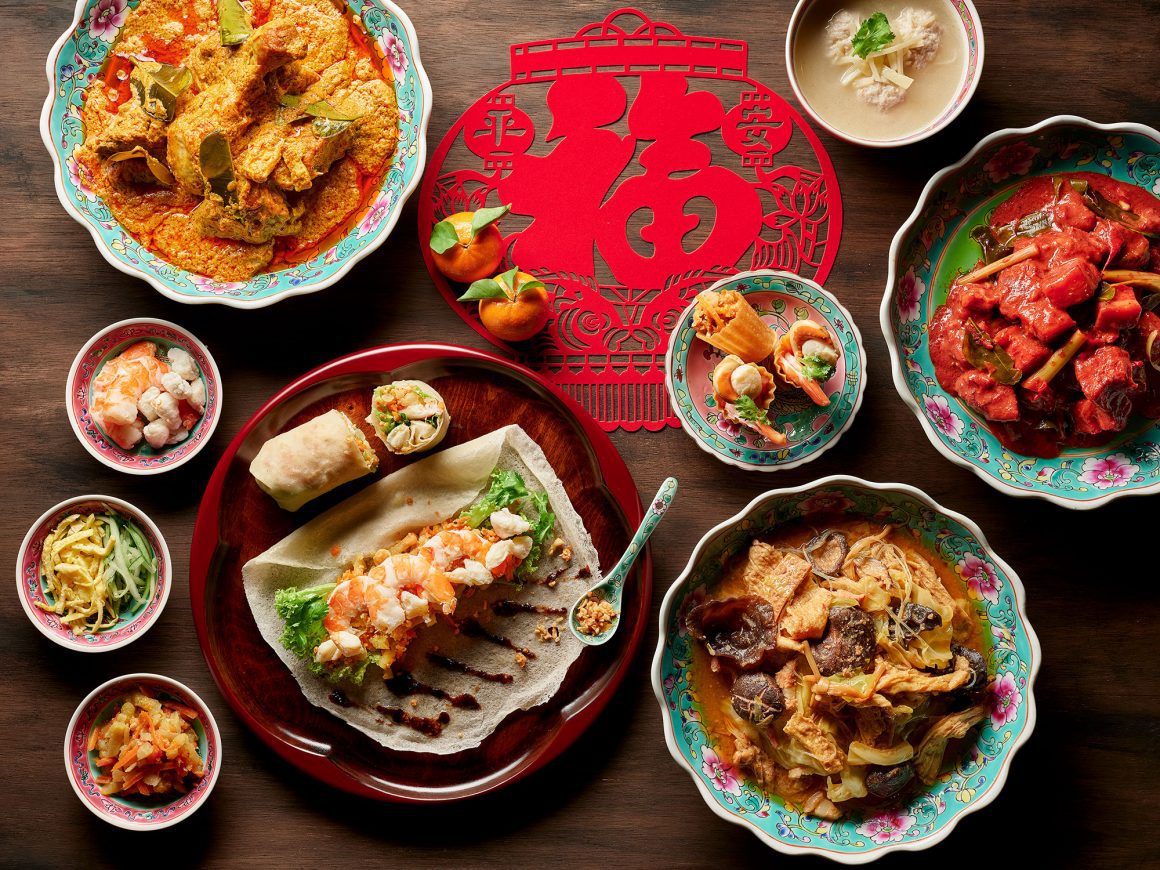 From 3 January to 11 February 2022, The Lobby Lounge will also be serving up a delightful three-tiered afternoon tea. The experience offers both sweet and savoury nonya favourites, as well as unique interpretations of traditional offerings including Barbeque Chicken Char Siew and Sakura Egg Sandwiches.
Springtime High-Tea at The Rose Veranda
The relaxed elegance of The Rose Veranda makes the perfect setting for a Chinese New Year high-tea, available from 3 January to 11 February 2022. This festive offering begins with an assortment of signature mini sandwiches and tartlets before guests select one of three main courses—Grilled Barramundi, Cornish Butter Milk Chicken, or Honey Glazed Balsamic Beef Ribs.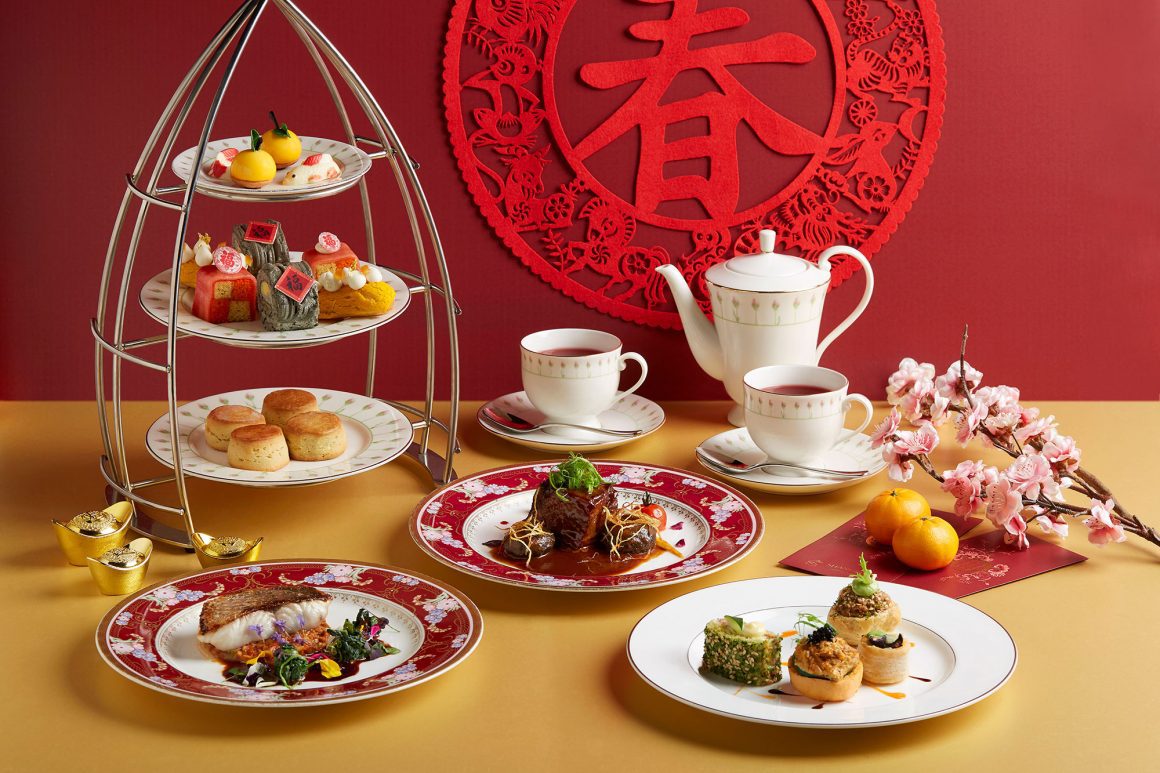 The high tea then finishes with a flourish, as guests are presented with a medley of dainty sweets and festive Orange and Vanilla Scones to indulge in. Priced at $98++, this high tea serves two and comes with a cup of tea or coffee for each person.
Dazzling Gourmet Feasts For Your Reunions at Home
Guests can look forward to a gastronomic reunion feast in the comfort of their own home with sumptuous takeaway sets curated just for the occasion. For those who are separated during the holiday, gifting these delectable set menus and dishes is the perfect way to share a meal together when apart.
From 17 January to 15 February 2022, guests can enjoy the gourmet offerings of Shang Palace at home with an 8-course Lunar New Year Takeaway menu featuring dishes including Yu Sheng, Braised Bird's Nest Soup, Steamed Cod Fish, Braised Chicken and Eight Treasures Wrapped in Lotus Leaf, and a sweet dessert. This exquisite meal is priced at $628nett and serves five people.
The Lobby Lounge is also offering its festive Peranakan Chinese New Year Set menu for takeaway from 31 January to 6 February 2022. Good for four people, it is priced at $180nett.
Shangri-La's iconic high-tea takeaway experience is presented in a lantern-shaped box, adding a special touch to your high tea experience at home with a plethora of dainty treats inspired by the spring festival. Highlights include the Sesame & Yuzu Roulade and Kumquat Pound Cake. Available for $88nett from 3 January to 11 February 2022, it serves two adults.
Quintessential Dishes To Elevate Your New Year Gathering
Elevate every gathering at home with extraordinary dishes that feature the balanced flavours, premium ingredients, and beautiful presentation you have come to expect from the Shangri-La. Entertaining has never been this easy.
The hotel's selection of Chinese New Year Gourmet Delicacies include four Yu Sheng varieties—Abalone, Cooked Lobster and Norwegian Smoked Salmon, Norwegian Smoked Salmon, and Golden Crispy Fish Skin—in two sizes. Prosperity Bundles that include dishes such as Fortune Abalone Yu Sheng, Abundance Treasure Pot, and Buddha Jumps Over the Wall add luxury to meals with family and loved ones. Guests can also choose from our selection of Culinary Delights which feature chilled easy-to-prepare dishes such as Braised Pork Knuckle, Braised Goose Web with Oyster Sauce, and Traditional Stewed Sea Cucumber.
Gourmet Delicacies and Culinary Delights are available to order from 21 December 2021 to 15 February 2022.
Shangri-La Singapore
Orange Grove Road, Singapore 258350
For dining reservations or enquiries, please call +65 6213 4398 or email dining.sls@shangri-la.com.
To order online, visit our e-boutique, call +65 6213 4511 or email festive.sls@shangri-la.com.
Visit https://bit.ly/sls-chinese-new-year for more information.