A microwave oven that can bake pottery? Yes, that is the NeoChef™ by LG Electronics (LG). Acclaimed ceramic artist Daniel Les puts the oven to the test, and found that the impossible is possible. With LG Smart Inverter's uniform and carefully controlled heating that reaches up to 1,100 watts, the microwave oven can bake something as delicate as glaze-on handcrafted pottery.
Combining LG's Smart Inverter technology and ergonomic design, the new NeoChef™ brings microwave ovens to a whole new level by implementing the latest innovation and design trends that will instantly add a touch of class to any modern kitchen.
Smart Inverter Ensures Even Heating and Quick Defrosting
Thanks to LG's unique Smart Inverter technology, the NeoChef™ is able to prepare a wider variety of dishes with better results, using its linear power control between 300 to 1,100 watts that can evenly cook or defrost food all the way through, the Smart Inverter effectively preserves nutrients while locking in flavor. The Smart Inverter also boosts efficiency, as its 1,100-watt maximum power output gives the NeoChef™ the ability to cook dishes more quickly than conventional models.
Tempered Glass Design to Complement Any Kitchen
The elegant LG NeoChef™ eliminates trim and parting lines with its sleek, unified tempered glass front. This minimalist, glossy front combined with a refined matte exterior to allow the NeoChef™ to seamlessly blend in with the decor of any kitchen. The exquisite contrast between the microwave's unified tempered glass and metal give it a distinguished, refined look. Marrying form and function, the ergonomic pocket-style handle and diamond-cut dial promise precision and user convenience.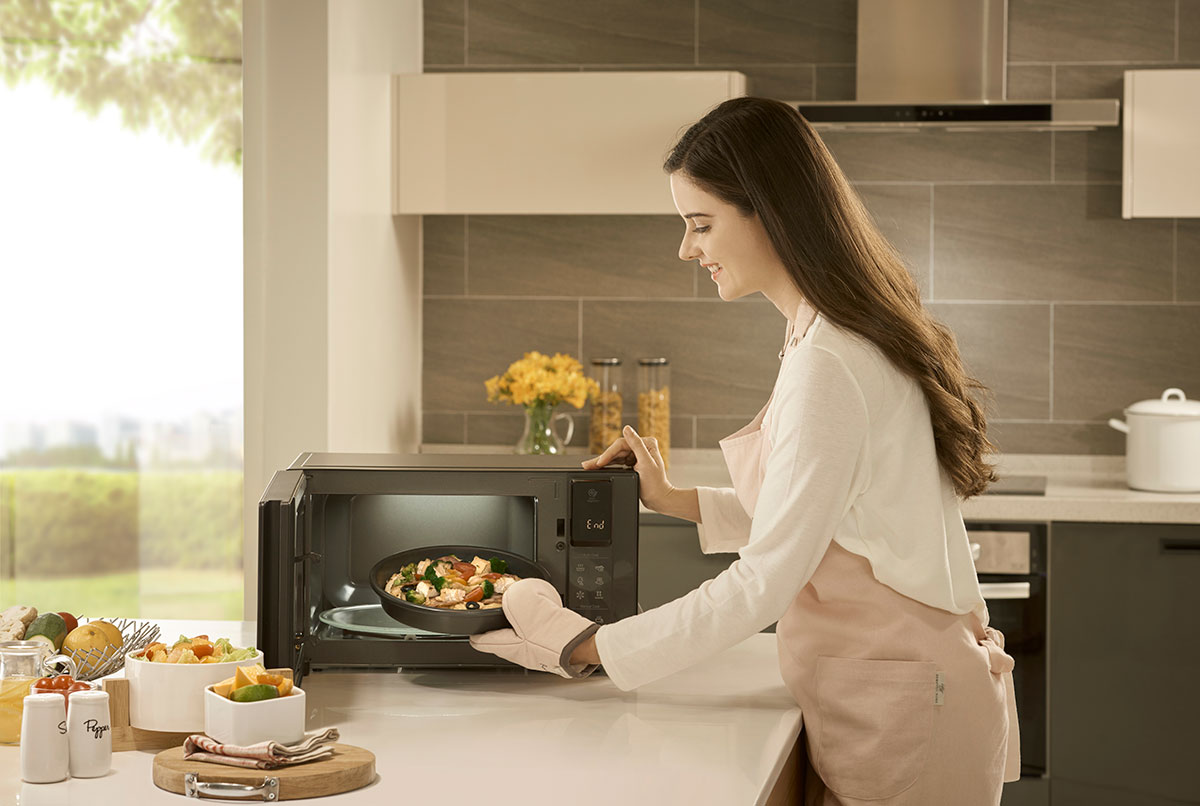 Healthier Treats with the Oven's Nifty Features
In addition, the NeoChef™ with its specialized settings can be used for melting ingredients such as chocolate or cheese and preparing a variety of foods. LG's advanced microwave can even be used for fermenting to make healthy, lactobacilli-infused yogurt more quickly than most home yogurt makers. The microwave's Healthy Fry feature is capable of preserving the distinct taste of each dish while making them healthier, using less oil and 72 percent less fat.
The NeoChef™ microwave ovens come in three models: 25-litre solo unit (S$299); 25-litre grill unit (S$399); and 39-litre convection unit (S$969). They are available at Audio House, Best Denki, Courts, Gain City, Harvey Norman, Mega Discount Store and other LG authorized retailers.
For more information, please visit http://www.lg.com/sg/microwave-ovens