Orchid Haven, a new 280 sqm space within Gardens by the Bay's Cloud Forest cooled conservatory, is a dedicated space to host Cloud Forest's changing orchid displays as well as permanent orchid exhibits, with more than 1,000 orchids on show at any one time. This is the first time since 2017 that a major area has been revamped in Cloud Forest.
With the growing popularity of Cloud Forest's changing orchid displays, which have been bringing to Singapore a plethora of beautiful and sometimes rare orchids from Central and South America to East Asia for the past four years, horticulturists recognised the need to carve out more space to showcase orchids. The new Orchid Haven is about three times the size of the original space for changing orchid displays.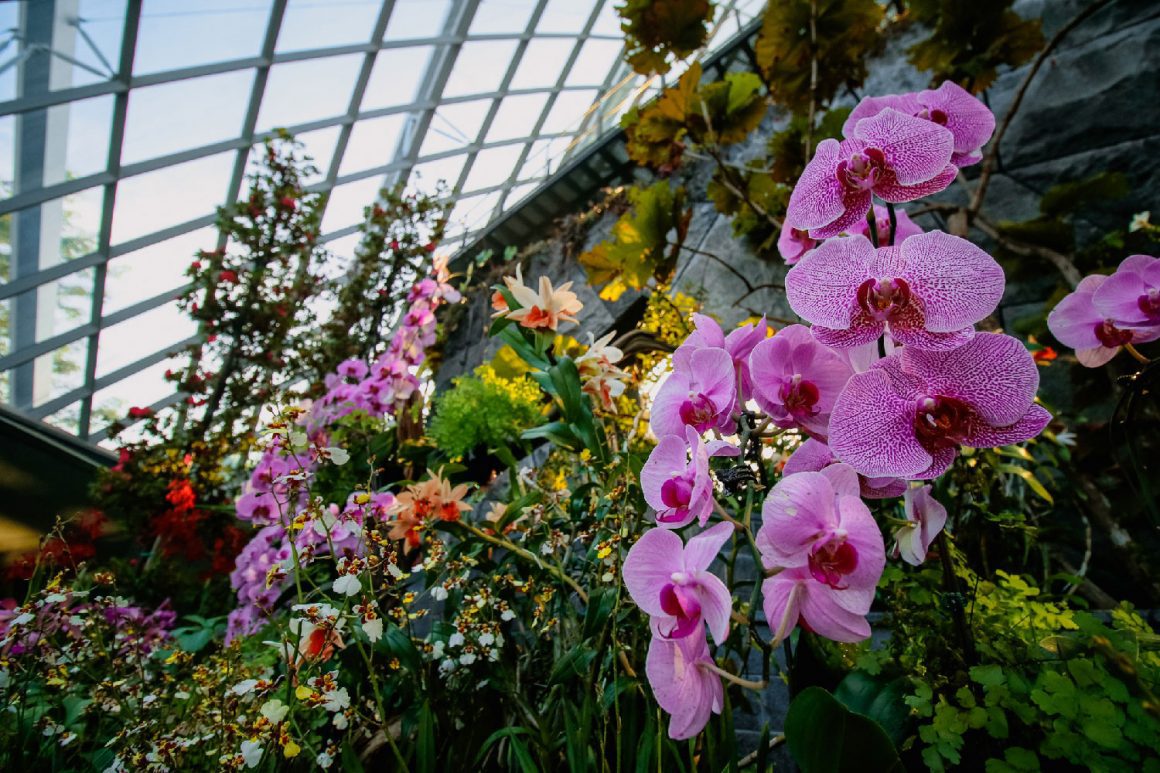 After all, Orchidaceae is one of the largest families of flowering plants, and orchids have a long history in Singapore. Gardens by the Bay also has an extensive and diverse collection of orchids, as well as its own orchid hybridisation programme.
Flight of the Moth Orchid
Flight of the Moth Orchid, the first changing orchid display in the new Orchid Haven, is a tribute to the Phalaenopsis orchid, a diverse genus whose floral form resembles that of a moth in flight. In this display, more than 800 Phalaenopsis orchids of 17 taxa are showcased in a breathtaking "waterfall" of cascading blooms.
The Phalaenopsis is a popular orchid among both orchid enthusiasts, as well as breeders whose focus is on producing ever more innovative hybrids. In fact, the orchids in Flight of the Moth Orchid have been arranged to show how the morphology of the Phalaenopsis has evolved through the years, from its original look to the distinct and dramatic characteristics that breeders have coaxed out of hybrids. Phalaenopsis hybrids are known for bright colours, peculiar patterns and markings, as well as floral mutations that result in even more stunning varieties.
In the run up to National Day, the Flight of the Moth Orchid display is also a nod to the Singapore's orchid industry's history of producing some of the region's earliest orchid hybridisation successes since pre-independence days. In fact, by the end of the 19th century, the emergence of novel and popular orchid hybrids had put Singapore on the world map because of the innovation and creativity of our breeders. Building on this legacy, Singapore – including horticulturists at Gardens by the Bay – continues to develop new breeding lines, as orchid hybridisation progresses in Asia and beyond.
Gardens by the Bay
18 Marina Gardens Drive
Singapore 018953
www.gardensbythebay.com.sg
Admission ticket from $12.