Sponsored Review
Before i continue, this entry got to be the most gross entry as the pictures you are going to see might make you feel.. ermz uncomfortable? I seriously have no idea where i got the courage to publish such photos for you on my blog! Okay, so if you've decided to continue reading, here i go~
Special thanks to EHA Clinic for sponsoring me this treatment! FATS, especially stubborn fats are really frustrating! The most comment fats that would appear on a man's body got to be the tummy and the "muffin top" (which is on both sides of your tummy).
Seriously i'm kinda bothered about that, im not sure if you guys can see my "muffin top" anot (though i think i hide it pretty well :P). So when i got to know about this treatment that is able to aid me in removing them, at the same time i dun have to go through any surgery or eat pills which im not sure if there will be any side effects, i put up my both hands in the hand, screaming "I WANT!!! I WANT!!!"
I went for my treatment 3 weeks ago on a saturday at EHA clinic, which is now located at Shaw Centre (previously located at Heeren) and meet up with Dr Elias Tam to discuss on the treatment. I was really nervous and at the same time excited about it and ive got quite a few questions to ask him, which i'm sure you would ask and want to know about.
1) Is it Painful?
The treated area will swell and may cause discomfort but it the swell will subside slowly, probably in a weeks time. It's like muscle ache plus "blue black" kind of feeling.
2) How it Works?
As fat cells are more vulnerable to cooling than the surrounding tissues, a non-invasive applicator will be attached to the targeted area (which is the area you wanna reduce fats) to extract energy from the underlying fat tisse, while protecting the nerves, muscles and other tissues surrounding it.
The cooled fat cells will then die off and gradually eliminated through the body's natural ways, reducing the thickness or the fat layer.
3) Will the result be Prominent? Permanent?
CoolSculpting by ZELTIQ is not a weight loss solution and is therefore, a healthy alternative to invasive procedures. Fats are rid off permanently. Once the fat cells are killed, the results are permanent and fat will never be deposited again in the same area that was treated, at the same time sparing other structures or areas of the body.
Accompanied with a healthy lifestyle and diet, results are long lasting and permanent as the fat cells are eliminated naturally by the body.
Just several days after the treatment, fat cells will die off naturally and slowly digested over several months by the body. Patients can see results as early as three weeks after the treatment while the body is still flushing fat cells for the next six months. Backed by scientific research and testing, CoolSculpting has been found to be able to reduce fat by an average of 20% each procedure.
OKAY! this sounds pretty promising, I'm IN! 😀
so before the treatment begin, i was asked to strip, ermz wait, to remove my pants and take some before treatment photos.
the doctor uses a stencil to do some measurement on the area to be treated.
Followed by using a pencil (eyeliner i think) to mark out the area.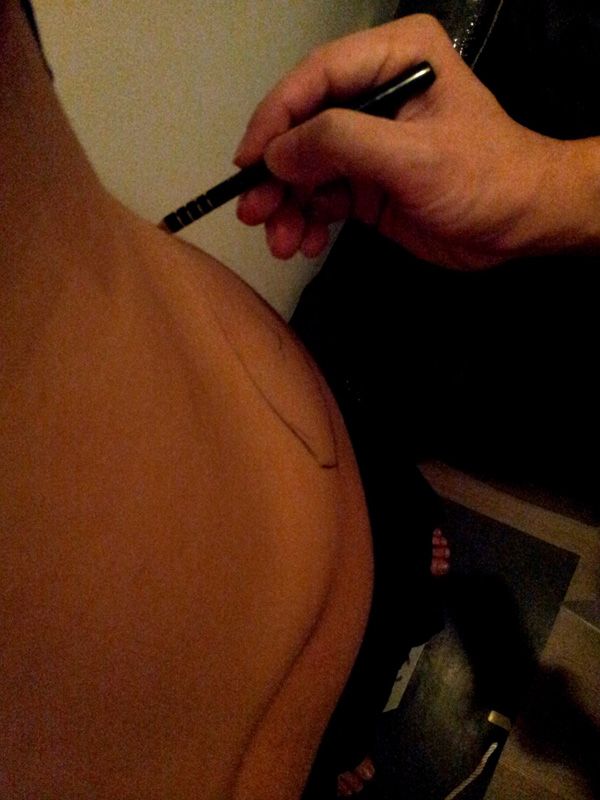 next, you will get to sit on a super comfy armchair (something like a massage chair) and they will apply this super COOLing gel onto the targeted area.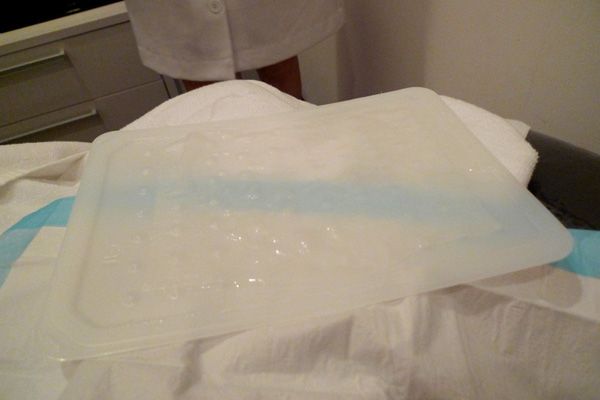 NO! im not wearing pampers or wat ok~ haha it's just something to absort the water and prevent them from staining ur underwear.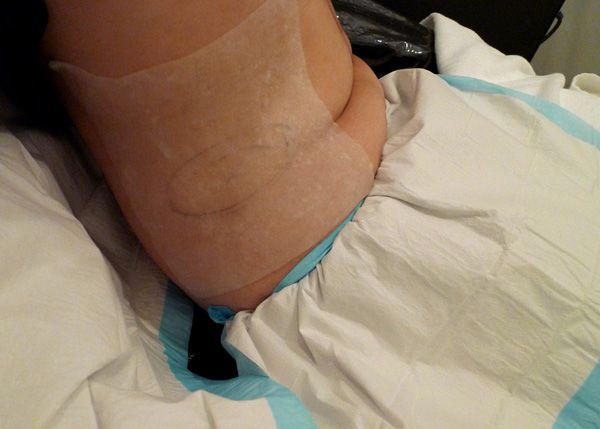 and this is the "sucker"! or "freezer" which will suck up and freeze your fat cells~!!!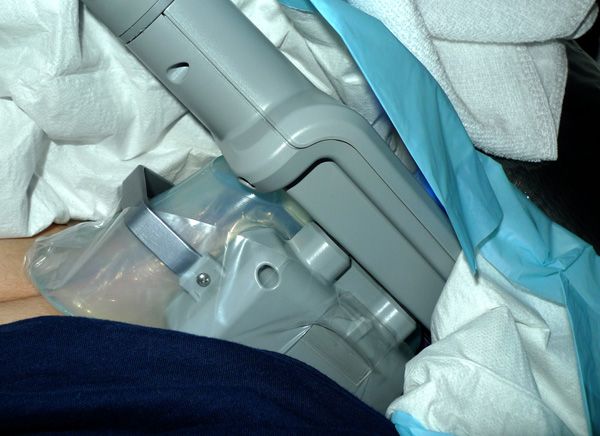 When it got activated, you will feel a slight ache as that whole area will be sucked up by the machine but you will slowly get used to it after awhile.. the red line below indicate the area being sucked up…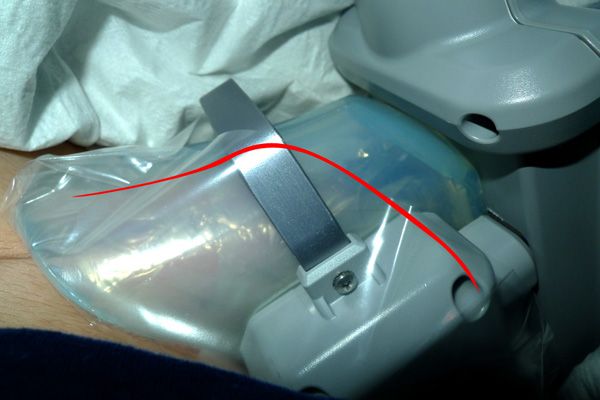 As i'm getting both sides of my fat cells FREEZED, i will need ard 2 hours to complete the whole treatment. One treatment will last ard 60 mins. Thinking that you will get really bored during the treatment? Don't worry as you can watch your favourite movie while waiting for the time to pass!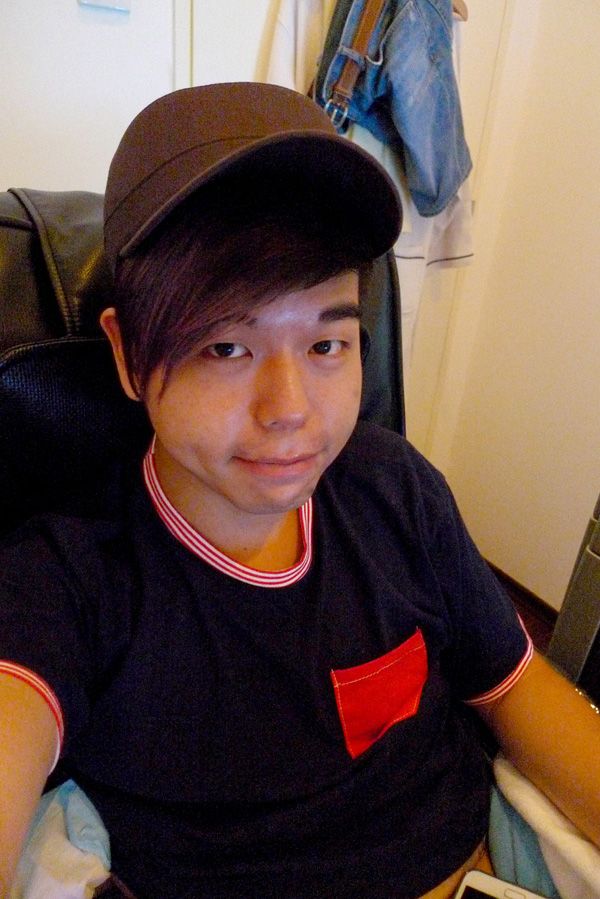 Guess what movie am i watching? 🙂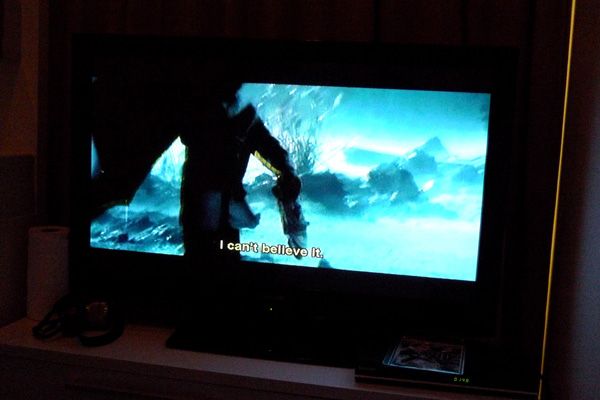 So 2 hours later (im not even done with my movie), it's time to PLUCK that thing out! 😛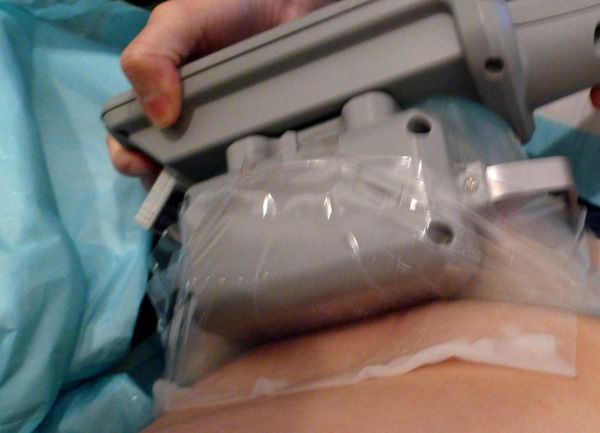 1.. 2.. PULL~!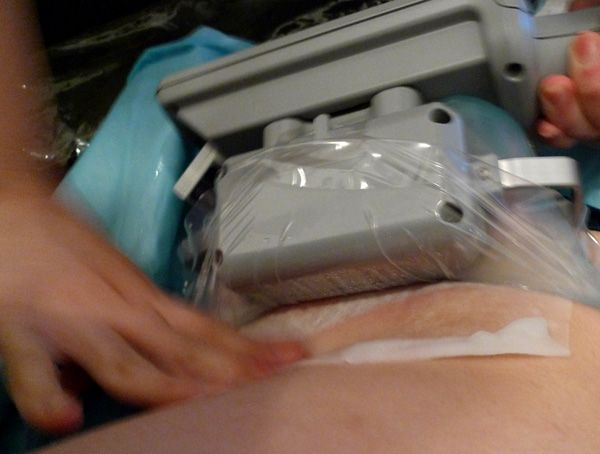 POPPED! and what was that?!!!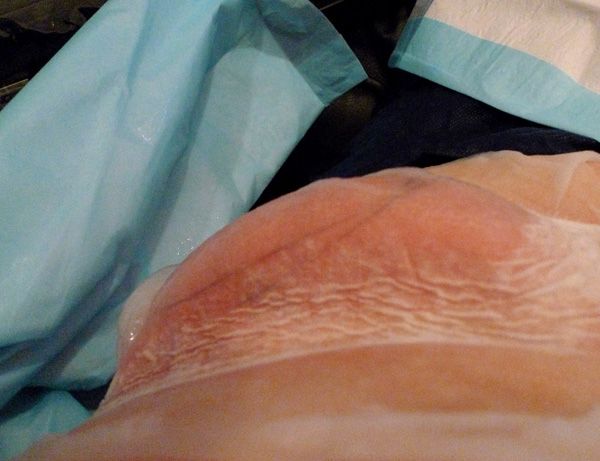 ONE BIG LUMP OF FATS!  AND IT'S SUPER STIFF AND NUMB!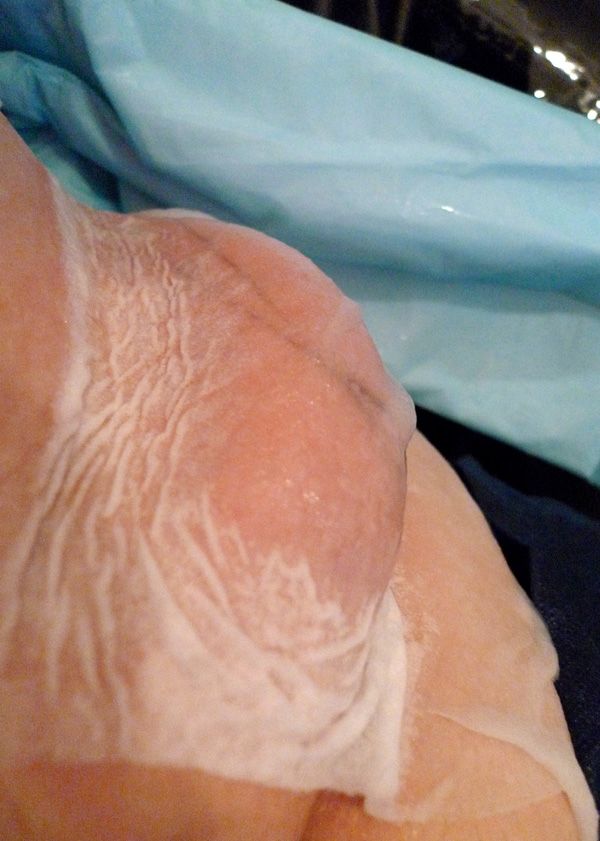 so the nurses over there helped to massage that area to "loosen" them up.. it aches abit whenever they pinch on the area.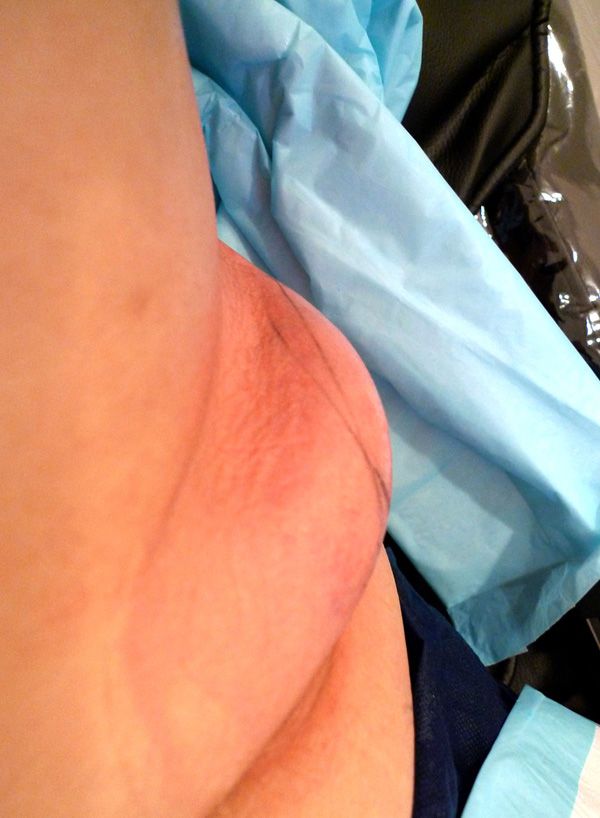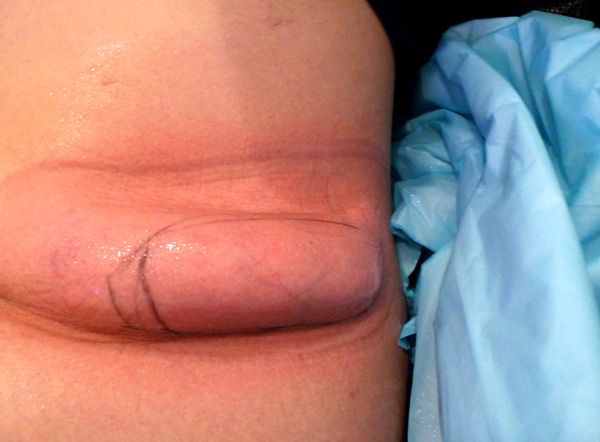 this is how the "sucker" look like!!!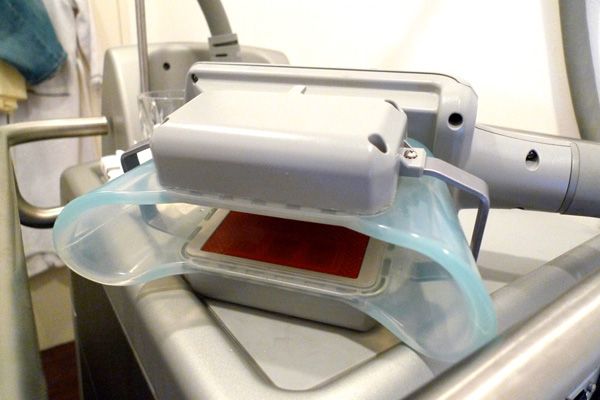 and how the machine look like…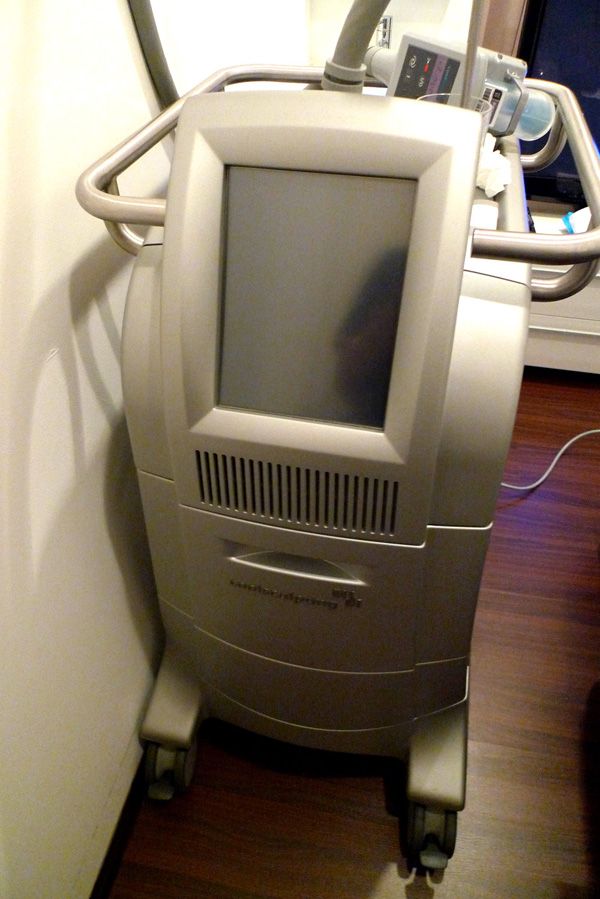 a few hours later after i reached back home.. this is how the treated area looks like…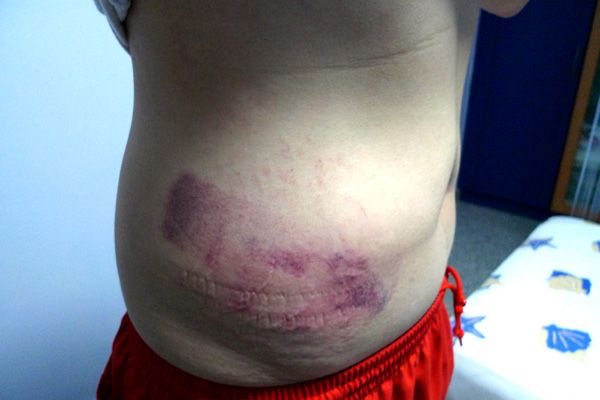 The bruise does make it look pretty scary and yes indeed, that area became really sensitive. You will definitely feel the ache but it depends on inividual on how much you can bear with it. It wasn't easy for me for the first few days but slowly i manged to get used to it..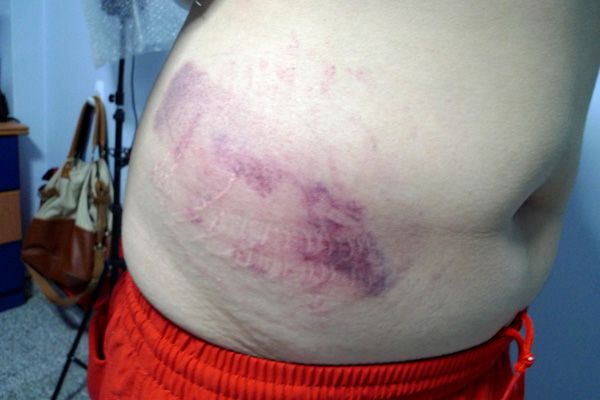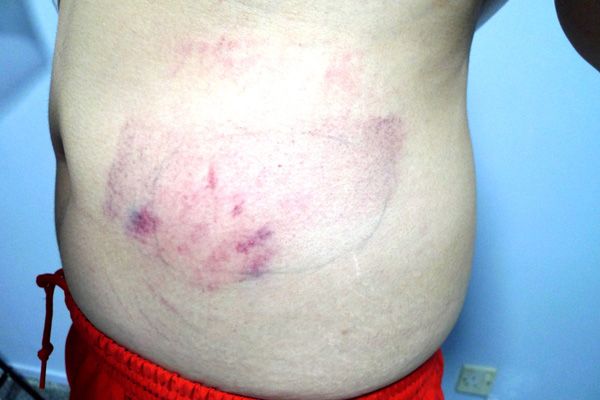 SO are you ready to see the results 3 weeks later?! as i was told that i would be able to see some results in ard 3 weeks time!..
.
.
.
.
.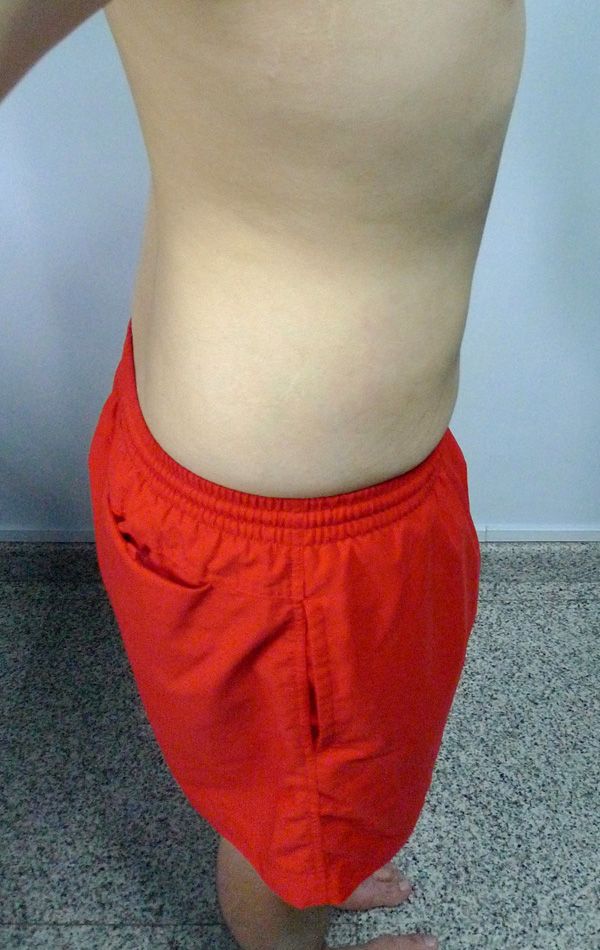 ops. i got a star sticker for myself ;P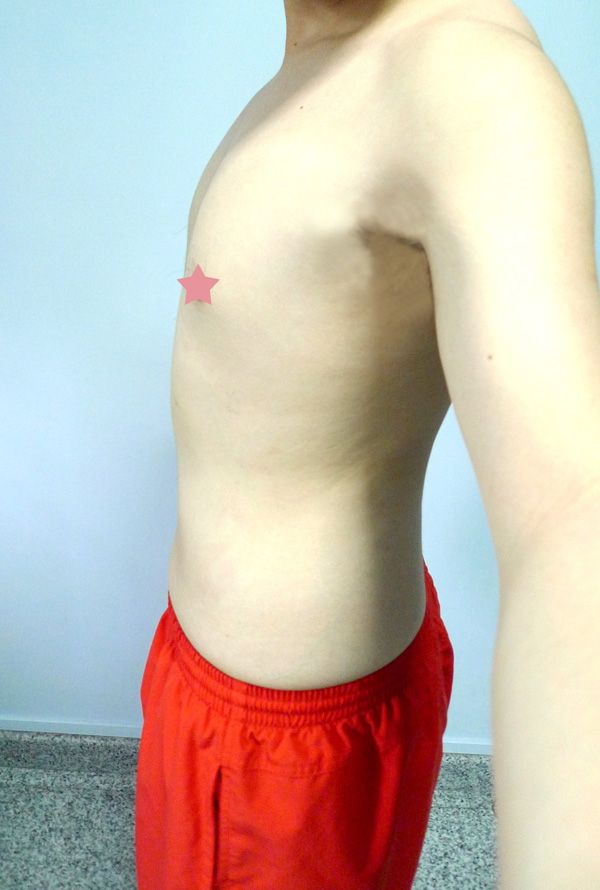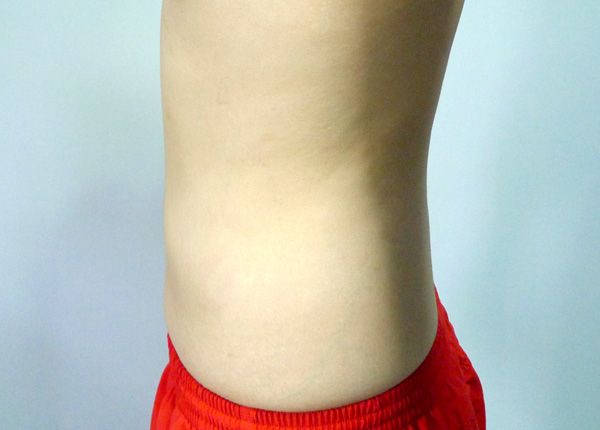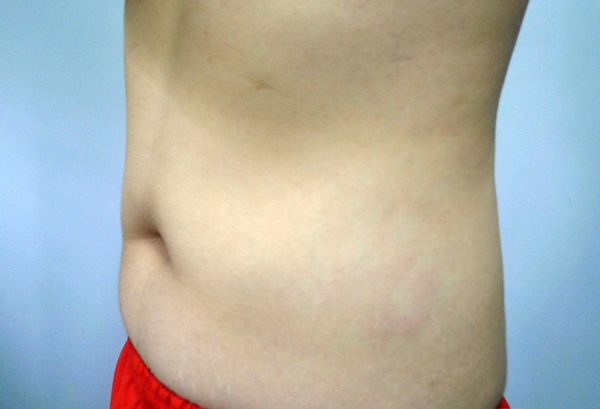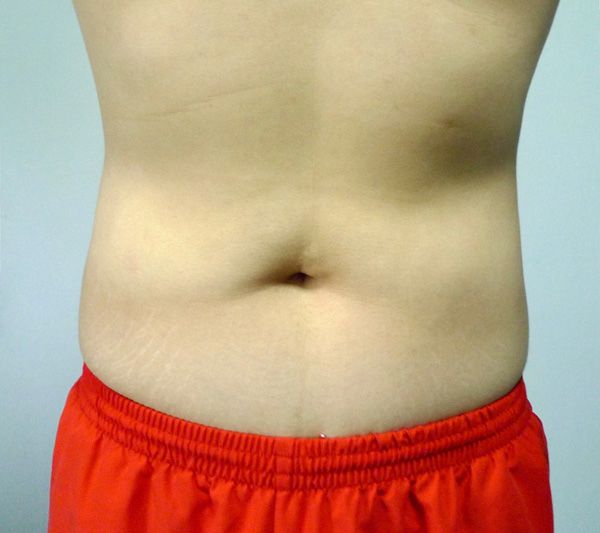 I know i still look abit chub but there's a difference right?!! It's pretty amazing! actually i didn't realize much but after taking the pics and comparing it with the pics i taken 3 weeks ago, i can see a difference in it!! ;D
Here's a comparison pic … tell me what you think?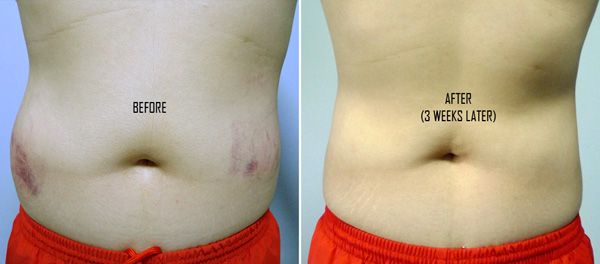 But of course you need to control your diet as well la.. This CoolSculpting treatment is to help you to reduce those stubborn fats and with proper diet, im sure i'll be able to maintain. 🙂 its not tat hard la seriously.. you need determination!
I was once like this, weighing at 103kg…
The revolutionary CoolSculpting procedure which was developed at Massachusetts General Hospital (Harvard) in the United States, is an FDA approved procedure for the non-invasive reduction of fat not only in the States, but in Canada and European Union as well. It has since created much positive raves among the celebrities and media; worldwide.
So are you keen to Looking Good Inside Out? Try CoolSculpting today! 😀
*Updates : New applicators for arms and thighs available now! *
Call EHA Clinic today and book an appointment with them!
No. 1 Scotts Road #15-01
Shaw Centre
Phone :6235 3325
Email : info@eha.com.sg
Website : http://www.eha.com.sg/
Do LIKE their facebook page as well!