Hearty yet healthy is a concept that I like to apply to my meals and the basis of this stems from the principles of how one stock up and manages the pantry. Food storage and handling is also an intricate part of the pantry. Today let us explore some core concepts on how to achieve this.
Meats and Proteins
Leaving raw meat out to thaw is never a good idea because plenty of bacteria starts to form. The safest way is to leave it in the fridge from the freezer if need be, using a cold water bath is one of the best way, however, this may take up to 30 minutes depending on climate conditions. Alternatives to this would be to use microwave/oven thawing features or you can simply make an order on honest bee that provides same day, one hour delivery options. This just in time system maybe new to many home cooks but it is fairly common practice by many companies to save on storage cost. Instead of crowding your fridge with a week of meats and veg, how about having them freshly delivered?
Storage – Did you know it is recommended to keep raw meats for only 3-5 days at 2-4 degrees Celsius and 4-12 months at 0 degree Celsius? Wrap pieces individually, then overwrap tightly.
Canned and Processed Food
Can foods have good shelf life and should be stored in a cool place in your cupboard. I personally do not recommend canned foods due to the high levels of preservatives and many of these can foods have high levels of sugar and salt. Save yourself the effort of lugging these can foods home by having the convenience of home delivery.
Dairy Products
Milk, eggs, cheese and butter are some of the common dairy products that you will have in your pantry. It is best to consume your milk within 7 days upon opening and avoid putting them in the freezer as freezing affects the flavor and appearance. The same applies to raw eggs and they should be consumed within 7 days too. It is also recommended not to freeze cheese as it destroys the character of the cheese!
What makes fresh by honestbee different from the rest?
Other than providing your with the convenience of shopping for your groceries anytime and anywhere, fresh by honestbee also provides you with fresh and quality items at unbeatable value! Expect to receive your items as soon as the next hourly window available from the time you placed your order. Yes, it's that efficient 🙂
Whether you are planning a special occasion or your upcoming Christmas party, you can save your time from visiting the supermarket and order your fresh ingredients from fresh by honestbee!
Keen to try this out? Here's a good kickstart for you! Place your order with the voucher code "FRESHLEH" and enjoy $10 off with $40 minimum spending with FREE delivery for first-time users!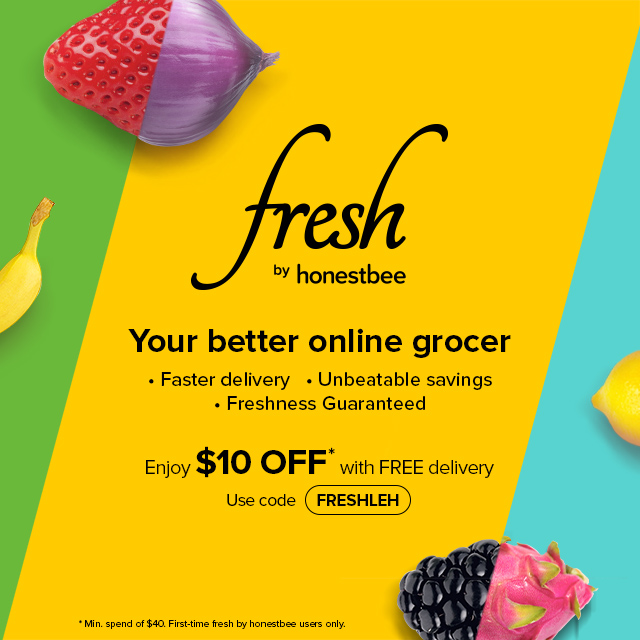 In Summary
Understand your household consumption needs and purchase appropriate portions to avoid wastage
Proper food storage and handling is important
Just-in-time delivery systems like honest bee can provide quality products and help with managing hassles of thawing and storage of food
Delivery services can help save time not to mention lessen the trouble of moving cans and bottles home
Crafted speciality ingredients and food items can be viewed and purchased without the hunting
This post is brought to you in collaboration with honestbee.