All SONEs and SNSD/Girls Generation FANS out there!!! You gotta take note of this if you didn't manage to grab any tickets for the 2 FULLY SOLD OUT concert that will be held on the 9th & 10th dec in Singapore!
F&N welcomes you to join in the contest and win TICKETS to the concert!!! Very easy one! All you needa do is to form a team of 8 pax and perform a dance cover from one of their songs, upload it to youtube and submit to F&N! easy right? i know all you SONEs out there must be very good with their dance steps right, so this is nothing difficult for you~
OH ya~ it does not apply to girls only, the boys can form a group and do a dance cover as well!
You sure guys can dance ma~ OF COURSE! if not see what i've found online. I think some dance even better than the ladies lor!
[youtube http://youtu.be/UqgXTha5L_8]
[youtube http://youtu.be/MPEOSPCrcq0]
this is from students in singapore.. either NUS or NTU
[youtube http://youtu.be/kblvLcu2AcQ]
SO~ make good use of the next few days to practice and film down your dance cover! Dateline of submission will be on the 2rd Dec 2011!
No worries if you can't dance, you can record down a short video clip of the message you wanna tell the 9 girls and submit in as well ;D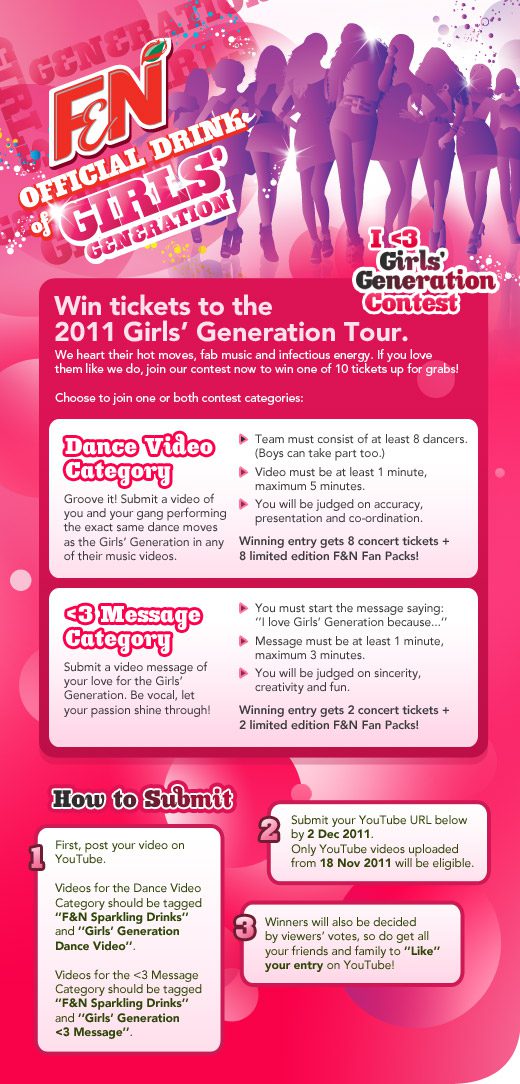 If you are too shy to appear on the camera. You can still stand a chance to win tickets to the concert. SEE F&N soooo nice right!
Here's how you can win your tickets!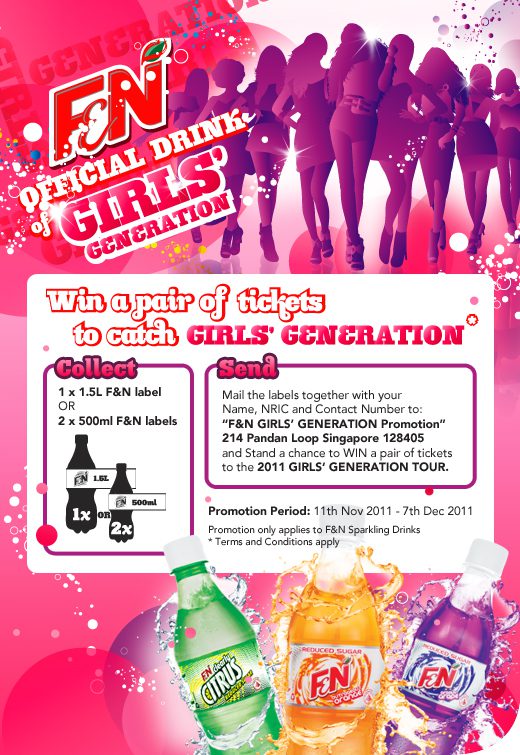 So what are you waiting for! This maybe your last chance to grab yourself a pair of tickets to catch the girls in town this coming december!!!
SERIOUSLY, MAI TU LIAO~~ (meaning dun wait liao~)
For more information and details, visit www.facebook.com/FnNFun and www.fnn.com.sg.