With the rising popularity of Korean pop-culture, Korean cuisine has also been all the rage these days. For Hallyu fans who want to integrate Korean food into their meals, kimchi is an easy, accessible option.
But there is more to kimchi than the usual red napa cabbage kimchi or baechu geotjeori. For a few more options for your beloved Korean side dish, here are other types of kimchi you can easily make at home.
Kkakdugi (Cubed Radish Kimchi)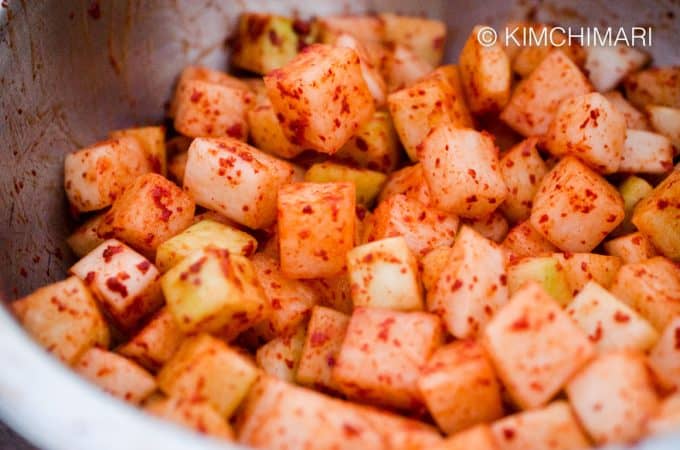 Kkakdugi is a type of kimchi enjoyed by many for its crunchy texture and subtle hint of sweetness with just the right amount of acidity. Below are the ingredients you need to make Kimchimari's version of this dish.
Water
Sweet rice flour
Radish
Sea salt
Sugar
Garlic
Ginger
Saewoojeot (salted shrimp paste)
Gochugaru (hot pepper flakes)
Myeolchi aekjeot (salted anchovy sauce)
Mix 10 tbsp of water and 1 tbsp of sweet rice flour to make sweet rice flour paste. Bring to a boil and let simmer for 7 minutes. Peel your radish, cut into 1 inch disks, then cube.
For the brine, mix 2 tbsp water, 3 tbsp sea salt, and 2 tbsp sugar in a bowl. Add the radish cubes and toss to evenly coat each piece. Let the mixture rest.
After 20 minutes, remove the brine without rinsing the radish. Prepare chopped garlic, ginger, and saewoojeot.
Once the radish has been drained thoroughly, add 3-4 tbsp of gochugaru and toss. Then, mix in the sweet rich flour paste, garlic, ginger, saewoojeot, and myeolchi aekjeot. Add 1 tbsp sugar and continue adjusting to taste.
Place the kkakdugi into a container and leave at room temperature for 1-2 days or until bubbles form at the top, then transfer to the fridge. Experts at Fridge Repair Singaporerecommend keeping your refrigerator in tip-top shape for a longer shelf-life for your kimchi.
Baek Kimchi (White Kimchi)
For a non-spicy, child-friendly version of the usual kimchi, baek kimchi is a great option. While there are many recipes for this dish on the internet, Allrecipe's version is one of the simplest and easiest to make.
Napa cabbage
Salt
Water
White radish
Green onions
Garlic
Ginger
White Sugar
Salt
White vinegar
Korean dried red pepper threads
Slice the cabbage lengthwise into quarters, making sure that the leaves remain attached to the core. Rinse with cold water and generously sprinkle 3 tbsp of salt between leaves.
Place the cabbage into a bowl and cover with water then leave until the leaves are soft. After 4-5 hours, rinse the cabbage 3-4 times then drain for 20 minutes.
Next, prepare 1 cup of thinly grated white radish, 2 pieces of green onions sliced into thin strips, 4 cloves of minced garlic and 2 slices of ginger.
Mix these in a bowl with 1 cup water, 1 tsp sugar, 1 tsp salt, 1 tsp white vinegar, and 3 pinches of dried red pepper threads. Spread the mixture in between the cabbage leaves and set aside the remaining liquid.
Afterwards, peel back the outer leaf without detaching it from the core and fold in the inner leaves in half. Then, wrap the outer leaf around the folded inner leaves before packing the cabbage into a container with the liquid from the radish mixture.
Let it sit at room temperature for a day before placing inside the fridge.
Oi Sobagi (Cucumber Kimchi)
If you can't wait for days to ferment your kimchi, oi sobagi is the best kimchi variant for you. While maintaining the classic spicy kimchi taste, it is also refreshingly cool and crunchy. Korean culinary Youtube star Maangchi shares her fail-proof recipe.
Kirby cucumbers or any small, thin cucumber variant
Kosher salt
Buchu (Asian chives)
Garlic
Carrot
Onion
Gochugaru (hot pepper flakes)
Fish sauce
Sugar
Water
Toasted sesame seeds
Slice the washed cucumbers lengthwise into quarters, leaving half an inch on one end so the pieces are still attached.
Rub the cucumbers with salt inside and out and leave for 10 minutes. Turn them over and leave for another 10 minutes. Then, rinse the cucumbers with cold water to remove excess salt. Drain.
Slice a medium carrot into matchsticks. In a bowl, mix 1 cup buchu, carrot, ½ cup hot pepper flakes, 3 tbsp fish sauce, 1 tbsp sugar, and 1 tbsp toasted sesame seeds. Generously stuff the mixture into the cucumbers.
You can serve this immediately and refrigerate the leftovers. You can also let it ferment in room temperature until the cucumbers smell and taste sour then transfer it to the fridge.
Kimchi is great for digestion and also helps strengthen your immune system, says the experts at Endocrinologist Singapore. By making your own kimchi, you're not only introducing new flavors to your taste buds, but also taking measures to improve your health.