ION Orchard kicks off its 10th anniversary celebrations with a splash this Spring/Summer fashion season with the first mermaid tank installation along Orchard Road! From 1 to 28 April, visitors and shoppers will be treated to enchanting mermaid appearances, complete with Insta-worthy backdrops of vibrant vertical green walls, and water features. Over the next 10 months, shoppers can partake in a slew of fun and engaging activities and events, and exclusive deals and surprises in conjunction with the mall's special milestone.
Fashion Makes a Splash at ION Orchard
Nature and undersea fantasy take centrestage at ION Orchard's Spring/Summer fashion season, where the mall's outdoor space ION transforms into a dreamlike fashion garden, complete with an aquarium that will feature meet-and-greet sessions with an underwater mermaid dressed in a glittery sequined mermaid tail. The beautiful mermaid will pose and greet shoppers in Orchard Road's first purpose built mermaid aquarium tank measuring 2.4 square metres and 1.8 metres in height, and containing some 8,000 litres of seawater. Together with sounds of marine life and decorative lighting, shoppers will be transported to a magical undersea realm.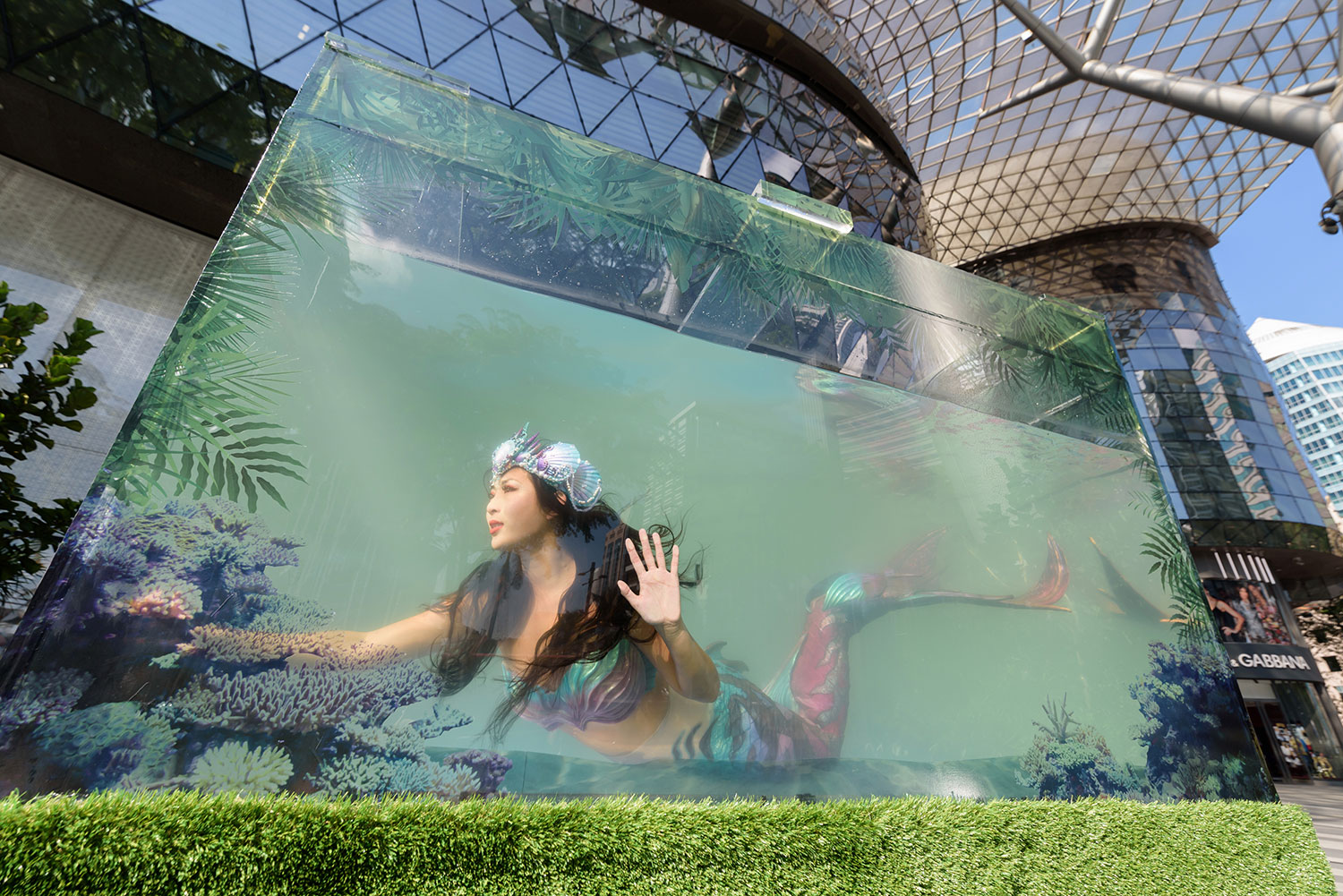 Visitors can catch the mermaid over four weekends from 1 to 28 April, every Friday, Saturday and Sunday at 5pm, 6pm and 7pm. Visitors can further join in the aquatic fun at an optical illusion see-through water ceiling installation, flanked by picturesque walls of lush greenery hanging overhead. Taking inspiration from springtime blossoms, visitors will experience nature, accompanied by the therapeutic and calming sounds of the ocean. The aquatic garden, with its array of floral backdrops and see-through ceiling-reflective pool will be the perfect spot to snap OOTD photos and selfies with family and friends!
ION Orchard and its many Picture Perfect Moments
To reward shoppers for sharing these moments, ION Orchard is holding a Facebook contest where five winners will win 125 ION+ Points each (equivalent to $50) for their post, which must include the #10NCelebrates and @IONOrchard tags. The contest ends on 28 April, and shoppers can register for free as ION+ Rewards Members to qualify.
Exclusive 10th Anniversary Flash-Deals
As part of ION Orchard's 10th Anniversary, shoppers can look forward to exclusive "thank you" flash-deals on the first Saturday of every month, starting from 6 April. The attractive deals will flash on screens and directories across eight levels of the mall. Displayed for just 10 seconds each time, shoppers simply have to capture a photo of the flashing deal on the digital screens in the mall and redeem it in-stores.
For more information, please visit the ION Orchard website at http://www.ionorchard.com/.