Sponsored Trip By Hong Kong Tourism Board , Canon & omy.sg
Finally after a week, i'm ready to blog about my wonderful trip to hong kong with my Canon SX 230 HS camera! 😀 Special thanks to Hong Kong Toursim Board, Canon and omy.sg !
We flew by Cathay Pacific and it's actually my first time flying with them! Overall experience was great 😉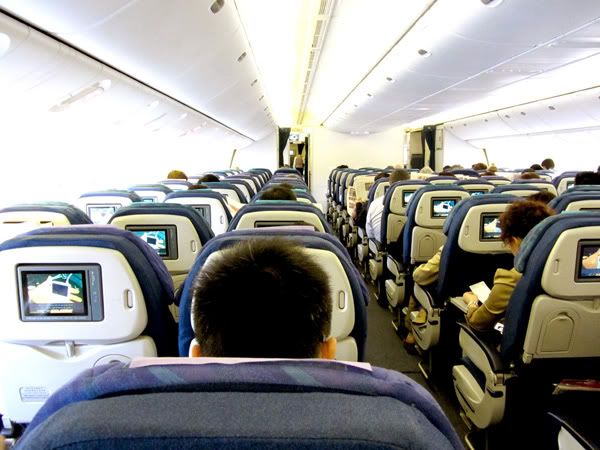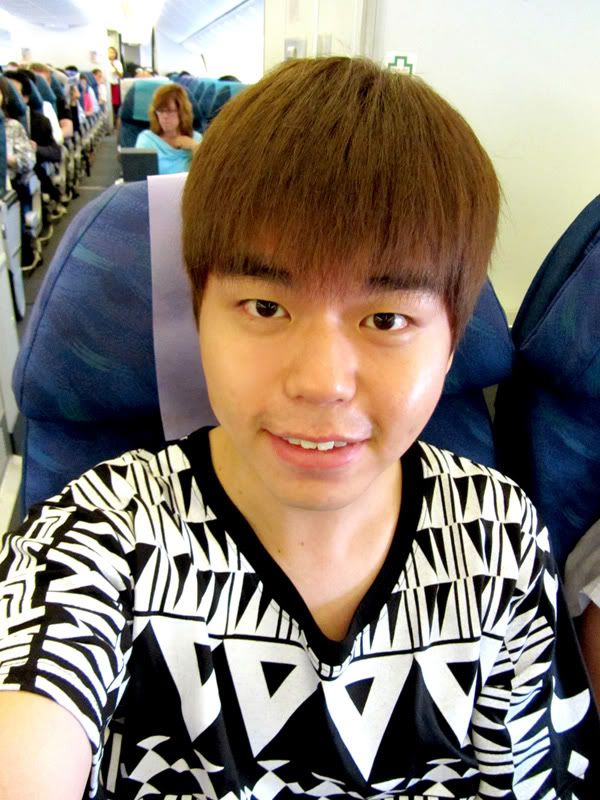 breakfast served onboard 😉 yumm yumm!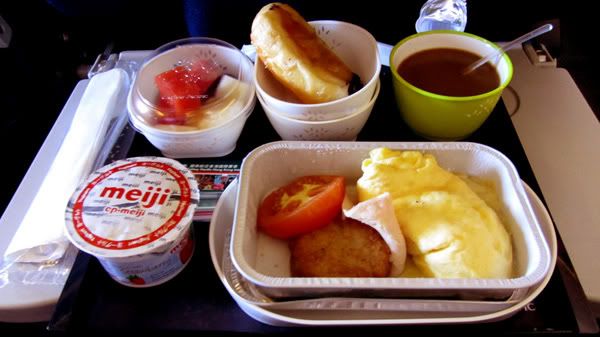 and after a 4 hours flight, we arrived in Hong Kong! and we couldn't wait to start snapping pictures with our canon SX 230 HS camera! 😀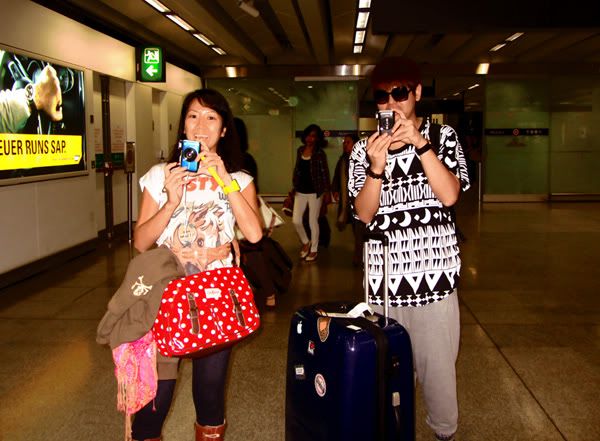 There's a Hong Kong Tourism Board counter just when you exit into the arrival hall. You can grab all the maps, brochures and ongoing activities in hong kong over here! Super convenient! There's also a friendly staff over there to answer all your queries too 😉
We felt like a superstar when we saw this !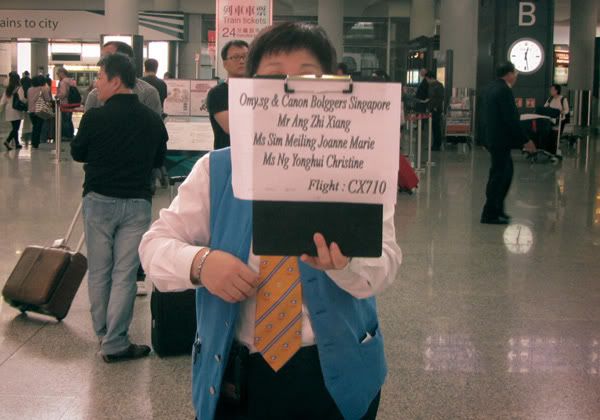 hahahaha~ just that there isn't much fans screaming for us 😛
here's a pic with one of my travel buddy, Joanne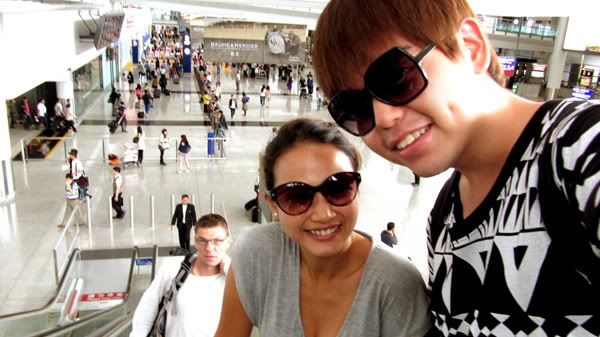 The first thing i did upon arrival at the airport was to get the prepaid sim card so that i can update my facebook, twitter etc on the go for you guys! * see i'm so nice and considerate right? * 😛 i can die without any internet connection  :S
So if you are heading over to hong kong, do purchase them at the aiport. It's located at the departing hall. So upon arrival, you will just need to take a escalator up to the departing hall and it's on the extreme right. The 3G on the go for iphone 4 cost ard HK198 for 4 days unlimited internet access on your mobile 😉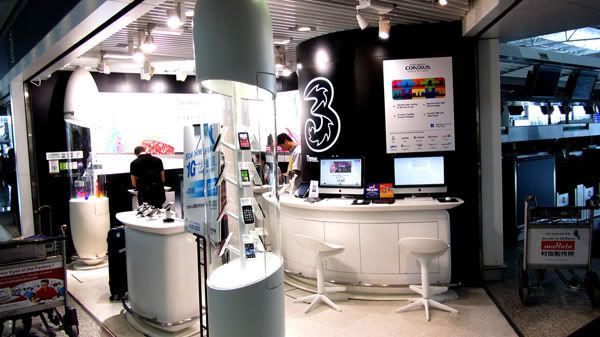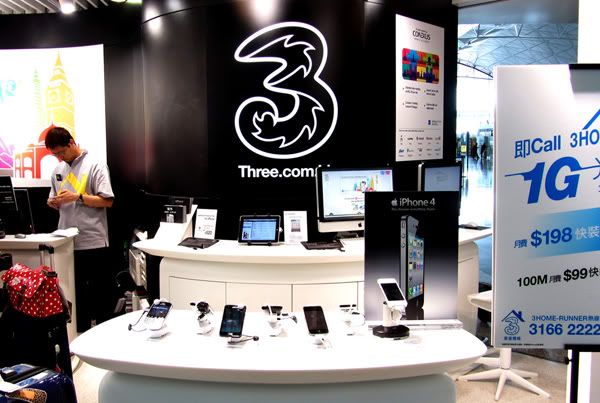 We got a limo picking us up from the airport to the hotel. 😉 felt like a superstar once again 😛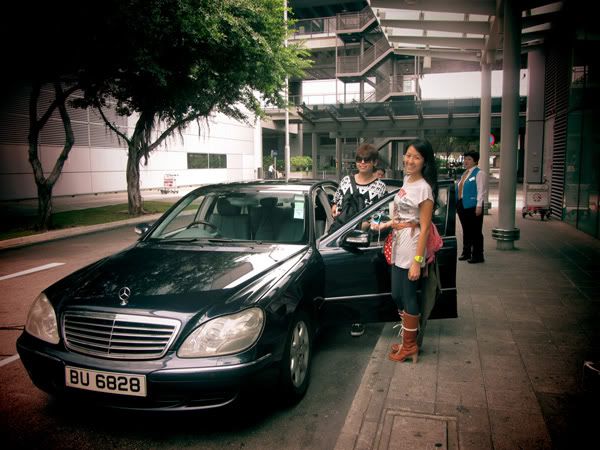 thanks for the beauty mode which make my face look simple flawless 😛
ladies at the back fiddling with the camera to get the correct settings for that perfect shot 😉
No more BLURRED images of the scenery while taking pictures in the car with the Kids & Pets mode.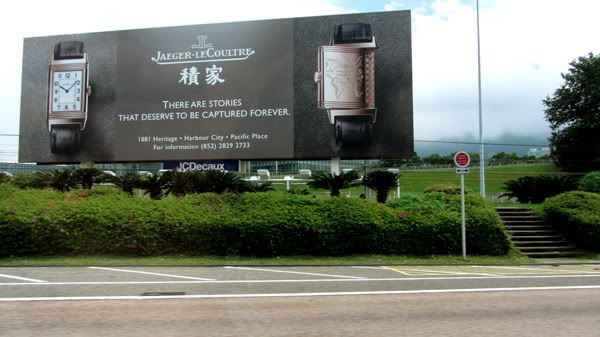 after a 40mins car ride, we reached our hotel, The Empire Hotel located in Tsim Sha Tsui 尖沙嘴. While waiting for checking in, we camwhore at the lobby. Tried taking a few shot against the window and my face turned out kinda dark. So, i tried switching to the beach mode, and the results turned out kinda satisfying 🙂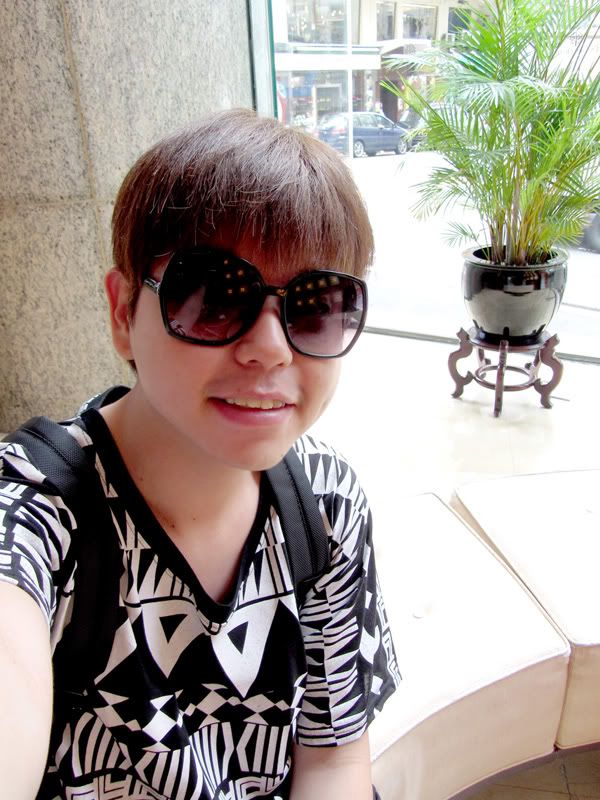 Finally the room is ready and tada~ here'e my room ! loved it as it's actually quite spacious 🙂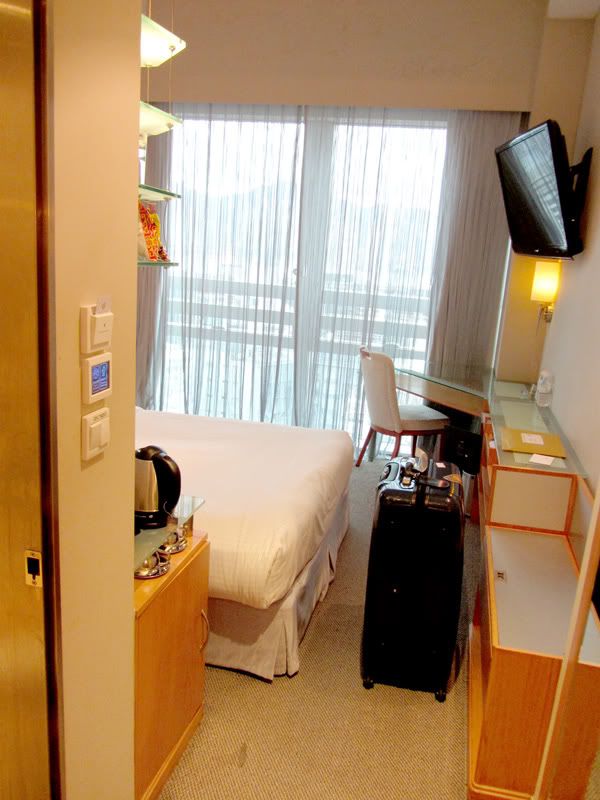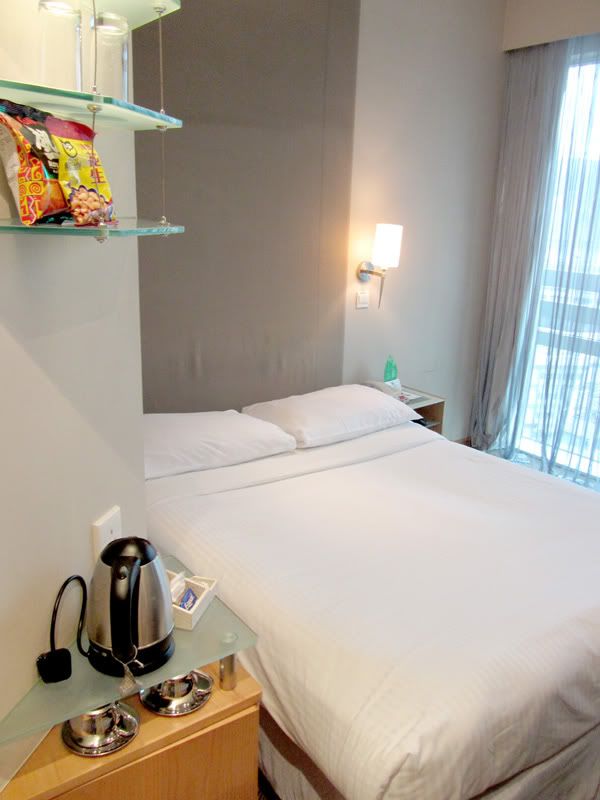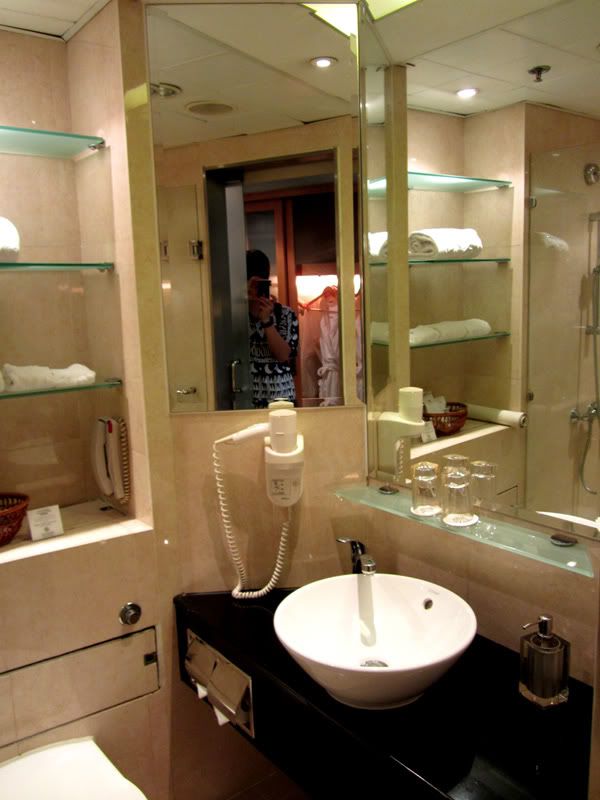 WOOHOO~ my bed for the next 4 days ;P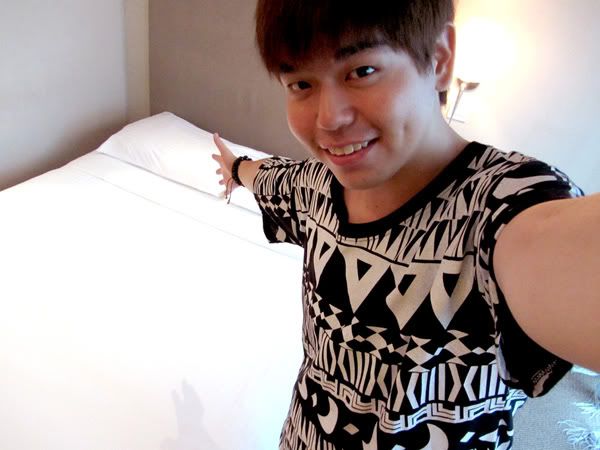 After putting down my luggage, had a quick wash up to freshen myself up after the flight as we are meeting Alice from the hong kong tourism board and to have our DIM SUM LUNCH! yumm yumm 😛
Super HUGE mirror for taking self portrait ;P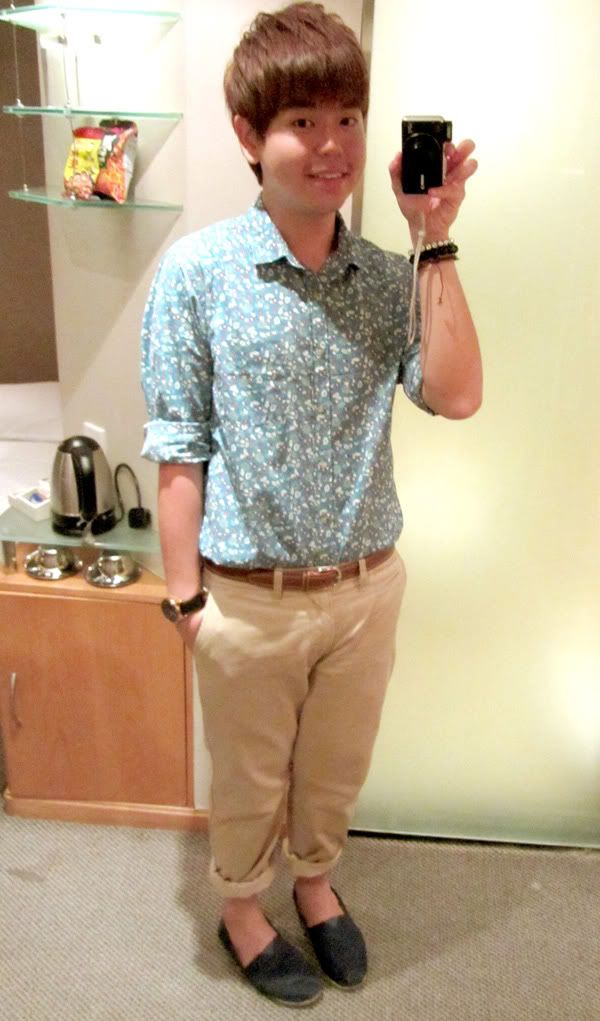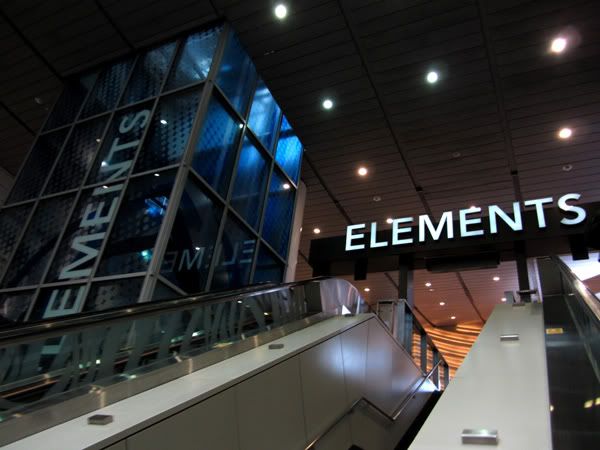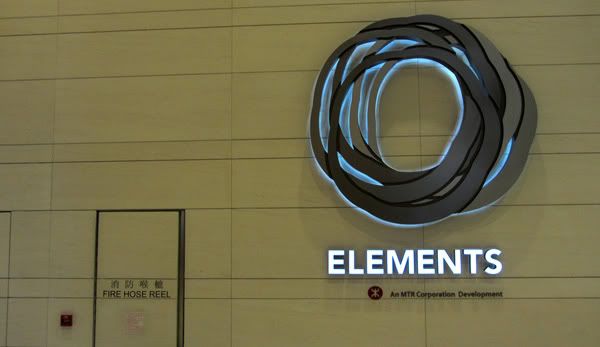 Dim Sum lunch at 渔喜小菜皇 Yu Joy Chinese Restaurant located at the Elements shopping mall. (Shop 1028C, 1/F, Elements, 1 Austin Road West, Tsim Sha Tsui)
Hungry ~~~~!!!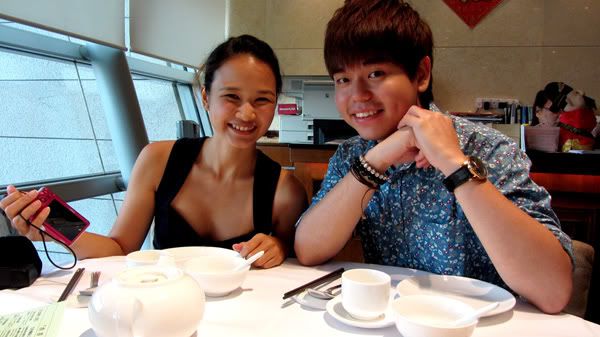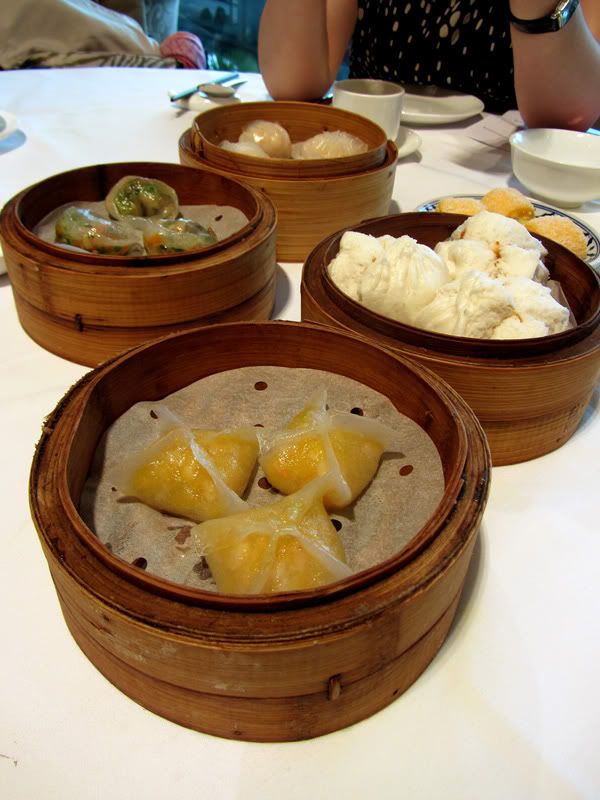 Jo & Christine enjoying the dim sum 😉
We're so hungry that we are snatching for food! haha~ actually it's because the dim sum taste so good that we wanted more!!! ;D
Mashed pumkin with prawn bits in it. never see this in singapore before. Oh yes~ it taste good !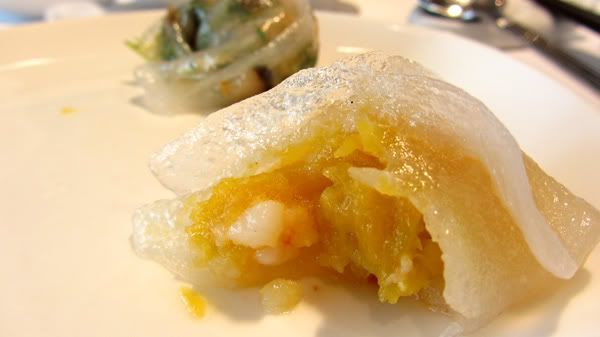 Siew Mai topped with prawn~~~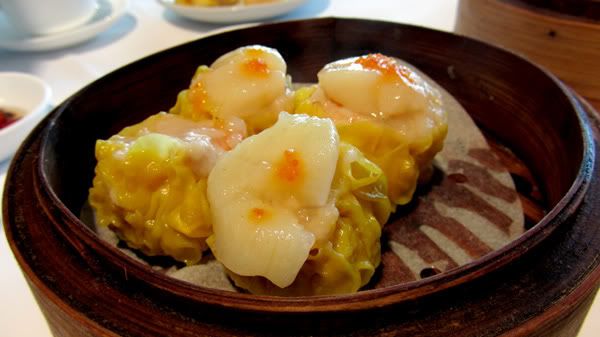 This is nice~ but i couldn't remember the name of it. It's actually some meat fillings wrapped with toufu skin.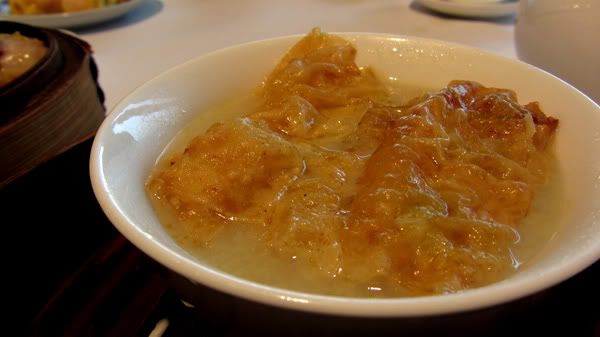 ok, let's take a break for images of food~ 😛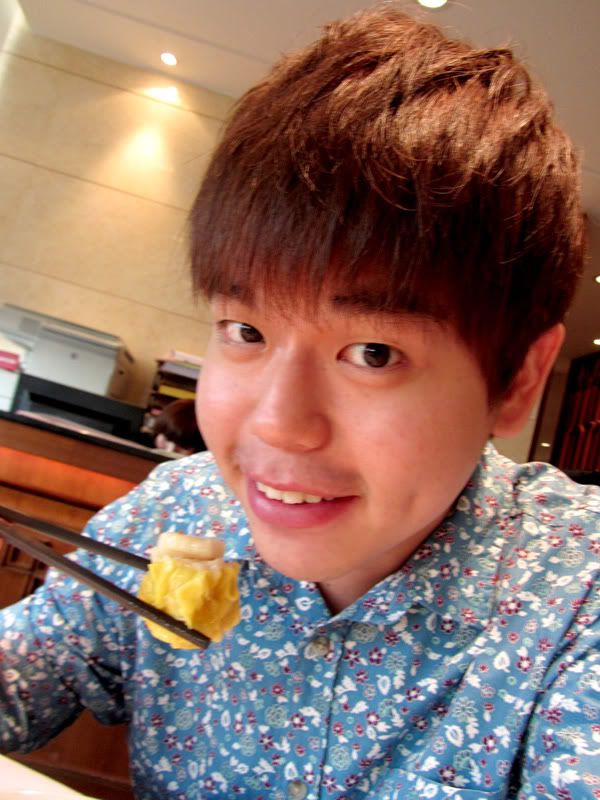 another dish that i dun see it in singapore. I quite like this! u needa add in the sauce provided and mixed the 粉条 with it. eat together with the cucumber wrapped with pork slice. WOO~ nice! but the 2 ladies dun really like it.. 😛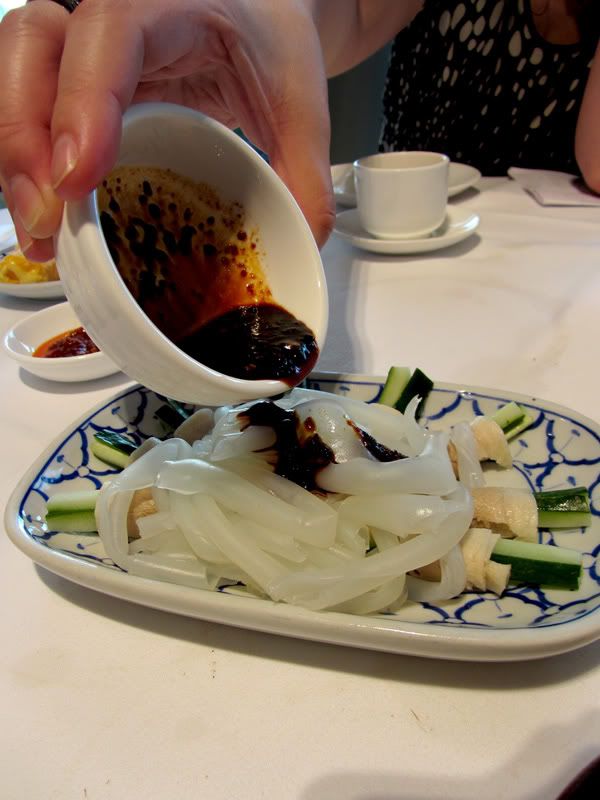 Christine saw the other table having this and requested to order this. Initially we thought its roast duck but it's actually roast goose~~ Btw, can u tell the difference between roast duck and goose? What we observed is that goose is more juicy and oily than duck. Duck meat tends to be dried. U agree? But anyway, it's nice~~~ crispy skin and juicy meat ;P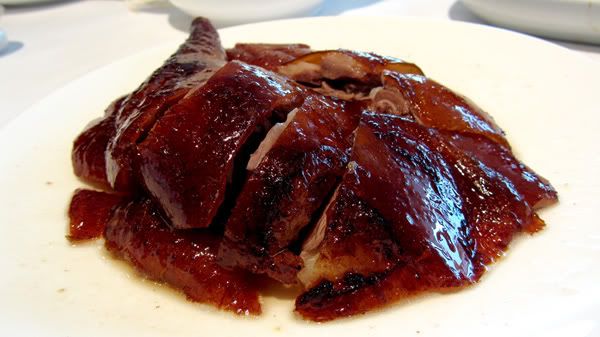 We also ordered fried rice to share as i guess we are too hungry 😛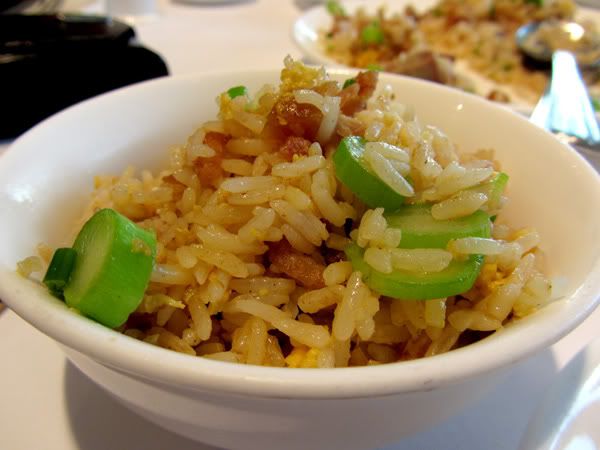 Christine introduced me this which i've never try before and it's MARVELOUS! They call this 流沙包. It's custard with salted egg in it.. Oozes out when you bite it. BE careful as it's really hot~!!
After a SUMPTOUS and SATISFYING dim sum lunch, Alice introduced us our tour guide for the next few days, Micahel Poon, HKTB's Media Fam Faciliator which is a really nice and friendly guy. We had SO much fun together for the rest of our trip 😀
Next, we visited the SKY 100, the only vantage point commending Hong Kong's most panoramic day and night views of the city and the best and longest skyline in the world!
it's like a time passage way transporting you into another world~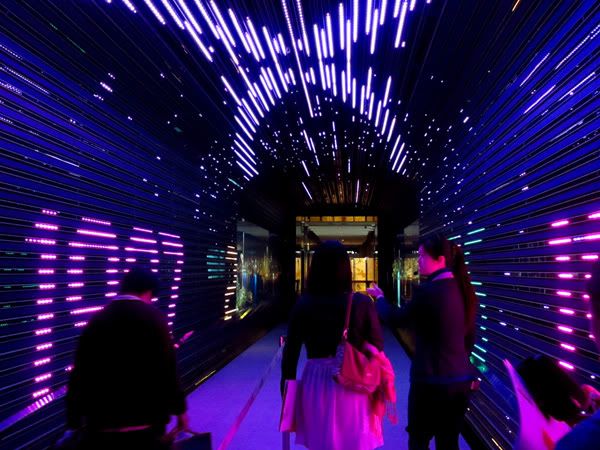 Inside the lift. No, it's not transparent on the top but it's actually 2 screens placed on the top, projecting the sky, giving us a different experience as we took the lift up to the 100th storey in 60 seconds!!!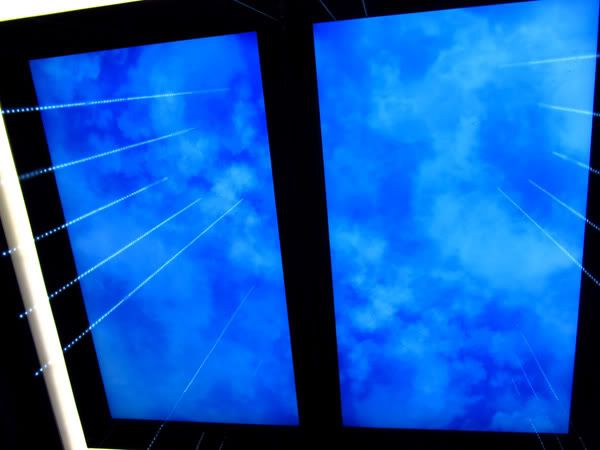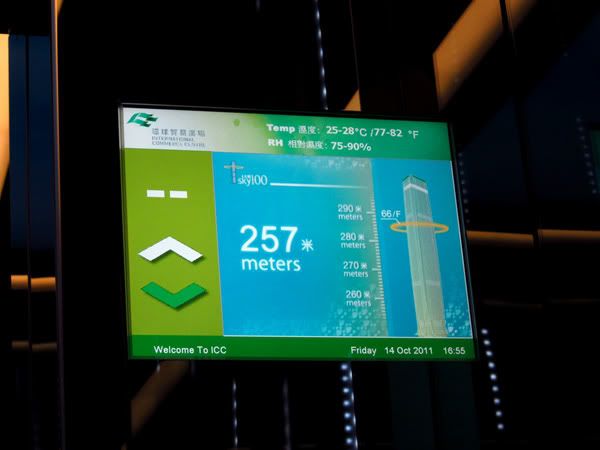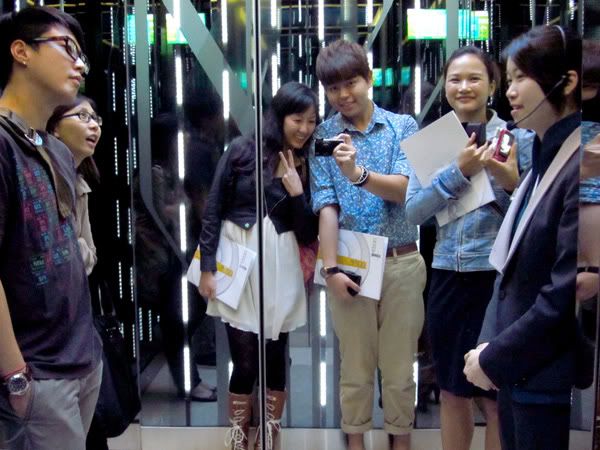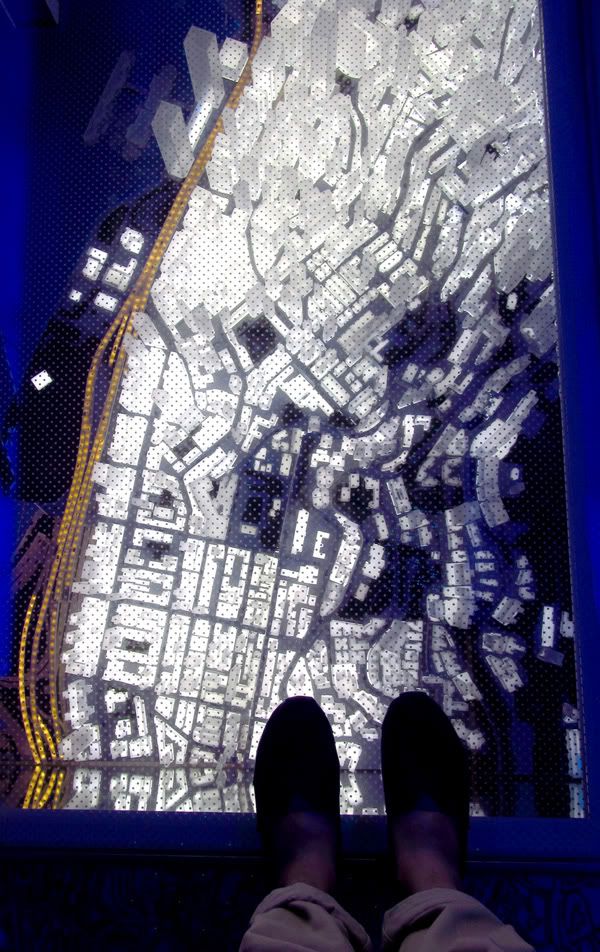 and look at the views up there! woo~~~~~~
with the miniature effect from the camera, everything looks like a toy~ 😀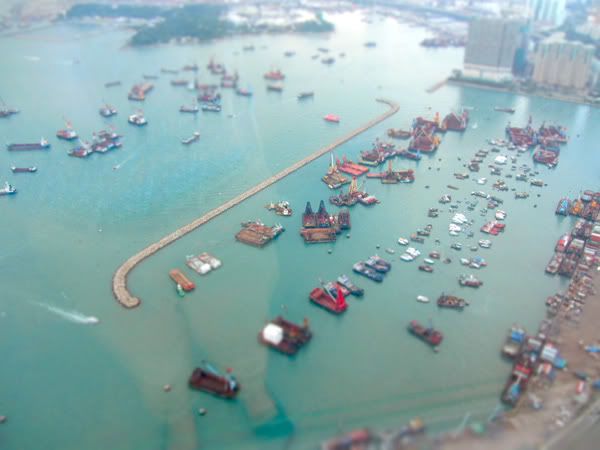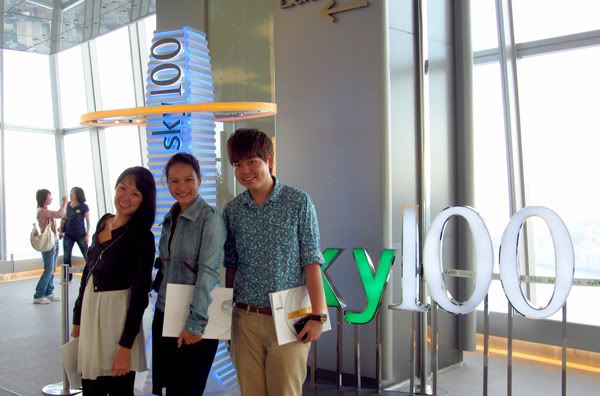 There's this view finder or electronic binoculars whereby you can view the whole city and it will actually tells you the place that you are looking at. Highly interactive! you can also switch it to the night view mode too! No wonder SKY100 is the most attractive, interesting and interacting attraction in hong kong!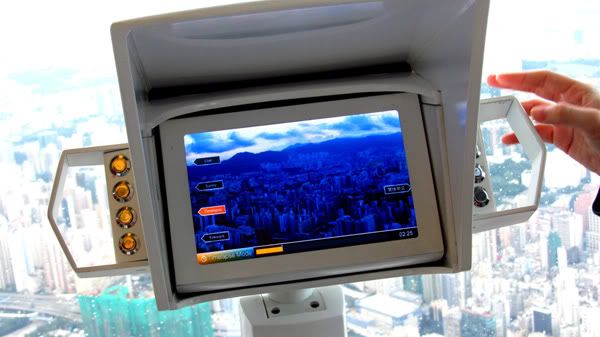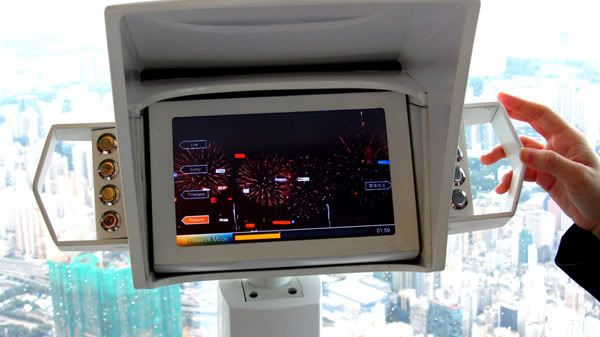 SKY 100 is the Highest building in hong kong and the 4th tallest building in the world 🙂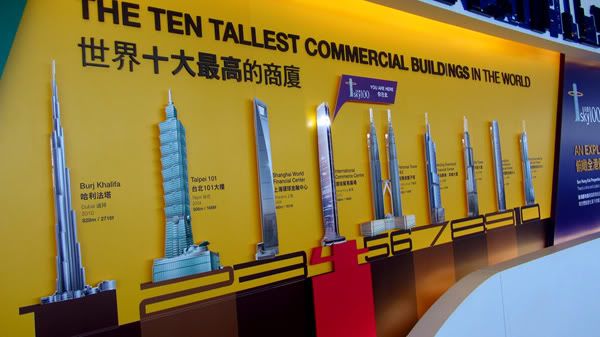 Some of the local delicacies!
It look so realistic!!!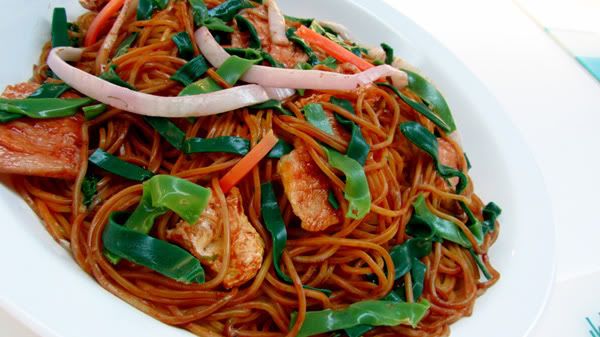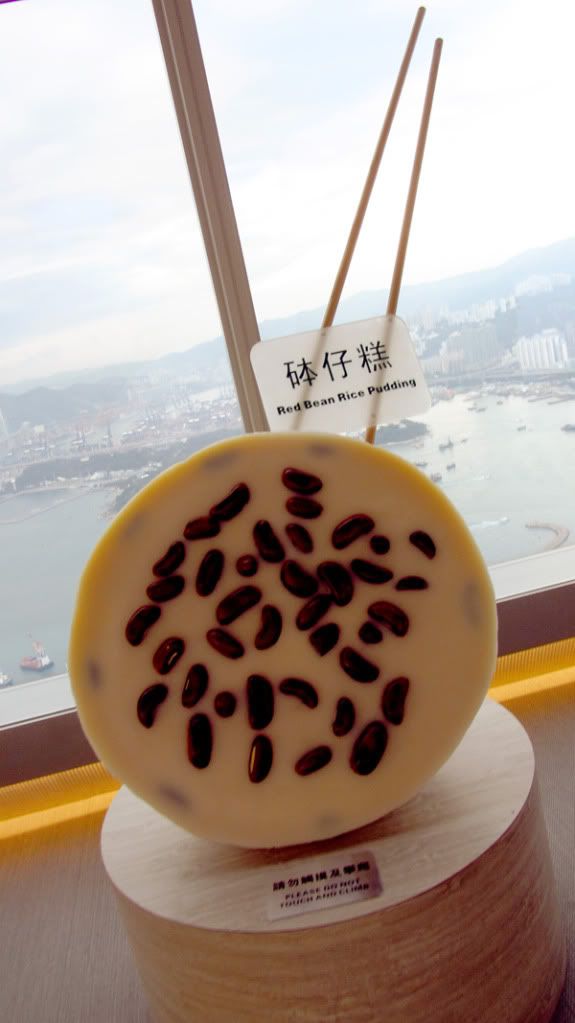 And do you know what are the MUST do in hong kong?!
SKY100 also provide the most interesting multi-meida exhibits vividly presenting Hong Kong unique's culture and growth.
Christine as the 嫦娥…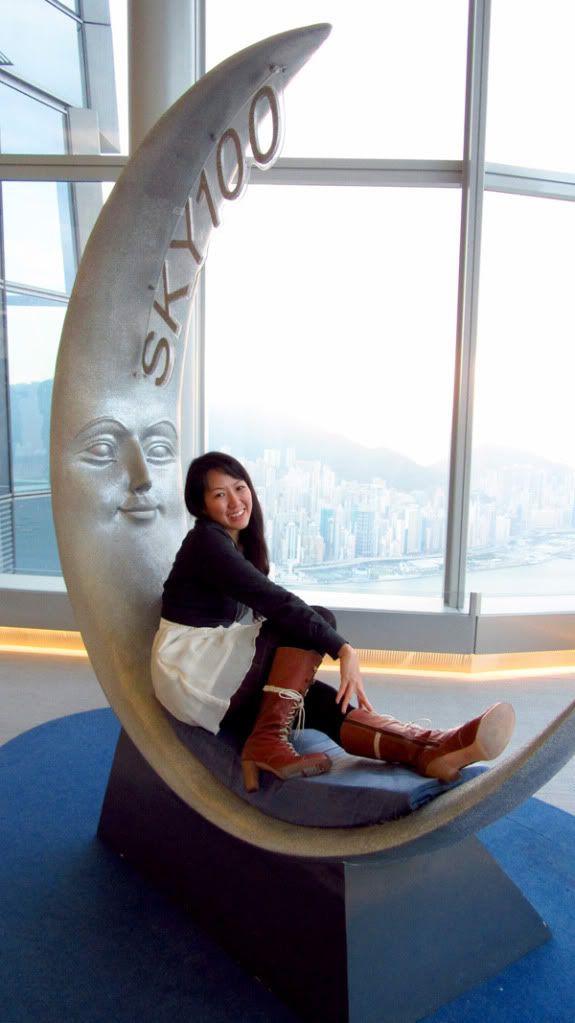 and me as the 玉兔. LOLx 😛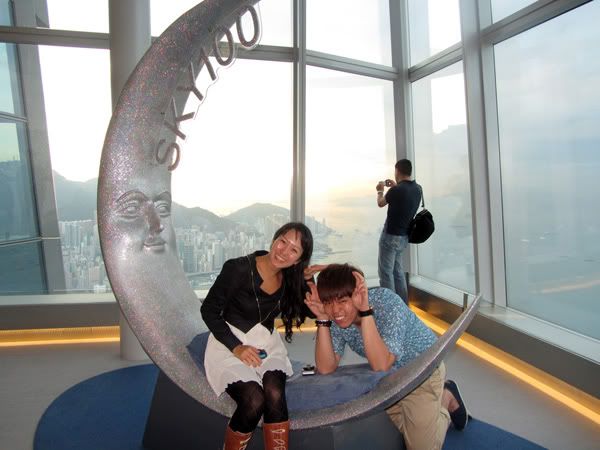 This is really interesing!!! the itinerary planner! You can plan you itinerary on this gigantic touch screen monitor and send the itinerary you've planned to your smart phone through email! Extremely useful for tourists~!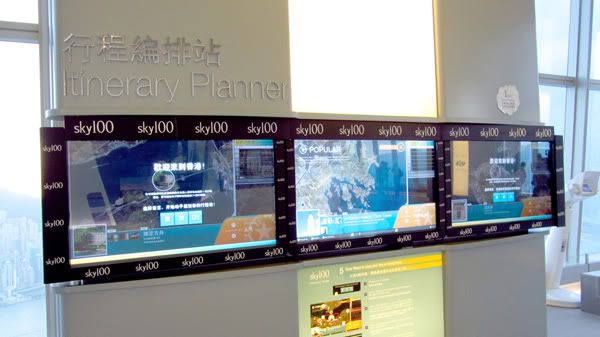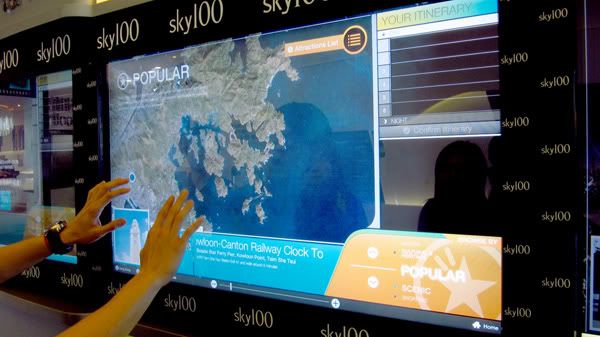 Oh and we had SO much fun with this. Guess what are we doing over here?!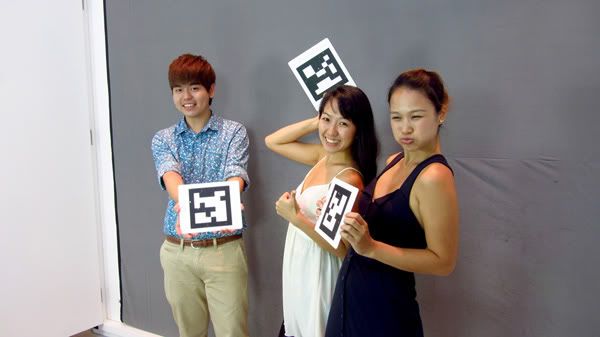 .
.
.
.
.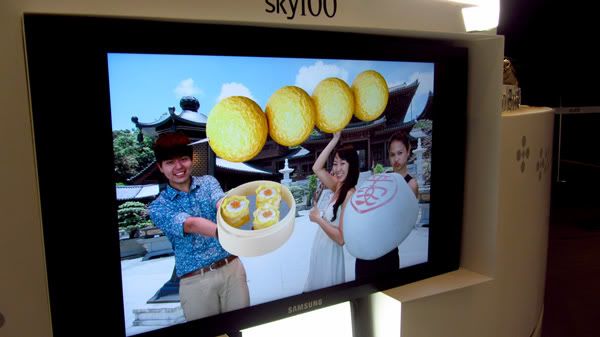 muahaha~ CUTE right!? why singapore dun have this ah? they can make us hold like chicken rice, char kway teow, laksa etc ~~!
guess what's Christine holding onto ?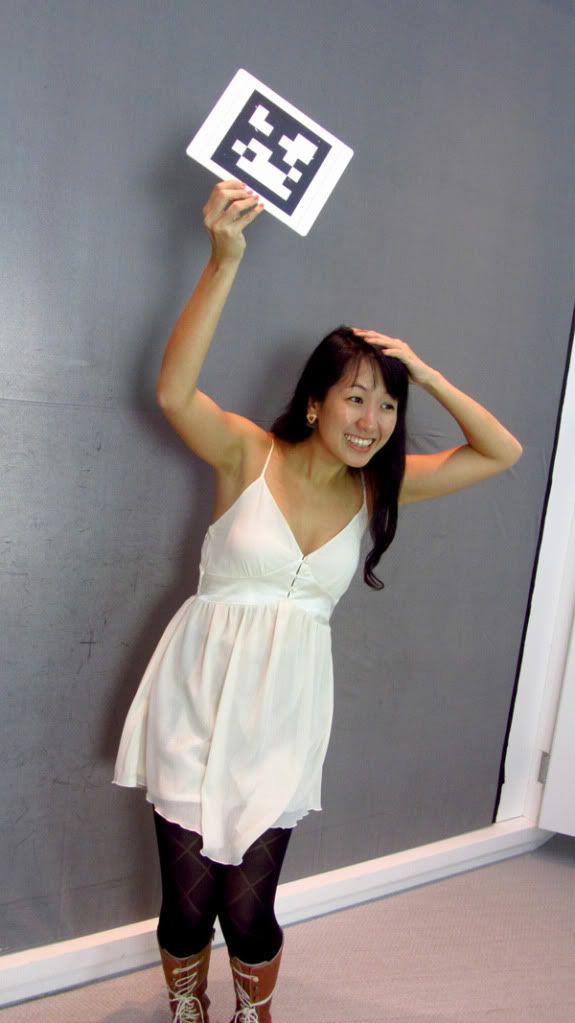 she simple have craving for roasted duck la~ oh wait, or is that goose?
hmm how about joanne?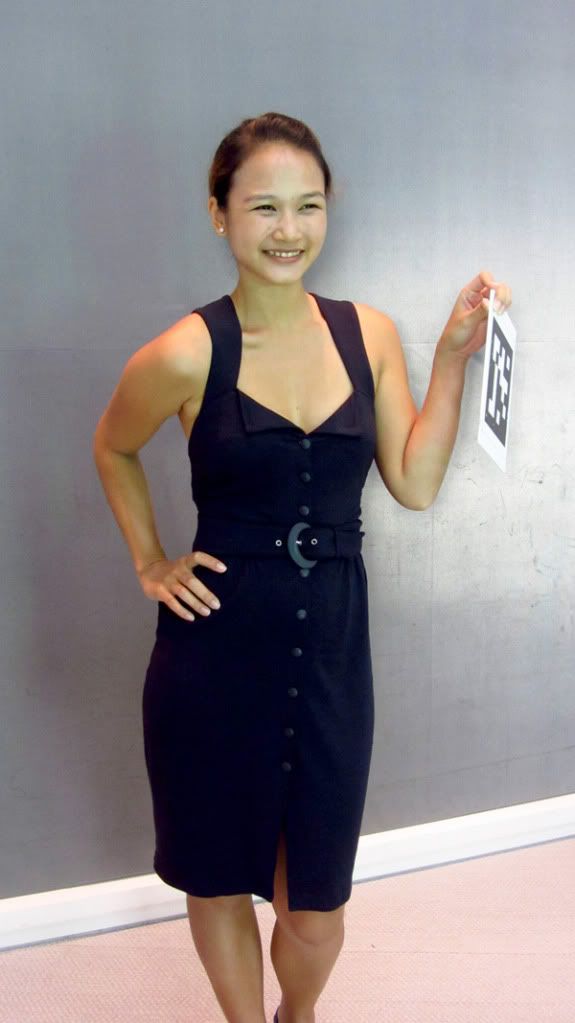 WOW~ gigantic diamond ring! lolx~
and how about myself? 😛
call me the FOOD Warrior! muahahahaha~ 😀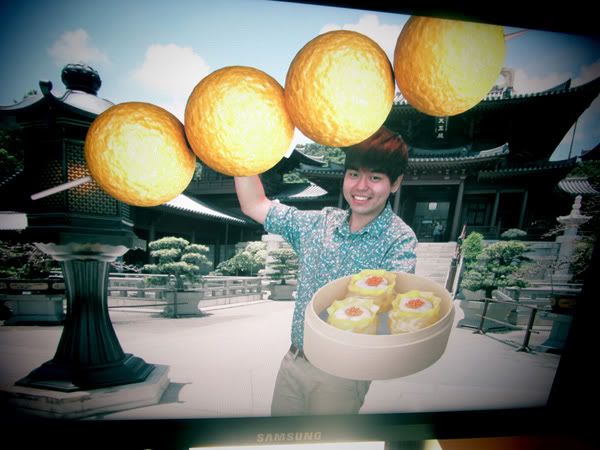 Hmm.. what are the 2 of them doing this time round….
HAHAHAHA!! cool huh?~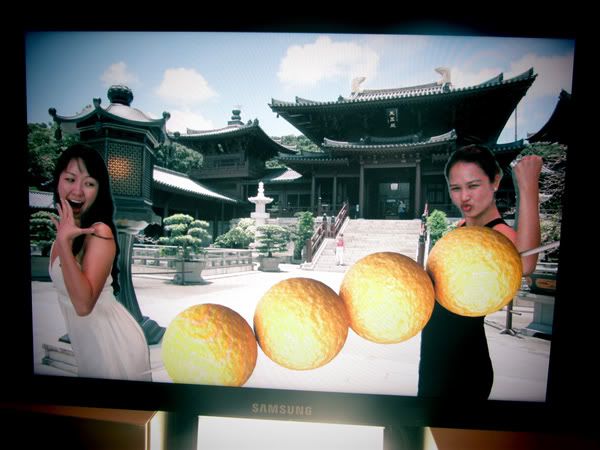 We had so much fun playing with it and when we're done, we saw this magnificent sunset before we end our tour on the SKY100!
Next , we went for a chill session at the OZONE bar, the highest rooftop bar in in the world, located at the Ritz Carlton (118/F, The Ritz-Carlton Hong Kong, International Commerce Centre, 1 Austin Road West, Tsim Sha Tsui)
The interior of the lift was very nicely designed and the 2 ladies started to pose for the camera AUTOMATICALLY. hahaha~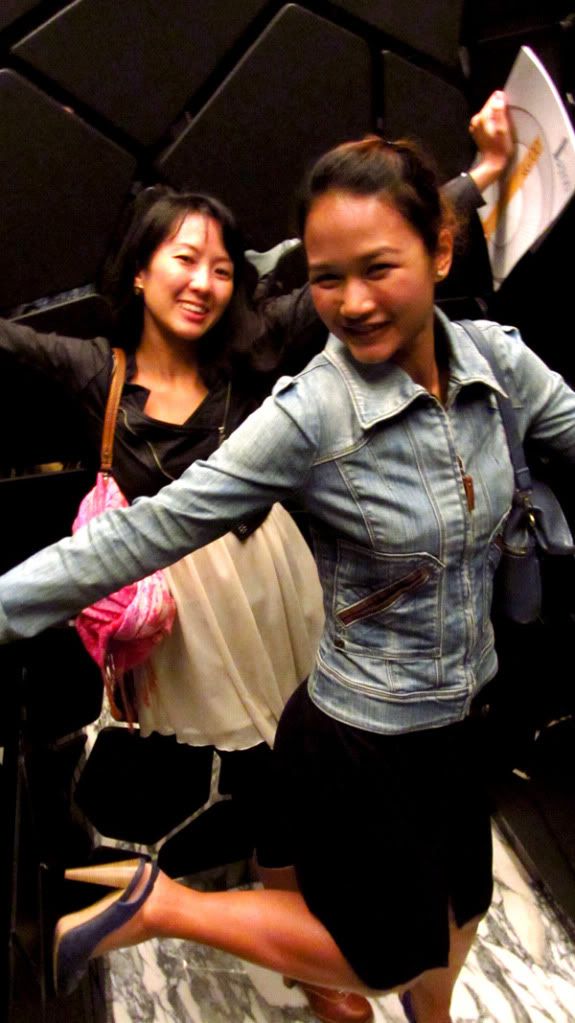 I REALLY LOVED THE WHOLE DESIGN OF THE OZONE BAR!
A sushi bar for sushi lover…
Nice lightings and texture on the wall…!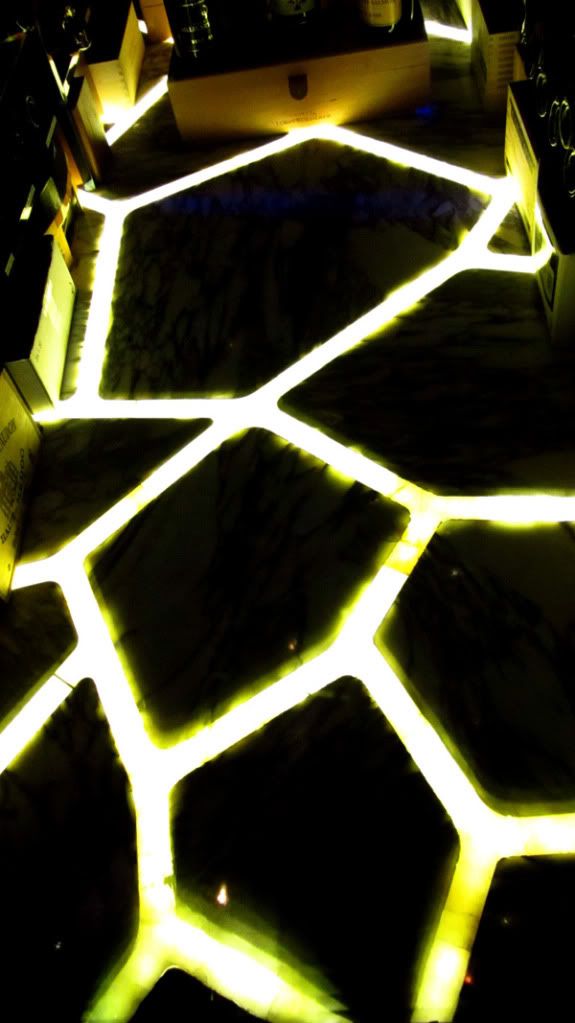 the outdoor bar where you get to enjoy the cooling breeze!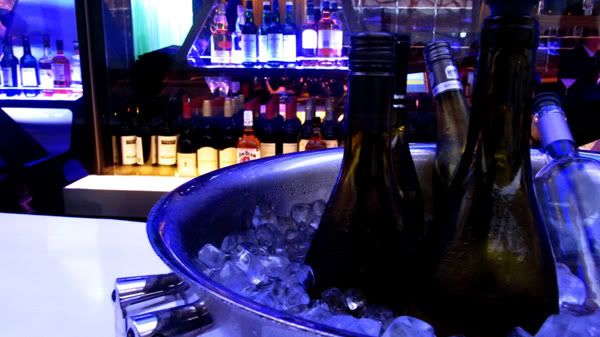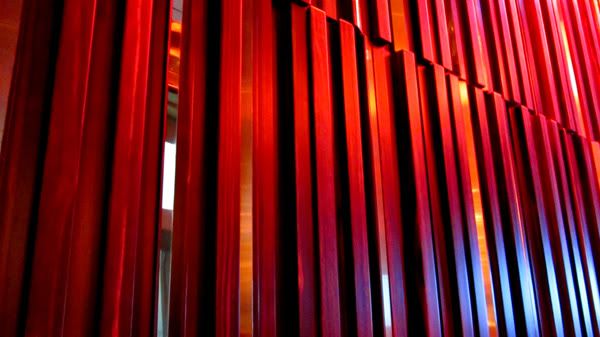 We tried out a few of the finger food and my favourite gotta be this! pekkin duck spring roll!
the seafood balls was great as well! 😉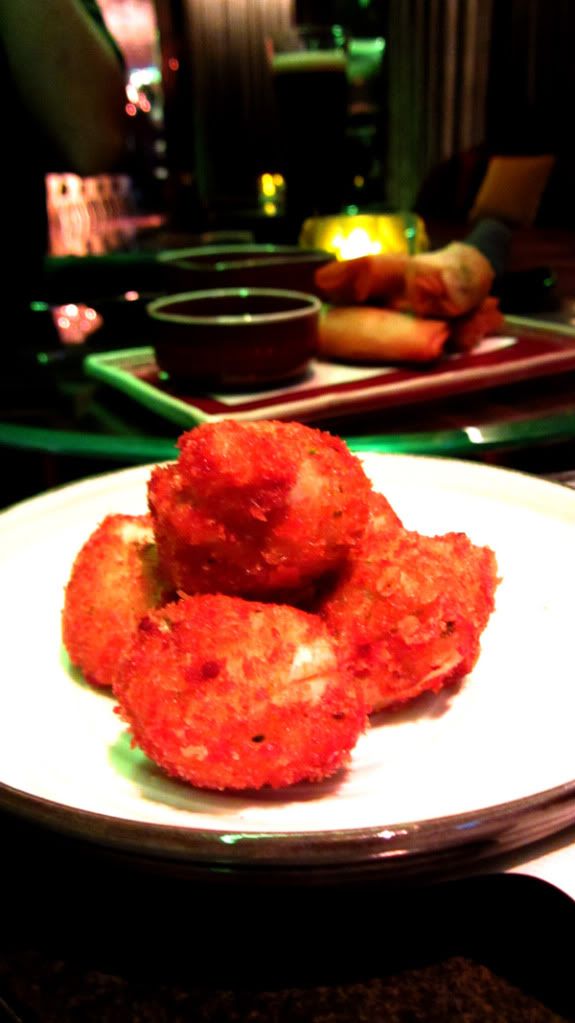 Happily munching !! Nom nom nom~~~
How can we miss the drinks over there!
i was recommended this drink which contains vodka and sake. Strong percentage of alcohol but luckily i didn't get drunk 😛 it's quite nice actually as they mixed in orange in i'm not wrong 🙂
CHEERS~!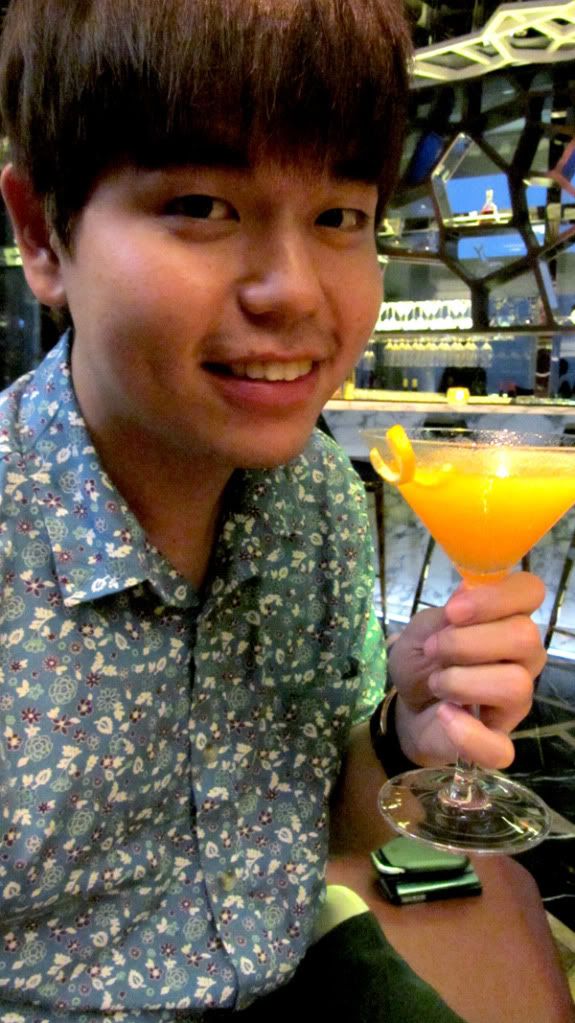 *Ps : did u guys notice that all my shots taken at the OZONE bar are without flash? and surprisingly it turned out pretty decent right? Canon SX 230 HS is pretty good for taking pictures under low-light condition 😉
Super posh and atas right?!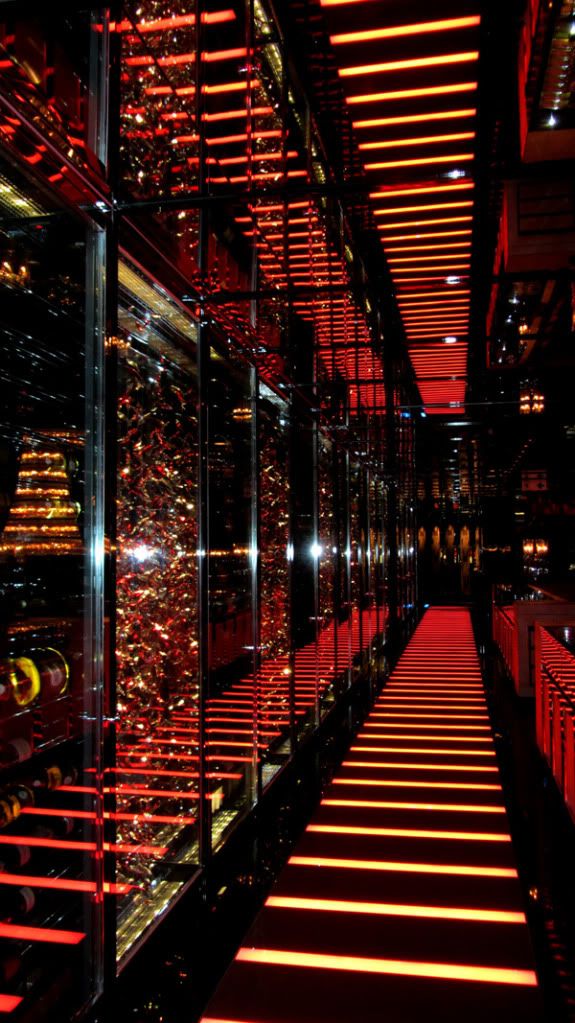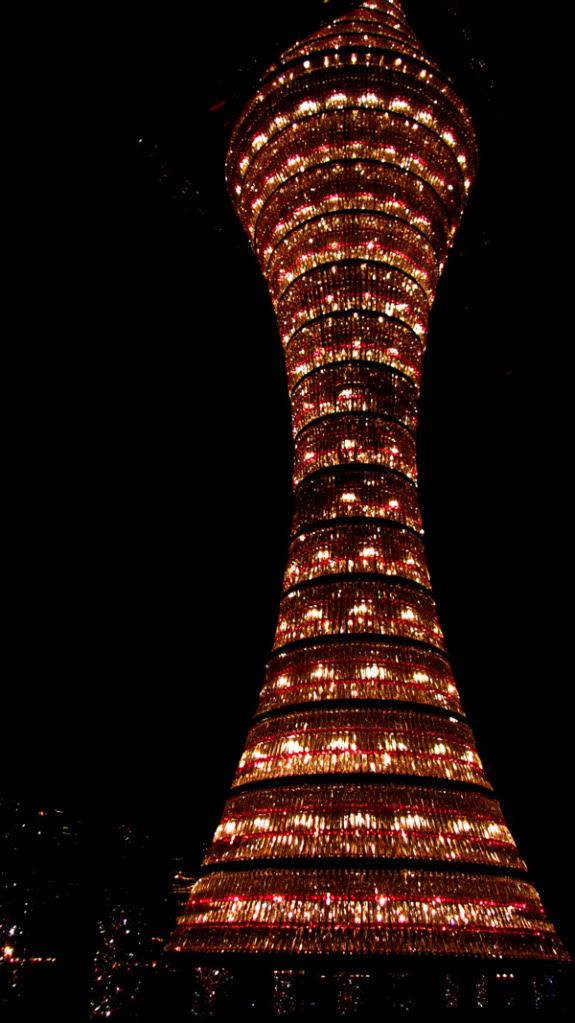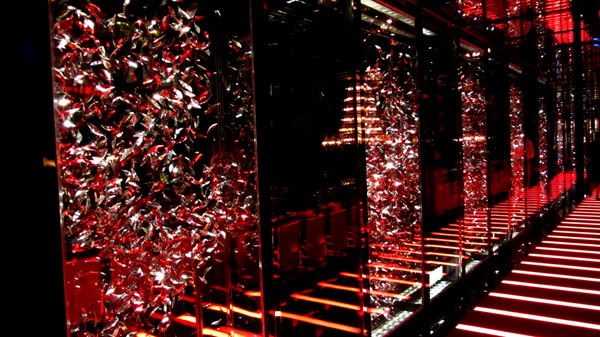 Peeping at the chef in the kitchen to make sure they are doing work 😛
After our chill session at OZONE bar, we went for something which I WOULD NEVER THINK of trying but since christine suggested and i'm there already, i decided to GIVE IT A TRY~
YES… that's what we gonna eat… NOT the branch obviously….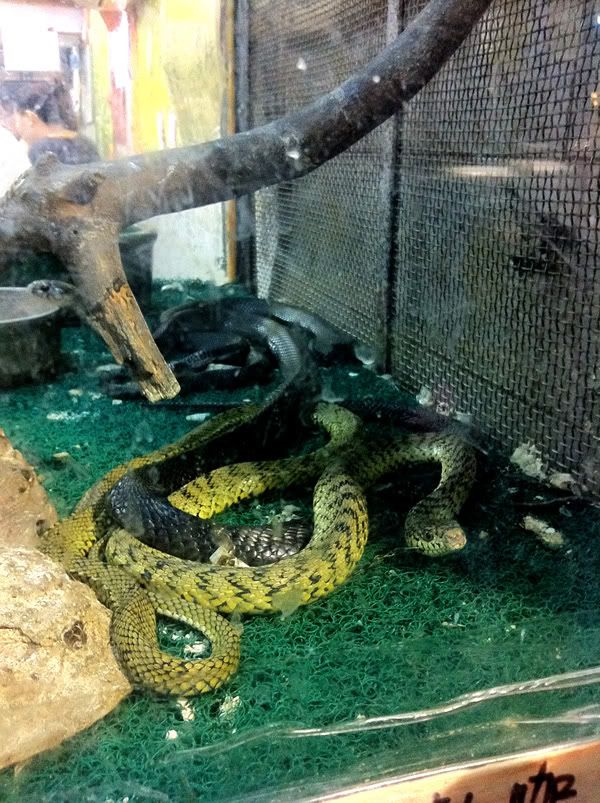 Our tour guide, Micheal (on the right) ordered this and i thought that the snake meat was mixed in it as it look pretty yummy. BUT that's only some oily rice which taste kinda similar to our glutinous rice here in singapore.
Introducing you the SNAKE SOUP! look like shark's fin soup right?!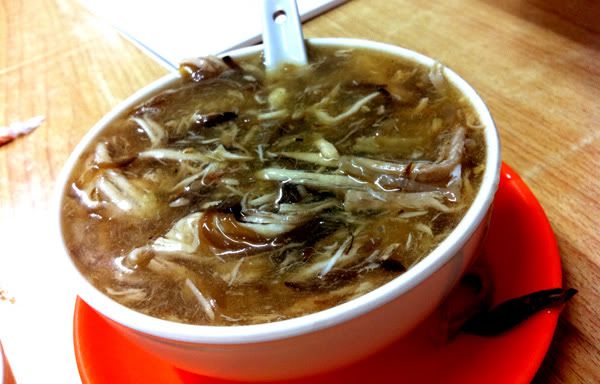 and you needa add in all these ~~ lemongrass, white chrysanthemum petals and the crispy thing which we add on our yu sheng during cny. OH! and do remember to add in a bit of vinegar too, just like how u usually eat your shark's fin soup…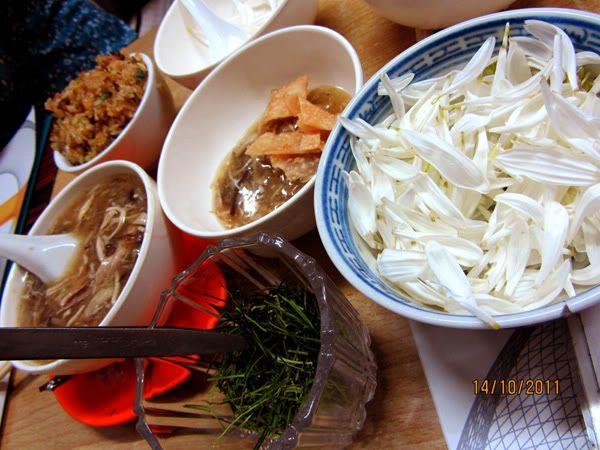 That's the snake meat… it looks like fish and taste like chicken. very chewy and tough.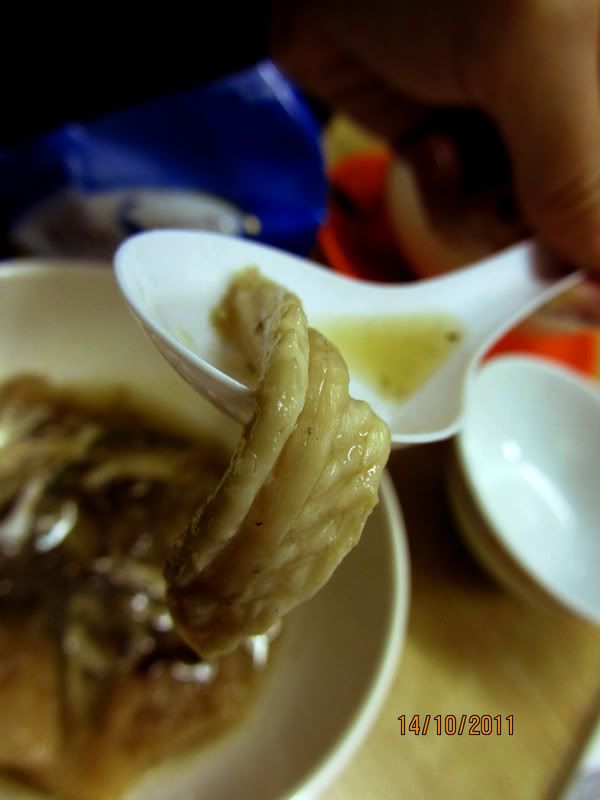 and we got the opportunity to visit the kitchen! here' the snake that they've just caught back. these are cobra~~~ :S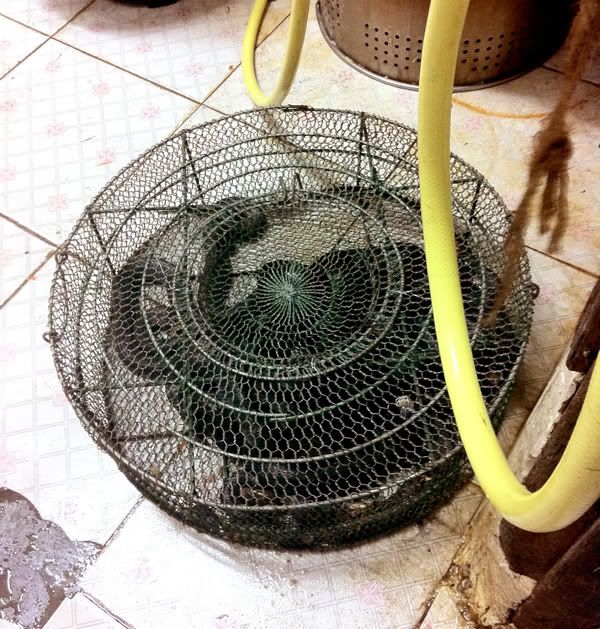 Other than snake soup, they have deep fried snake too, which looks like this.. you wouldn't be able to tell it's snake if i dun tell you so right?
This taste better than the snake soup. Our conclusion, DEEP FRIED food always taste better.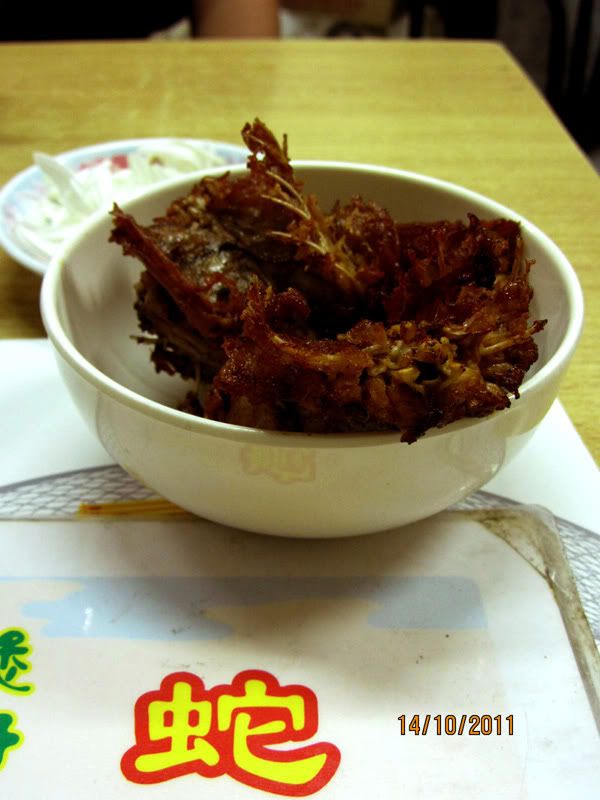 Joanne is a snake lover so she didn't try the snake meat. The owner of the shop even brought her "pet" out for Joanne to play with… BUT! i siam away~~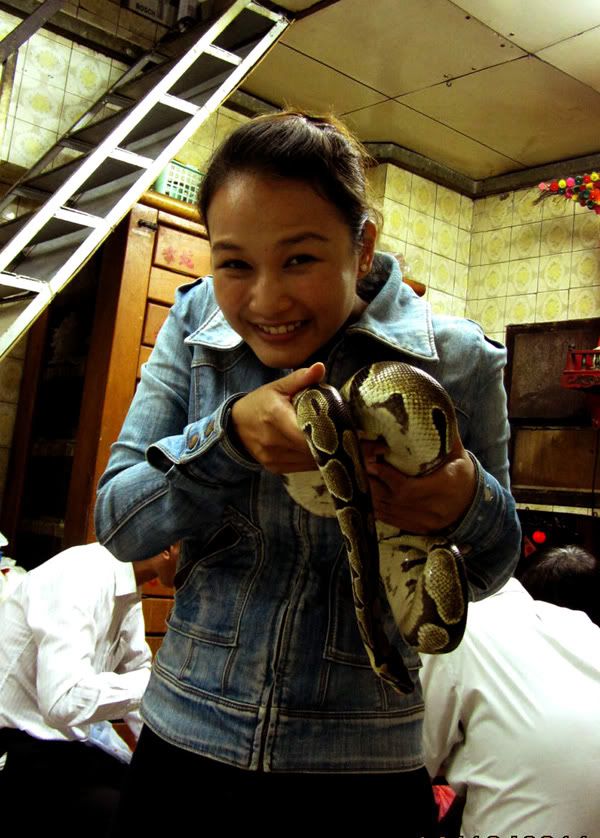 As the night was still young, COME ON it's a friday night and we are in HONG KONG ok! how can we not do some SHOPPING right?! SO~ we went to walk ard our hotel area and we found this building that sells LOTs of SUPER nice and UNIQUE clothings! Korean style, Japanese style? You can find them all here!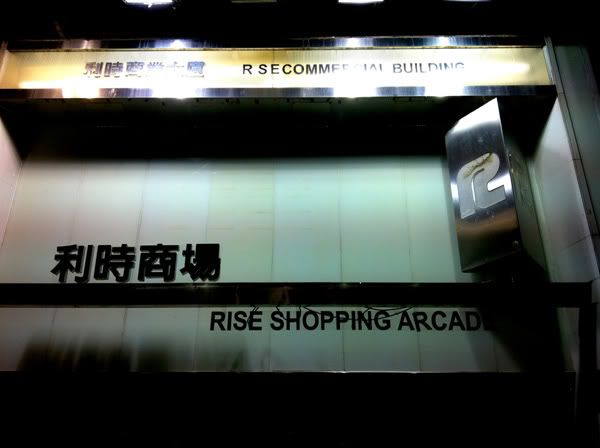 It's like far east plaza but the clothings they sell here are really nice! not those ah beng ah lian clothings~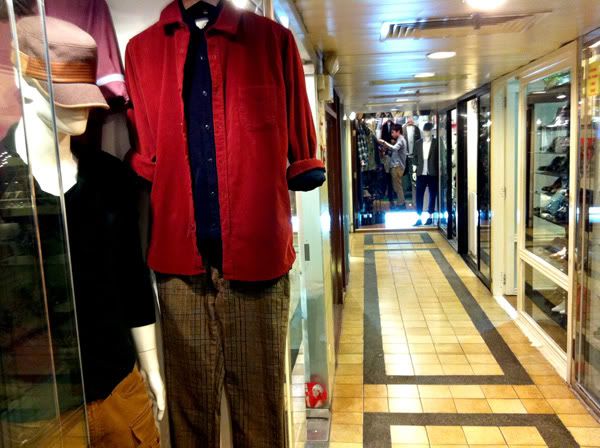 If you are fine paying 40 to 50 bucks for a shirt, then this place will be a heaven for you! i bought a nice jacket at 60 SGD after a bit of bargaing 🙂
Other than shopping, you might get to see DOGGIE too!
Shops in hong kong usually close kinda late. some of the shopping malls closed ard 12 midnight so you dun have to worry that you'll have too little time to shop! 🙂
Bought a bowl of instant noodle for supper before calling off for the day 😉 This noodles taste quite nice leh! can give it a try~
This entry is brought to you by Hong Kong Tourism Board, Canon & omy.sg
————————————————————————————————————————–
Loved reading my entries? Show your support for me by voting your favourite pictures taken by me over here and stand to WIN yourself a CANON CAMERA!
More details coming soon 😉