SINGAPORE – Embark on an extended Ramadan feast from 2 April to 31 May 2022 with a thematic buffet spread and ready-to-heat gourmet meals from Holiday Inn Singapore Atrium. 
Back by popular demand, diners will be treated to a wholesome spread of Korean delights at Atrium Restaurant. Ranging from perennial favourites such as Tteokbokki, Pajeon (Pancake) and Kimchi Ramen, to stews seen in K-dramas – Ginseng Chicken Soup, Spicy Seafood Stew and Beef Brisket Soybean Pasted Stew, to desserts such as Mango Bingsu and Injeolmi Rice Cake.
All dishes are Halal-certified and available on the buffet menu, along with the restaurant's top orders – Freshly shucked Oysters, Salmon Sashimi, Freshly-made Prata, Hainanese Chicken Rice, Laksa and Traditional Ice Cream with Bread or Waffle. A prayer room is also available just minutes away from the restaurant.
Ramadan Buffet at Atrium Restaurant
2 April – 31 May 2022
Promotion: 50% off for Adults
Lunch – 12:00 pm to 3:00 pm (Last Order: 2:30 pm)
Mon – Fri: $41++ per Adult (U.P $82) | $25++ per Child (6 – 12 years old)
Sat – Sun: $43++ per Adult (U.P $86) | $25++ per Child (6 – 12 years old)
Dinner – 5:30 pm to 9:30pm (Last Order: 9:00 pm)
Sun – Thu: $47++ per Adult (U.P $94) | $30++ per Child (6 – 12 years old)
Sat – Sun: $49++ per Adult (U.P $98) | $30++ per Child (6 – 12 years old)
Children 5 years old and below dines for free with every paying adult.
WhatsApp: +65 9114 0258
Tel: +65 3138 2530
Email: atriumrestaurant.sinhi@ihg.com
Click here for online reservations or visit this page to sneak a peek at Atrium Restaurant's buffet menu.
For those who prefer to stay home, they can order the restaurant's buffet "to go". Each Buffet In A Box consists of 2 mains, 1 accompanying dish & a complimentary dessert of the day. There are 8 varying dishes of meats/seafood to choose from and each set is sold for $18. Available for order from the hotel's eShop, Deliveroo, GrabFood and Foodpanda. Simply search for Atrium Restaurant!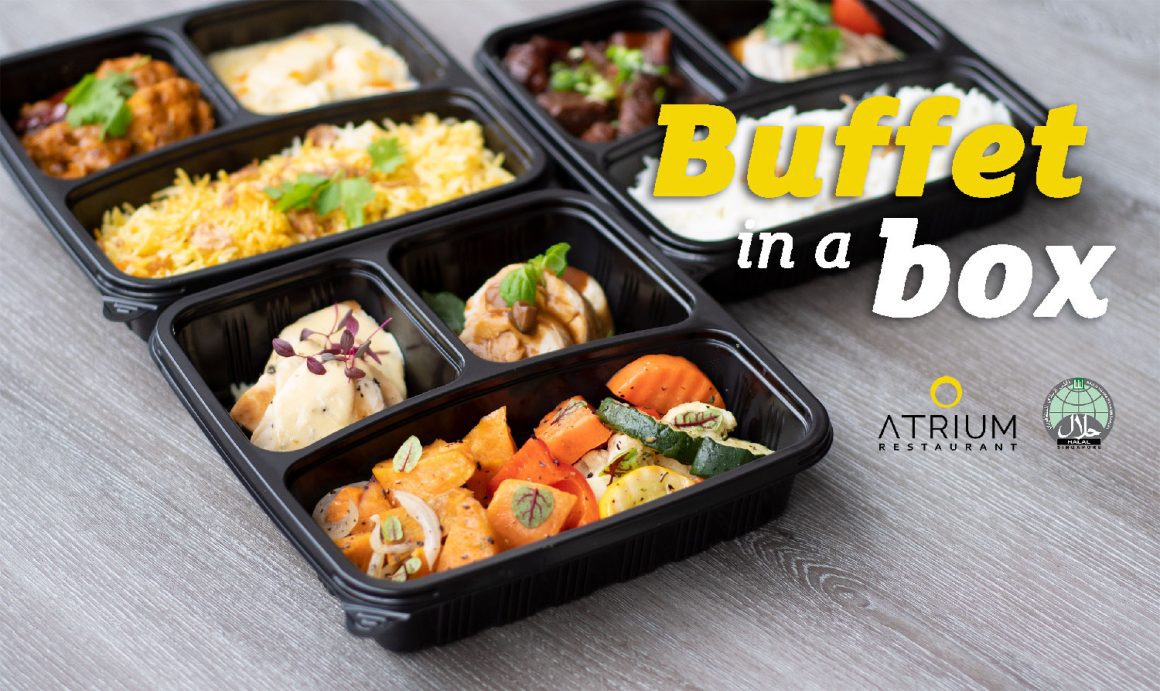 Ready-to-Heat Gourmet Meals
Introducing ready-to-heat gourmet meals that are frozen and convenient for every occasion! To be launched on 2 April 2022, each is brimming with premium ingredients that's specially curated by our team of Master Chefs for your dining pleasure at home. Expect lavish treats such as Oxtail Rendang, Braised Lamb Shank Provencal, Butter Chicken, Black Pepper Chicken and Bolognese Sauce. Every packet can be conveniently heated for consumption within 5 to 15 minutes, depending on the method – microwave, boil or pan fry.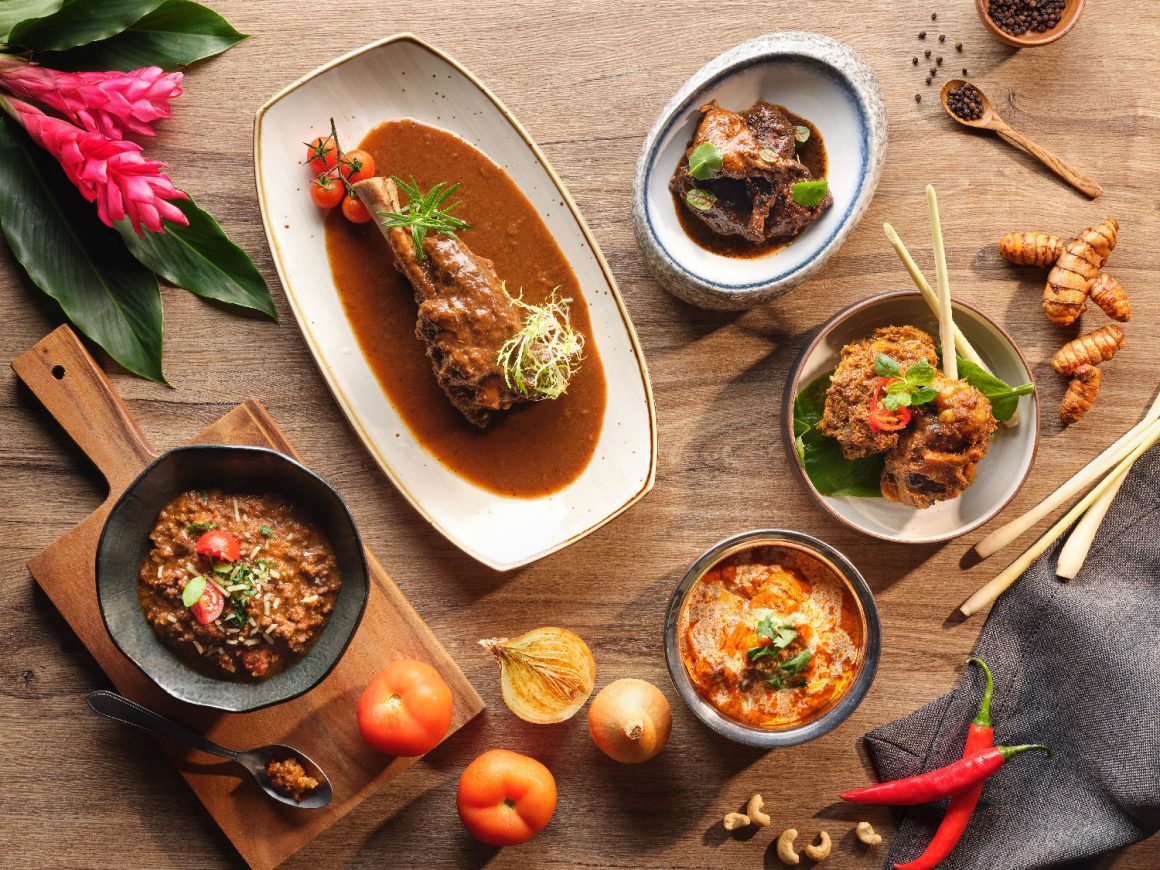 Kept fresh for up to 3 weeks, these ready-to-heat gourmet meals can be purchased from Holiday Inn Singapore Atrium's e-shop (singaporeatrium.holidayinn.com/eshop) from 2 April 2022. Enjoy 10% off with a minimum order of 2 packets from 2 April to 1 May 2022.